Fall has finally arrived!
Many people have their own way of celebrating the changes of the season, whether it be the pumpkin spice latte in place of their usual, the apple cider wax melts in their burners or the purchase of the burnt orange coats and warm fussy socks. For us… one of our all-time favorite ways of celebrating is with the smell of warm apple pie filling our homes with mouths nearly drooling till the vanilla ice cream is plopped on top and served.
…and we would like to share that experience with you.
Don't have a recipe of your own? Give this quick and easy one a try. It will not disappoint.
Pre: 30 Min
Cook: 1 Hour
Servings: 8
Makes: a 9-inch pie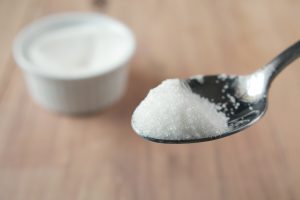 INGREDIENTS:
_ 7-8 Granny Smith Apples
_ 1/2 C unsalted butter
_ 3 TB all purpose flour
_ 1/2 C white sugar
_ 1/2 C packed brown sugar
_1/4 C of water
_ 1 thawed 9-in double crust pie pastry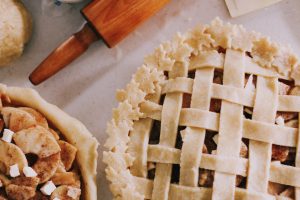 INSTRUCTIONS:
_ Peel and core apples. Slice into thin strips and set aside.
_Preheat your oven to 425 degrees F (220 C).
_Press one pastry into the bottom and up the sides of a 9-inch pie pan. Roll out the remaining pastry and cut into thin strips to make the lattice topping.
_ In a pan melt butter over medium heat. Once melted add add flour to form a paste. Cook about 2 minutes until fragrant.
_ Add both sugars and water to the paste and bring mixture to a boil. Reduce the heat to low and simmer for 3 to 5 minutes then remove from heat.
_ Meanwhile place apple slices into the pie crust pie creating a mound.
_Pour the sugar paste over the top of the apple slices reserve a bit to brush your lattice topping with
_Using the remaining pie crust you cut into strips create a lattice topping and brush with remaining sugar mixture.
_ Bake in your preheated oven for 15 minutes. Then reduce the temperature to 350 degrees F (175 C) and continue baking until apples are soft roughly 35 to 45 minutes.
TOP WITH:
_ Vanilla Ice cream
_Serve slightly warm
_ Tag us on Instagram @Windermere_Whidbey_Island
_Enjoy
View this post on Instagram