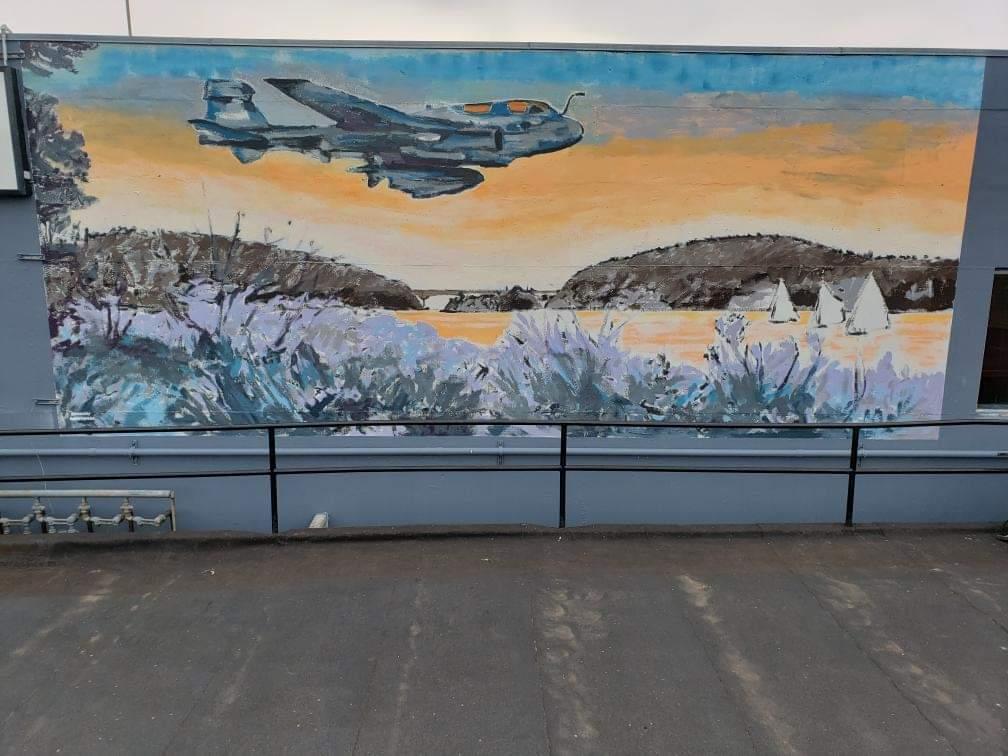 Have you driven down SE Pioneer Street recently? Perhaps the stunning new artwork by Timothy Haslet captured your eye.
Changing Downtown
Over the past five years, programs like the Allgire Project, Oak Harbor Main Street Association commissions, and fire hydrant painting projects have led to an increase in art downtown. For years though, a deteriorating mural from the 70s resided on the exterior wall of Riverside Café in desperate need of revision. Shortly prior to Memorial Day weekend, this beautiful mural of a Prowler passing Deception Pass was revealed in its place. Artist Timothy Haslet says, "This mural relates to my series on Navy Planes."
Welcome Oak Harbor
He wanted to fit a Navy Plane within the context of Deception Pass, with the overall goal of depicting who we are as a community. Timothy wants to send the message "Welcome to Oak Harbor" to the people moving here from all over the country and the world. His goal is to "create something that could be recognizable and identifiable by our diverse community." Historically Haslet's work consisted primarily of landscapes.
Why the change?
A recent article by Kathy Reed in the Whidbey Weekly revealed, that "as he was processing this new direction in his art, conflict over jet noise within the Whidbey community occupied a great deal of his thoughts." A question came to Haslet that he knew he needed to solve, "What would a picture of 'the best of both worlds' look like?" He pondered, "who are we, as a community, and where are we going? Can we create artwork that could be a bridge between the two?" Read the rest of her article here.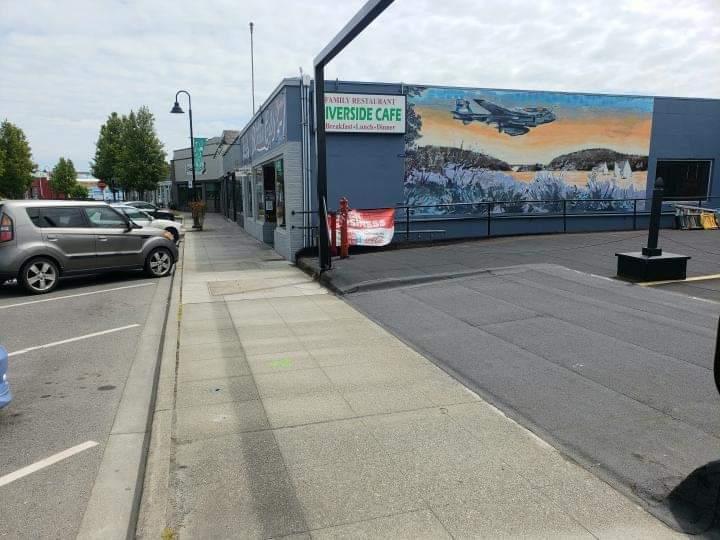 This beautiful masterpiece is his answer to that question for all to enjoy no matter how they arrived on Whidbey Island, whether by road, water, or plane.
What a special tribute to the community.
Timothy says prints of the mural will be available soon. If you would like to see more of Timothy's work, stop by our Oak Harbor Windermere office and peruse his artwork on display. You can also find his work online here.
View this post on Instagram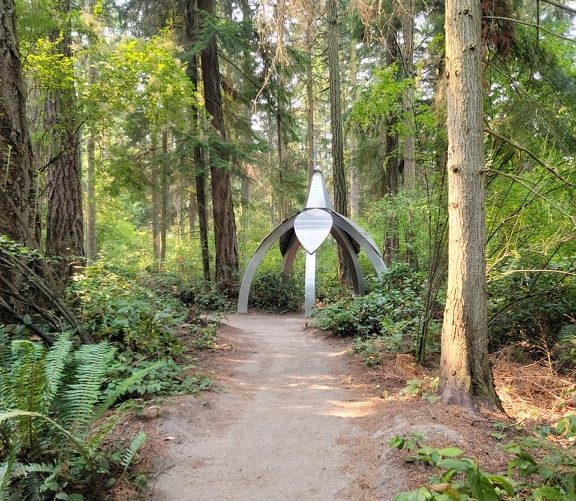 After purchasing 15.1 acres in 2008 conservationist Scott Price and his family decided to develop their home elsewhere. After doing so they journeyed down a long road of determining what to do with the property before concluding a sanctuary where art and nature entangle as one. After years of dedicated time and development, they unveiled The Price Sculpture Forest to visitors on October 23, 2020.
Initially…
the community's solution to the Prices issue was to clear cut the forest to create clear views of Penn Cove and Mount Baker then subdivide it for residential development. Price's inner conscious could not allow that to happen. Price had other plans. Price wanted to conserve the property and protect it for years to come. While it would be a challenging road ahead Price rolled up his sleeves and got to work. After reaching out to the Whidbey Camano Land Trust who reached out to the US Navy to aid in preserving the property a creative plan had begun to make Price's dreams a reality. Price purchased two smaller adjacent parcels bringing the total property to 16.3 acres.
The solution…
The Price Sculpture Forest. A place where visitors are welcomed to the property to experience a magical place where nature and art entangle as one. As you walk down the trails you encounter art exhibits, many of which play on the existing natural habitat. A prime example is Nature's Keystone by Anthony Heinz May who used a fallen tree and cut up bits of one end into square blocks designing the fallen tree to look like a living masterpiece exploding right out of nature.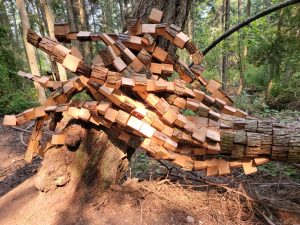 Turn another corner and come face-to-face with Tyrannosaurus Rex a driftwood masterpiece by Joe Treat that might catch you off guard.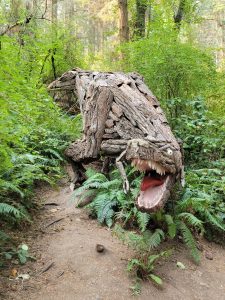 Feel in awe as you walk beneath the Flying Fish by Daniella Rubinovitz and wonder how they got the incredible piece of work up there.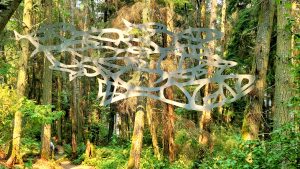 The best part of the journey is that the park is still growing. You might find yourself lucky enough to meet an artist on your trip like we did.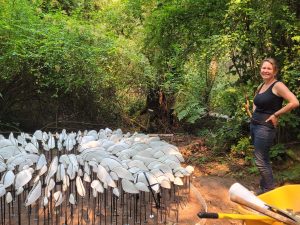 Visitors and residents alike find continued joy from Prices' selfless act as they return to the sanctuary to be close to nature and enjoy the local art exhibits. This is just one of the many gems that make Whidbey Island such a unique and wonderful place to live. If you enjoy this you might also enjoy visiting the Earth Sanctuary between Freeland and Langley.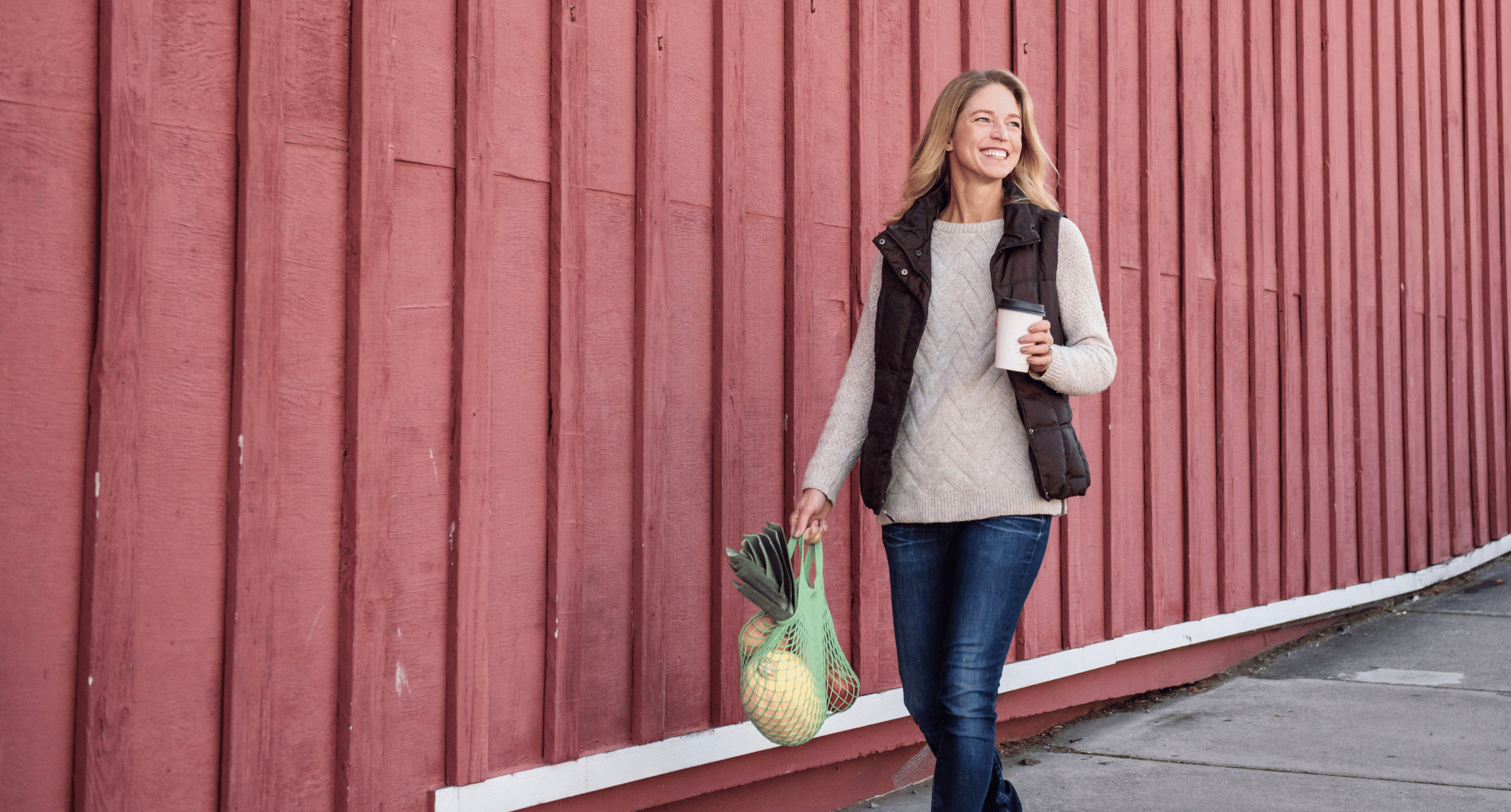 If you were given the task of describing this beautiful island, how would you respond? What would you say? Would you highlight the Navy community of Oak Harbor? Or maybe the vibrant artisan culture? What about the plethora of State Parks that help to preserve our island's beauty? 
We all know any one of these features would be a more than fair depiction of this wonderful oasis we call home, but there is one more description that is often glanced over. 
Farms.
Did you know Whidbey Island is home to over 400 farms both large and small? Fresh fruit, vegetables, livestock, flora, honey – you name it. The agricultural life on this island is incredible and something to be admired. 
That admiration is often reflected in the island's farmers' markets where you can purchase produce grown and harvested by these local farmers. Below is a list of the three main Whidbey Farmers' Markets on the island. 
Coming this summer, for the first year ever, is the Whidbey Island Farmers Market in Oak Harbor! After the dissolution of the Oak Harbor Farmers Market earlier this year, passionate farmers and vendors gathered together to create a new non-profit market for the people of Oak Harbor. They will be a great addition to the Whidbey Farmers Markets!
This year the market will be located in Windjammer park and feature vendors such as Maya Farm, The Case Family Farm, Flightline Franks, and so many more.

As of right now, the market is set to be every Sunday from 11 AM to 3 PM between June to September. 
Stay up to date by following their Facebook Page. 
View this post on Instagram
View this post on Instagram
View this post on Instagram
Established and well-loved, the Coupeville Farmers Market has been selling local produce to islanders for over 40 years. With organizers focused on cultivating an appreciation for community, it's not hard to see why it has lasted for such a long time. 
Frequent vendors include Bell's Farm, North Whidbey Farm, Arbia Pizza, Blanket Creations by Mary, Whidbey Kettlecorn, and many more. 
The market is Saturdays from 10 AM to 2 PM, between April to October. 
To learn more, you can visit their Website. 
View this post on Instagram
View this post on Instagram
View this post on Instagram
Undeniably the largest Whidbey Farmers Market on the island would be Bayview. With approximately 50 regular vendors a week including Blackberry Moon Farm, Lesedi Farm, Julie's Lumpia Hut, and so many more; this market attracts visitors both on and off-island. You do not want to miss a chance to stroll through these stands!
Starting in mid-April and ending in mid-October, this market is 10 AM to 2 PM Every Saturday.
You can learn more and get the exact start and end dates on their Website. 
View this post on Instagram
View this post on Instagram
View this post on Instagram
You might also like: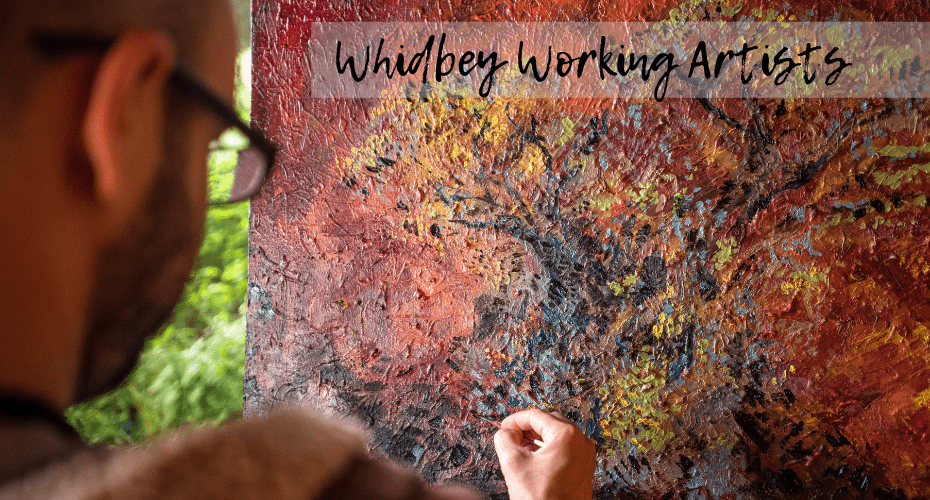 How the Whidbey Working Artists Began:
In the early 2000s Whidbey Island was a community buzzing with potential and truly coming into its unique identity as an island full of diversity. During this time a small group of North Whidbey artists decided to band together to draw attention to the island's ever-growing artist community.  Thus Whidbey Working Artists was born!
Since 2004 these artists have been opening their studios once or twice a year for the general public to come, explore, and learn about the process of creating beauty. As these tours gained in popularity more and more artists have been included on their roster and today the tour now spans across the whole of Whidbey! Today, Whidbey Working Artists includes over 70 artists working across multiple mediums.
But why open their studios? Their website says it best:
As an organization we believe that opening our studios offers visitors the opportunity to share in the process of how art is created and a glimpse of how artists inhabit their creative space. This shared experience between artists and visitors provides a stimulating creative conversation that enhances the arts while also educating and developing an appreciation for the handcrafted.
This year's summer tours are scheduled for August 24th & 25th from 10 AM to 5 PM. Come watch as painters manipulate the pigments on their canvas to just the perfect shade of purple, or welders bend metals into shape you never dreamed they could, or watch craftsmen reveal a magnificent creature from beneath the bark of a tree stump.
The Catalog for the 2019 Whidbey Working Artists Tour can be found HERE. Be sure to visit the Whidbey Working Artists Website.
See below for an interactive tour of each artist's studio!
https://drive.google.com/open?id=13MjVfktCE576d9DBP4xDidcCz-AgbOHI&usp=sharing
You Might Also Like: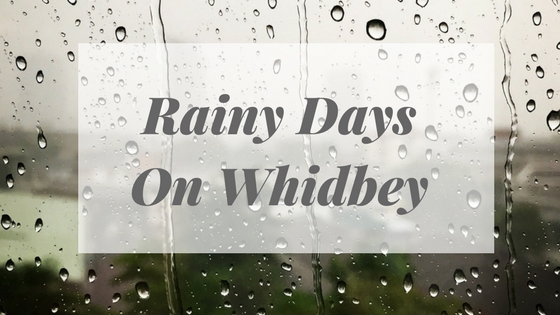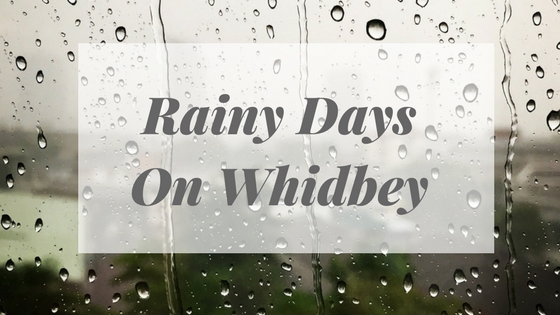 Despite what many think, Oak Harbor is not the rainiest city. In fact, Oak Harbor is situated in what called a "rain shadow". This means, here in Oak Harbor, we experience less rainfall than our neighboring areas. The surrounding mountains shelter us from rain-bearing winds. While we do experience a variation in the amount of rainfall, we typically see the most in the month of November and the least in July. Of course, some days we see more than others. While many associate rainfall with dreary grey skies we see beauty. Our high spirited community keeps us moving.
For example, many locations around our community have been graced with invisible street art. Check out the image below: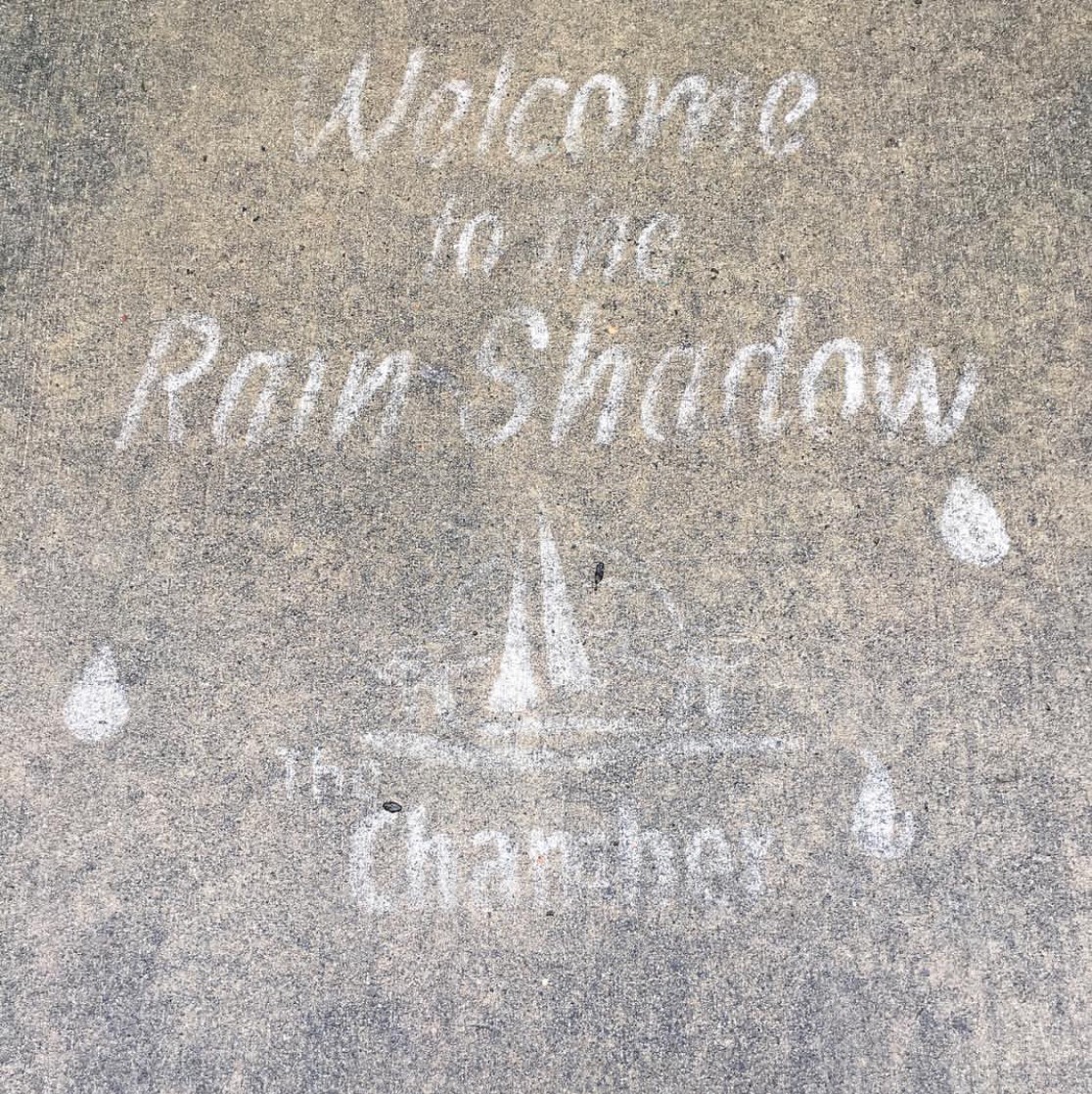 This is the invisible street art in front of our Oak Harbor location. This art only shows up when it rains. So during our next wonderful rainy days on Whidbey, get outside and discover more of these fun pieces of art. Don't forget to share your findings in the comments below.