Did you know that well over a century ago White Pelicans were common in our area? Unfortunately, the use of pesticides and a change in habitat threatened the species. For years, these gorgeous birds went relatively unseen until a flock graced our South Whidbey waters in 2016 visiting Deer Lagoon and Honeymoon Bay. With the loss of breeding grounds, these huge birds are known to prospect new locations and have returned to Deer Lagoon every year since. Bird watchers now anxiously await these feathered friends every year. Will you be one of the lucky ones to spot them?
If you are or are interested in becoming an avid birdwatcher check out our blog Bird Watching on Whidbey Island here.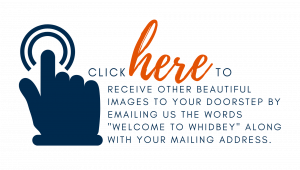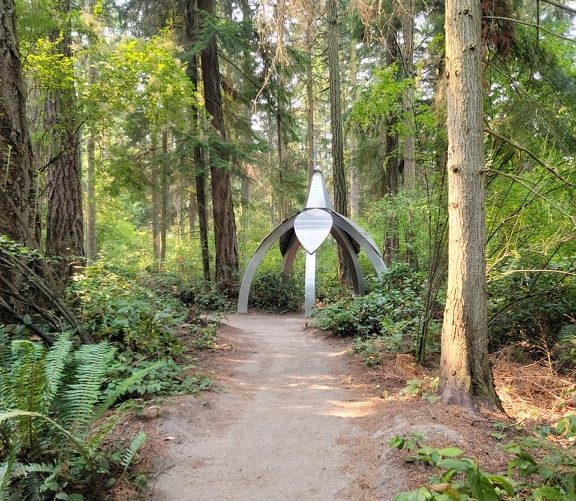 After purchasing 15.1 acres in 2008 conservationist Scott Price and his family decided to develop their home elsewhere. After doing so they journeyed down a long road of determining what to do with the property before concluding a sanctuary where art and nature entangle as one. After years of dedicated time and development, they unveiled The Price Sculpture Forest to visitors on October 23, 2020.
Initially…
the community's solution to the Prices issue was to clear cut the forest to create clear views of Penn Cove and Mount Baker then subdivide it for residential development. Price's inner conscious could not allow that to happen. Price had other plans. Price wanted to conserve the property and protect it for years to come. While it would be a challenging road ahead Price rolled up his sleeves and got to work. After reaching out to the Whidbey Camano Land Trust who reached out to the US Navy to aid in preserving the property a creative plan had begun to make Price's dreams a reality. Price purchased two smaller adjacent parcels bringing the total property to 16.3 acres.
The solution…
The Price Sculpture Forest. A place where visitors are welcomed to the property to experience a magical place where nature and art entangle as one. As you walk down the trails you encounter art exhibits, many of which play on the existing natural habitat. A prime example is Nature's Keystone by Anthony Heinz May who used a fallen tree and cut up bits of one end into square blocks designing the fallen tree to look like a living masterpiece exploding right out of nature.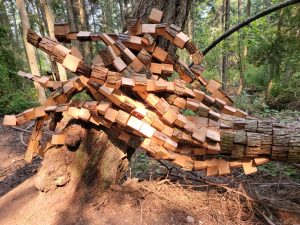 Turn another corner and come face-to-face with Tyrannosaurus Rex a driftwood masterpiece by Joe Treat that might catch you off guard.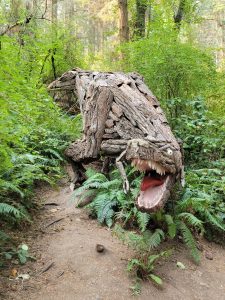 Feel in awe as you walk beneath the Flying Fish by Daniella Rubinovitz and wonder how they got the incredible piece of work up there.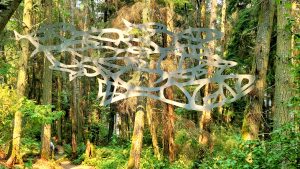 The best part of the journey is that the park is still growing. You might find yourself lucky enough to meet an artist on your trip like we did.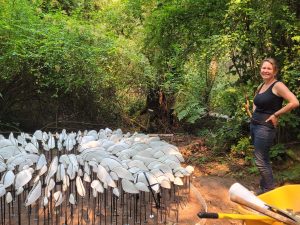 Visitors and residents alike find continued joy from Prices' selfless act as they return to the sanctuary to be close to nature and enjoy the local art exhibits. This is just one of the many gems that make Whidbey Island such a unique and wonderful place to live. If you enjoy this you might also enjoy visiting the Earth Sanctuary between Freeland and Langley.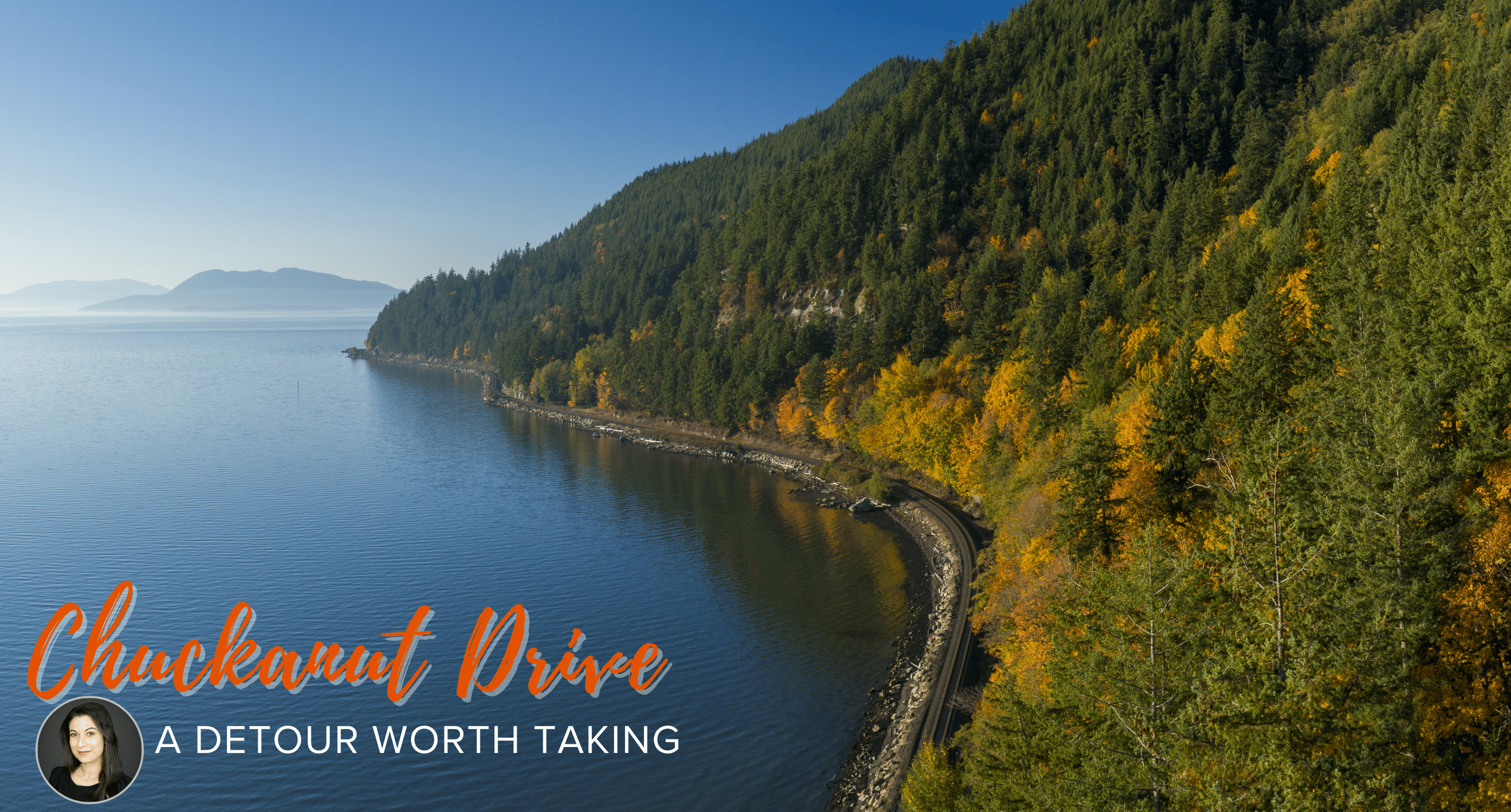 After living in Whidbey Island for a few years I finally decided to venture out and take the cliff-hugging drive along the Chuckanut Drive, a detour worth taking.
SR11 is a 21.28-mile-long highway that serves Skagit and Whatcom counties, in Washington.
I started the drive in Edison, the town of kindness, and made my first stop at the Breadfarm. If you love carbs as much as this Italian gal, you will be in love with this bakery. Founded in 2003, Breadfarm is an artisan bakery focused on the production of rustic loaves of bread and pastries, only using high-quality natural and organic ingredients. I just love their olive baguettes, ham & cheese croissants, herbed focaccias, and thumbprint cookies!
Once leaving the town of Edison I proceeded to Chuckanut Drive to begin my scenic tour.
Here are my 5 top recommendations for the Chuckanut Drive:
Rhododendron Cafe – This is a popular cafe' and restaurant which features a monthly rotating menu', with cuisine from different parts of the world.
Bat Caves Trailhead – A famous trail also known as the Oyster Dome Trail. It is a very steep and densely wooded trail but once you get to the top you will be able to enjoy views of the San Juan Islands and Samish Bay. Fun Fact: The bat caves are home to Townsend's big-eared bats.
The Oyster Bar – You will definitely enjoy an incredible view combined with an amazing lunch. Did you know? The Oyster Bar used to be a shack where oysters were sold to passing drivers.
Taylor Shellfish Samish Farm Store – At this location, they have been growing oysters on about 1,700 acres of Samish Bay tideland for about 100 years. The shop sells clams, oysters, mussels, salmon and so much more.
Clayton Beach – Clayton Beach parking lot is the access point to Larrabee State Park, Washington's first state park in 1915. Larrabee State Park has 2,700 acres with two lakes, a campground, and miles of hiking trails.
I ended my excursion in Fairhaven, a town well known for its frequent festivals and Victorian charm. Filled with lots of artsy shops and delicious restaurants, Fairhaven is a popular tourist destination.
I particularly enjoyed the Iron Rooster Bakery with its traditional pastries, croissants, quiches, and my beloved macaroons!
Have you taken this drive? If so, do you have any recommendations for the next time I go?
Click here https://www.scenicwa.com/chuckanut-drive for more info.
If you enjoyed this blog you might also like: