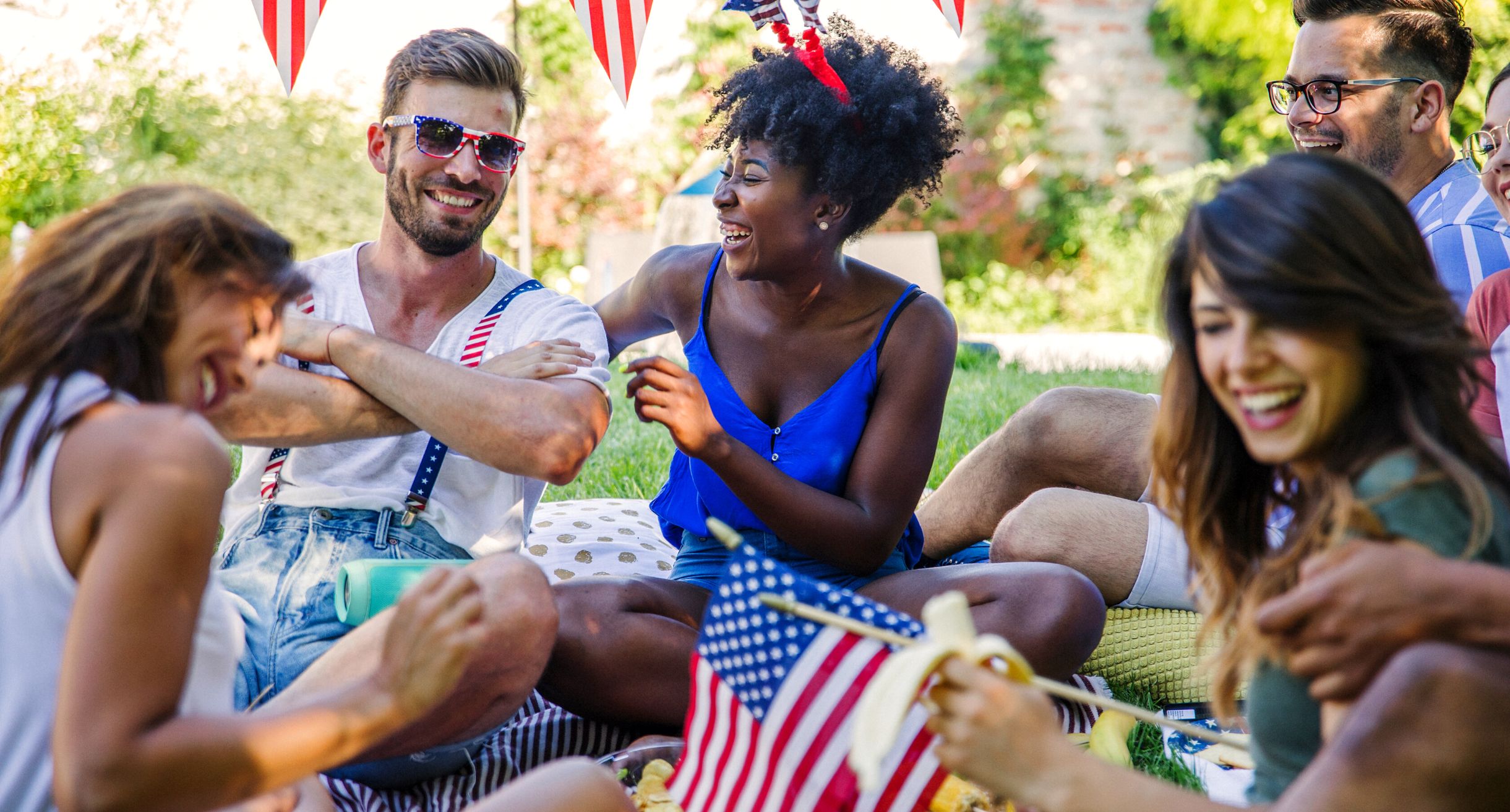 Celebrate the 4th of July with these 5 BBQ recipes! Fire up the grill, invite your friends and family, and spot some fireworks to celebrate the passage of the Declaration of Independence by the Continental Congress that happened on July 4, 1776.
Mouthwatering BBQ Chicken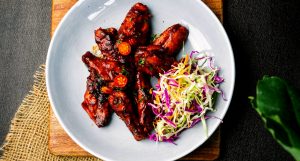 Ingredients
2 cups ketchup
1 cup cider vinegar
1 cup water
1/4 cup packed brown sugar
1/4 cup reduced-sodium soy sauce
1/4 cup molasses
1/4 cup honey
2 tablespoons prepared mustard
3 teaspoons ground cumin
1/4 teaspoon salt
1/4 teaspoon pepper
6 pounds assorted bone-in chicken pieces
Directions
In a large saucepan, combine the first 11 ingredients; bring to a boil. Reduce heat; simmer, uncovered, 1 to 1-1/2 hours or until thickened, stirring occasionally. Remove half of the sauce; reserve for brushing chicken. Keep remaining sauce warm for serving.
Grill chicken, covered, over medium heat 25-35 minutes or until juices run clear, turning occasionally and brushing with reserved sauce during the last 10 minutes. Serve with remaining sauce.
Parmesan Garlic Grilled Corn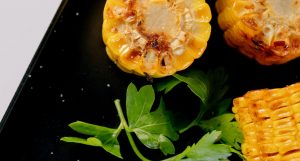 Ingredients
4 ears fresh corn
2 tablespoons butter
1 clove garlic grated or minced
1/4 cup freshly grated Parmesan
1 tablespoon freshly chopped parsley
Directions
Preheat grill to 350-400 degrees F. Remove most of the husks on the corn and leave the innermost layer intact. Pull them back just enough to remove the silks, then place back over the corn.
Place corn on preheated grill. Cook, turning once or twice until kernels are bright yellow, 15-20 minutes.
In the meantime: place butter and garlic in a small heat-safe bowl. Microwave until butter is melted, 10-15 seconds.
Remove remaining husks and brush the corn kernels with melted garlic butter while still hot. Sprinkle with Parmesan cheese and parsley.
Serve immediately.
Greek Lemon Orzo Salad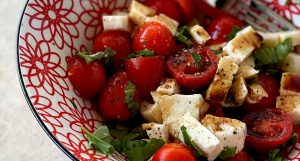 Ingredients
1 cup / 200 g risoni / orzo pasta
350 g / 12 oz cherry tomatoes , halved (or 2 large tomatoes)
2 Lebanese / Persian cucumbers , diced
150 g / 5 oz firm feta , cut into 1/2cm/ 1/2″ cubes
1/4 – 1/2 red onion , cut into wedges and sliced thinly
1 green capsicum/bell pepper , cut into 3 cm / 2.25″ strips (Note 1)
150 g / 5 oz whole black olives , seed in (adjust qty to taste)
1 1/2 tsp dried oregano
DRESSING
2 tsp lemon zest
3 tbsp lemon juice
5 tbsp olive oil
1 tsp Dijon mustard (or other mild mustard)
1 garlic clove , minced
1 tsp sugar
1/2 tsp salt
Black pepper
Instructions
Place Dressing ingredients in a jar and shake well. Set aside for 10+ minutes.
Cook orzo / risoni per packet directions. Drain and rinse under cold water to stop them cooking further. Drain well.
Place orzo and remaining Salad ingredients in a bowl. Drizzle with dressing and toss gently to coat. Serve!
Creamy Potato Salad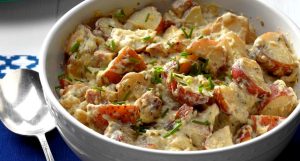 Creamy Ranchified Potatoes Recipe photo by Taste of Home
Ingredients
2 pounds small red potatoes, quartered
1 cup cubed fully cooked ham
1 can (10-3/4 ounces) condensed cream of potato soup, undiluted
1 carton (8 ounces) spreadable chive and onion cream cheese
3 tablespoons minced chives
1 envelope ranch salad dressing mix
1 teaspoon pepper
6 ounces pepper jack cheese, grated
Directions
In a 4-qt. slow cooker, combine the first 7 ingredients. Cook, covered, on low until potatoes are tender, 6-8 hours. Top with cheese; stir to combine.
Mac 'n' Cheese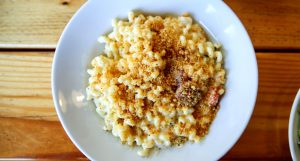 Ingredients
16 oz elbow macaroni, cooked (or other tubular pasta)
1 tbsp extra virgin olive oil
6 tbsp unsalted butter
1/3 cup all purpose flour
3 cups whole milk
1 cup heavy whipping cream
4 cups sharp cheddar cheese shredded
2 cups Gruyere cheese shredded
salt and pepper to taste
1 1/2 cups panko crumbs
4 tbsp butter melted
1/2 cup Parmesan cheese shredded
1/4 tsp smoked paprika (or regular paprika)
Directions
Preheat oven to 350F. Lightly grease a large 3 qt or 4 qt baking dish and set aside. Combine shredded cheeses in a large bowl and set aside.
Cook the pasta one minute shy of al dente according to the package instructions. Remove from heat, drain, and place in a large bowl.
Drizzle pasta with olive oil and stir to coat pasta. Set aside to cool while preparing cheese sauce.
Melt butter in a deep saucepan, dutch oven, or stock pot.
Whisk in flour over medium heat and continue whisking for about 1 minute until bubbly and golden.
Gradually whisk in the milk and heavy cream until nice and smooth. Continue whisking until you see bubbles on the surface and then continue cooking and whisking for another 2 minutes. Whisk in salt and pepper.
Add two cups of shredded cheese and whisk until smooth. Add another two cups of shredded cheese and continue whisking until creamy and smooth. Sauce should be nice and thick.
Stir in the cooled pasta until combined and pasta is fully coated with the cheese sauce.
Pour half of the mac and cheese into the prepared baking dish. Top with remaining 2 cups of shredded cheese and then the remaining mac and cheese.
In a small bowl, combine panko crumbs, Parmesan cheese, melted butter and paprika. Sprinkle over the top and bake until bubbly and golden brown, about 30 minutes. Serve immediately.
Connect with us and tell us what you think! Share your creations and celebration with us on Instagram at @windermere_whidbey_island