Have you heard the rumor that Whidbey is filled with hippies? We'll let you in on a little secret – it's kind of true! 
But honestly, how could it not be? How could you live in a beautiful place like Whidbey and NOT want to save the planet? Who doesn't want to preserve this incredible island that we call home? Sometimes; however, it can be a little difficult. As much as we all want to learn how to be better citizens of the planet, it's hard to know where to start. I mean, how do you incorporate low waste in your home? You've heard about shorter showers and not running water while brushing your teeth, but what about cutting back on physical waste? How do you do that?
We're here to help! Below is a list of ways you can start to incorporate low waste in your home!
Reusable Grocery Bags
It is little shock to anyone that a HUGE issue when it comes to cutting down on waste in America is the amount of single-use packaging found in almost every single retail store you enter. If general packaging wasn't enough, those packages are then placed into single-use grocery bags that are inevitably found littering the sides of our highways and parks – yuck! 
So, why not skip the pesky plastics and try reusable grocery bags instead? Reusable bags aren't just great for their ability to help the planet, they also are far stronger than your single-use shopping bags. This means there will be no more tears when you're halfway out to your car and the bags rip, sending your food everywhere. Plus with reusable bags you no longer have to wonder how many trips it'll take to get them inside. Nothing but positives here!
Also, did you know this practice will soon be state law? Washington State currently has a pending plastic bag ban which is being delayed by the COVID-19 State of Emergency. Once the state of emergency is lifted, retailers will no longer be able to provide customers with single-use plastic bags. 
So why not get ahead of the curb? We can help! Reach out to your Windermere Agent to claim your FREE reusable shopping bag!

Ditch the Paper Towels
We know what you are thinking, "What am I supposed to do without paper towels??" But hear us out! A lot of the things you use paper towels for can easily be taken care of using a reusable rag that can just be thrown in the laundry when you're done. 
That milk spill? Reusable towel. Did water spray a little out of the sink? Reusable towel.
You may also think that getting that many towels are expensive, but you can get a pack of 2 washcloths from Dollar Tree! Or even better; you know that old shirt your partner keeps saying they'll throw away? Cut it up! Suddenly you have a dozen washcloths for FREE!
We aren't saying you have to COMPLETELY get rid of your paper towels. Being more mindful about what messes could handle a simple washcloth will make an incredible difference in incorporate low waste in your home. 

Try DIY Cleaning Products
Ever wonder what people did before the time of store-bought soaps and detergents? They made their own! It might seem like a lot of work, but making your own cleaning products is sometimes as simple as putting vinegar in a bottle. Not to mention the money you'd save!
Laundry Detergent – Ready to save some serious cash on laundry detergent? In a large container mix together 2 cups of washing soda, 2 cups borax, and one bar of Dr. Bronner's Castile Soap. The result is detergent that will leave your clothes clean and your wallet happy!
General Purpose Cleaner – Did you know that white vinegar's higher acidic levels make it a natural anti-bacterial? This makes it a wonderful multi-purpose cleaner! Simply put 3 parts white vinegar and 4 part water into a spray bottle and you've got an all-natural cleaner. Don't like the smell? Try adding essential oils, or even better – lemon peels! 
Dishwasher Detergent – Imagine having dishwasher pods that wouldn't kill you if you ate them. Don't get us wrong, you still shouldn't eat them; but at least you won't die if you did! This Dishwasher Pod Recipe is amazing and ALL NATURAL. It's a little too long to write out here, but we highly suggest you take a look!
Want to give low waste cleaning a try, but REALLY don't have time for any DIYs? Try looking into Blueland! They are a low waste cleaning company focused on minimizing waste by drastically reducing the amount of packaging they use and providing reusable containers to clients. 

Buy in Bulk
How does buying in bulk help cut down on waste? Again, it's the packaging! 
Think about it – if you are buying 16oz shampoo bottles every month you are wasting gas going to the store more often and almost doubling the number of plastic containers you're placing in the trash. However; if you switch to purchasing a gallon of shampoo your trips to the store would be reduced along with the amount of plastic you toss. 
Did you know you could buy dry foods in bulk at Saar's Super Saver Foods? Check it out! 

Start a Compost Bin
Have you ever wondered what happens to all the food you put in the trash? Well… nothing. The food's amazing decomposing nutrients sit alongside non-degradable materials that in no way benefit from them. 
But you can change that! 
Although composting may sound complicated – it isn't! All you need in order to start your own composting bin is a backyard, some pallet boards, zip ties, and some elbow grease. The video below will show you how!
Not interested in all the work? That's alright! Home Depot has a number of compost bins that can be delivered directly to your door. 
Now that chicken fajita you made last week can have a second life in your garden!
In what ways do you incorporate low waste in your home? Let us know!
You Might Also Like: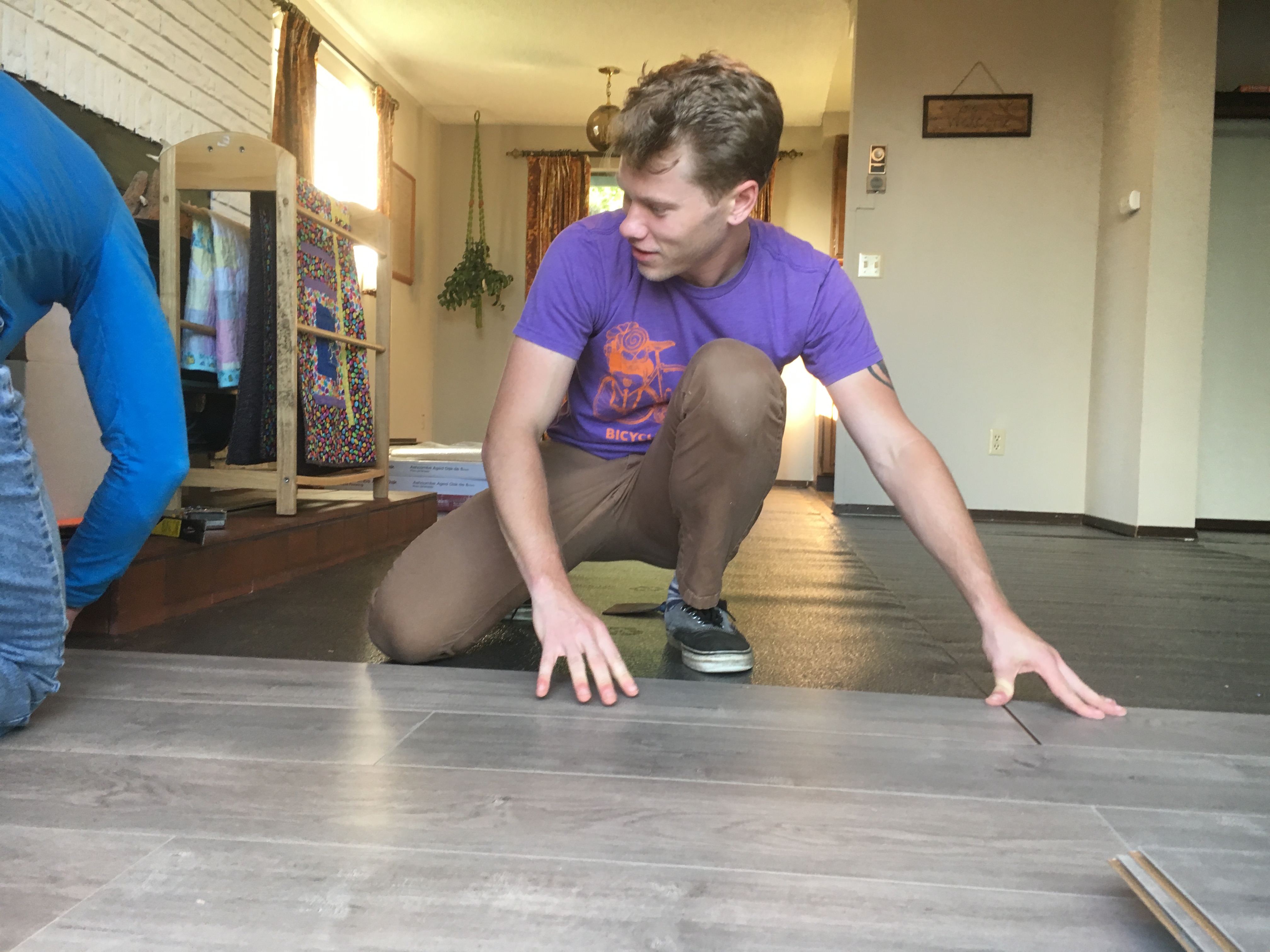 How to Install Laminate Flooring:
Written by: Anita Johnston

How many times have you thought "I can install laminate flooring" or "I wish I could do that?"  Flooring is one of those renovation projects that allure newbies most often.  After mastering the skill of installing your own floor it can liberate the home owner which can be good and bad for a home.
I have walked through many homes and within a second I can pick out a home owner renovation project.  From spaces between cabinets that weren't properly attached together or gaps that weren't perfectly filled with a filler pencil.  And flooring………. I have seen the worst flooring jobs while touring houses for sale.  A new floor can add great value to a home.  But an improperly installed floor can actually deduct value from a home.  I just saw this recently with a home that the appraiser specifically noted the poor flooring installation and downgraded the value of the home.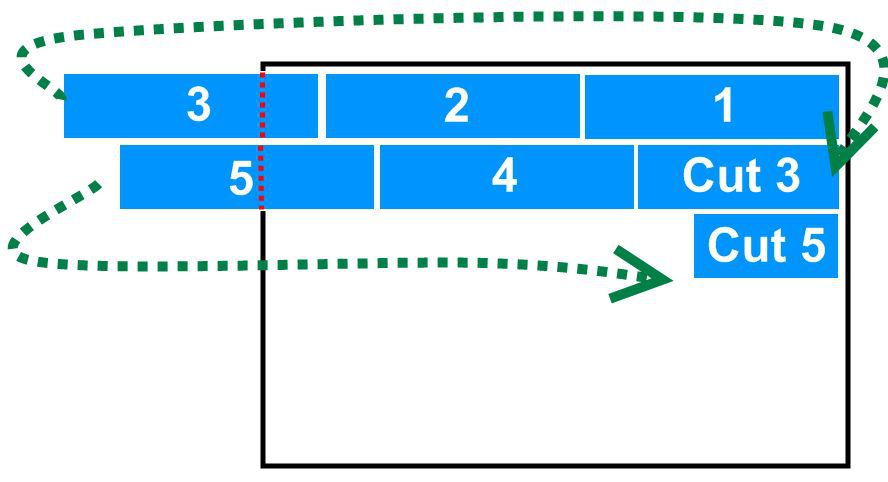 There's several things to keep in mind when installing flooring.  Prepping the floor is a must.  If you've removed carpet then you definitely had to endure the tedious task of removing staples that was holding down the carpet pad.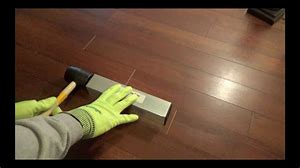 Sweeping the floor to make double sure that there's nothing sticking up that won't allow the floor to lie perfectly flat and level.  Second you need to decide where to start.  If it's just one room that's easier.  You simply start running your flooring parallel to the entrance.  Once you lay out your first row you will then take your cut board and lay it in place to start your next row.  There should never be less than 4″  from the end of one board to and other ends the row before or after. You should tap the boards together until they click together and all gaps are gone.