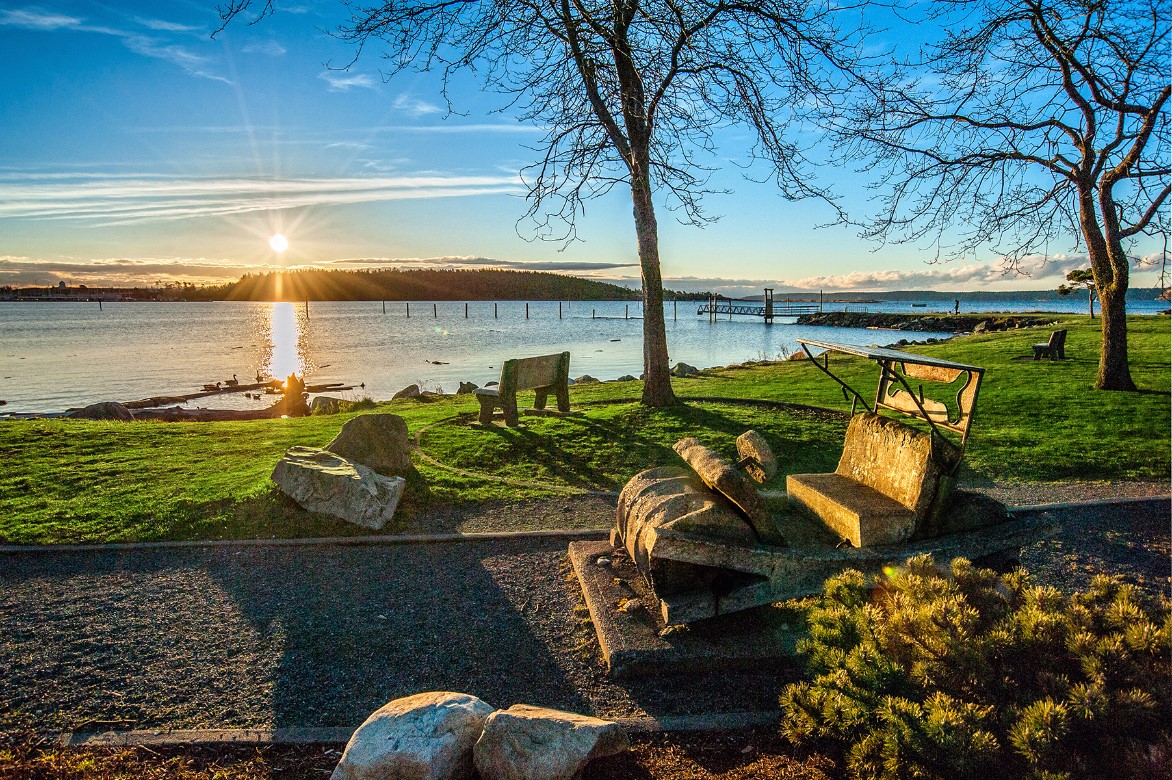 Parks in Oak Harbor
With summer winding down, we love to get outside and enjoy that glorious sunshine, and what better way to do that than visit some of the many parks in Oak Harbor? We love these parks because they are close by which makes them perfect for an after-work picnic or an evening out in the fresh air.
Flinstone Park and City Beach
Have you ever noticed the famous Flinstone car on Bayshore Drive? You guessed it! That would be Flinstone Park which connects to City Beach. This is a perfect place to take a walk down the boardwalk, look for hidden treasures on the beach, build a driftwood fort, or sit and enjoy the scenery on one of the many benches along the beach. Another thing we love is that it is close to downtown shopping, and restaurants! We love to grab an ice cream cone at Popsies and take a stroll through the park.
Fort Nugent
Ft. Nugent Park offers a wide variety of things to do for kids and adults alike. Soccer, Football, and Baseball fields take up a large portion of the park providing plenty of space to run free, kick a ball, play catch, or practice your batting skills. A large wooden Castle-like play structure is a favorite among the kids in Oak Harbor and is what gives this park its nickname "Castle Park". A large disc golf course runs throughout the wooded area of the park which makes for beautiful walking trails to enjoy.
Joseph Whidbey State Park & Rocky Point Beach
Joseph Whidbey State Park is a favorite of Whidbey residents thanks to its cool hiking trails and beach with beautiful views of the Strait of Juan De Fuca. A covered picnic area, grills, picnic benches, miles of beach to comb for treasures, and hiking trails to venture make this park a great place to have an adventure or family day in the sun. When the wind is blowing hard this is a favorite spot for kite surfers too which makes quite a spectacle!
Dugualla State Park
While Dugualla State Park may technically be part of the famous Deception Pass State Park, it is virtually untouched. Dugualla is a peaceful place with hiking trails, spectacular scenery, and a beach area to explore. Not many people know of this hidden gem making it a great place to enjoy quiet and nature.
Deception Pass State Park
This may seem like an obvious choice, but there is so much to love about Deception Pass State Park we had to include it! Chances are you've only seen a portion of all it has to offer. The iconic bridge, beaches, hiking trails, and lakes offer so much variety it can take years to explore every aspect. You can swim at Cranberry Lake, spot critters along the beaches, hike one of the many trails throughout the park, enjoy a picnic at a covered picnic area, and soak in a gorgeous sunset over the sound all in one place. Our 5 favorite "hidden" features of this massive park are as follows…
Hoypus Point is on the opposite side of Hwy. 20 from the main part of the park. Just take Cornet Bay Rd. East till it dead ends.
There is a little cabin you can rent on Ben Ure Island but you have to have your own kayak, canoe or other human-powered watercraft to get there!
Rosario Head is a favorite well-worn path out to the most spectacular point and vista. Don't miss reading the legend of the maiden Ko-kwahl-alwoot on your way or the tidepools! Best way to get here is the trail connecting to Bowman Bay.
Pass Lake is known for its fly fishing but few know about its miles of quiet and heavily wooded trails on the West End.
The path to Lighthouse Point from Bowman Bay is spectacular! Little inlets, views of the bridge, and a variety of native foliage make this a visually stunning hike that is worthy of repeat visits.
Oak Harbor offers so many different parks to enjoy, and these are just a few. What are some of your favorite parks to visit? We would love to hear about them!
Take a Closer Look at the Parks in Oak Harbor:
You might also like:
#mc_embed_signup{background:#fff; clear:left; font:14px Helvetica,Arial,sans-serif; width:100%;}
/* Add your own MailChimp form style overrides in your site stylesheet or in this style block.
We recommend moving this block and the preceding CSS link to the HEAD of your HTML file. */