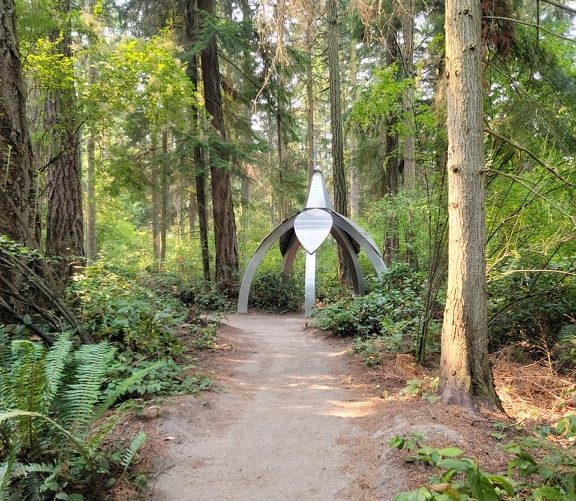 After purchasing 15.1 acres in 2008 conservationist Scott Price and his family decided to develop their home elsewhere. After doing so they journeyed down a long road of determining what to do with the property before concluding a sanctuary where art and nature entangle as one. After years of dedicated time and development, they unveiled The Price Sculpture Forest to visitors on October 23, 2020.
Initially…
the community's solution to the Prices issue was to clear cut the forest to create clear views of Penn Cove and Mount Baker then subdivide it for residential development. Price's inner conscious could not allow that to happen. Price had other plans. Price wanted to conserve the property and protect it for years to come. While it would be a challenging road ahead Price rolled up his sleeves and got to work. After reaching out to the Whidbey Camano Land Trust who reached out to the US Navy to aid in preserving the property a creative plan had begun to make Price's dreams a reality. Price purchased two smaller adjacent parcels bringing the total property to 16.3 acres.
The solution…
The Price Sculpture Forest. A place where visitors are welcomed to the property to experience a magical place where nature and art entangle as one. As you walk down the trails you encounter art exhibits, many of which play on the existing natural habitat. A prime example is Nature's Keystone by Anthony Heinz May who used a fallen tree and cut up bits of one end into square blocks designing the fallen tree to look like a living masterpiece exploding right out of nature.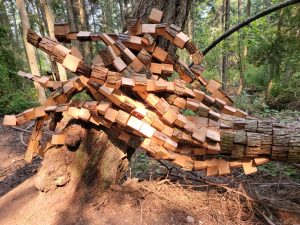 Turn another corner and come face-to-face with Tyrannosaurus Rex a driftwood masterpiece by Joe Treat that might catch you off guard.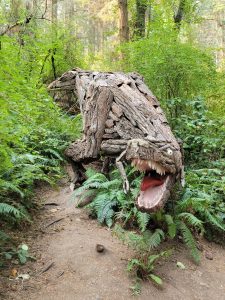 Feel in awe as you walk beneath the Flying Fish by Daniella Rubinovitz and wonder how they got the incredible piece of work up there.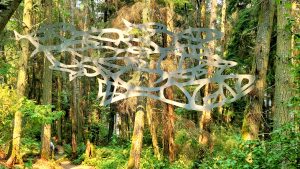 The best part of the journey is that the park is still growing. You might find yourself lucky enough to meet an artist on your trip like we did.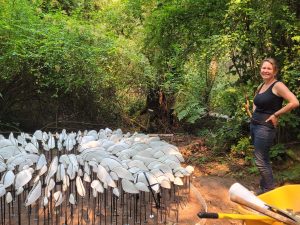 Visitors and residents alike find continued joy from Prices' selfless act as they return to the sanctuary to be close to nature and enjoy the local art exhibits. This is just one of the many gems that make Whidbey Island such a unique and wonderful place to live. If you enjoy this you might also enjoy visiting the Earth Sanctuary between Freeland and Langley.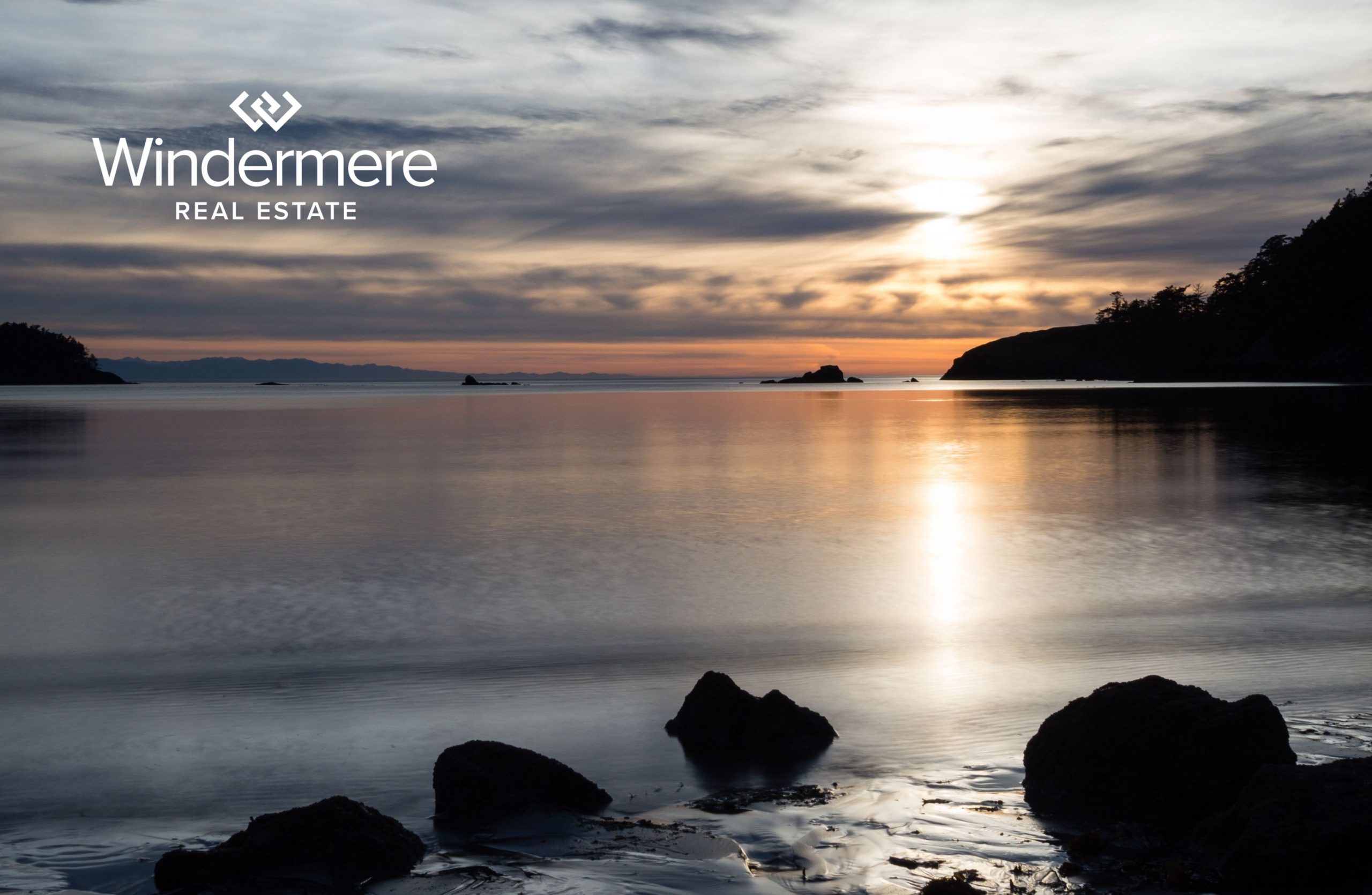 Although not technically on Whidbey, Bowman Bay is a large part of our island's local culture. This bay, which is located on the Fidalgo Island side of Deception Pass, has a rich history spanning back to the late 1800s. Originally a settlement to a large Samish village, the bay has since served several purposes including a military reserve and salmon hatchery. Download the CCC Scavenger Hunt for a fun way to learn some history! Between the charming old hatchery building, long dock stretching into the bay, boat launch, picnic shelters, playground, and scenic surrounding trails that provide unique views of the bridge itself, this park is one you do not want to miss! Learn more about Bowman Bay here.
Check out the rest of Whidbey's beautiful destinations from this series here.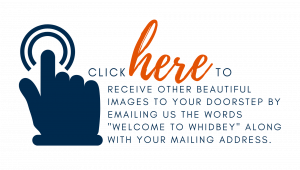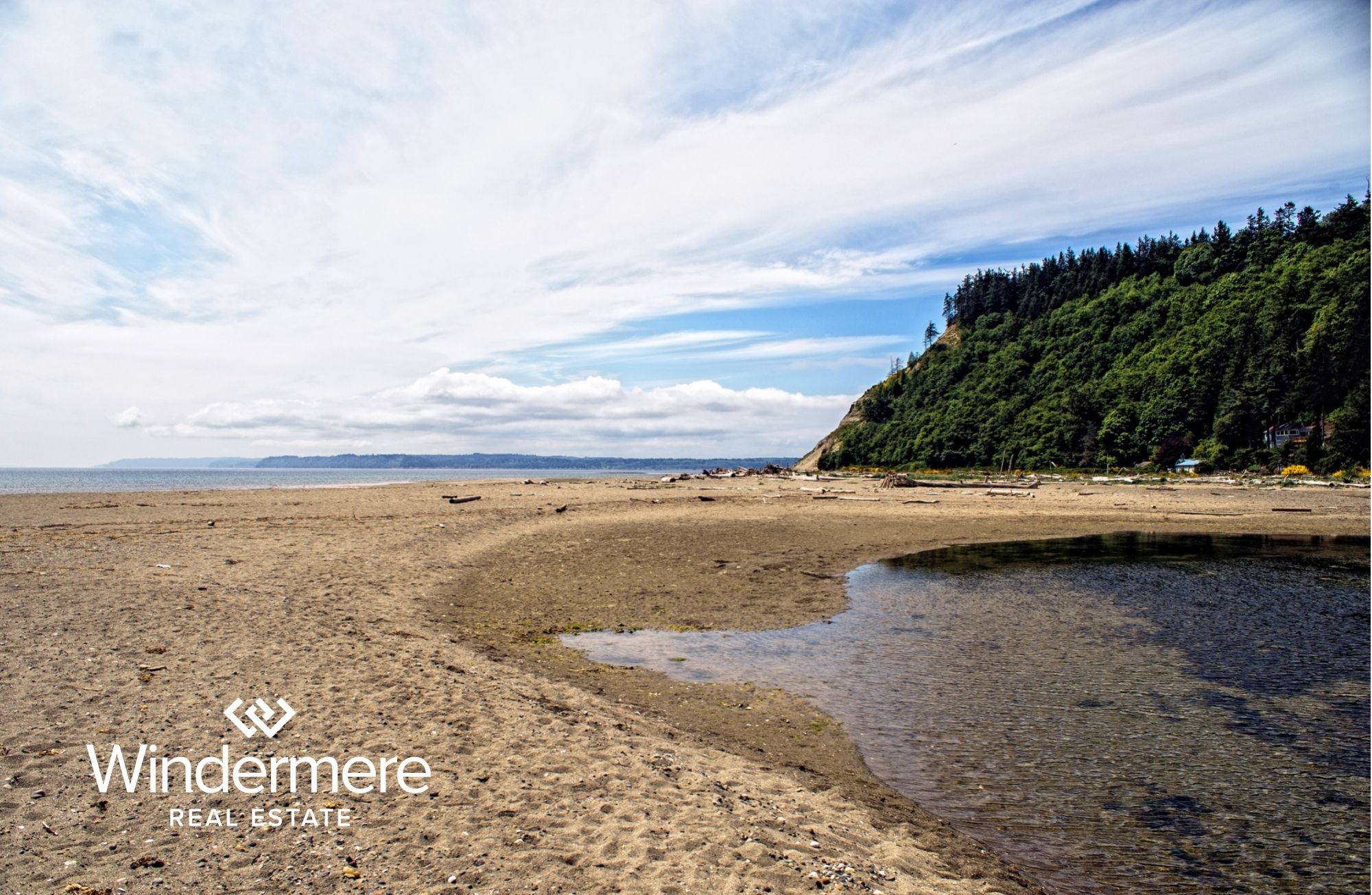 Heading east on Highway 525 turn right onto Double Bluff Road. Follow this charming road to the end where a tiny parking lot, breathtaking views, and the most unique public beach on Whidbey Island awaits you.
You have made it to Double Bluff Beach. It is here you will find over 4.5 miles of flat sandy beach where you and your entire family (including your dogs) can enjoy breathtaking views for as far as your eyes can see and if it's clear, a view of Mt. Ranier! This off-leash dog park got its name "Double Bluff" from the two large bluffs that are the main attraction for the park. Amongst the numerous features, you will find picnic areas, public restrooms, a doggie bag station, clam digging areas, showers to wash off the sand, a payphone, shallow water for wading that gets very warm in summer, and driftwood to lean against.
Grab a picnic lunch from Payless Foods just down the road in Freeland and spend a beautiful Pacific Northwest Day here! Be sure to arrive early, get a good spot, and don't forget to pack the sunscreen! 
Check out the rest of Whidbey's beautiful destinations from this series here.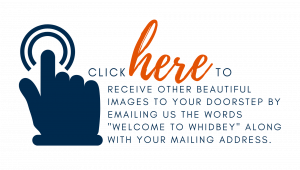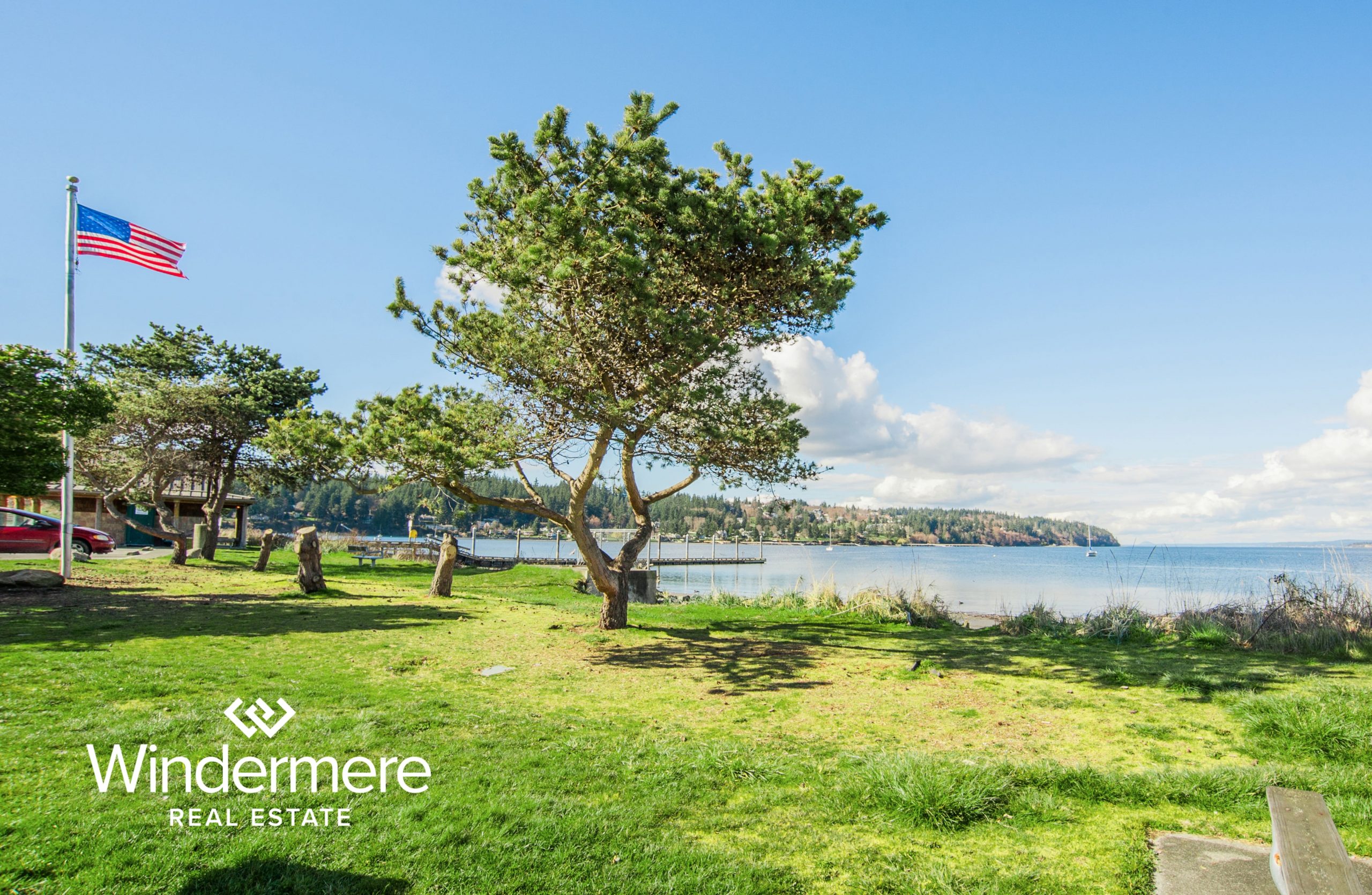 Did you know Freeland got its name in the early 1900s from an attempted commune by a company called the Free Land Association? In 1920, they went bankrupt, but the name stuck!
Today, it's a bustling little community at the head of Holmes Harbor where you can find amazing places like the Freeland Park (pictured above), which is a favorite for hosting summer BBQs. There is an abundance of picnic tables, covered areas, BBQ pits, and restrooms. There is a fantastic playground and jungle gym for kids with a large grassy area. To top it all off there is a beach where you can find all sorts of treasures, soak up the sun, jump in the water or relax on your boat.
Freeland Park also hosts one of the best fireworks shows on Whidbey Island! Be sure to put the annual July 3rd show on your calendar – you won't want to miss it! Don't forget to bring your blankets, chairs and picnic basket. Come early to stake out a spot! If you haven't explored this part of your island I encourage you to do so!
Check out the rest of Whidbey's beautiful destinations from this series here.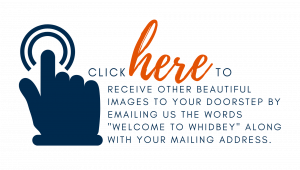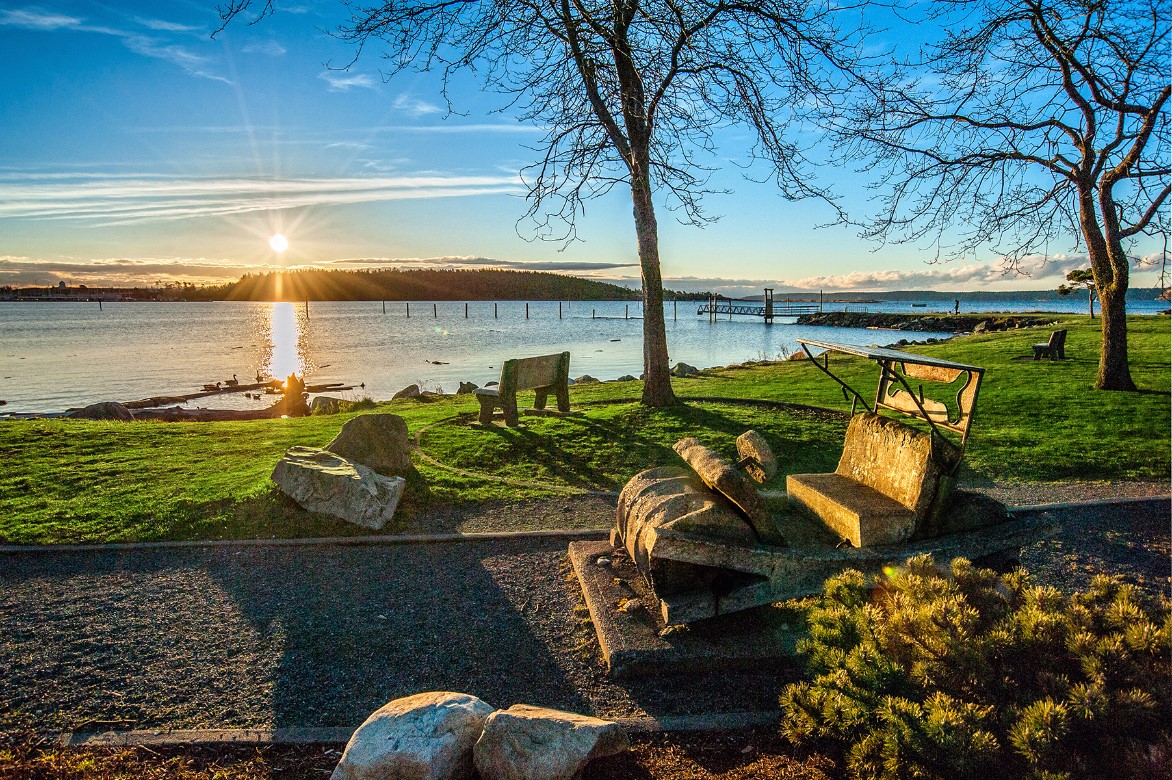 Parks in Oak Harbor
With summer winding down, we love to get outside and enjoy that glorious sunshine, and what better way to do that than visit some of the many parks in Oak Harbor? We love these parks because they are close by which makes them perfect for an after-work picnic or an evening out in the fresh air.
Flinstone Park and City Beach
Have you ever noticed the famous Flinstone car on Bayshore Drive? You guessed it! That would be Flinstone Park which connects to City Beach. This is a perfect place to take a walk down the boardwalk, look for hidden treasures on the beach, build a driftwood fort, or sit and enjoy the scenery on one of the many benches along the beach. Another thing we love is that it is close to downtown shopping, and restaurants! We love to grab an ice cream cone at Popsies and take a stroll through the park.
Fort Nugent
Ft. Nugent Park offers a wide variety of things to do for kids and adults alike. Soccer, Football, and Baseball fields take up a large portion of the park providing plenty of space to run free, kick a ball, play catch, or practice your batting skills. A large wooden Castle-like play structure is a favorite among the kids in Oak Harbor and is what gives this park its nickname "Castle Park". A large disc golf course runs throughout the wooded area of the park which makes for beautiful walking trails to enjoy.
Joseph Whidbey State Park & Rocky Point Beach
Joseph Whidbey State Park is a favorite of Whidbey residents thanks to its cool hiking trails and beach with beautiful views of the Strait of Juan De Fuca. A covered picnic area, grills, picnic benches, miles of beach to comb for treasures, and hiking trails to venture make this park a great place to have an adventure or family day in the sun. When the wind is blowing hard this is a favorite spot for kite surfers too which makes quite a spectacle!
Dugualla State Park
While Dugualla State Park may technically be part of the famous Deception Pass State Park, it is virtually untouched. Dugualla is a peaceful place with hiking trails, spectacular scenery, and a beach area to explore. Not many people know of this hidden gem making it a great place to enjoy quiet and nature.
Deception Pass State Park
This may seem like an obvious choice, but there is so much to love about Deception Pass State Park we had to include it! Chances are you've only seen a portion of all it has to offer. The iconic bridge, beaches, hiking trails, and lakes offer so much variety it can take years to explore every aspect. You can swim at Cranberry Lake, spot critters along the beaches, hike one of the many trails throughout the park, enjoy a picnic at a covered picnic area, and soak in a gorgeous sunset over the sound all in one place. Our 5 favorite "hidden" features of this massive park are as follows…
Hoypus Point is on the opposite side of Hwy. 20 from the main part of the park. Just take Cornet Bay Rd. East till it dead ends.
There is a little cabin you can rent on Ben Ure Island but you have to have your own kayak, canoe or other human-powered watercraft to get there!
Rosario Head is a favorite well-worn path out to the most spectacular point and vista. Don't miss reading the legend of the maiden Ko-kwahl-alwoot on your way or the tidepools! Best way to get here is the trail connecting to Bowman Bay.
Pass Lake is known for its fly fishing but few know about its miles of quiet and heavily wooded trails on the West End.
The path to Lighthouse Point from Bowman Bay is spectacular! Little inlets, views of the bridge, and a variety of native foliage make this a visually stunning hike that is worthy of repeat visits.
Oak Harbor offers so many different parks to enjoy, and these are just a few. What are some of your favorite parks to visit? We would love to hear about them!
Take a Closer Look at the Parks in Oak Harbor:
You might also like:
#mc_embed_signup{background:#fff; clear:left; font:14px Helvetica,Arial,sans-serif; width:100%;}
/* Add your own MailChimp form style overrides in your site stylesheet or in this style block.
We recommend moving this block and the preceding CSS link to the HEAD of your HTML file. */