Did you know that well over a century ago White Pelicans were common in our area? Unfortunately, the use of pesticides and a change in habitat threatened the species. For years, these gorgeous birds went relatively unseen until a flock graced our South Whidbey waters in 2016 visiting Deer Lagoon and Honeymoon Bay. With the loss of breeding grounds, these huge birds are known to prospect new locations and have returned to Deer Lagoon every year since. Bird watchers now anxiously await these feathered friends every year. Will you be one of the lucky ones to spot them?
If you are or are interested in becoming an avid birdwatcher check out our blog Bird Watching on Whidbey Island here.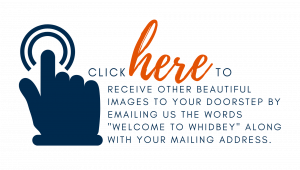 Each month we release a new beautiful image of Whidbey Island. We mail these gorgeous photos in conjunction with interesting tidbits and little-known facts about each image or location to our clients, friends, and family. Follow along. Don't want to miss out? Subscribe below for updates or become part of the family and receive your very own postcard once a month by emailing us the words "Welcome to Whidbey" along with your address to WhidbeyCommunications@Windermere.com to receive your very own copies.
Check out our collection here.