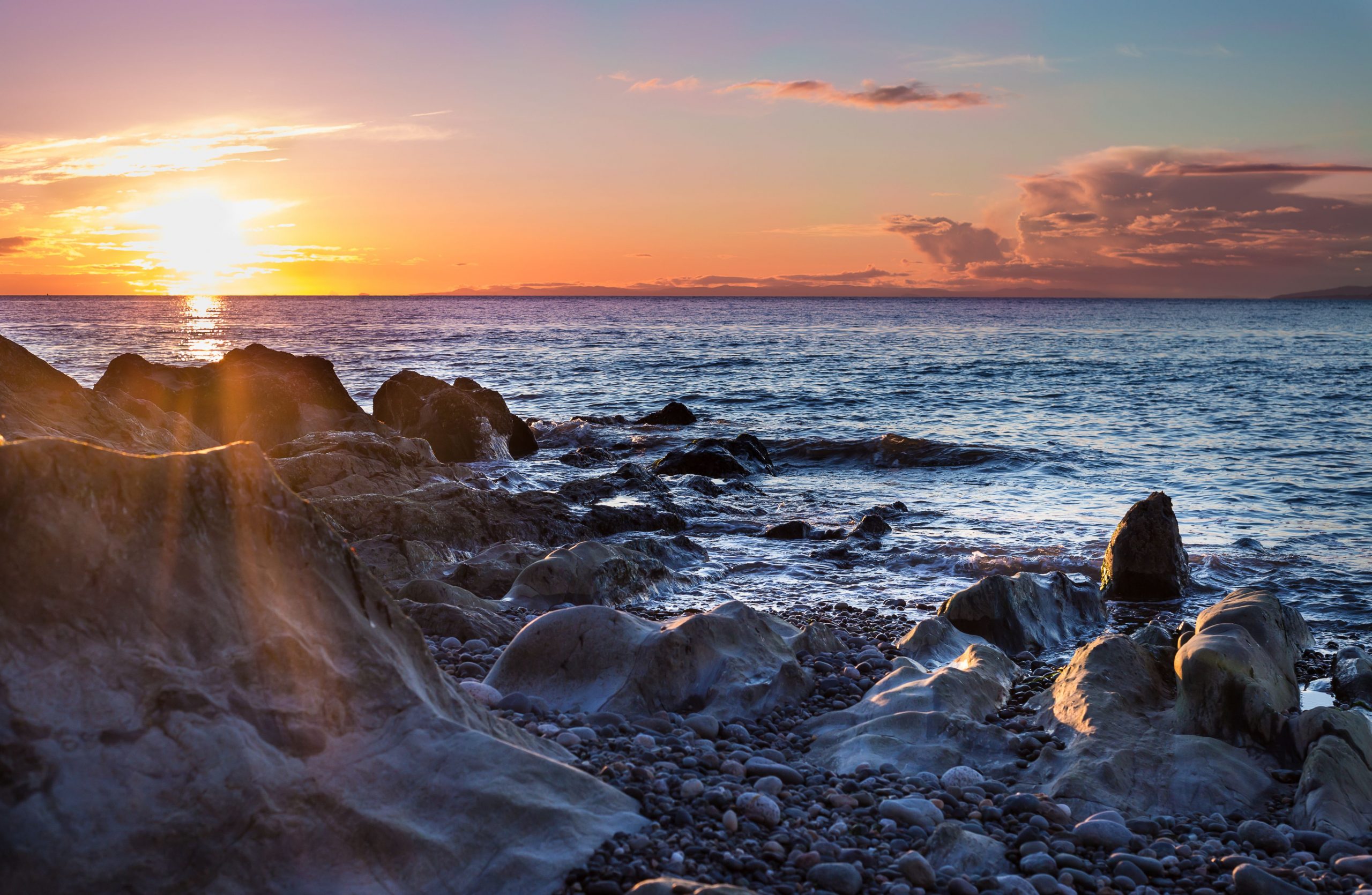 Check out the rest of Whidbey's beautiful destinations from this series 
here.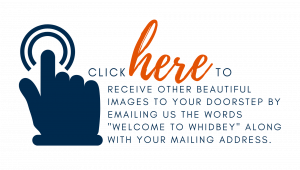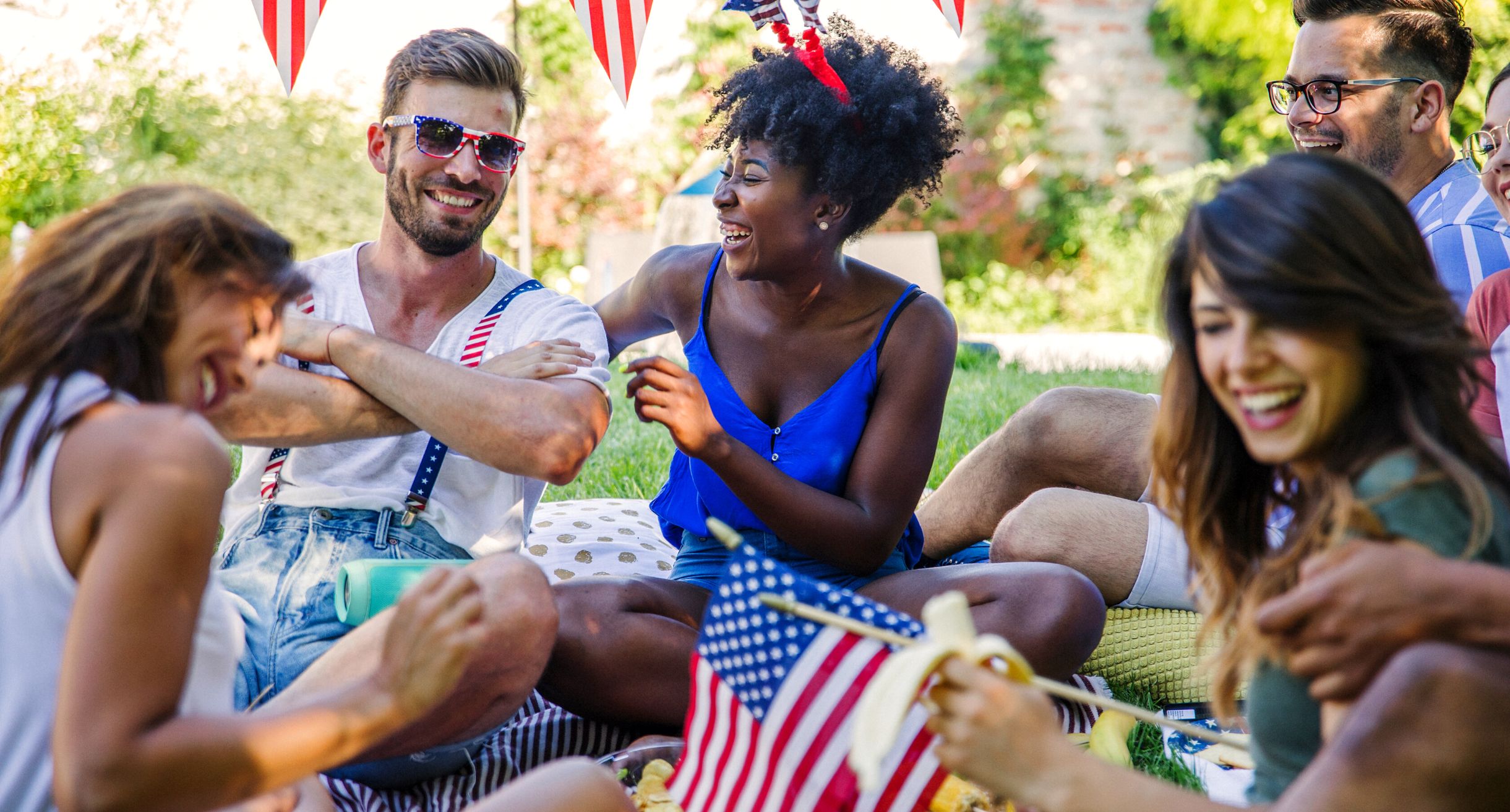 Celebrate the 4th of July with these 5 BBQ recipes! Fire up the grill, invite your friends and family, and spot some fireworks to celebrate the passage of the Declaration of Independence by the Continental Congress that happened on July 4, 1776.
Mouthwatering BBQ Chicken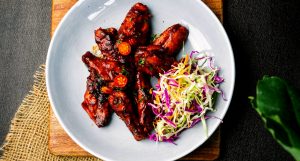 Ingredients
2 cups ketchup
1 cup cider vinegar
1 cup water
1/4 cup packed brown sugar
1/4 cup reduced-sodium soy sauce
1/4 cup molasses
1/4 cup honey
2 tablespoons prepared mustard
3 teaspoons ground cumin
1/4 teaspoon salt
1/4 teaspoon pepper
6 pounds assorted bone-in chicken pieces
Directions
In a large saucepan, combine the first 11 ingredients; bring to a boil. Reduce heat; simmer, uncovered, 1 to 1-1/2 hours or until thickened, stirring occasionally. Remove half of the sauce; reserve for brushing chicken. Keep remaining sauce warm for serving.
Grill chicken, covered, over medium heat 25-35 minutes or until juices run clear, turning occasionally and brushing with reserved sauce during the last 10 minutes. Serve with remaining sauce.
Parmesan Garlic Grilled Corn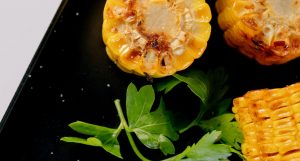 Ingredients
4 ears fresh corn
2 tablespoons butter
1 clove garlic grated or minced
1/4 cup freshly grated Parmesan
1 tablespoon freshly chopped parsley
Directions
Preheat grill to 350-400 degrees F. Remove most of the husks on the corn and leave the innermost layer intact. Pull them back just enough to remove the silks, then place back over the corn.
Place corn on preheated grill. Cook, turning once or twice until kernels are bright yellow, 15-20 minutes.
In the meantime: place butter and garlic in a small heat-safe bowl. Microwave until butter is melted, 10-15 seconds.
Remove remaining husks and brush the corn kernels with melted garlic butter while still hot. Sprinkle with Parmesan cheese and parsley.
Serve immediately.
Greek Lemon Orzo Salad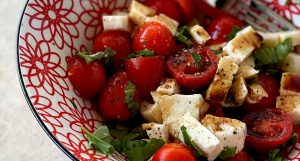 Ingredients
1 cup / 200 g risoni / orzo pasta
350 g / 12 oz cherry tomatoes , halved (or 2 large tomatoes)
2 Lebanese / Persian cucumbers , diced
150 g / 5 oz firm feta , cut into 1/2cm/ 1/2″ cubes
1/4 – 1/2 red onion , cut into wedges and sliced thinly
1 green capsicum/bell pepper , cut into 3 cm / 2.25″ strips (Note 1)
150 g / 5 oz whole black olives , seed in (adjust qty to taste)
1 1/2 tsp dried oregano
DRESSING
2 tsp lemon zest
3 tbsp lemon juice
5 tbsp olive oil
1 tsp Dijon mustard (or other mild mustard)
1 garlic clove , minced
1 tsp sugar
1/2 tsp salt
Black pepper
Instructions
Place Dressing ingredients in a jar and shake well. Set aside for 10+ minutes.
Cook orzo / risoni per packet directions. Drain and rinse under cold water to stop them cooking further. Drain well.
Place orzo and remaining Salad ingredients in a bowl. Drizzle with dressing and toss gently to coat. Serve!
Creamy Potato Salad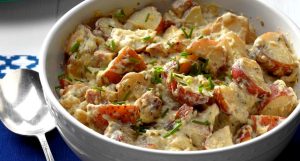 Creamy Ranchified Potatoes Recipe photo by Taste of Home
Ingredients
2 pounds small red potatoes, quartered
1 cup cubed fully cooked ham
1 can (10-3/4 ounces) condensed cream of potato soup, undiluted
1 carton (8 ounces) spreadable chive and onion cream cheese
3 tablespoons minced chives
1 envelope ranch salad dressing mix
1 teaspoon pepper
6 ounces pepper jack cheese, grated
Directions
In a 4-qt. slow cooker, combine the first 7 ingredients. Cook, covered, on low until potatoes are tender, 6-8 hours. Top with cheese; stir to combine.
Mac 'n' Cheese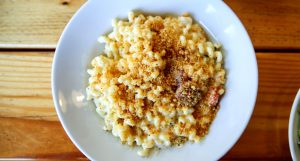 Ingredients
16 oz elbow macaroni, cooked (or other tubular pasta)
1 tbsp extra virgin olive oil
6 tbsp unsalted butter
1/3 cup all purpose flour
3 cups whole milk
1 cup heavy whipping cream
4 cups sharp cheddar cheese shredded
2 cups Gruyere cheese shredded
salt and pepper to taste
1 1/2 cups panko crumbs
4 tbsp butter melted
1/2 cup Parmesan cheese shredded
1/4 tsp smoked paprika (or regular paprika)
Directions
Preheat oven to 350F. Lightly grease a large 3 qt or 4 qt baking dish and set aside. Combine shredded cheeses in a large bowl and set aside.
Cook the pasta one minute shy of al dente according to the package instructions. Remove from heat, drain, and place in a large bowl.
Drizzle pasta with olive oil and stir to coat pasta. Set aside to cool while preparing cheese sauce.
Melt butter in a deep saucepan, dutch oven, or stock pot.
Whisk in flour over medium heat and continue whisking for about 1 minute until bubbly and golden.
Gradually whisk in the milk and heavy cream until nice and smooth. Continue whisking until you see bubbles on the surface and then continue cooking and whisking for another 2 minutes. Whisk in salt and pepper.
Add two cups of shredded cheese and whisk until smooth. Add another two cups of shredded cheese and continue whisking until creamy and smooth. Sauce should be nice and thick.
Stir in the cooled pasta until combined and pasta is fully coated with the cheese sauce.
Pour half of the mac and cheese into the prepared baking dish. Top with remaining 2 cups of shredded cheese and then the remaining mac and cheese.
In a small bowl, combine panko crumbs, Parmesan cheese, melted butter and paprika. Sprinkle over the top and bake until bubbly and golden brown, about 30 minutes. Serve immediately.
Connect with us and tell us what you think! Share your creations and celebration with us on Instagram at @windermere_whidbey_island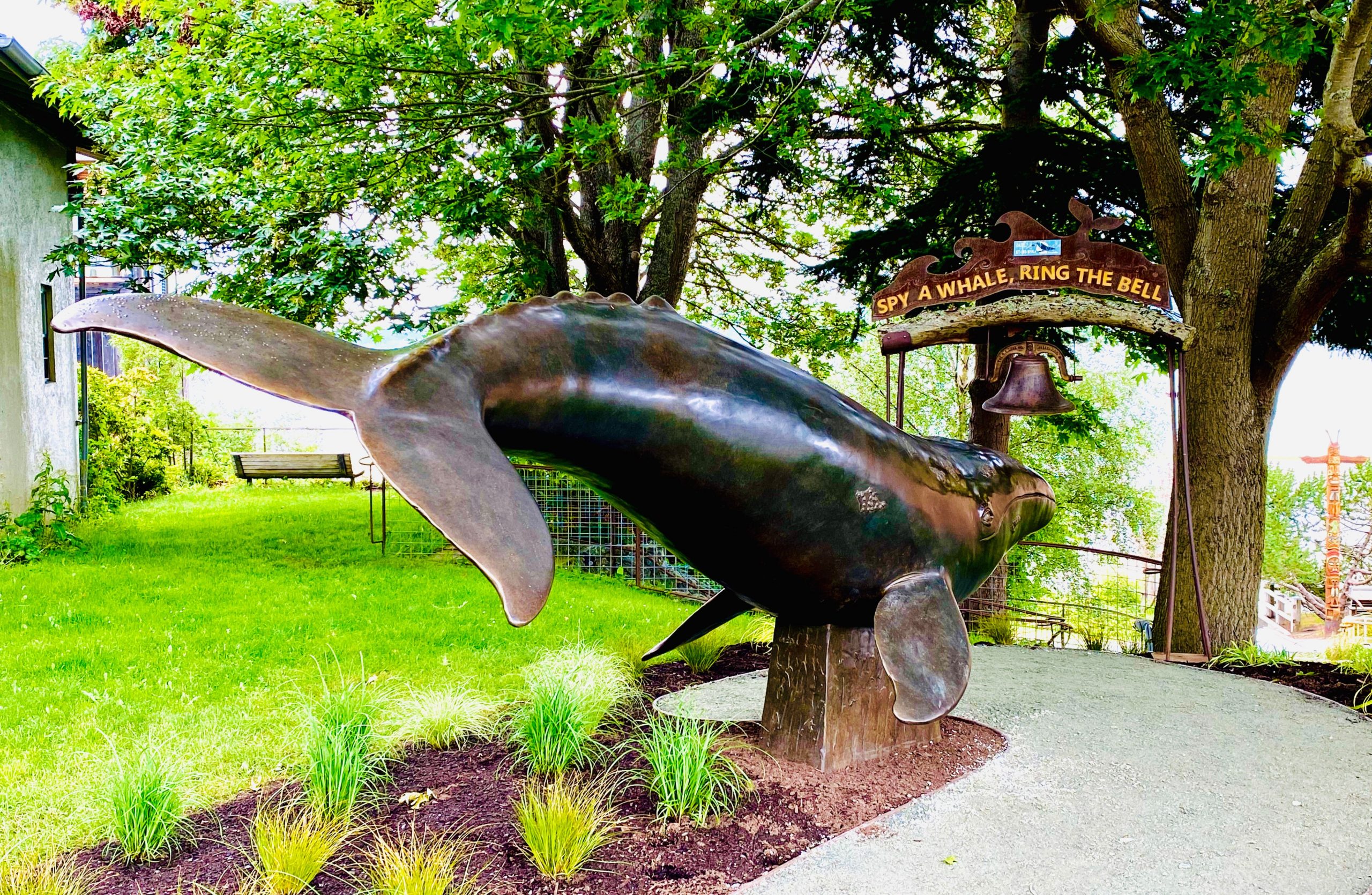 Have you heard the whale bell ring while in Langley in the spring? While that is a nice rhyme it is also a legitimate question. Every spring gray whales feed off ghost shrimp in the muddy shallows just off the shore. If you are lucky, they will come right up to the seawall! The bell and "Hope the Whale" are the stars of this iconic park. What some people miss is that the blowholes in "Hope" are there to collect money to fund ADA modifications to improve access to Seawall Park below. This will help everyone see the whales when they arrive. Bring your coins and listen to the clang!
Check out the rest of Whidbey's beautiful destinations from this series here.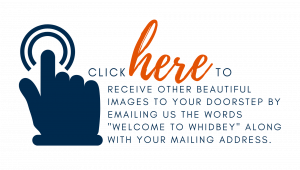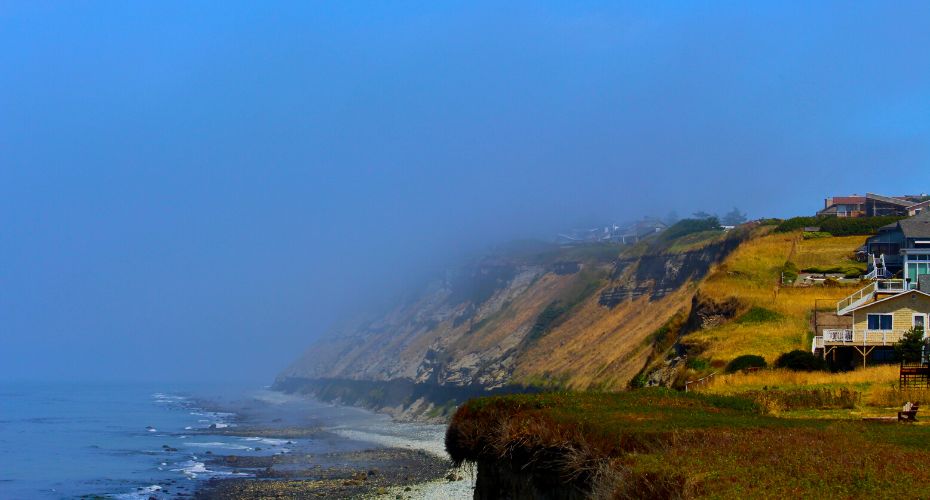 Whidbey Island is a beautiful and picturesque destination located in the Puget Sound, just a short ferry ride from Seattle. With its stunning natural beauty, rich cultural heritage, and abundance of outdoor activities, it's no wonder that Whidbey Island is a popular destination for travelers and residents alike. In this blog, we will explore the top 10 best things about Whidbey Island, from its scenic beauty to its thriving arts and culture scene.
Top 10 Best Things About Whidbey Island
Scenic beauty: Whidbey Island is known for its breathtaking views of the Puget Sound and the Olympic Mountains. Whether you are driving along the winding roads or hiking through the forests, you will be treated to stunning vistas at every turn.
Outdoor activities: With its numerous parks, trails, and beaches, Whidbey Island is a paradise for outdoor enthusiasts. Whether you are into hiking, biking, kayaking, or just soaking up the sun on the beach, there is something for everyone on this beautiful island. One of our favorites is Ebey's Landing National Historic Reserve  in Coupeville.
Small-town charm: Despite its proximity to Seattle, Whidbey Island has a laid-back, small-town feel that is perfect for those who want to escape the hustle and bustle of the city. The island's charming towns and villages offer a variety of local shops, restaurants, and breweries that are worth exploring.
Local produce and seafood: Whidbey Island is known for its rich agricultural heritage, and the island is home to a number of farms that produce fresh, locally grown produce. The island is also home to a thriving seafood industry, with local fishermen bringing in a variety of fresh, locally caught seafood. Seabolts comes highly recommended.
Wineries and breweries: Whidbey Island is home to a number of wineries and breweries that offer tastings and tours. These local businesses offer a chance to sample some of the best wines and beers produced on the island.
Arts and culture: Whidbey Island is home to a thriving arts scene, with numerous galleries, theaters, and music venues that offer a variety of performances and exhibitions throughout the year. The island is also home to a number of festivals and events that celebrate the island's rich cultural heritage.
Accommodations: Whether you are looking for a luxury resort or a cozy bed and breakfast, Whidbey Island has a wide range of accommodations to choose from. The island's many hotels, inns, and vacation rentals offer a variety of options for travelers of all budgets and preferences.
Dining: With its abundance of locally grown produce and seafood, it is no surprise that Whidbey Island is home to some excellent restaurants. From seafood shacks to fine dining establishments like Frasers Gourmet Hideaway or China City, the island has something for every taste and budget.
History and heritage: Whidbey Island has a rich history and cultural heritage that is worth exploring. The island is home to a number of historic sites, including Fort Casey State Park, which offers a glimpse into the island's military past.
Accessibility: Despite its rural location, Whidbey Island is easily accessible from Seattle and other major cities in the region. The island is just a short ferry ride away, making it a perfect getaway for those looking to escape the city for a few days.
Whidbey Island is a truly special place that has something for everyone. From its breathtaking views and outdoor activities to its charming small towns and delicious local cuisine, there's no shortage of things to see and do on this beautiful island. Whether you are planning a weekend getaway or a longer vacation, Whidbey Island is the perfect destination for those who love nature, culture, and a slower pace of life.
If you are thinking about moving to Whidbey or just have questions about the area please do not hesitate to connect with us here.
View this post on Instagram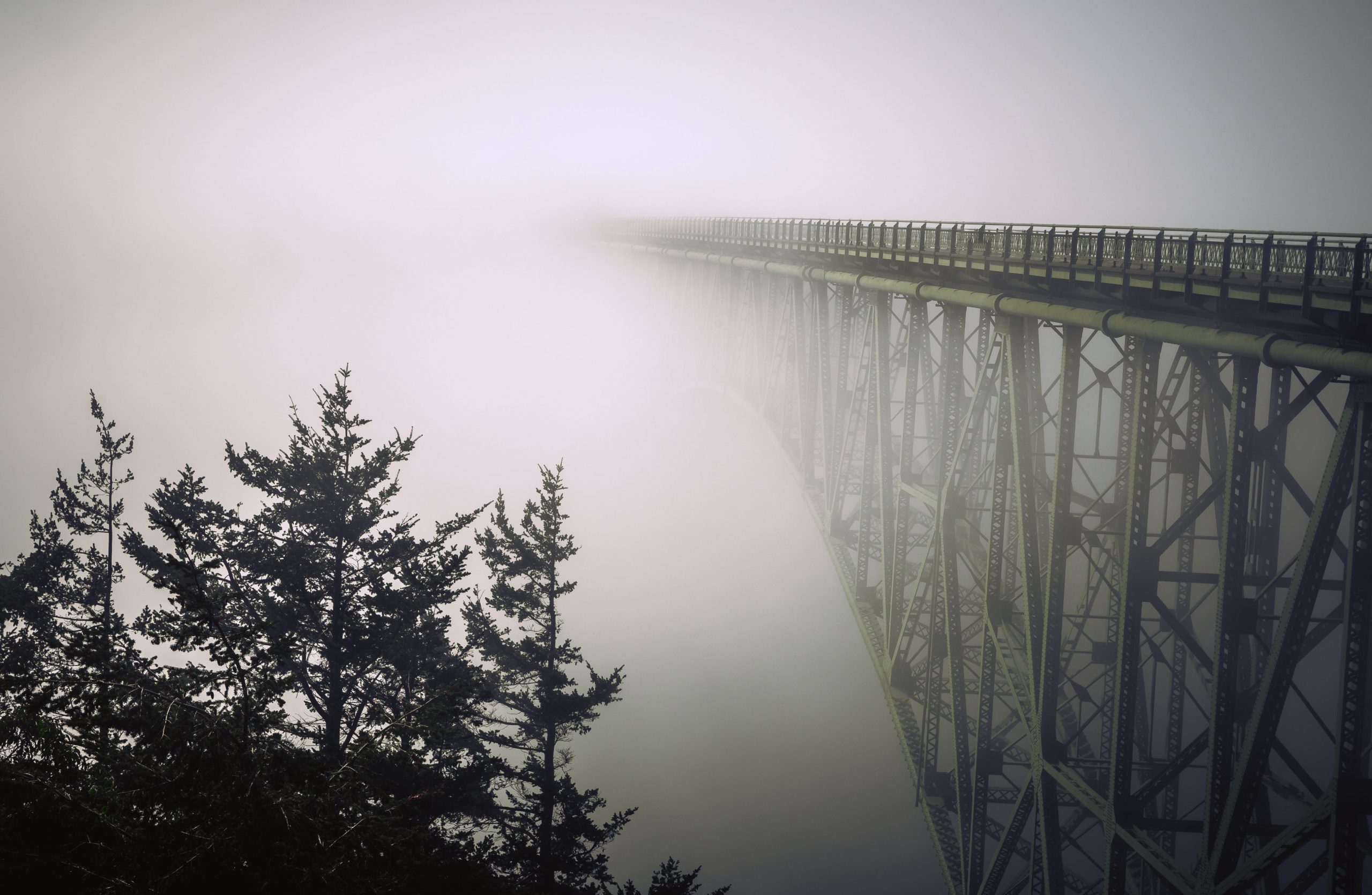 Deception Pass is a stunning destination any time of the year. It's busiest in the summer because people enjoy splashing in the salt or freshwater options at the park or putting their feet in the warm sand under blue skies and hot sun. However, from mid-fall to early spring in the PNW fog rolls in over the trees and around the bridge giving it a cozy yet mysterious feel. Many will call this time the true Pacific Northwest-style that offers a different take on the island's appeal. Whatever your preferred season, Deception Pass State Park is the most visited park in Washington for a reason! Get out and explore!
Check out the rest of Whidbey's beautiful destinations from this series here.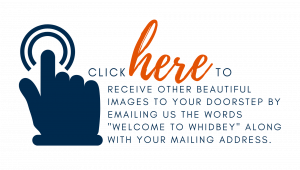 View this post on Instagram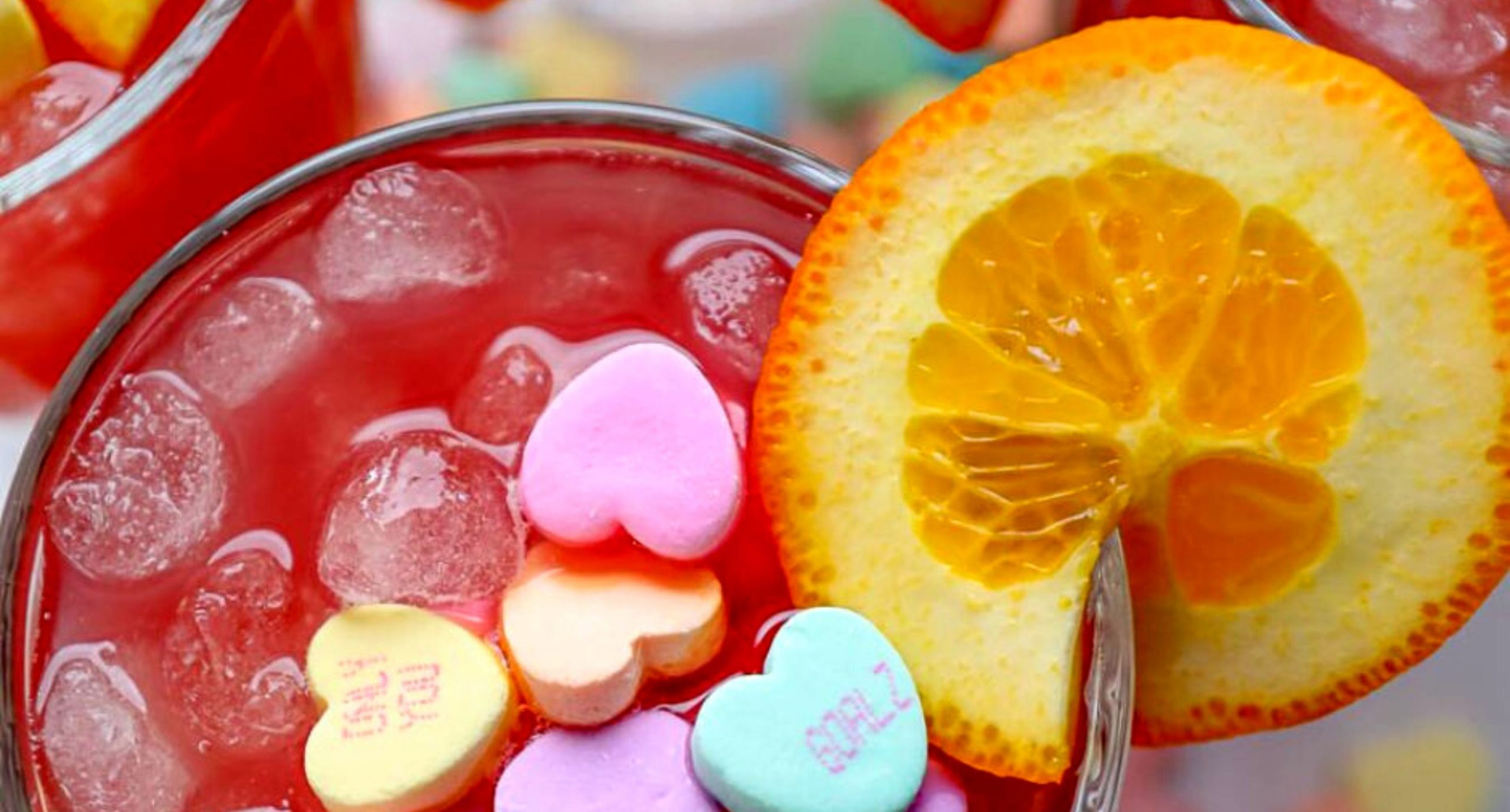 Valentine's is a day to show your appreciation for those you love. However, you don't have to spend a lot of money to make Valentine's special. Here is an easy non-alcoholic drink that will please children and adults! Start by making an area of your home festive, cut out paper hearts, use conversation candy hearts, a special tablecloth, flowers, or use whatever is special in your relationship. If you are able, buy a couple of special glasses to drink from.
Try this Valentines Day Recipe for Everyone
Making this drink is so quick and easy! Just measure out the ingredients, pour into glass with ice, stir, and top with conversation candy hearts, a slice of orange, add in a cool straw or sugar rim the glass before pouring. The best thing about this drink is it is good any time of day! This is a great way to sit and have a great conversation about love, whether its love for your parents, siblings, children, partner, friends, or pets. There is always room for love in our lives. Cheers!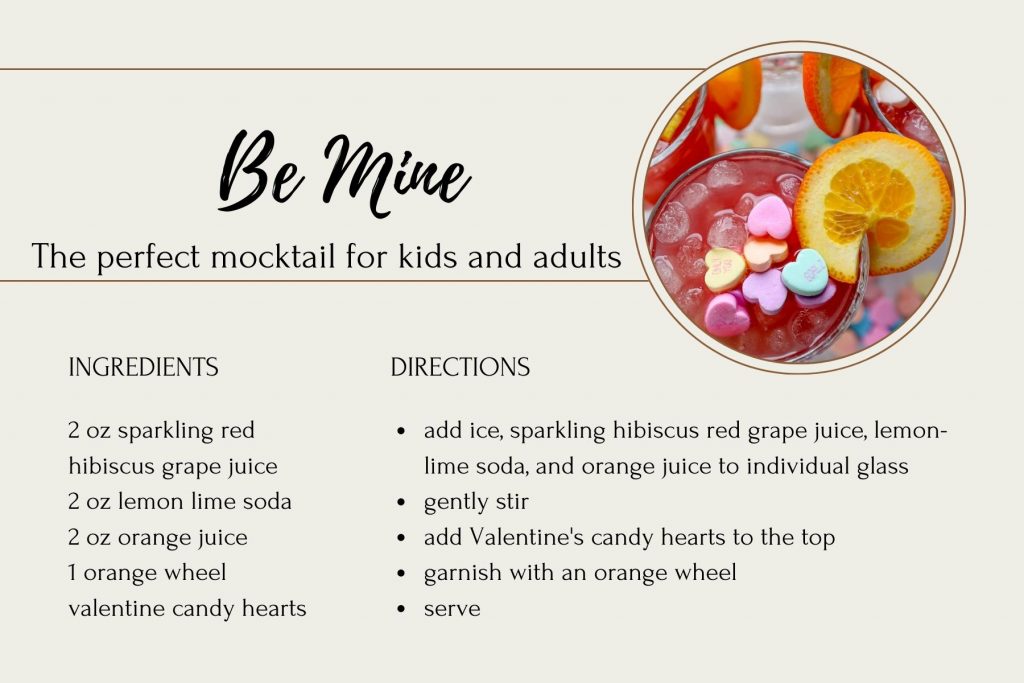 Download your own copy of this recipe card here.
Tag us in your Instagram posts of you and your loved ones enjoying this recipe at @windermere_whidbey_island don't forget to tell us what you think of it.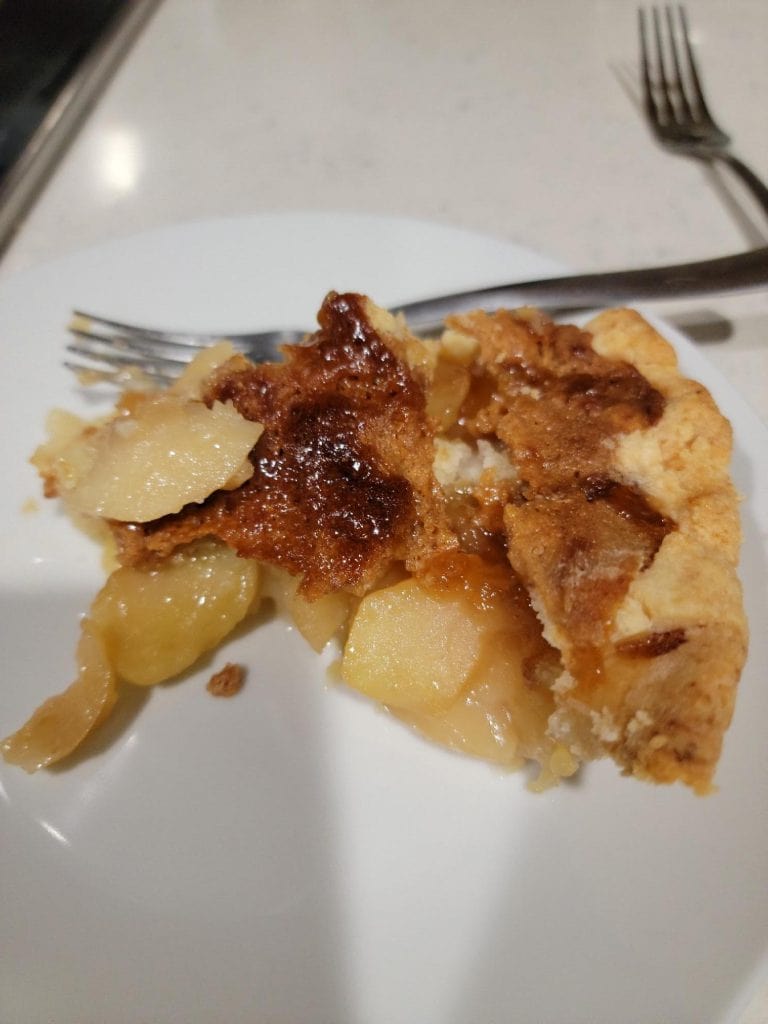 Fall has finally arrived!
Many people have their own way of celebrating the changes of the season, whether it be the pumpkin spice latte in place of their usual, the apple cider wax melts in their burners or the purchase of the burnt orange coats and warm fussy socks. For us… one of our all-time favorite ways of celebrating is with the smell of warm apple pie filling our homes with mouths nearly drooling till the vanilla ice cream is plopped on top and served.
…and we would like to share that experience with you.
Don't have a recipe of your own? Give this quick and easy one a try. It will not disappoint.
Pre: 30 Min
Cook: 1 Hour
Servings: 8
Makes: a 9-inch pie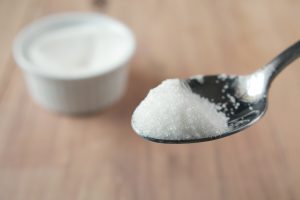 INGREDIENTS:
_ 7-8 Granny Smith Apples
_ 1/2 C unsalted butter
_ 3 TB all purpose flour
_ 1/2 C white sugar
_ 1/2 C packed brown sugar
_1/4 C of water
_ 1 thawed 9-in double crust pie pastry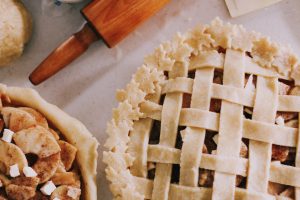 INSTRUCTIONS:
_ Peel and core apples. Slice into thin strips and set aside.
_Preheat your oven to 425 degrees F (220 C).
_Press one pastry into the bottom and up the sides of a 9-inch pie pan. Roll out the remaining pastry and cut into thin strips to make the lattice topping.
_ In a pan melt butter over medium heat. Once melted add add flour to form a paste. Cook about 2 minutes until fragrant.
_ Add both sugars and water to the paste and bring mixture to a boil. Reduce the heat to low and simmer for 3 to 5 minutes then remove from heat.
_ Meanwhile place apple slices into the pie crust pie creating a mound.
_Pour the sugar paste over the top of the apple slices reserve a bit to brush your lattice topping with
_Using the remaining pie crust you cut into strips create a lattice topping and brush with remaining sugar mixture.
_ Bake in your preheated oven for 15 minutes. Then reduce the temperature to 350 degrees F (175 C) and continue baking until apples are soft roughly 35 to 45 minutes.
TOP WITH:
_ Vanilla Ice cream
_Serve slightly warm
_ Tag us on Instagram @Windermere_Whidbey_Island
_Enjoy
View this post on Instagram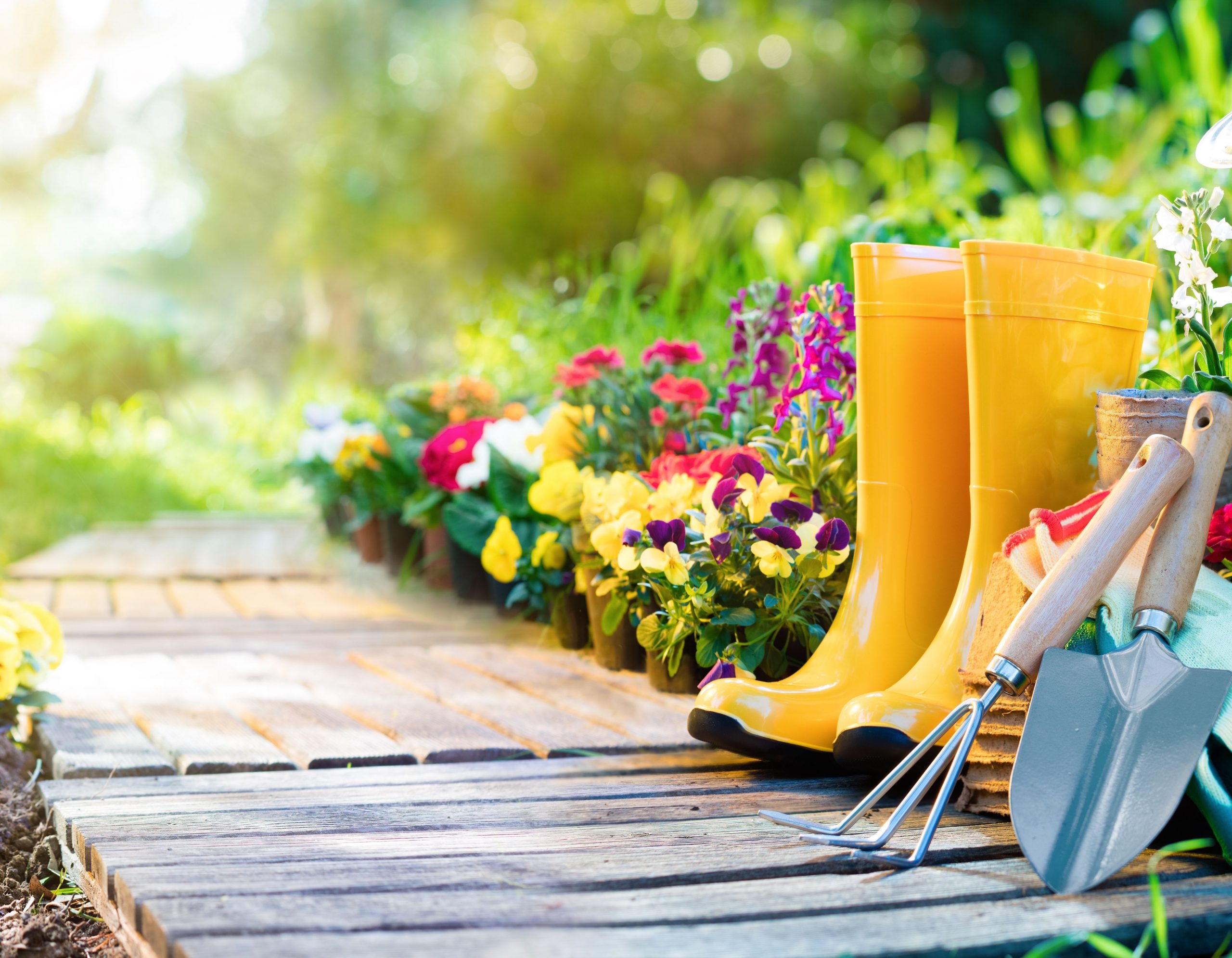 Even in the hottest seller's market Whidbey Island has ever seen, it's obvious that curb appeal is still fetching top dollar. In fact, now more than ever a phenomenal home that is attractively presented is able to create such a stir that buyers are battling over who will get it. If you are selling soon don't skimp on the power of curb appeal, the return on a small investment of time, elbow grease, and new plants will never be higher! We've prepared a list of 6 ways to increase your curb appeal and sell for top dollar. Don't leave anything on the table in this market!
Perhaps you are not planning to sell… these tips will help you fall in love with your space that much more without breaking the bank. So, keep reading.
A manicured lawn, established trees, shrubs, and plants are all obvious ways to increase your home's curb appeal but adding some seasonal flowers for a pop of color or replacing anything that's looking a little scraggly and old is the all-important icing on the cake!
During the month of April, Windermere Whidbey Island partners with Mailliard's Landing Nursery to offer you 20% off your purchase of plants when you present our Mailliard's offer card. Don't have this card but want one? Email us your address and let us know you want the Mailliards card and we will pop it in the mail for you. Eager to get it sooner? Just stop by our office and pick one up.
*Expert-tip: start small with a few fast-growing trees like these top picks!
Crape Myrtle
Emerald Green Arborvitae
Prairie Crabapple
Dawn Redwood
Paper Birch
Sargent Cherry
Leyland Cypress
In addition to being fast-growing these trees need little maintenance, just water them regularly and fertilize them in the spring and fall. Doing so will not only increase your home's curb appeal but will also, increase your property value, reduce your utility bill, improve air quality, and even reduce your stress.
2.       Paint the front door!
Give your entrance a huge boost with a fresh new look. A gallon of exterior paint costs roughly $35 – $50 dollars and is an instant way to make your home stand out! It is ok to go bold here just be careful to make sure it accentuates the rest of your home.
Before you start, ensure that the door is properly prepped for painting to get the best results that will last for years to come.
We love before and after pics of front door refreshes! When you're finished post a pic to your social and tag us so we can see what you've done!
Instagram: @windermere_whidbey_island
Facebook: @WindermereWhidbeyIsland
3.       Pressure wash!
Cleaning out not just the front entrance but a quick wash for the entire house to make it look fresh and well cared for. This includes your driveway, walkways, fences, gutters, siding, garage doors, and patio furniture. Living in the Pacific Northwest means mold, moss, and just general organic growth can cover most surfaces. What may be almost imperceptible to the naked eye will still look freshened up with a good scrub. If you don't have a pressure washer you can rent one here.  Don't forget to always start on the lowest pressure to prevent damage to your surfaces. *Pro-tip: move from top to bottom and out towards the street.
4.       Define your yard's entry.
If your walkway starts at the street, make it a grand entrance to make your guests feel welcomed and invited. A good way to create this feeling is by decorating your entrance with planters, a fence, pavers, gravel, or solar path lighting.  Remember to request your 20% off at Mailliard's Landing Nursery card so you can get plants to fill the planter boxes.
5.       Replace your mailbox
If your mailbox is old, dented, or rusty and a little cleaning doesn't do the trick, purchase a new one some of them are as little as $20! If you are moving the placement, make sure you are following regulations. You can find them here at the United States Post Office website.
6.       Clean or update your house numbers and lighting
Do something chic with your house number. Make sure the numbers are visible from the street and that they add to the appeal of your home. Get creative, put them on planters by your new grand entrance or add a succulent planter box at your front door and display your number across the front. Let your creativity flow. Post a picture to your social when you are done and tag us in it. We would love to see your finished product!
Instagram: @windermere_whidbey_island
Facebook: @WindermereWhidbeyIsland
If you are considering buying or selling and would like to dive deeper into this subject we would be happy to schedule a consult with you at your home to show you even more low-cost tricks and tips for maximizing your sale price! Call us today at 360.675.5953.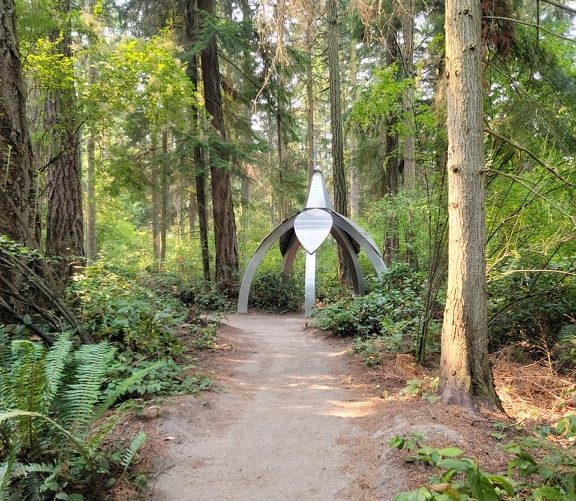 After purchasing 15.1 acres in 2008 conservationist Scott Price and his family decided to develop their home elsewhere. After doing so they journeyed down a long road of determining what to do with the property before concluding a sanctuary where art and nature entangle as one. After years of dedicated time and development, they unveiled The Price Sculpture Forest to visitors on October 23, 2020.
Initially…
the community's solution to the Prices issue was to clear cut the forest to create clear views of Penn Cove and Mount Baker then subdivide it for residential development. Price's inner conscious could not allow that to happen. Price had other plans. Price wanted to conserve the property and protect it for years to come. While it would be a challenging road ahead Price rolled up his sleeves and got to work. After reaching out to the Whidbey Camano Land Trust who reached out to the US Navy to aid in preserving the property a creative plan had begun to make Price's dreams a reality. Price purchased two smaller adjacent parcels bringing the total property to 16.3 acres.
The solution…
The Price Sculpture Forest. A place where visitors are welcomed to the property to experience a magical place where nature and art entangle as one. As you walk down the trails you encounter art exhibits, many of which play on the existing natural habitat. A prime example is Nature's Keystone by Anthony Heinz May who used a fallen tree and cut up bits of one end into square blocks designing the fallen tree to look like a living masterpiece exploding right out of nature.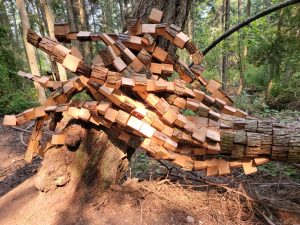 Turn another corner and come face-to-face with Tyrannosaurus Rex a driftwood masterpiece by Joe Treat that might catch you off guard.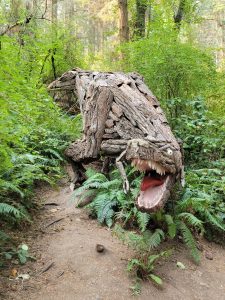 Feel in awe as you walk beneath the Flying Fish by Daniella Rubinovitz and wonder how they got the incredible piece of work up there.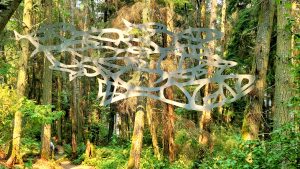 The best part of the journey is that the park is still growing. You might find yourself lucky enough to meet an artist on your trip like we did.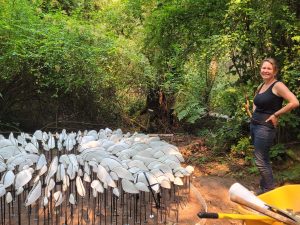 Visitors and residents alike find continued joy from Prices' selfless act as they return to the sanctuary to be close to nature and enjoy the local art exhibits. This is just one of the many gems that make Whidbey Island such a unique and wonderful place to live. If you enjoy this you might also enjoy visiting the Earth Sanctuary between Freeland and Langley.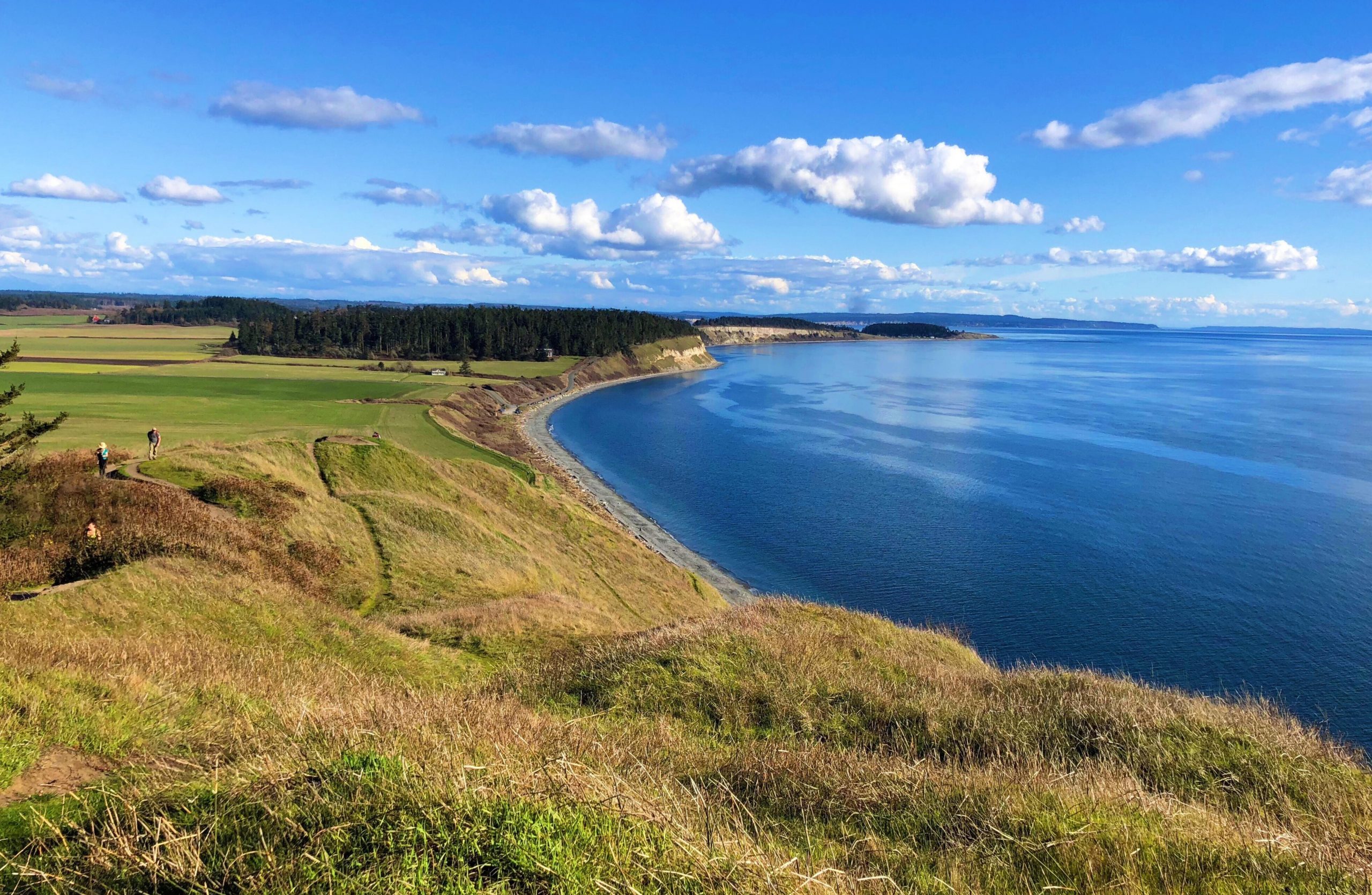 In 1850, local history was made on the shores of Whidbey Island when Isaac Ebey landed on a rocky westside beach and became the first official white settler on the island. With an entire island to choose from, Ebey couldn't have done much better than the pristine pastureland of what is now known as Ebey's Landing. This brilliant landscape is situated right at the southwestern side of Coupeville and features breathtaking views of Puget Sound and the Olympic Mountain range. The landing's soft rolling hills blanketed in rich soil—perfect for cultivating crops—was this area's true draw to its original settler. Today this landscape remains largely unchanged from the early days of settlers thanks to Ebey's Landing Reserve. It's the perfect place for a long walk to get lost in the life of the past.