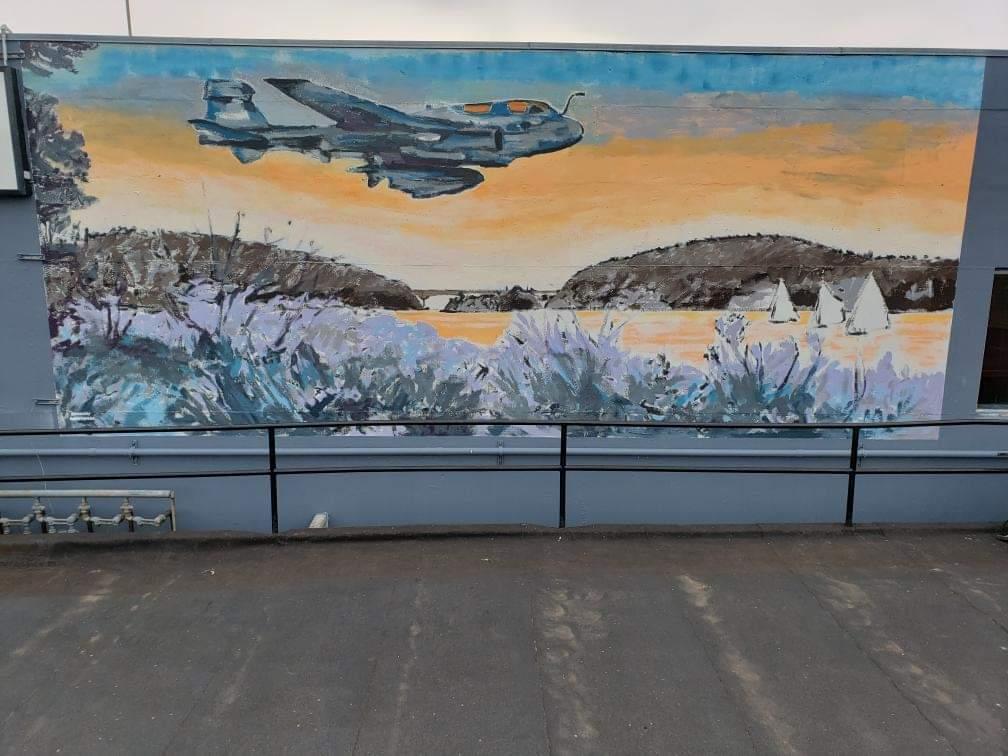 Have you driven down SE Pioneer Street recently? Perhaps the stunning new artwork by Timothy Haslet captured your eye.
Changing Downtown
Over the past five years, programs like the Allgire Project, Oak Harbor Main Street Association commissions, and fire hydrant painting projects have led to an increase in art downtown. For years though, a deteriorating mural from the 70s resided on the exterior wall of Riverside Café in desperate need of revision. Shortly prior to Memorial Day weekend, this beautiful mural of a Prowler passing Deception Pass was revealed in its place. Artist Timothy Haslet says, "This mural relates to my series on Navy Planes."
Welcome Oak Harbor
He wanted to fit a Navy Plane within the context of Deception Pass, with the overall goal of depicting who we are as a community. Timothy wants to send the message "Welcome to Oak Harbor" to the people moving here from all over the country and the world. His goal is to "create something that could be recognizable and identifiable by our diverse community." Historically Haslet's work consisted primarily of landscapes.
Why the change?
A recent article by Kathy Reed in the Whidbey Weekly revealed, that "as he was processing this new direction in his art, conflict over jet noise within the Whidbey community occupied a great deal of his thoughts." A question came to Haslet that he knew he needed to solve, "What would a picture of 'the best of both worlds' look like?" He pondered, "who are we, as a community, and where are we going? Can we create artwork that could be a bridge between the two?" Read the rest of her article here.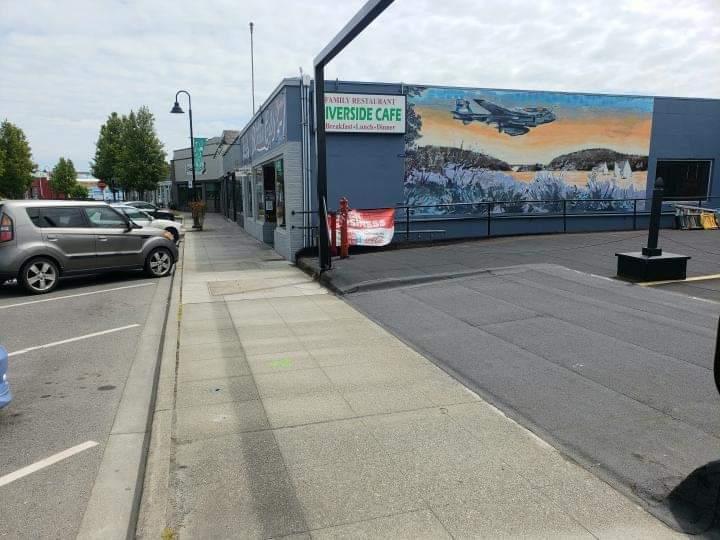 This beautiful masterpiece is his answer to that question for all to enjoy no matter how they arrived on Whidbey Island, whether by road, water, or plane.
What a special tribute to the community.
Timothy says prints of the mural will be available soon. If you would like to see more of Timothy's work, stop by our Oak Harbor Windermere office and peruse his artwork on display. You can also find his work online here.
View this post on Instagram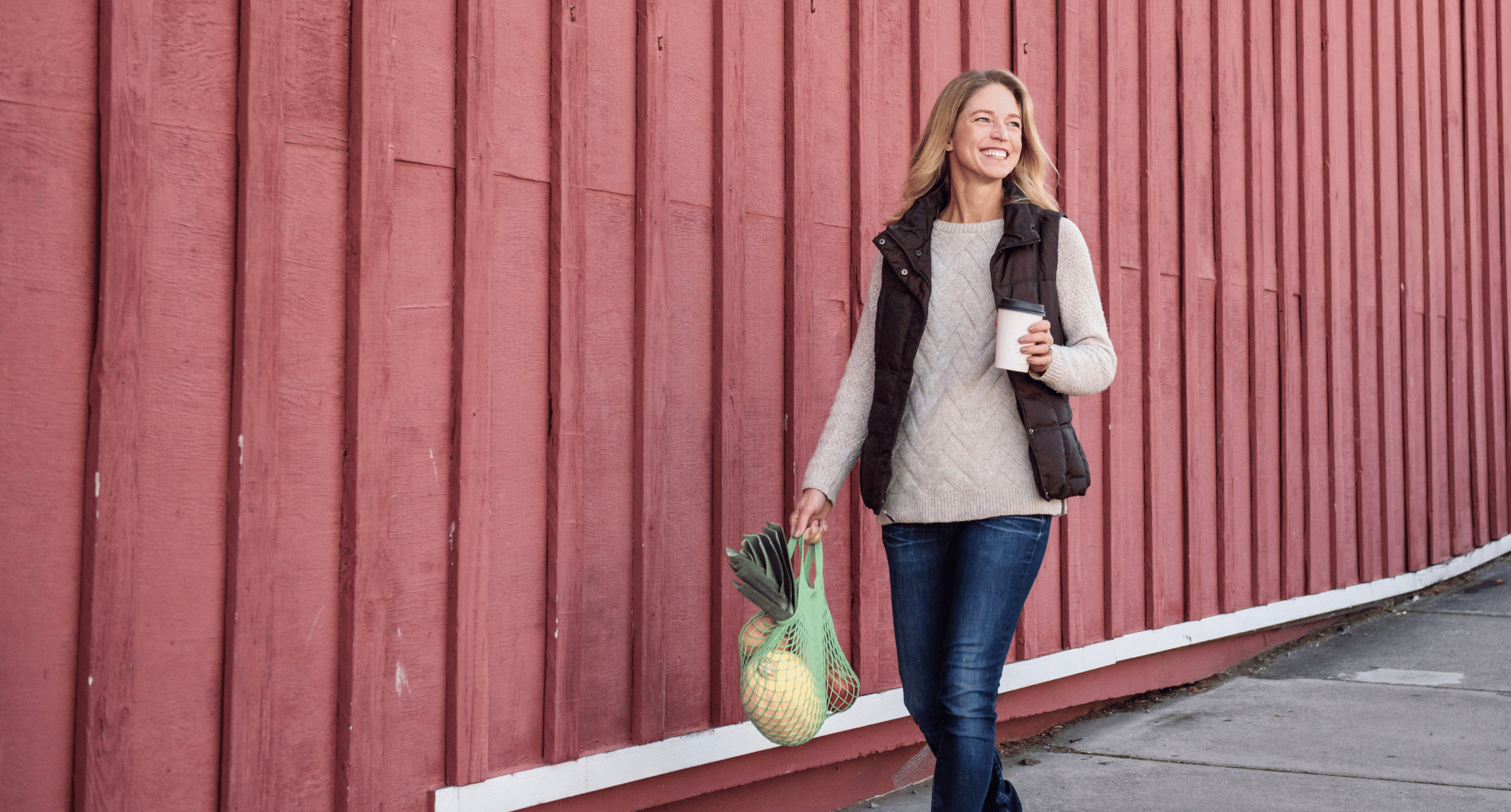 If you were given the task of describing this beautiful island, how would you respond? What would you say? Would you highlight the Navy community of Oak Harbor? Or maybe the vibrant artisan culture? What about the plethora of State Parks that help to preserve our island's beauty? 
We all know any one of these features would be a more than fair depiction of this wonderful oasis we call home, but there is one more description that is often glanced over. 
Farms.
Did you know Whidbey Island is home to over 400 farms both large and small? Fresh fruit, vegetables, livestock, flora, honey – you name it. The agricultural life on this island is incredible and something to be admired. 
That admiration is often reflected in the island's farmers' markets where you can purchase produce grown and harvested by these local farmers. Below is a list of the three main Whidbey Farmers' Markets on the island. 
Coming this summer, for the first year ever, is the Whidbey Island Farmers Market in Oak Harbor! After the dissolution of the Oak Harbor Farmers Market earlier this year, passionate farmers and vendors gathered together to create a new non-profit market for the people of Oak Harbor. They will be a great addition to the Whidbey Farmers Markets!
This year the market will be located in Windjammer park and feature vendors such as Maya Farm, The Case Family Farm, Flightline Franks, and so many more.

As of right now, the market is set to be every Sunday from 11 AM to 3 PM between June to September. 
Stay up to date by following their Facebook Page. 
View this post on Instagram
View this post on Instagram
View this post on Instagram
Established and well-loved, the Coupeville Farmers Market has been selling local produce to islanders for over 40 years. With organizers focused on cultivating an appreciation for community, it's not hard to see why it has lasted for such a long time. 
Frequent vendors include Bell's Farm, North Whidbey Farm, Arbia Pizza, Blanket Creations by Mary, Whidbey Kettlecorn, and many more. 
The market is Saturdays from 10 AM to 2 PM, between April to October. 
To learn more, you can visit their Website. 
View this post on Instagram
View this post on Instagram
View this post on Instagram
Undeniably the largest Whidbey Farmers Market on the island would be Bayview. With approximately 50 regular vendors a week including Blackberry Moon Farm, Lesedi Farm, Julie's Lumpia Hut, and so many more; this market attracts visitors both on and off-island. You do not want to miss a chance to stroll through these stands!
Starting in mid-April and ending in mid-October, this market is 10 AM to 2 PM Every Saturday.
You can learn more and get the exact start and end dates on their Website. 
View this post on Instagram
View this post on Instagram
View this post on Instagram
You might also like: