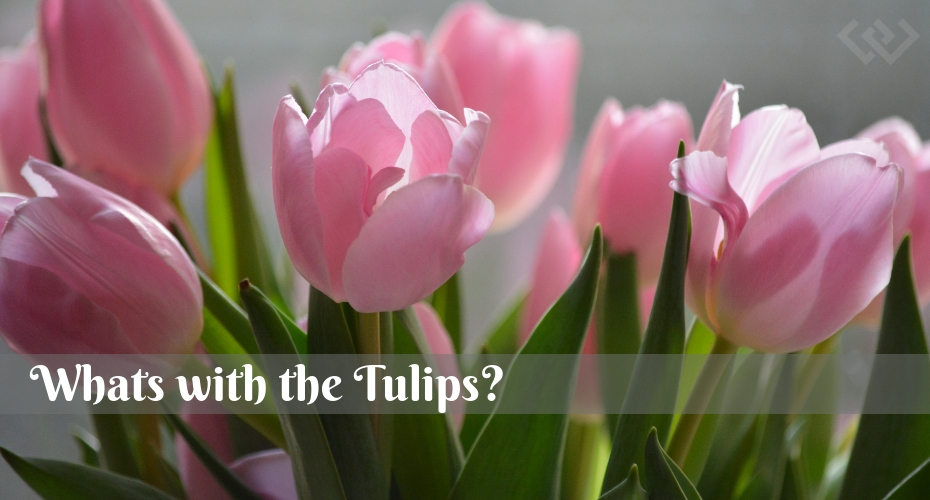 What's with the Tulips?

April's dawn breathes an awakening for this sleepy island. After months of cold gray clouds and dreary scenes, color finally breaks from the ground beneath. As the velvet grass returns it brings with it something a little more unique and exciting.
TULIPS!
These trumpet-like flowers can be found all across Whidbey Island in the month of April. Their beautiful rainbow hues grace countless flower beds and practically every floral shop.
Why the obsession with these bell-shaped buds?
The answer lies within Whidbey Island history and heritage.
In the earliest days of Whidbey Island settlement there were few Americans established on the island, even after the Donation Land Claim Act of 1850 which allowed for free land claim until 1855. In 1894 a man by the name of John "R.E." Werkman gained the rights to market land on Whidbey Island for one of the recently developed land companies. He set off to Holland, Michigan where he displayed a foot-long potato to impress local farmers with the fruitfulness of Whidbey Island – it worked.
A few months later the steamer Idaho found its way to the Penn Cove dock with 18 Hollanders direct from The Netherlands. The Dutch population on Whidbey Island expanded rapidly on Whidbey and within two years there were over 200 Dutch immigrants populating the island. This drastic increase in population helped to recover the island from the 1893 financial downturn and build what would become a sustainable economic climate for Whidbey Island as a whole.
How we honor the heritage today:
View this post on Instagram
Many direct descendants of these original settlers remain on Whidbey to this day and their family names can be seen on street signs across the island.
Today the island honors these original settlers and their Dutch heritage with one of our most beloved events, the annual Holland Happenings Festival. Taking place on the last weekend of every April, this festival is a fifty-year-old tradition drenched in Dutch heritage. Everywhere you look you will find Volendam hats, wooden clogs, street sweeps, and most of all – tulips.
View this post on Instagram
With the Skagit tulip fields just on the other side of the Deception Pass Bridge, it's no wonder the Dutch national flower plays a starring roll in every Holland Happenings. Their bright petals grace posters, pamphlets and just about every float. They are, without a doubt, a symbol of the season and reminder of the past.
You might also like: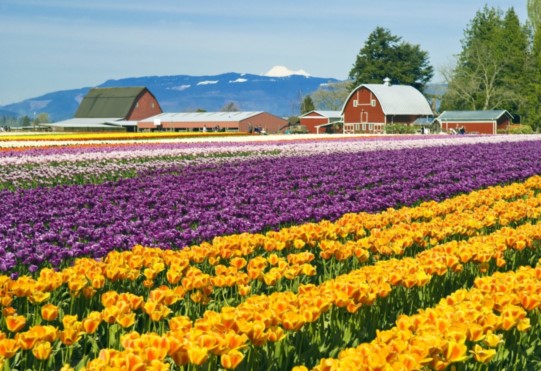 Skagit Day Trip
Finally, after what has seemed like the never-ending winter, spring has made an appearance! The sun is shining, the air is cool and crisp, birds are singing, and we are eagerly waiting for the first opportunity to get out and explore. If you haven't started planning already, we have a great day trip already planned for you in Skagit County! Skagit is packed with great shops, restaurants, and places to explore, and here are a few of our favorite spring-time activities.
Tweets Café- Bow Edison, WA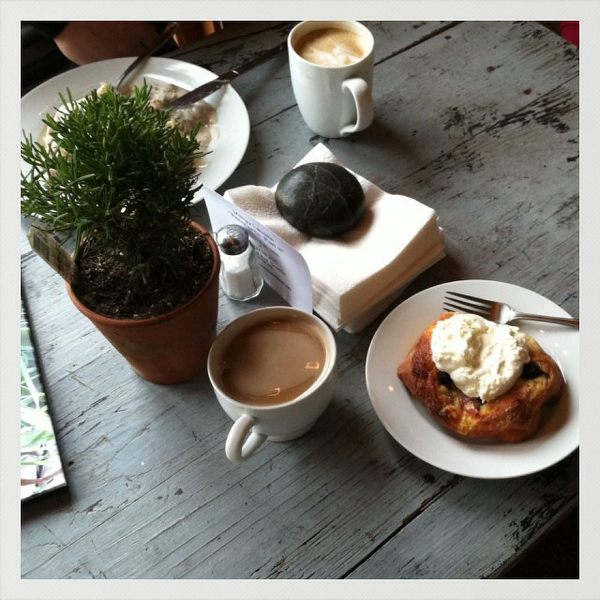 What's a day trip without filling up on a great breakfast or brunch to fuel you for a day packed with activity? Don't let this little establishment fool you, Tweets is known for a breakfast and lunch menu filled with flavor that seems too big to fit into such a small space. Serving an array of seasonal dishes, Tweets uses local and organic ingredients to give them a unique and special touch. As soon as you walk in the door
you will feel like family. The owners have created a light and comfortable atmosphere as they welcome you inside and make you feel like you've known them forever.
Something that makes Tweets Café so charming is that they are only open Friday through Sunday from 9am-4pm. So, since you can't just head over whenever, it makes it an extra special weekend treat. (Think of it like visiting your grandma on the weekend and so looking forward to those giant cookies she always bakes!) You will leave feeling full of delicious food, energized for your next adventure, and excited for the next weekend visit! Tweets Café only accepts cash, so make sure you drop by an ATM before heading that way!
Skagit Valley Tulip Festival- Mt. Vernon, WA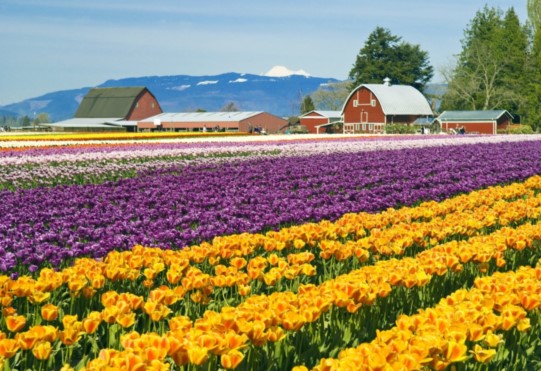 If you've been in the area for any length of time, you are sure to have heard of the Tulip Festival. April 1-30th people will travel from all over to experience the sea of color made up by thousands of tulips. When visiting the festival, you will find every type of tulip you can imagine, and the sight of it is truly breathtaking. For an up-close experience, you will want to pay a visit to Tulip Town or RoozenGaarde. Maybe even both, as they both offer a completely different experience.
Tulip Town features huge fields with tulips as far as you can see, enormous and colorful kites flying, as well as their infamous windmill. After you've wandered the tulip fields and absorbed all its beauty you can make you way into the barn where you will find information on the different types of tulips, artwork by local artists, and fresh stems and bulbs for sale. Tulip Town is open from 9-5pm, 7 days a week for your enjoyment!
RoozenGaarde also gives you the experience of the tulip fields, but their specialty is the landscaped gardens you will stroll through. Every year, the gardens are landscaped differently, and hundreds of species of tulips are featured. You will find some different shops where you can purchase tulip bulbs, fresh cut stems, local artwork, concessions, and different types of souvenirs to commemorate your visit. RoozenGaarde is open 7 days a week throughout the festival from 9-7pm.
Nasty Jacks Antiques- LaConner, WA
A dose of nostalgia is the best way to describe Nasty Jacks Antiques. Here you will find coin operated rides, a Zoltar machine, reproduced vintage signs, furniture, toys and so much more. There really is "something for everyone"! You can spend hours sorting through their huge, and constantly growing inventory. In fact, Nasty Jacks is home to one of the largest inventories of collectable LIFE and Saturday Evening Post magazines you've ever seen.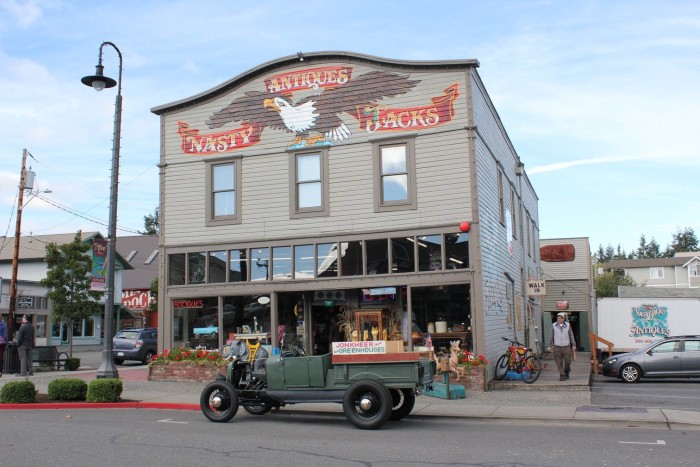 Being one of the largest antique stores in the region it is nice to know that Nasty Jacks is still owned and operated by the original founding family who will share with you the story of Nasty Jack and how the name came to be. (You must be curious by now!) The friendly service, and the original family is one the biggest things that make Nasty Jacks so charming and fun to visit. Take your time to really dig in and find that one item that speaks to you. A visit to Nasty Jacks will have you driving home and sharing all your childhood memories with your lucky passengers.
These are just a few of the places you can check out in Skagit, as there are so many great places to check out. What are some of your favorite places to visit this time of year?
#mc_embed_signup{background:#fff; clear:left; font:14px Helvetica,Arial,sans-serif; width:100%;}
/* Add your own MailChimp form style overrides in your site stylesheet or in this style block.
We recommend moving this block and the preceding CSS link to the HEAD of your HTML file. */