Saving enough money for a down payment on your first home can be one of the biggest obstacles to homeownership. Depending on your circumstance you might need anywhere from 3% – 20%. Speaking with a reputable local lender will help you find out exactly what your percentage will be.
But how long should it take, you ask!?
Follow along as we estimate the amount of time it takes a person earning a median income and paying a median rent to save up for a down payment on a median-priced home.
To accomplish this task we use the concept that homeowners should pay no more than 28% of their total monthly income on housing expenses. We use this information in combination with data from the U.S. Department of Housing,  Urban Development (HUD), and Apartment List to determine our estimation.
According to the data pulled, the national average for the time it would take to save for a 10% down payment is roughly two and a half years (2.53). Looking at the diagram below you can also see that those living in Iowa can save for a down payment in as little as 1.31 years while those in California could take 17.56 years. The map below can help you determine the amount of time (in years) it can take for you to save in your state: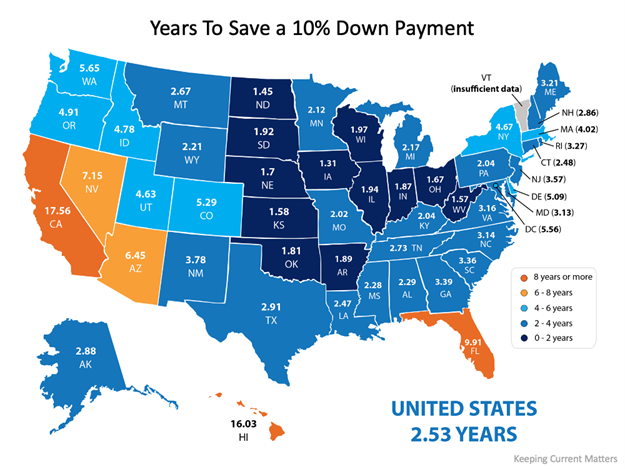 What if you only need to have a 3% down payment?
It is a common misconception that you need to have a 20% down payment to buy a home.
The reality is there are reasonable alternative options out there. First-time home buyers have an advantage with a plethora of down payment assistance programs available to them. You just have to find the right lender and ask. Need help finding a lender? Ask us to connect you with one here.
What if you qualify to take advantage of one of the 3% down payment programs?
If you qualify for a 3% down payment program, then you only have to come up with 3% of the total cost of the home at closing instead of ten or the typical 20% we have seen required in the past. Saving for a 3% down payment might not take you very long. In fact, it could take less than a year in most states, as shown in this map here: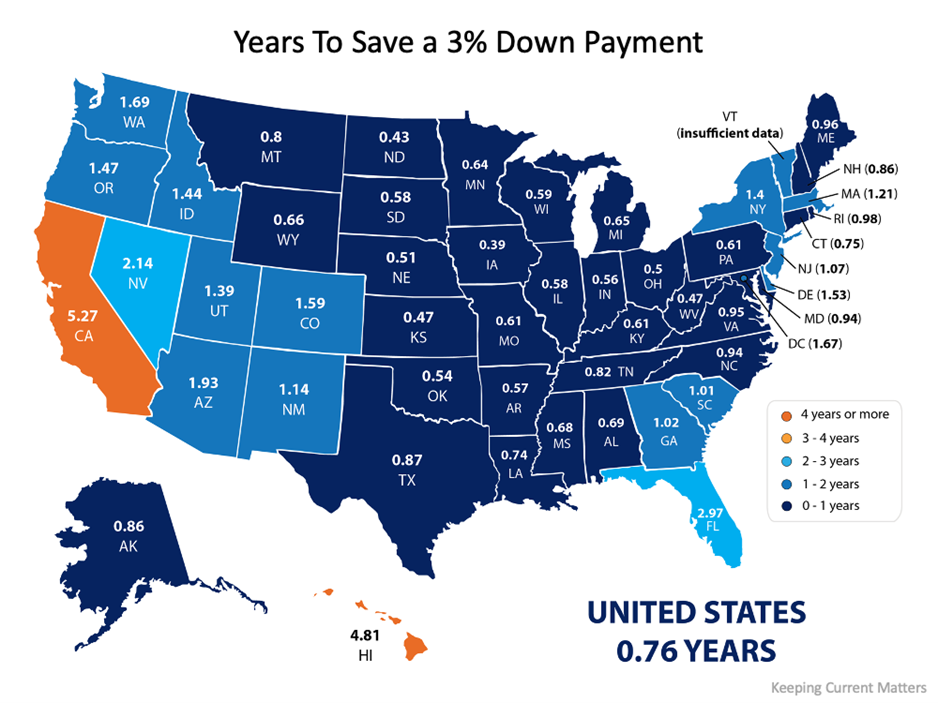 At the end of the day
Wherever you are in the process of saving for a down payment, you may be closer to your dream home than you think. Connect with us to explore the options available to you in our area and how they support your plans for buying a home.