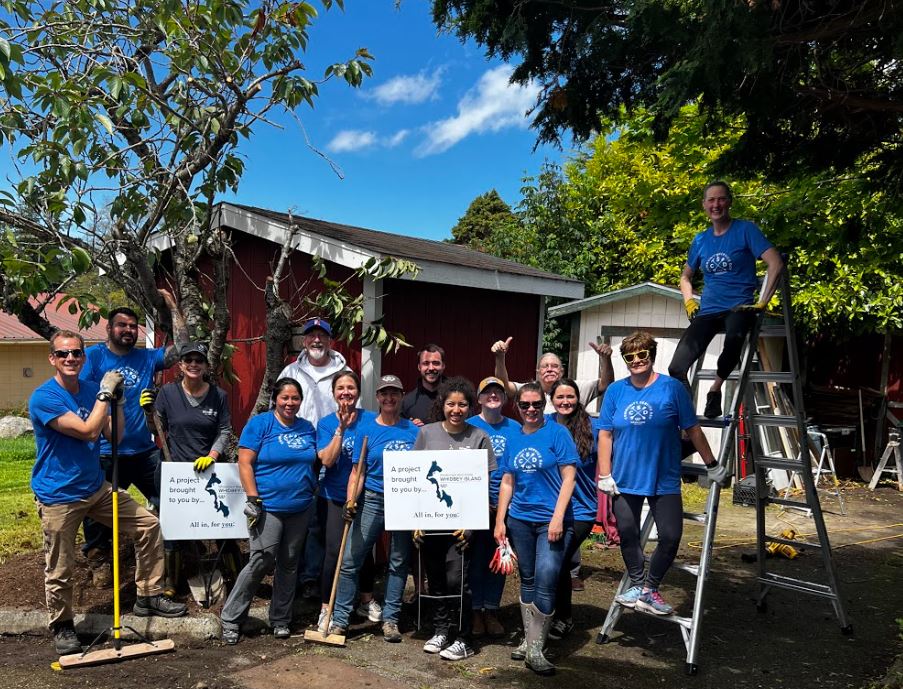 Every year since 1984, Windermere offices everywhere have dedicated a day of service to the community. Each office closes its doors for a day to join together and complete projects that improve our local neighborhoods and community.

The hands-on projects are chosen by brokers and staff. Projects vary widely from area to area. Some examples of people and places served include senior centers, kids playgrounds, community organizations, state parks, road clean-ups, individuals in need, food banks, and much more!
With over a million hours of community service logged to date, we are proud to continue this tradition of giving back to our communities where we live, work, and play.

On Friday, June 10th we had an opportunity that was a bit different from years past. This year prior to the big day we connected with Senior Services here in Oak Harbor to help us identify 7 individuals within our community that could use a helping hand maintaining their properties. Once the individuals were identified we meet with them and evaluated their properties to see how we could best meet their needs. Some needed overgrown bushes removed, weeds pulled, lawns mowed, tree branches removed to keep from falling on their home, flowerpots replanted, benches cleaned so they could sit and enjoy their property, and more. Over the next several weeks we gathered the materials needed. Meanwhile, we took a trip over to Mailliard's Landing Nursery in Oak Harbor to identify the plants needed for each property. The staff at Mailliard's are a wealth of knowledge and helped us identify low-maintenance plants that will stay or return for years to come as well as offering a variety of mulch and fertilizers to keep each plant healthy. Did you know Mailliard's accepts yard waste too? We didn't know either till they sponsored our project by taking the debris we removed from each of the properties. What an awesome help that was!

When Friday came, our agents broke into three teams to tackle each project till all 7 homes were complete. It didn't matter how large or small the task our agents worked tirelessly together to get each task done from bringing down tree branches, to pulling weeds. Through sweaty brows, we witnessed smiles and even some grateful tears throughout the day. Seeing the owners enjoying their space again was worth every ounce of work put in.
If you have an idea for our community service day project in 2023 and beyond please reach out! We love to hear how we can give back.