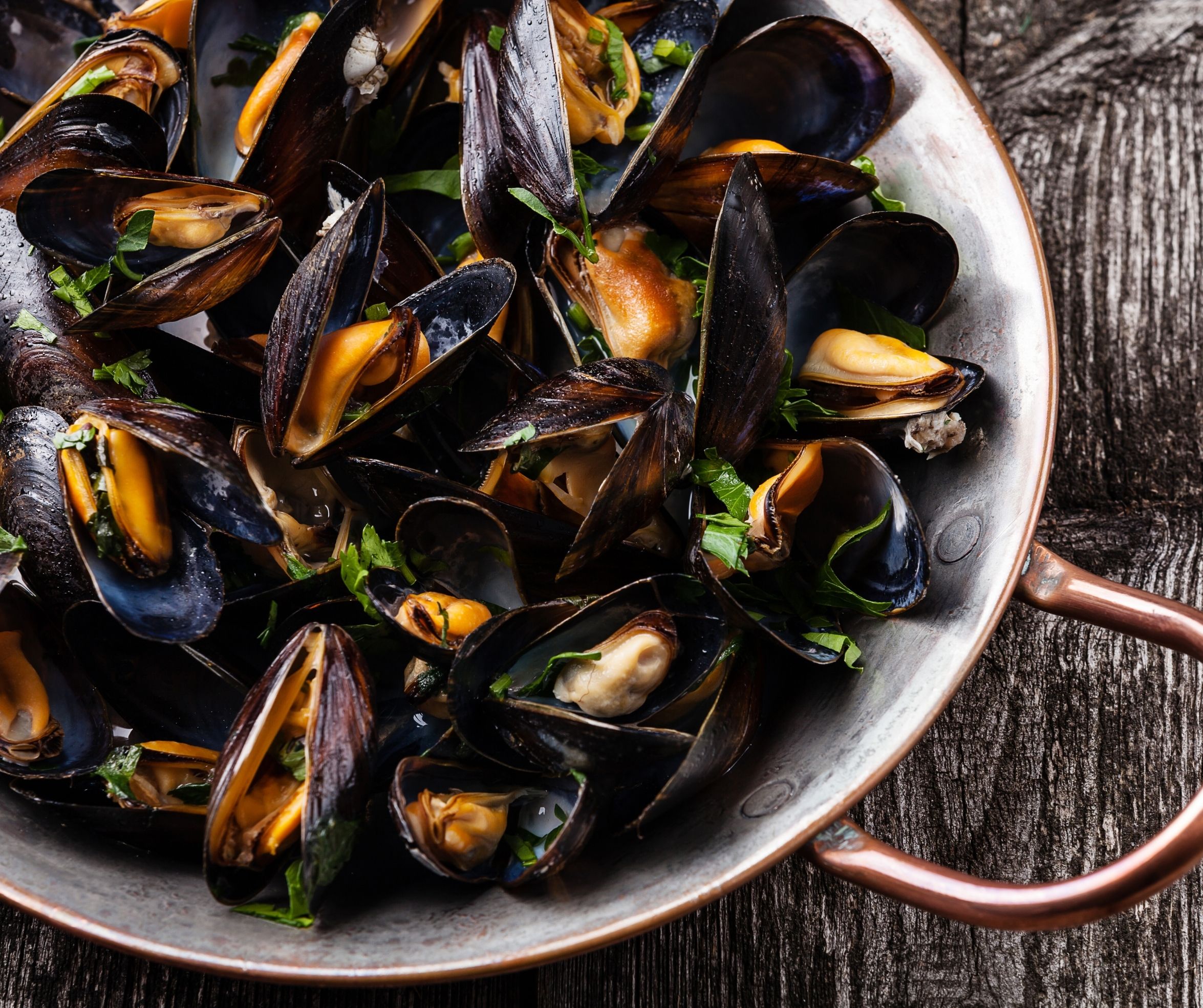 Every city or county has that one thing they are famous for. Their claim to fame that puts them on the world map. For some it is a world-famous sports team, others it is a historical location, still some gain fame from the presence of rare exotic animals.
For Island County, it is our mussels.

No, not the Emerald Cup kind of muscles we didn't make a typo, we mean our Penn Cove mussels.

The History of Penn Cove Mussels
You may not know this, but Island county is home to the oldest and largest mussel farm in the United States (and maybe the world).  Penn Cove Mussels, Inc. began culturing mussels in 1975 with the desire to harness the cove's naturally nutrient-rich water to harvest bigger and better mussels than the ones currently available. The results were incredible! Penn Cove mussels grow at a remarkable rate, enabling the mussels to reach harvest size within one year. This rapid growth rate causes Penn Cove mussels to have a firmer texture, sweeter flavor, and a thinner shell with more meat. As you can imagine, it makes them quite a crowd-pleaser.
Whidbey Island's proximity to Seattle and the Sea-Tac Airport mean these wonderful shellfish don't have to be a local secret. Instead, these mussels are quickly air-shipped all over the world for others to experience and enjoy. Mussels harvested in the morning are on the lunch plates of Seattle seafood lovers by that afternoon and dinner entrees in Houston by the evening.
Celebrated with a Festival
35 years our Penn Cove Mussels have been celebrated with a festival. The original celebrations consisted of a community chowder contest that has morphed over the years into 3 days' worth of activities and fun. The most recent events have attracted more than 6,000 mussels enthusiasts from far and wide. This event alone significantly helps the local merchants recover from the slow winter months.
Musselfest festivities typically kick off on a Friday with the "Mussel Mingle." This is a time where people gather at the Coupeville Recreational Hall to enjoy food, drink, and music. The next two days are packed full of mussel cooking demonstrations from incredible Seattle chefs, the massive mussel chowder competition involving 16 different local restaurants, the mussel eating competition, tours of Penn Cove Shellfish, Inc., a mountain bike event ("Mussels in the Kettles") and more!
Musselfest is a massive community affair that requires all hands on deck to pull off. Dozens of volunteers from all over Coupeville donate their time, finances, and resources to make this festival work. For the past few years, Windermere Whidbey agents have volunteered their time at the Waterfront Beer Garden where they serve up some great local ale while listening to amazing local musicians.

Unfortunately, like most events, the Penn Cove Musselfest was canceled due to Covid this past year, but the long-standing love for the festival carried on with the traditional T-Shirt and posters for all of the collectors. Past posters can be purchased here while supplies last. 
The 2022 Musselfest is anticipated to take place March 4th, 5th, and 6th pending the state of Covid and guidance from the state and county. Click here to check the status.