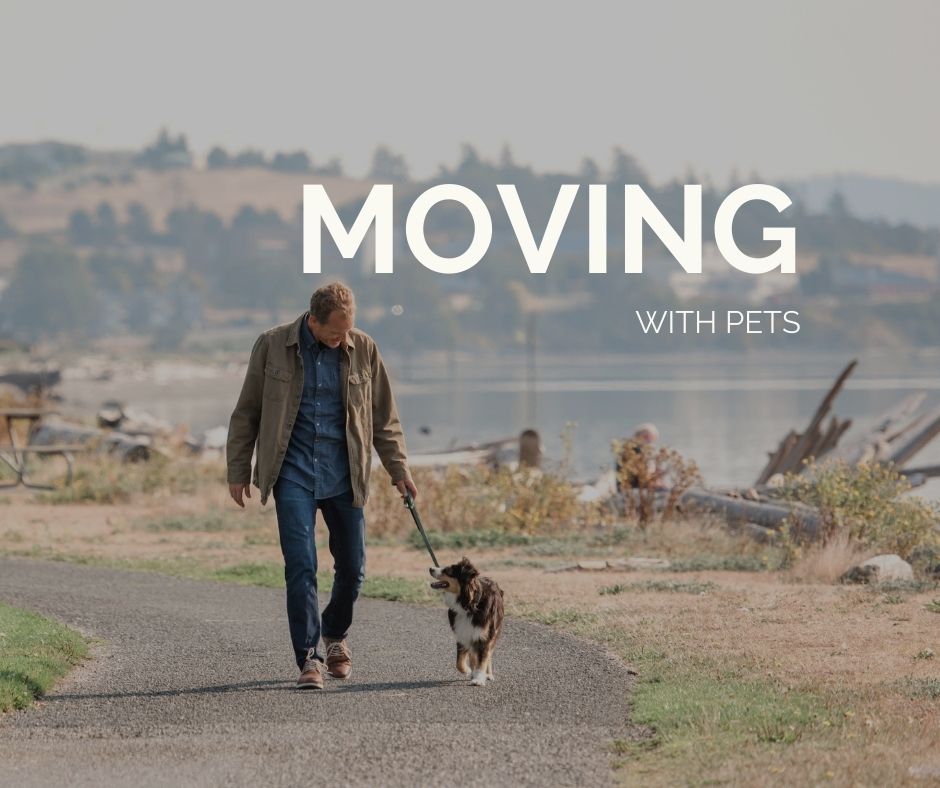 We all know moving can be stressful…
but have you stopped to consider how a move can affect your pets?
Here are a couple of suggestions to consider while moving to help make the transition easier on both you and your pets.
Contact Your Vet:
Let your pets' vet know that you will be moving. Your vet can provide you good information on the best way to move with your pet and make sure you have enough medications for the duration of the trip. They can answer any questions you have and they might even be able to help you find a good vet in your new location if you are moving out of the area. Do not forget to get your pet's records before you move.
Best Friend's Veterinary Center
33285 WA-20, Oak Harbor, WA 98277
(360) 679-6796
North Whidbey Veterinary Hospital
1020 NE 7th Ave #4, Oak Harbor, WA 98277
(360) 679-3772
107 S Main St, Coupeville, WA 98239
(360) 678-6046
Central Whidbey Veterinary Services Inc
771 Patmore Rd, Coupeville, WA 98239
(360) 678-1881
Create a Moving Kit:
Gather supplies to keep your pet comfortable during the travel and supplies on hand for the first several days of unpacking.
Pet food
Food, Water, and Bowls
Medication
Grooming tools
Toys
Blanket
Poop Bags
Leash
Treats
Documentation and a picture
The Day of Packing:
Our pets feel anxieties, just like we do when things change around them. It is best during a move if you can keep them away from all the action. A simple option is often putting them in a kennel or letting them stay with a friend. If you cannot or do not want to do either of those; try making a quiet room in the house where they can safely stay away from all the hustle and bustle. It is also important to check on them often and try to walk them when you normally would.
Things to remember:
Make sure they have enough ventilation
Make sure they are not too hot or too cold
Make sure they have enough food and water
Let them have some toys
 
Taking Your Pet With You:
When possible, it's best to travel with your pet to curb their anxiety. There are a lot of factors to consider when deciding the best way to transport your pet such as their age, temperament, size, and species. Regardless, it's always important to ensure your pet's safety when traveling which is why we have included a few links below with helpful pet gadgets.
Do Not Go Off-Leash in Unfamiliar Areas:
Remember that new locations mean unfamiliar areas. If your pet gets out while traveling they might get lost. Additionally, when you get to your new home it is important that you take the time to be with your pet to discover the new area so they don't get lost and can find there way back to their new home. This is also an important reason to bring documentation and a picture of your pet with you in case they get lost.
Introduce One Room at a Time with Familiar Items:
Consider setting up one room first with familiar items for your pet to stay in while you prepare the rest of the house. Give your pet a lot of attention and slowly introduce them to each new room giving them plenty of time to adjust to their new surroundings and familiarize themselves with the new setting. You also might consider crating them when you leave them alone for the first few weeks. New environments can cause pets to break house training.
Things to do When You Get to Your New Location:
You might also like: