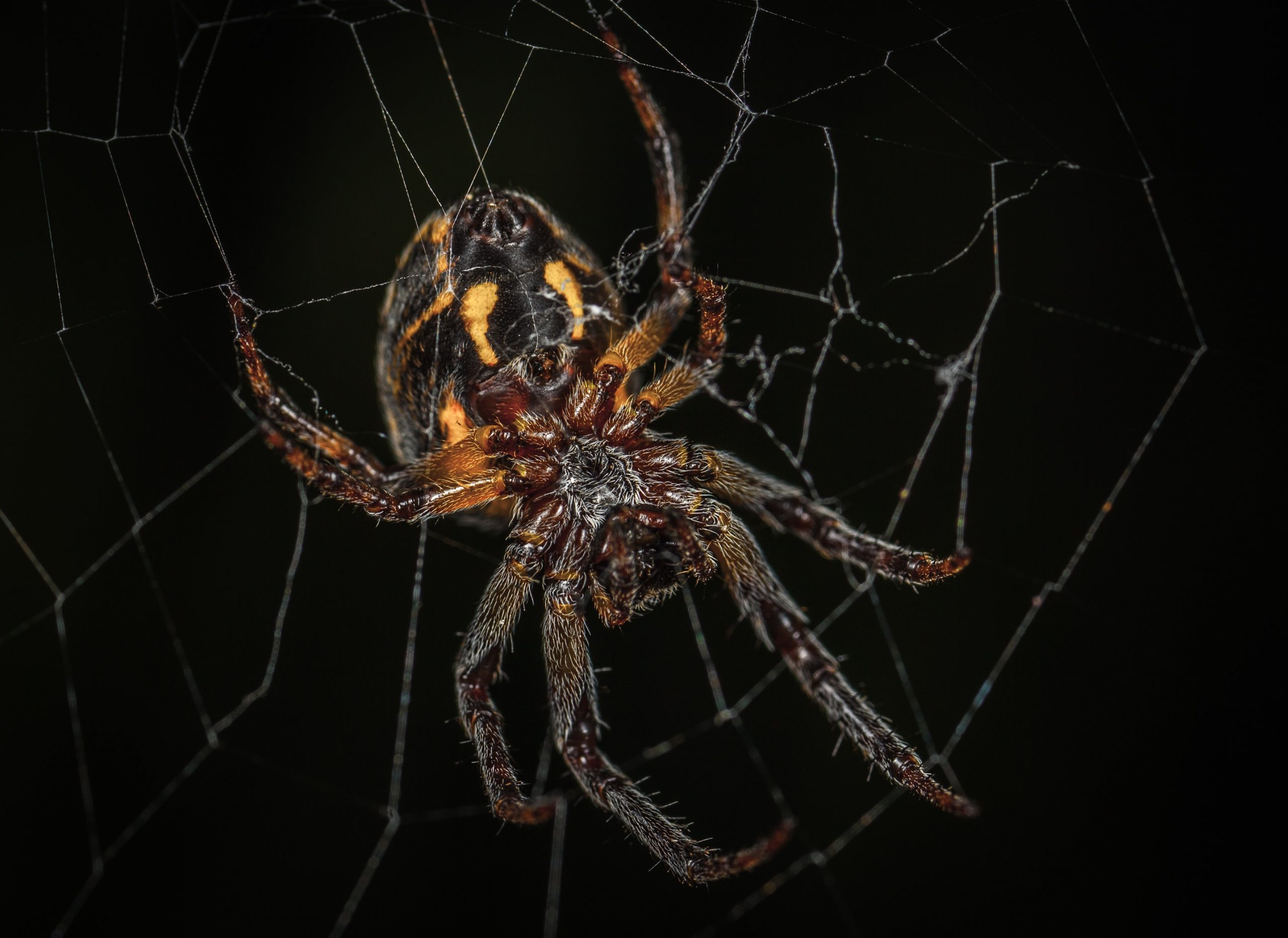 Dun dun. Dun dun. Dun dun….  They're here….. nature's Halloween decoration…
It's Spider Season!
It comes without fail every year. In what feels like a blink of an eye every tree, bush, and building corner is covered in shiny interwoven silk with a beady-eyed creature lurking somewhere nearby.
If you're like most people, this is probably your least favorite time of the year. The occurrence of these little eight-legged animals provokes feelings ranging from mild disgust to outlandish fear. A lot of this fear comes from misinformation we've been given for a long time. So, let's debunk some of these myths, shall we?
Myth #1 – "Spiders have dangerous venom that could kill."
Although it is true all spiders have venom (yes, ALL spiders); only a VERY small number have the ability to harm humans, and of those, few are fatal. Even a bite from the most notorious arachnid, the Black Widow, is mostly non-life-threatening for healthy adults. Thanks to modern medicine our access to antivenom has increased dramatically.
Myth #2 – "We have Brown Recluses and Black Widows on Whidbey Island."
No, you did not see a Brown Recluse in your bathtub and the black spider on the bush outside is not a Black Widow. Although these spiders do live in Washington State, the vast majority of them live on the east side of the Cascade Mountains. Sightings of these spiders in western Washington is very rare and practically unheard of for Whidbey Island.
So, what is the "scary" brown spider in your bathtub? We're glad you asked! Here are 3 of the most common spiders to see on Whidbey:
The Common House Spider
Yes, there is a spider called the Common House Spider. Although there are several subspecies, they are all harmless but enjoy dry, warmer areas. You'll often spot these spiders in the unused corners of your house hanging out and waiting for a fly to make its way towards them.
Wolf Spiders  
   
This was probably the spider is the bathtub! Also called a Wood Spider, these little eight-legged friends are plentiful on the island and admittedly a little intimidating. To an untrained eye, these guys look a lot like a Brown Recluse; however, they are actually a little bigger and 100% harmless. You'll find them mostly outside on the ground as they are not the best climbers and typically don't build webs.
European Cross Spider
Probably the most majestic of our Whidbey Island spiders, you can thank these large rear-ended arachnids for the early Halloween decorations you find in your trees and bushes. Found almost exclusively outside, these beauties are the kings of web making. They are one of the few spider species that weave circular webs. Although mildly annoying, you can't help but admire their workmanship.
So, there you have it. No need to take a torch to that tree this fall or scream when you see the tiny brown friend hiding in the corner. Just scoop them up and take them outside! Spiders are actually a great help when it comes to getting rid of actual pests like mosquitos or termites, and with any luck, they might just do the Halloween decorating for you this year.