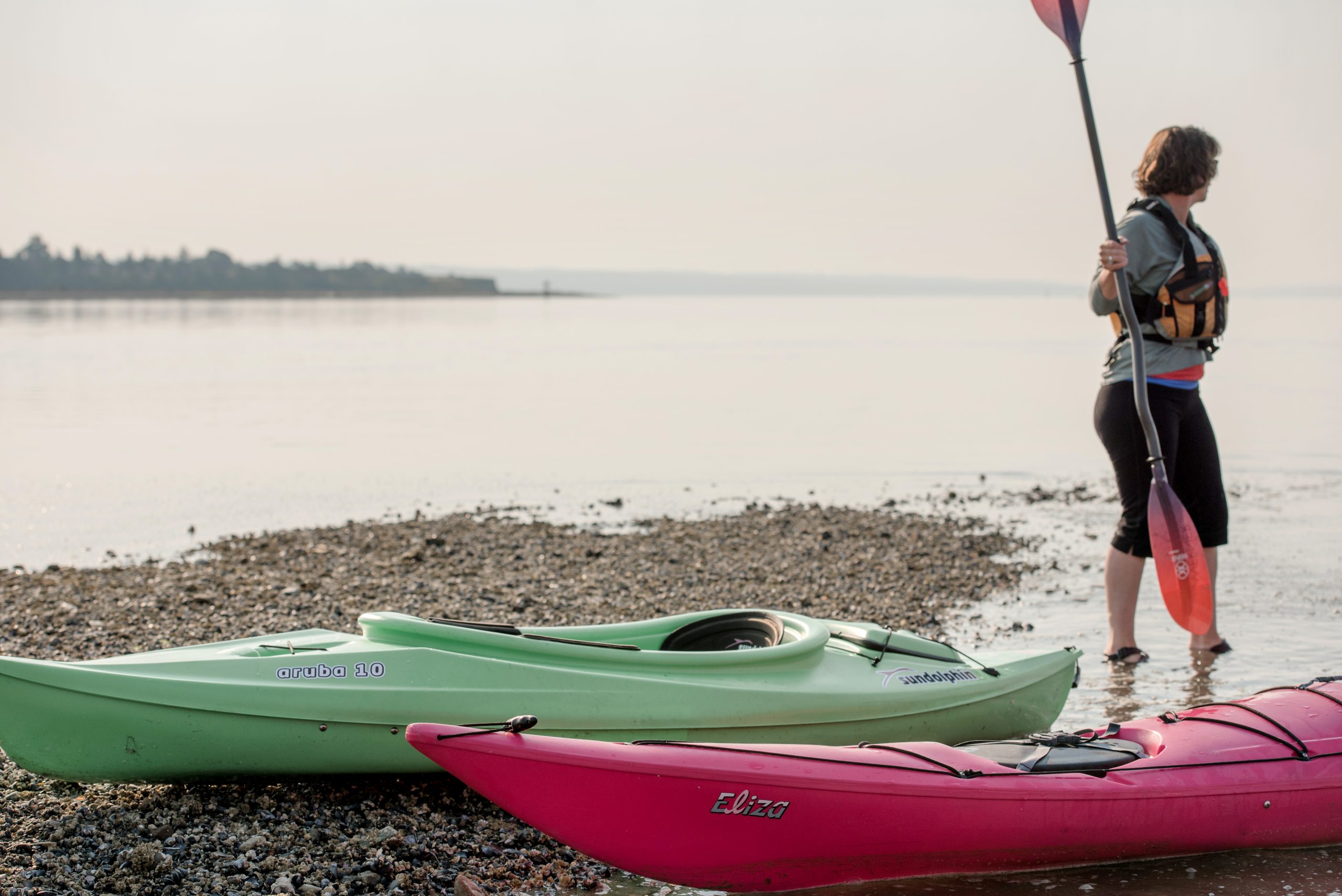 Staying Cool This Summer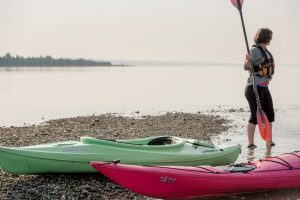 Water activities are something particularly special to Whidbey Island. After all, we are completely surrounded by water. With the sun making more and more guest appearances in the sky you can place a good bet on the expectation of increased activity on the waves. Between kayaking, paddleboarding, sailing, and more; Whidbey shores offer quite a bit of enjoyment for those willing to get wet.
Below are just a few water activities frequently seen here on Whidbey.
Kayaking
Kayaking is easily an island favorite when it comes to water sports. The flexibility of kayaking regardless of weather and the ability to do it alone is a HUGE plus for many. Don't have your own Kayak? Rent one from Whidbey Island Boats and Boards where you pick the location and they deliver the kayaks and paddleboards anywhere on the island.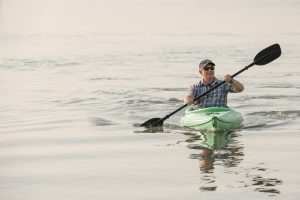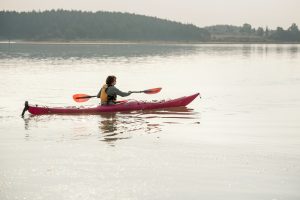 Tubing
Another island favorite, especially in the summer, is tubing! The wonderful thing about tubing is the community feel to it. It's a great activity that brings people together and almost always results in a few humorous stories.
Water Skiing
Want to kick tubing up a notch? Water skiing is for you! This sport requires a bit more resilience and core strength, but once you get it down you are sure to leave the water with some epic pictures of yourself.
Paddleboarding
Paddleboarding is a slightly newer interest on the island, but well deserving of the hype. This sport is made for those who simply want to enjoy the water. Sit, stand, lay down, it doesn't matter! Paddleboarding allows you to enjoy the sea the way you want to.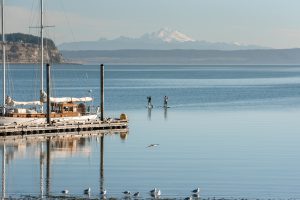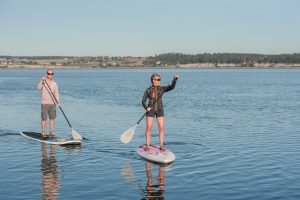 Sailing
Sailing is a Whidbey Island classic. There is a long history of sailing on Whidbey that has been passed down from generation to generation.
Boating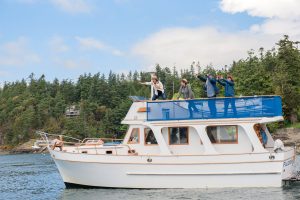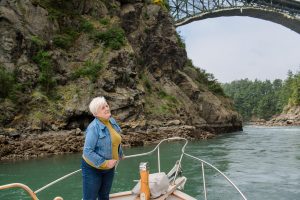 Another beloved activity on Whidbey is boating. Avid boaters will get out on the water any chance they get to relax atop the calm waters surrounding Whidbey. Take in the scenery, sunbathe, read a book, or play a game. All are welcomed while relaxing at sea.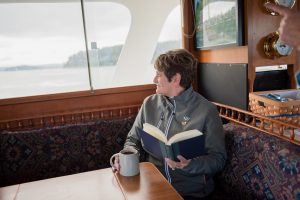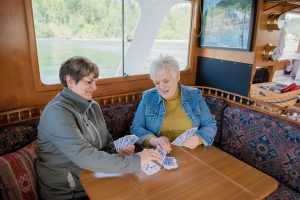 Fishing
Perhaps fishing is more up your alley for a fun relaxing time. The great thing about fishing is that you can do it by boat or by land and Whidbey offers a plethora of opportunities.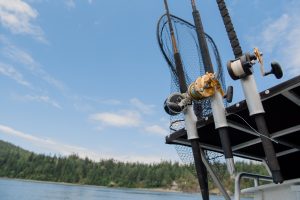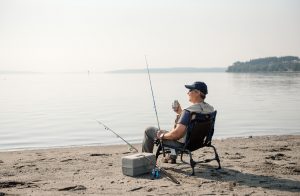 Splash Pad and Lagoon at City Beach
Maybe you have littles that can't quite participate in some of the other activities yet. Oak Harbor Windjammer park offers a family-friendly splash pad and lagoon to keep the whole family cool on these hot summer days.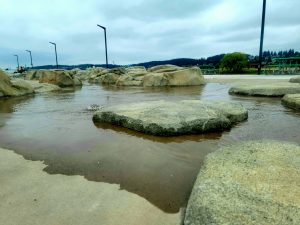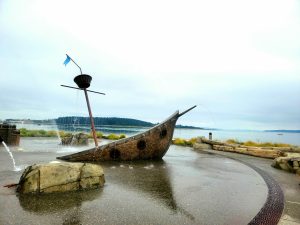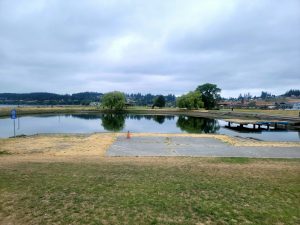 If you enjoyed this blog, you might also enjoy: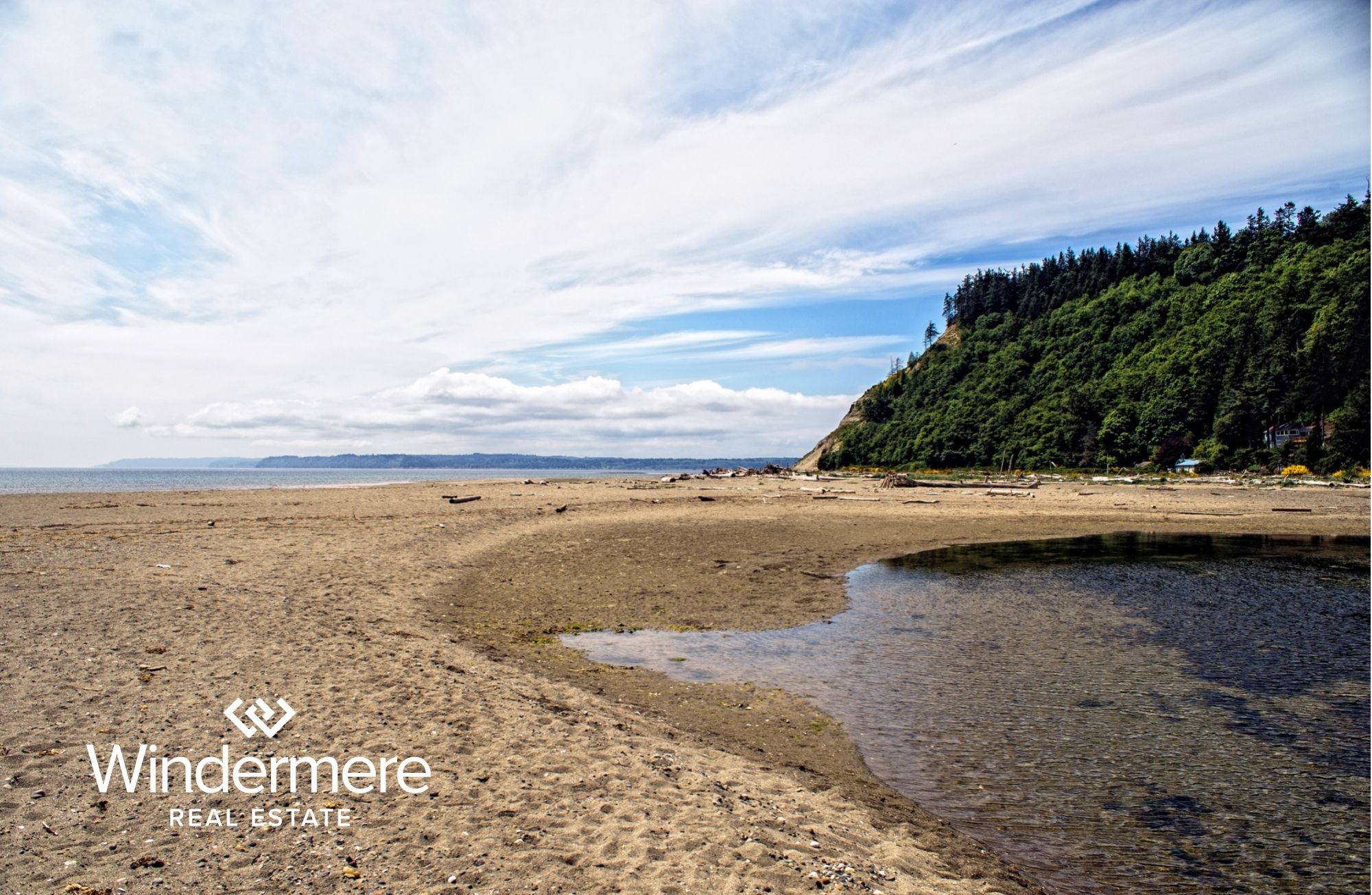 Heading east on Highway 525 turn right onto Double Bluff Road. Follow this charming road to the end where a tiny parking lot, breathtaking views, and the most unique public beach on Whidbey Island awaits you.
You have made it to Double Bluff Beach. It is here you will find over 4.5 miles of flat sandy beach where you and your entire family (including your dogs) can enjoy breathtaking views for as far as your eyes can see and if it's clear, a view of Mt. Ranier! This off-leash dog park got its name "Double Bluff" from the two large bluffs that are the main attraction for the park. Amongst the numerous features, you will find picnic areas, public restrooms, a doggie bag station, clam digging areas, showers to wash off the sand, a payphone, shallow water for wading that gets very warm in summer, and driftwood to lean against.
Grab a picnic lunch from Payless Foods just down the road in Freeland and spend a beautiful Pacific Northwest Day here! Be sure to arrive early, get a good spot, and don't forget to pack the sunscreen! 
Check out the rest of Whidbey's beautiful destinations from this series here.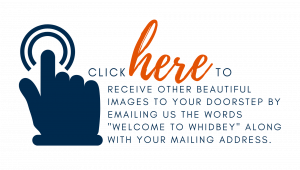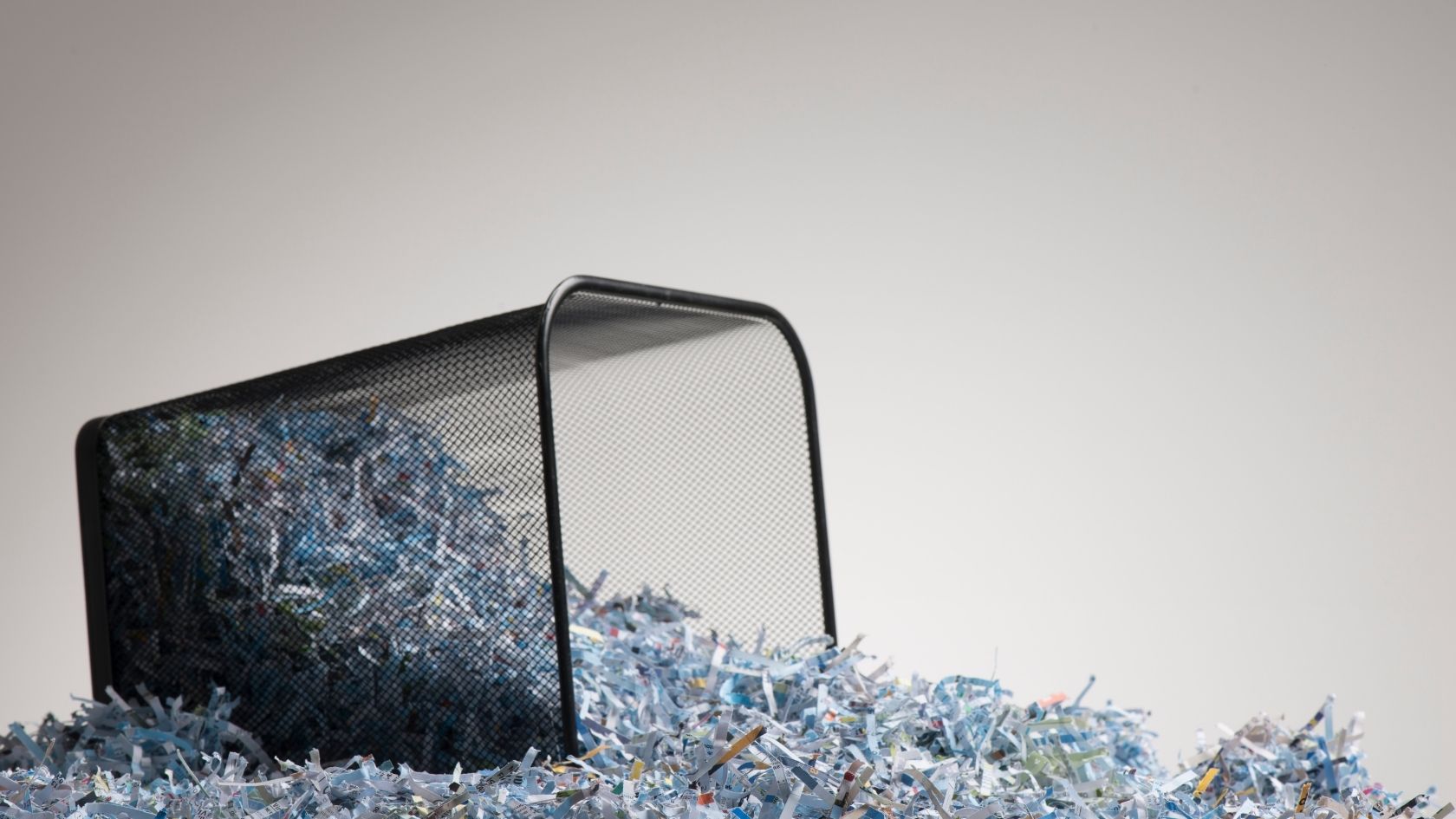 During or after the purchase or sale of a home you find a lot of paperwork that may have sensitive personal information. What do you do with all of that paperwork?! Throwing it in the trash could mean it falling in the wrong hands and used against you. The safest way to deal with old documents is to shred them. Below we go over what should and should not be shredded and why it's important to protect your personal and sensitive information from falling into the wrong hands. 
To help you, Windermere Real Estate/Whidbey Island is co-hosting a free Shred-it event on October 9th, 2021 and you are invited! Check out the details here! 

Types of documents you should shred:
Tax returns 

Photo IDs

Bank Statements

Voided Checks 

Employee Pay Stubs 

Credit Card information 

Copies of sale receipts 

Documents containing sensitive information such as names, addresses, phone numbers or emails

Employee records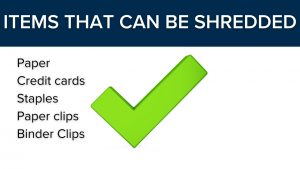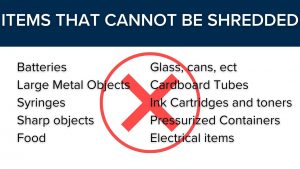 Top reasons you should shred:
Prevent identity theft:

In 2012, about 16.6 million U.S. residents over the age of 16 were victims of at least one identity theft incident according to the

Bureau of Justice Statistics.

Protecting your family, friends, and customers is the law: It is important that you take the extra steps to protect the people around you and shred sensitive information if you must write it down. Businesses that fail to abide by regulations protecting their customers' personal and secure information are at risk of being fined for mishandling customers' information.

Protect your employees: Employees have a right to privacy and if you are throwing away documents you are not taking the necessary steps to protect their privacy or identity. Shredding is always the safest way to go. 

Space saved: by shredding all the unnecessary papers cluttering your office or your home you will create more room and less clutter ultimately you will feel more at ease and satisfied with your space. 
If you're wondering how long you need to keep ahold of different types of documents there are lots of different opinions but we liked the simplicity of this guidance https://www.suzeorman.com/resources/record-keeping
We are all in, for you! What that means is we believe that as realtors we can make a positive impact in our community and in the lives of the people around us. We do this not only by helping people purchase their homes but by staying active in our community and educating where needed. One thing we feel strongly about is protecting those people. Throughout the buying and selling process clients are guided through what kind of links are ok to accept, warned of scammers, and taught how to not fall prey to people trying to take advantage of them.  
If you liked this blog you might also like: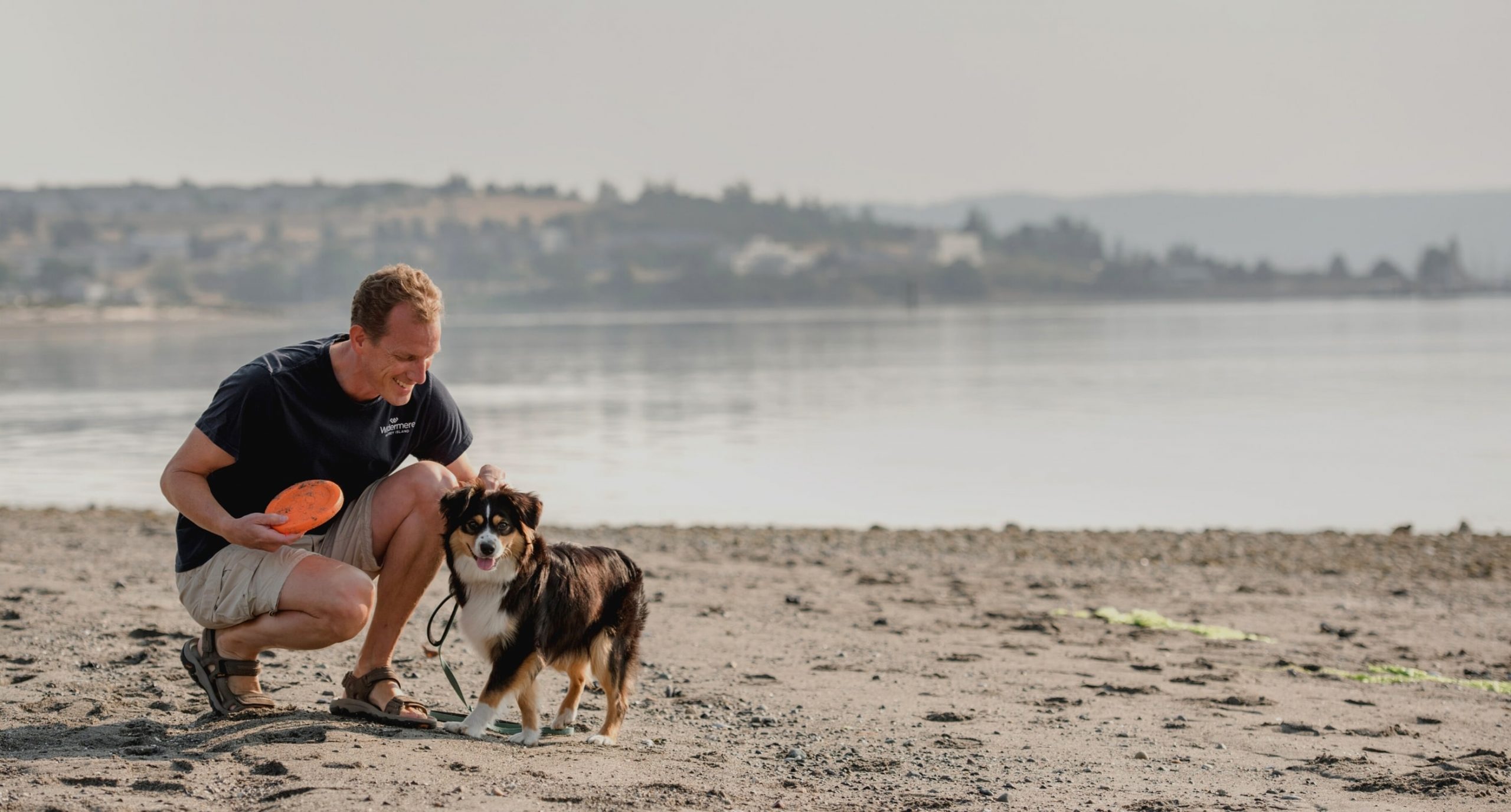 It happens more times than we like to admit. A hard day just seems like it might knock the wind out of you and you go home feeling drained, overwhelmed, and hopeless. The story ends there for some, but others have found a secret weapon for how to turn that frown upside down. 
Pets.
It seems silly, but scientists have proven over and over again that there are many benefits of having pets as a part of your home. Don't believe us? Here is a list of ways pets benefit our lives. 
Emotional Support

For many, the story above ends with a quiet night alone with their less than satisfactory feelings. Although they may reach out to friends or family for a "pick-me-up," this interaction can sometimes worsen the situation or be unattainable if no one is available. 
For pet owners; love, affection, and attention are never out of reach. The moment you've set yourself down on that evening couch – your pet is already there and ready to cheer you up. Whether it's their head placed in your lap, a paw pushed nudging you to play, or the simple vision of something so cute and curled up on the couch. Pets bring us small, yet meaningful joy by doing nothing other than existing. 
Required Physical Activity

We all know we are supposed to be physically active throughout the day, but how many of us actually are? I mean, let's face it. When you get out of bed in the morning or just get home from work the last thing you want is to move your body and get exercise. 
One passive benefit of having pets is physical activity throughout the day is no longer an option – it's a requirement. Your dog needs to be walked, your cat needs to be played with, and at the bare minimum, you have to feed the fish and clean out its tank. All the additional movement helps to make you a healthier and happier human.
Sense of Purpose

Life can be hard. Especially when you feel like day in and day out you are just running in circles. You can become unmotivated and depressed. 
One of the incredible benefits of having pets is the sense of purpose they can bring to our lives. It can be very fulfilling to know there is an animal within your house that needs you. Suddenly going to work to make a paycheck seems worth it because you know that paycheck affords you food not only for yourself but also for your favorite non-human. 
Opportunity for Socialization

Making friends can be hard, especially as an adult. Without common interests, it can feel difficult to connect with another person. Luckily, having pets can be a great gateway to making friends as an adult. Have a dog? Take them to the dog park and chat with the other owners there! Proud cat parent? There are so many community boards on Facebook filled with people talking about their cats. Fish? Just walk into a pet store and ask for their aquatic specialist. BOOM! Now you have something to talk about and it just might lead to a great and lasting friendship. 
Are there any benefits of having pets that we missed? Let us know! 
You Might Also Like: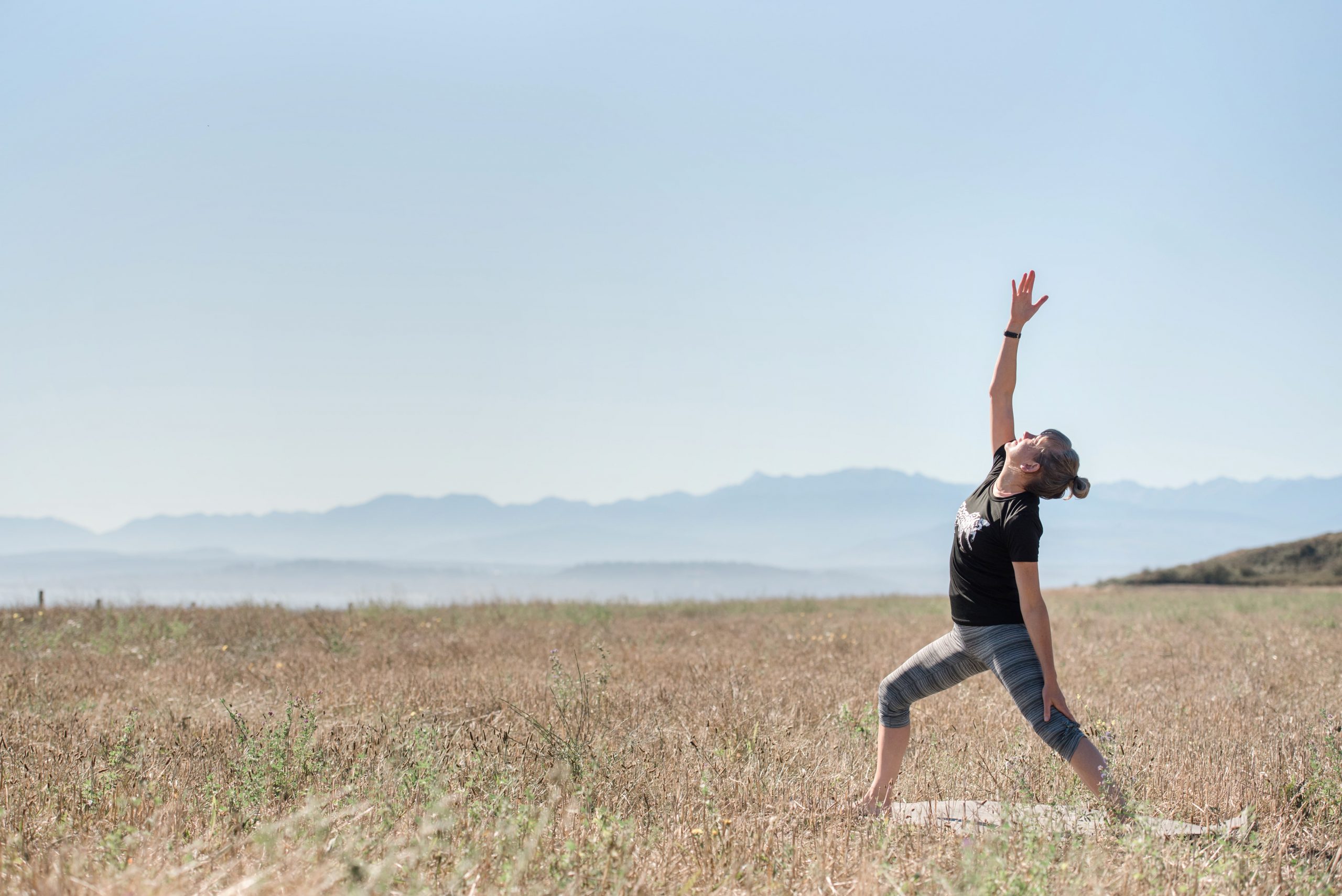 For some, it might be a nice glass of wine from Vails Wine Shop in Coupeville in the evening. Perhaps calming music, a soak in a deep tub with bubbles, or a good book. But for many, it is turning to nature. While there are various ways to find peace, internal healing, and reduce the stress our bodies are managing these days, nature seems to have a way of calming our nerves and clearing our minds.  This makes Whidbey Island the perfect retreat for the Zen you have been yearning for and if you are lucky to live here, it's right out your door!

Many people find comfort along the water's edge where they rest atop beached driftwood. Some sit on a hillside looking as far as their eyes can take them to let the bustle of their busy mind get lost in the view. Others like to stroll along West Beach while listening to the sound of the waves crashing in then receding across the pebbles. It is important to take into consideration the tide heights for these beach walks. Low tide offers the best option, but you don't want to get caught by an incoming high tide. Check out this site to know before you go.

Many people run the trails at Ebey's Landing. They get their hearts pumping as they persist along the cliffside hugging the edge with each step until they finally have come far enough to see the geological and ocean anomaly: Perego's Lagoon. It is at that moment their bodies release all tension. They find themselves in awe of a view they did not think could get any better. The realization sets in that the view is a moment in time made only for them as a congratulatory nod from mother nature for making it to the top. Suddenly they have the stamina to continue and can make the journey down the hillside. You can get a pdf of the entire trail system at Ebey's Landing here to keep you from getting lost in the maze.

Perhaps for you, a yoga mat in a grassy patch at Fort Casey is more up your alley? Your muscles relaxed, perfectly rhythmic breathing and suddenly the pose you've been practicing for weeks is in reach. You look out across Admiralty Inlet, you strike the perfect pose, sun rays grace your skin and suddenly you are glowing. If you feel the need for some instruction, join the South Whidbey Community for their Yoga in the Park events.

A quiet paddle in kayaks across calm waters during sunset never ceases to wash away pent-up tension in the shoulders. The open waters allow the serenity needed while the movement of your body releases endorphins to help your body relax. If you don't have your own sea kayak you can rent one from Whidbey Island Boats and Boards.

Perhaps we can suggest something more.  Find yourself becoming one with nature by enjoying a hot stone massage along Bayshore Drive in Oak Harbor. You can schedule an appointment at Bayshore Chiropractic Or, escape the worries of today where you can recall a simpler time by spending your evening at the historical Captain Whidbey Inn off of Madrona Way in Coupeville.
Regardless of how you destress, Whidbey Island has a plethora of natural options.
If you enjoyed this you might also enjoy reading: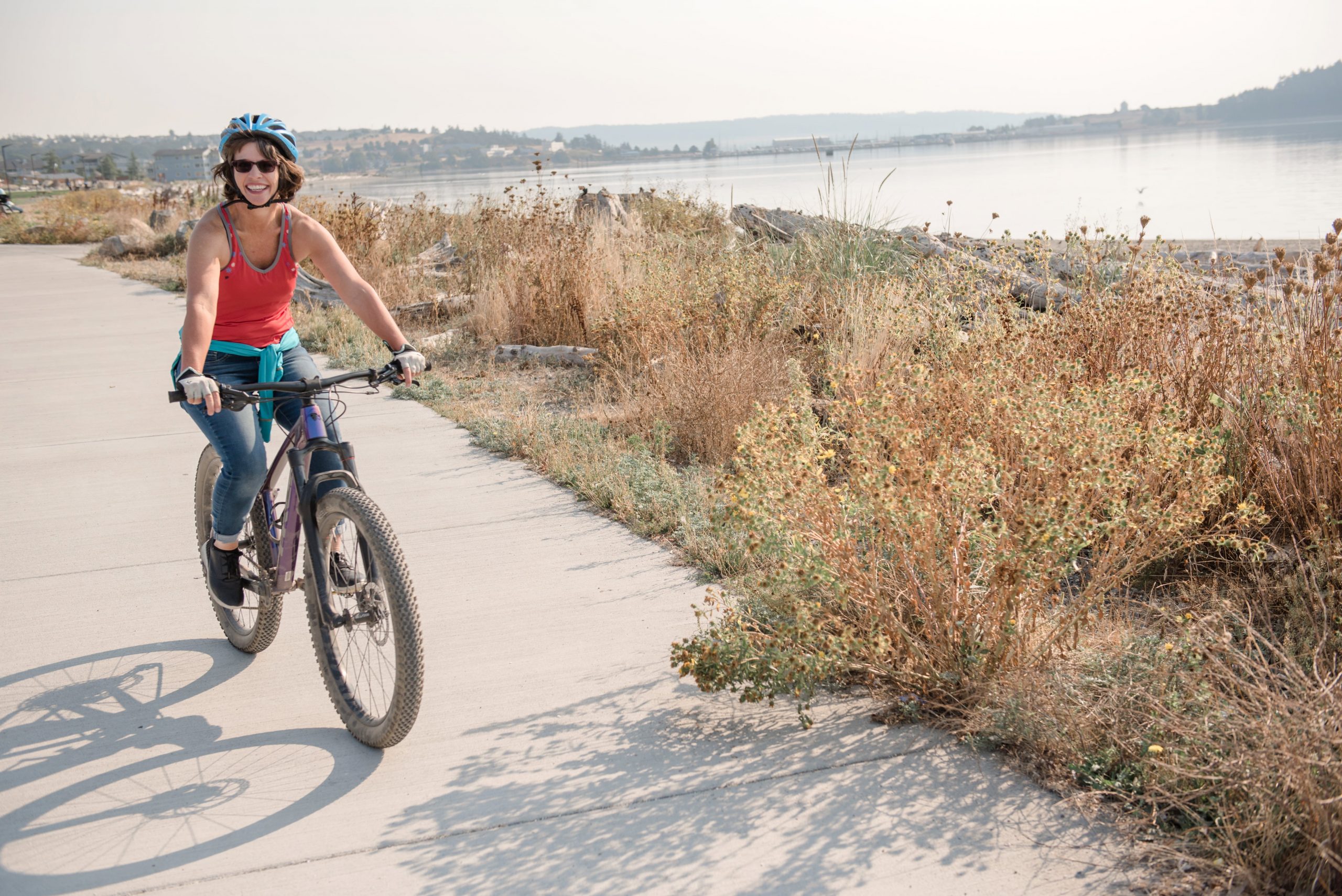 Whether you are a serious road cyclist; an avid mountain biker or just someone who enjoys a scenic bike ride every now and then, Whidbey Island has got you covered. Not only are we home to miles and miles of gorgeous; low-traffic backroads and off-road trails to explore, we also have an active biking community and bike shops that'll keep you pedaling all year long.
And remember, safety first! You can review Washington State bicycle laws here.

Where to Road Bike on Whidbey Island
If you're new to road biking on Whidbey Island,  this bicycling map of Whidbey Island and Camano Island is an excellent resource to help you get started. This color-coded, detailed map shows cyclists what to expect on different roads, including how many feet of shoulder is available, traffic volume, recommended roads,  the difficulty level of any hills,-, and other helpful markers.
Here are a few recommended road bike routes from the bike club to get you started:
North:
https://ridewithgps.com/routes/35094153 (20 miler from the shop, very scenic!)
https://ridewithgps.com/routes/35094160 (40 miler from the shop, scenic and challenging!)
https://ridewithgps.com/routes/35018172 ( The bike clubs Saturday morning route)
Central:
https://ridewithgps.com/routes/35094197
South:
https://ridewithgps.com/routes/35094219
Where to Mountain Bike on Whidbey Island
If you're specifically looking for mountain bike-friendly trails, this map is a great place to start. In addition to locations and trail routes, you'll find information on time estimates, trail conditions, distance, and climb/elevation.
This is another useful resource if you're searching for mountain bike trails in the Pacific Northwest in general. There are four of Whidbey Island's mountain biking trail systems highlighted here. You'll find detailed maps to help you explore Putney Woods/Metcalf Trust Trails, Fort Ebey State Park/Kettles Trails, Hoypus Hill, and Dugwalla State Park.
*For route recommendations and current trail conditions contact Whidbey Island Bicycle Club here.
** For parking on state park property a Discover Pass is required, you can get one here.

Bike Shops on Whidbey Island
If you're just beginning your biking journey and need to figure out what type of bike to buy, you don't even have to leave our island to get properly outfitted. The same is true for maintaining your bike—we've got experts who are ready to give your bike a tune-up when the time comes.
Skagit Cycle's Whidbey Island location is in Oak Harbor, and this is your one-stop bike shop on Whidbey. You can buy pretty much all types of bikes here and choose from a huge selection of biking accessories and bike parts, and they also offer an extensive list of services.
Located in Langley, Bayview Bicycles offers an impressive selection of e-bikes and bike gear as well as repair services.

How to Get Involved with the Bike Community on Whidbey Island
Whidbey Island Bicycle Club:
If you want to get involved in the local cycling community, meet other local cyclists, volunteer, or attend local group rides then Whidbey Island Bicycle Club, or WIBC is for you  WIBC is all about bringing cyclists together to ride and plan rides, advocating for safe cycling routes, developing community cycling events, mountain bike trail stewardship, and supporting community activities that involve cycling.  Riders of all levels are welcome to join. WIBC gets together for weekly road and mountain bike rides all yer long- They also have a Facebook page that is frequently updated, so make sure you hit the "like" button if you want to stay in the loop. For more detailed information about the club visit their webpage here.
This popular annual summer event on Whidbey Island attracts hundreds of cyclists from all over the Puget Sound region to participate. There are several different routes you can choose from—one route is as short as 10 miles (perfect for families), and the longest route is 162 miles and winds its way around the entire perimeter of Whidbey Island. Tour de Whidbey was canceled in 2020 due to COVID-19, but plans for the 2021 Tour de Whidbey are underway. Find out more here.
This non-competitive mountain bike ride is held annually in conjunction with the Mussel Fest in Coupeville, WA. There are three routes to choose from in varying levels of difficulty that cover most of the Fort Ebey/Kettles trails network. For up-to-date information on the ride, click here, and for the Musselfest click here.
Searching for more fun activities on Whidbey Island? You can continue exploring our community blog here!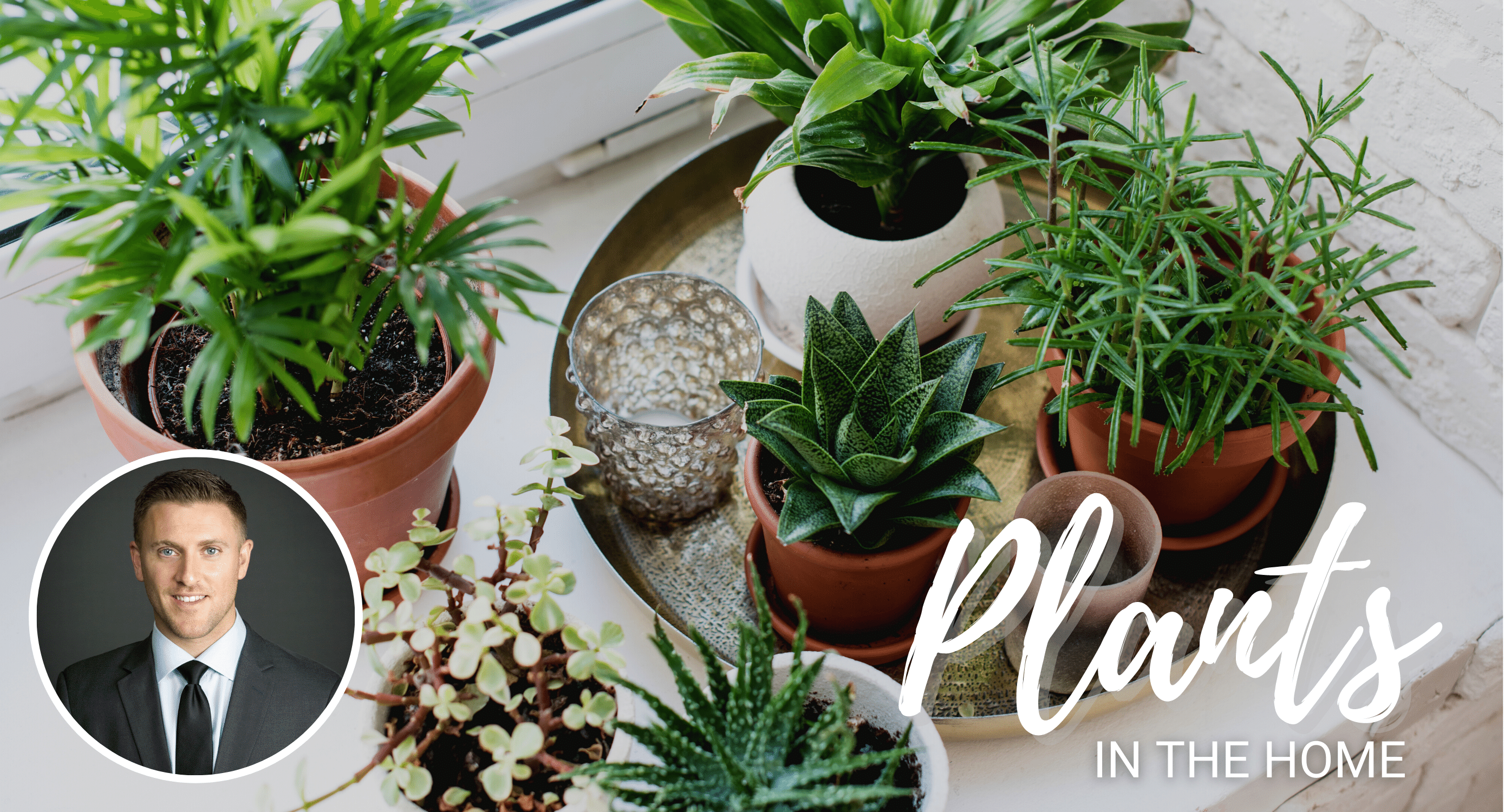 Some have used the hashtag #CubicleFlorist in their descriptions of me. Yes, I will admit my earlier days in the Real Estate industry things got out of hand quickly – my cubicle basically had its own ozone! What I could not convince my wife to let me keep in the home, I very quietly and unceremoniously forced upon my office-mates. From traditional lilies and orchids, to carnivorous varieties (bogs!) and everything in between. At one point I assumed the role of "Office Plant Manager" and was bestowed upon a 9-year-old Ficus tree, nursed back to life a Peruvian Nerve Plant, started a bonsai collection, and had a pothos almost eat my computer. Yes, things escalated quickly.
While I am unsure where my passion for plants came from (the only ones who don't kill everything they touch in my family are my brother Seth and my Grandmother!) I am certain about one thing: Plants Maketh The Home. Aside from the variety of health benefits associated with live plants in the home, they bring a sort of comfortableness – a touch of softness that transforms the rigidity of a house into a home, a living space. Scroll through any Pinterest or Instagram feed on house plants and you'll get the idea – sterile spaces subtly (and elegantly!) pop with color, freshness, and a calming sense of peace. Grounded. Home. Even the pots or crates that hold these plants take on a meaning of their own and can be used to accent room colors, codify décor, or solidify a sense of continuity throughout a space. Scroll through our real estate photos and you will see decorative plants in almost every listing photo!
Many articles have been written over the years on the benefits of plants in the home. What they have all left out? You. All things in our lives are merely extensions of ourselves – plants play an integral part in defining and showcasing our personality. Think about it: the candles you buy, the soaps or fragrances you use, the solvents you clean with…all these smells and advertisements have lemons, lavender, pine, vanilla, cinnamon… 
Fresh Basil plants in the kitchen? Check. 
Pine bonsais for therapy in the home office? Check. 
Plumeria in the sunroom? Check. 
Venus Fly Traps in the kids room? Check. 
As we celebrate World Environment Day, it's important to underline here that all this begins with You – expressively showcasing You by the warmth and life you bring into your home as a reflection of the environment around you. We as a Human Race are joined together, all of us in this life, and apart from all the rest of the chaos – the noise – there is one place on this great Earth that shelters us, comforts us, provides us sanctuary: Your Home. 
Call to action today? Fill your home with Joy – fill it with houseplants! (*Not checking with your significant other first may be hazardous to your health.)
Joyfully,

You Might Also Like: