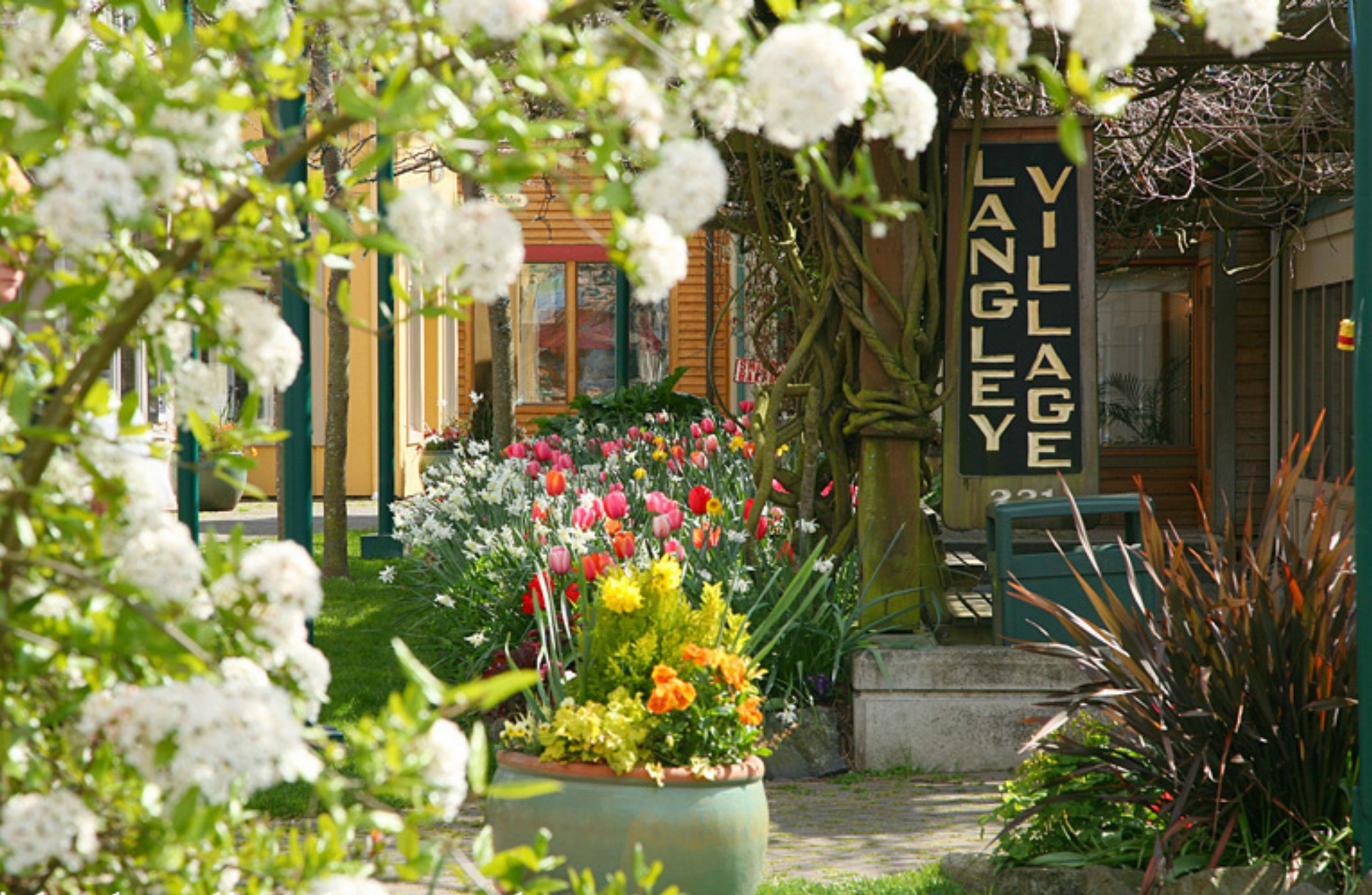 Langley is known for its unique specialty shops and galleries, showcasing amazing local artisan talent. From the lovely greenery of Bayview Farm & Garden to seaside-inspired jewelry and home décor at Foamy Wader, Langley has something for everyone! Want to try your own hand at some specialty art? Visit Callahan's Firehouse for a cup of espresso and an amazing glass blowing experience catered to all groups and ages. At the end of the meandering plaza of shops pictured in the postcard is Whidbey's popular ramen restaurant, "Ultra House." It's tucked away from the main drag, makes you feel like you landed in Japan, and is one of the most addictive taste sensations on the whole island!
Check out the rest of Whidbey's beautiful destinations from this series here.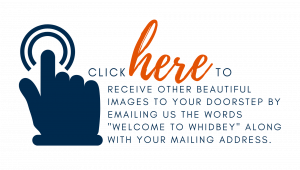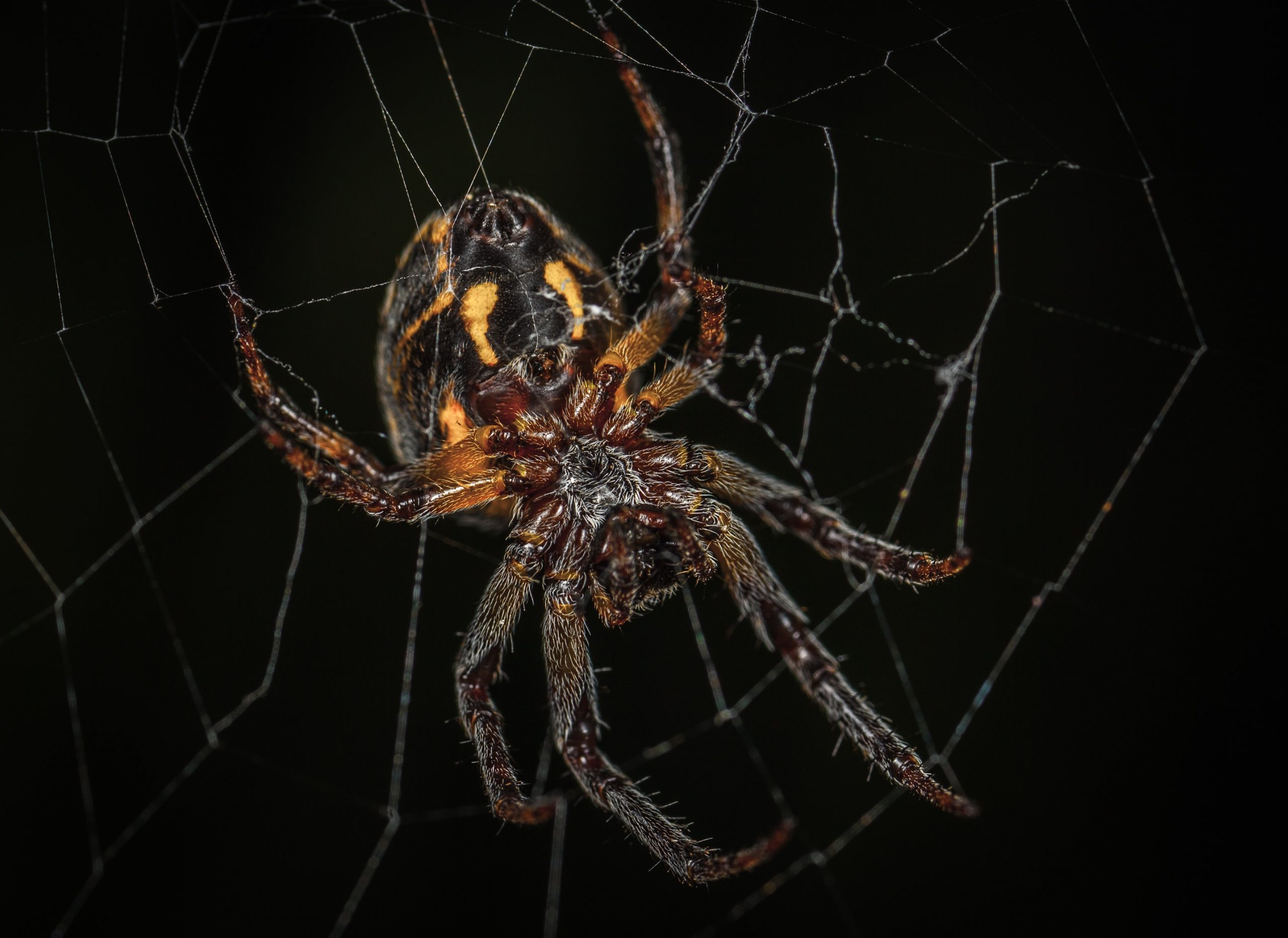 Dun dun. Dun dun. Dun dun….  They're here….. nature's Halloween decoration…
It's Spider Season!
It comes without fail every year. In what feels like a blink of an eye every tree, bush, and building corner is covered in shiny interwoven silk with a beady-eyed creature lurking somewhere nearby.
If you're like most people, this is probably your least favorite time of the year. The occurrence of these little eight-legged animals provokes feelings ranging from mild disgust to outlandish fear. A lot of this fear comes from misinformation we've been given for a long time. So, let's debunk some of these myths, shall we?
Myth #1 – "Spiders have dangerous venom that could kill."
Although it is true all spiders have venom (yes, ALL spiders); only a VERY small number have the ability to harm humans, and of those, few are fatal. Even a bite from the most notorious arachnid, the Black Widow, is mostly non-life-threatening for healthy adults. Thanks to modern medicine our access to antivenom has increased dramatically.
Myth #2 – "We have Brown Recluses and Black Widows on Whidbey Island."
No, you did not see a Brown Recluse in your bathtub and the black spider on the bush outside is not a Black Widow. Although these spiders do live in Washington State, the vast majority of them live on the east side of the Cascade Mountains. Sightings of these spiders in western Washington is very rare and practically unheard of for Whidbey Island.
So, what is the "scary" brown spider in your bathtub? We're glad you asked! Here are 3 of the most common spiders to see on Whidbey:
The Common House Spider
Yes, there is a spider called the Common House Spider. Although there are several subspecies, they are all harmless but enjoy dry, warmer areas. You'll often spot these spiders in the unused corners of your house hanging out and waiting for a fly to make its way towards them.
Wolf Spiders  
   
This was probably the spider is the bathtub! Also called a Wood Spider, these little eight-legged friends are plentiful on the island and admittedly a little intimidating. To an untrained eye, these guys look a lot like a Brown Recluse; however, they are actually a little bigger and 100% harmless. You'll find them mostly outside on the ground as they are not the best climbers and typically don't build webs.
European Cross Spider
Probably the most majestic of our Whidbey Island spiders, you can thank these large rear-ended arachnids for the early Halloween decorations you find in your trees and bushes. Found almost exclusively outside, these beauties are the kings of web making. They are one of the few spider species that weave circular webs. Although mildly annoying, you can't help but admire their workmanship.
So, there you have it. No need to take a torch to that tree this fall or scream when you see the tiny brown friend hiding in the corner. Just scoop them up and take them outside! Spiders are actually a great help when it comes to getting rid of actual pests like mosquitos or termites, and with any luck, they might just do the Halloween decorating for you this year.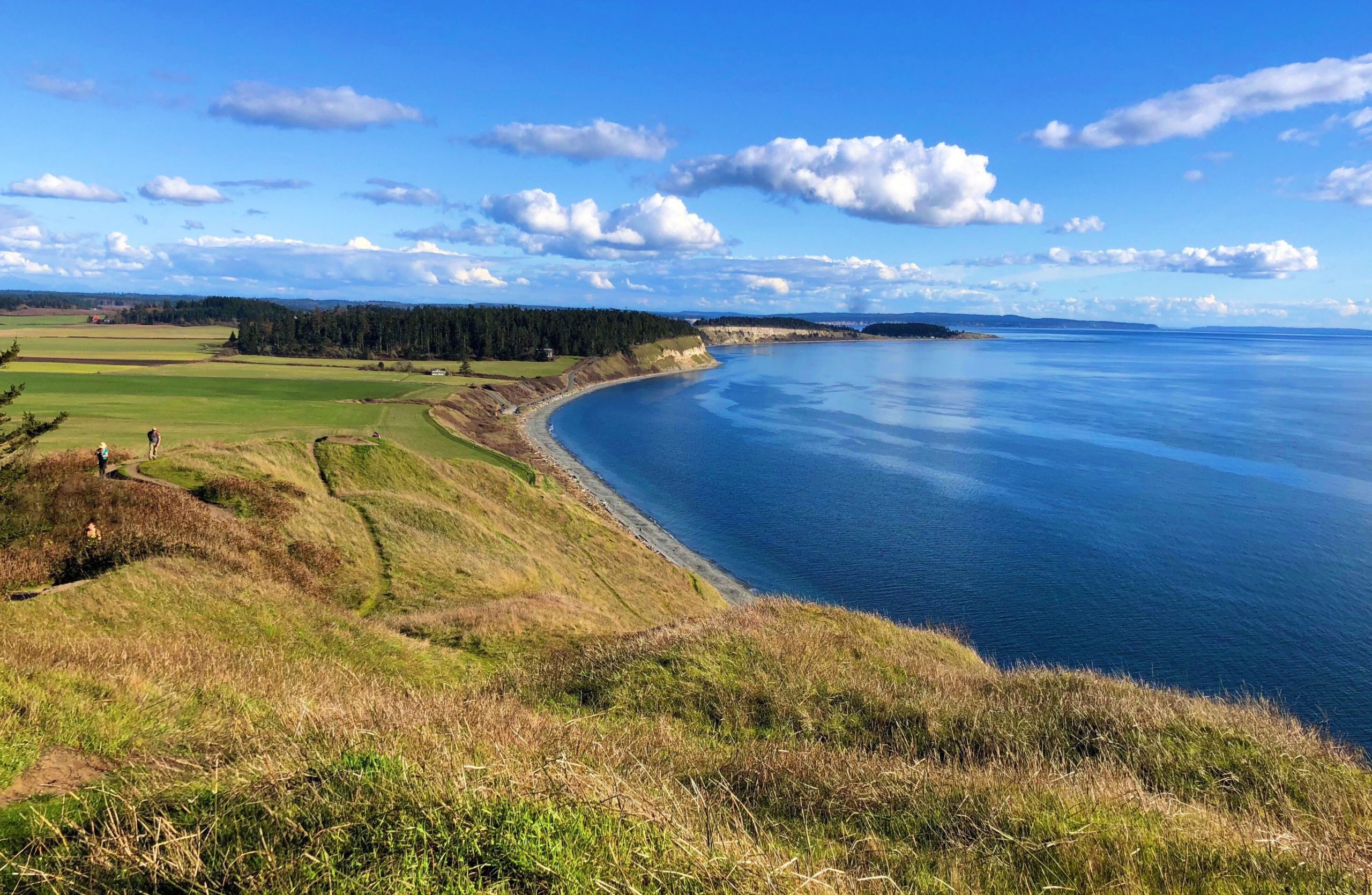 In 1850, local history was made on the shores of Whidbey Island when Isaac Ebey landed on a rocky westside beach and became the first official white settler on the island. With an entire island to choose from, Ebey couldn't have done much better than the pristine pastureland of what is now known as Ebey's Landing. This brilliant landscape is situated right at the southwestern side of Coupeville and features breathtaking views of Puget Sound and the Olympic Mountain range. The landing's soft rolling hills blanketed in rich soil—perfect for cultivating crops—was this area's true draw to its original settler. Today this landscape remains largely unchanged from the early days of settlers thanks to Ebey's Landing Reserve. It's the perfect place for a long walk to get lost in the life of the past.
Check out the rest of Whidbey's beautiful destinations from this series here.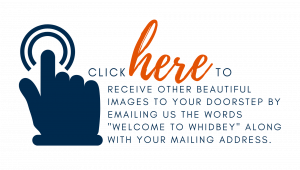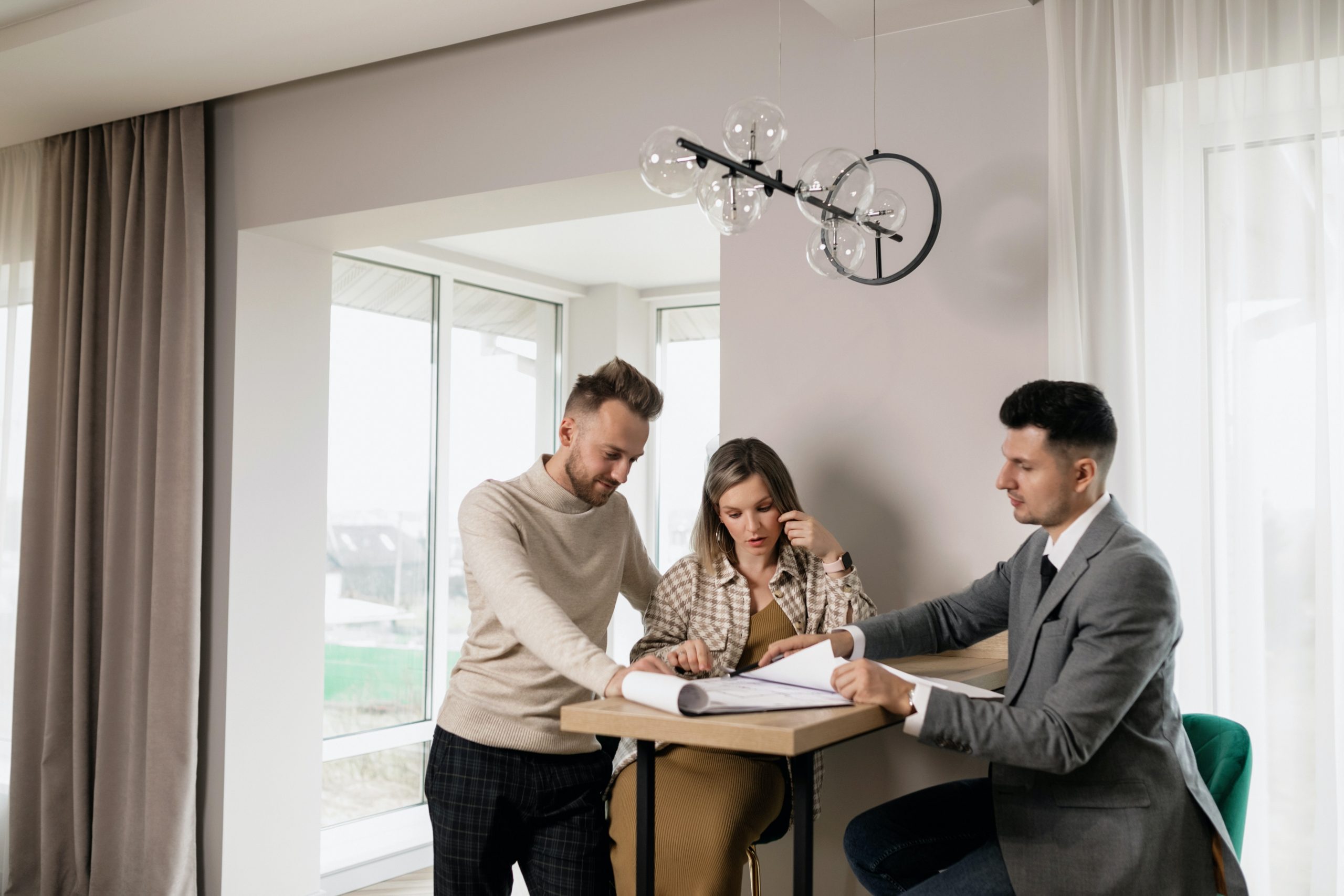 Saving enough money for a down payment on your first home can be one of the biggest obstacles to homeownership. Depending on your circumstance you might need anywhere from 3% – 20%. Speaking with a reputable local lender will help you find out exactly what your percentage will be.
But how long should it take, you ask!?
Follow along as we estimate the amount of time it takes a person earning a median income and paying a median rent to save up for a down payment on a median-priced home.
To accomplish this task we use the concept that homeowners should pay no more than 28% of their total monthly income on housing expenses. We use this information in combination with data from the U.S. Department of Housing,  Urban Development (HUD), and Apartment List to determine our estimation.
According to the data pulled, the national average for the time it would take to save for a 10% down payment is roughly two and a half years (2.53). Looking at the diagram below you can also see that those living in Iowa can save for a down payment in as little as 1.31 years while those in California could take 17.56 years. The map below can help you determine the amount of time (in years) it can take for you to save in your state: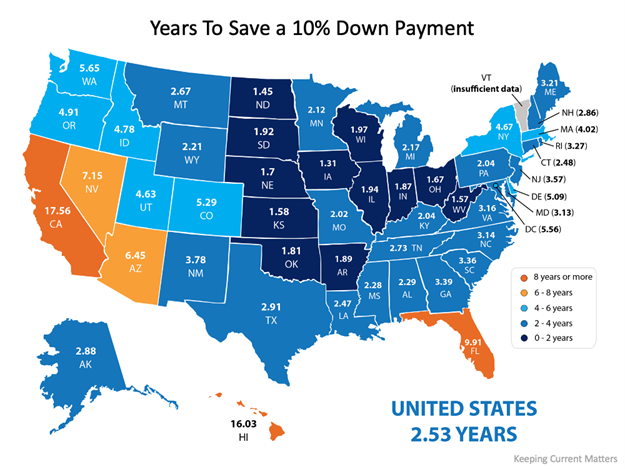 What if you only need to have a 3% down payment?
It is a common misconception that you need to have a 20% down payment to buy a home.
The reality is there are reasonable alternative options out there. First-time home buyers have an advantage with a plethora of down payment assistance programs available to them. You just have to find the right lender and ask. Need help finding a lender? Ask us to connect you with one here.
What if you qualify to take advantage of one of the 3% down payment programs?
If you qualify for a 3% down payment program, then you only have to come up with 3% of the total cost of the home at closing instead of ten or the typical 20% we have seen required in the past. Saving for a 3% down payment might not take you very long. In fact, it could take less than a year in most states, as shown in this map here: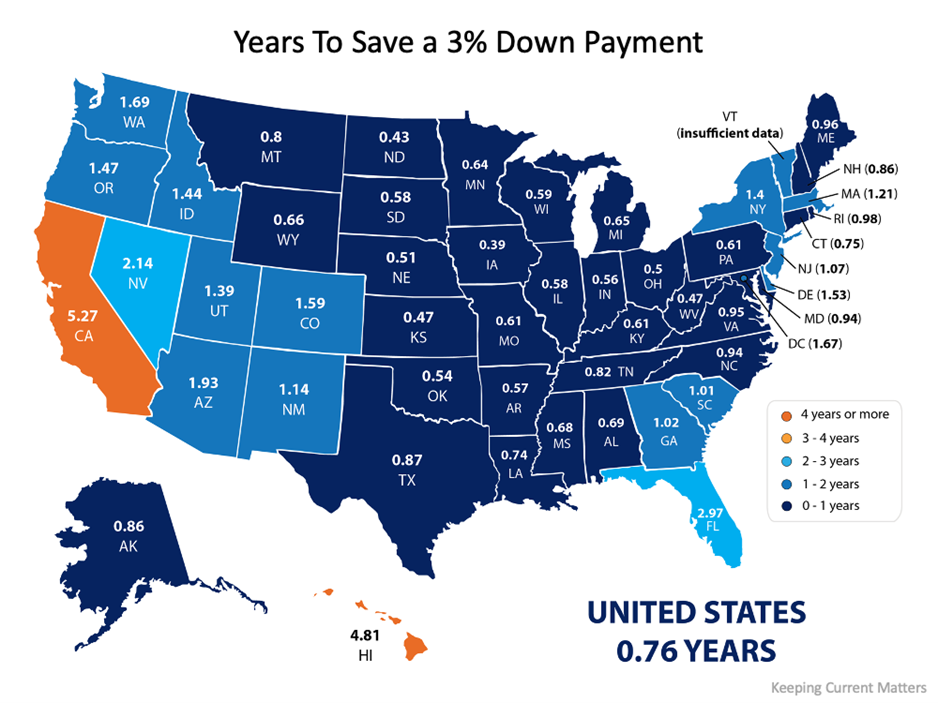 At the end of the day
Wherever you are in the process of saving for a down payment, you may be closer to your dream home than you think. Connect with us to explore the options available to you in our area and how they support your plans for buying a home.