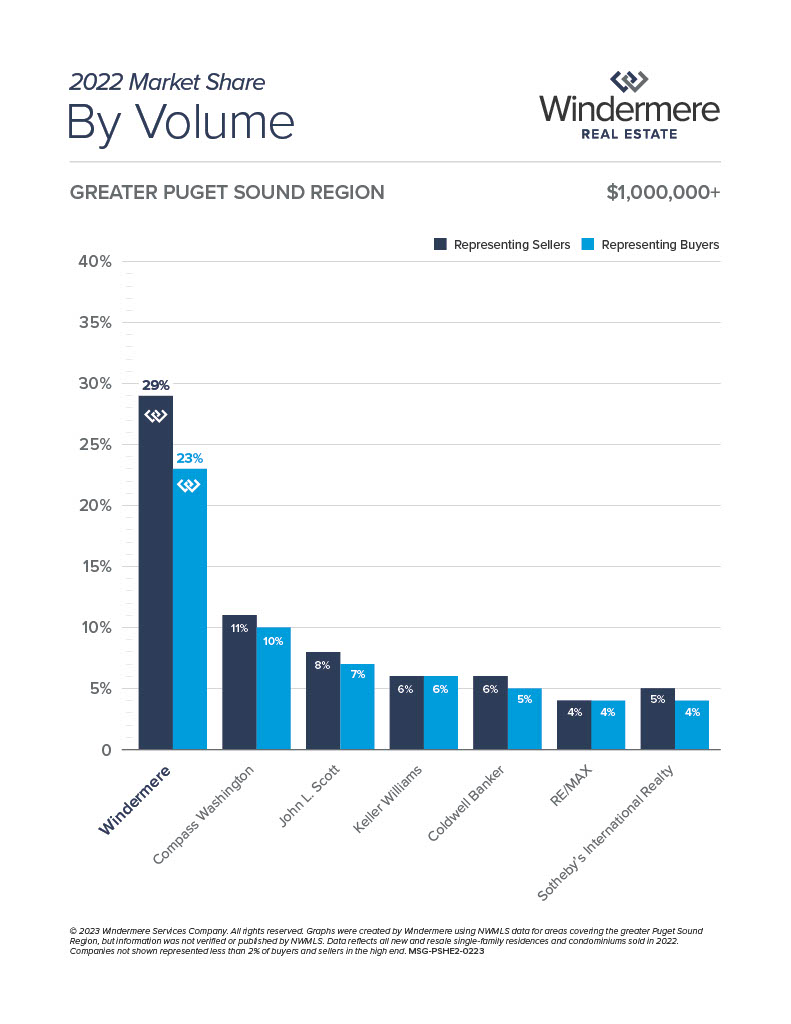 When it comes to the Pacific Northwest's real estate market, the name Windermere stands head and shoulders above the rest. With a longstanding reputation for excellence, this brokerage has been a household name for decades, thanks to its unmatched market share across all price points.
But when it comes to the luxury market, Windermere's reputation really soars. With a keen ear tuned to the needs and desires of their clients and brokers representing the high-end market, Windermere has been able to put in place a series of qualifications, marketing resources, and organizational structures that ensure that their "Premier Properties" receive the exposure and attention they deserve.
Becoming a Windermere Premier Property in a given region is no small feat. Properties must meet certain qualifications and be approved by a local Premier Director, guaranteeing that only the finest, most prestigious homes make the cut. And for those truly exceptional luxury homes that start at a staggering $3 million, Windermere offers the W Collection, a showcase of properties that are not only stunning and unique but also benefit from a separate website and national and international portfolio.
But Windermere's reputation in the high-end market isn't just about its exclusive properties. It's also about the extraordinary level of quality and service that they provide. Windermere's brokers and staff are known for their unparalleled expertise, professionalism, and attention to detail, ensuring that every aspect of the home buying and selling experience is executed with the utmost care and consideration.
In short, Windermere is more than just a real estate brokerage; it's a trusted partner in the luxury home market, providing a level of service and expertise that is simply unmatched in the industry. If you're in the market for a truly exceptional property or looking to sell your luxury home, you won't find a better partner than Windermere.  Connect with a local Windermere broker by clicking here.
If you are interested in becoming a luxury broker on Whidbey Island, email us at KStavros@windermere.com.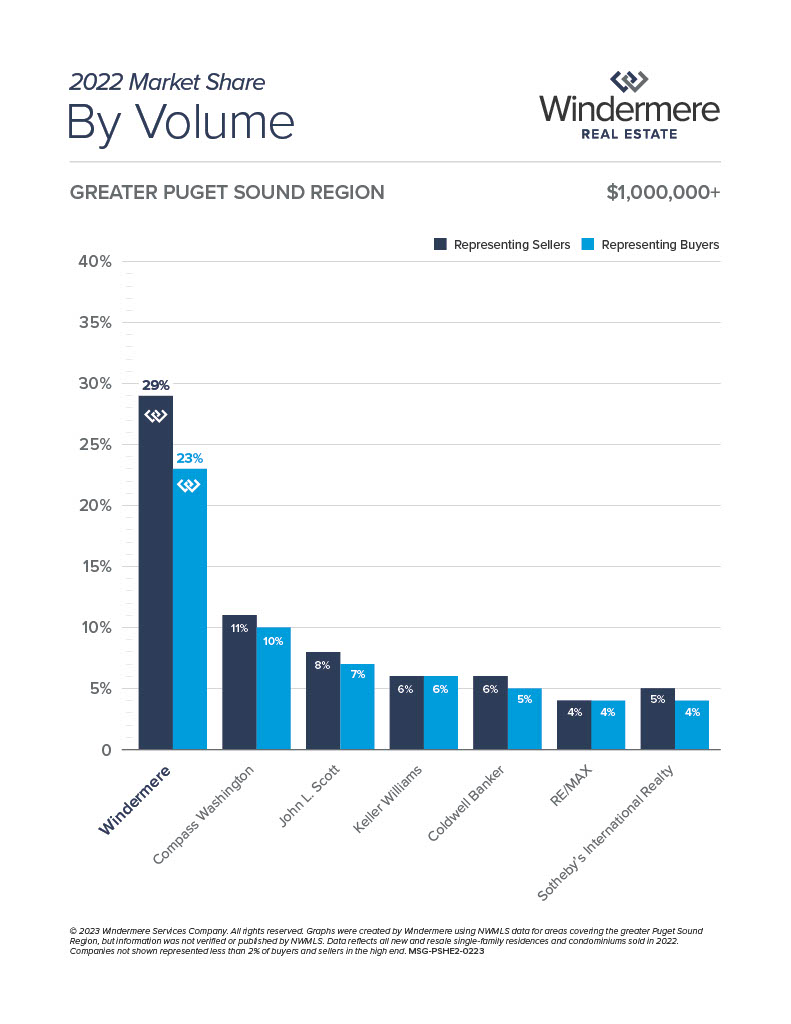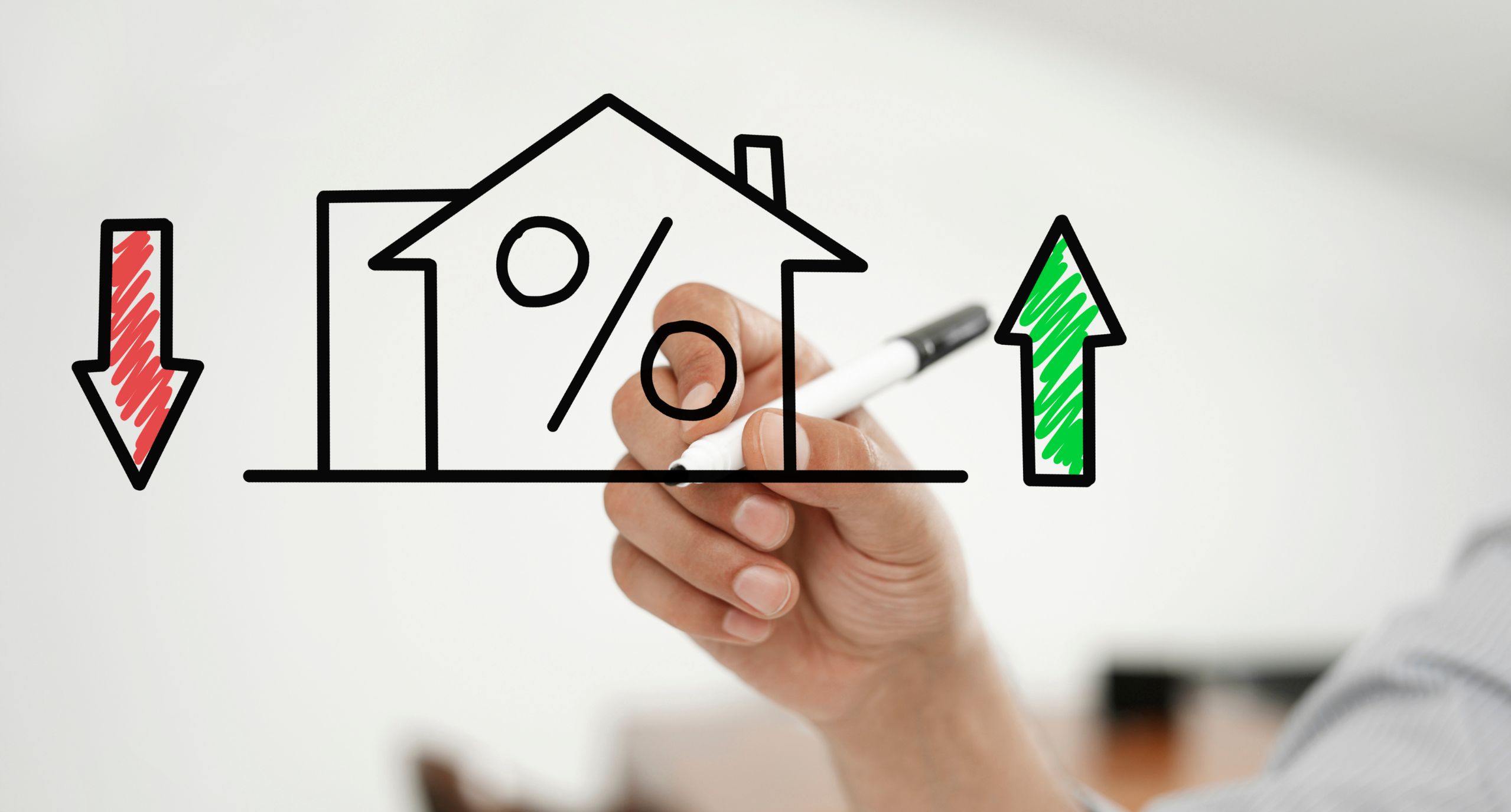 Mortgage rates rise and fall in response to varying inflation. If 7% was too high for you, it is likely now a better time to connect with your lender to see if the current rates better align with your monthly housing allowance goals, as mortgage rates have begun to decline. Keeping an eye on inflation will offer you a strong indicator to where mortgage rates will go.
While there is no comparison to the rates offered at the beginning of 2022 there is hope that they will ease a bit from the dramatic climb.
Buyers Purchasing Power
If you are considering buying, this decline in mortgage rates means an increase in your purchasing power. For example, let's assume you want to buy a $400,000 home with a monthly payment between $2,500 and $2,600. Consider the chart below to see how your purchasing power changes as mortgage rates move up and down. The red demonstrates payments above your desired threshold while the green represents payments within and below your desired price range.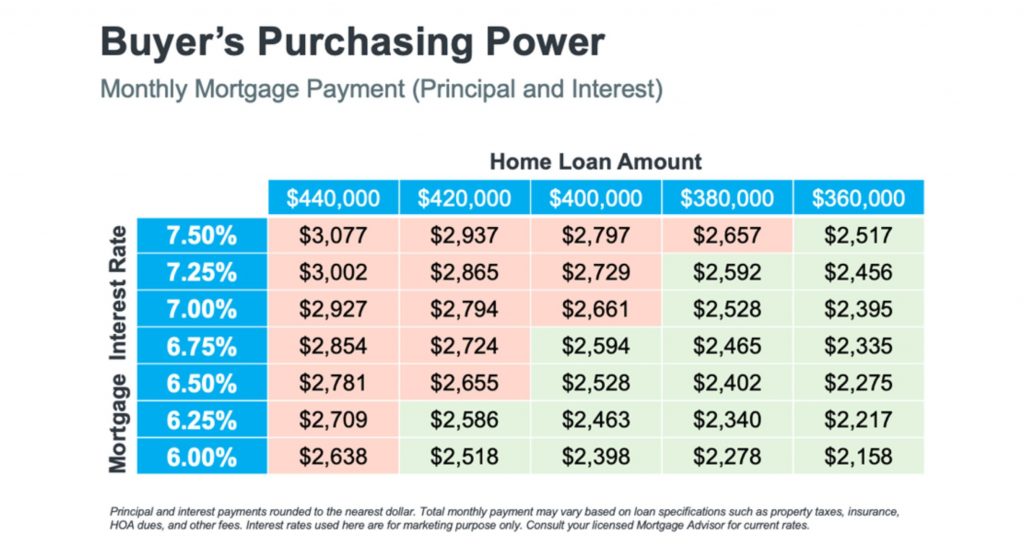 This is a small example of how a little quarter-point change in mortgage rates can significantly impact your monthly mortgage payment. It is of the utmost importance to work with a trusted real estate professional and lender who follow the market and understand the projected mortgage rates for the days, months, and year ahead,
If you are considering buying and do not have a trusted real estate broker already on your side, connect with us and we will pair you with a broker that will meet your needs.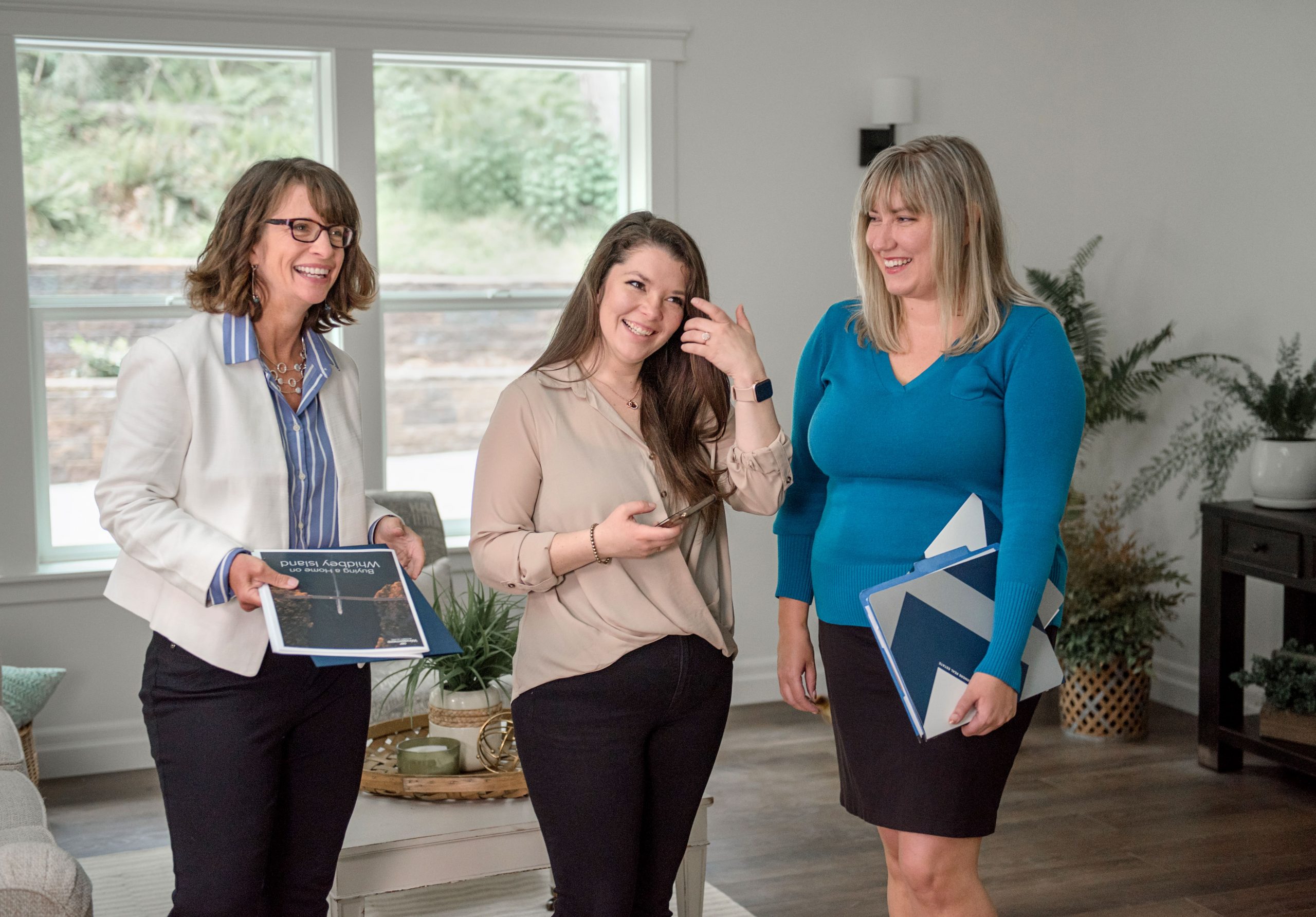 It is a rare broker whose love language is creating and sharing information that is valuable to clients but can also be hard to find. Some brokers feel they need to guard their valuable local insights as if it is a finite and precious gift. What they don't see is that every time you put valuable knowledge out there for people to use and find, A) it just represents the tip of the iceberg on what you actually know, and B) it tells people you are the person to go to for more goods on the topic. So, if your topic happens to be something like moving to Tacoma we have the site for you!
 

About Marguerite: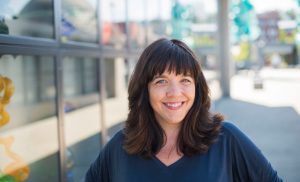 Marguerite Martin created Move to Tacoma almost a decade ago. Each year Marguerite builds upon her content and continues to push the limits producing extraordinary content for her community. In addition, she launched a powerful podcast for the area by the same name where you can listen to fascinating interviews on various topics. Over time Marguerite morphed into a full-time match-maker. Now, instead of spending all her time helping buyers purchase a home, she helps match buyers with the perfect broker in the Tacoma area and creates content usable for all. Marguerite is an innovator and a thought leader. She challenges us all in the industry to do things better. Check all the incredible information she has created on the Move to Tacoma website, and don't hesitate to reach out to her!
Some of the other neighborhood guides that inspire us and we know you would find valuable if you were moving to these areas are linked below.
We have a couple of favorites…
Our very own Whidbey Island Guide https://windermerewhidbeyisland.com/the-whidbey-island-guide
Seattle Area:
Team Diva's Neighborhood Guide https://teamdivarealestate.com/seattle-neighborhoods/
Get Happy At Home Neighborhood Guide https://www.gethappyathome.com/neighborhoods/
All of South Puget Sound:
Windermere Professional Partners Guide https://www.windermerepc.com/neighborhoods
Other Parts of the US:
New Orleans https://beneworleans.com/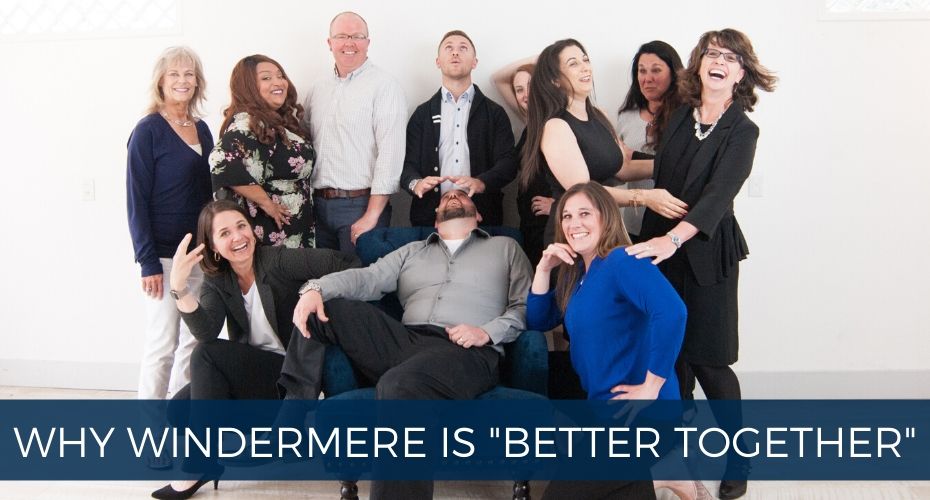 -Why we are better together at Windermere
Many people think of real estate as a cutthroat competitive sales business akin to the dynamics that are portrayed on a TV show like Million Dollar Listing. The world is always pitting competition vs. collaboration against each other as if these two things are completely exclusive from one another.
This is why it is so darn refreshing when you see collaboration amongst "competitors," and it's something we see at Windermere all the time.
One of Windermere's core values is that we are all better together, and we are huge believers in the very different way Windermere real estate agents operate. But what does "better together" really mean? How does this play out in the day-to-day?
Of course, "better together" in part refers to the collaboration aspect in real estate. No one doubts two heads are better than one when it comes to problem-solving, and how about ten heads or a whole brokerage full of knowledgeable professionals to draw from? In our brokerage, a seasoned agent or a total newbie who comes up against something unusual (which happens more often than you would think) can easily pick the brains of agents representing 100's of years of experience. From in-person conversations to our Facebook group page; we encourage ideas, questions, new information, resources, and sometimes just funny memes. Real estate is about being creative, not taking no for an answer and problem solving like a maniac. Having a support group you can rely on results in miracles for your clients other agents can't produce.
"Better together" also means we have a lot of pride in the standard Windermere sets in the real estate industry. This translates to holding each other accountable when a colleague is delivering less than their best. For those of us who thoroughly understand the benefits of holding the real estate industry to a high standard, it literally hurts our hearts when we see agents acting in ways that are embarrassing for our profession and even worse, harmful to the client. This is why we believe in continually raising the bar on this industry so others have to stretch themselves just to keep up.
We take the idea of "better together" seriously but that doesn't mean we don't like to have fun doing it!
The video below was envisioned, orchestrated, and paid for by the agents. It is a pure collaboration amongst some of the most successful agents at Windermere in Oak Harbor who have intense respect for one another and understand that being better together helps everyone.
If you enjoyed this, you might also like: