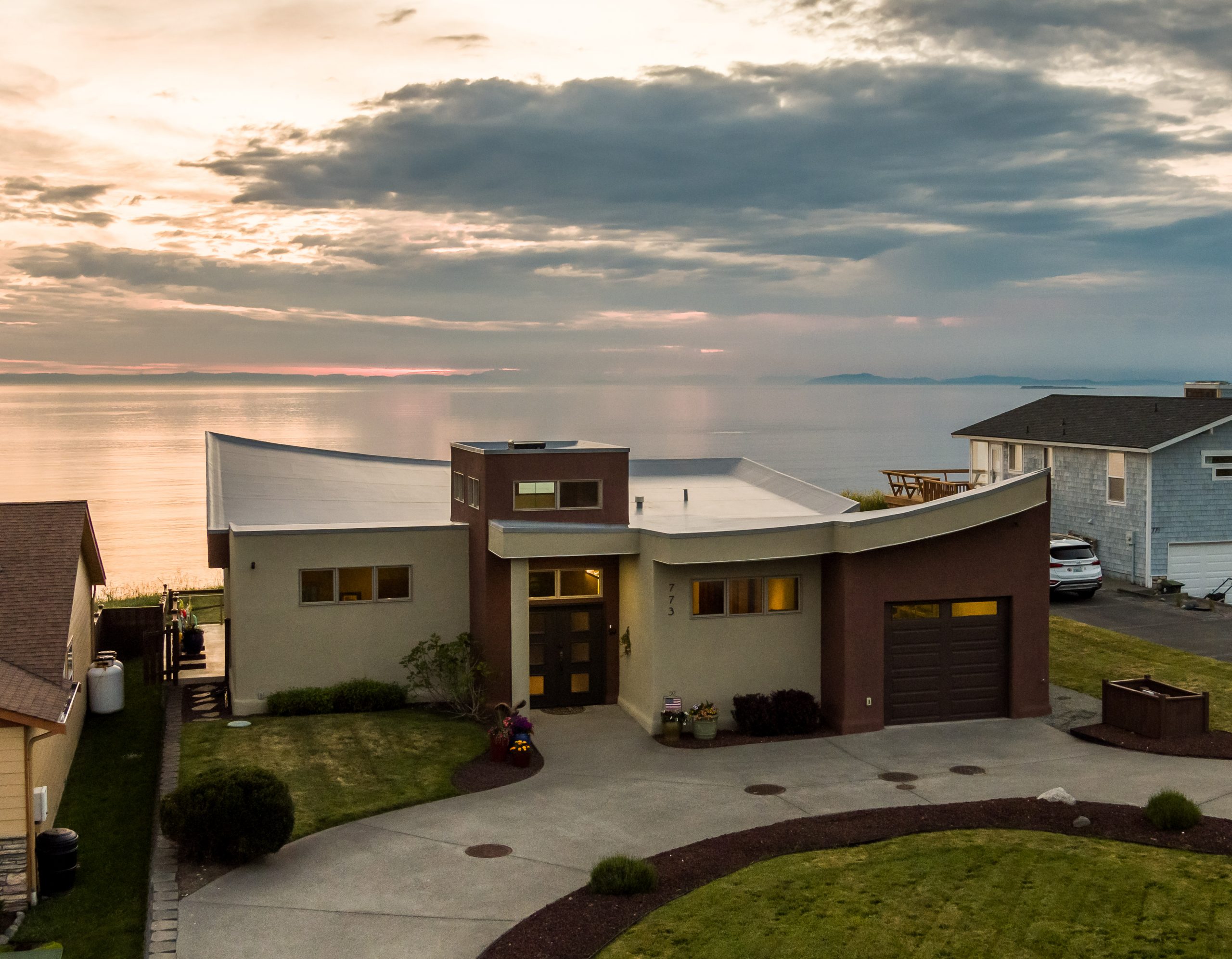 773 Fort Ebey Road, Coupeville
From the spacious, light-filled entrance to the expansive sunset views over the Salish Sea, this solid construction and timeless design custom high-bluff waterfront home invites you to slow down and breathe!
Lovingly designed and built by the owner's late husband, architect Dennis DePape, 773 Fort Ebey Rd creates a lasting impression on all who view it, but especially those who reside within it's walls. Planned and built in two phases, the western half of the home was completed in 2013 using strawbale infill and sturdy epoxy-filled stucco construction over a high-quality concrete floor. Phase 2, the eastern half of the home, was completed in 2015 with traditional wood and insulation materials wrapped with the same high-quality stucco. The roof is commercial grade TPO, smartly designed to drain from one downspout on the north side which carries water to the gulley at the street. Since its construction, neighbors have dubbed this "the eagle house" for its likeness to an eagle with two soaring wings and eagle eye tower as viewed from the south on Fort Ebey Rd.
Timeless Design Inside

Inside, you'll be wowed by the tower entry and foyer, with beautiful lighting and display shelves. The open floor plan of the main living room, dining room, and kitchen keep the view central to whatever you are doing. If accessibility is a concern, buyers will appreciate the zero-step access points from the front and the side patio, completely level floorplan, and a no step bathtub/shower in the primary bathroom. The carpet in the home was installed over a finish-quality concrete floor with stryofoam insulation underneath for warm feet! High quality Canyon Creek Cabinets, granite countertops and stainless appliances will delight the chef, as will the propane range.
Solid Construction Designed for Awestruck View

The upward slope of the ceiling toward the west invites attention to the immense views. Large concrete patio on south side provides view not only of the Salish Sea and sunsets, but also the waves crashing on the shore 140 feet below to the south. Speaking of the bluff, one can view rebar stakes that were placed near the edge of the bluff when the home began construction in 2012 and they are still standing. A bluff study was done at the time of construction and is available to give buyers confidence.
Location. Location. Location
Located in Coupeville's Sierra Country Club, this home features unobstructed westward views of the Salish Sea and 365 days of sunsets. Sierra is close to beach access at Libbey Beach, as well as Fort Ebey State Park with it's beaches and miles of hiking and mountain biking. Sierra Country Club has a community pool, clubhouse, and playground area for all to enjoy! Wildlife abounds in this community, from deer to bunnies to soaring bald eagles.
CLICK HERE TO SEE THIS LISTING.
This property is built to last, from its solid construction to its timeless design features. Built in the rain-shadow of Central Whidbey, with proximity to Fort Ebey and Libbey Beach parks and its endless views, this home will delight it's new owner for years to come.
Want to learn more about the advantages of straw bale and stucco walls? CLICK HERE.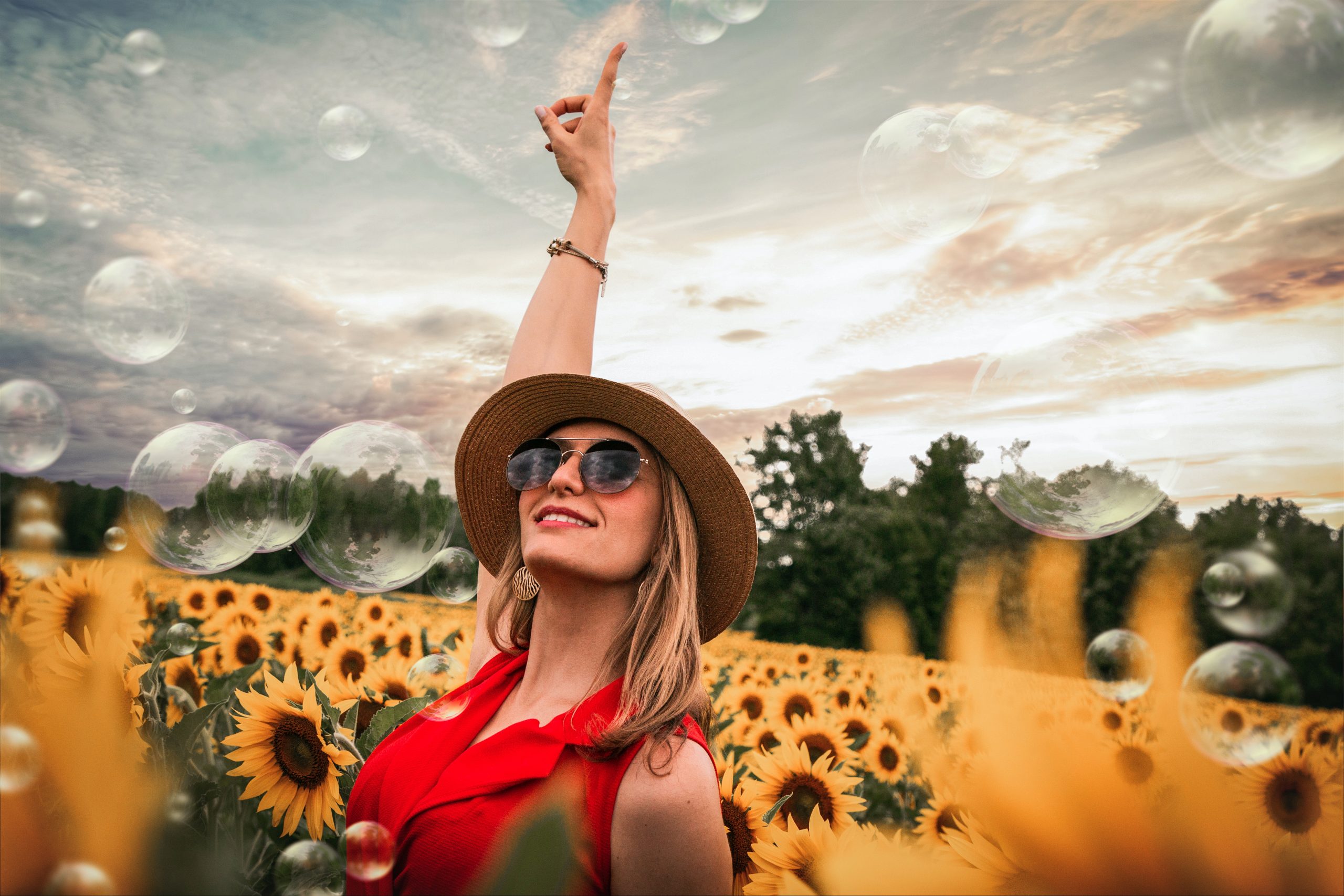 Whether you are thinking about buying or planning to sell, it is critical for you to understand the role mortgage rates play on buyers purchasing power, and sellers listing prices.
But first, some definitions…
Mortgage rates:
the rate of interest charged on a mortgage loan.
Buyers purchasing power:
the amount of home you can afford to buy and is within your financial reach.
Seller's listing price:
The sales price of a property when put on the market.
How the fluctuation in mortgage rates affect the two:
Buyers:
Mortgage rates directly affect the monthly payment buyers make on their home purchase. Even the smallest increases in mortgage rates can significantly impact their purchasing power. Typically speaking, for every 1% increase in mortgage rates buyers lose 10% of their purchasing power. In other words, when rates increase, so do monthly payments forcing many buyers to purchase less expensive homes to make up for the difference in interest and vice versa. With rates currently increasing, buyers need to beware that further mortgage rate increases could potentially limit their future purchasing power. If you are in the process of buying a home, it is of the utmost importance to have a strong plan. Connect with us so we can help you.  
Sellers:  
Rising mortgage rates result in a reduced number of overall buyers. With that said, we will likely begin to see the outrageous sales prices begin to decrease. Over the past couple years, we have witnessed a strong sellers' market coupled with mortgage rates at an all-time low. This gave buyers the ability to purchase more home for low monthly payments. The limited inventory (homes for sale) resulted in wild selling prices. As buyers begin to get priced out of the market and mortgage rates begin to increase it will be of the utmost importance to carefully price your home for the market. You don't want to risk coming out too high and getting stale or missing the opportunity to maximize interest. Skilled brokers will take into consideration and evaluate numerous factors when pricing expertly. It is not just the condition and location of the home, recent nearby sales, price of similar homes currently on the market but also mortgage rates, buying power, and other local variables. If you are thinking of selling connect with us so we can position your property to stand out in the current market.
Freddie Mac is saying. "History suggests that when rates rise, there is an initial bump in home prices, as many move quickly to buy a home before rates increase further. But after that period, home prices slow. Freddie Mac analysis shows that a 1% increase in mortgage rates results in home price appreciation that is four percentage points lower. For instance, a 1% increase in mortgage rates would change home price growth from 11% to 7%."
Where we are at today:
Currently, the average 30-year fixed mortgage rate is above 5%. Experts anticipate that mortgage rates will continue to increase in the months ahead. If you are a buyer you have an opportunity to get in ahead of that increase by purchasing now.
Expert tip:
It is critical for you to get preapproved as early as possible to get todays rates locked in and prepare yourself with a plan incase rates are to go up. Additionally, sellers have a unique opportunity to still capitalize on the current situation if they are to list now before more buyers are completely priced out of the market and home prices are still strong.  The graph below illustrates how mortgage interest rates drastically impact purchasing power and ultimately reducing the number of buyers bidding on homes in the higher price ranges.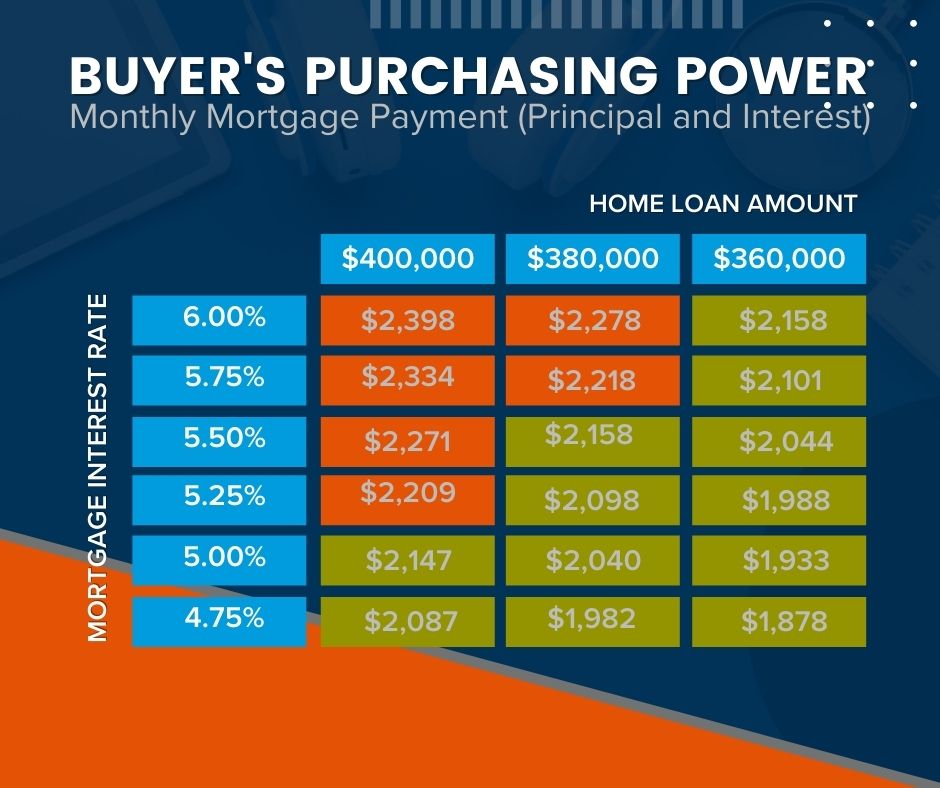 Whether you are considering buying or selling let's connect so that you have a trusted real estate advisor on your side who can help you strategize to achieve your dream of home ownership.