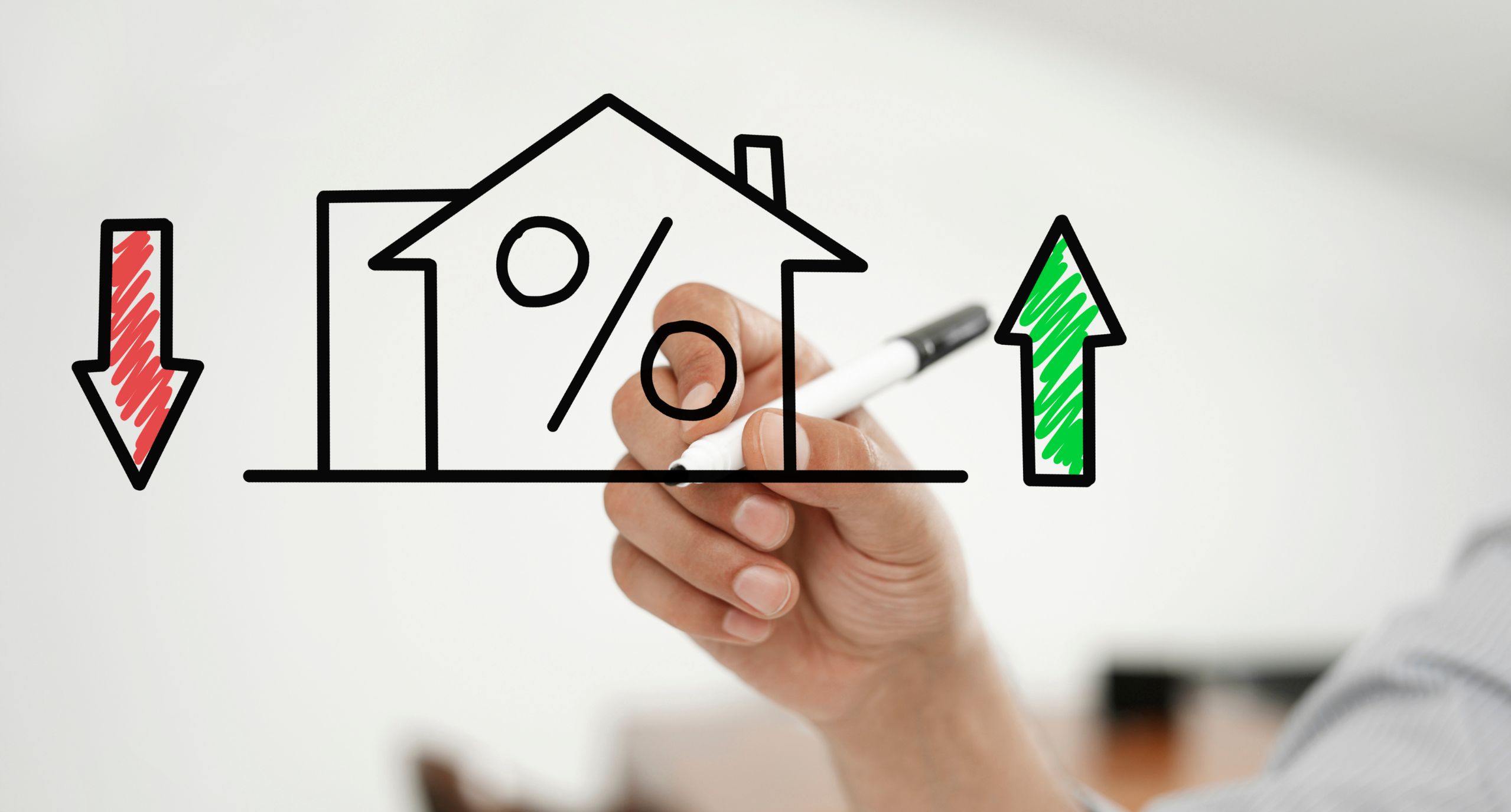 Mortgage rates rise and fall in response to varying inflation. If 7% was too high for you, it is likely now a better time to connect with your lender to see if the current rates better align with your monthly housing allowance goals, as mortgage rates have begun to decline. Keeping an eye on inflation will offer you a strong indicator to where mortgage rates will go.
While there is no comparison to the rates offered at the beginning of 2022 there is hope that they will ease a bit from the dramatic climb.
Buyers Purchasing Power
If you are considering buying, this decline in mortgage rates means an increase in your purchasing power. For example, let's assume you want to buy a $400,000 home with a monthly payment between $2,500 and $2,600. Consider the chart below to see how your purchasing power changes as mortgage rates move up and down. The red demonstrates payments above your desired threshold while the green represents payments within and below your desired price range.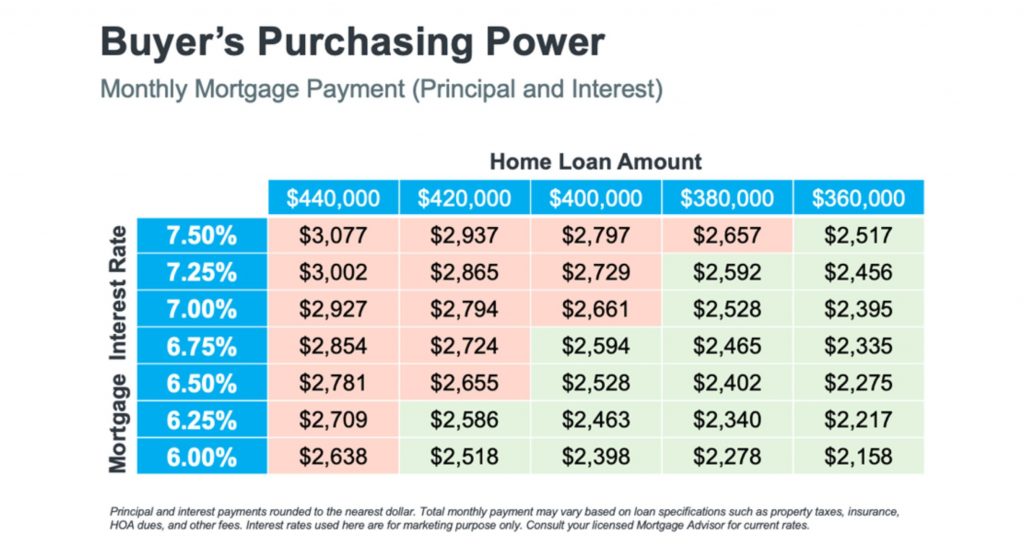 This is a small example of how a little quarter-point change in mortgage rates can significantly impact your monthly mortgage payment. It is of the utmost importance to work with a trusted real estate professional and lender who follow the market and understand the projected mortgage rates for the days, months, and year ahead,
If you are considering buying and do not have a trusted real estate broker already on your side, connect with us and we will pair you with a broker that will meet your needs.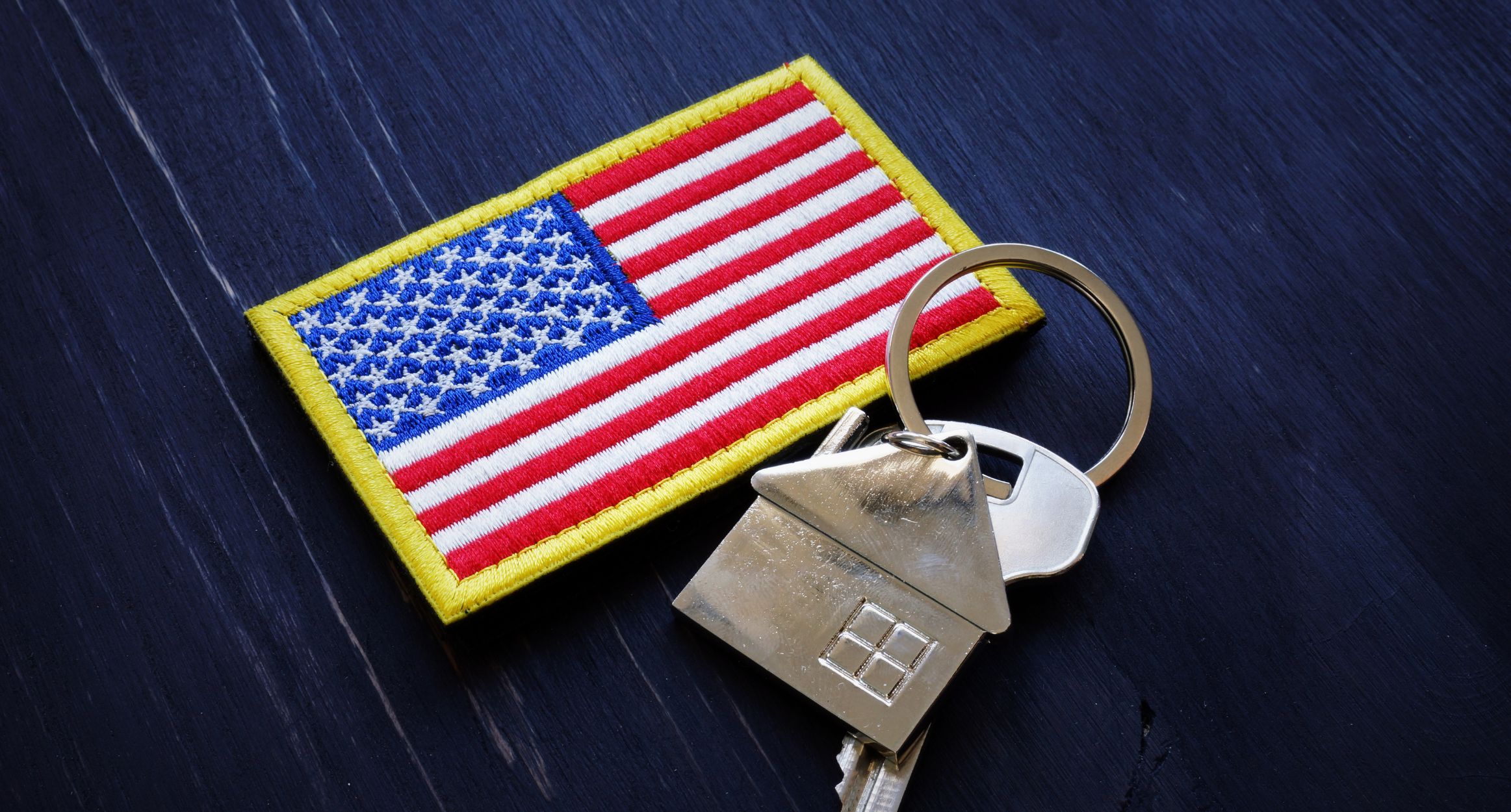 VA Home loans help veterans reach the American dream.
If you or a loved one has served in the military this article is meant for you.
It is important for you to not only know that there are Veterans Affairs (VA) home loans available to you, but also understand the program, its purpose, and the benefits available to you at its fullest.
Follow along as we break it down into bite-size pieces so that you can be best prepared for the purchase of your own home.
UNDERSTAND THE PROGRAM
Veteran Affairs home loans provide millions of veterans the ability to purchase their own homes. They have been providing these types of loans over the past 78 years.
To be eligible for a VA home loan one must be an active service member, a veteran, or an eligible surviving spouse.
UNDERSTAND ITS PURPOSE
The U.S. Department of Veterans Affairs   wants to say thank you for serving by making homeownership a real possibility for those who have dedicated their lives to serving our country. They have made it their mission to serve you by providing home loan guarantee benefits in addition to other housing-related programs that assist you in buying, building, repairing, retaining, or adapting a home for your own personal use.
UNDERSTAND THE BENEFITS
Some of the major benefits of using a VA home loan is that most eligible borrowers can purchase the home with NO DOWN PAYMENT! That means you don't have to save up to buy your own home and you are not penalized for not having a down payment. Typically, most other loans that have down payments below 20% require what is called Private Mortgage Insurance often referred to as PMI. This is an additional monthly fee tacked onto the mortgage that can be removed once you've reached 20% of the mortgage. How does this benefit you? You have an overall reduced monthly cost. In addition, VA loans offer competitive terms and mortgage interest rates.
The Executive Director of the Department of Veterans Affairs Loan Guaranty Service, John Bell, recently described the strength of the program by saying:
"It provides early ownership for many people that would not have that opportunity to begin with. Since there's no down payment, it allows people to hold their wealth and it gives them the ability to have long-term financial security by being able to own a house and let that equity grow."
Our veterans sacrifice so much during their service to our nation. One way we thank them is to ensure they have the best information about the benefits of VA home loans. Thank you for your service.  If you are considering using your VA home loan and wish to speak with an agent, please connect with us here  or email us at  Whidbeycommunications@windermere.com.