Everything You Need For Your Trip To
People often wonder how to prepare for a day at the farm.

How to get to Dugualla Bay Berries
Head 
southeast
 toward 
State Rte 20 E
Turn 
left
 toward 
State Rte 20 E
Turn 
left
 onto 
State Rte 20 E
What are Dugualla Bay Berries hours?
The farm is open Monday - Saturday 11 am - 5 pm and on Sundays from 11 am - 4 pm.
Where do I go if I have questions?
Is there a restroom I can use while I am there?
Yes, there is a restroom onsite available for you to use.
Do I need to bring my own baskets?
No, you will be provided with baskets for picking and cartons to take your berries home with you.
Can I pick berries in the rain?
It is suggested that you do not pick berries when it is raining. This is because blueberries have thin skin and a high respiratory rate. Berries that are picked in the rain retain the moisture, in turn, this will cause your picked blueberries to mold significantly faster than if they were picked when not raining.
Can I bring my pet with me?
While they love pets, it is suggested that you do not bring your pets with you as they are not allowed on the field.
$3.00 per lb. You Pick Berries
$5.00 per lb. Pre Picked Berries
$7.00 per lb. Frozen Berries
What do I need to bring with me?
Not a whole lot, they provide everything you need. However, we do suggest sunscreen since you will be out under the sun and closed-toed shoes as you will be walking through the field.
Can I freeze the berries?
Yes, you can!
1. Do not wash the berries you plan on freezing.
2. Put them in a freezer bag (we suggest separating into the specific amounts you will thaw and use at a time).
3. Place into your freezer.
Where can I find them on Social Media?
Enjoy your berries fresh, in pies, muffins, syrups, jams, pancakes, fozen, smooties, yougurts, and more!

Whidbey Island has always been widely known for its farming history.
In 1850 Isaac Ebey became the first official white settler on Whidbey Island making claim to the soft rolling hills of what we know as Ebey's Landing today.  The rich soil was ideal for cultivating crops which became a significant draw to the island for others. Learn more here.
Over the years several small wharfs were built along the shore of Penn Cove to import and export goods to and from the island.
In conjunction with the development of Fort Casey, our beloved Coupeville Wharf was built extending 500 feet into the cove to accommodate the increase in commerce even when the tide was low. It acted as the main distribution and storage center for grain. Learn more here.
Over the years Whidbey has stayed true to its roots and farmers have expanded into their own unique niches throughout the island.
The summer season brings a unique opportunity for you to visit local farms for a day in the fields picking the best berries and guaranteeing you the freshest pick of the crop for a day that you will remember for years to come.
This September (2022) we have partnered with Dugualla Bay Berries to offer you a 20% discount on your blueberry purchase when you present our special postcard. If you are interested in receiving one and have not received yours already email us here at whidbeycommunications@windermere.com. Provide us your name, and mailing address and specify you would like a discount card to Dugualla Bay Berries.
Located on Whidbey Island, Fort Casey State Park is a great place to visit for those looking to explore the Pacific Northwest and Whidbey Island. It's hard to pick just one thing that makes this place so special! So we picked three!

#1 The park's location is perfect for history buffs who also love the outdoors. There are miles of trails winding through forests filled with towering Douglas Fir trees, open grassy fields, and dotted throughout are all the historical infrastructure. It affords several unique photo opportunities from the expansive water views, military relics like the large cannon guns, the infamous Admiralty Head Lighthouse, and fauna like bald eagles and deer.

#2 There are so many stories associated with this one location. History buffs will learn about the Civil War-era military fort that was built here in order to protect against a potential invasion via water from Japan or Russia during World War II with the "Triangle of Fire. The Admiralty Head Lighthouse adds another slant of historical intrigue. The original lighthouse, which was built in 1894 and first lit on January 21st of 1895 could be seen as far away as 14 miles with a focal plane of 128 feet above the high tide line. You can now visit the lighthouse in its expertly restored state and learn from the volunteer docents that keep the small museum housed inside. Learn more here http://www.washingtonlighthouses.org/data/lighthouse_ah.html

#3 So many ways to stay! If a day trip is not long enough to soak it all in you can book a campsite at the base of the bluff on the Southern end of the park. It's located on a bit of a sandy plateau right next to the Ferry landing that serves the Washington State Ferries Port Townsend to Coupeville route. In fact, a neat feature of weekend camping here is that you can walk on the Ferry and explore the historical Water Street in Port Townsend! Grab an amazing meal from one of Port Townsend's excellent restaurants just don't miss the last ferry back! If that sounds too risky then head over to Callens Restaurant for some of Coupeville's best food and drink. If camping accommodations is not your thing you can stay at Camp Casey with a variety of accommodation types. Check it out here https://casey.spu.edu/staying-at-camp-casey/lodging/
Whichever you choose, a day trip or an overnight stay at Fort Casey State Park is sure to leave you with some one-of-a-kind memories!
This year, Windermere Whidbey Island partnered with the Oak Harbor Music Festival to bring you four weeks of fantastic music to lead into the eagerly awaited music festival weekend.
On Wednesday, August 17th The Chris Eger Band will be taking the stage at Windjammer Park in Oak Harbor. You can learn more about the event here.
It is likely that you have seen this high-energy band perform at places before like The Beach at Birch Bay, La Conner's Gilkey Square, Mount Vernon River Walk, Birdsview Diner, Tulalip Casino, and more.
If you aren't familiar, this crowd-pleasing band always puts on a show you won't want to miss. They say the band has a "fresh take on vintage, guitar music for the 21st century".
What some may not know:
When longtime guitar- hero, and Nashville recording artist, Eric Heatherly reached out to Eger he accepted. Together they, "…crafted an album that demands attention" and we bet you don't want to miss out!
To learn more about The Chris Eger Band click here.
Mark your calendars to join us during the month of August at Windjammer Park in Oak Harbor for our summer concert series featuring a new act every Wednesday evening for the first four Wednesdays. In addition to Chris Eger Band (Aug 17) you can catch Whidbey's Saratoga Orchestra with featured guests The Gothard Sisters (Aug 3), Zan Fiskum (Aug 10), and Janie Cribbs and the T.rust Band (Aug 24). Presented by the Oak Harbor Music Festival in partnership with Windermere Real Estate Whidbey Island. For more information about dates and times click here.
"Maple Valley raised singer/songwriter Zan Fiskum uses her haunting and beautifully controlled singing to craft ethereal and brooding folk/pop songs."
If that quote alone doesn't make you want to get up and listen, I don't know what will.
Like many of us, Zan grew up in the PNW. Her family volunteered at a diner theater called Auburn Avenue. Like most children, she remembers playing make-believe, except she was playing among the red velvet seats of the auditorium while her family prepared for their performances. When Zan followed suit and took to the stage she was a natural.
"At the age of 12 Zan broke away from the molds of her classical music training and experimented with enmeshing forthright lyrics, cinematic melodies and explosive synth sounds into her songwriting. She went on to release her first 6 singles and achieved over 2 million streams on Spotify alone."
She found herself and began sharing her unique gift with the world.
"Just 2 years later, Zan made her national debut on NBC's The Voice as a top 9 finalist and received recognition for her dynamic performing and voice from Billboard magazine, Maggie Rogers, Camila Cabello and the Indigo Girls."
You might recognize her by her debut album "Sleeping Problems." To learn more about Zan click here.
She recently has been performing in iconic Seattle venues such as The Moore Theater, The Triple Door, Sasquatch, and more. We are lucky enough to be welcoming her here to Whidbey Island Wednesday, August 10 as part of the Sounds of Summer Concert Series put on by the Oak Harbor Music Festival and Windermere Real Estate Whidbey Island. Mark your calendars every Wednesday evening in August for the first four Wednesdays. In addition to Zan Fiskum on August 10 you can catch Whidbey's Saratoga Orchestra with featured guests The Gothard Sisters (Aug 3), The Chris Eger Band( Aug 17), and Janie Cribbs and the T.rust Band on (Aug 24). To learn more about the event and others like it click here.
Every city or county has that one thing they are famous for. Their claim to fame that puts them on the world map. For some it is a world-famous sports team, others it is a historical location, still some gain fame from the presence of rare exotic animals.
For Island County, it is our mussels.

No, not the Emerald Cup kind of muscles we didn't make a typo, we mean our Penn Cove mussels.

The History of Penn Cove Mussels
You may not know this, but Island county is home to the oldest and largest mussel farm in the United States (and maybe the world).  Penn Cove Mussels, Inc. began culturing mussels in 1975 with the desire to harness the cove's naturally nutrient-rich water to harvest bigger and better mussels than the ones currently available. The results were incredible! Penn Cove mussels grow at a remarkable rate, enabling the mussels to reach harvest size within one year. This rapid growth rate causes Penn Cove mussels to have a firmer texture, sweeter flavor, and a thinner shell with more meat. As you can imagine, it makes them quite a crowd-pleaser.
Whidbey Island's proximity to Seattle and the Sea-Tac Airport mean these wonderful shellfish don't have to be a local secret. Instead, these mussels are quickly air-shipped all over the world for others to experience and enjoy. Mussels harvested in the morning are on the lunch plates of Seattle seafood lovers by that afternoon and dinner entrees in Houston by the evening.
Celebrated with a Festival
35 years our Penn Cove Mussels have been celebrated with a festival. The original celebrations consisted of a community chowder contest that has morphed over the years into 3 days' worth of activities and fun. The most recent events have attracted more than 6,000 mussels enthusiasts from far and wide. This event alone significantly helps the local merchants recover from the slow winter months.
Musselfest festivities typically kick off on a Friday with the "Mussel Mingle." This is a time where people gather at the Coupeville Recreational Hall to enjoy food, drink, and music. The next two days are packed full of mussel cooking demonstrations from incredible Seattle chefs, the massive mussel chowder competition involving 16 different local restaurants, the mussel eating competition, tours of Penn Cove Shellfish, Inc., a mountain bike event ("Mussels in the Kettles") and more!
Musselfest is a massive community affair that requires all hands on deck to pull off. Dozens of volunteers from all over Coupeville donate their time, finances, and resources to make this festival work. For the past few years, Windermere Whidbey agents have volunteered their time at the Waterfront Beer Garden where they serve up some great local ale while listening to amazing local musicians.

Unfortunately, like most events, the Penn Cove Musselfest was canceled due to Covid this past year, but the long-standing love for the festival carried on with the traditional T-Shirt and posters for all of the collectors. Past posters can be purchased here while supplies last. 
The 2022 Musselfest is anticipated to take place March 4th, 5th, and 6th pending the state of Covid and guidance from the state and county. Click here to check the status.
Standing tall along the western coast of Whidbey Island, these 10" barrel guns tell the story of a relationship to the United States Department of Defense that began long before any plane took flight. At the time of its construction in the late 1800s, Fort Casey was a military marvel. Part of the "Triangle of Fire," this military outpost was one of many strategically placed along the Puget Sound as the first line of defense against aquatic attack. Unfortunately, this magnificent fort's usefulness was short-lived. By the 1920s Fort Casey's impressive disappearing guns had already become obsolete and in 1956 the property was purchased by Washington State Parks and Recreation. Today, this fort is one of the most frequented state parks in Washington and a deeply embedded part of Whidbey Island culture.
Check out the rest of Whidbey's beautiful destinations from this series here.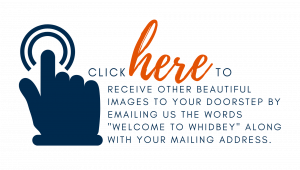 Langley is known for its unique specialty shops and galleries, showcasing amazing local artisan talent. From the lovely greenery of Bayview Farm & Garden to seaside-inspired jewelry and home décor at Foamy Wader, Langley has something for everyone! Want to try your own hand at some specialty art? Visit Callahan's Firehouse for a cup of espresso and an amazing glass blowing experience catered to all groups and ages. At the end of the meandering plaza of shops pictured in the postcard is Whidbey's popular ramen restaurant, "Ultra House." It's tucked away from the main drag, makes you feel like you landed in Japan, and is one of the most addictive taste sensations on the whole island!
Check out the rest of Whidbey's beautiful destinations from this series here.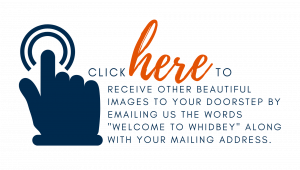 Although not technically on Whidbey, Bowman Bay is a large part of our island's local culture. This bay, which is located on the Fidalgo Island side of Deception Pass, has a rich history spanning back to the late 1800s. Originally a settlement to a large Samish village, the bay has since served several purposes including a military reserve and salmon hatchery. Download the CCC Scavenger Hunt for a fun way to learn some history! Between the charming old hatchery building, long dock stretching into the bay, boat launch, picnic shelters, playground, and scenic surrounding trails that provide unique views of the bridge itself, this park is one you do not want to miss! Learn more about Bowman Bay here.
Check out the rest of Whidbey's beautiful destinations from this series here.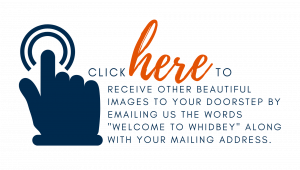 Washington's most visited park can be attributed to its prominent historical landmark, the Deception Pass Bridge. Thoughts of the landscape without this icon are unimaginable yet only 100 years ago the barren Pass was simply a deep and turbulent channel of water connecting the Strait of Juan de Fuca with the Saratoga Passage. After years of only an unscheduled ferry to get you off the island (for which passengers were required to bang an old saw with a mallet to summon) construction of the bridge finally began in 1934. At noon on July 31st, 1935 dedication of Deception Pass bridge took place and marked the beginning of a new era for Whidbey Island. Construction of the bridge played a large role in the decision to build NAS Whidbey and in turn helped Oak Harbor to flourish into the thriving city it is today. Tourists and locals alike continue to flock to the bridge in hopes of capturing its impressive beauty.
Follow the photographer on Instagram @chrisjdubs
Check out the rest of Whidbey's beautiful destinations from this series here.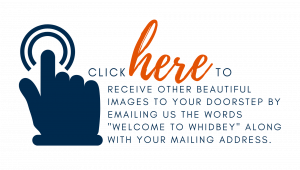 Staying Cool This Summer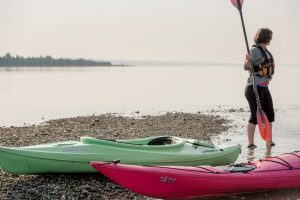 Water activities are something particularly special to Whidbey Island. After all, we are completely surrounded by water. With the sun making more and more guest appearances in the sky you can place a good bet on the expectation of increased activity on the waves. Between kayaking, paddleboarding, sailing, and more; Whidbey shores offer quite a bit of enjoyment for those willing to get wet.
Below are just a few water activities frequently seen here on Whidbey.
Kayaking
Kayaking is easily an island favorite when it comes to water sports. The flexibility of kayaking regardless of weather and the ability to do it alone is a HUGE plus for many. Don't have your own Kayak? Rent one from Whidbey Island Boats and Boards where you pick the location and they deliver the kayaks and paddleboards anywhere on the island.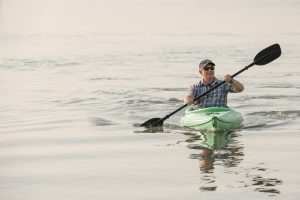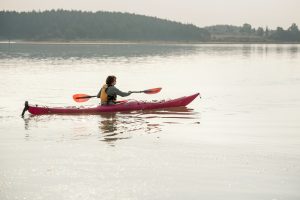 Tubing
Another island favorite, especially in the summer, is tubing! The wonderful thing about tubing is the community feel to it. It's a great activity that brings people together and almost always results in a few humorous stories.
Water Skiing
Want to kick tubing up a notch? Water skiing is for you! This sport requires a bit more resilience and core strength, but once you get it down you are sure to leave the water with some epic pictures of yourself.
Paddleboarding
Paddleboarding is a slightly newer interest on the island, but well deserving of the hype. This sport is made for those who simply want to enjoy the water. Sit, stand, lay down, it doesn't matter! Paddleboarding allows you to enjoy the sea the way you want to.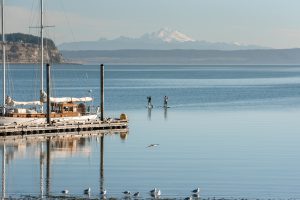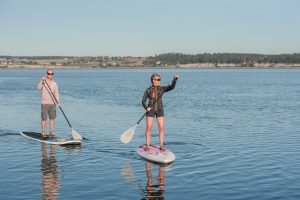 Sailing
Sailing is a Whidbey Island classic. There is a long history of sailing on Whidbey that has been passed down from generation to generation.
Boating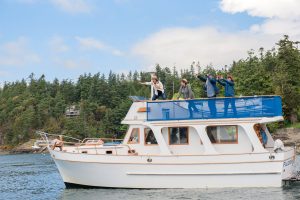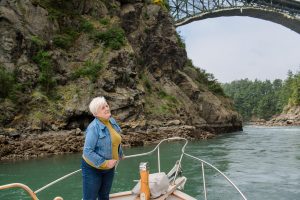 Another beloved activity on Whidbey is boating. Avid boaters will get out on the water any chance they get to relax atop the calm waters surrounding Whidbey. Take in the scenery, sunbathe, read a book, or play a game. All are welcomed while relaxing at sea.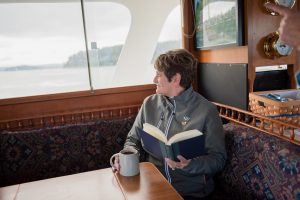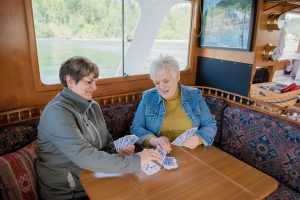 Fishing
Perhaps fishing is more up your alley for a fun relaxing time. The great thing about fishing is that you can do it by boat or by land and Whidbey offers a plethora of opportunities.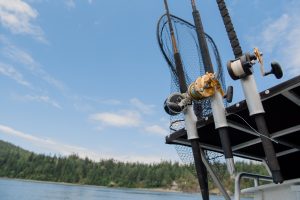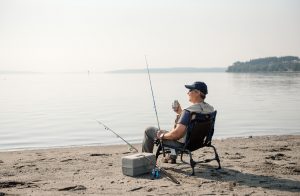 Splash Pad and Lagoon at City Beach
Maybe you have littles that can't quite participate in some of the other activities yet. Oak Harbor Windjammer park offers a family-friendly splash pad and lagoon to keep the whole family cool on these hot summer days.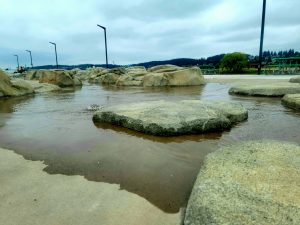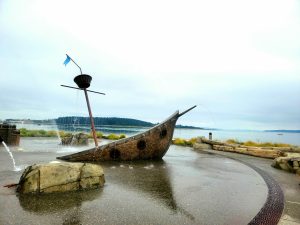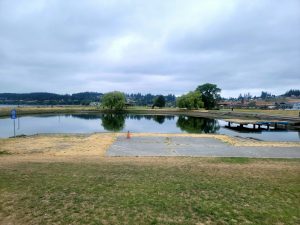 If you enjoyed this blog, you might also enjoy: