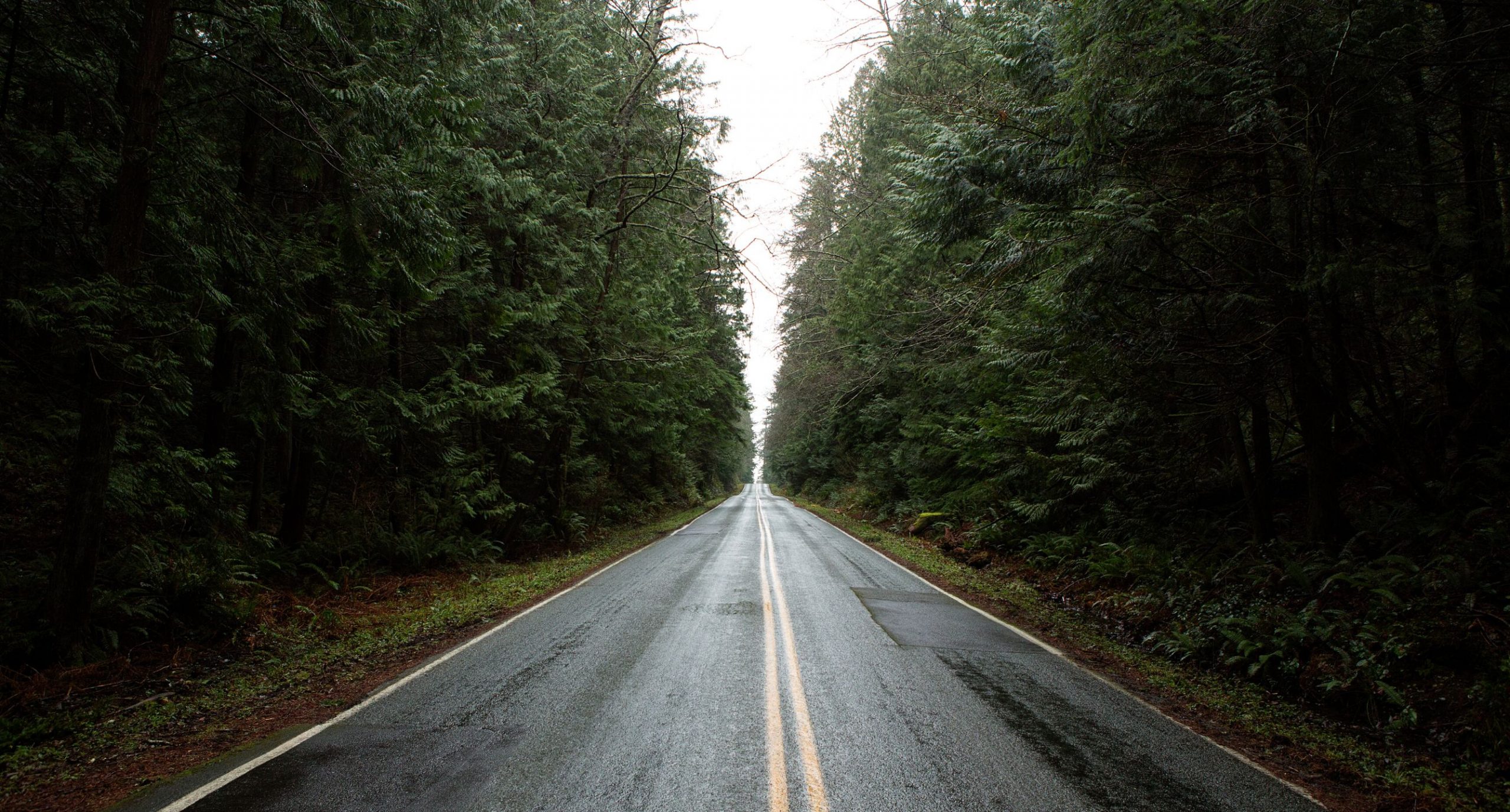 The Pacific Northwest, or PNW, is a region known for its varied and often unpredictable weather. Located in the northwest corner of the United States, the PNW is home to a diverse array of climates and landscapes, ranging from the rainy, temperate rainforests of the coast to the dry, high-desert regions of the interior.
One of the most distinctive features of the PNW weather is the rain. The region is home to some of the wettest parts of the country. Some areas receive over 100 inches of rain per year. While the rain can be a nuisance at times, it is also a vital part of the region's ecosystem. The rain provides the water needed to sustain the lush forests and vegetation that thrive in the region.
In addition to the rain, the PNW is also prone to fog and mist, especially along the coast. These foggy conditions can last for days at a time, creating a unique and sometimes eerie atmosphere.
Weather on Whidbey Island
Whidbey Island, located in the northwest corner of Washington state, is no stranger to the PNW's unpredictable weather. Located in the Puget Sound, the island is influenced by both the maritime climate of the coast and the inland climate of the region. As a result, the weather on Whidbey Island can vary significantly from one day to the next. Sometimes a sunshining clear skies day gives way to rain and fog in a matter of hours.
One unique aspect of the weather on Whidbey Island is its location in the rain shadow of the Olympic Mountains. The rain shadow effect occurs when moist air is forced up and over a mountain range. When this happens it causes it to cool and release its moisture in the form of rain or snow. As the air descends on the other side of the mountain range, it warms and becomes drier, creating a "rain shadow" region that receives less rainfall.
Due to its location on the leeward side of the Olympic Mountains, the areas of North and Central Whidbey Island experience this rain shadow effect, resulting in significantly less rainfall compared to other parts of the PNW. While the island still gets its fair share of rain and fog, it is generally drier and sunnier than the surrounding region. Less rainfalls makes it a popular destination for those seeking a respite from the rain.
Despite the often-variable weather, the PNW and Whidbey Island are beautiful and unique places to visit or call home. The diverse landscape and varied climate create opportunities for a wide range of recreational activities. Many people enjoy  hiking and camping in the summer to skiing and snowboarding in the winter. So, whether you're a seasoned resident or a first-time visitor, be prepared for a little bit of everything when it comes to the weather in the PNW and on Whidbey Island.
When you fall in love with the island and want to stay let us help you find your dream home. Connect with us here.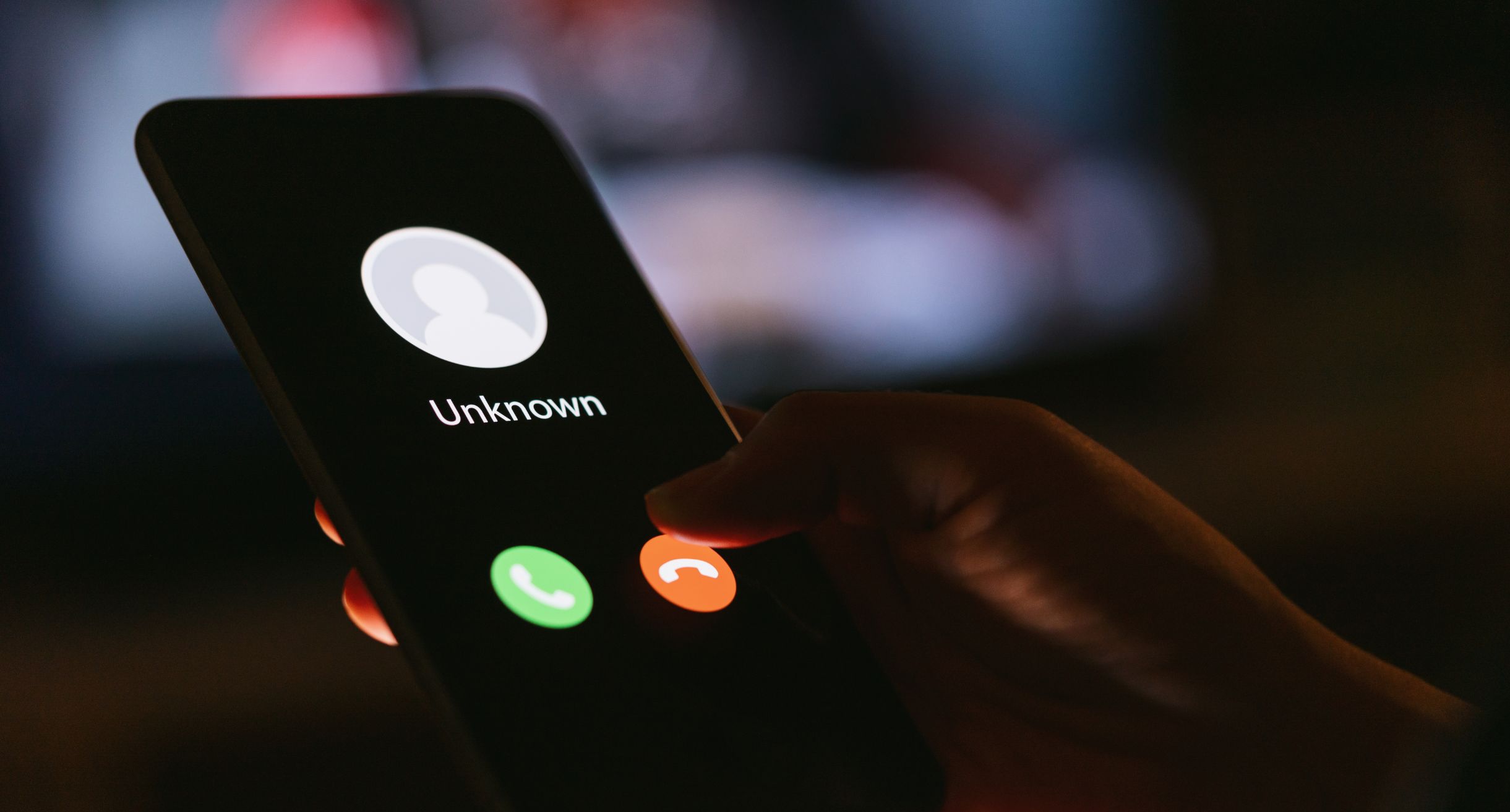 Who are you going to call? That's up to you. How are you going to call? That's up to you, too; but, that's a shorter list. It is also easier to talk about. Welcome to Whidbey, or your new home, or your curiosity. Phone service on the island is unique for several reasons; and can even get into international issues. Here are some of your choices.
Landlines:
Landlines exist, and can frequently outperform more modern options. A direct connection between two phones can be clearer, simpler, and make sense in older homes. Landlines can also avoid issues about spots in a house where signals are blocked by things like masonry. They can also be handy during a power outage, if the provider keeps the lines charged. Even better is a provider that buries the lines so they're less likely to be impacted, literally, by falling branches. 
But, landlines have limits. Putting a landline in your pocket can be done, but is somewhat useless when out of range of the home's base station. (e.g. Whidbey Telecom, Ziply)
Mobile Phones: 
Welcome to the modern era when phones in pockets are taken for granted, as is roaming. One phone, one country, that's pretty good. Cell phones, mobile phones, isn't that what everyone uses? The major providers are here, which is definitely appreciated. As a solution, mobile phones are the dominant choice.
Mobile phones are the dominant choice, but not every provider can provide unlimited coverage. Can you hear me now? You can still hear people say that on a call as you drive through gaps in coverage. Ridges, buildings, and antenna blind spots can have you checking whether you have five bars, or as little as one bar, or even no bars. Electronic signals can't be guaranteed to reach the base stations of the corporate carrier. Coverage is pretty good, but a temporary interruption while driving around isn't as important as a poor signal at home. Check coverage for where you want to live.
Coverage Maps:
Find a home in the areas with your ideal coverage here.
When in doubt, drive there and check. If you are buying a home the home inspection time is a great chance to check cell reception too, make as many calls in as many spaces on the property as possible. If you get the opportunity, check in with the neighbors, possibly on social media, and learn what they use. (e.g. AT&T, T-Mobile, Verizon, US Cellular). Talk with your agent about their experience with coverage. Don't have an agent? Connect with one here.  
VIOP:
Keep in mind, some people want to live in those quiet pockets. There's someone for everywhere.
Got a good internet connection but no cell signal? VOIP can be an option. Voice Over Internet Protocol routes your calls through the internet, not a phone landline or a cell tower. Some cell phones are already set up to choose the better path between a tower and the internet. That can be the best of both worlds. (e.g. Frontier, Vonage, Wave)
Did That Message Just Say Welcome to Canada? 
Hello, Canada. Saying hello to Canada is easy enough. You can see it from the island. Wave at it. Your phone might be doing that too. The farther north and west you get on the island the greater the likelihood that your phone may connect with a tower in Canada. You can get charged for international roaming without leaving the US. Fortunately, your phone should tell you when it does that, but it is worth checking, occasionally. (e.g. Telus)
The Final Message:
The choices aren't infinite, but there may be more than you want to research for your corner of the island. The denser the population, the more likely you'll have plenty of choices, many of which run those big national ad campaigns. Our island's more remote locations, however, can be so unique, so idiosyncratic, that it might make sense to visit and try calling friends and family. 
As technology continues to invent new options, the choice continues to change. Now that satellite phones have progressed from specialized Globalstar handheld units to Starlink's internet access a homeowner can create their own connection, assuming those pesky hills and bills don't get in the way. If you've got power and the right view, you've got internet and phone; regardless of whatever might be interrupting everyone else's day or night.
Who are you going to call? That's up to you. How are you going to call? That's up to you, too; but, now you may understand why one answer doesn't apply to everyone. Thanks, Ma Bell and your old bakelite landline phones wired to a wall; but, we've become much more mobile, and hopefully more stylish. Make a call from Whidbey? You've got options. Try to call us now: 360.675.5953.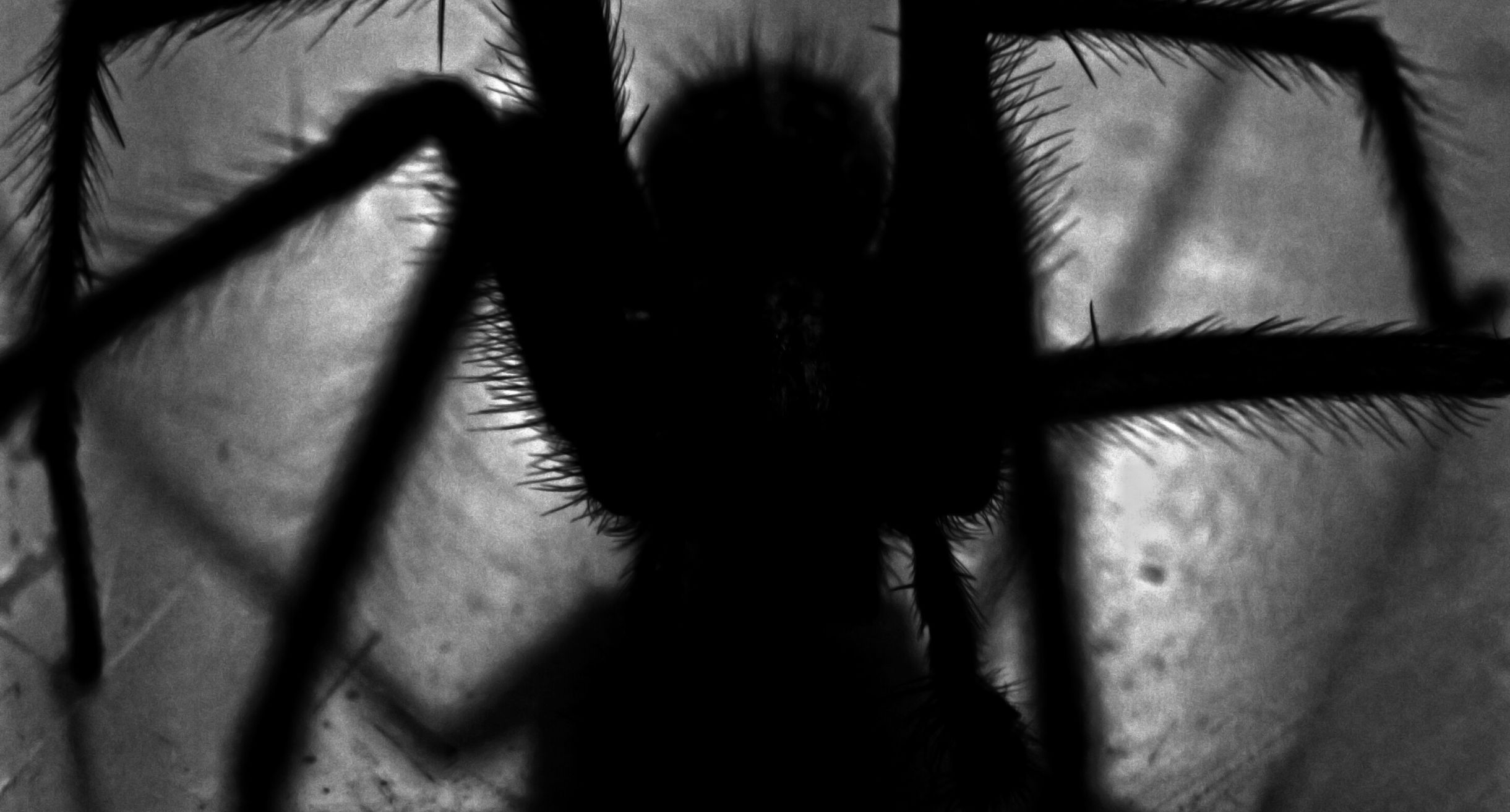 As the crisp autumn air settles in, Halloween is creeping closer and it's time to conjure up some devilishly delightful pumpkin carvings.
SPOOKTACULAR CARVING IDEAS:
Whether you're a seasoned pro or a beginner, these spooktacular pumpkin carving ideas are sure to impress.
Start off with a classic Jack-o'-Lantern, featuring a toothy grin and triangle-shaped eyes that never go out of style. Or try a simple yet spooky ghost design with black paint or markers to create a hauntingly eerie look. If you prefer something more whimsical, carve a cute cat with pointy ears and whiskers to add a playful touch to your décor.
But… if you are feeling daring, go all out with a fierce dragon carving. Of course, it will require expert level skill and patience, but it is sure to leave everyone spellbound. For a more elaborate design, try carving a haunted house complete with spooky windows, a creaky door, and ghostly apparitions floating around – perfect for adding an extra eerie ambiance to your Halloween décor.
WHIDBEY ISLAND FARMS:
Once you have your design picked out, head over to one of Whidbey Island's pumpkin patches to find the perfect pumpkin.
At the Greenbank Farm enjoy a fun day of picking your own pumpkins.
Case Farm offers over 50 years of experience in growing a variety of pumpkins.
While the Bayview Farmers Market has a pumpkin patch, it also offers a variety of vendors selling fresh produce, baked goods, and handmade crafts.
But don't stop there – Whidbey Farm & Market and The Farm Stand K & R Farms also offer great pumpkin picking options. At the Whidbey Farm & Market, you can support local farmers and artisans while picking out your perfect pumpkin for carving and at The Farm Stand K& R Farms, enjoy a variety of fresh produce and family-friendly activities like a corn maze and ice cream.
HALLOWEEN FUN ON WHIDBEY:
To top off the fun, if you are looking for a spooktacular adventure, head over to the Haunted Barn In Oak Harbor. The haunted barn features creepy decorations, special effects, and live actors sure to send shivers down your spine.
No matter where you choose to pick your pumpkins or celebrate Halloween, make sure to enjoy the crisp fall weather and embrace all the spooky sights and sounds of the season. Happy haunting!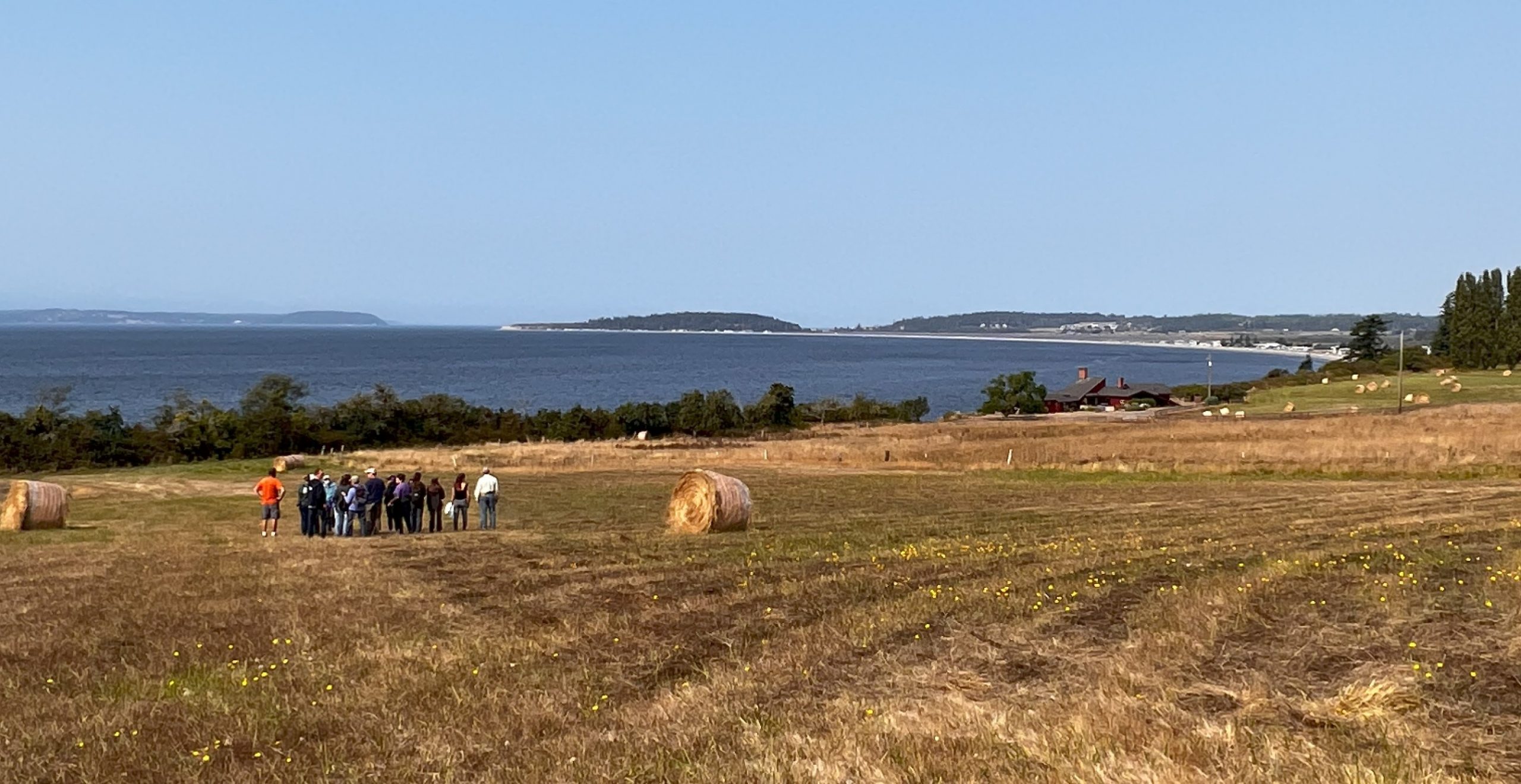 "One of the reasons most people find Whidbey Island so special is the beaches, forests, and farms. This is why having one of the most spectacular properties on the island that incorporates all three being protected forever is such an amazing thing!" 
You've probably seen them, yet another of Whidbey's gravel driveways that reach off from the highway, winding through a forest, to – well, someplace only a few know about. They are mysteries, but someone saw some reason to build a road. Sometimes that's for an estate, or a farm, or simply a view. The Land Trust just acquired one of those properties that has all three.
Saving Whidbey
"What can I do to help protect the island?" That's the question one realtor asked during a tour of Keystone Farm and Forest Preserve. They asked a good question to the right people because Whidbey Camano Land Trust helps people do that. A group of Windermere realtors were fortunate enough to get an early tour of Keystone Preserve, one of the Land Trust's most recent acquisitions – and most impressive properties to protect. 
History of the Land 
For over a century, the land has been farmed with conventional methods (longer than that by Salish Sea Tribes). For decades, one family owned the property. They asked that same question; what could they do to save a farm with an expansive view because of 2/3 of a mile of waterfront. And it has dozens of acres of prairie farmland. And it has dozens of acres of forest upland from the shore. They add up to over 200 acres of a unique estate. Thanks numerous state and federal grants (including help from the Navy), some fortunate situations, and a bit of good luck, Keystone Farm and Forest Preserve will continue to be farmed and preserved. 
Most of the folks on the tour were stopped in their tracks by the view as the long driveway rounded the bend from forest to farm, from trees to pastures, and expansive water views. Look left down Admiralty Inlet. To the right is Admiralty Cove. Straight across is the Olympic Range, Port Townsend, and out to the Strait of Juan de Fuca.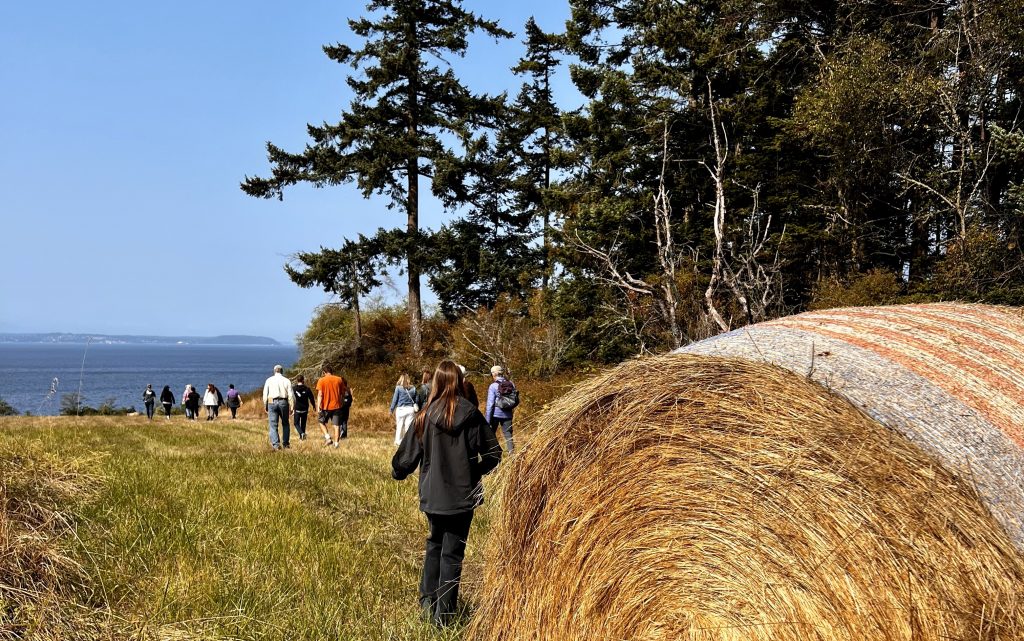 In April 2022, the Lea family sold the property. They had owned the property since 1947, but families shift, and they realized that they'd rather let someone else own and use it than leave it effectively vacant, locked away without anyone being able to enjoy it. The Land Trust stepped in, with help, of course. In a couple of years, Keystone  Preserve will be opened to the public. Patience is necessary because a driveway that suffices for a family and a farm isn't enough for two-way traffic, especially if emergency vehicles need access. The plan is to have parking for school buses and a shelter for learning.
There's history here. The water, the prairie, and the forest are fertile. The Skagit people knew its value. They even maintained the prairie through controlled burns. The open land that reaches down to the water was so distinctive that early explorers noted it. One ship's Captain, Robertson, returned and helped homestead it circa 1850.
A Budding Future 
The future is also being established because the Organic Farm School has already been invited to plant trial fields. And, of course, it will be a place for people to enjoy. It is the nature of the Land Trust that the future can be preserved. That era has already begun.
That's the plan. Plans require action, so sign up with the Land Trust to volunteer. The quicker the work gets done, the sooner people can visit for the sake of visiting. In the meantime, volunteers get early access to the views. Old farms are fertile, so there will be some weeds to tend. As the site gets prepared for the public, there will be opportunities to help. Maybe linger a bit after the work party is done.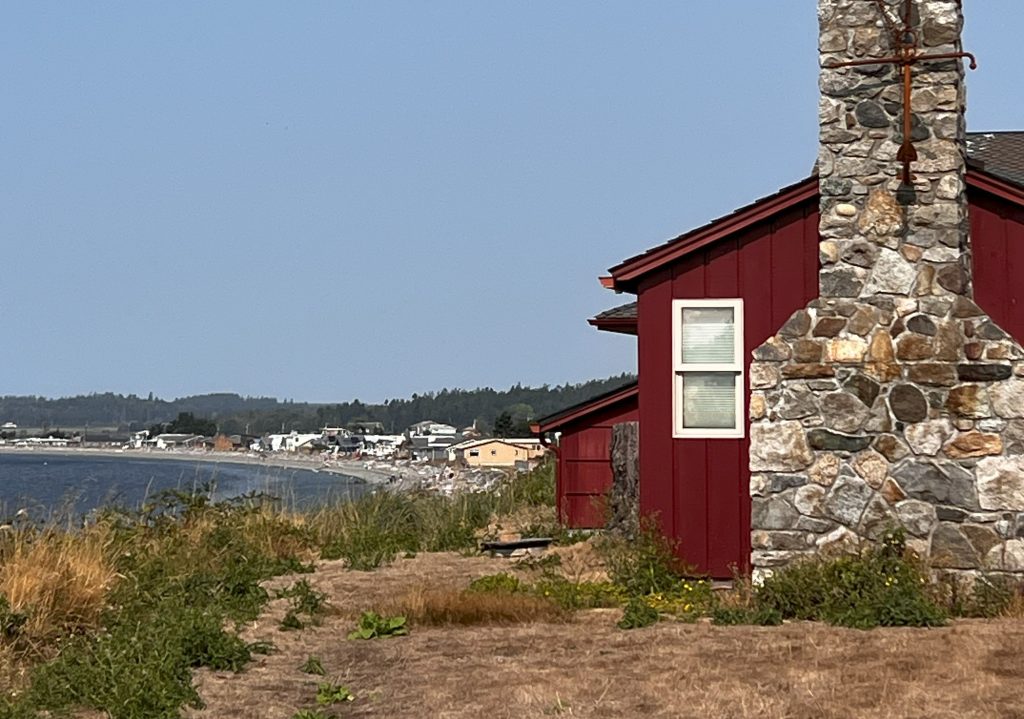 Find a comfy spot and watch for raptors overhead, whales and seals and salmon, and almost every big ship that's using Puget Sound to get to our deep, sheltered harbors. Or get up and wander along the forest trails. 
The property is also a place to learn about what it takes to live on the land on an island. Sites that look ideal can require a bit of research, thought, and consulting with experts. How close can a house be to the water, considering waves that can redistribute a bluff? Upland forests grow because they have access to water, which might mean ravines or wetlands. Owning such a property is also a lesson in how forests collect and filter rainwater, as well as stabilize bluffs and replenish our aquifers. Sometimes, trees may be weak or in a dangerous spot; but, it was pointed out that trimming the difficult parts while leaving the bottom thirty feet provides some of the benefits of habitat and soil stability. Learning about such issues by visiting a property is simpler than doing so in the middle of a transaction.
The land will restore something closer to its original nature, and it can be valuable to see natural forests, natural bluffs, and natural shorelines. The Land Trust doesn't buy land to simply buy land. Keystone Farm and Forest Preserve will help the health of the habitat for lots of wildlife, particularly salmon and other fish that rely on eelgrass and bull kelp. It will provide a place for learning and demonstration. Protecting land also means protecting our drinking water by ensuring we have pockets of aquifer recharge.
The day of the visit ended with a show of seals and salmon along the shore.
People on Whidbey are proud of its rural character; so, preserving a farm, a forest, and a shoreline makes sense. "What can I do to help protect the island?" Be like the Lea family and think of the future.
"It will be a great place for people to learn about organic farming practices, how to manage private forests for health, natural shoreline protection techniques, and an additional beautiful and scenic place for walking. You can learn more about this property and all the Land Trust properties on their website. Loads of their properties are open to the public with great trail systems." There's probably one near you that you didn't even know existed!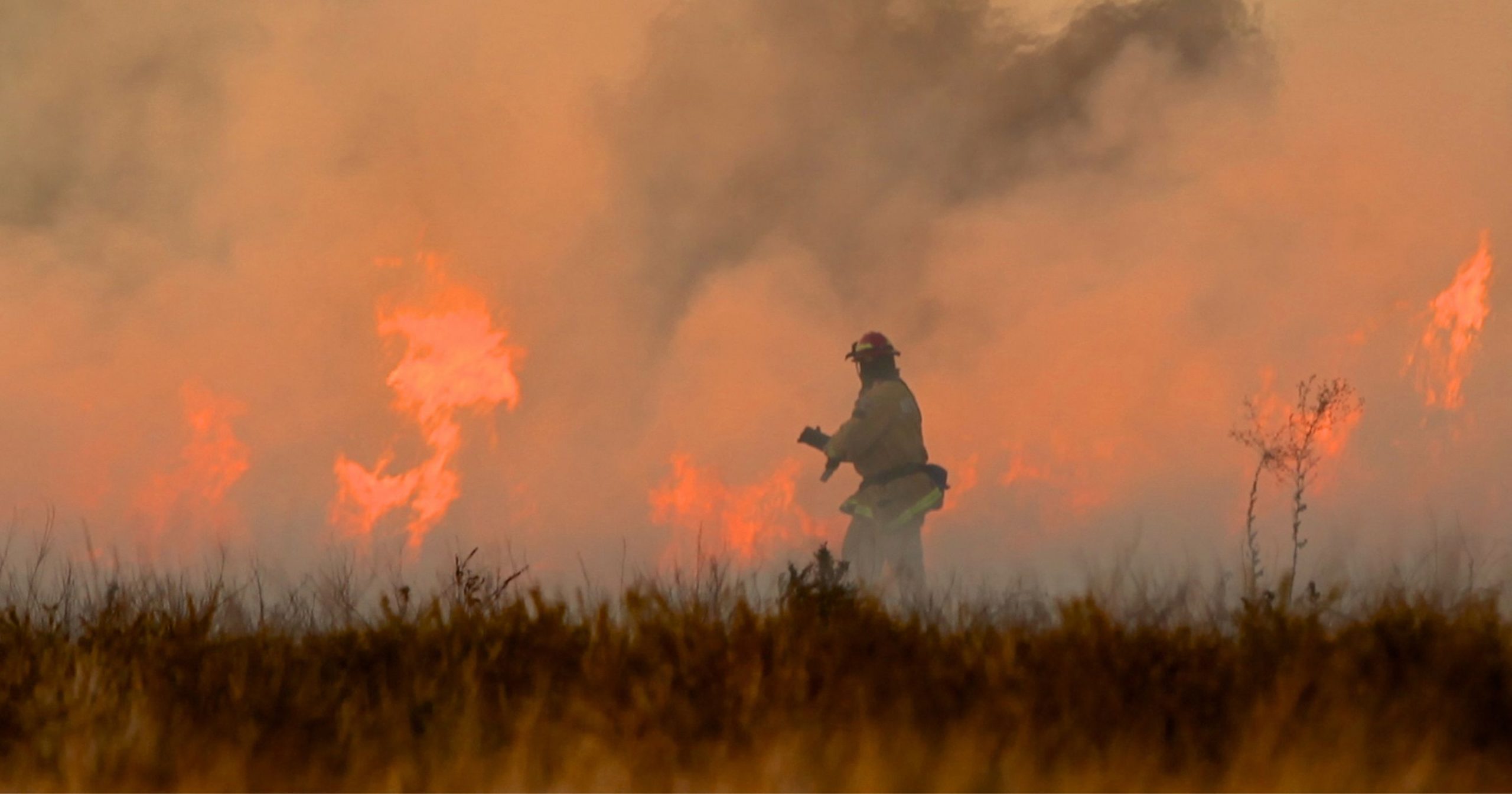 Firefighters, we respect them. We get out of their way when they're racing to a scene. We crowd around their trucks when they're at a fair or a parade. We can tend to think that every firefighter is like every other firefighter, hanging out at a fire station while waiting for a call that demands immediate action. Yes, and no.
But what does firefighting look like on an island? Follow along as we discuss firefighting island style.
Firefighting Island Style
Whidbey is a mix of five fire districts. Three County districts (North, Central, and South), the City of Oak Harbor, and the Navy. 
Oak Harbor is a city with paid firefighters and a place where a lot is going on in a small space. Trucks have to navigate a grid of streets and the traffic on them. Houses are close and that can mean fires are close, too, but so are fire hydrants. There are plenty of stereotypes that can apply. Spotted mascot optional.
In most parts of the country that might be enough, but the island is large enough and long enough that some other solutions are necessary. If the neighborhood is remote enough, they may have some creative solutions to fight fires in the interim after getting to safety and making that call to 911. An easy situation to imagine is a waterfront house that may require a fireboat. It takes time to collect the crew, launch the boat, and power their way to the site – tides, currents, and weather allowing. A lot can happen in the first few minutes of a fire. Any help can be appreciated – and incredibly valuable.
Rural areas also have to guard against brushfires and barn fires. Long roads mean accidents can happen far from the station. Even places that are accessible by a pickup may be too windy and twisty to maneuver in a firetruck, which eventually also has to turn around and get back to the station. Some fires may even be on boats, both in the marina and off-shore.
A Unique Mix
At the other end of the scale is the unique fire district that is the Navy's. Airports have special requirements and tools, and military airports have to handle even more specialized situations because of what their planes can carry. The need for an immediate response is an understatement.
Fortunately, while there are various types of firefighting arrangements, when the need is there they all gather to help each other. City, base, and rural doesn't matter as much as  'where is the fire and how can we help?'
If you haven't heard much about the variety, great! That means the crews are doing what they have to do to stay out of the headlines. In firefighting, boring can be good. Too exciting can be too much. This is firefighting island style.
Firefighting Crews
Whidbey has some other attributes worth remembering. Whidbey is a lot of small-town America wrapped around a city and a base. Most of it has fewer people because it is rural. That also means that firefighting crews can sometimes be understaffed. (Pay attention to the election initiatives to see their current situation.) While rural can be quaint, sometimes the small-town nature that leads to smaller firefighting crews becomes critically apparent. A few places have paid firefighters, but much of the island is served by a few stations with a few paid firefighters who rely heavily on backup volunteers. They have rules to follow, just like the rest of us. (In 2018, another fire department in WA was cited for violating the state's version of OSHA's two-in two-out requirement.) Of course, more paid firefighters mean they need more budget. Not an easy problem. Think about that. A few paid people; and other people who risk their lives for us for free. They deserve greater thanks than they receive. (Please, volunteer!) 
Surprisingly the bulk of their workload comes from medical emergencies. Over 60% of their time is spent with Basic Life Support calls where they work side by side with the paramedics. In some places that is over 80%. They have to be ready for everything: motor vehicle accidents, rescues on land or on water, storm responses, traffic control, power outages, and downed lines. It isn't just about fires and ambulances.
So much for sitting around the firehouse. These people are busy.
How you can help
Of course, there are ways to keep them less busy (and keep costs down). Much of this is variations of the messages we've heard since school: follow safety instructions, keep fresh batteries in smoke detectors, make sure any electrical work is done right, remove trash and other flammables. Some things are even simpler: don't leave burning candles or fire unattended, don't burn during burn bans, handle fireworks legally and safely. Keep fire extinguishers handy and up-to-date.

There are plenty of other precautions, but that's part of being a responsible adult.
How this relates to homeowners on Whidbey
Understanding a place's fire situation is also something to keep in mind when considering buying a house. What is the firefighters' response time? Where's the nearest hydrant or nearest firehouse (is it even staffed)? Is the house marked well enough for a crew to be able to find it in the dark, maybe during a storm? Your insurance company may have some ideas to add to the list. 
If you live in rural Island County some additional services they might offer include: installing high visibility house address numbers; home safety surveys to reduce the risk of harm from fire, accident, or illness; smoke and carbon monoxide detector check; fire inspections for businesses; CPR training; child car seat safety checks.
Chief Helm says "In an emergency, we need to be as efficient as possible, and the partnership between homeowners and the fire department is critical. Maintaining reflective address signs and driveways that fire trucks can navigate down is very important. One of our biggest hurdles is locating the emergency in a hurry, and then navigating a driveway that may or may not be able to handle a 40,000lb, 11-foot tall truck. Many times, the storybook-style narrow wandering lane, sounds peaceful and relaxing, but can pose serious problems if our trucks cannot access your house. Please remember to maintain not only driveways but the surrounding vegetation and hanging branches that will damage a truck the size of ours. Together with your help, we make this Island a safer place to live and work. We are more than happy to visit your driveway and test fit our apparatus, as well as bring you a reflective address sign anytime."
One of the most delightful rural traditions on Whidbey is the annual Santa Mobile where Central Whidbey Fire Department drives around different neighborhoods with Santa Claus on top of one of their Fire Engine for multiple nights in a row in December. They will put out a schedule and a map on their Facebook page in preparation every year. Kids love it! It's also a fundraiser for collecting food and donations for the food pantry in Coupeville.
Fortunately, most folks pay attention to safety. It's part of being a homeowner and a good neighbor. Do enough of those boring but necessary steps, and free up time to relax and enjoy the rest of island life. Just check for burn bans before stoking up a campfire.
If you have additional questions about firefighting island style your reliable Windermere real estate agent can help you get them answered. Don't have an agent? Connect with us here.
Homeownership is a lifestyle choice. Therefore, choosing homeownership isn't a decision made overnight. The decision often takes careful planning for how the purchase of a home will fit into your life now and in the future. Additionally, the decision will take financial planning for how to pay for the home of your dreams. How will you know if you are ready? Follow along as we explain the fundamentals of preparing for homeownership so that you know when the time is right for you.
When renting…
When renting, you usually don't have to worry about maintaining the property, making repairs, or remodeling the home. Are you ready to take on those responsibilities as a homeowner? If so, are you ready to be tied down to one place? Renting offers a bit of flexibility because leases are renewed on a regular basis allowing you ease of relocation. As a homeowner you'll need to spend time and money selling or renting out your home before relocating.
As a renter you never gain any long term savings in the form of home equity. As a homeowner, the longer you are in the home the more equity you can expect to gain. You can get a better idea of why by the explanation in our article, Is It Better to Buy a Home or to Rent One?.
A couple of good questions to ask yourself if you are considering becoming a homeowner are:
If you needed to move in a couple years, would you feel comfortable renting out your home or selling it?
Could it potentially bring in a cash flow?
As a homeowner you are ultimately responsible for paying the mortgage. Are you financially stable enough to not default on your loan?
Most importantly, becoming a homeowner means putting down roots. Are you and your household emotionally ready to make that change and commitment?
If you answered yes to the above questions, you are on your way to homeownership. Let's dig a little deeper to see if you are financially ready to take the leap:
Do you know how much home you can afford?
There are a lot of factors that play into knowing how much home you can afford. Of course, there is the price of the home, but you must also consider interest rates as they play a significant role in your monthly mortgage payment. For a good demonstration of the effect of interest rates on your monthly mortgage payments check out this article, Rising Mortgage Rates. Furthermore, what many first-time home buyers forget to consider in addition to the down payment and monthly mortgage payments are closing costs, moving expenses, inspection fees, property taxes, and homeowners' insurance just to name a few. A great agent will connect you with a lender that will walk you through how these will affect your payment and if they pertain to your loan. Don't have an agent? Connect with us here to get paired with the perfect agent for you. Identifying how much you can afford is not a task to do alone. You must connect with a lender. They will look at your financial position and get you pre-approved for a home.
Are you working to reduce your debt-to-income ratio?
Lenders know that it is not realistic to have no debt. Therefore, lenders are looking to see that you are making progress towards paying down your debt. Demonstrate your plan to get your debt paid off. Your lender can help you determine the best course of action so connect with them sooner rather than later.
Are you prepared for a downpayment?
Lenders recognize 20% down payments as a demonstration of financial stability. 20% down payments decrease the initial risk to the lender and benefits the buyer by not having to pay PMI when they put 20% down. You can read more about those benefits here. However, we know not everyone can afford 20% down, but everyone needs a place to live. Therefore, there are different programs and flexible options that make owning a home attainable even when you do not have funds for a 20% down payment. It is important to talk to your lender to determine which fits your unique needs.
Maybe you already got a pre-approval letter, but you aren't satisfied with the limits. You have several options. Provide your agent and lender with a clear expectation of your wants and needs. If you aren't exactly sure what you want, try reading 6 Reasons to Attend Open Houses to solidify your desires. You can use this form to help identify your wants and needs to share with your agent and lender. Once you have a clear list your lender can help create a financial plan to reach your desired goal. Your agent can simultaneously watch the market for homes meeting your criteria and help you understand the dynamics of the local market. Knowing the market can help you understand your purchasing power. Your agent can help you understand the difference between a buyers' and sellers' market and help you understand what to expect and how to leverage the market to your advantage.
If you are ready to buy or still unsure, you should begin talking to an agent. If you don't already have an agent, you are in luck! We have incredible agents and connections with lenders who can guide you through your unique situation and help you know when you are ready to purchase a home. Connect with us here.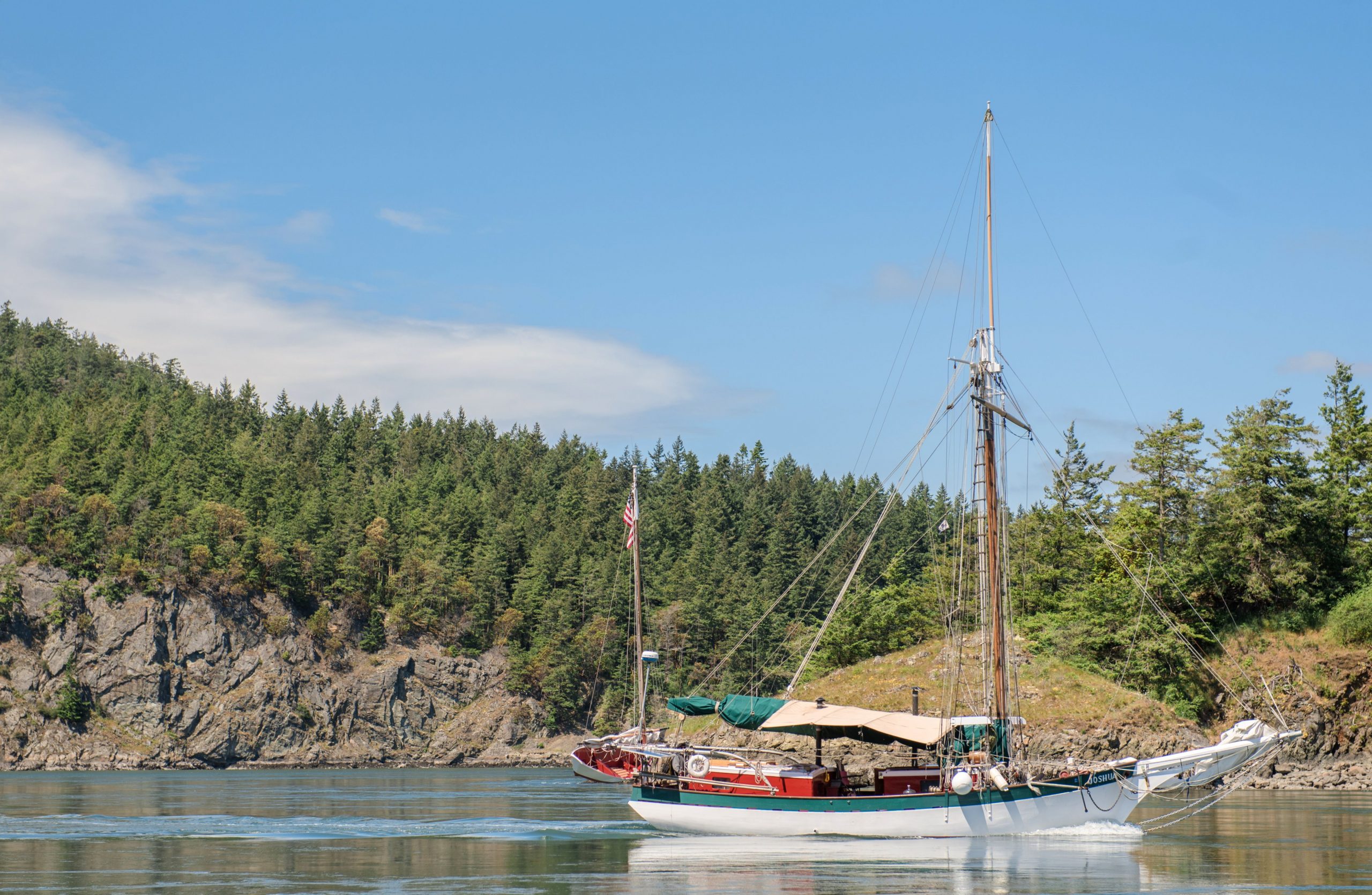 It is no wonder tourists and residents alike enjoy setting their sails and heading out to sea to enjoy our gorgeous Puget Sound waters. Whether by powerboat, sailboat, or even kayak, Whidbey is the perfect place to explore by water. Catch a glimpse of whales feeding in Saratoga Passage, seals cruising under Deception Pass, Eagles soaring past Ebey's Landing, or if you are really lucky maybe you will catch sight of a magnificent pelican near Honeymoon Bay. It's not a relaxing endeavor, with some of the world's most complex currents, thousands of "islands", and large river deltas to navigate, the Puget Sound requires lots of skill and knowledge to enjoy safely.
Check out the rest of Whidbey's beautiful destinations from this series here.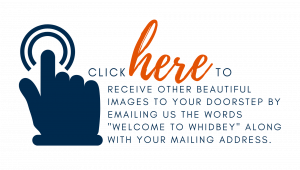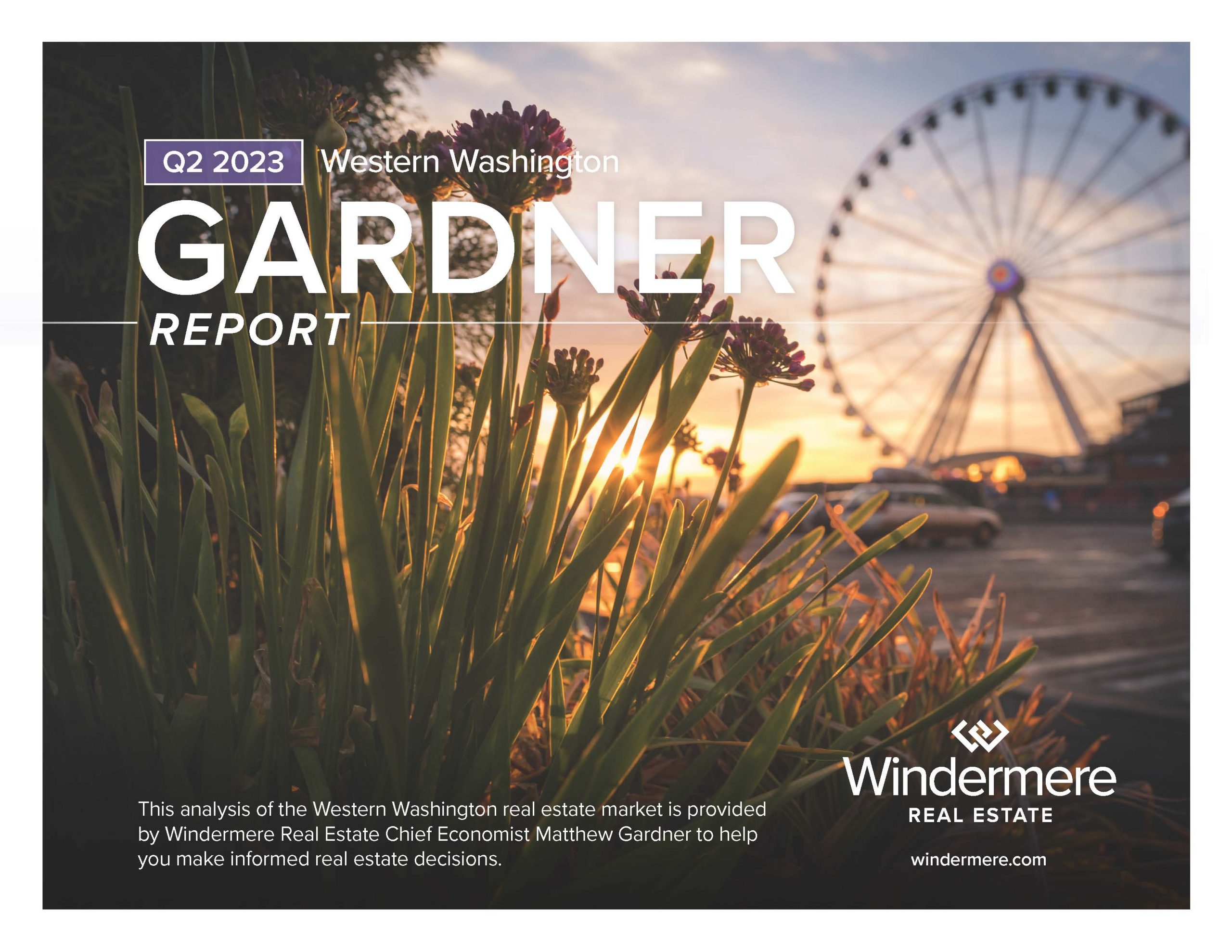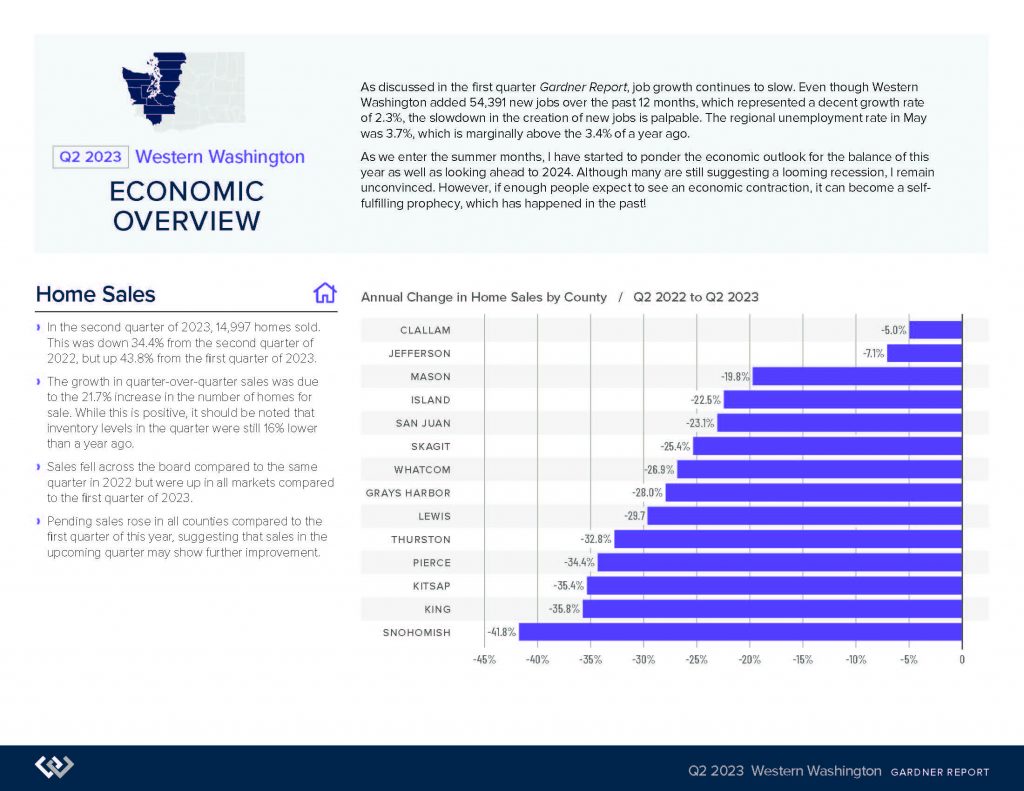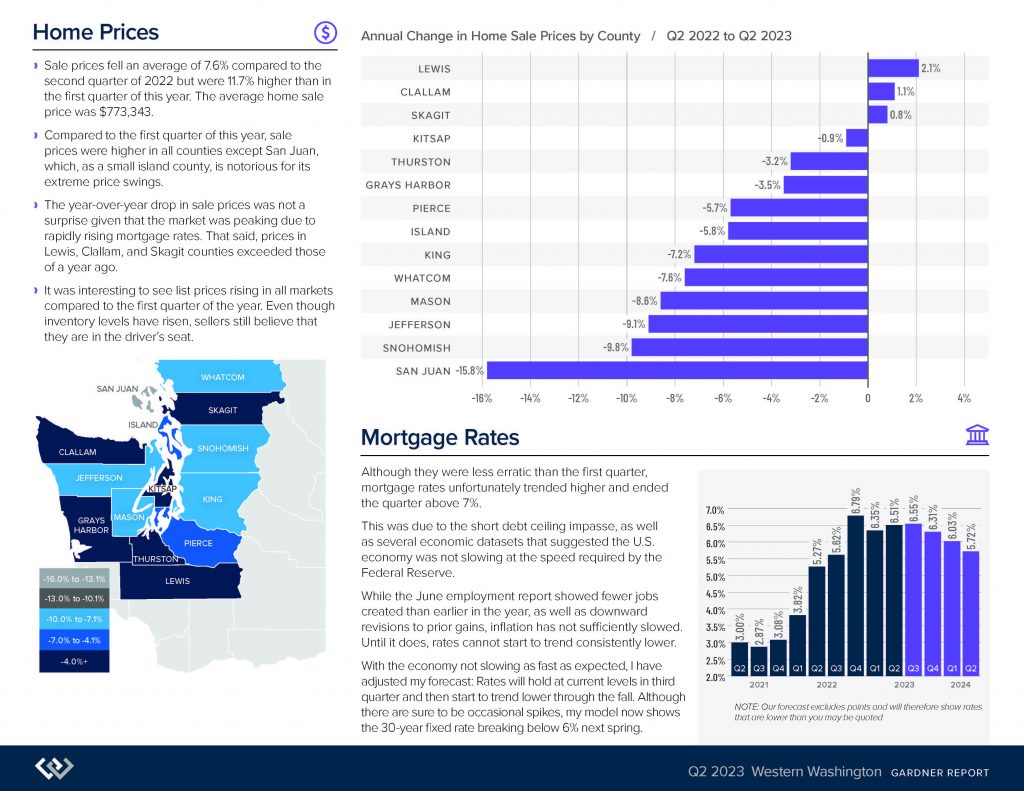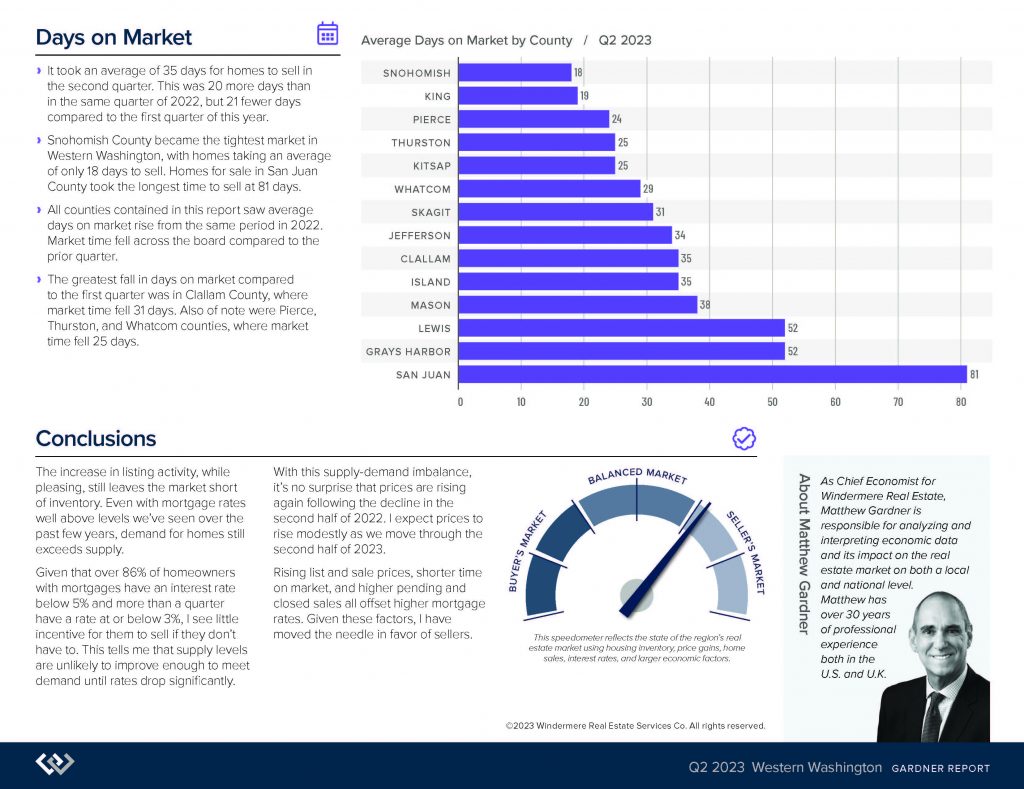 If you are interested in discussing this in more detail with an agent connect with us here so we can schedule you an appointment.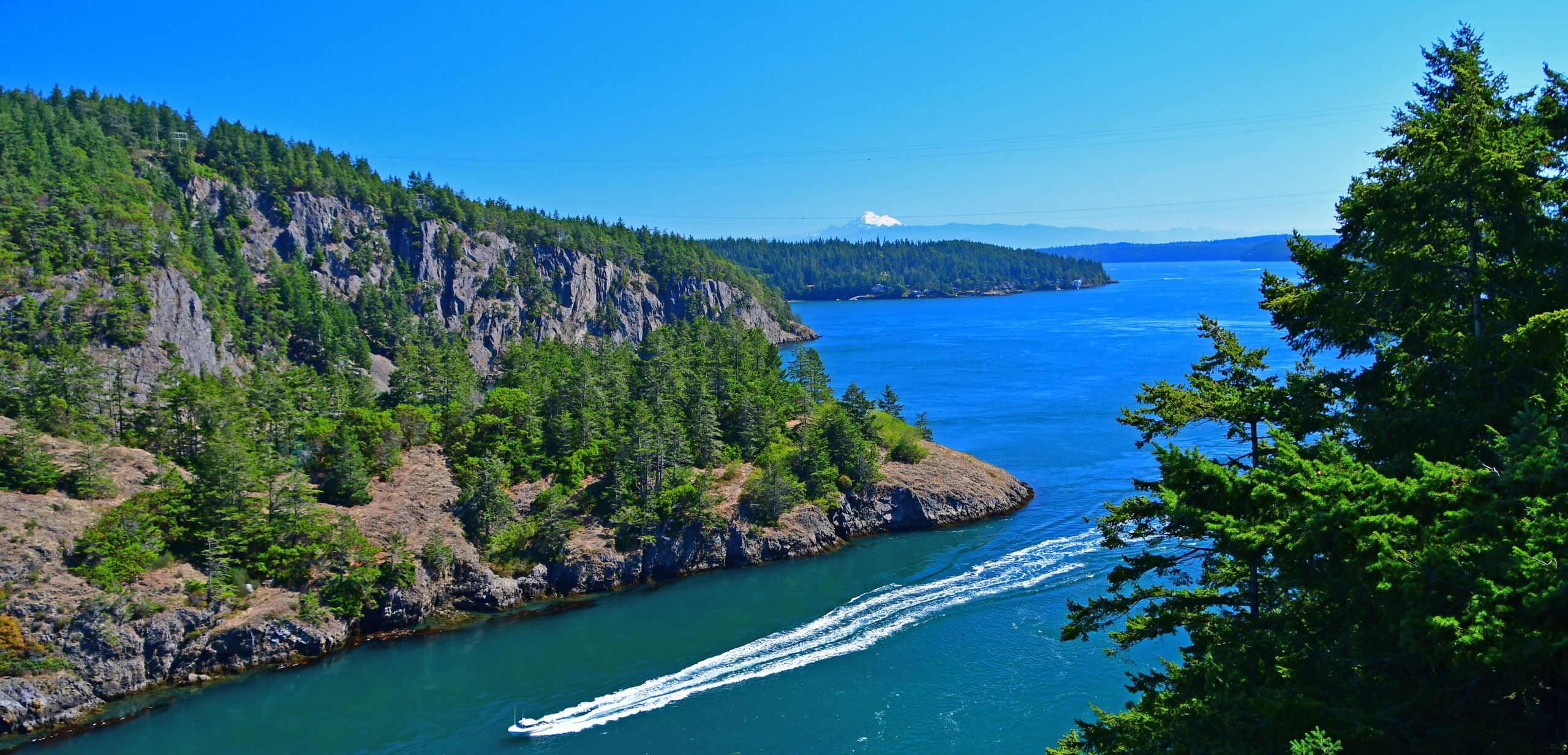 Are you eager to explore the breathtaking islands of the Pacific Northwest? Look no further. Washington State's coastal landscape boasts several stunning islands, each with its distinct charm and personality. From rugged cliffs and dramatic beaches to quaint towns and rolling hills, these islands offer a range of experiences for all travelers. Join us as we dive into what makes each of these islands unique and special.
San Juan Islands
The San Juan Islands are a group of islands located in the northwest corner of Washington, and they are simply stunning! The three largest of the San Juan Islands (San Juan, Orcas, and Lopez) are served by Washington State Ferries and provide most of the tourism, lodging and dining options. These destinations provide a diverse range of attractions and experiences that will leave a lasting impression on visitors. It is worth noting that these islands are particularly popular during the summer months, making them an ideal choice for those seeking a memorable vacation. Therefore, we highly recommend considering these islands for your next trip to the region. If you are a fan of outdoor adventure and scenic beauty, then you will love this place. The largest and most popular island in the group is San Juan Island, which is home to charming towns, breathtaking beaches, and rich history. You can spend your days kayaking, whale watching, hiking, or even visiting a lavender farm. Trust us, this place is nothing short of magical.  You can access these islands from the ferry terminal in Anacortes.
Whidbey Island is one of the largest islands in the state, and it is a real hidden gem. This island is known for its quaint towns, rolling hills, and breathtaking scenery. If you love hiking, biking, and kayaking, then Whidbey Island is the place for you. One of the must-visit attractions on the island is Deception Pass State Park, which features soaring cliffs, breathtaking beaches, and a bridge that connects Whidbey Island to Fidalgo Island. You will want to take many photos here because the views are simply stunning! Traveling south, be sure to visit Fort Casey Historical State Park, where history comes to life. Explore the grounds and see the historic lighthouse and gun battery that once guarded the island's shores. The charming coastal towns of Oak Harbor, Coupeville, and Langley should be high priority destinations on your Whidbey Island adventure. Stroll through the boutiques, cafes, and galleries and immerse yourself in the unique culture of this beautiful island. Whidbey Island is an unforgettable destination that offers something for everyone. Come explore this Pacific Northwest paradise and create memories that will last a lifetime!
Bainbridge Island
Bainbridge Island is located just a short ferry ride from Seattle, and it is the perfect getaway for city dwellers. This charming island is known for its small-town atmosphere, stunning beaches, and incredible outdoor recreation opportunities. Whether you want to hike, bike, kayak, or just enjoy a relaxing day at the beach, Bainbridge Island has something for everyone. One of the highlights of the island is the Bainbridge Island Museum of Art, which features rotating exhibitions of local and international artists, as well as a permanent collection of works by artists who have lived and worked on the island.
Thank you for reading this guide to some of the amazing islands in Washington State. We hope it has inspired you to plan your next adventure to the PNW. With so many islands to explore, there is something for everyone. Get out there and explore the Islands of Washington State – you won't regret it. If you decide to stay, connect with us so we can help make your dream come true.
View this post on Instagram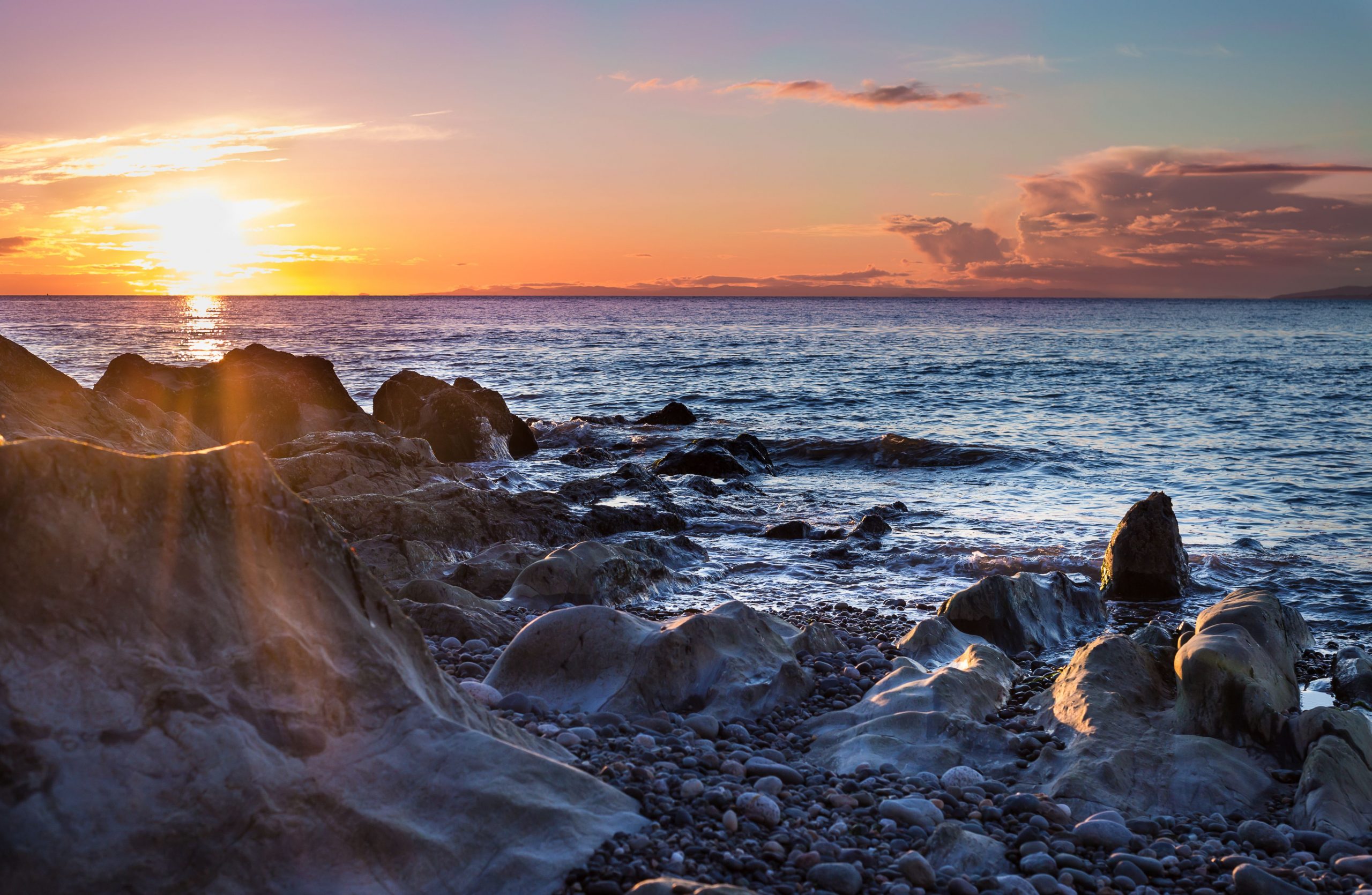 Check out the rest of Whidbey's beautiful destinations from this series 
here.