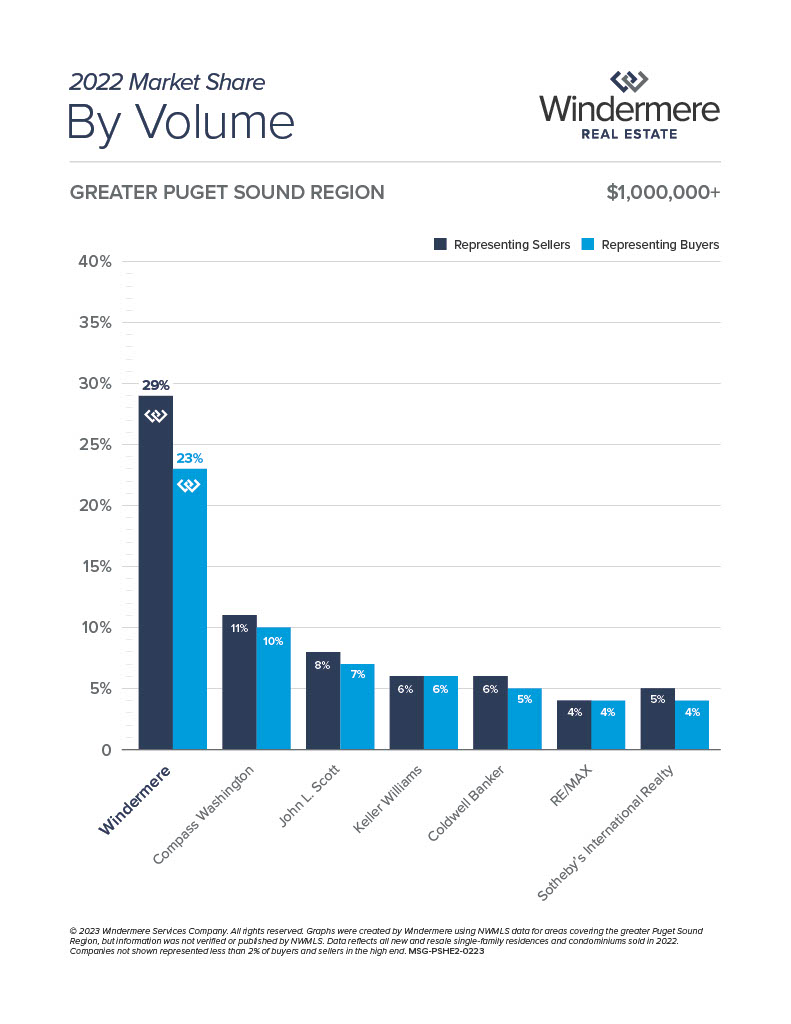 When it comes to the Pacific Northwest's real estate market, the name Windermere stands head and shoulders above the rest. With a longstanding reputation for excellence, this brokerage has been a household name for decades, thanks to its unmatched market share across all price points.
But when it comes to the luxury market, Windermere's reputation really soars. With a keen ear tuned to the needs and desires of their clients and brokers representing the high-end market, Windermere has been able to put in place a series of qualifications, marketing resources, and organizational structures that ensure that their "Premier Properties" receive the exposure and attention they deserve.
Becoming a Windermere Premier Property in a given region is no small feat. Properties must meet certain qualifications and be approved by a local Premier Director, guaranteeing that only the finest, most prestigious homes make the cut. And for those truly exceptional luxury homes that start at a staggering $3 million, Windermere offers the W Collection, a showcase of properties that are not only stunning and unique but also benefit from a separate website and national and international portfolio.
But Windermere's reputation in the high-end market isn't just about its exclusive properties. It's also about the extraordinary level of quality and service that they provide. Windermere's brokers and staff are known for their unparalleled expertise, professionalism, and attention to detail, ensuring that every aspect of the home buying and selling experience is executed with the utmost care and consideration.
In short, Windermere is more than just a real estate brokerage; it's a trusted partner in the luxury home market, providing a level of service and expertise that is simply unmatched in the industry. If you're in the market for a truly exceptional property or looking to sell your luxury home, you won't find a better partner than Windermere.  Connect with a local Windermere broker by clicking here.
If you are interested in becoming a luxury broker on Whidbey Island, email us at KStavros@windermere.com.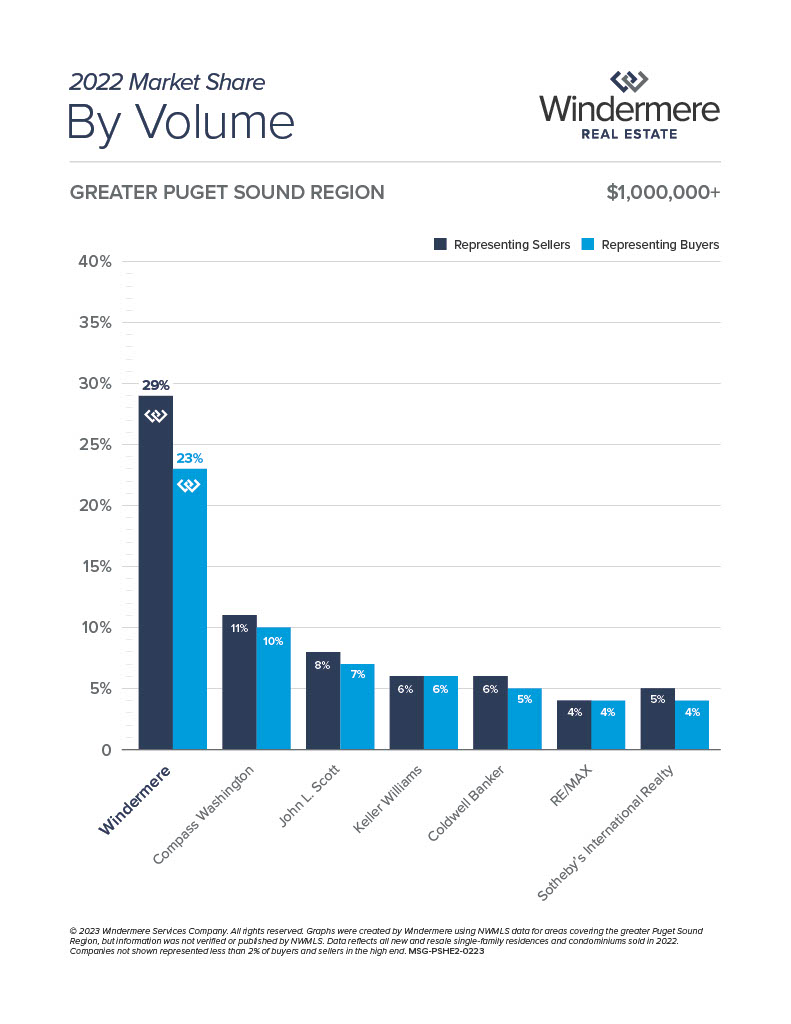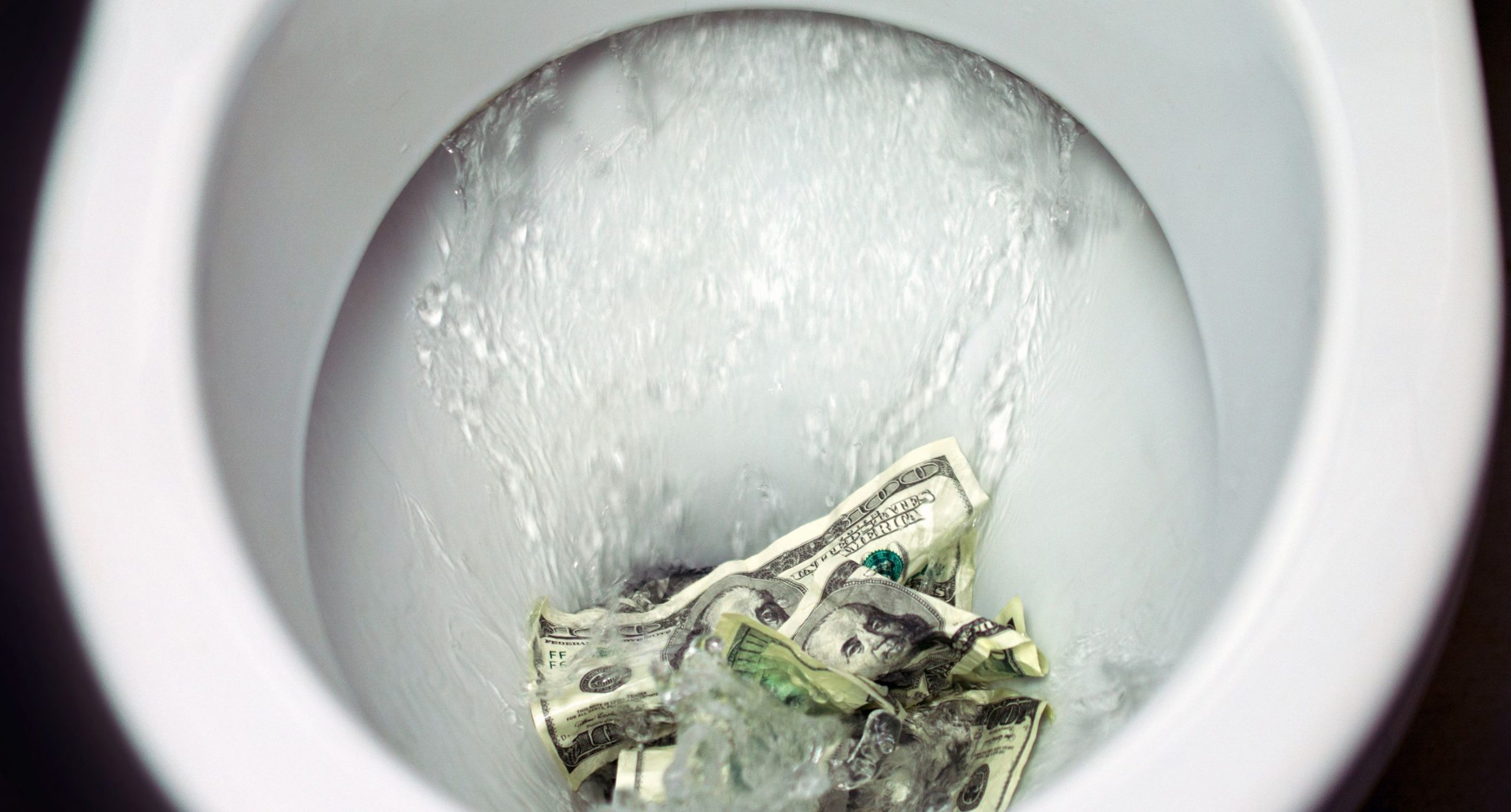 You are probably asking yourself, "did I read that right?"
Yes, yes you did.
It is normal for sellers to want to get the most money out of the sale of their homes. It feels safe to list your home at the price you are desiring to get, but the reality is listing high might actually do your pocketbook more harm than good in the long run. Follow along as we explain why.
RISKS OF OVERPRICING YOUR HOME
You are drawing the attention of the wrong buyers.
Most people begin their home purchasing journey by searching which homes are available in their desired location online. Consider this. Your home is worth $500,000, but you list it for $575,000. When buyers are looking online, they filter to find homes within their price range and typically by $25,000 increments.  The person looking for a $500,000 home will never see yours and if they do they will believe it is out of their reach, and when the buyers looking in the $575,000 range see your home and compare it to others in that range, they will get the impression it is not worth it, and there are better options.
Fewer people will see your home.
When your home is overpriced, the issue can be detected by buyers just by looking at your online listing and will pass on viewing it in person. The more showings you have, the more legitimate interest there is, and the more likely your home is to sell. Showings give potential buyers an opportunity to see the home first-hand giving them the opportunity to imagine themselves living there.
On the other hand, if you get lots of showings because your photos look better than reality but no offers you've wasted your best shot at getting the right buyer through your home and you there are no redo's for first impressions. This leads us to our next point…
You are sending the "I'm an undesirable home" message to the public.
As people continue to look for a home and new buyers enter the market, they might see your home online, but by that time they will also see the "time on market". The longer your home sits on the market, the less attractive it becomes psychologically to everyone. Nobody wants the home that nobody else wants. Once it has lost its appeal the damage is done. You'll find yourself beginning to reduce your price and often end up at a price less than what the home could have sold for if it was priced right the first time.
In conjunction with price reductions, the longer your home sits on the market, the more expenses you incur. Consider mortgage payments, utility costs, lawn care maintenance, seller's fees, and more while you are trying to move out.
Your buyers won't be able to finance if it doesn't appraise.
Perhaps you drop the price just enough to intrigue a buyer but still above market level. Maybe you're lucky enough to hook a buyer. Then the appraisal comes back low. Now you either have to come down in price or lose the buyer and start over again, with 20-30 days more on market…
If you are considering selling your home and would like a complimentary analysis to determine the correct value of your home in this market connect with us to be paired with an experienced Windermere agent that can help you with your unique situation and avoid all the overpricing pitfalls.