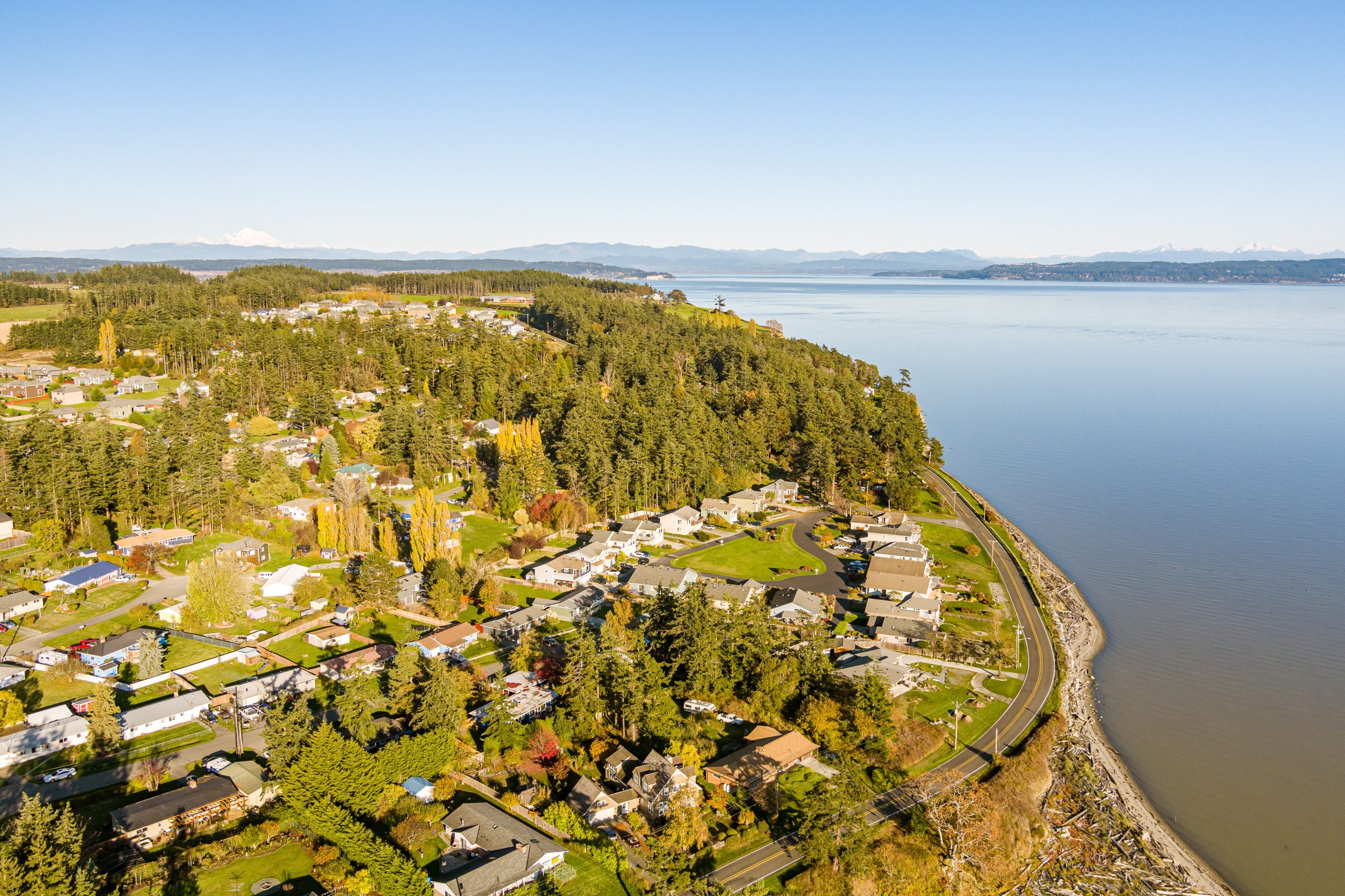 Welcome to Penn Cove Park. There is no doubt you will find a home you like here. There is an array of newer and older homes amongst this quiet community on the northern shoreline of Penn Cove off Monroe Landing. The central location between Oak Harbor and Coupeville provides not only more options for educational opportunities but also quick access to all the amenities both cities have to offer.
What sets this neighborhood apart from some of the others you might find on Whidbey Island is that residents not only have access to a private beach, but they also have a boat ramp. During the summer the water is warm enough to swim in because the cove is protected from the strong offshore winds that other water access areas are exposed to, making it likely the warmest beach on Whidbey Island. Not to mention, the incredible views of Penn Cove, gorgeous views of Saratoga Passage and the lovely historic Town of Coupeville. On sunny days you can spot snow covered mountains in the distance and a pod of Orca whales may be playing in the Cove.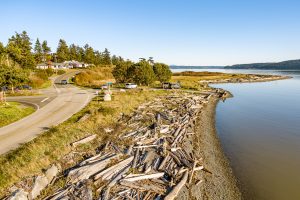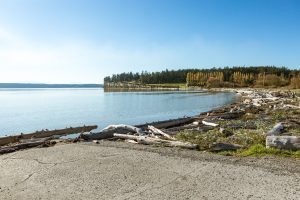 One of the major benefits of living here is the short distance to the only Hospital on the island, Whidbey General Hospital. Downtown Coupeville offers quaint restaurants, galleries, shops, and a museum that overlook the cove offering luxurious views making for special trips all year round. Oak Harbor, just north of the neighborhood is home to Naval Air Station Whidbey Island where you will find an array of fast-food restaurants, car washes, and big-name shopping centers. In between the two discover the heart of Whidbey, with family farms like Three Sisters Market, small churches, and one of the very few left in the USA the Blue Fox Drive-in Movies with attractions like arcades, go-carts, and food!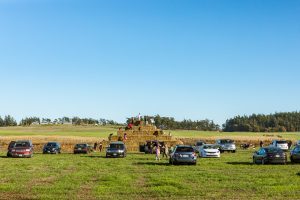 Are you ready to get to know this Whidbey Island neighborhood better? Check it out here.
Have questions? We are happy to help. Connect with us here.
View this post on Instagram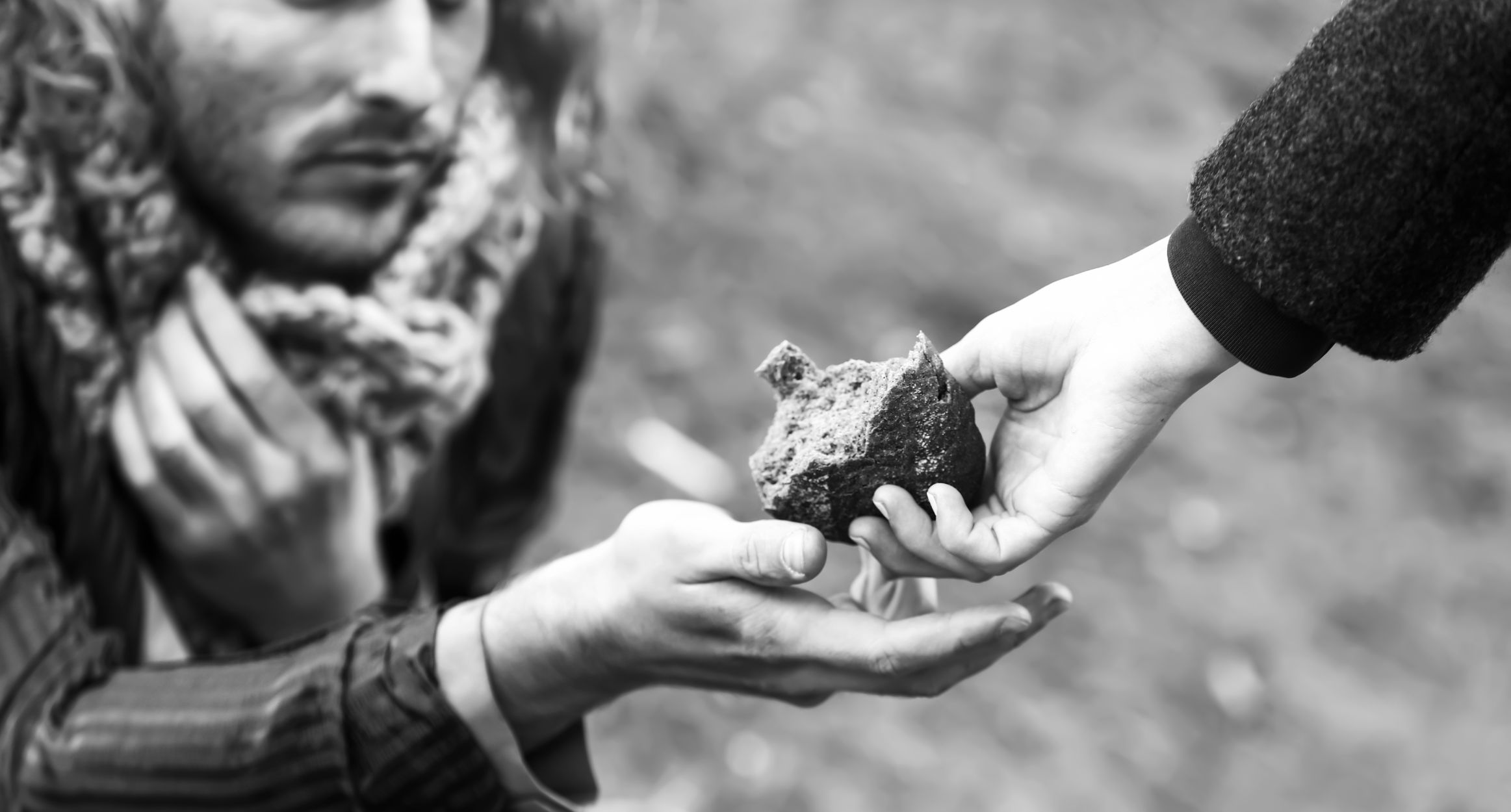 Did you know that our North Whidbey Help House offers more than just food? Part of their mission is to, "offer the best assistance possible and assist wherever possible in not only improving lifestyles but striving towards independence from the need for assistance."
WHERE DOES THE ASSISTANCE COME FROM
They work in combination with other human service agencies within our communities and even offer welfare checkups to those in need. However, they cannot do it all alone. The North Whidbey Help House relies on 96.41% of public funding and the remaining 3.51% from the Washington State Department of Agriculture's Emergency Food Assistance Program (EFAP).
That means it is donations from people like you and me that personally affect those in need within our community to keep this program running.

DURING THE HOLIDAYS
During the holiday seasons alone in 2021, the help house was able to provide 458-holiday food baskets that fed over 1,870 people. There were 45 families "adopted" for Thanksgiving, and 51 Families for Christmas. Let's make sure they can offer the same, if not more this year.
With the weather changing here in the Northwest, there is a need for warmer food items like to-go oatmeal bowls where you just add water, hot-hands, pasta, and rice. Easy-to-open items like pop-top cans of meat, cereal, and peanut butter are much appreciated.

WHAT ABOUT HYGIENE
Did you know the help house goes above and beyond supporting those in need with hygiene products too? There is a need for items like toilet paper, toothbrushes, deodorants, and feminine products.
HOW YOU CAN HELP
We urge you to take a moment to clean out your pantries this month and donate any extras you might have that are cluttering up your space. We have made it easy by hosting a drop-off location in our Oak Harbor and Coupeville offices on Whidbey Island for you to drop off your donations.
We know it has been a rough year for a lot of people. Let's work together to make it slightly easier for those in our community who are struggling to get by.
To kick off this event @WhidbeyIslandLiving has pledged to cut her coffee orders for a week and donate the funds directly to raising funds for the Whidbey Island Help House. If you would like to join in the efforts you can make a money donation here. Once done, message us at @windermere_Whidbey_Island as we would love to publicly thank you on Instagram for your donation and inspire others to do the same!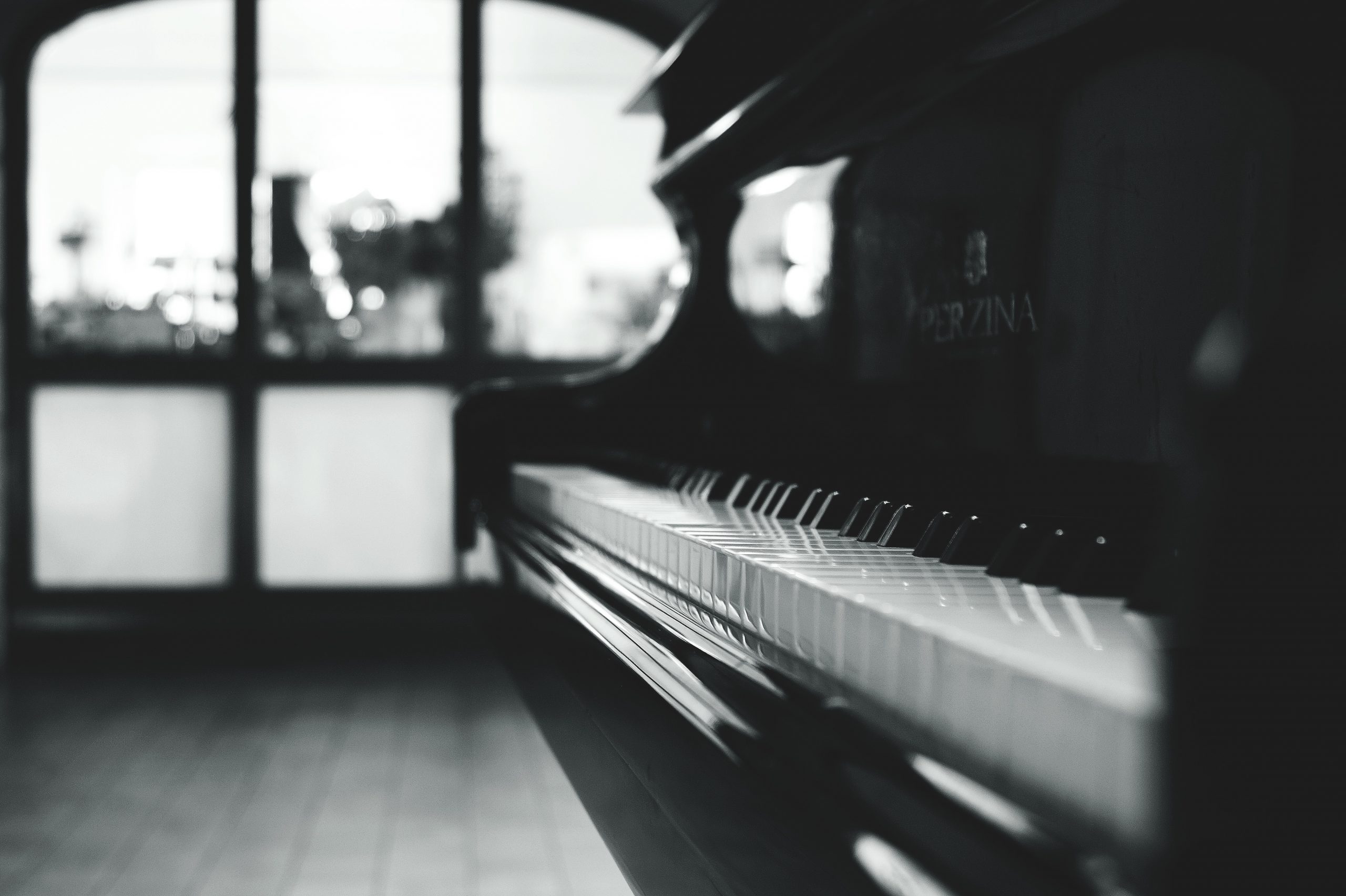 "Maple Valley raised singer/songwriter Zan Fiskum uses her haunting and beautifully controlled singing to craft ethereal and brooding folk/pop songs."
If that quote alone doesn't make you want to get up and listen, I don't know what will.
Like many of us, Zan grew up in the PNW. Her family volunteered at a diner theater called Auburn Avenue. Like most children, she remembers playing make-believe, except she was playing among the red velvet seats of the auditorium while her family prepared for their performances. When Zan followed suit and took to the stage she was a natural.
"At the age of 12 Zan broke away from the molds of her classical music training and experimented with enmeshing forthright lyrics, cinematic melodies and explosive synth sounds into her songwriting. She went on to release her first 6 singles and achieved over 2 million streams on Spotify alone."
She found herself and began sharing her unique gift with the world.
"Just 2 years later, Zan made her national debut on NBC's The Voice as a top 9 finalist and received recognition for her dynamic performing and voice from Billboard magazine, Maggie Rogers, Camila Cabello and the Indigo Girls."
You might recognize her by her debut album "Sleeping Problems." To learn more about Zan click here.
She recently has been performing in iconic Seattle venues such as The Moore Theater, The Triple Door, Sasquatch, and more. We are lucky enough to be welcoming her here to Whidbey Island Wednesday, August 10 as part of the Sounds of Summer Concert Series put on by the Oak Harbor Music Festival and Windermere Real Estate Whidbey Island. Mark your calendars every Wednesday evening in August for the first four Wednesdays. In addition to Zan Fiskum on August 10 you can catch Whidbey's Saratoga Orchestra with featured guests The Gothard Sisters (Aug 3), The Chris Eger Band( Aug 17), and Janie Cribbs and the T.rust Band on (Aug 24). To learn more about the event and others like it click here.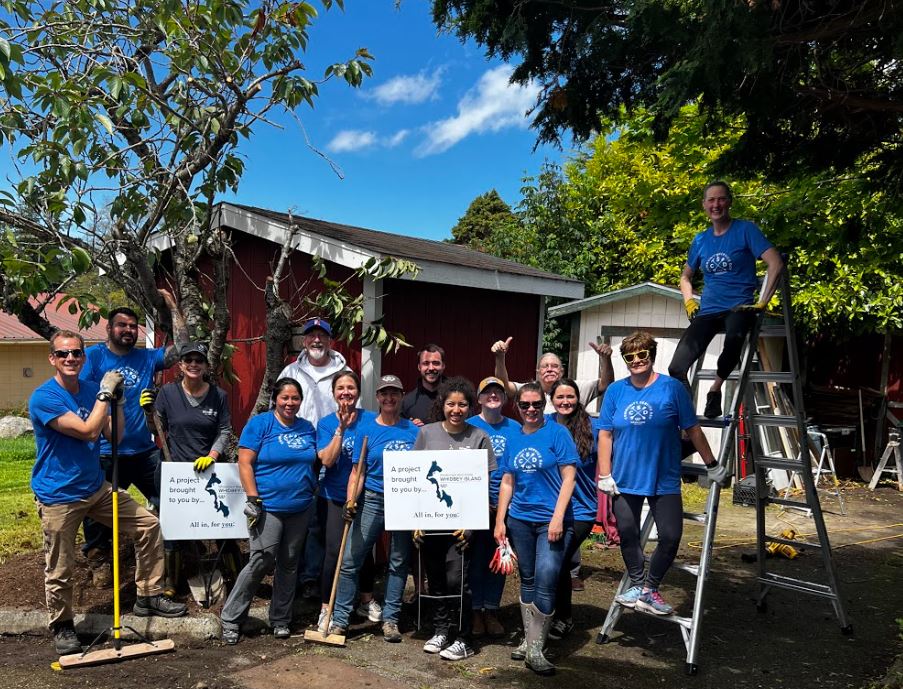 Every year since 1984, Windermere offices everywhere have dedicated a day of service to the community. Each office closes its doors for a day to join together and complete projects that improve our local neighborhoods and community.

The hands-on projects are chosen by brokers and staff. Projects vary widely from area to area. Some examples of people and places served include senior centers, kids playgrounds, community organizations, state parks, road clean-ups, individuals in need, food banks, and much more!
With over a million hours of community service logged to date, we are proud to continue this tradition of giving back to our communities where we live, work, and play.

On Friday, June 10th we had an opportunity that was a bit different from years past. This year prior to the big day we connected with Senior Services here in Oak Harbor to help us identify 7 individuals within our community that could use a helping hand maintaining their properties. Once the individuals were identified we meet with them and evaluated their properties to see how we could best meet their needs. Some needed overgrown bushes removed, weeds pulled, lawns mowed, tree branches removed to keep from falling on their home, flowerpots replanted, benches cleaned so they could sit and enjoy their property, and more. Over the next several weeks we gathered the materials needed. Meanwhile, we took a trip over to Mailliard's Landing Nursery in Oak Harbor to identify the plants needed for each property. The staff at Mailliard's are a wealth of knowledge and helped us identify low-maintenance plants that will stay or return for years to come as well as offering a variety of mulch and fertilizers to keep each plant healthy. Did you know Mailliard's accepts yard waste too? We didn't know either till they sponsored our project by taking the debris we removed from each of the properties. What an awesome help that was!

When Friday came, our agents broke into three teams to tackle each project till all 7 homes were complete. It didn't matter how large or small the task our agents worked tirelessly together to get each task done from bringing down tree branches, to pulling weeds. Through sweaty brows, we witnessed smiles and even some grateful tears throughout the day. Seeing the owners enjoying their space again was worth every ounce of work put in.
If you have an idea for our community service day project in 2023 and beyond please reach out! We love to hear how we can give back.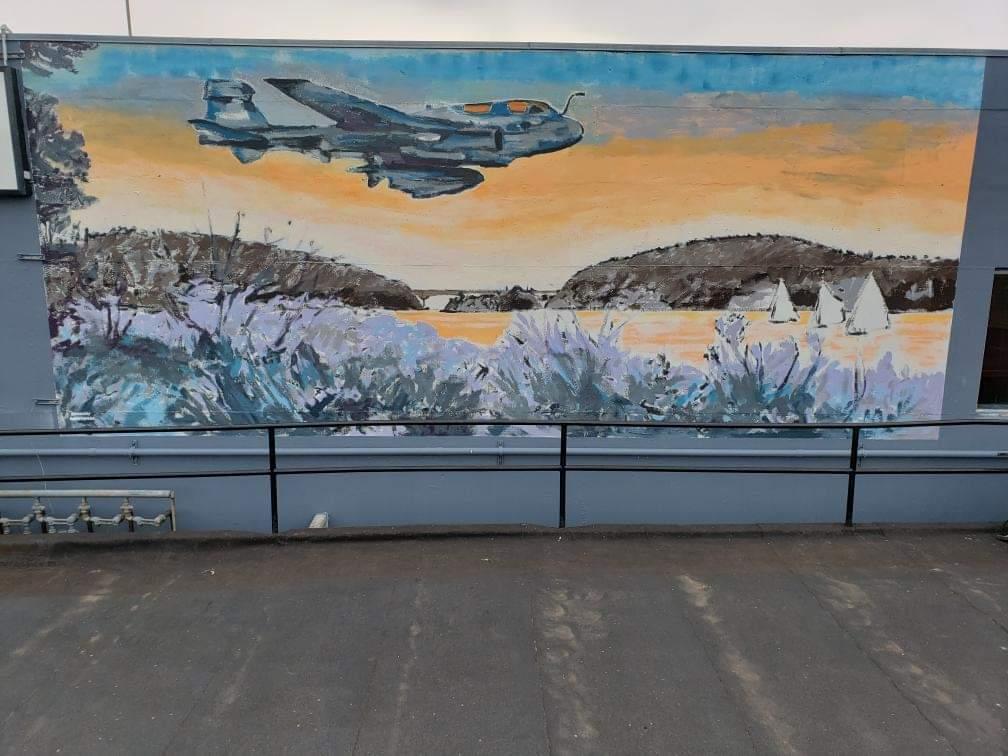 Have you driven down SE Pioneer Street recently? Perhaps the stunning new artwork by Timothy Haslet captured your eye.
Changing Downtown
Over the past five years, programs like the Allgire Project, Oak Harbor Main Street Association commissions, and fire hydrant painting projects have led to an increase in art downtown. For years though, a deteriorating mural from the 70s resided on the exterior wall of Riverside Café in desperate need of revision. Shortly prior to Memorial Day weekend, this beautiful mural of a Prowler passing Deception Pass was revealed in its place. Artist Timothy Haslet says, "This mural relates to my series on Navy Planes."
Welcome Oak Harbor
He wanted to fit a Navy Plane within the context of Deception Pass, with the overall goal of depicting who we are as a community. Timothy wants to send the message "Welcome to Oak Harbor" to the people moving here from all over the country and the world. His goal is to "create something that could be recognizable and identifiable by our diverse community." Historically Haslet's work consisted primarily of landscapes.
Why the change?
A recent article by Kathy Reed in the Whidbey Weekly revealed, that "as he was processing this new direction in his art, conflict over jet noise within the Whidbey community occupied a great deal of his thoughts." A question came to Haslet that he knew he needed to solve, "What would a picture of 'the best of both worlds' look like?" He pondered, "who are we, as a community, and where are we going? Can we create artwork that could be a bridge between the two?" Read the rest of her article here.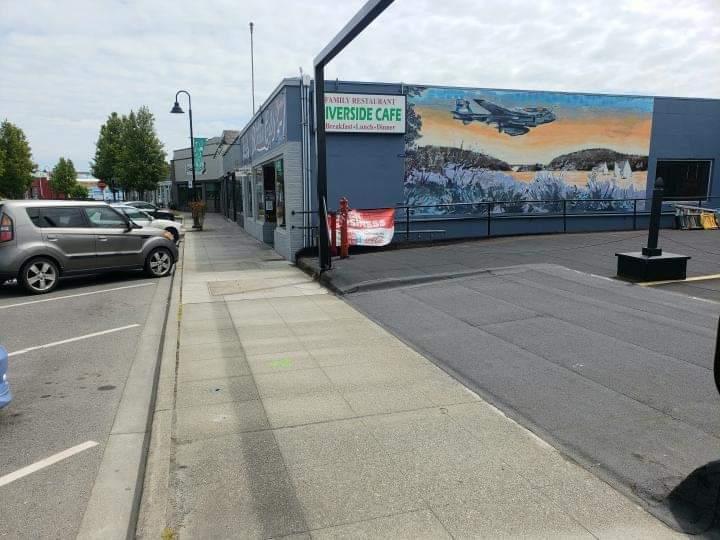 This beautiful masterpiece is his answer to that question for all to enjoy no matter how they arrived on Whidbey Island, whether by road, water, or plane.
What a special tribute to the community.
Timothy says prints of the mural will be available soon. If you would like to see more of Timothy's work, stop by our Oak Harbor Windermere office and peruse his artwork on display. You can also find his work online here.
View this post on Instagram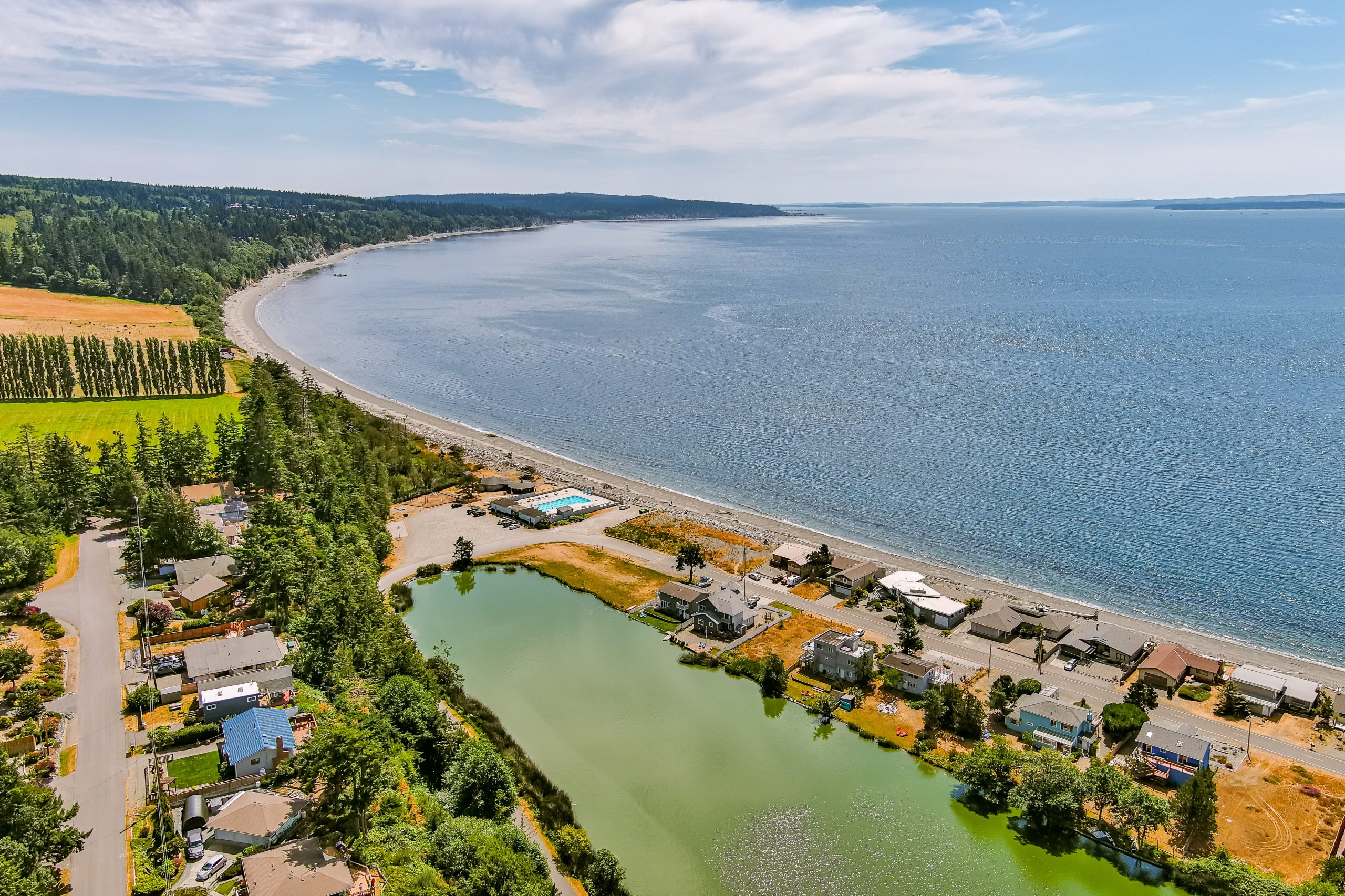 Located on the West side of Whidbey Island just South of the Port Townsend – Coupeville Ferry Landing discover Admirals Cove. It is the largest congruent neighborhood within the Coupeville zip code. Admirals Cove offers some of the most affordable properties in Coupeville, with a wide variety of homes built in various stages from the 1960's to today, along with a plethora of amenities. It might come as a surprise as you enter the neighborhood from highway 20 to discover waterfront properties as you head down the hill. Want to learn more about the neighborhood? Click here.
Equally surprising, Admirals Cove does NOT have an HOA. Interestingly, the neighborhood operates as a club.  In 2011 it was ruled that Admirals Cove could not be an HOA because it allows people to be associate members when they don't own property in the community. Property owners however do not have an option to opt out of being a member of the club. Their dues directly impact projects like their latest one shoring up the bulkhead between the pool and the beach.

Admirals Cove is the Place to be if You are Looking for Amenities
We spoke about west facing properties before in our article, "What View is Best on Whidbey Island" where we explained why West-facing properties are some of the most sought after on Whidbey. The extra sun exposure in West-facing neighborhoods explains why the neighborhood includes amenities like a pool, beach access, shelter, playground and more to soak up the sun when others do not.
The Community Pool
Admirals Cove is recognized as one of the few community pools on Whidbey Island. Intriguingly, the pool is right on the beach and has been here for over 50 years. It has recently been remodeled and is open for use between May 28 – September 5 in 2022. As an added benefit, they offer swim lessons in the summer for members and non-members.
Beach Access
Park next to the pool and enjoy the beach just a few steps away! Check out the latest tide heights here https://www.tide-forecast.com/locations/Admiralty-Head-Washington/tides/latest.
Shelter and Playground
Next to the pool is a spacious shelter/enclosed gazebo that is available to rent for parties if you are a member. Restrooms, Wi-Fi, grills, picnic area, horseshoe pit, firepits, and a nice playground are all included.
In the Surrounding Area
Admirals Cove central location creates an opportunity for all sorts of adventure. Less than five miles north includes places like Fort Casey State Park, Crockett Lake, Price Sculpture Forest, and the Port Townsend Ferry with Greenbank Farm just over 5 miles south.
Does Jet Noise Bother You?
Keep in mind that OLF or the Navy's Outlying Field is nearby. The noise from jets practicing their touch and go's is not for everyone so we encourage people considering Admirals Cove to experience it for yourself. You can see what the upcoming schedule is on this website https://www.cnic.navy.mil/regions/cnrnw/installations/nas_whidbey_island/news/news_releases/field-carrier-landing-practice-at-nas-whidbey-island-complex-for.html
For more information visit the Admirals Cove neighborhood website here https://www.acbc-whidbey.org/index.html.
Find Admirals Cove on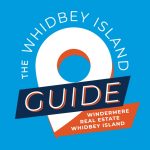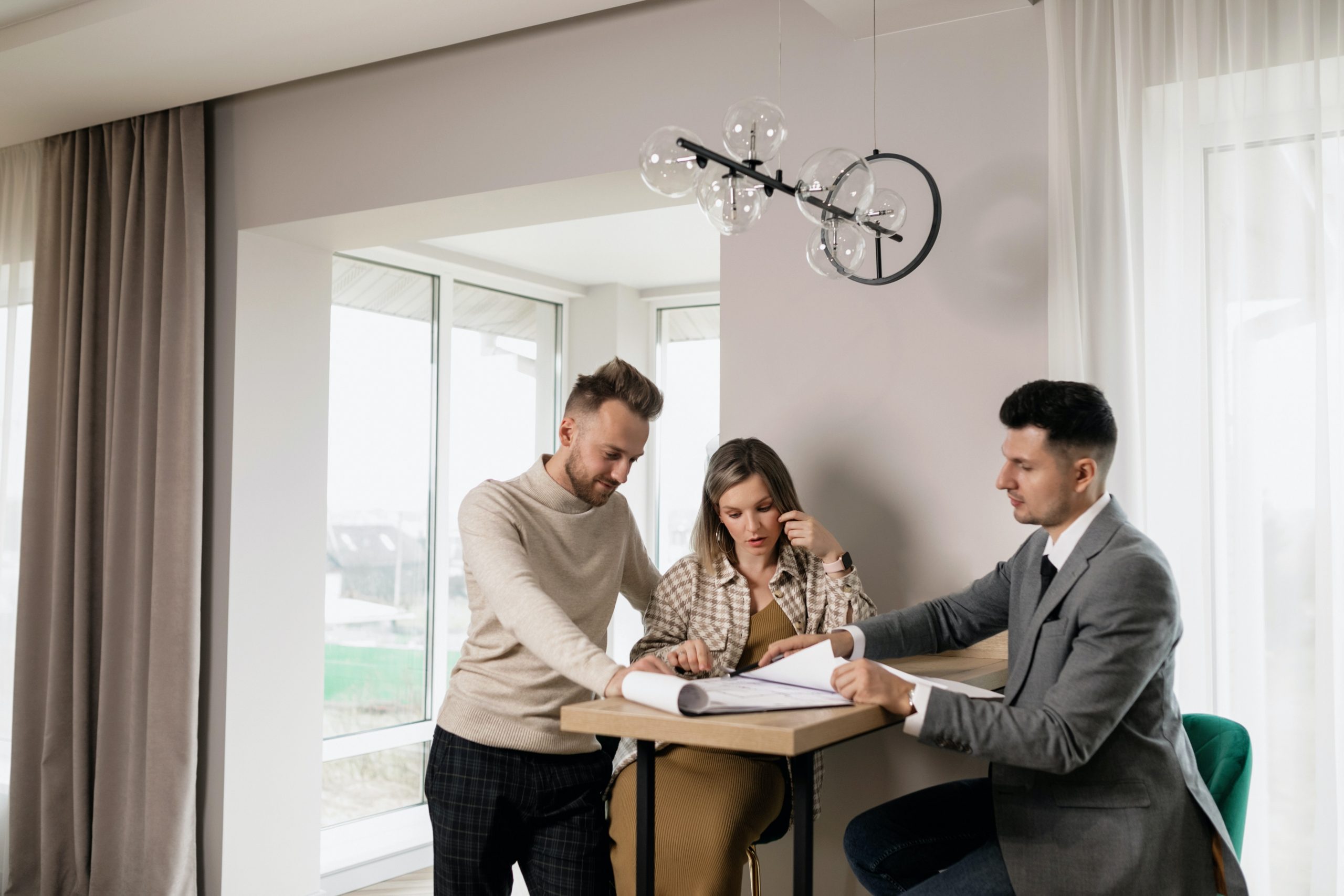 Saving enough money for a down payment on your first home can be one of the biggest obstacles to homeownership. Depending on your circumstance you might need anywhere from 3% – 20%. Speaking with a reputable local lender will help you find out exactly what your percentage will be.
But how long should it take, you ask!?
Follow along as we estimate the amount of time it takes a person earning a median income and paying a median rent to save up for a down payment on a median-priced home.
To accomplish this task we use the concept that homeowners should pay no more than 28% of their total monthly income on housing expenses. We use this information in combination with data from the U.S. Department of Housing,  Urban Development (HUD), and Apartment List to determine our estimation.
According to the data pulled, the national average for the time it would take to save for a 10% down payment is roughly two and a half years (2.53). Looking at the diagram below you can also see that those living in Iowa can save for a down payment in as little as 1.31 years while those in California could take 17.56 years. The map below can help you determine the amount of time (in years) it can take for you to save in your state: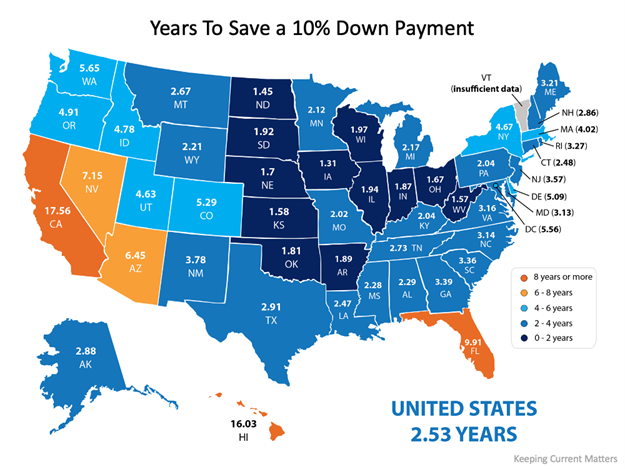 What if you only need to have a 3% down payment?
It is a common misconception that you need to have a 20% down payment to buy a home.
The reality is there are reasonable alternative options out there. First-time home buyers have an advantage with a plethora of down payment assistance programs available to them. You just have to find the right lender and ask. Need help finding a lender? Ask us to connect you with one here.
What if you qualify to take advantage of one of the 3% down payment programs?
If you qualify for a 3% down payment program, then you only have to come up with 3% of the total cost of the home at closing instead of ten or the typical 20% we have seen required in the past. Saving for a 3% down payment might not take you very long. In fact, it could take less than a year in most states, as shown in this map here: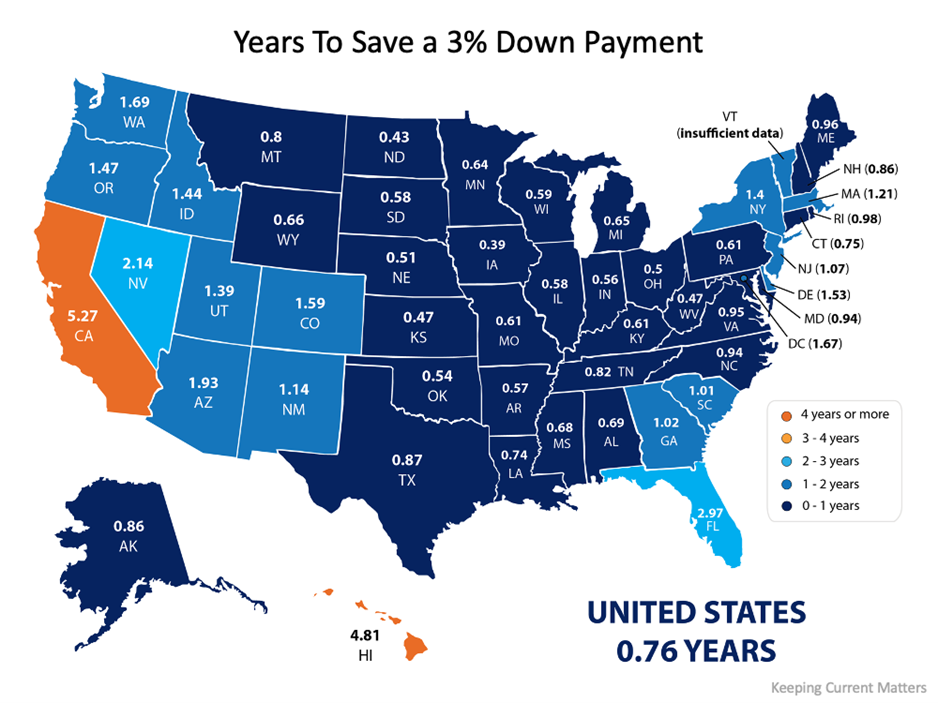 At the end of the day
Wherever you are in the process of saving for a down payment, you may be closer to your dream home than you think. Connect with us to explore the options available to you in our area and how they support your plans for buying a home.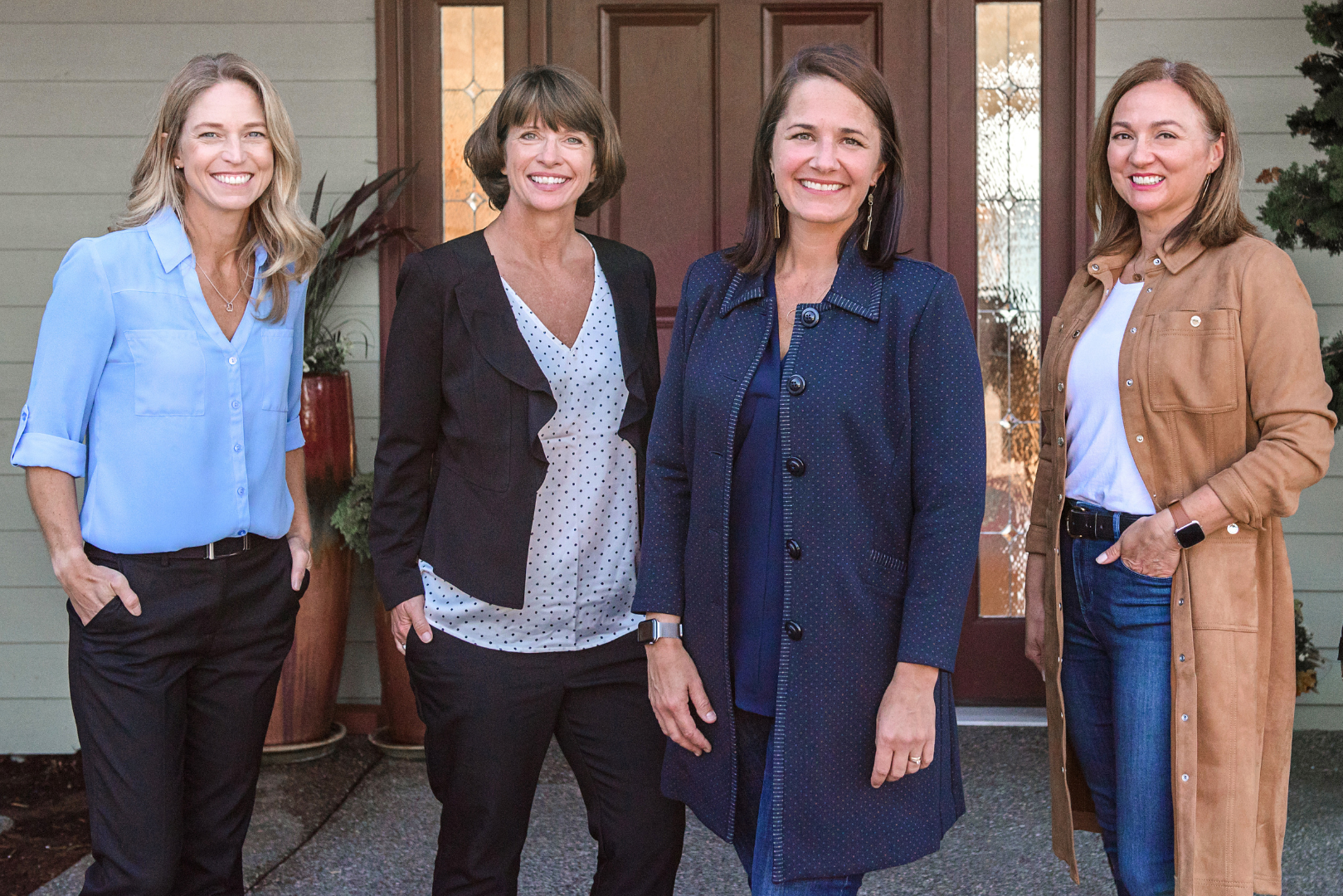 Happy International Women's Day!
International Women's Day is a global day meant to celebrate the achievements of women across the world and call to action greater gender equality. This year we wanted to celebrate the day by highlighting just a few phenomenal women-owned businesses on Whidbey Island, starting with our own brokerage owner – Kristen Stavros!
Windermere Whidbey
|
 32785 WA-20 #4, Oak Harbor, WA 98277

Kristen Stavros is the Co-Owner of Windermere Real Estate Whidbey Island. After spending years as an agent and then managing broker, Kristen stepped into the new role as owner in 2019. Since then she has been the spearhead visionary for the Windermere Whidbey brokerage as well as inspiring change and diversity among all of Windermere. 

Ada Moseley is the owner and head stylist for CreAda's Hair and Wig Salon. With over 20 years of experience in the industry, she is a stylist that provides the highest level of hair care and knowledge to her clients.
Bayshore Chiropractic
|
840 SE Bayshore Dr # 101, Oak Harbor, WA 98277

Dr. Dawn is a much-loved and respected chiropractor on Whidbey Island. With over 20 years of experience and genuine compassion for her clients; she provides outstanding quality service that is hard to find elsewhere.  
Frida's
|
721 SE Pioneer Way, Oak Harbor, WA 98277

Naomi Gamboa Schneider is the owner and operator of Frida's Arts & Craft store. She has a deep passion for creativity and talks readily about how her store, which features all kinds of great paper and art supplies, is the realization of a long-held dream.

Aaron Wiley's Seaside Spa and Salon is known for being a place of deep relaxation and joy. With a number of stylists, nail techs, massage therapists, and estheticians; Seaside Spa and Salon's repertoire of services is sure to impress.

Ms. Jackie had nothing more than two cast iron pots, a tent, and a vision when she started the now-beloved Orlando's Bar and Southern BBQ. Whether you're looking for the best-grilled catfish on the island or just a friendly upbeat atmosphere, Orlando's is an establishment you do not want to miss.
3 Sisters Market
|
779 N Holbrook Rd, Coupeville, WA 98239

It is honestly hard to imagine Whidbey Island without the multi-generational 3 Sister's Farm. In 2013, Roshel and her sisters added to their legacy when they opened 3 Sister's Market which is dedicated to offering customers the best selection of products from the most local sources. 
Little Town Cottage
| 851 SE Pioneer Way, Suite #102 Oak Harbor, WA, 98277

Maria Rodriguez is the founder and visionary of the incredible soap shop, Little Town Cottages. With a dream to build a business she can pass down to her children, Maria started her store in 2018 by selling home decor, gift ideas, and body products. The community fell in love with her creative soap creations, and she now has expanded her store.

Jennifer Bachmann is the owner and operator of Coupeville Front Street's Collections Boutique. This quaint store, situated in a historic 1887 building, carries a variety of clothing lines, jewelry, accessories, and baby gifts for consumers. 
Forage
| No Physical Location

Anyone who has seen a bouquet by Lexi Ochoa knows this woman has an absolute talent for floral arrangements. Lexi's bouquets are not only stunning, but they also are locally sourced. Forage uses small farms, gardens, and found flowers as much as possible in her arrangements which make them unique and last a great deal longer than other bouquets.
Map to Woman-Owned Businesses on Whidbey:
If you enjoyed this blog you might also enjoy reading: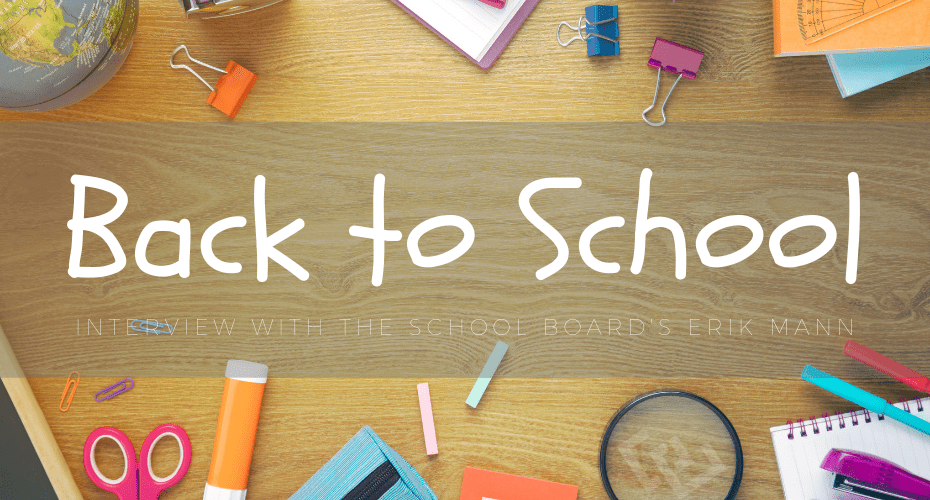 Back to School 
Interview with Erik Mann
Here at Windermere Whidbey we are blessed to work with a wonderful agent and friend, Erik Mann. Erik is a vested community member, passionate about Oak Harbor and specifically education. He has served on the Oak Harbor school board for the last 2 years and possesses a wealth of knowledge that we are lucky to have in our brokerage.
The other day we sat down with Erik to ask about a few of the changes happening in the Oak Harbor schools this coming fall. His answers should be as helpful and informative for you as they were for us!
Hello Erik! So, we've heard there is going to be a big structure shift this year at the high school. Is this true? Can you tell us about it?
Yes! In recent history, Oak Harbor High School has operated on a semester schedule with six classes per day; allowing a total of six credits per year. The total number of credits available during four years of high school was 24. The Washington State Legislature requires a minimum of 24 credits to graduate. With ever-increasing restrictions on required course content, it meant that students had little flexibility to try new disciplines, arts, and advanced course work. A student's failure of any class meant alternative pathways to credit retrieval were required, as there was no flexibility built into the schedule.
Beginning this year, the high school transitions to a trimester school year. Individual class times have been lengthened, so only five periods per day, but instead of only earning six credits per year, a student will earn seven and one-half credits per year, for a total of 30 credits over four years.
This allows far more flexibility for students to make up credits, explore new disciplines, do advanced coursework, explore vocational and art classes, etc. Because graduation requirements are fixed once you enter ninth grade, the classes of 2020-2022 are still bound to the graduation requirements in place at the time they entered high school. They will all still be required to earn 24 credits, while classes 2023 and beyond will need 28 credits to graduate but have more flexibility than previous classes.
That sounds like an amazing change for our high school students! What about the rest of our students? Any improvements that we should be keeping an eye out for?
Well, continued advocacy by the superintendent, school board, administrators and staff to our elected officials in Olympia and Washington DC, has led to an amazing opportunity to replace two of our aging elementary schools. Through the Department of Defense, the Office of Economic Adjustment has been tasked with replacing old, inadequate school facilities located on military installations and other government property.
With 160 schools evaluated nationwide, two of Oak Harbor's schools currently rank in the top 11 schools in the nation in need of replacement due to age and capacity. This means we will be eligible to receive 80% of the funding to replace Crescent Harbor Elementary School (3) AND Clover Valley Home Connection and Early Learning Campus (11). The community will only have to fund 20% of construction costs!
There is also a possibility to move or update our aging transportation facility. Due to our interlocal agreement to provide service to the Coupeville School District's busses, the district will qualify for a state funding match of 80% of the cost to replace/relocate the facility.
This will be an amazing opportunity for us to leverage our community's investment in our schools with state and federal funding to replace our aging infrastructure at a fraction of the typical cost!
Whoa! That is incredible and so great it's in partnership with the DOD, as they are such a large part of our community. I know student health has been a hot topic recently, what can we expect as far as changes there?
Over the past few years, the approach to our education system has seen a marked change in direction. I am pleased to see so much movement into the entire well-being of a child, not just focusing on academic success. It is my goal to see a continued expansion of social-emotional learning, an expansion of counseling and nursing staff, and a real focus on connections between students, adults, the community and resources available to them.
Through a partnership with NAS Whidbey Island, 5 new mental health counselors are being provided by the DOD through a contractor, who will work within Oak Harbor Public Schools. This will expand our already greater than average presence of counselors within schools but is what I hope to be just the beginning.
Whole-child initiatives also mean we need to be engaged in the health and wellness of our students. Beyond PE classes and activities available to students, education about food and healthy eating can make huge improvements in their overall well-being. Schools are all embracing outdoor student learning in interactive gardens and outdoor spaces. Students are learning lessons in the garden that extend beyond growing flowers and vegetables. They are learning science and math, but more importantly are learning to work together in a hands-on environment. They are exposed to produce they would never imagine trying, but because they took part in growing it, will enthusiastically try it and find out they like it. They are learning compassion and community service as their produce is used to supplement local food bank supplies.
Environmental stewardship goes beyond our gardens, however. As a district, we have taken great steps to be as forward thinking, efficient and conservative as possible. A large-scale effort to replace aging heating system boilers with state-of-the-art high efficiency boilers, replacing nearly all lighting with highly efficient LED lights, and transitioning to propane powered busses has propelled us to be one of the front runners in the nation. We've earned several state and national green ribbon awards this year. Oak Harbor Public Schools has become a model of environmental stewardship. We will continue to lead the way teaching our students to be healthy and environmentally conscious and make our systems as efficient as possible to protect our taxpayers' investment.
This is all so great Erik! Thank you for keeping on top of this and informing our community. We know you take your role as a real estate professional as seriously as you take your role on the Oak Harbor School Board, but can you tell us how you see the two connecting?
One of the reasons I chose to work as a Windermere Broker was the focus and commitment to community through the Windermere Foundation, which collects a percentage of every transaction completed, and returns it to our community. It was rewarding to be instrumental in establishing a scholarship fund that has now awarded seven scholarships totaling $12,000 to local low-income graduates who attend vocational programs, community colleges and universities. The Windermere Foundation also provides funds to the opportunity council annually for programs that support Oak Harbor's low-income students, providing warm clothes, backpacks and other necessities. Windermere is also a supporter of the Oak Harbor Education Foundation which provides applied learning grants for classroom projects within our district, allowing teachers to pursue hands on projects that fall outside the scope of normal funding and thereby enriching our students' experience. Learn more about the scholarships here.
Windermere Realtors are often the first local resource a family connects with, and my connection with the district allows me to update other Realtors in my office with the most up to date and useful information to incoming families. As the second largest employer on the island, many of our Windermere clients, are employed as educators, administrators and classified staff within the district, or have children who attend Oak Harbor Public Schools. What a great benefit for them to be able to work with a Realtor who understands how the school district operates, and can provide timely, relevant information.
As I look forward to another school year, I can't help but be excited for the possibilities.
Thank you for your time Erik! Keep up the good work!
You might be interested in: