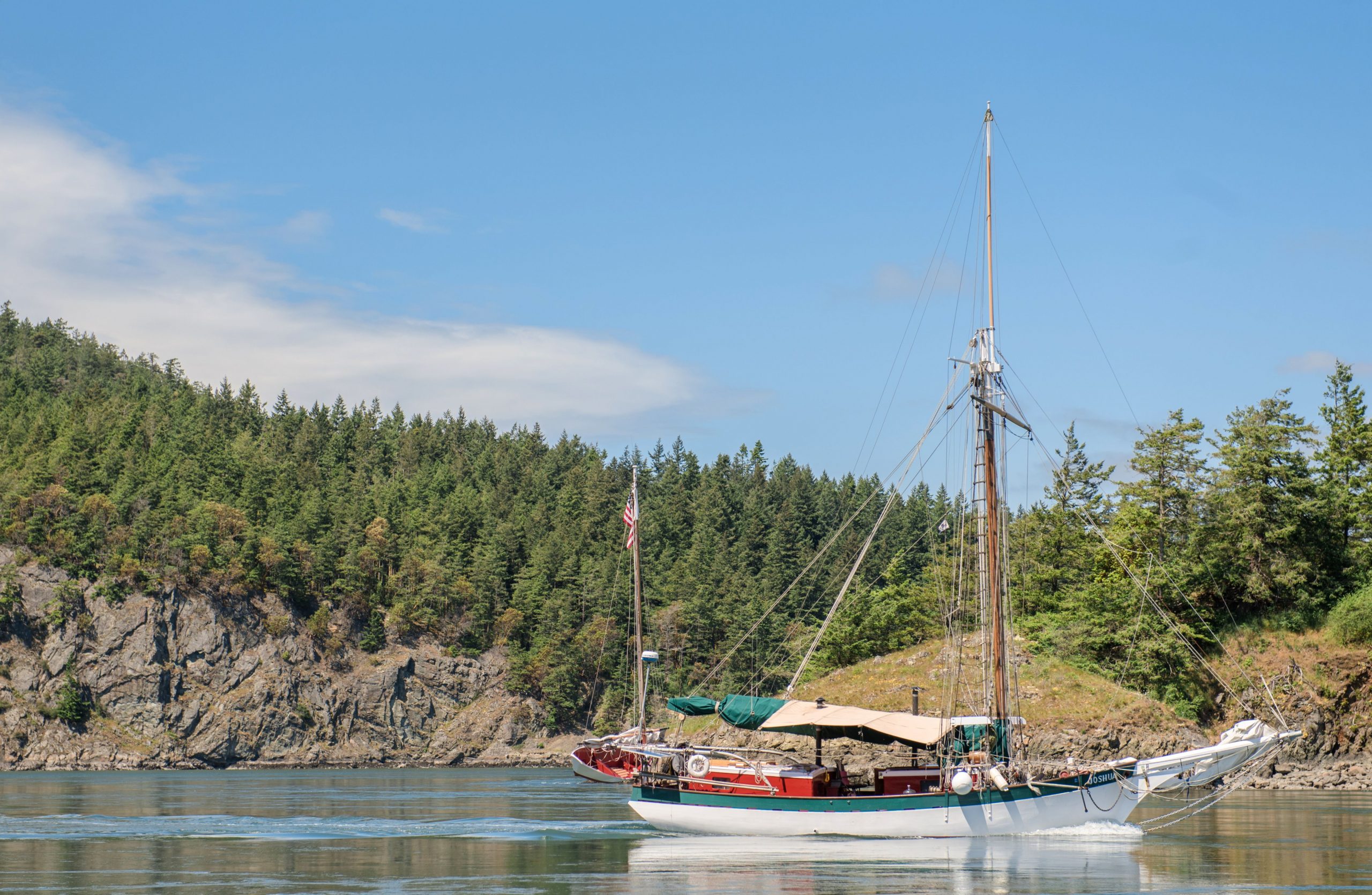 It is no wonder tourists and residents alike enjoy setting their sails and heading out to sea to enjoy our gorgeous Puget Sound waters. Whether by powerboat, sailboat, or even kayak, Whidbey is the perfect place to explore by water. Catch a glimpse of whales feeding in Saratoga Passage, seals cruising under Deception Pass, Eagles soaring past Ebey's Landing, or if you are really lucky maybe you will catch sight of a magnificent pelican near Honeymoon Bay. It's not a relaxing endeavor, with some of the world's most complex currents, thousands of "islands", and large river deltas to navigate, the Puget Sound requires lots of skill and knowledge to enjoy safely.
Check out the rest of Whidbey's beautiful destinations from this series here.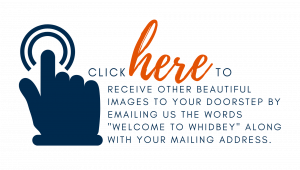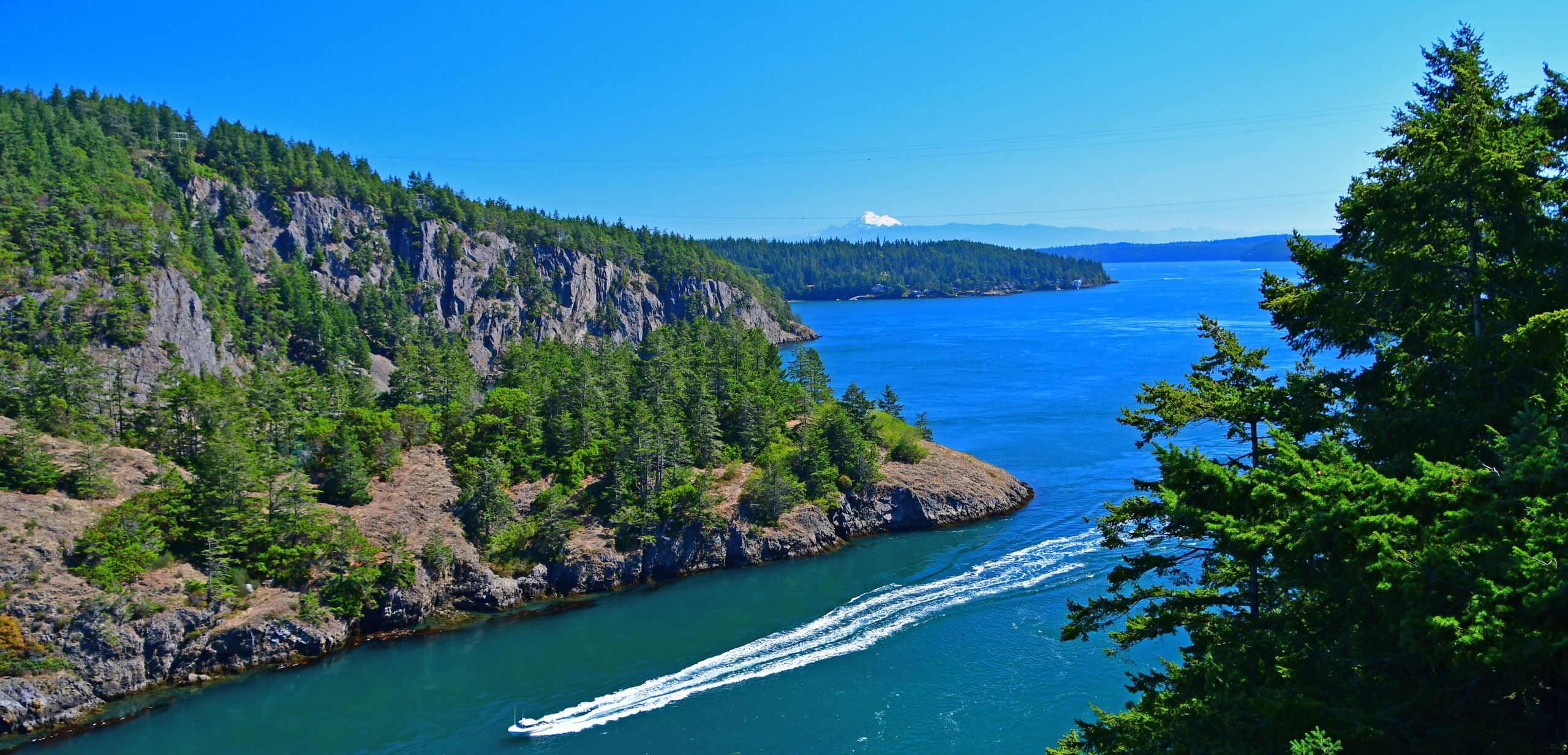 Are you eager to explore the breathtaking islands of the Pacific Northwest? Look no further. Washington State's coastal landscape boasts several stunning islands, each with its distinct charm and personality. From rugged cliffs and dramatic beaches to quaint towns and rolling hills, these islands offer a range of experiences for all travelers. Join us as we dive into what makes each of these islands unique and special.
San Juan Islands
The San Juan Islands are a group of islands located in the northwest corner of Washington, and they are simply stunning! The three largest of the San Juan Islands (San Juan, Orcas, and Lopez) are served by Washington State Ferries and provide most of the tourism, lodging and dining options. These destinations provide a diverse range of attractions and experiences that will leave a lasting impression on visitors. It is worth noting that these islands are particularly popular during the summer months, making them an ideal choice for those seeking a memorable vacation. Therefore, we highly recommend considering these islands for your next trip to the region. If you are a fan of outdoor adventure and scenic beauty, then you will love this place. The largest and most popular island in the group is San Juan Island, which is home to charming towns, breathtaking beaches, and rich history. You can spend your days kayaking, whale watching, hiking, or even visiting a lavender farm. Trust us, this place is nothing short of magical.  You can access these islands from the ferry terminal in Anacortes.
Whidbey Island is one of the largest islands in the state, and it is a real hidden gem. This island is known for its quaint towns, rolling hills, and breathtaking scenery. If you love hiking, biking, and kayaking, then Whidbey Island is the place for you. One of the must-visit attractions on the island is Deception Pass State Park, which features soaring cliffs, breathtaking beaches, and a bridge that connects Whidbey Island to Fidalgo Island. You will want to take many photos here because the views are simply stunning! Traveling south, be sure to visit Fort Casey Historical State Park, where history comes to life. Explore the grounds and see the historic lighthouse and gun battery that once guarded the island's shores. The charming coastal towns of Oak Harbor, Coupeville, and Langley should be high priority destinations on your Whidbey Island adventure. Stroll through the boutiques, cafes, and galleries and immerse yourself in the unique culture of this beautiful island. Whidbey Island is an unforgettable destination that offers something for everyone. Come explore this Pacific Northwest paradise and create memories that will last a lifetime!
Bainbridge Island
Bainbridge Island is located just a short ferry ride from Seattle, and it is the perfect getaway for city dwellers. This charming island is known for its small-town atmosphere, stunning beaches, and incredible outdoor recreation opportunities. Whether you want to hike, bike, kayak, or just enjoy a relaxing day at the beach, Bainbridge Island has something for everyone. One of the highlights of the island is the Bainbridge Island Museum of Art, which features rotating exhibitions of local and international artists, as well as a permanent collection of works by artists who have lived and worked on the island.
Thank you for reading this guide to some of the amazing islands in Washington State. We hope it has inspired you to plan your next adventure to the PNW. With so many islands to explore, there is something for everyone. Get out there and explore the Islands of Washington State – you won't regret it. If you decide to stay, connect with us so we can help make your dream come true.
View this post on Instagram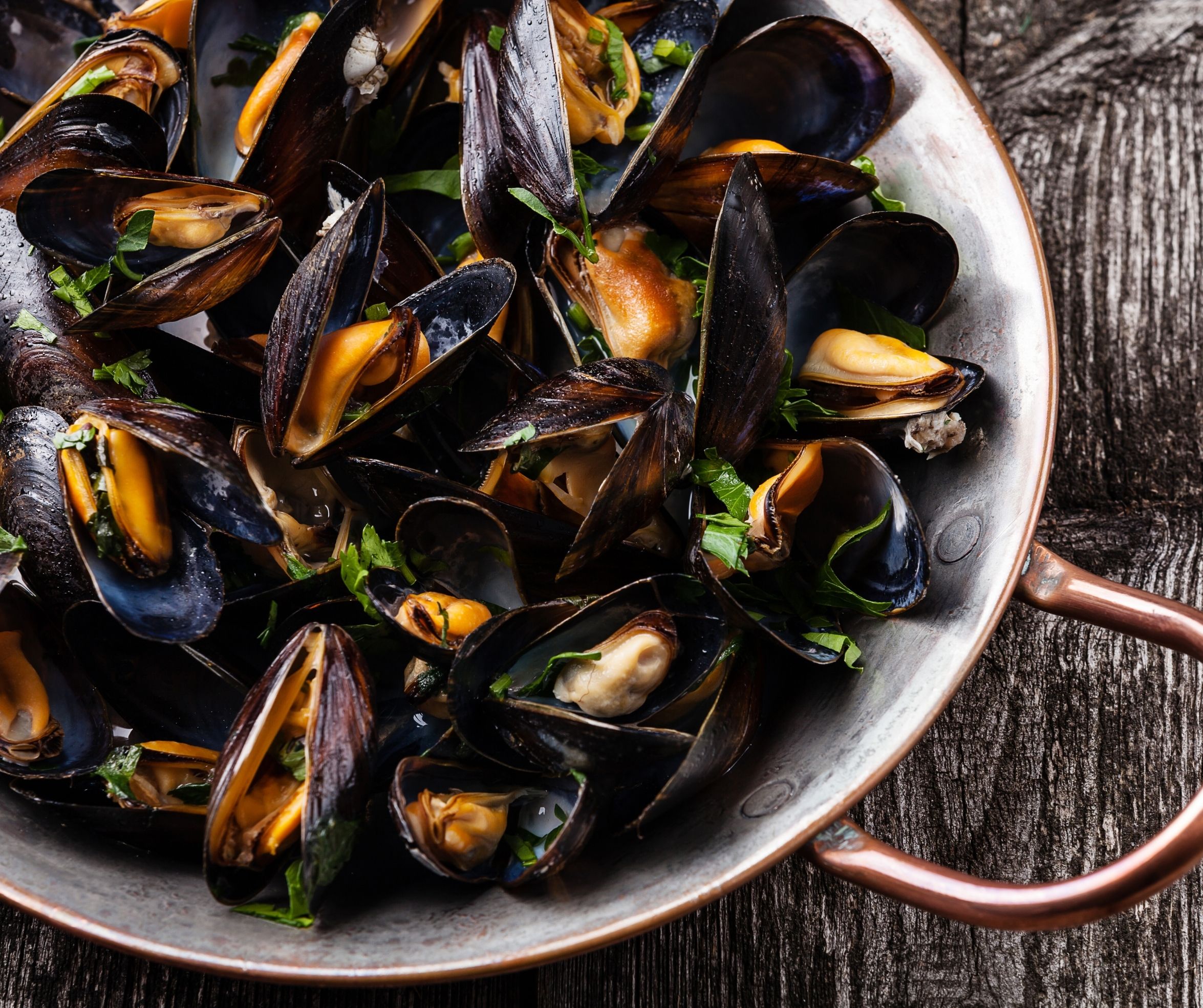 Every city or county has that one thing they are famous for. Their claim to fame that puts them on the world map. For some it is a world-famous sports team, others it is a historical location, still some gain fame from the presence of rare exotic animals.
For Island County, it is our mussels.

No, not the Emerald Cup kind of muscles we didn't make a typo, we mean our Penn Cove mussels.

The History of Penn Cove Mussels
You may not know this, but Island county is home to the oldest and largest mussel farm in the United States (and maybe the world).  Penn Cove Mussels, Inc. began culturing mussels in 1975 with the desire to harness the cove's naturally nutrient-rich water to harvest bigger and better mussels than the ones currently available. The results were incredible! Penn Cove mussels grow at a remarkable rate, enabling the mussels to reach harvest size within one year. This rapid growth rate causes Penn Cove mussels to have a firmer texture, sweeter flavor, and a thinner shell with more meat. As you can imagine, it makes them quite a crowd-pleaser.
Whidbey Island's proximity to Seattle and the Sea-Tac Airport mean these wonderful shellfish don't have to be a local secret. Instead, these mussels are quickly air-shipped all over the world for others to experience and enjoy. Mussels harvested in the morning are on the lunch plates of Seattle seafood lovers by that afternoon and dinner entrees in Houston by the evening.
Celebrated with a Festival
35 years our Penn Cove Mussels have been celebrated with a festival. The original celebrations consisted of a community chowder contest that has morphed over the years into 3 days' worth of activities and fun. The most recent events have attracted more than 6,000 mussels enthusiasts from far and wide. This event alone significantly helps the local merchants recover from the slow winter months.
Musselfest festivities typically kick off on a Friday with the "Mussel Mingle." This is a time where people gather at the Coupeville Recreational Hall to enjoy food, drink, and music. The next two days are packed full of mussel cooking demonstrations from incredible Seattle chefs, the massive mussel chowder competition involving 16 different local restaurants, the mussel eating competition, tours of Penn Cove Shellfish, Inc., a mountain bike event ("Mussels in the Kettles") and more!
Musselfest is a massive community affair that requires all hands on deck to pull off. Dozens of volunteers from all over Coupeville donate their time, finances, and resources to make this festival work. For the past few years, Windermere Whidbey agents have volunteered their time at the Waterfront Beer Garden where they serve up some great local ale while listening to amazing local musicians.

Unfortunately, like most events, the Penn Cove Musselfest was canceled due to Covid this past year, but the long-standing love for the festival carried on with the traditional T-Shirt and posters for all of the collectors. Past posters can be purchased here while supplies last. 
The 2022 Musselfest is anticipated to take place March 4th, 5th, and 6th pending the state of Covid and guidance from the state and county. Click here to check the status.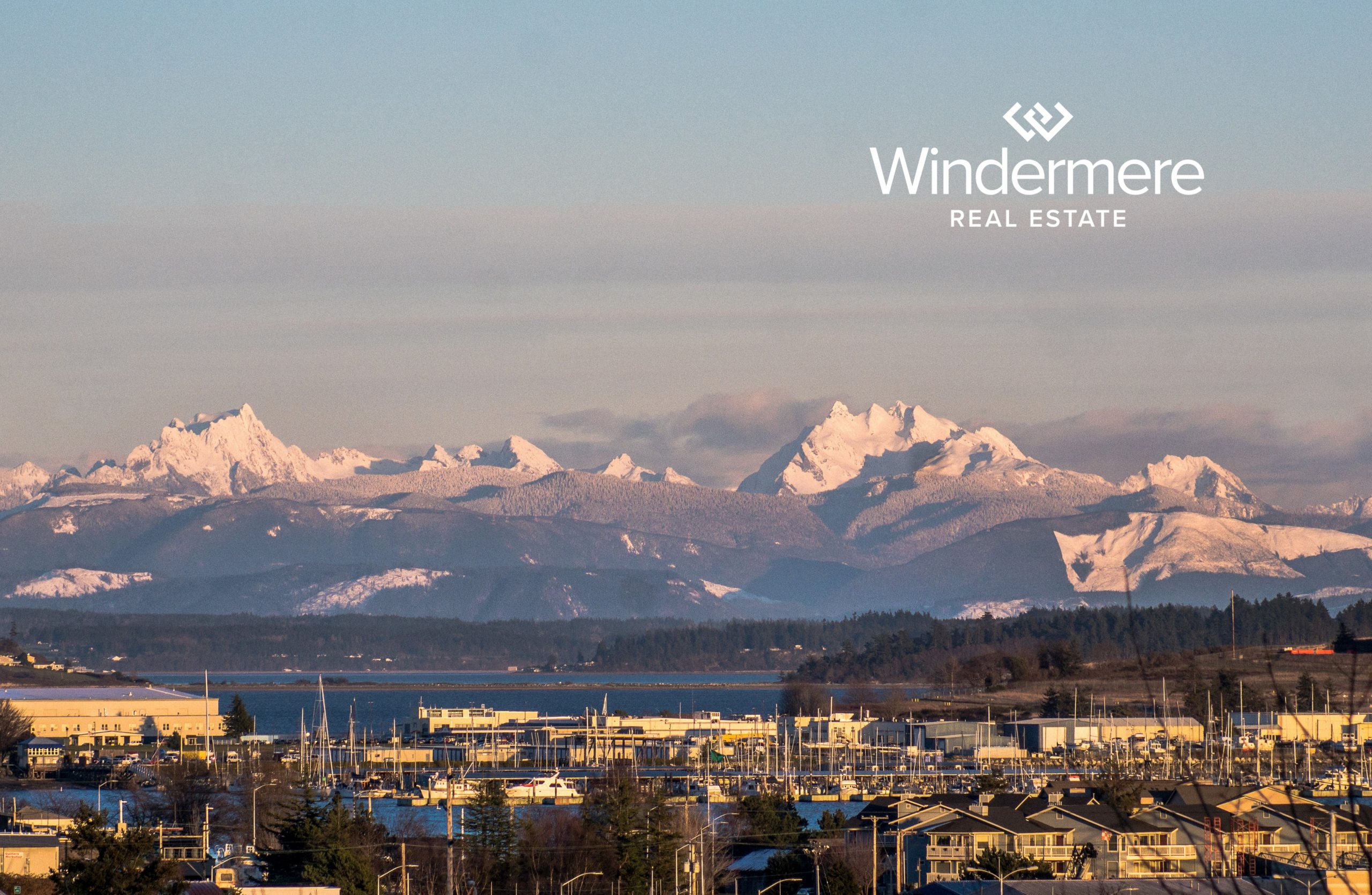 In this amazing shot by Willie Shaw at Team Shaw Photography, you can see the actual harbor of Oak Harbor, the marina, Maylor Point with its iconic white radar dome, the spit to Polnell Point, and the snow-covered Cascade Mountains. Phenomenal views like this one can be seen while driving all over Whidbey Island. Winter makes these vistas even more stunning by providing clear air and snow-capped mountains in every direction. This is just one of the reasons a drive down the length of Whidbey is designated as an official scenic byway called the "Whidbey Scenic Isle Way".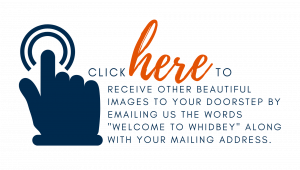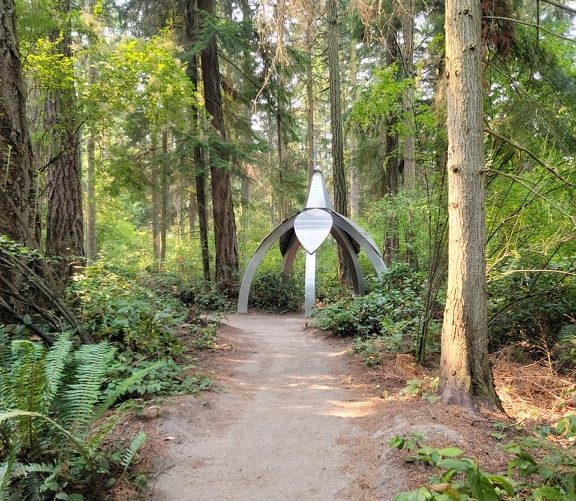 After purchasing 15.1 acres in 2008 conservationist Scott Price and his family decided to develop their home elsewhere. After doing so they journeyed down a long road of determining what to do with the property before concluding a sanctuary where art and nature entangle as one. After years of dedicated time and development, they unveiled The Price Sculpture Forest to visitors on October 23, 2020.
Initially…
the community's solution to the Prices issue was to clear cut the forest to create clear views of Penn Cove and Mount Baker then subdivide it for residential development. Price's inner conscious could not allow that to happen. Price had other plans. Price wanted to conserve the property and protect it for years to come. While it would be a challenging road ahead Price rolled up his sleeves and got to work. After reaching out to the Whidbey Camano Land Trust who reached out to the US Navy to aid in preserving the property a creative plan had begun to make Price's dreams a reality. Price purchased two smaller adjacent parcels bringing the total property to 16.3 acres.
The solution…
The Price Sculpture Forest. A place where visitors are welcomed to the property to experience a magical place where nature and art entangle as one. As you walk down the trails you encounter art exhibits, many of which play on the existing natural habitat. A prime example is Nature's Keystone by Anthony Heinz May who used a fallen tree and cut up bits of one end into square blocks designing the fallen tree to look like a living masterpiece exploding right out of nature.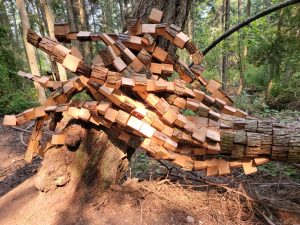 Turn another corner and come face-to-face with Tyrannosaurus Rex a driftwood masterpiece by Joe Treat that might catch you off guard.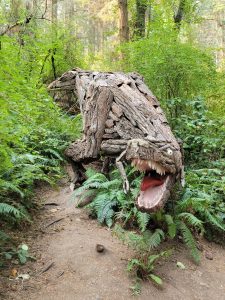 Feel in awe as you walk beneath the Flying Fish by Daniella Rubinovitz and wonder how they got the incredible piece of work up there.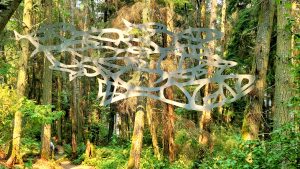 The best part of the journey is that the park is still growing. You might find yourself lucky enough to meet an artist on your trip like we did.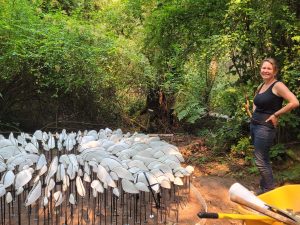 Visitors and residents alike find continued joy from Prices' selfless act as they return to the sanctuary to be close to nature and enjoy the local art exhibits. This is just one of the many gems that make Whidbey Island such a unique and wonderful place to live. If you enjoy this you might also enjoy visiting the Earth Sanctuary between Freeland and Langley.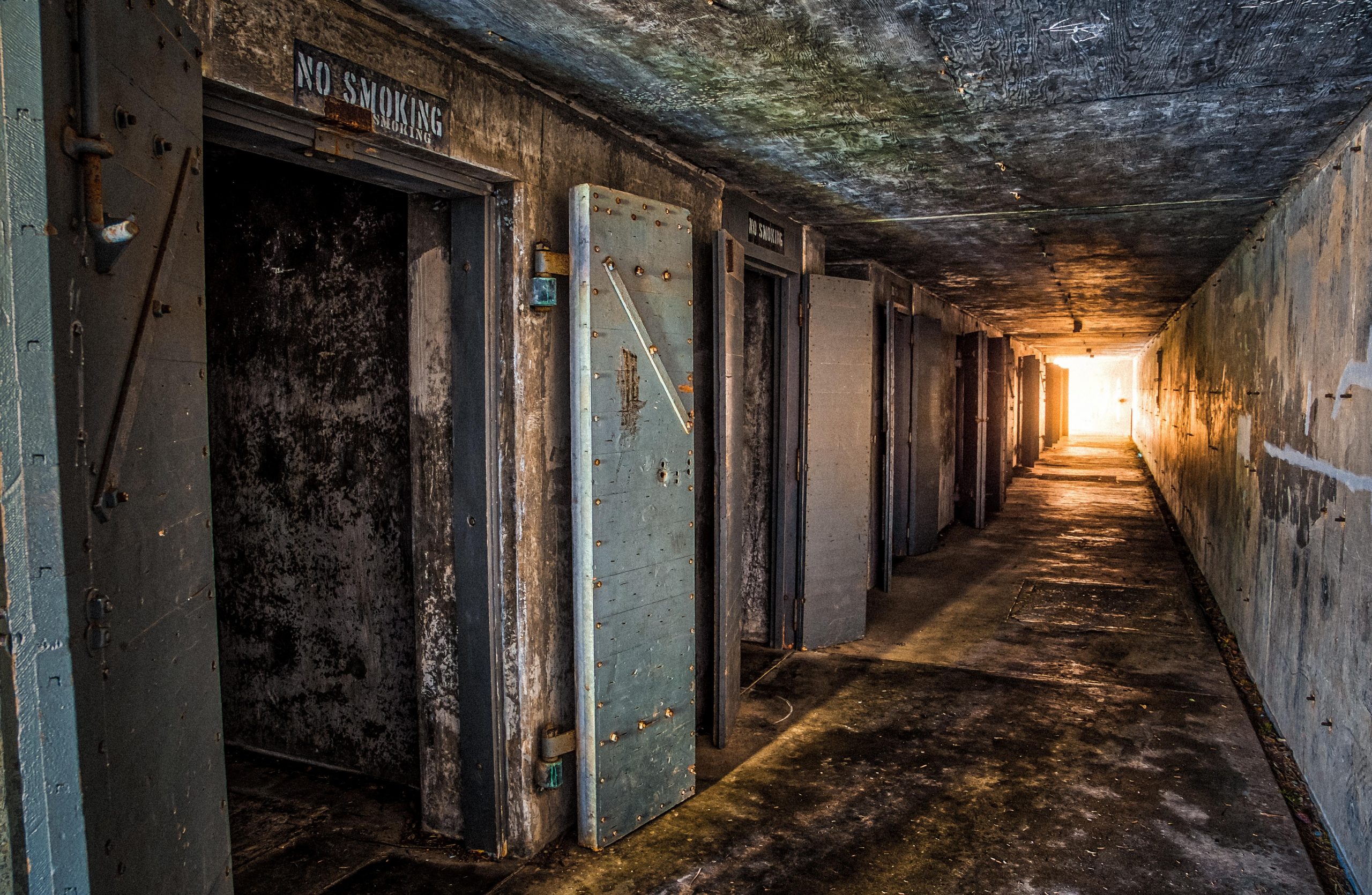 Treading toward the pinhole of light at the end of the dark tunnel, you hear the creak of an old metal door as it's caught by a slight breeze. Your steadiness escapes you as you break into a firm sprint until your eyes see the safety of the trees and vista. It's hard to keep your imagination at bay when visiting Fort Ebey's eerie bunkers. Built in 1942 as part of the coastal defense system for World War II, Fort Ebey was home to a state-of-the-art battery with two 6-inch guns. When its usefulness ran out, the property was purchased by the state who chose to keep elements of the old battery when opening up the park, making it possible for thousands to explore and enjoy these thrilling bunkers every year.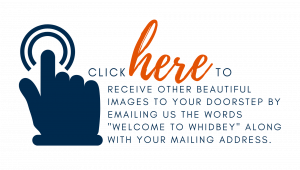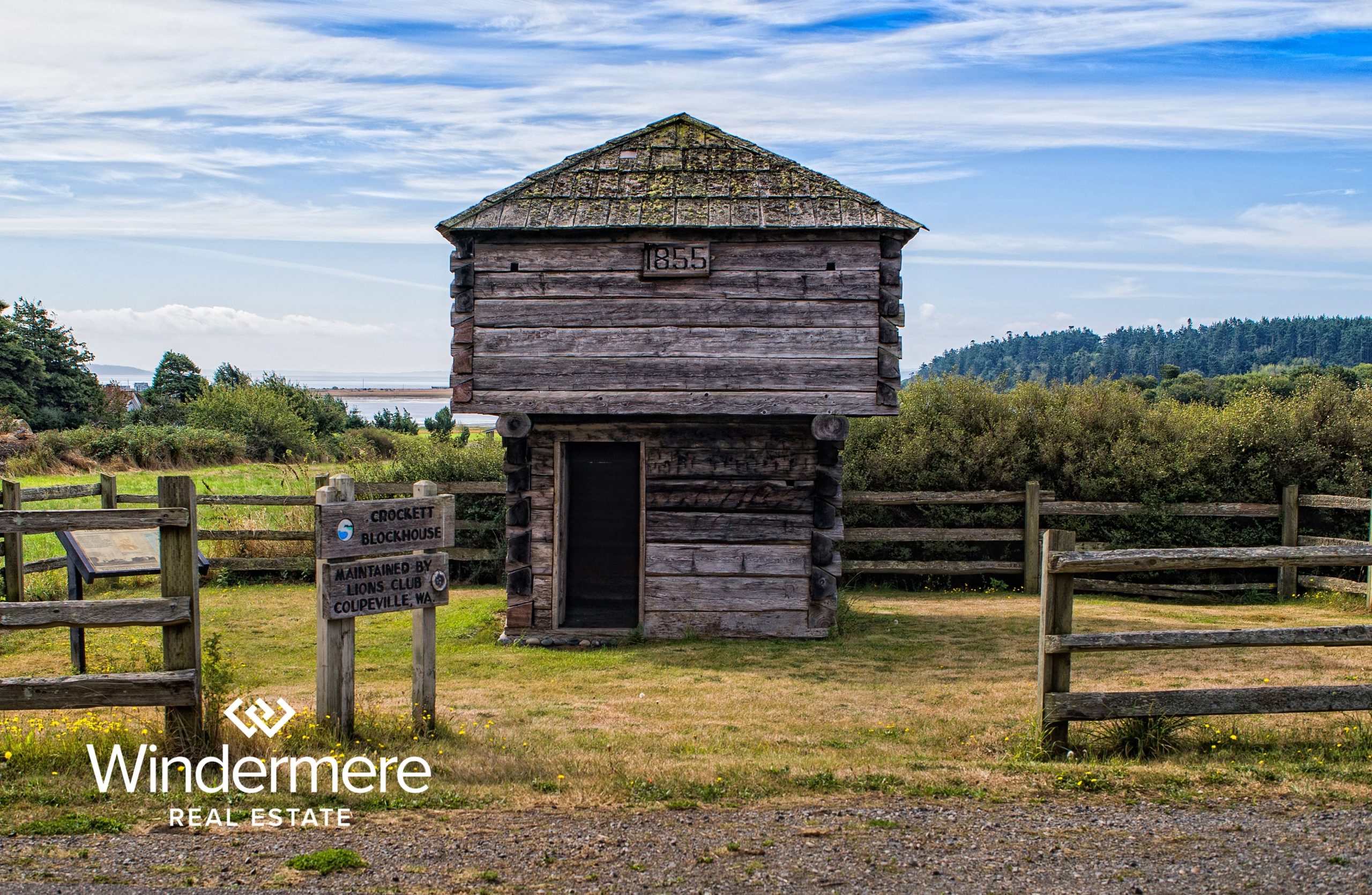 In the late 1850's, word of the Indian Wars came to Whidbey Island encouraging settlers to construct blockhouses as an effort to protect their families and land. After several other blockhouses were built by other settlers Col. Walter Crockett built his own in 1857. These houses were small two-story buildings built with logs placed horizontally parallel to each other. The top story was considerably larger than the bottom with numerous gun ports to provide visual access from all directions.  
Luckily, no war or invasion ever transpired and the blockhouses were never used for their intended purposes. Many became storage locations for goods and one even became a law office. Over the years many were repaired and transformed into historic monuments.
Today, the Crockett blockhouse is one of four that remain part of the Ebey's Landing National Historic Reserve and have been maintained to preserve this piece of history. 
Check out the rest of Whidbey's beautiful destinations from this series here.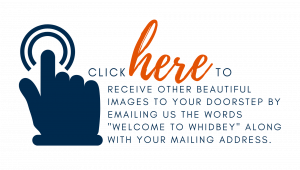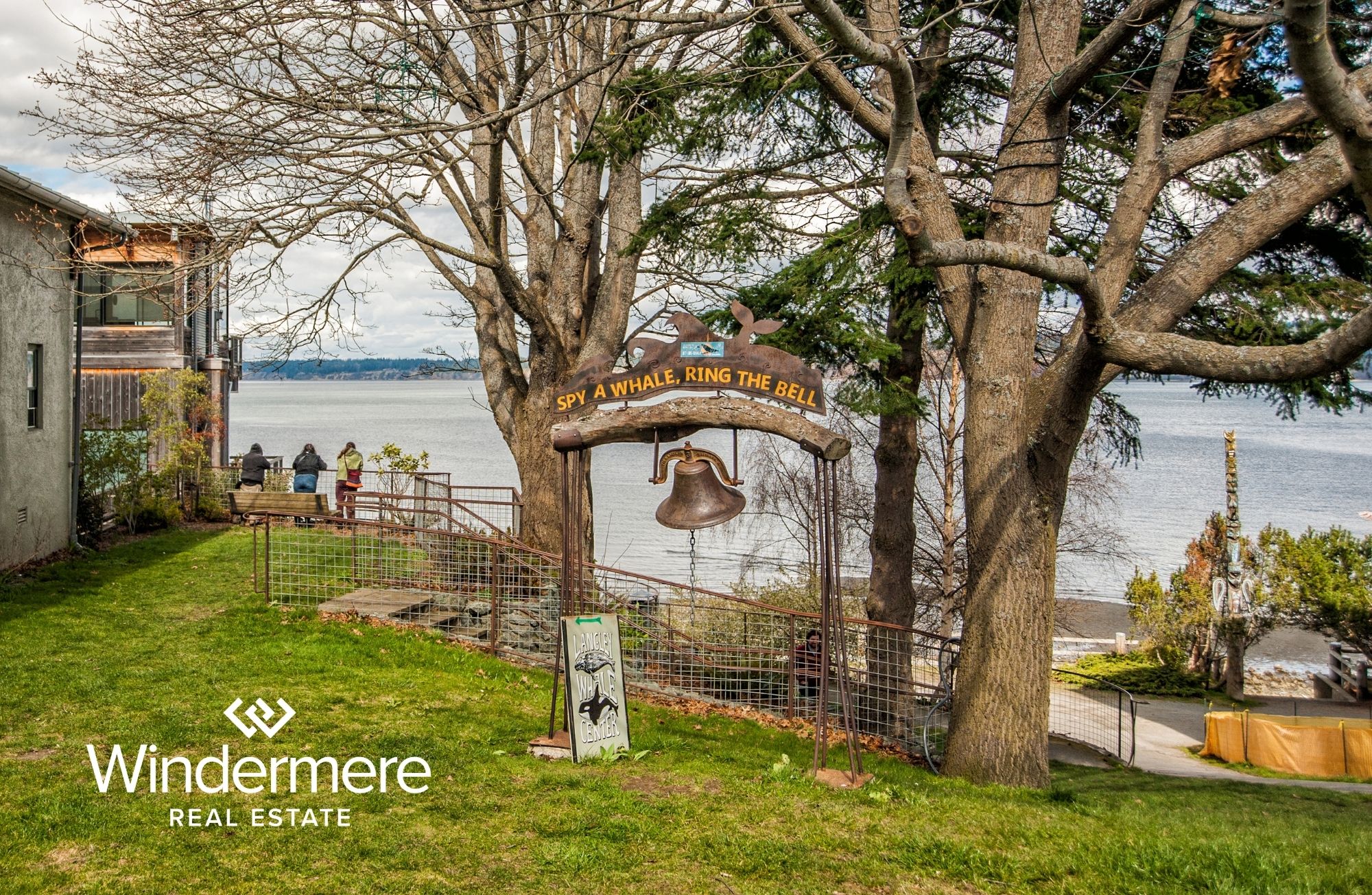 Spring brings with it a special excitement for Whidbey. As the waters warm, we welcome back one of our favorite travelers; whales! Orcas and Gray Whales grace the Puget Sound waters every spring on their migration to the wild waves of Alaska.
Luckily, sightings are not at all uncommon on the island. To commemorate the love we have for these ocean friends, both Coupeville and Langley have erected what is called a "Whale Bell." These bells have a simple instruction: "See a whale, ring the bell." These bells serve as both a monument to the whale's impact on our island culture and a creative way to notify others of the whale's presence so they can also look out and see! So next time you're at the water's edge, keep a keen eye on those beautiful blue waves.
Check out the rest of Whidbey's beautiful destinations from this series here.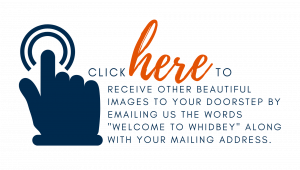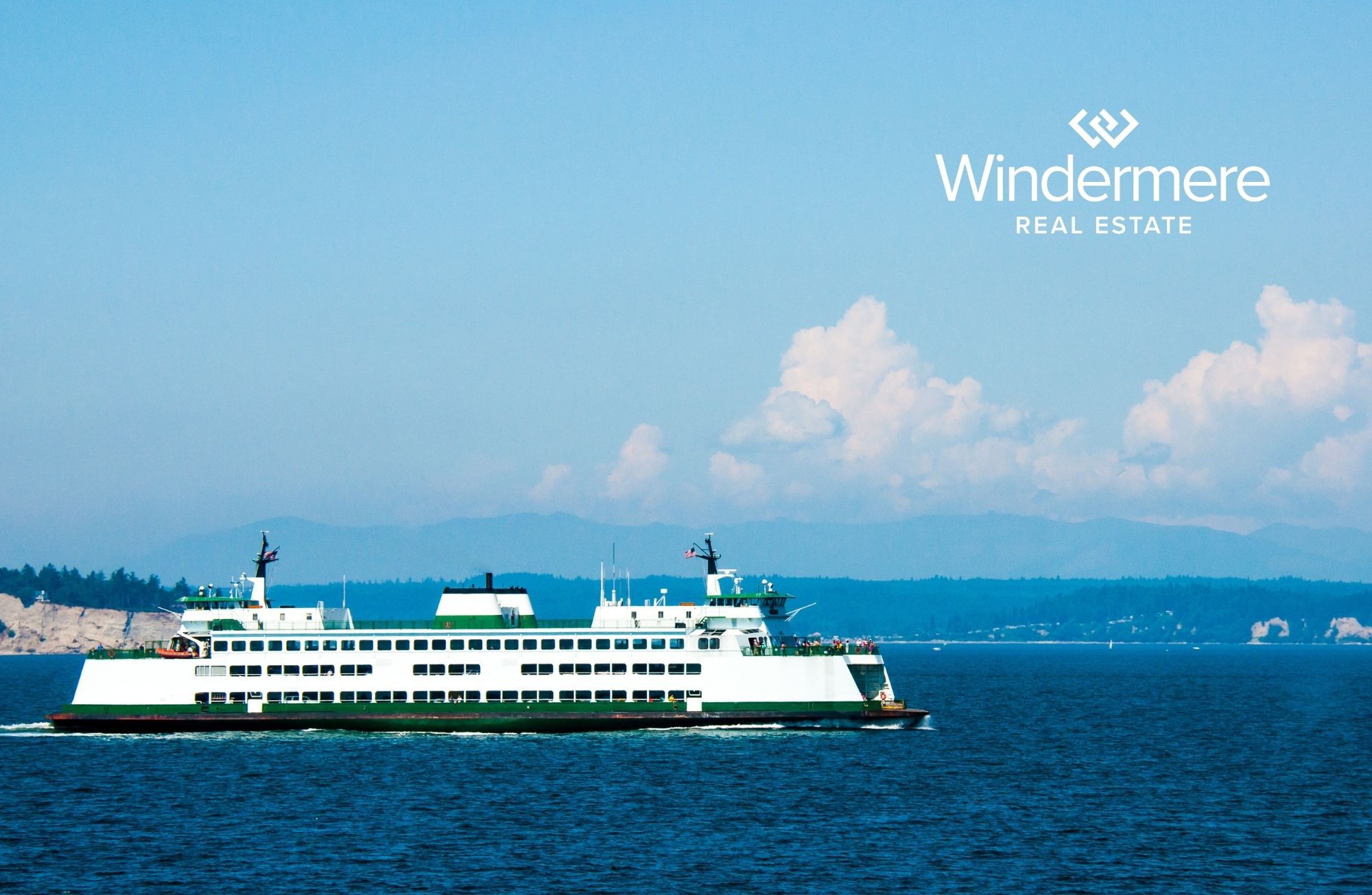 The Mukilteo/Clinton ferry has dutifully sailed the waters of Puget Sound to transport passengers from the busyness of the mainland to the serenity of Whidbey Island for over 100 years. Originally started in 1919 by the Island Transportation Company it remained primarily within the private sector until the formation of the WSDOT Washington State Ferries in 1951. Today, the Mukilteo/Clinton route is run by the State and is the 2nd most utilized ferry route in the Puget Sound, transporting over 4.1 million people annually. While on this 20-minute commute, enjoy a snack from Ivar's in the cafeteria while relaxing and taking in the picturesque view. You might even get lucky enough to see a whale! 
Check out the rest of Whidbey's beautiful destinations from this series here.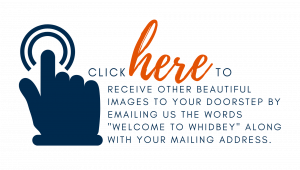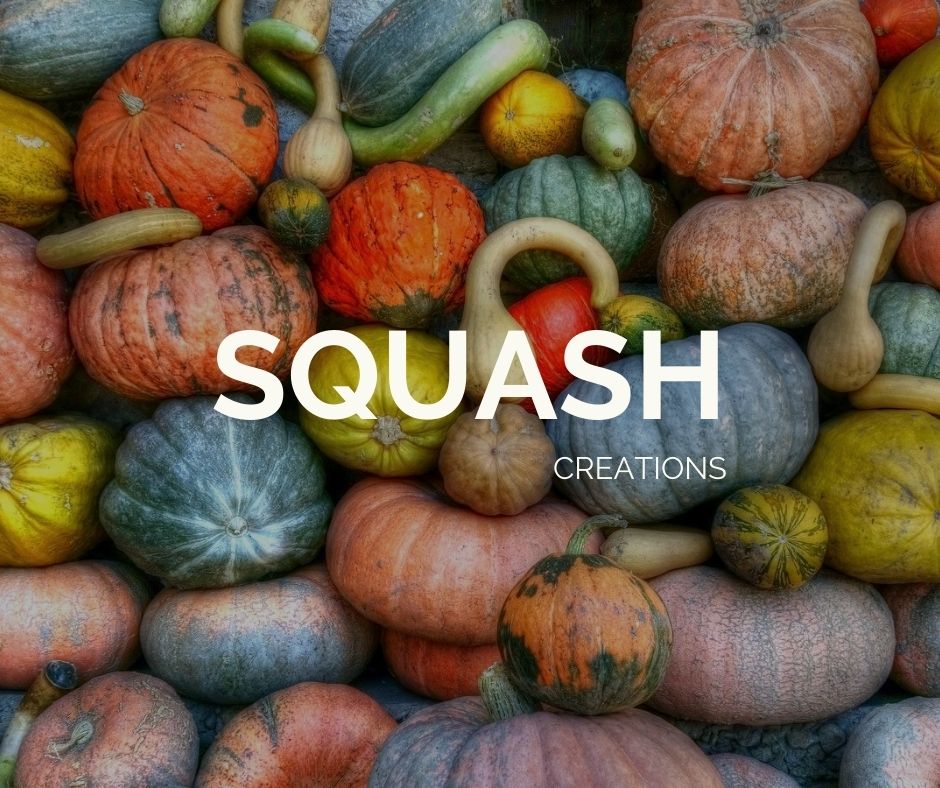 It is that time of year when the fruits of our labors begin filling up not only our dinner plates but also become an integral part of beautifying the spaces around us. You guessed it, we are talking about SQUASH.
If you are anything like some of these green thumb agents, you have spent the past several months pouring your heart and soul into your garden prepping to produce these beautiful and tasty gems. But it is quite possible that you now have so many you do not know what to do with them. If that is the case keep reading for places you can donate your extras…. like my office.
Perhaps you are more like those of us that take advantage of the local Farm to Table programs our local farm community has to offer. You may have begun to receive these tasty treats in your special boxes. Keep reading to discover one of my favorite recipes.
BUT….maybe your most like me and you are… "Growing them…well… in the grocery store". Let's be honest autumn is my favorite time of year, but I wasn't blessed with a green thumb. I am more like a big kid eagerly waiting for Shermans Farm to open so I can enjoy the full experience of finding the perfect squash for tonight's dinner. I like sipping my warm cup of cider while riding on the tractor taking in the beautiful Whidbey farm views and snapping pictures of my kids next to the biggest pumpkins they can find.
Regardless of who you are, there is one thing we all have in common this season. We will all come into contact with SQUASH!
The majority of people will likely only use them as decorations, and that is ok. There is no denying these power-packed veggies are beautiful and studies show that sprucing up the space around you will make you feel happier. So, first things first…
Let's Get Crafty:
CENTERPIECE
It can take as little or as much creativity as you desire. Place a variety of squash together with some leaves, flowers, candles, or acorns to spruce up your gathering space. For more inspiration follow one of our favorites local to our area: Erin Benzakein, founder of Floret. Floret is a Skagit Valley family-owned farm and seed company and New York Times Best Selling Author of A Year in Flowers for tutorials on arrangements.
OVERSIZED ACORN WITH ACORN SQUASH
Supplies you will need:
Hot Glue Gun
Hot Glue
Twine
Acorn Squash
Begin by placing a dab of glue at the top of your squash. Make a loop in the twine and attach the top of your squash. Place glue around the top ¼ of the squash and being laying your twine in a circular motion starting at the stem and continuing down to a ¼ of the squash, carefully laying each layer of twine up against the last.
---
For the Tummy:
Most importantly, squash provides a plethora of nutrients for our bodies. It is quite literally called a power-pack veggie. They are high in Vitamin A, B6, and C, folate, magnesium, fiber, riboflavin, phosphorus, and potassium.
The best thing about squash is that there are so many ways to eat it. I love it SO MUCH I am attaching one of my simple favorites.
BAKED ACORN SQUASH WITH BUTTER & BROWN SUGAR
Serves: 2-4     |      Preparation: 10min     |     Cooking: 1 HR 15 min
Ingredients:
1 Acorn squash

1 Tbsp Butter

2 Tbsp Brown Sugar

2 teaspoons Maple Syrup

Dash of Salt
DOWNLOAD THE FULL RECIPE CARD HERE!
---
Uplift the Community with Your Extras:
With all joking aside, if you have been blessed with having too much squash this year, the North Whidbey Help House in Oak Harbor, and Good Cheer Food Bank in Langley would love to have your donations.
Stay blessed. Have a favorite squash recipe or idea you want to share? Let us know in the comments below.
If You Enjoyed Reading This You Might Also Like: