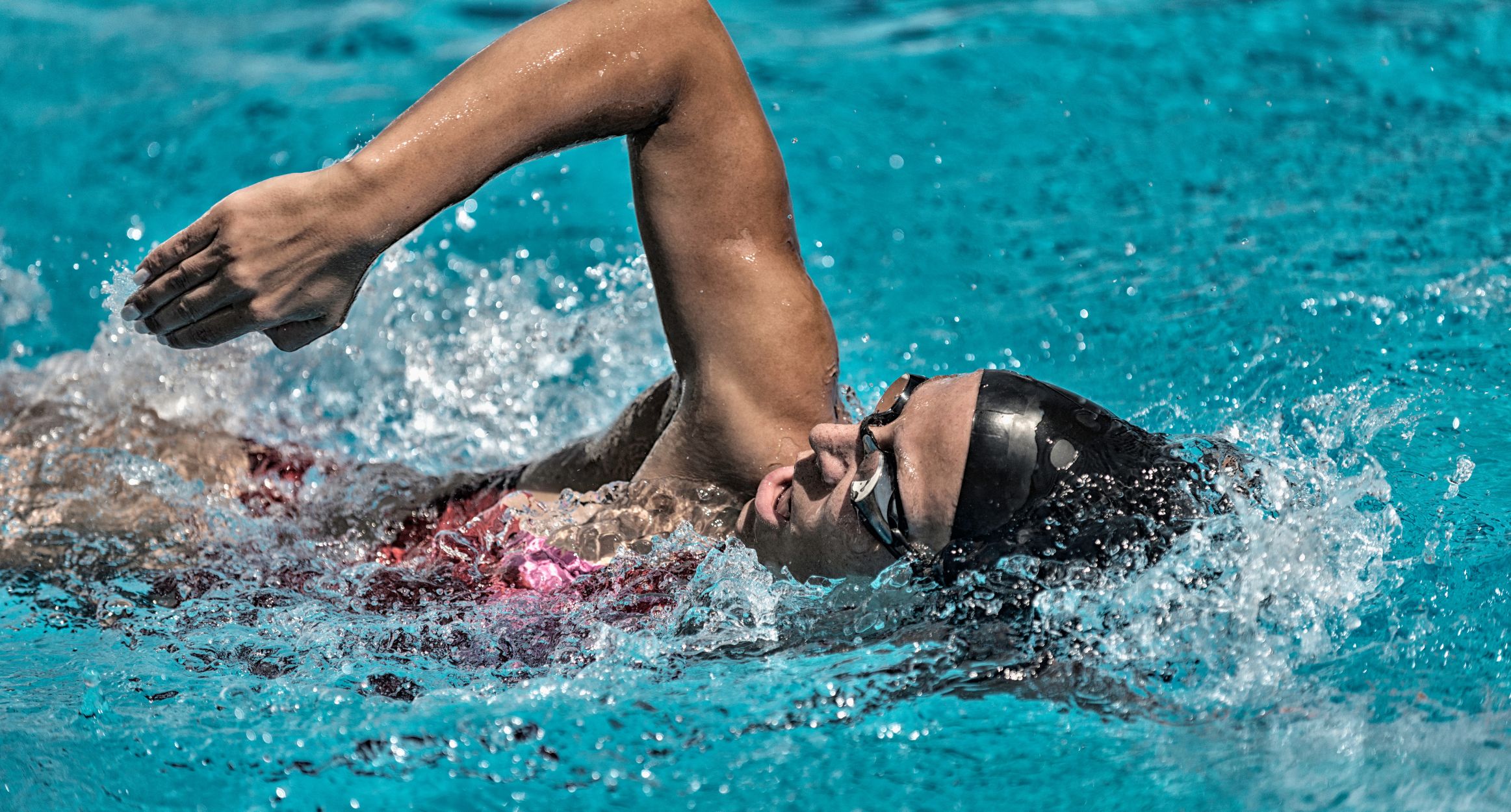 It is summer, time to jump in the pool! How better to cool off? Autumn? Sure. Get a few laps in before winter. Winter? Soak up some of that warm water from a heated pool. Spring? Summer's just around the corner, time to get in shape. Swimming pools on Whidbey? It makes more sense the more you think about it. Whidbey is an island, surrounded by water. Don't ignore it. Jump into it. Safely, of course.
Whidbey Looks A Little Different: 
Fly over some neighborhoods in the US and see blue splotches covering backyards with open-air pools scattered among the houses. A few outdoor pools exist on Whidbey, but they're rarer. Maybe that has something to do with trees and their needles or leaves. Rain doesn't bother swimmers. And, lightning is rare here.
The most obvious pools may be the ones you hear about but can't see while driving around. Many pools are indoors, like the one off Midway in Oak Harbor. The Navy base has at least one. Year-round swimming happens.
Visitors may relax in pools if their hotel has one.
Pools on Whidbey:
Between the two extremes of municipal and individual pools are the neighborhood ones. Several neighborhoods come equipped with large pools. Indoor ones may be year-round. Outdoor ones may be more seasonal. If you're not a resident of that neighborhood, see if you can buy a membership, like at a country club; or, maybe you can buy a recreational lot that is hard to build on, but that grants you amenities.
Each pool has their differences. 
| | | | | |
| --- | --- | --- | --- | --- |
| John Vanderzicht Memorial Pool | Oak Harbor | public | indoor | classes, aerobics |
| Admiral's Cove | Coupeville | neighborhood | outdoor | |
| Bon Air | Coupeville | neighborhood | outdoor | |
| Island Athletic Club | Freeland | club | indoor | classes, sauna |
| Useless Bay Golf & Country Club | Langley | club | outdoor | golf, tennis, dining |
| Scatchet Head | Clinton | neighborhood | indoor | |
| Sandy Hook Yacht Club Estates | Clinton | neighborhood | outdoor | marina |
| | | | | |
Personal Pools: 
And yes, some houses have outdoor pools, but some have indoor pools. Some even have pools that can be indoor or outdoor depending on whether they roll back a wall. 
If you really want that luxury (or necessity for some) of having a pool at your place, talk to the County about building one. Be prepared for permits and lots of rules. Or, find a house for sale that already has one and buy it, the house, that is. If you aren't already working with an agent and need one to help you search connect with us here. 
In Addition to Pools: 
Keep in mind though that when talking about swimming you may find people who skip the pools and use nature's waters. Lakes get you the fresh water experience, without having to worry about tides. Or, use the waters that define the island's borders, Puget Sound, the Salish Sea, our bit of the Pacific Ocean. A hint, though, find other swimmers and officials who know the currents, depths, restricted areas, and boat traffic issues. And make sure you've got the gear and dry clothes for our perpetually cold waters (~50F). 
You may not see swimming opportunities  until you look for them, but an island in a temperate part of the world can provide plenty of opportunities and options to swim for fun or exercise or both.
If this article got you thinking about moving to a community with a pool or about buying a home with a pool consider reaching out to your agent today to start the discussion. If you are not currently working with an agent and would like to be paired with a trusted realtor connect with us here so that we can get your questions answered.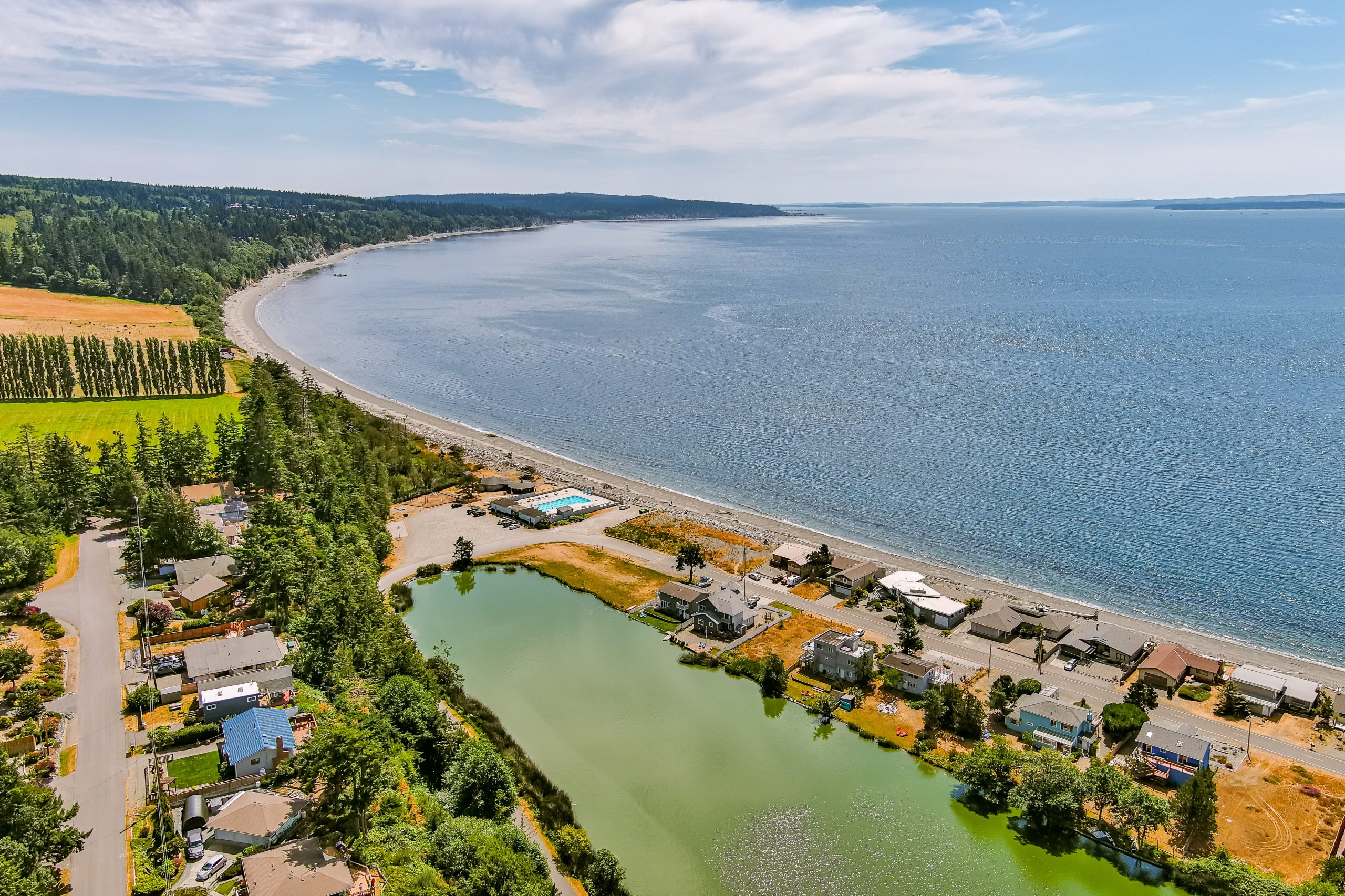 Located on the West side of Whidbey Island just South of the Port Townsend – Coupeville Ferry Landing discover Admirals Cove. It is the largest congruent neighborhood within the Coupeville zip code. Admirals Cove offers some of the most affordable properties in Coupeville, with a wide variety of homes built in various stages from the 1960's to today, along with a plethora of amenities. It might come as a surprise as you enter the neighborhood from highway 20 to discover waterfront properties as you head down the hill. Want to learn more about the neighborhood? Click here.
Equally surprising, Admirals Cove does NOT have an HOA. Interestingly, the neighborhood operates as a club.  In 2011 it was ruled that Admirals Cove could not be an HOA because it allows people to be associate members when they don't own property in the community. Property owners however do not have an option to opt out of being a member of the club. Their dues directly impact projects like their latest one shoring up the bulkhead between the pool and the beach.

Admirals Cove is the Place to be if You are Looking for Amenities
We spoke about west facing properties before in our article, "What View is Best on Whidbey Island" where we explained why West-facing properties are some of the most sought after on Whidbey. The extra sun exposure in West-facing neighborhoods explains why the neighborhood includes amenities like a pool, beach access, shelter, playground and more to soak up the sun when others do not.
The Community Pool
Admirals Cove is recognized as one of the few community pools on Whidbey Island. Intriguingly, the pool is right on the beach and has been here for over 50 years. It has recently been remodeled and is open for use between May 28 – September 5 in 2022. As an added benefit, they offer swim lessons in the summer for members and non-members.
Beach Access
Park next to the pool and enjoy the beach just a few steps away! Check out the latest tide heights here https://www.tide-forecast.com/locations/Admiralty-Head-Washington/tides/latest.
Shelter and Playground
Next to the pool is a spacious shelter/enclosed gazebo that is available to rent for parties if you are a member. Restrooms, Wi-Fi, grills, picnic area, horseshoe pit, firepits, and a nice playground are all included.
In the Surrounding Area
Admirals Cove central location creates an opportunity for all sorts of adventure. Less than five miles north includes places like Fort Casey State Park, Crockett Lake, Price Sculpture Forest, and the Port Townsend Ferry with Greenbank Farm just over 5 miles south.
Does Jet Noise Bother You?
Keep in mind that OLF or the Navy's Outlying Field is nearby. The noise from jets practicing their touch and go's is not for everyone so we encourage people considering Admirals Cove to experience it for yourself. You can see what the upcoming schedule is on this website https://www.cnic.navy.mil/regions/cnrnw/installations/nas_whidbey_island/news/news_releases/field-carrier-landing-practice-at-nas-whidbey-island-complex-for.html
For more information visit the Admirals Cove neighborhood website here https://www.acbc-whidbey.org/index.html.
Find Admirals Cove on