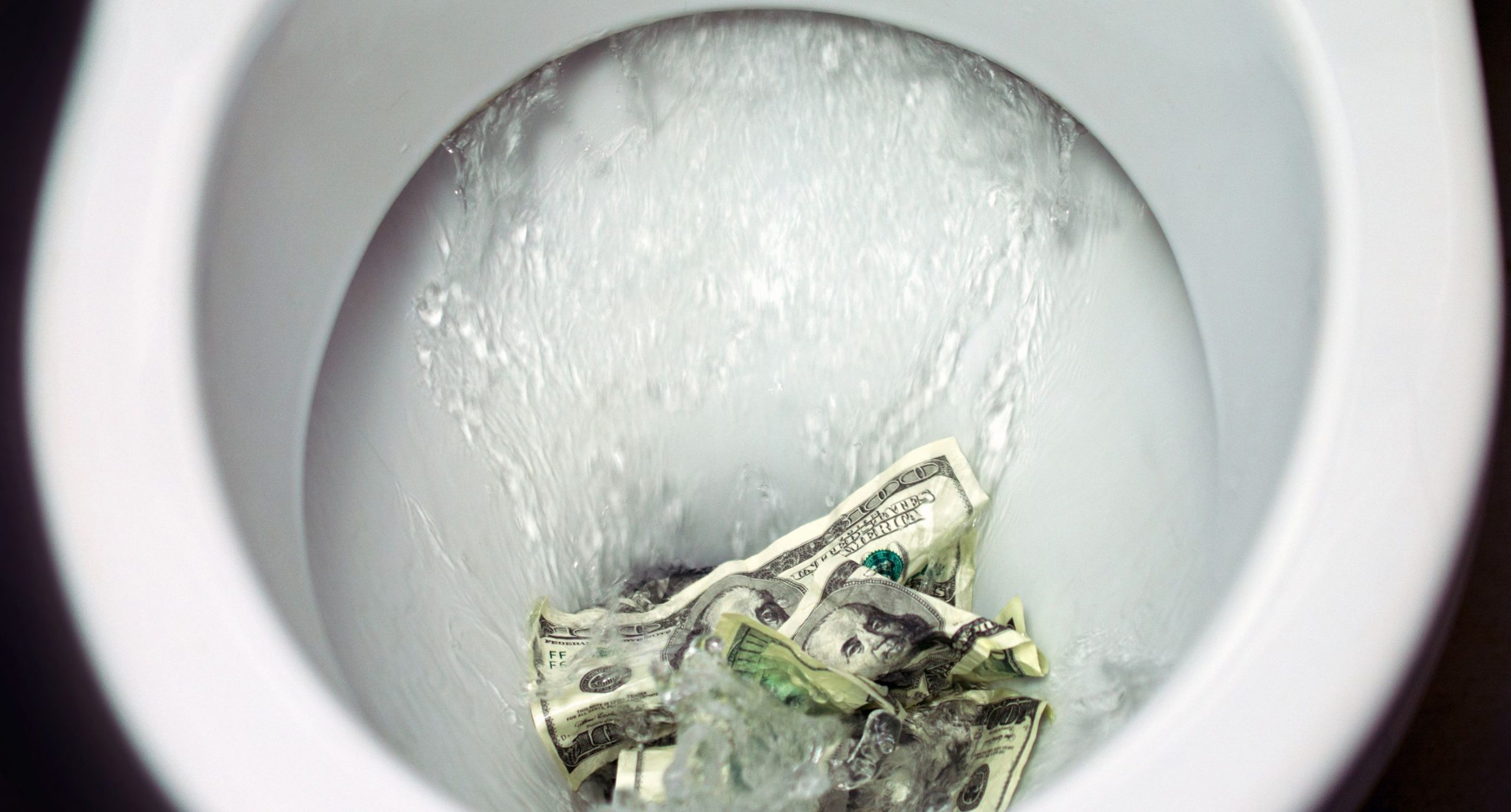 You are probably asking yourself, "did I read that right?"
Yes, yes you did.
It is normal for sellers to want to get the most money out of the sale of their homes. It feels safe to list your home at the price you are desiring to get, but the reality is listing high might actually do your pocketbook more harm than good in the long run. Follow along as we explain why.
RISKS OF OVERPRICING YOUR HOME
You are drawing the attention of the wrong buyers.
Most people begin their home purchasing journey by searching which homes are available in their desired location online. Consider this. Your home is worth $500,000, but you list it for $575,000. When buyers are looking online, they filter to find homes within their price range and typically by $25,000 increments.  The person looking for a $500,000 home will never see yours and if they do they will believe it is out of their reach, and when the buyers looking in the $575,000 range see your home and compare it to others in that range, they will get the impression it is not worth it, and there are better options.
Fewer people will see your home.
When your home is overpriced, the issue can be detected by buyers just by looking at your online listing and will pass on viewing it in person. The more showings you have, the more legitimate interest there is, and the more likely your home is to sell. Showings give potential buyers an opportunity to see the home first-hand giving them the opportunity to imagine themselves living there.
On the other hand, if you get lots of showings because your photos look better than reality but no offers you've wasted your best shot at getting the right buyer through your home and you there are no redo's for first impressions. This leads us to our next point…
You are sending the "I'm an undesirable home" message to the public.
As people continue to look for a home and new buyers enter the market, they might see your home online, but by that time they will also see the "time on market". The longer your home sits on the market, the less attractive it becomes psychologically to everyone. Nobody wants the home that nobody else wants. Once it has lost its appeal the damage is done. You'll find yourself beginning to reduce your price and often end up at a price less than what the home could have sold for if it was priced right the first time.
In conjunction with price reductions, the longer your home sits on the market, the more expenses you incur. Consider mortgage payments, utility costs, lawn care maintenance, seller's fees, and more while you are trying to move out.
Your buyers won't be able to finance if it doesn't appraise.
Perhaps you drop the price just enough to intrigue a buyer but still above market level. Maybe you're lucky enough to hook a buyer. Then the appraisal comes back low. Now you either have to come down in price or lose the buyer and start over again, with 20-30 days more on market…
If you are considering selling your home and would like a complimentary analysis to determine the correct value of your home in this market connect with us to be paired with an experienced Windermere agent that can help you with your unique situation and avoid all the overpricing pitfalls.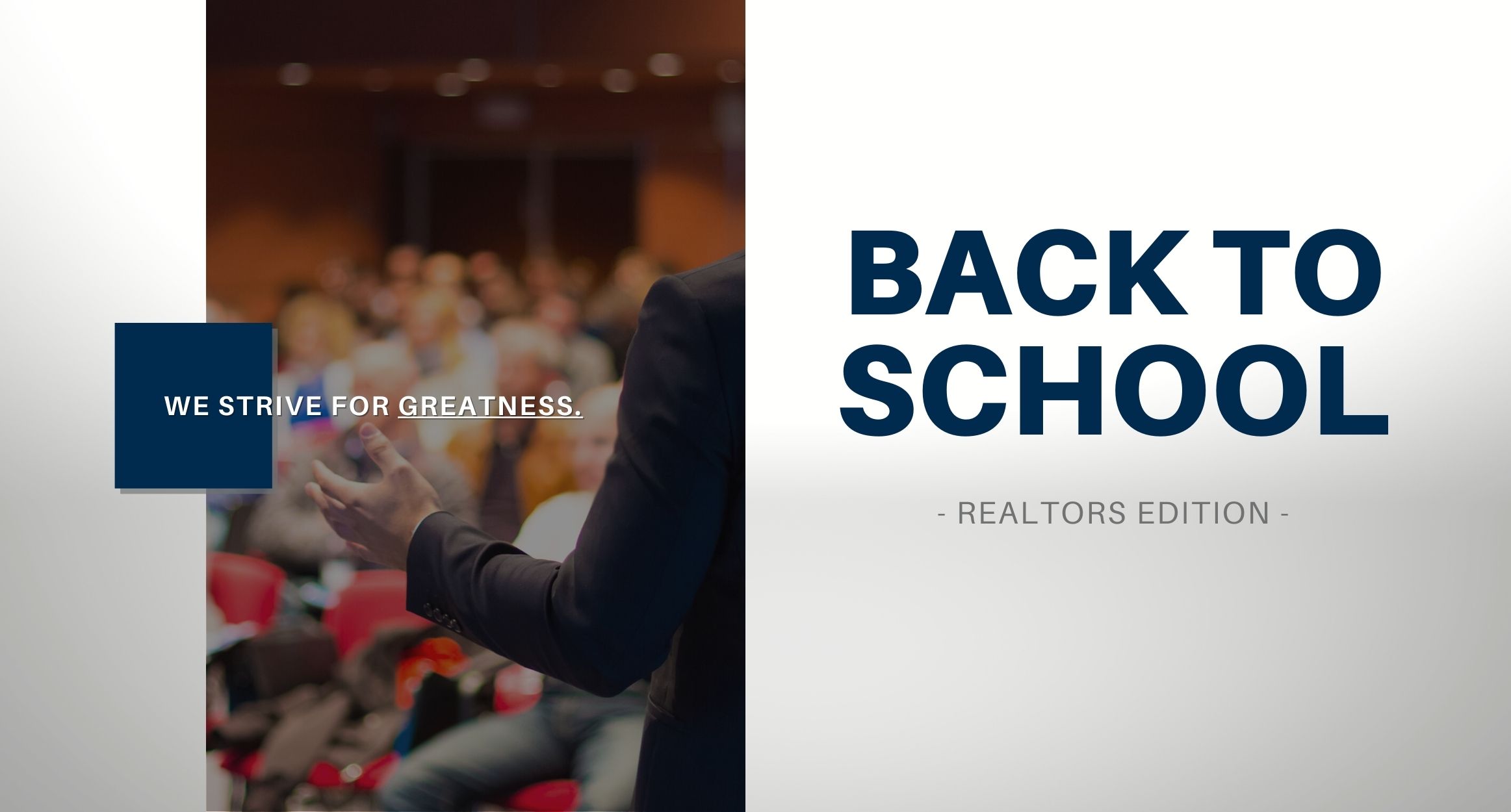 If you aren't a real estate broker you probably don't know that September doesn't just initiate back to school for our kids but as an industry, this is the beginning of conference season! This just means that Fall and Winter tend to be slower seasons and provide the best time for busy brokers to grab a block of hours or even a block of days to spend sharpening their skills. Great brokers are committed to being lifelong learners. They keep up with the ever-changing market, lending options, negotiating tactics, marketing techniques for properties, and the list goes on.
If you are a broker…
You may be looking for some great opportunities that are coming up in the next few months. We have collected a few that we think will be really worth your time. Take a peek and please let us know if we missed one of your favorites because we would love to add it to our list.
New Forms are coming SOON! Please take advantage of educational opportunities to study and familiarize yourself with the changes.
You can take one of the many virtual classes the NWMLS is offering here
Sept 16 noon-6pm at Swinomish Casino. NPSAR "Wow, What Just Happened" education day. 3.5 Clock hours.
Oct. 14, 9-3pm in Oak Harbor! Fair Housing Class, 6 clock hours
Ninja Installation Tacoma Dec 5-8 (Brokerage pays for 1st timers)! $1,100  Thinking about joining our team? Connect with us. 
Conference Opportunities:
Windermere Homecoming! $350 (plus accommodation and travel) Sept. 29-30
Inman Connect NYC Jan 24-26 $900
Denise Lones Prosperity Strategy California Nov 9-11, only 50 people! $3,500 w/ accommodation
NAR Conference Orlando Nov 11-13 $450
In addition to these great learning opportunities our brokerage brings in an expert speaker 2-3 times on topics from septic systems to negotiation tactics, from topics as unique as forestry management to ones that are pretty applicable on an island like shoreline processes and bluff stabilization. If you'd like to attend one of these trainings let us know! We'd love for you to be our guest in learning because the better we can serve our clients in this industry the better!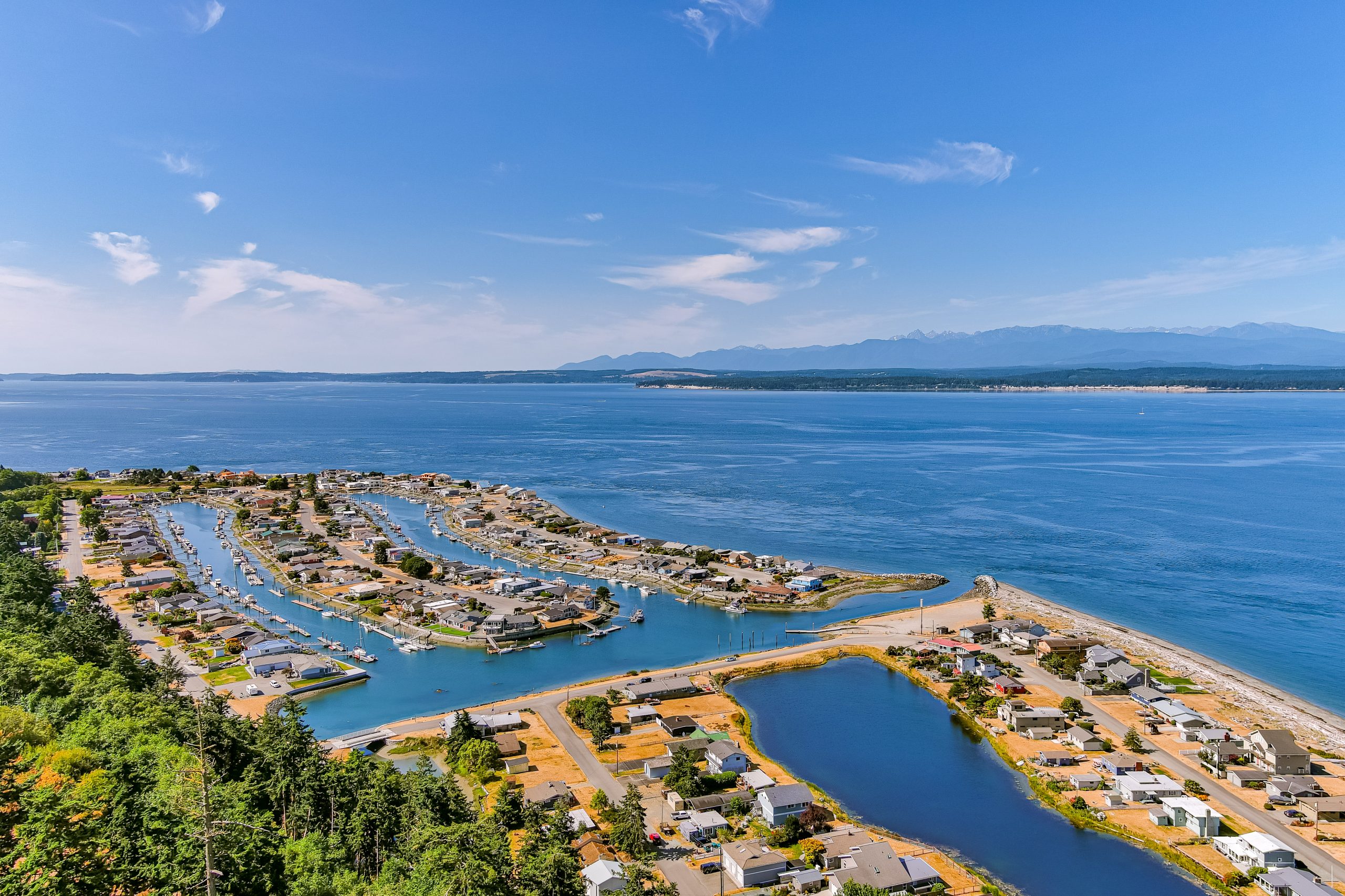 Lagoon Point is one of just three canal communities on Whidbey Island where you can dock your boat right in front of your home. This rare style of a planned community used to be a large salt marsh before developers pushed earth around, dredged, and carved out a canal from Puget Sound down to finger canals lined with floating docks and gangways connecting them to backyards. You can find this centrally located neighborhood on the coveted west side of Whidbey Island on the southern edge of Greenbank.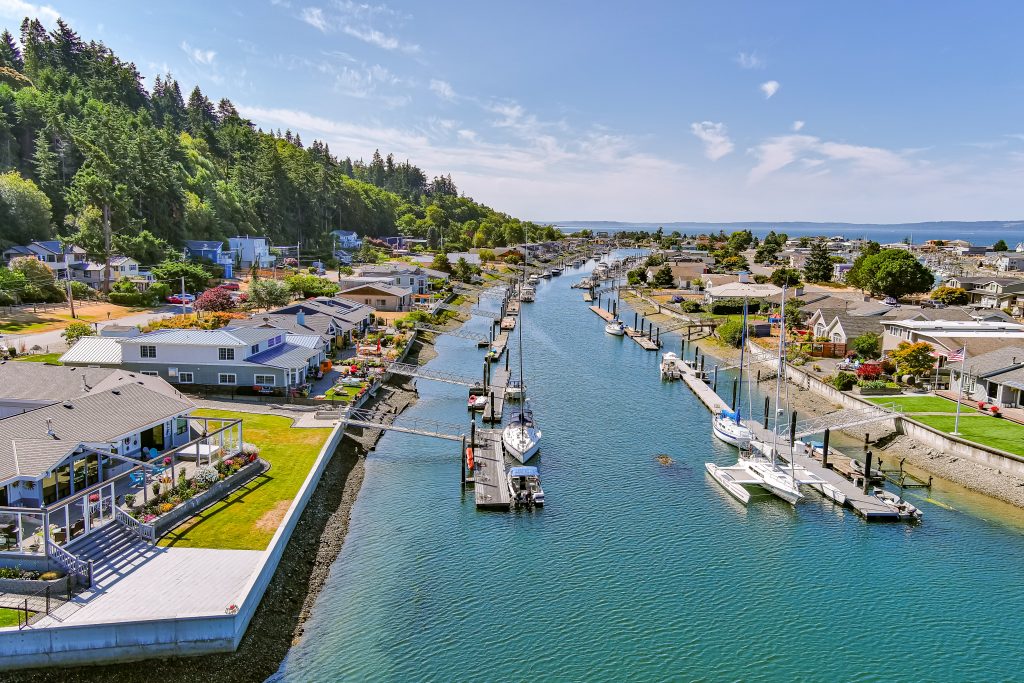 Boating Community:
Although only a small percentage of Lagoon Point community homes have docks in their backyards, most all partake in the gorgeous water views. Many of the homes are perched up the hill where they can enjoy heightened and expansive views while others surround the large lagoon (Lagoon Lake) on the north side. No one can argue that this is a very boating centric community. In fact, one of the very best boat launches can be found here and is only available to homeowners. An added benefit is that there is ample space to store your truck and trailer while you are out enjoying the sound.
Keep in Mind:
The only tricky bit with this canal community is that mother nature keeps trying to close off the mouth of the canal that leads to the Puget Sound. With that said, it is of the utmost importance to have an intimate understanding of how the spit is currently formed and at what depth tide you can safely navigate your vessel through it. Luckily, it is a very active neighborhood. One member has even provided drone footage of the opening on his You Tube channel so you can familiarize yourself! https://www.youtube.com/channel/UCXwDdeNtdeZWUnSFtfQ2Gaw
Only Bridge on Whidbey:
Lagoon Point likes to boast that it has the only bridge on Whidbey Island. Confused huh? Let us explain. There is a very serious bridge that connects the two sections of the lower part of the community that has both ends firmly planted on Whidbey where the Deception Pass Bridge obviously has one side on an entirely different island. Ha! If you can debunk this we would love to hear. Send us an email here: whidbeycommunications@windermere.com.
Check it Out:
For those just wanting to check out the community you can easily take a drive around. There is a narrow section of beach that is a public beach at the end of Salmon Street. Keep in mind it is privately owned tidelands on either side. One of the best depictions of this can be found in the gallery section of the communities very informative website https://lagoonpoint.com/gallery/.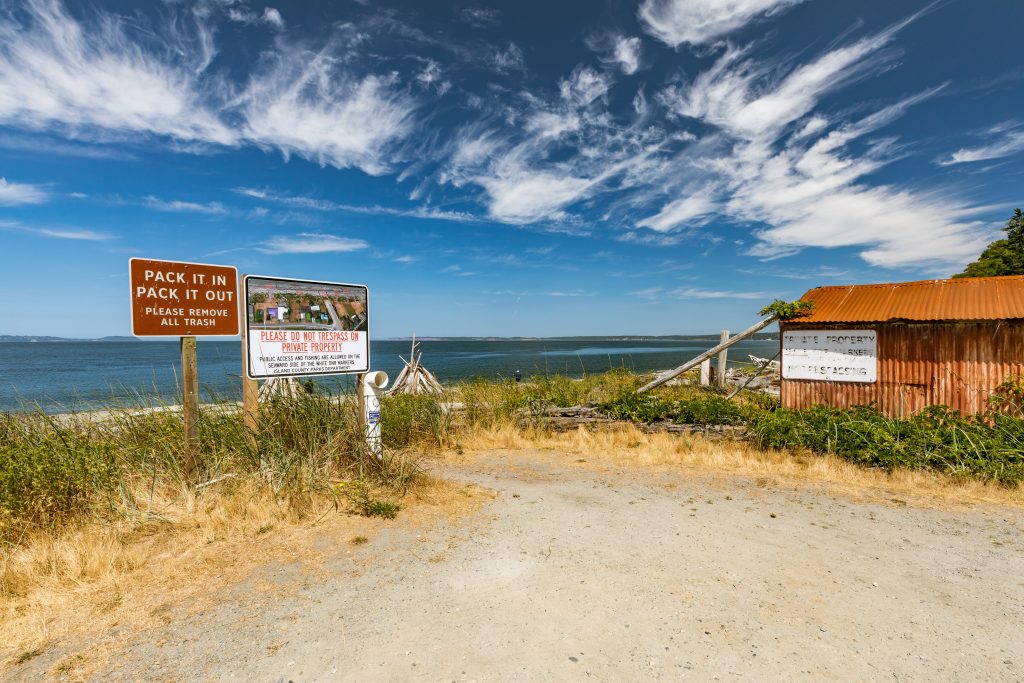 Close to Everything:
Being central on the island, positions the community only a couple of miles from South Whidbey State Park, less than 4 miles from Greenbank Farms, and less than 10 miles from downtown Freeland. Living in Lagoon Point offers you a plethora of opportunities to take a gorgeous hike or do your grocery shopping!
Considerations:
One consideration when investing in a canal community is that maintaining such infrastructure as a jetty, bulk heads, canals, 2 boat launches, and even a bridge can be expensive and hard work. A homeowner in this community needs to be prepared to invest in their upkeep and appreciate the work the volunteers on the board and committees take on. For instance, the new bridge installed in 2017 took 4 years and 100's of thousands of dollars. The last time they dredged it took almost a decade and just under 1 million dollars.
View this post on Instagram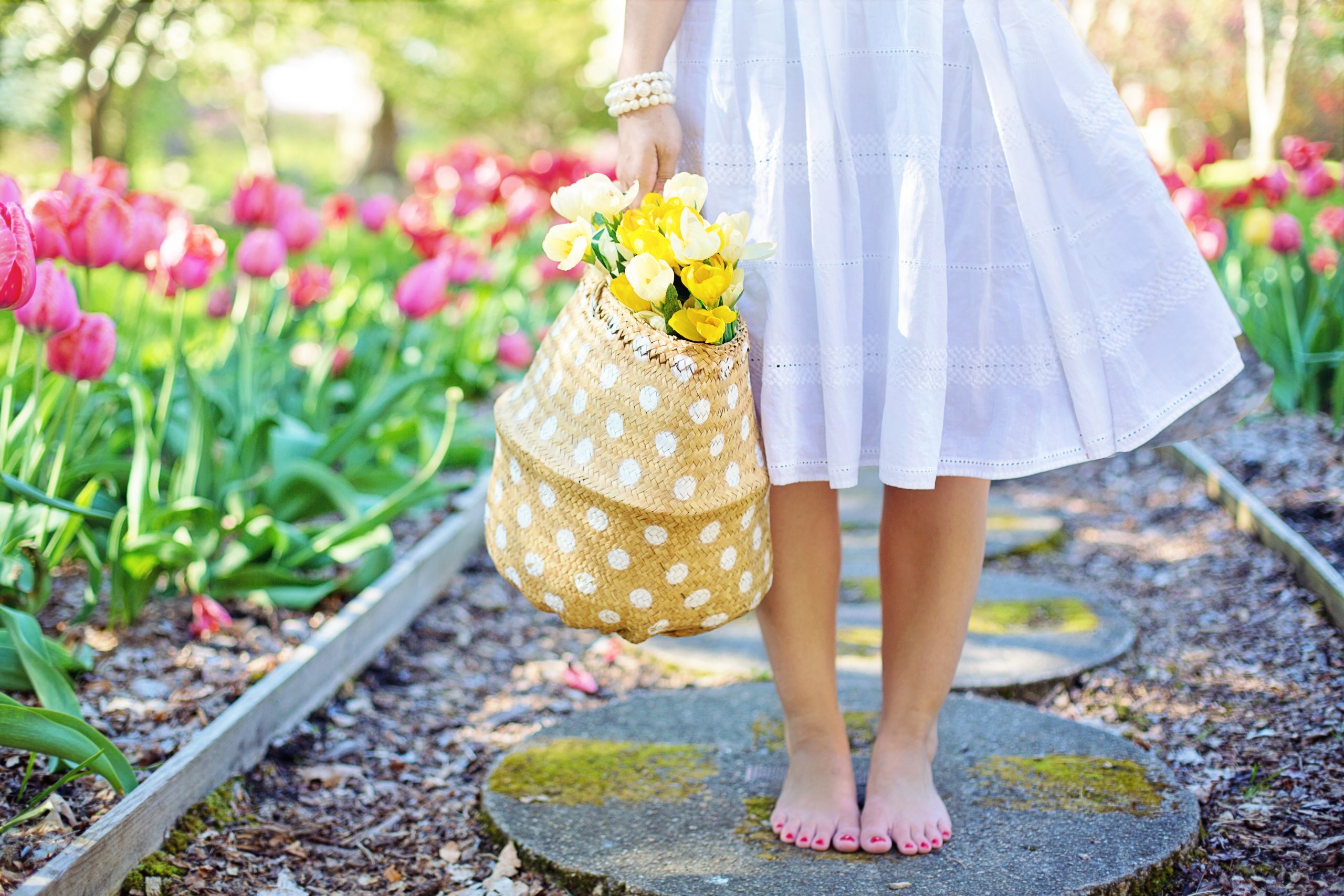 With spring upon us and gardening on the top of our minds lets discuss 5 simple landscaping ideas to spruce up your space this spring before you rush out and use your 20% off plants at Mailliards Landing Nursery coupon during the month of April. Don't have one but want one? Request yours here!

Do you have a side yard that doesn't get much sun? You probably find yourself feeling defeated when you are constantly left with patchy grass intermingled with mud when you were shooting for a lush green lawn. This is a sight for sore eyes, but this defeated feeling can be instantly cured with landscaping material such as pea gravel, sand, or steppingstones. A smooth, full look in this type of area is appealing to the eye and can give your yard a polished look that is not only simple to create but is also easy to maintain.  Pro tip! Spruce it up with some potted seasonal flowers to brighten the space when you feel necessary.
Determine your yards focal point. This is typically one big item. It can be a tree, a shrub, or a hardscape item like an arch, bench, or sculpture. Perhaps your yard already has one? If so, work with it to enhance eyes towards that focal point. If you don't have one, Mailliards has a plethora of plants, shrubs and hardscape ideas to get your yard from 0 to 100 in no time!
Create a flower bed. When choosing plants, lean on the expertise of garden store staff (they typically have a plethora of knowledge in this area). Then experiment with plants that work well in that location based on the level of sun, shade, and soil quality.
PRO TIP: Choose native plants! These are plants that grow naturally in your area, are economical, and super easy to care for because they flourish with little to no help and are still enjoyable to look at.
Add fresh mulch to flower and garden beds. Keep in mind that dark new mulch not only protects your plants, but it prevents weed growth and creates a fresh clean look for your yard.
Let your creativity flow. Post a picture to your social when you are done and tag us in it. We would love to see your finished product!
Instagram: @windermere_whidbey_island
Facebook: @WindermereWhidbeyIsland
If you are considering buying or selling and would like to dive deeper into this subject, we would be happy to schedule a consult with you at your home to show you even more low-cost tips and tricks for maximizing your sale price! Call us today at 360.675.5953 or email us at whidbeycommunications@windermere.com.
If you liked this article you might also like: Best ways to increase curb appeal for under $100 this Spring.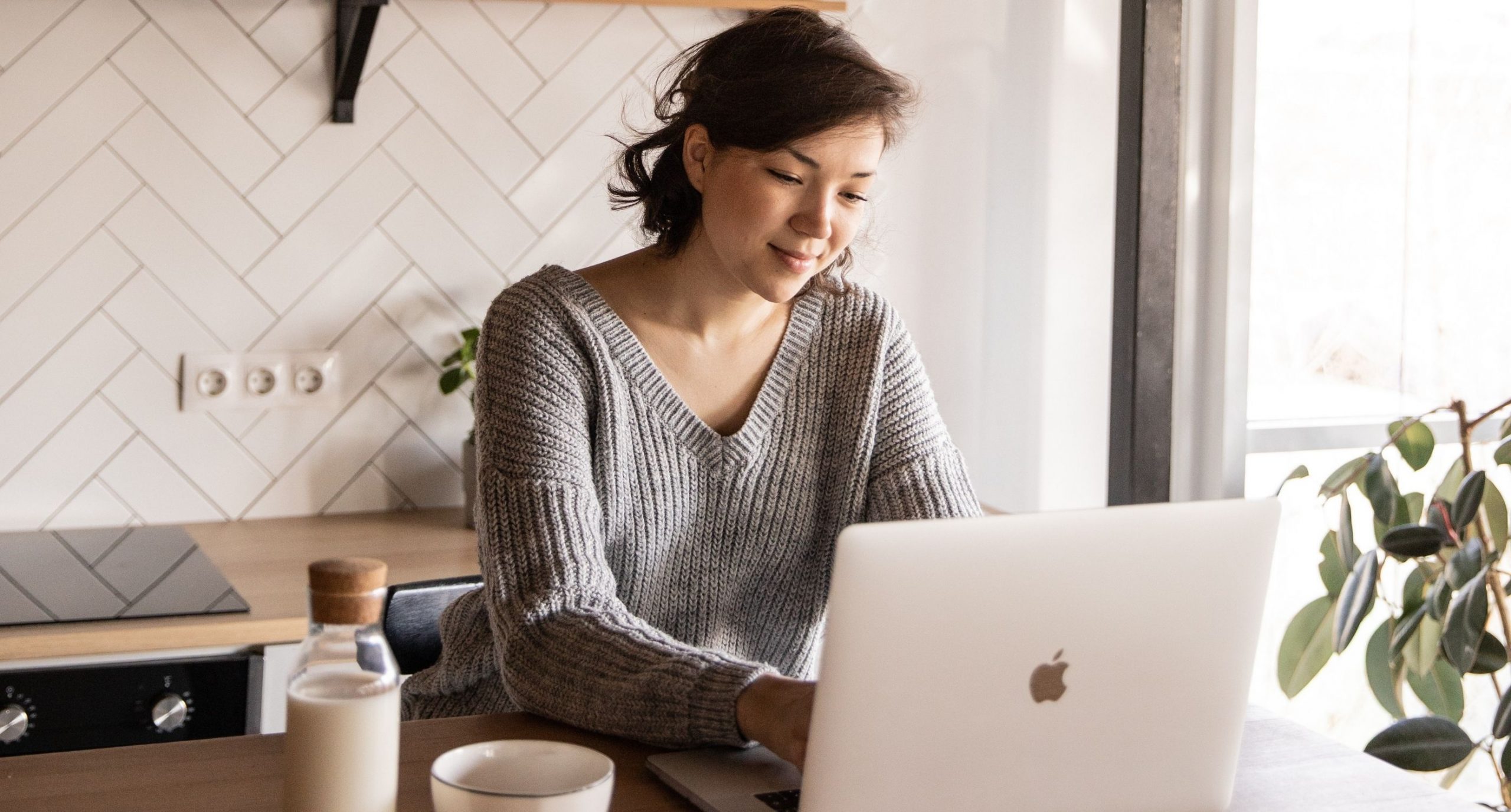 When you are preparing to move to a new location or to buy a home for the first time, you are likely eager to learn literally EVERYTHING from the home buying process to everything about the area and what it has to offer when you arrive.

Whether from pure excitement or overwhelming nerves you are likely to find yourself up well past your typical bedtime researching things like:
What cool things are nearby?
Which neighborhoods you can afford.
What those neighborhoods are like.
If you can imagine yourself living there.
Where the best spots are for a cup of coffee.
and probably… where the most iconic location for a picture that might make you Instagram famous might be.
Luckily for you, some real estate brokers are obsessed with this same level of need-to-know. There are a handful of brokers who have created incredibly in-depth online guides to their area. Many go as far as to include information on individual little neighborhoods that will make your search and transition that much easier.
Where it all started:

We were inspired by Marguerite Martin to go all out on neighborhoods and provide rich local content just as she has with her page Move to Tacoma.
It brings us great pleasure to announce that here at Windermere Whidbey Island, we recently unveiled our very own Neighborhood Guide. We couldn't be more excited to share it with you! Our first release takes a deep dive into 26 neighborhoods from Oak Harbor to Greenbank. We will continue expanding over time. Each page includes written descriptions, images of the homes and neighborhood features, quotes from neighbors, a map with key attractions nearby, median sales price, links to active, pending, and sold homes, commute times to schools and nearby hospitals, and blog posts on a whole suite of topics related to that neighborhood.

Looking for more?
If you are looking for more lifestyle information, check out our umbrella page The Whidbey Island Guide. The guide offers local events, links to government and public sites/resources, collections of articles on things like hiking, restaurants, and so much more.
Remember, these pages represent just the tip of the iceberg on what our brokers know about living on Whidbey Island. If all this information just leads to more questions give us a call! If you have suggestions on information, you wish we would add please tell us, we are all ears.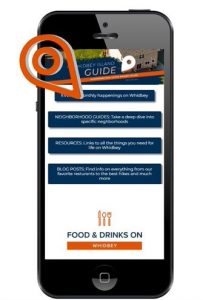 Connect with us:
Connect with us and expand your search by following us on Instagram at @Windermere_Whidbey_Island where you can find reels on the various neighborhoods of Whidbey.
View this post on Instagram
If Facebook is more your thing you can find us here!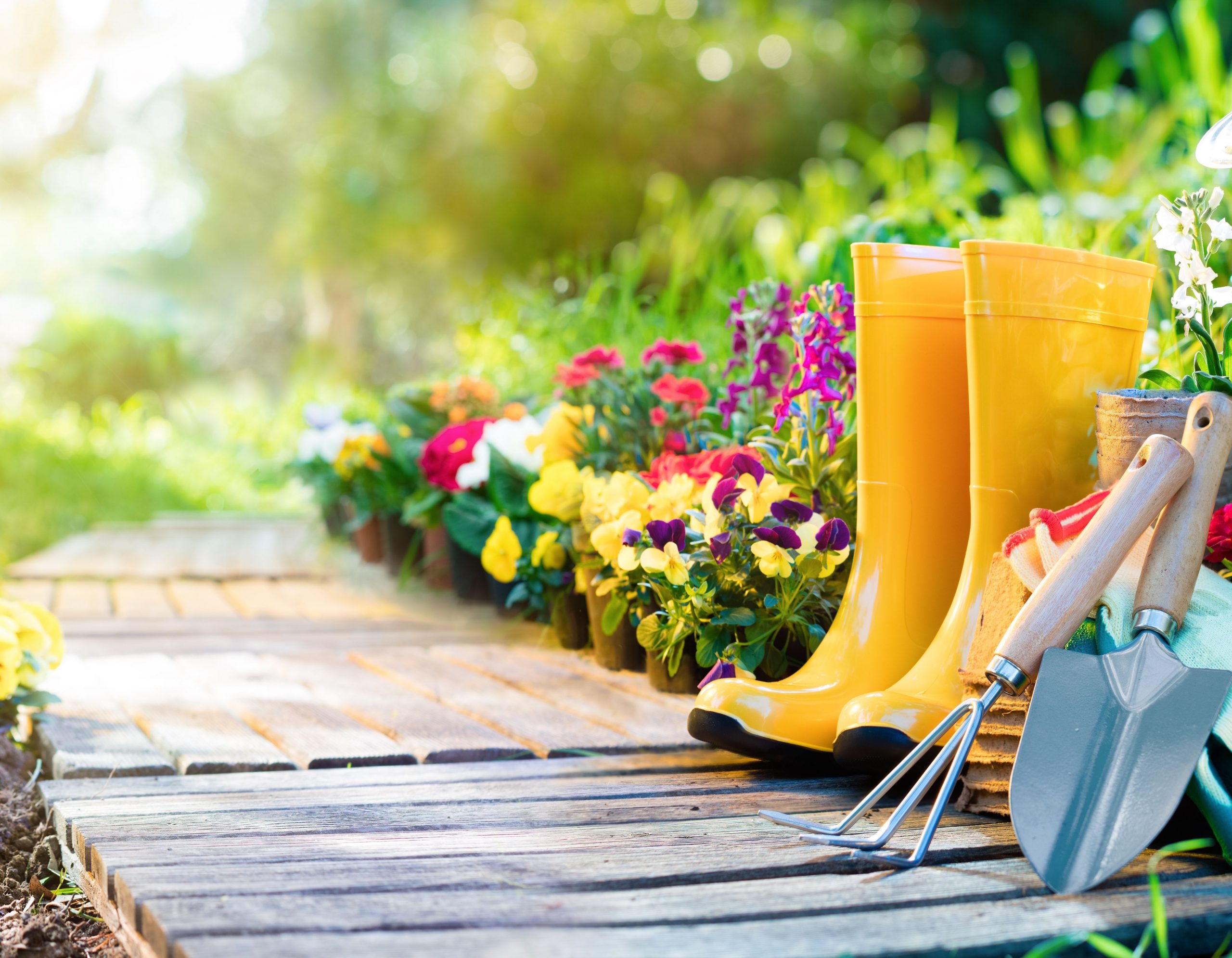 Even in the hottest seller's market Whidbey Island has ever seen, it's obvious that curb appeal is still fetching top dollar. In fact, now more than ever a phenomenal home that is attractively presented is able to create such a stir that buyers are battling over who will get it. If you are selling soon don't skimp on the power of curb appeal, the return on a small investment of time, elbow grease, and new plants will never be higher! We've prepared a list of 6 ways to increase your curb appeal and sell for top dollar. Don't leave anything on the table in this market!
Perhaps you are not planning to sell… these tips will help you fall in love with your space that much more without breaking the bank. So, keep reading.
A manicured lawn, established trees, shrubs, and plants are all obvious ways to increase your home's curb appeal but adding some seasonal flowers for a pop of color or replacing anything that's looking a little scraggly and old is the all-important icing on the cake!
During the month of April, Windermere Whidbey Island partners with Mailliard's Landing Nursery to offer you 20% off your purchase of plants when you present our Mailliard's offer card. Don't have this card but want one? Email us your address and let us know you want the Mailliards card and we will pop it in the mail for you. Eager to get it sooner? Just stop by our office and pick one up.
*Expert-tip: start small with a few fast-growing trees like these top picks!
Crape Myrtle
Emerald Green Arborvitae
Prairie Crabapple
Dawn Redwood
Paper Birch
Sargent Cherry
Leyland Cypress
In addition to being fast-growing these trees need little maintenance, just water them regularly and fertilize them in the spring and fall. Doing so will not only increase your home's curb appeal but will also, increase your property value, reduce your utility bill, improve air quality, and even reduce your stress.
2.       Paint the front door!
Give your entrance a huge boost with a fresh new look. A gallon of exterior paint costs roughly $35 – $50 dollars and is an instant way to make your home stand out! It is ok to go bold here just be careful to make sure it accentuates the rest of your home.
Before you start, ensure that the door is properly prepped for painting to get the best results that will last for years to come.
We love before and after pics of front door refreshes! When you're finished post a pic to your social and tag us so we can see what you've done!
Instagram: @windermere_whidbey_island
Facebook: @WindermereWhidbeyIsland
3.       Pressure wash!
Cleaning out not just the front entrance but a quick wash for the entire house to make it look fresh and well cared for. This includes your driveway, walkways, fences, gutters, siding, garage doors, and patio furniture. Living in the Pacific Northwest means mold, moss, and just general organic growth can cover most surfaces. What may be almost imperceptible to the naked eye will still look freshened up with a good scrub. If you don't have a pressure washer you can rent one here.  Don't forget to always start on the lowest pressure to prevent damage to your surfaces. *Pro-tip: move from top to bottom and out towards the street.
4.       Define your yard's entry.
If your walkway starts at the street, make it a grand entrance to make your guests feel welcomed and invited. A good way to create this feeling is by decorating your entrance with planters, a fence, pavers, gravel, or solar path lighting.  Remember to request your 20% off at Mailliard's Landing Nursery card so you can get plants to fill the planter boxes.
5.       Replace your mailbox
If your mailbox is old, dented, or rusty and a little cleaning doesn't do the trick, purchase a new one some of them are as little as $20! If you are moving the placement, make sure you are following regulations. You can find them here at the United States Post Office website.
6.       Clean or update your house numbers and lighting
Do something chic with your house number. Make sure the numbers are visible from the street and that they add to the appeal of your home. Get creative, put them on planters by your new grand entrance or add a succulent planter box at your front door and display your number across the front. Let your creativity flow. Post a picture to your social when you are done and tag us in it. We would love to see your finished product!
Instagram: @windermere_whidbey_island
Facebook: @WindermereWhidbeyIsland
If you are considering buying or selling and would like to dive deeper into this subject we would be happy to schedule a consult with you at your home to show you even more low-cost tricks and tips for maximizing your sale price! Call us today at 360.675.5953.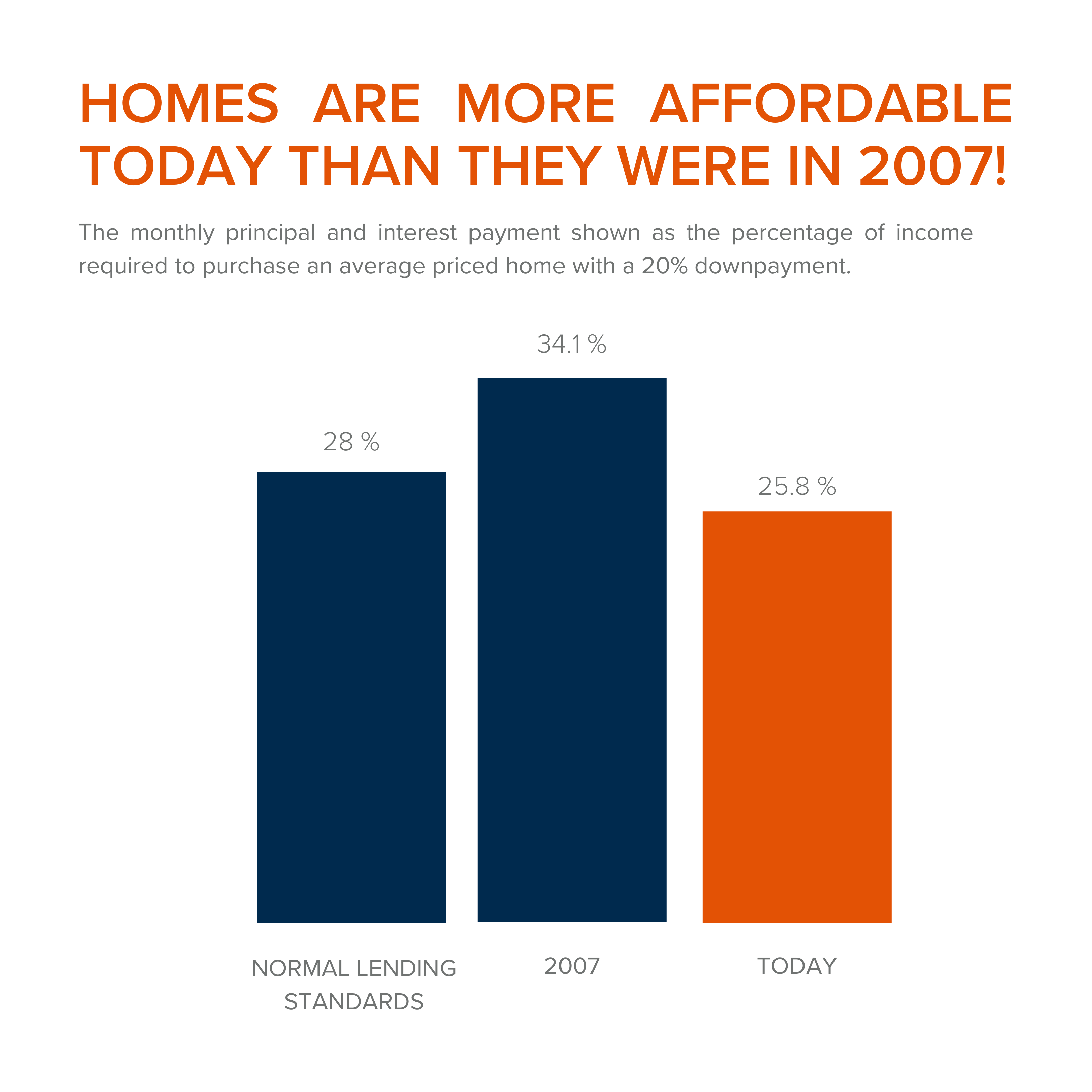 Home buyers are beginning to believe we are heading into a housing bubble. It is easy to acknowledge this premonition, as year-after-year home price appreciation has continued to remain in the double digits.
However, we are here to put your mind at ease as this market is very different than it was during the housing crash 15 years ago. Follow along as we explain four fundamental reasons why today's market is nothing like the market was back then.
1. Houses Are Affordable Unlike During the Housing Boom
To understand this, one must understand the affordability formula. The affordability formula consists of three parts: the price of the home, wages earned by the purchaser, and the mortgage rate available at the time of purchase. Conventional lending standards suggest a purchaser should spend no more than 28% of their gross income on their mortgage payment.
Fifteen years ago, prices were high, wages were low, and mortgage rates were over 6%.  While today's  home prices are high, wages have increased significantly, and despite the latest spike, mortgage rates are still well below 6%. This means that todays average buyer spends less of their monthly income toward their mortgage payment than buyers did back then.
In the latest Affordability Report by ATTOM Data, Chief Product Officer Todd Teta speaks to this stating, "The average wage earner can still afford the typical home across the U.S., but the financial comfort zone continues shrinking as home prices keep soaring and mortgage rates tick upward."
Undeniably,  affordability is not as strong as it was last year, but it is significantly better than it was during the boom. The graph below demonstrates that difference: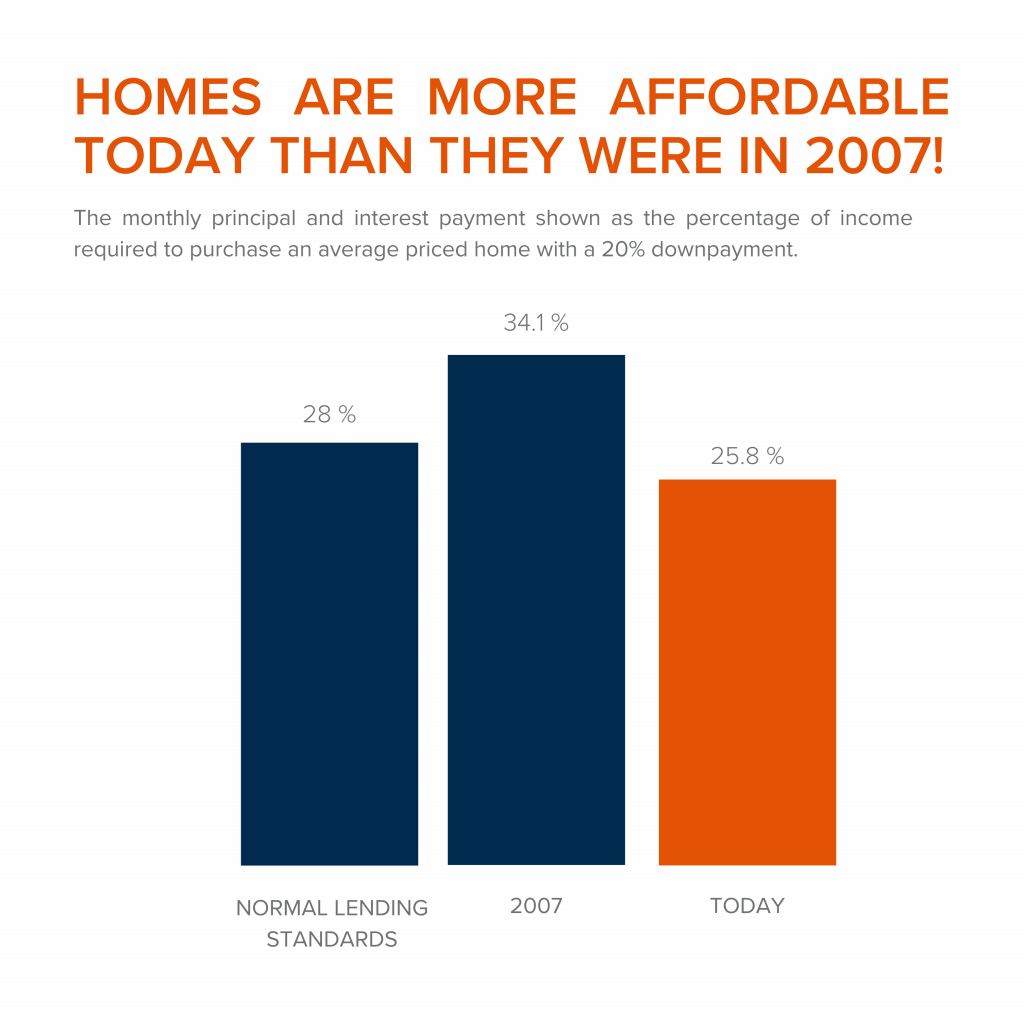 How did so many homes sell during the housing boom with such prohibitive costs?
2. Mortgage Standards Were Much More Relaxed During the Boom
Getting approved for a mortgage loan was significantly more attainable during the housing bubble than it is today.  According to credit.org, a credit score between 550-619 is considered poor. They define  those with a score below 620, by stating that, "Credit agencies consider consumers with credit delinquencies, account rejections, and little credit history as subprime borrowers due to their high credit risk."
While buyers can still qualify for a mortgage with a credit score within that range they are considered riskier borrowers. If you are in that range, read our How Long Does it Take to Save for a Down Payment article here. Below is a graph illustrating the mortgage volume issued to buyers with a credit score less than 620 during the housing boom, in compression to the following 14 years.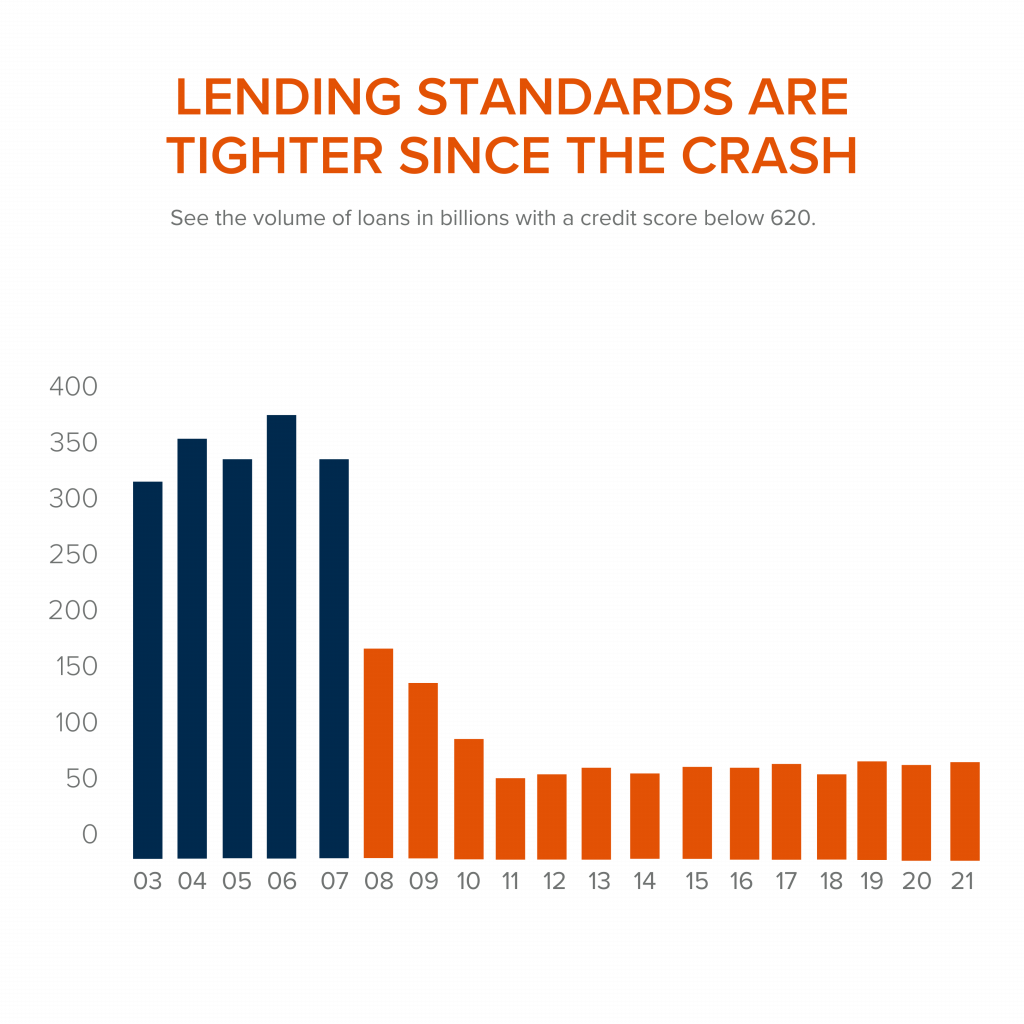 Mortgage standards are significantly different than they were last time. Buyers that obtained mortgages during the past decade are better qualified for the loans. Lets look at what that means moving forward.
3. Foreclosure Are Completely Different  Than They Were During The Crash
The most obvious difference is the number of homeowners that were facing foreclosure after the housing bubble burst. The Federal Reserve issues a report showing the number of consumers with a new foreclosure notice. Here are the numbers during the crash compared to today: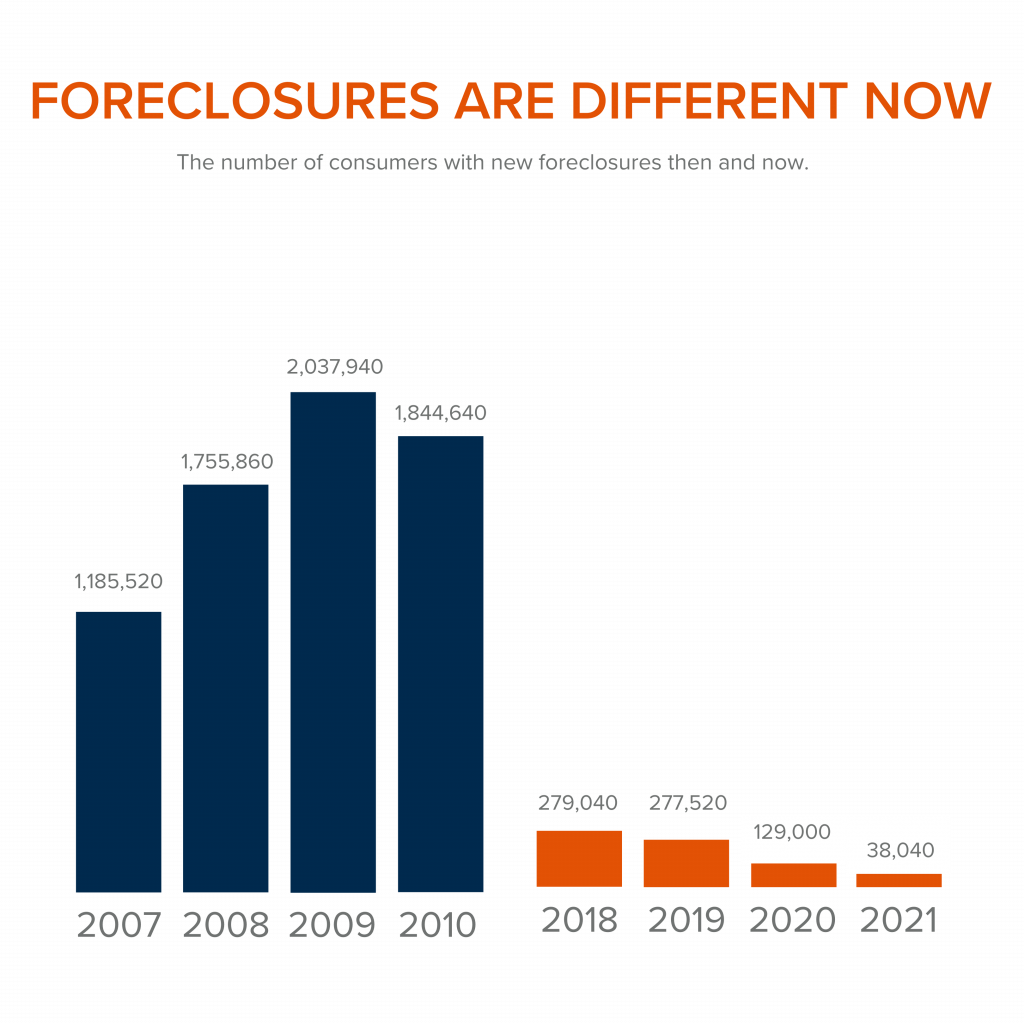 Undoubtedly the 2020 and 2021 numbers are impacted by the forbearance program, which was created to help homeowners facing uncertainty during the pandemic. Keep in mind, there are less than 800,000 homeowners remaining in the program today, and the majority of those will be able to work out a repayment plan with their banks.
Rick Sharga, Executive Vice President of RealtyTrac, explains, "The fact that foreclosure starts declined despite hundreds of thousands of borrowers exiting the CARES Act mortgage forbearance program over the last few months is very encouraging. It suggests that the 'forbearance equals foreclosure' narrative was incorrect."
Why are there significantly less foreclosures seen today? Well, homeowners today are equity rich. They are not tapped out.
During the build-up to the housing bubble, some homeowners were using their homes as personal ATM machines. We saw a plethora of people withdrawing their equity the moment it was built up. When home values began to fall, many homeowners found themselves in a negative equity situation where the amount they owed on their mortgage had surpassed the value of their home. Many were faced with the decision of walking away from their homes. When that happened it led to a rash of distressed property listings (foreclosures and short sales), which sold at huge discounts, thus lowering the value of comparable homes in the area.
Homeowners, have since learned their lessons. Prices have risen nicely over the last few years, leading to over 40% of homes in the country having more than 50% equity. But owners have not been tapping into it like they had previously, as indicated by the fact that national tappable equity has increased to a record $9.9 trillion. With the average home equity now standing at $300,000. What happened last time will not happen today.
As the latest Homeowner Equity Insights report from CoreLogic explains, "Not only have equity gains helped homeowners more seamlessly transition out of forbearance and avoid a distressed sale, but they've also enabled many to continue building their wealth."
There will be nowhere near the same number of foreclosures as we seen during the crash. What does that mean for the housing market today?
4. There is Not a Surplus of Homes on the Market – We Have a Shortage
The supply of inventory needed to sustain a normal real estate market is approximately six months. Anything more than that is an overabundance and will causes prices to depreciate. Anything less than that is a shortage and will lead to continued price appreciation. The following graph demonstrates, the surplus of homes for sale between 2007 to 2010 (many of which were short sales and foreclosures). That caused prices to tumble. Today, there is a shortage of inventory, which is creating the increasing home values we are witnessing today.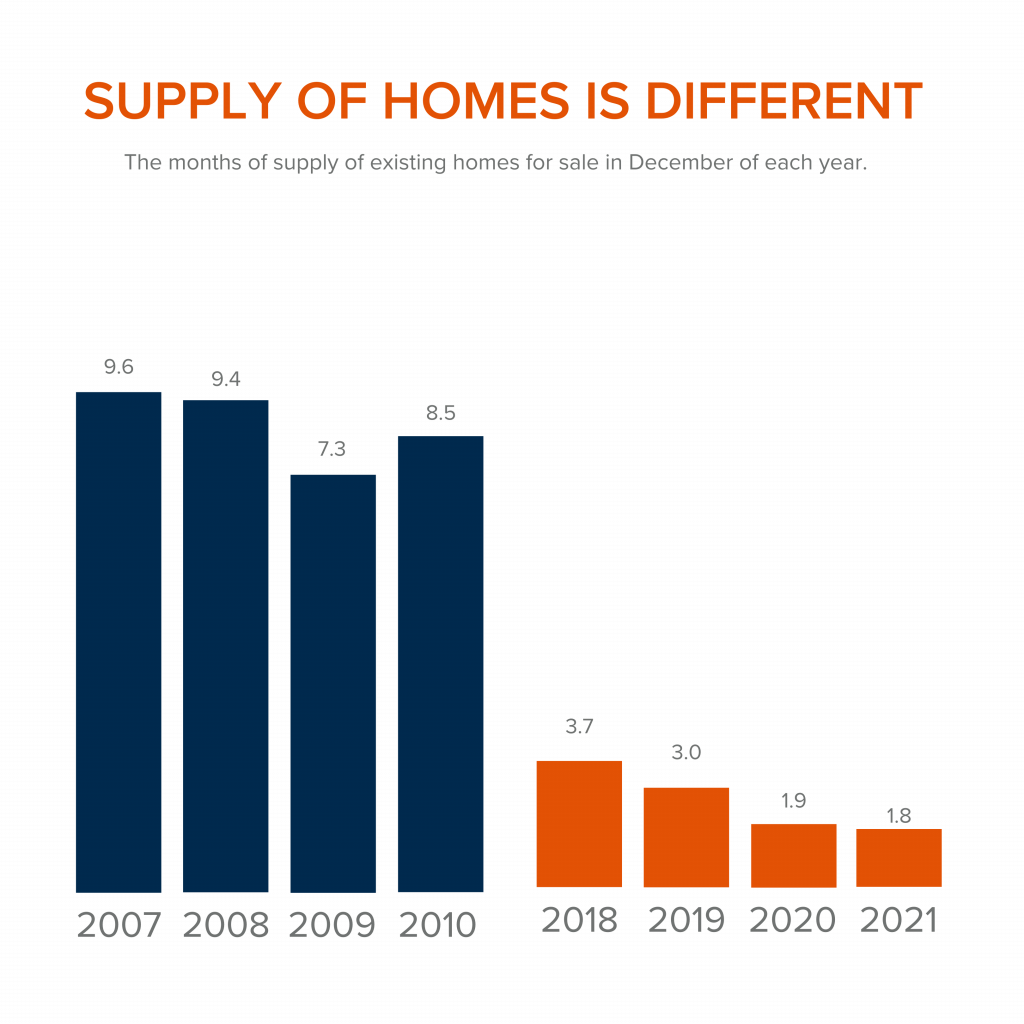 Inventory is drastically different in comparison to last time. Prices are rising because there is a healthy demand for homeownership while at the same time there is a shortage of homes for sale.
At the end of the day,
if you are worried that we are making the same mistakes that led to the housing crash, the graphs above show data and insights to help alleviate your concerns. If you are considering buying or selling and would like to dive deeper into this subject we would be happy to schedule a consult with you. Call us today at 360.675.5953.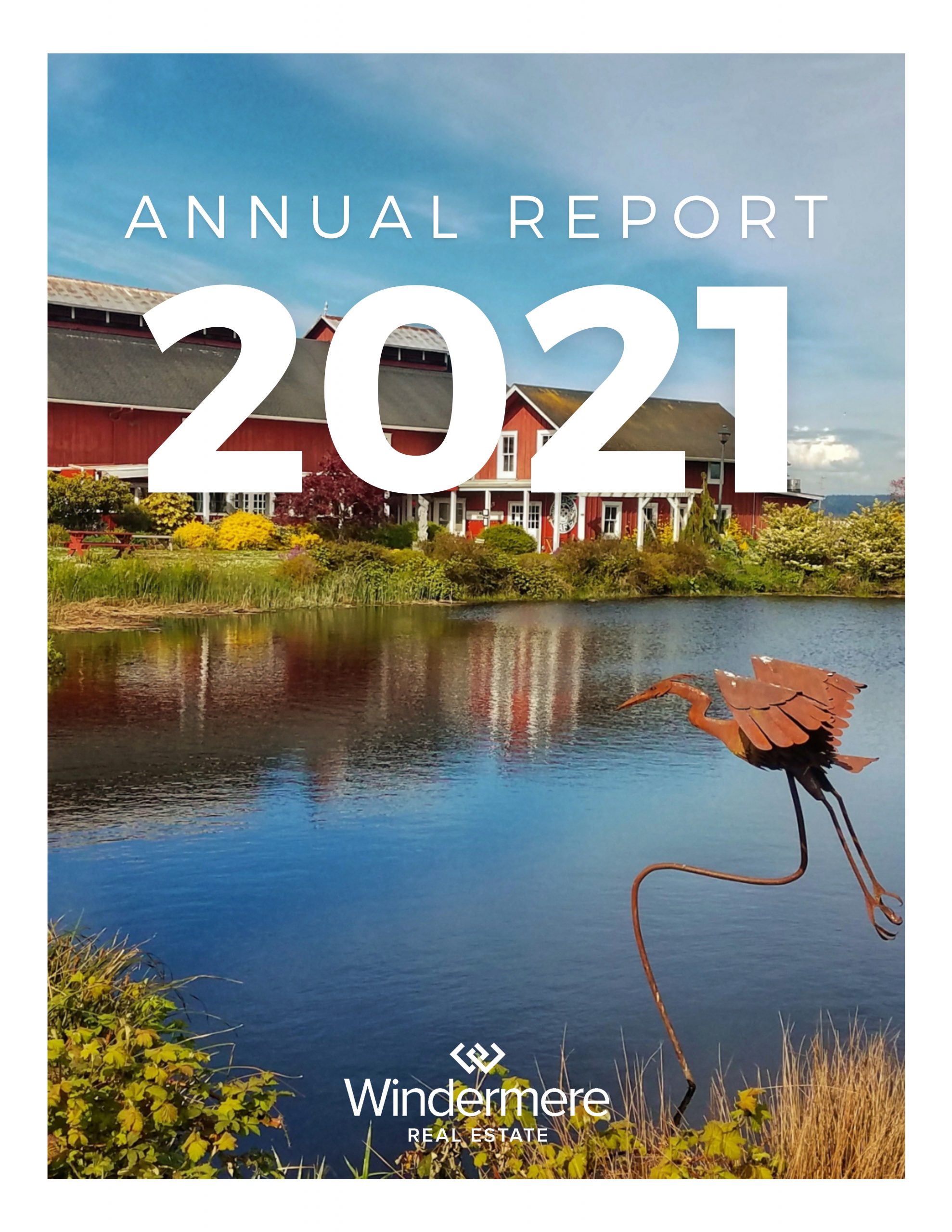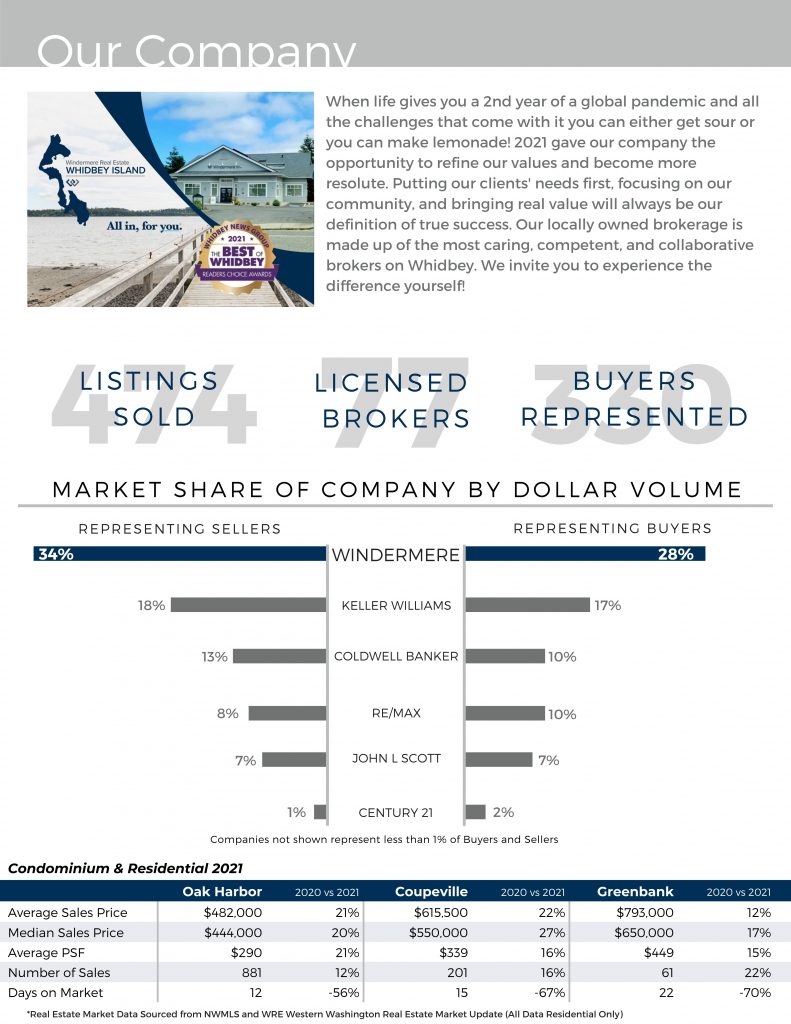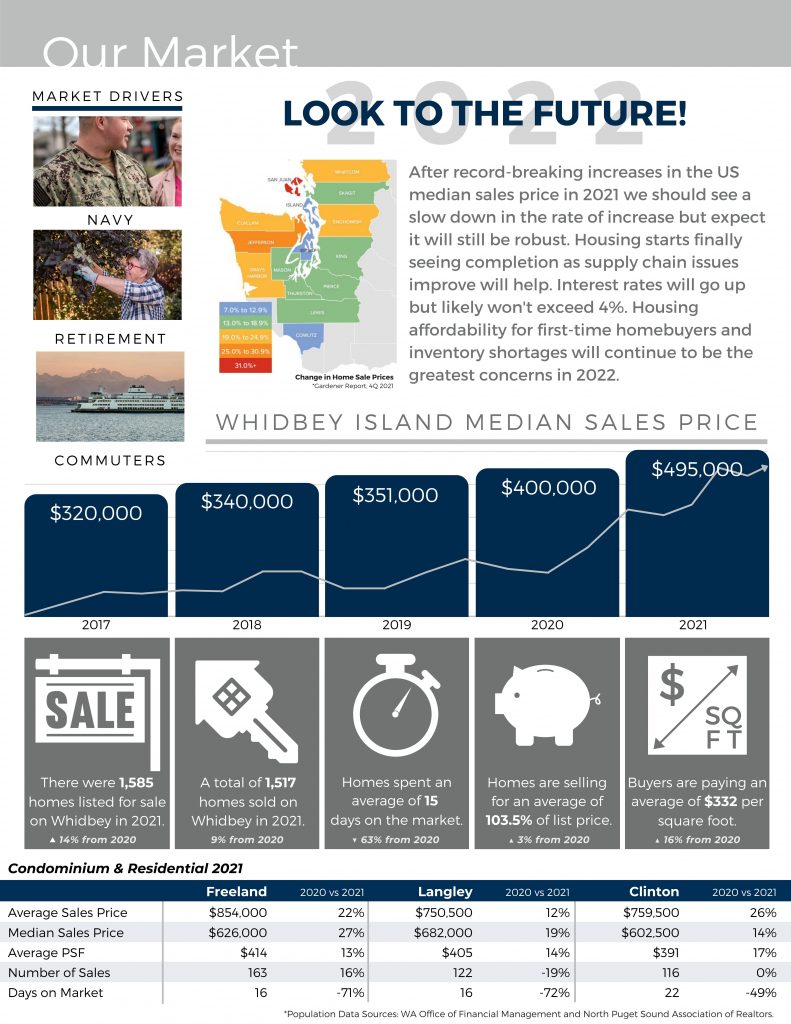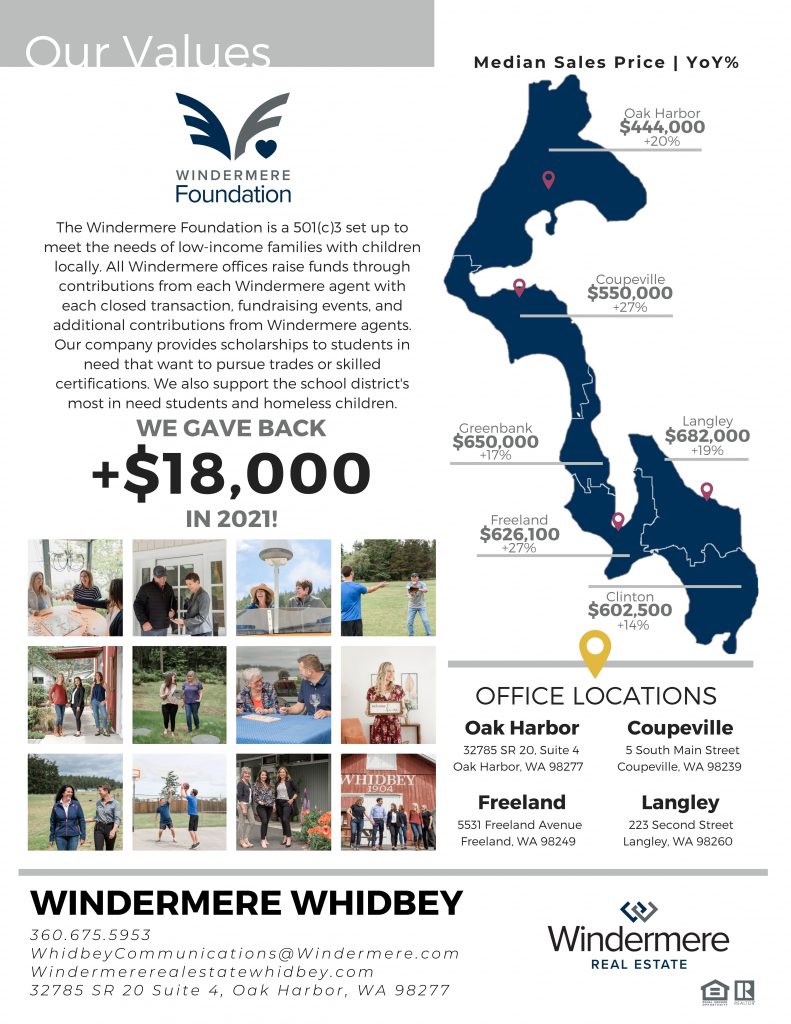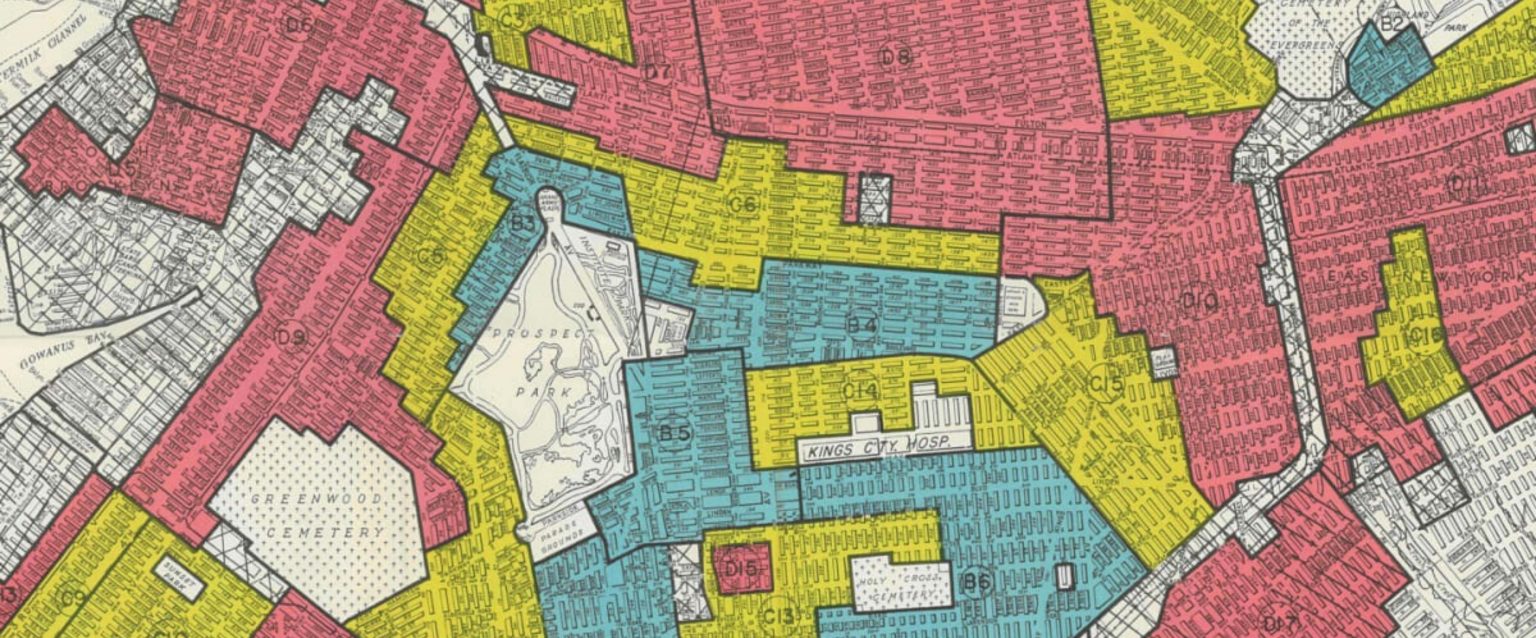 This room might seem simple to you, but to me, it marks the saddest day in my career. 💔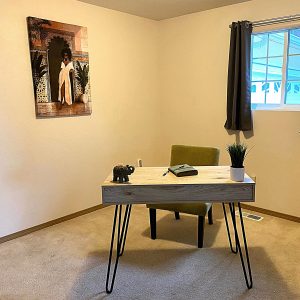 This picture was taken shortly after I had finished staging one of my client's homes. I wanted to show the owners all I had done – admittedly looking for a pat on the back. Although I was showered with compliments for almost every other room in the home (all boho-themed to my aesthetic), I was given an off-putting request when they saw this photo.
"Can you remove the painting?"
Having fallen in love with this painting months ago, I was fairly disappointed and a bit taken back by the request. I decided to inquire about the reasoning behind the request and my client's response broke my heart into a million little pieces.
"We are afraid we'll get less money if people know we're Black."
I was speechless.
In an attempt to comfort my clients and resolve the issue I made the mistake of saying ignorant things such as "that's not as prevalent on the west coast" and "it's just art, it won't tell people who you are." Ultimately though, the panting came down and was replaced by a lovely little beach scene.
Recently I was reminded of this interaction in the most heartbreaking way. In December of 2021 residents of San Francisco, California filed a lawsuit against their appraiser whose estimated value of the home came in nearly half a million dollars less than market value. After removing their family photos from the home and having it re-appraised it was clear that this discrepancy was in no small part due to the family's race. You can read more about the story here.
My client was right. The fight is nowhere near over.
The real estate industry has a long and troubling history when it comes to the struggles of racial divide in America. In many ways, the housing industry served and serves as a stronghold for preserving racial discrimination long past the judicial end of segregation. In Richard Rothstein's book The Color of Law, he delves into the multitude of ways in which the real estate industry fought to preserve racial segregation using subversive tactics that appeared innocent. By discreetly elongating the effects of racial segregation within the housing industry, the inability for people of color to obtain reasonable homes helped to widen the American wealth gap further than anyone thought possible.

How could the housing industry make such a profound impact on the financial prosperity of America's minorities?  The answer to this question is LONG and although I am not a professional economist, I can give you the two biggest reasons.
Real Estate is the Best Source of Generational Wealth
It is no surprise to anyone that land is one of, if not the most, finite resource we have in this world. Sure, there are always going to be those few who talk about building an underwater civilization or creating an outpost on Mars. However, if we are to assume that we do not live in a Syfy film – what we got is what we got. This means that real estate is one of the most secure investments you can make. Without the ability to create more supply and the fact that it is a basic necessity for all humans, the value of property really has little way to go other than up. This makes it a major player when it comes to building generational wealth.
A home is a unique asset in the fact that it not only provides vital accommodations to its owners but also greatly increases in value through the years and can be passed down from generation to generation. On top of that, those who own homes can withdraw equity from those homes to re-invest and grow that wealth even further.
This asset was withheld from minorities for multiple generations through the process of redlining while being generously provided to their Caucasian counterparts. By excluding minorities (especially the Black community) from the ability to build this kind of compound wealth, the prospect of even being able to buy into the investment grew further and further away with every increase in market prices. By the time segregation and redlining "ended," the ability for minorities to purchase a suitable home was already too far gone and it would take more than just a few generations to close the gap.
Housing Taxes are Connected to Education
One of the cleaver and subversive ways in which the housing industry was able to sustain discrimination in real estate and the wealth gap was through intertwining housing taxes with access to education. By excluding minorities from suitable housing which was projected to rise in value at a far greater rate, early real estate developers were successfully able to ensure educational discrepancies between the two communities.
In exclusively Caucasian communities where home values greatly exceed their minority counterparts, schools were well funded through the taxation of those higher valued properties. As a result, the children of those communities were granted better educational programs, higher paid and more competent teachers, as well as better recognition from potential universities. Later in life, this would result in better and higher-paying jobs for the children of those exclusively Caucasian communities.
In contrast, the home systematically set aside for minority communities did not come close to meeting the values of their Caucasian counterparts. The result of this was that children raised in these communities would have fewer educational programs, poorly paid teachers, and would often have a "black mark" on their college applications due to their school's reputation. As adults this lack of suitable education would result in working lower-paying jobs – only greatening the wealth divide.
Unfortunately, minorities today still face discrimination through illegal real estate practices such as steering and, as we saw with the San Francisco family, discriminatory appraisals. For people like me, it can be easy to think such things as "that's all in the past" or "minorities can't possibly still be affected by this." However, it is through the fear in my client's eyes as they looked at that beautiful painting that I see the truth – this battle is so far from over.

I am grateful, however, to work with Windermere Real Estate in fighting this injustice within our industry. In 2020 Windermere heard the call for equality and chose to answer. Windermere is one of the few Real Estate companies in the nation that have chosen to hire a consulting agency to help them promote Diversity, Equity, and Inclusion within our industry. Step-by-step they are helping their brokerages learn what it truly means to be inclusive and how we can all help to close the gap.
You can help too! Windermere Real Estate is partnering with HomeSight to increase Black homeownership in Washington state through what they are calling the "Hi Neighbor" fund. Through this fund, HomeSight is bridging the affordability gap for Black homebuyers so that they can increase their purchasing power. Starting in 2022 I will do my part by giving a portion of every commission I make to the fund. To learn more about this fund and to donate, click here!
This beautifully written article was submitted by our very own, Victoria Paris to discover more articles written by our agents click here.