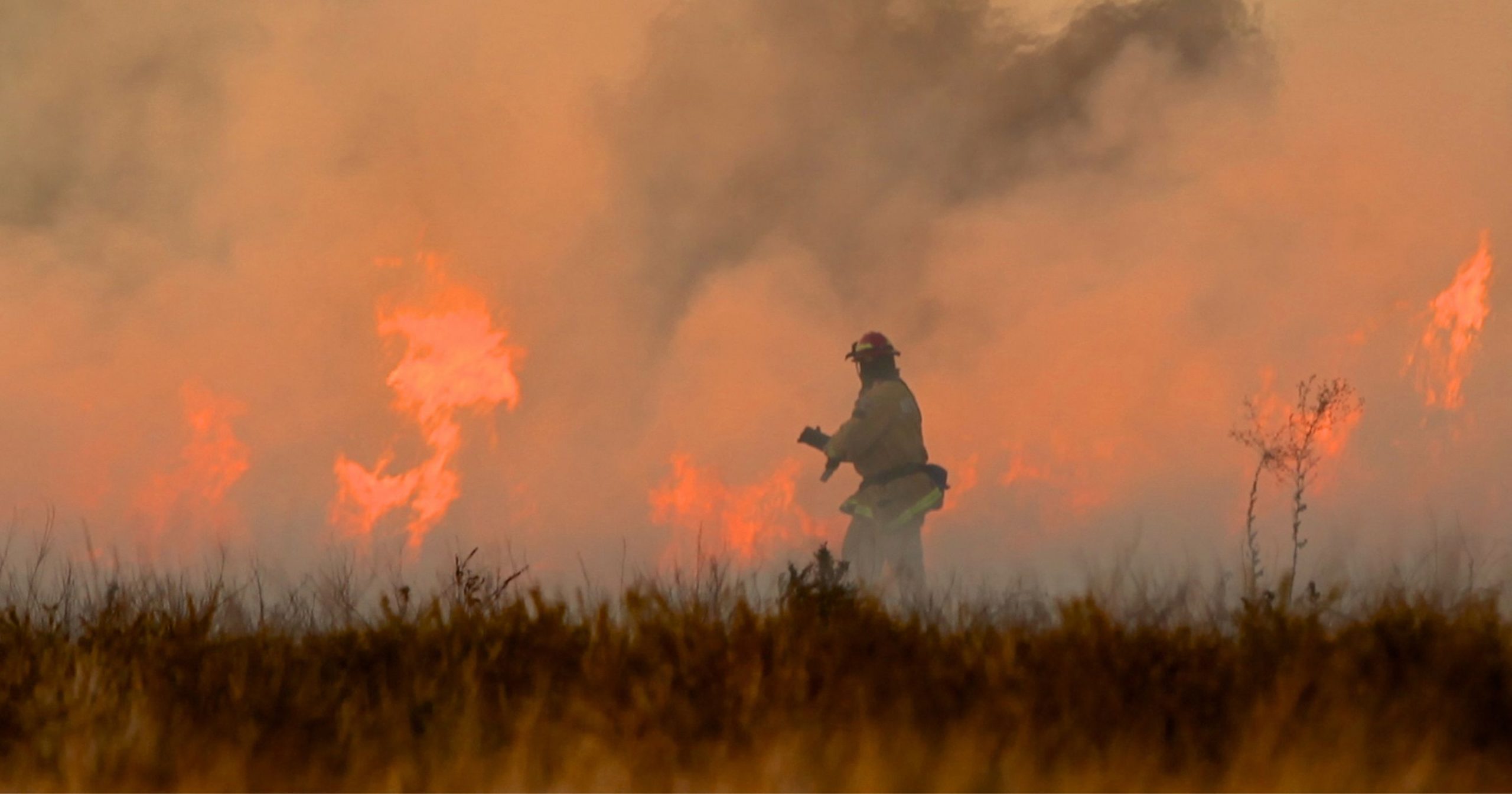 Firefighters, we respect them. We get out of their way when they're racing to a scene. We crowd around their trucks when they're at a fair or a parade. We can tend to think that every firefighter is like every other firefighter, hanging out at a fire station while waiting for a call that demands immediate action. Yes, and no.
But what does firefighting look like on an island? Follow along as we discuss firefighting island style.
Firefighting Island Style
Whidbey is a mix of five fire districts. Three County districts (North, Central, and South), the City of Oak Harbor, and the Navy. 
Oak Harbor is a city with paid firefighters and a place where a lot is going on in a small space. Trucks have to navigate a grid of streets and the traffic on them. Houses are close and that can mean fires are close, too, but so are fire hydrants. There are plenty of stereotypes that can apply. Spotted mascot optional.
In most parts of the country that might be enough, but the island is large enough and long enough that some other solutions are necessary. If the neighborhood is remote enough, they may have some creative solutions to fight fires in the interim after getting to safety and making that call to 911. An easy situation to imagine is a waterfront house that may require a fireboat. It takes time to collect the crew, launch the boat, and power their way to the site – tides, currents, and weather allowing. A lot can happen in the first few minutes of a fire. Any help can be appreciated – and incredibly valuable.
Rural areas also have to guard against brushfires and barn fires. Long roads mean accidents can happen far from the station. Even places that are accessible by a pickup may be too windy and twisty to maneuver in a firetruck, which eventually also has to turn around and get back to the station. Some fires may even be on boats, both in the marina and off-shore.
A Unique Mix
At the other end of the scale is the unique fire district that is the Navy's. Airports have special requirements and tools, and military airports have to handle even more specialized situations because of what their planes can carry. The need for an immediate response is an understatement.
Fortunately, while there are various types of firefighting arrangements, when the need is there they all gather to help each other. City, base, and rural doesn't matter as much as  'where is the fire and how can we help?'
If you haven't heard much about the variety, great! That means the crews are doing what they have to do to stay out of the headlines. In firefighting, boring can be good. Too exciting can be too much. This is firefighting island style.
Firefighting Crews
Whidbey has some other attributes worth remembering. Whidbey is a lot of small-town America wrapped around a city and a base. Most of it has fewer people because it is rural. That also means that firefighting crews can sometimes be understaffed. (Pay attention to the election initiatives to see their current situation.) While rural can be quaint, sometimes the small-town nature that leads to smaller firefighting crews becomes critically apparent. A few places have paid firefighters, but much of the island is served by a few stations with a few paid firefighters who rely heavily on backup volunteers. They have rules to follow, just like the rest of us. (In 2018, another fire department in WA was cited for violating the state's version of OSHA's two-in two-out requirement.) Of course, more paid firefighters mean they need more budget. Not an easy problem. Think about that. A few paid people; and other people who risk their lives for us for free. They deserve greater thanks than they receive. (Please, volunteer!) 
Surprisingly the bulk of their workload comes from medical emergencies. Over 60% of their time is spent with Basic Life Support calls where they work side by side with the paramedics. In some places that is over 80%. They have to be ready for everything: motor vehicle accidents, rescues on land or on water, storm responses, traffic control, power outages, and downed lines. It isn't just about fires and ambulances.
So much for sitting around the firehouse. These people are busy.
How you can help
Of course, there are ways to keep them less busy (and keep costs down). Much of this is variations of the messages we've heard since school: follow safety instructions, keep fresh batteries in smoke detectors, make sure any electrical work is done right, remove trash and other flammables. Some things are even simpler: don't leave burning candles or fire unattended, don't burn during burn bans, handle fireworks legally and safely. Keep fire extinguishers handy and up-to-date.

There are plenty of other precautions, but that's part of being a responsible adult.
How this relates to homeowners on Whidbey
Understanding a place's fire situation is also something to keep in mind when considering buying a house. What is the firefighters' response time? Where's the nearest hydrant or nearest firehouse (is it even staffed)? Is the house marked well enough for a crew to be able to find it in the dark, maybe during a storm? Your insurance company may have some ideas to add to the list. 
If you live in rural Island County some additional services they might offer include: installing high visibility house address numbers; home safety surveys to reduce the risk of harm from fire, accident, or illness; smoke and carbon monoxide detector check; fire inspections for businesses; CPR training; child car seat safety checks.
Chief Helm says "In an emergency, we need to be as efficient as possible, and the partnership between homeowners and the fire department is critical. Maintaining reflective address signs and driveways that fire trucks can navigate down is very important. One of our biggest hurdles is locating the emergency in a hurry, and then navigating a driveway that may or may not be able to handle a 40,000lb, 11-foot tall truck. Many times, the storybook-style narrow wandering lane, sounds peaceful and relaxing, but can pose serious problems if our trucks cannot access your house. Please remember to maintain not only driveways but the surrounding vegetation and hanging branches that will damage a truck the size of ours. Together with your help, we make this Island a safer place to live and work. We are more than happy to visit your driveway and test fit our apparatus, as well as bring you a reflective address sign anytime."
One of the most delightful rural traditions on Whidbey is the annual Santa Mobile where Central Whidbey Fire Department drives around different neighborhoods with Santa Claus on top of one of their Fire Engine for multiple nights in a row in December. They will put out a schedule and a map on their Facebook page in preparation every year. Kids love it! It's also a fundraiser for collecting food and donations for the food pantry in Coupeville.
Fortunately, most folks pay attention to safety. It's part of being a homeowner and a good neighbor. Do enough of those boring but necessary steps, and free up time to relax and enjoy the rest of island life. Just check for burn bans before stoking up a campfire.
If you have additional questions about firefighting island style your reliable Windermere real estate agent can help you get them answered. Don't have an agent? Connect with us here.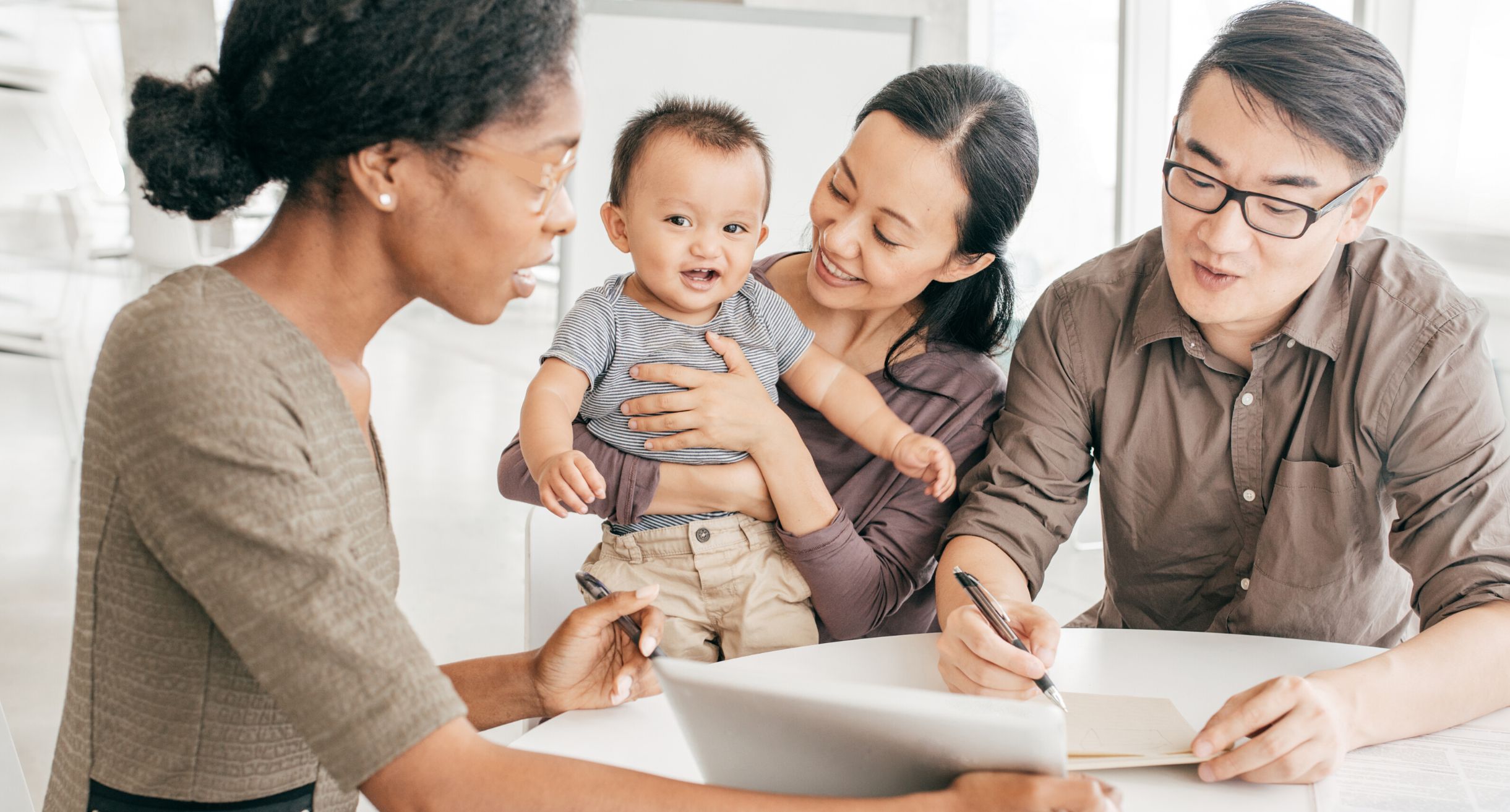 When it comes to buying a home, choosing the right lender is an important decision that can have a significant impact on your home buying experience. While it's possible to work with a lender from anywhere, working with a reputable local lender in the area you are purchasing provides many benefits that make the process smoother and more enjoyable. In this article, we will share five reasons why you should consider using a reputable local lender for your next home purchase.
5 Reasons to Use a Reputable Local Lender:
1. Personal Connection:
A local lender provides the opportunity to have a face to face conversation and build a personal relationship, which can be especially helpful when dealing with complex issues. How much better is it to have the ability to sit down face to face with someone and discuss, ask questions, smile and laugh with or even cry if necessary? It is so much better than trying to solely do things over the phone or email with someone hundreds of miles away. When the going gets tough, you (or your trusted real estate broker) can go directly to the office and discuss the issues in person to figure it out rather than be put on hold.
2. Knowledge of the Market:
A local lender is more likely to have a deep understanding of the local real estate market, including contractors, permit requirements, and more. It is not unheard of to have a local lender provide contact details for a roofer that can get the fix done in time for closing or the local Labor and Industries permit guy who can solve the problem faster than driving an hour to the nearest office. Reputable local lenders understand when there is delay due to septic repairs or how to get the water quality test results ASAP.
3. Reputation:
Local lenders have a reputation to uphold in their community, which can provide added accountability and ensure a higher level of service. When you run into your clients in the grocery store or watch their kids play on the same soccer team you naturally put a little more into making sure your service is impeccable. Anonymity creates distance and reduces accountability.
4. Strong Relationships with Escrow Teams:
Good relationships with local escrow teams can lead to smoother and more efficient transactions. Often the most stressful point of the transaction is right at the very end as the final underwriter is reviewing the file and potentially finding issues that need more documentation. This can lead to delays in critical milestones that need to be met to close on time. Getting the necessary documents from the lender to escrow on time can be the difference in closing as expected or experiencing costly delays and even the possibility of losing the home. You can use a lender from almost anywhere, but the escrow team is nearly always local to the property being purchased. When lenders are well known and respected by the local escrow offices you can expect excellent communication and problem solving between them. This will make overcoming obstacles to closing on time more likely.
5. Competitive Terms:
Local lenders often offer competitive terms and rates, making them a cost-effective option. When comparing lenders, be sure to compare all the terms and costs of the loan, not simply the advertised interest rate. When you do, you'll often find the local lender has lower overall costs than national corporate lenders.
In conclusion, using a reputable local lender provides a range of benefits that make the home buying process more enjoyable and efficient. From the personal connection to the knowledge of the local market and their reputation to uphold, there are many reasons to consider using a local lender for your next home purchase. So why not choose a lender who is well-known and highly regarded in your local real estate community? Contact us today to be put in touch with a great lender on Whidbey Island!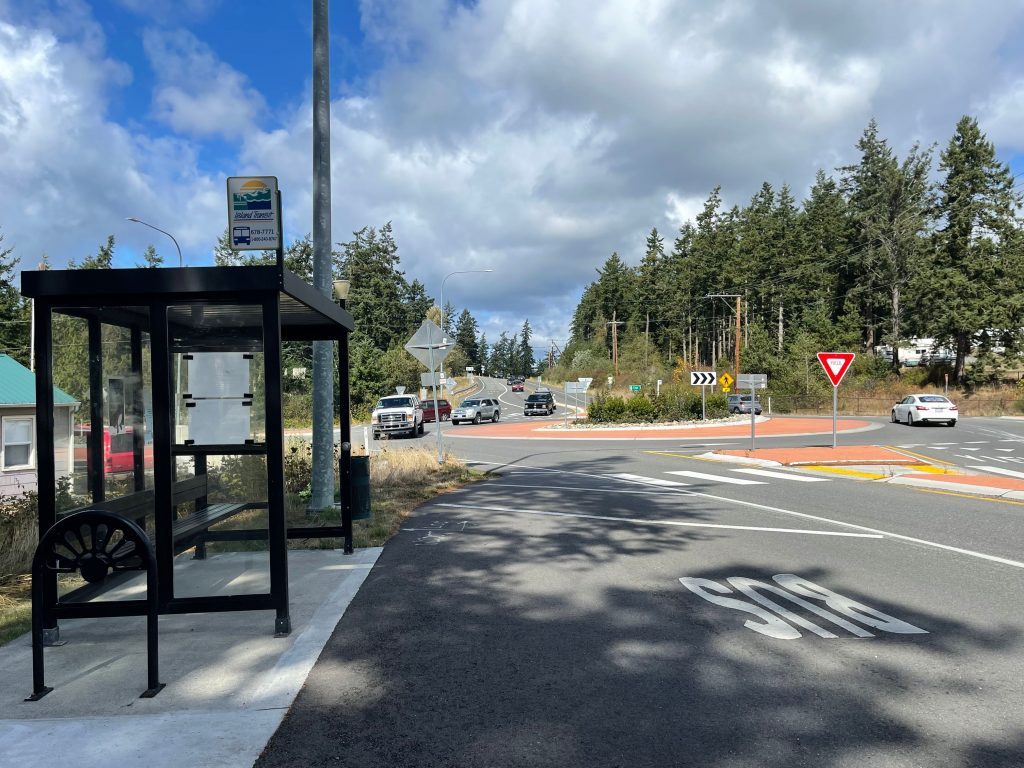 Island Transit is the public transportation system serving Whidbey Island, located in the Puget Sound region of Washington state. The system consists of fixed-route buses and paratransit vans, as well as additional programs such as vanpools and bike locker rentals.
Island Transit began on December 1, 1987 as a response to the increasing traffic congestion and lack of transportation options on Whidbey Island. Today, the system serves a population of approximately 73,000 people, covering a service area of approximately 400 square miles. The buses pick up passengers from bus stops like the Northgate Terrace bus stop pictured above throughout all of Whidbey Island.
In addition to its fixed-route buses, Island Transit also operates a paratransit service for individuals with disabilities who are unable to use the fixed-route buses. The paratransit vans offer door-to-door service and can be reserved by calling Island Transit in advance.
Island Transit's vanpool program is a convenient and cost-effective alternative for commuters who travel long distances or have irregular work schedules. Participants in the program share the cost of gas and vehicle maintenance and can save money on the cost of driving alone.
The bike locker rental program allows riders to securely store their bike at a convenient location and use it to complete the first or last leg of their commute. The lockers are located at select bus stops and can be rented on a monthly basis (check out prices and apply here) in addition to public use lockers that are on a first come first served basis.
In recent years, Island Transit has made efforts to increase sustainability and reduce its environmental impact.  Learn more about their initiatives here. As a result, hybrid buses have been added to its fleet all while keeping Island Transit buses fare-free.
Overall, Island Transit plays a vital role in the transportation needs of the residents and visitors of Whidbey Island. The convenient and reliable services, as well as its vanpool and bike locker rental programs, make it a valuable asset to the community.
If you have further questions or are interested in learning more about living on Whidbey Island please do not hesitate to connect with us. Contact us here.
View this post on Instagram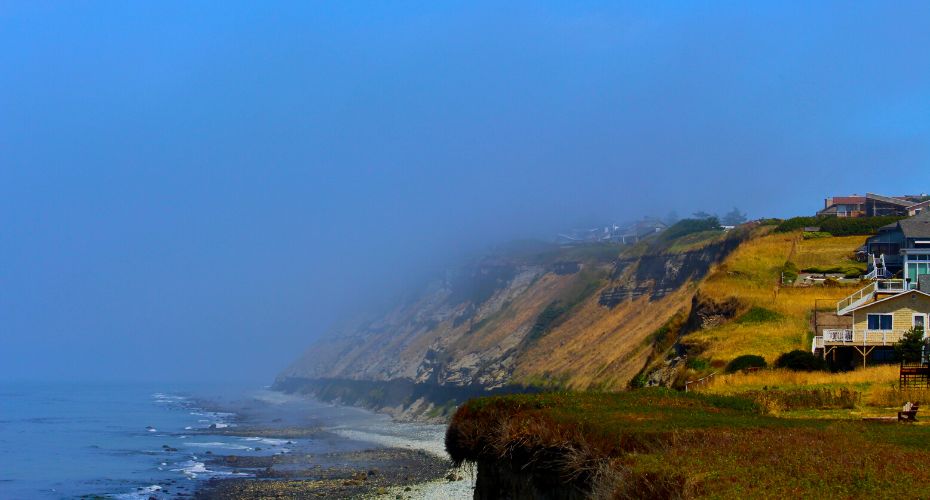 Whidbey Island is a beautiful and picturesque destination located in the Puget Sound, just a short ferry ride from Seattle. With its stunning natural beauty, rich cultural heritage, and abundance of outdoor activities, it's no wonder that Whidbey Island is a popular destination for travelers and residents alike. In this blog, we will explore the top 10 best things about Whidbey Island, from its scenic beauty to its thriving arts and culture scene.
Top 10 Best Things About Whidbey Island
Scenic beauty: Whidbey Island is known for its breathtaking views of the Puget Sound and the Olympic Mountains. Whether you are driving along the winding roads or hiking through the forests, you will be treated to stunning vistas at every turn.
Outdoor activities: With its numerous parks, trails, and beaches, Whidbey Island is a paradise for outdoor enthusiasts. Whether you are into hiking, biking, kayaking, or just soaking up the sun on the beach, there is something for everyone on this beautiful island. One of our favorites is Ebey's Landing National Historic Reserve  in Coupeville.
Small-town charm: Despite its proximity to Seattle, Whidbey Island has a laid-back, small-town feel that is perfect for those who want to escape the hustle and bustle of the city. The island's charming towns and villages offer a variety of local shops, restaurants, and breweries that are worth exploring.
Local produce and seafood: Whidbey Island is known for its rich agricultural heritage, and the island is home to a number of farms that produce fresh, locally grown produce. The island is also home to a thriving seafood industry, with local fishermen bringing in a variety of fresh, locally caught seafood. Seabolts comes highly recommended.
Wineries and breweries: Whidbey Island is home to a number of wineries and breweries that offer tastings and tours. These local businesses offer a chance to sample some of the best wines and beers produced on the island.
Arts and culture: Whidbey Island is home to a thriving arts scene, with numerous galleries, theaters, and music venues that offer a variety of performances and exhibitions throughout the year. The island is also home to a number of festivals and events that celebrate the island's rich cultural heritage.
Accommodations: Whether you are looking for a luxury resort or a cozy bed and breakfast, Whidbey Island has a wide range of accommodations to choose from. The island's many hotels, inns, and vacation rentals offer a variety of options for travelers of all budgets and preferences.
Dining: With its abundance of locally grown produce and seafood, it is no surprise that Whidbey Island is home to some excellent restaurants. From seafood shacks to fine dining establishments like Frasers Gourmet Hideaway or China City, the island has something for every taste and budget.
History and heritage: Whidbey Island has a rich history and cultural heritage that is worth exploring. The island is home to a number of historic sites, including Fort Casey State Park, which offers a glimpse into the island's military past.
Accessibility: Despite its rural location, Whidbey Island is easily accessible from Seattle and other major cities in the region. The island is just a short ferry ride away, making it a perfect getaway for those looking to escape the city for a few days.
Whidbey Island is a truly special place that has something for everyone. From its breathtaking views and outdoor activities to its charming small towns and delicious local cuisine, there's no shortage of things to see and do on this beautiful island. Whether you are planning a weekend getaway or a longer vacation, Whidbey Island is the perfect destination for those who love nature, culture, and a slower pace of life.
If you are thinking about moving to Whidbey or just have questions about the area please do not hesitate to connect with us here.
View this post on Instagram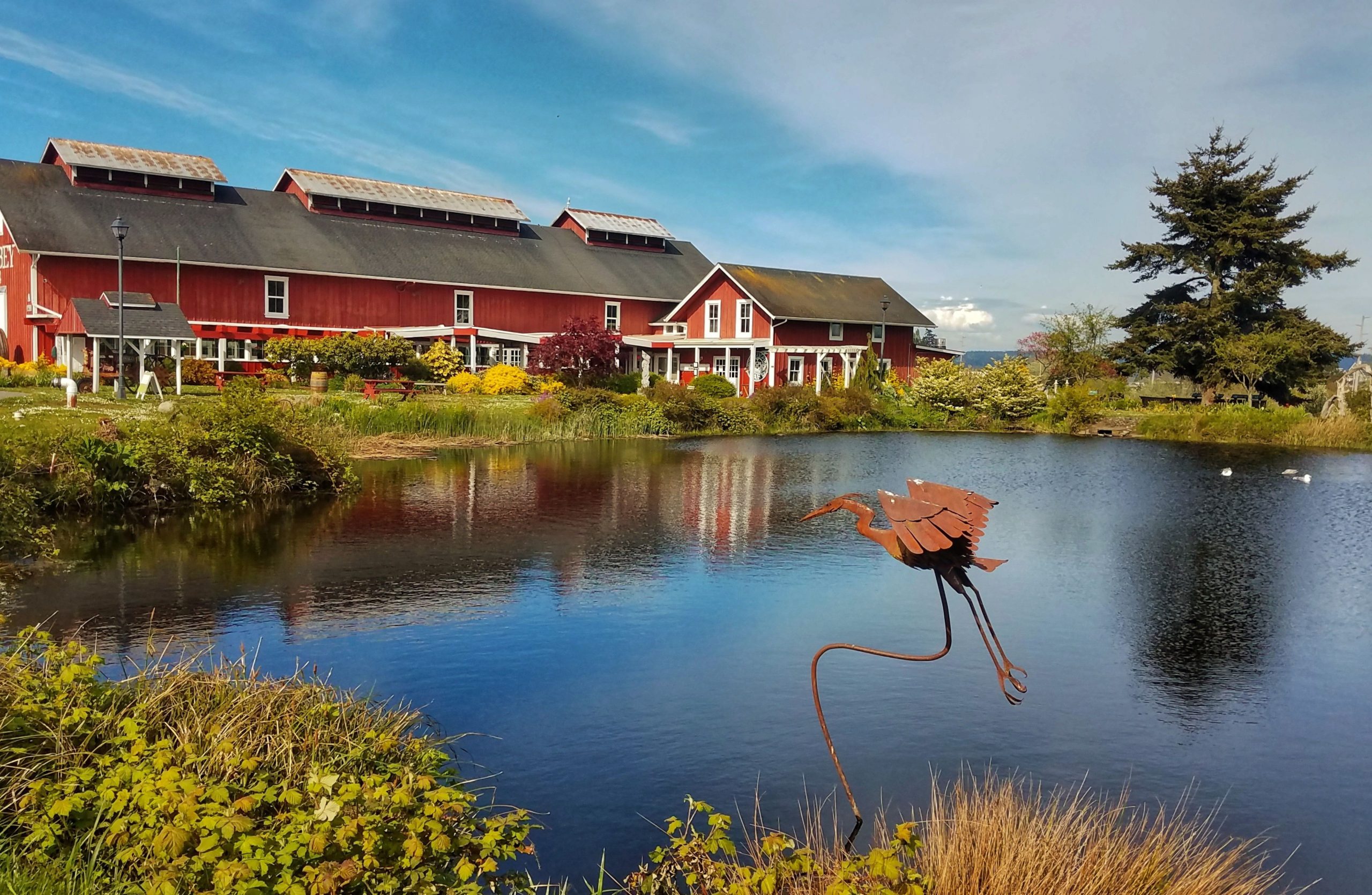 Almost 19 years ago the planning for 7 distinct gardens at Greenbank Farm began with the Master Gardener volunteers. These gardens are beautiful, but their main purpose is to educate and demonstrate. Two more gardens have been added as well as amazing sculpture art. You can visit these gardens year-round and learn the secrets behind what types of plants do well here, what they look like throughout the year, how to care for, space, and group them, and how to avoid using harsh chemicals. You can even attend classes or workshops on-site in the spring and summer. Such a wondrous Whidbey Island gem!
This gorgeous photo was taken by a local photographer Melissa Goldman. Find more of her work on her Instagram at  @melissa.goldman
Check out the rest of Whidbey's beautiful destinations from this series here.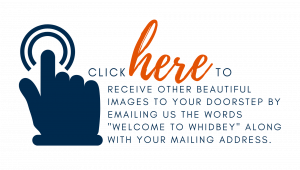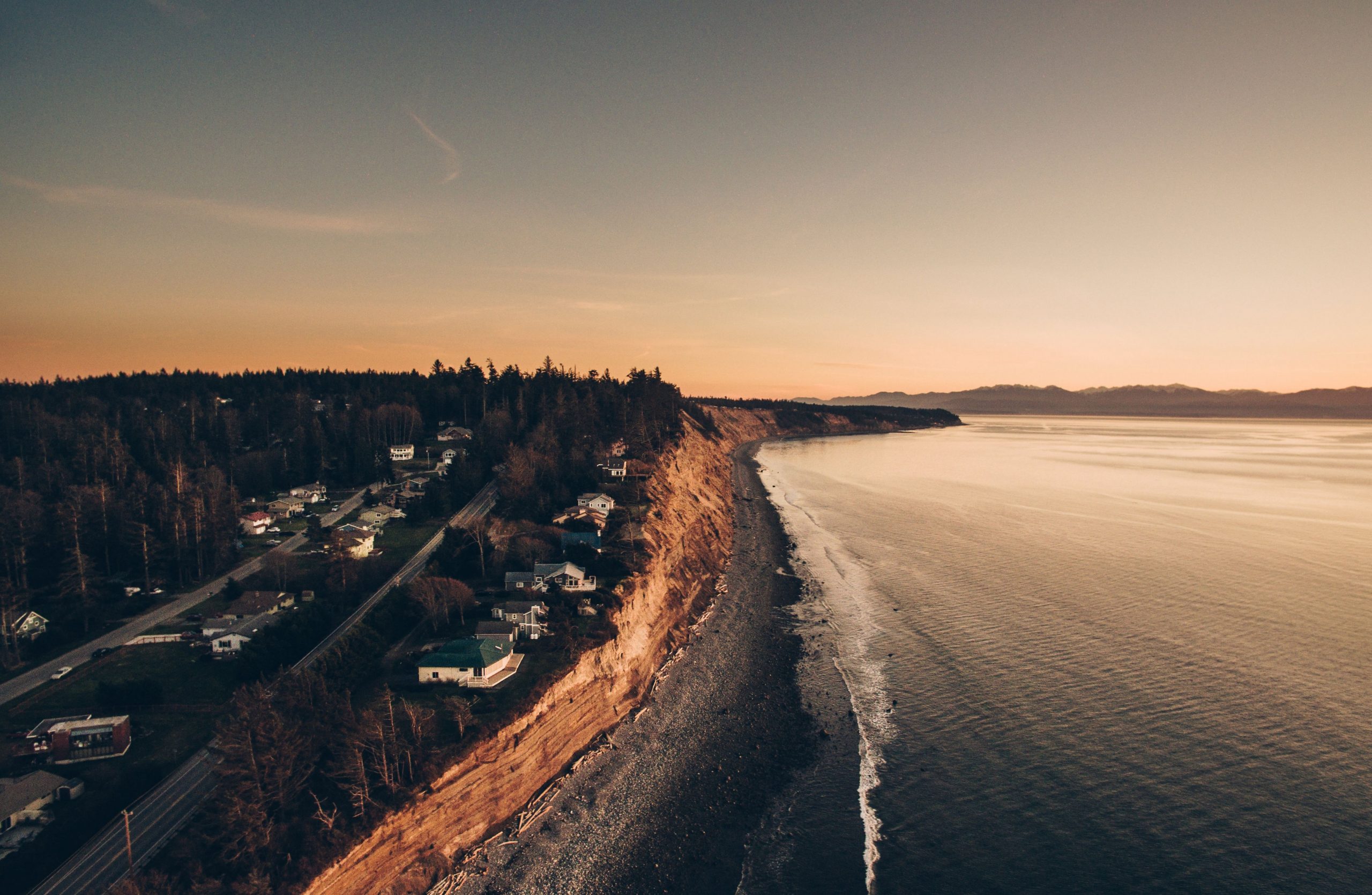 Whidbey Island has an interesting geological history. During the last glacial age (around 15,000 years ago) Whidbey was so weighed down with ice that it was submerged far underwater. High bluff areas like the ones on West Beach, pictured on the front, are well above the waterline now but the wind, waves and slowly eroding bluffs keep geology enthusiasts coming back for interesting finds. These have included mammoth bones (no kidding!), huge erratic boulders dumped by glaciers, bands of black peat, and even shell middens left by the Coast Salish. Insane right? Tell us what you have found walking along the high-bank waterfronts of Whidbey. 
This stunning photo is brought to you by: Willie Shaw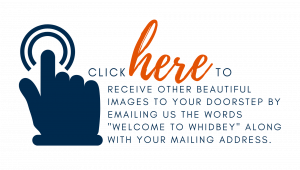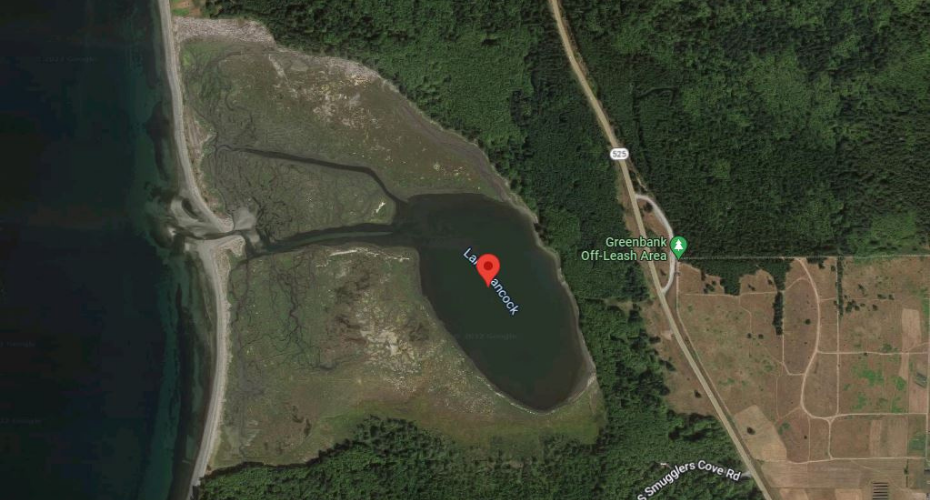 A major storm in the early 1900s destroyed a sand dune that separated the fresh water in Lake Hancock located in Greenbank from the saltwater of the Puget Sound. The destruction of the sand dune resulted in a tidal flow that sometimes creates the illusion of a flooded lake and other times leaves a stretch of muck littered with driftwood.
Lake Hancock Years Ago: 
Around the time of World War II, the Navy utilized this location for bombing practice. Since the lake, still owned by the Navy, is littered with metal fragments, and there is a possibility of unexploded ordinance, access to the lake is limited to special permission escorted by Navy representatives. Bordering the southern and eastern sides of the lake is property owned by The Nature Conservancy, Island County, and the Port of Coupeville. Private property borders the most northern side of the lake and of course the Puget Sound to the west.
Today: 
Due to the limited access, Lake Hancock offers a remarkable sanctuary for Whidbey Island wildlife. Parallel to the lake across the 525 is the stunning Greenbank off-leash dog area (learn more about it here) where you can catch glimpses both of Lake Hancock from one side and the Saratoga Passage on the other from the peak of the hillside. It is likely you will also discover people enjoying bird watching as this location offers some of the most extraordinary opportunities. Approximately 2 minutes south of the dog park is the lovey Greenbank Farm (learn more about it here) where you can stop for a cup of coffee and enjoy a slice of the most delightful pie made by Whidbey Pies while you are there.
Don't forget to post a picture of your visit and tag us in it. We would love to see your adventure.
Instagram: @windermere_whidbey_island
Facebook: @WindermereWhidbeyIsland
If you are considering buying or selling and would like to learn more about the area, we would be happy to schedule a consult with you. Call us today at 360.675.5953 or email us at whidbeycommunications@windermere.com.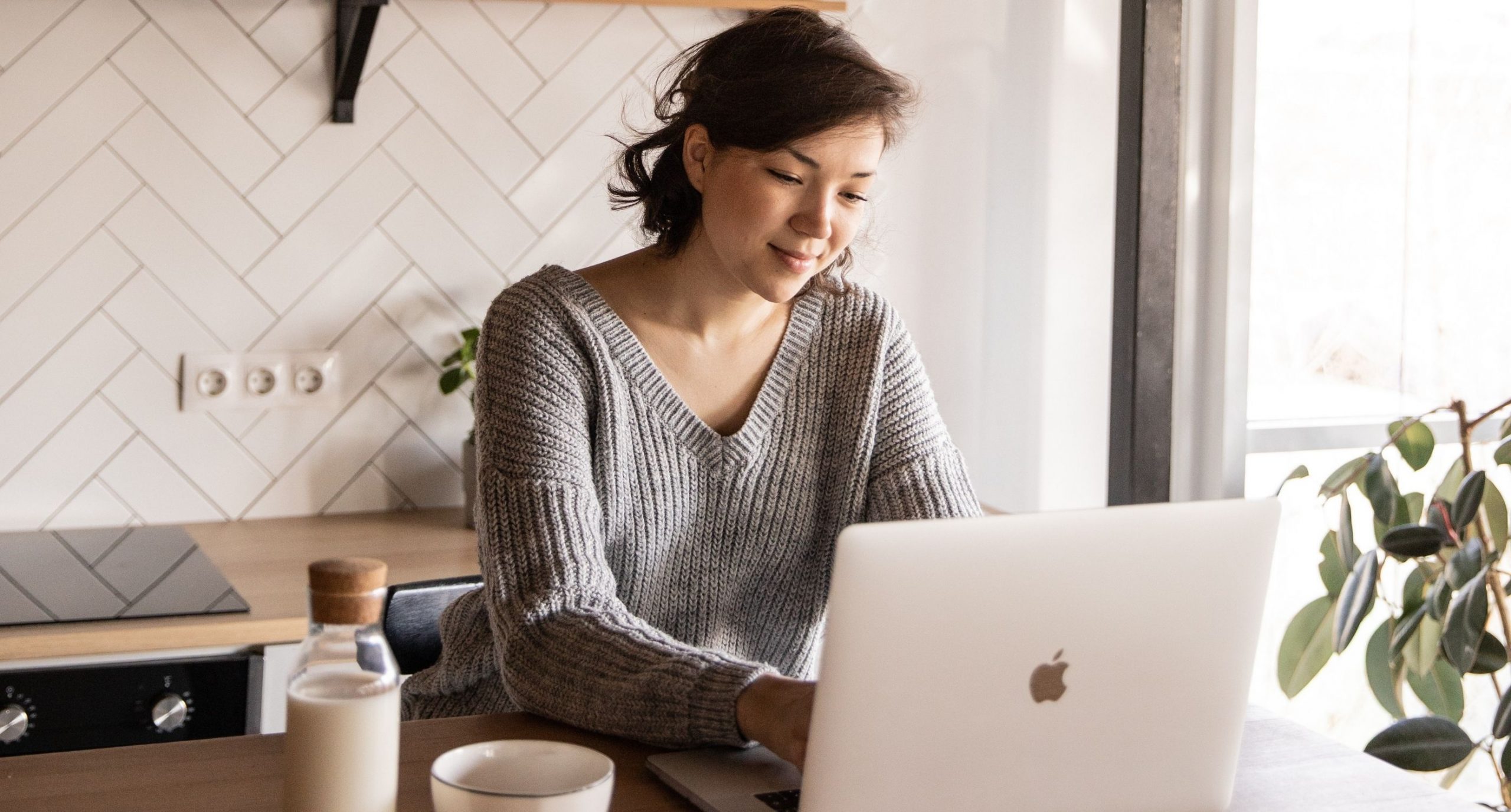 When you are preparing to move to a new location or to buy a home for the first time, you are likely eager to learn literally EVERYTHING from the home buying process to everything about the area and what it has to offer when you arrive.

Whether from pure excitement or overwhelming nerves you are likely to find yourself up well past your typical bedtime researching things like:
What cool things are nearby?
Which neighborhoods you can afford.
What those neighborhoods are like.
If you can imagine yourself living there.
Where the best spots are for a cup of coffee.
and probably… where the most iconic location for a picture that might make you Instagram famous might be.
Luckily for you, some real estate brokers are obsessed with this same level of need-to-know. There are a handful of brokers who have created incredibly in-depth online guides to their area. Many go as far as to include information on individual little neighborhoods that will make your search and transition that much easier.
Where it all started:

We were inspired by Marguerite Martin to go all out on neighborhoods and provide rich local content just as she has with her page Move to Tacoma.
It brings us great pleasure to announce that here at Windermere Whidbey Island, we recently unveiled our very own Neighborhood Guide. We couldn't be more excited to share it with you! Our first release takes a deep dive into 26 neighborhoods from Oak Harbor to Greenbank. We will continue expanding over time. Each page includes written descriptions, images of the homes and neighborhood features, quotes from neighbors, a map with key attractions nearby, median sales price, links to active, pending, and sold homes, commute times to schools and nearby hospitals, and blog posts on a whole suite of topics related to that neighborhood.

Looking for more?
If you are looking for more lifestyle information, check out our umbrella page The Whidbey Island Guide. The guide offers local events, links to government and public sites/resources, collections of articles on things like hiking, restaurants, and so much more.
Remember, these pages represent just the tip of the iceberg on what our brokers know about living on Whidbey Island. If all this information just leads to more questions give us a call! If you have suggestions on information, you wish we would add please tell us, we are all ears.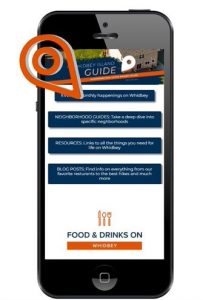 Connect with us:
Connect with us and expand your search by following us on Instagram at @Windermere_Whidbey_Island where you can find reels on the various neighborhoods of Whidbey.
View this post on Instagram
If Facebook is more your thing you can find us here!