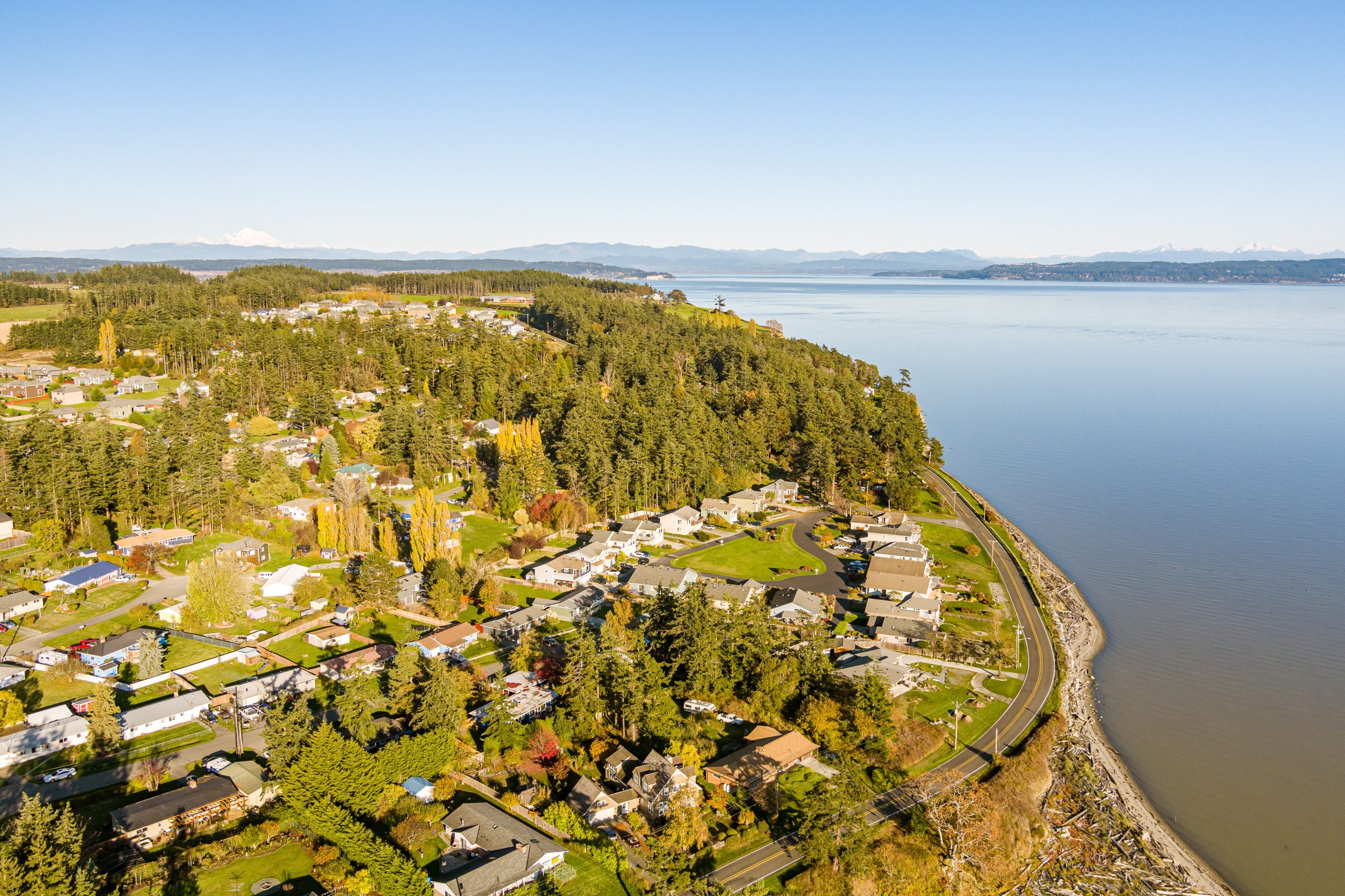 Welcome to Penn Cove Park. There is no doubt you will find a home you like here. There is an array of newer and older homes amongst this quiet community on the northern shoreline of Penn Cove off Monroe Landing. The central location between Oak Harbor and Coupeville provides not only more options for educational opportunities but also quick access to all the amenities both cities have to offer.
What sets this neighborhood apart from some of the others you might find on Whidbey Island is that residents not only have access to a private beach, but they also have a boat ramp. During the summer the water is warm enough to swim in because the cove is protected from the strong offshore winds that other water access areas are exposed to, making it likely the warmest beach on Whidbey Island. Not to mention, the incredible views of Penn Cove, gorgeous views of Saratoga Passage and the lovely historic Town of Coupeville. On sunny days you can spot snow covered mountains in the distance and a pod of Orca whales may be playing in the Cove.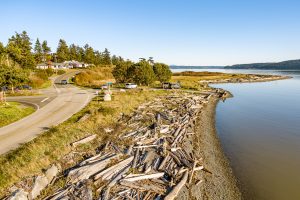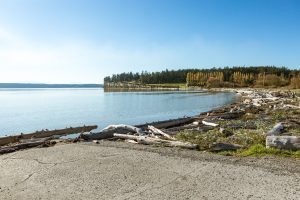 One of the major benefits of living here is the short distance to the only Hospital on the island, Whidbey General Hospital. Downtown Coupeville offers quaint restaurants, galleries, shops, and a museum that overlook the cove offering luxurious views making for special trips all year round. Oak Harbor, just north of the neighborhood is home to Naval Air Station Whidbey Island where you will find an array of fast-food restaurants, car washes, and big-name shopping centers. In between the two discover the heart of Whidbey, with family farms like Three Sisters Market, small churches, and one of the very few left in the USA the Blue Fox Drive-in Movies with attractions like arcades, go-carts, and food!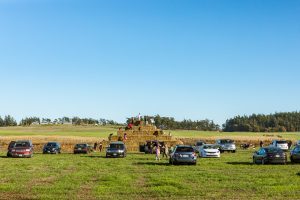 Are you ready to get to know this Whidbey Island neighborhood better? Check it out here.
Have questions? We are happy to help. Connect with us here.
View this post on Instagram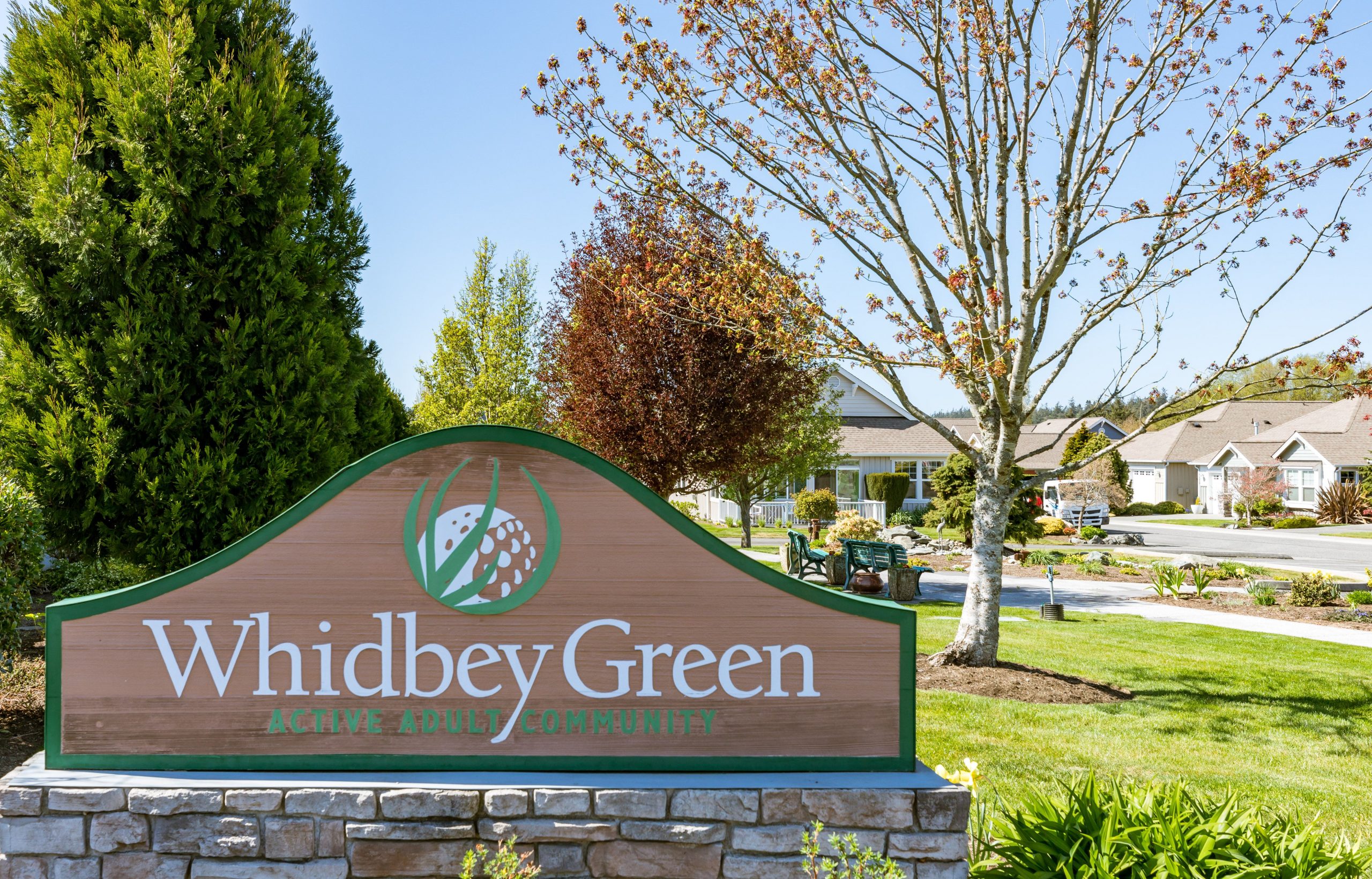 Are you approaching age 55 and thinking about downsizing?  Perhaps there is just too much home maintenance to keep up with and you'd rather spend your time enjoying the things you want to do rather than the things you are obligated to do to maintain your home. If this is the case, Whidbey Green might be the perfect place for you. You can elevate yourself from the honey-do list, relax and enjoy doing the things you want to do with a low-maintenance home in Whidbey Green where Home Ownership Association (HOA) dues cover exterior care of the homes and landscaping services.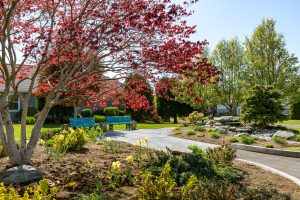 Whidbey Green is an Active Adult Community
If you didn't know already, Whidbey Green is one of the best 55-and-older communities on Whidbey Island. It is a quaint community located on the southern end of Oak Harbor bordering Whidbey Golf Club. There is actually golf cart access to the course for Whidbey Golf Club members only. The neighborhood provides a safe and comfortable environment for those approaching or enjoying retirement. Check out what is currently available here.
Just outside the community within walking distance you'll be pleased to discover the beautifully maintained Fort Nugent Park which offers easy paved walking trails in addition to sports fields, frisbee golf, playground, basketball courts, and more. Best of all there are well-kept restrooms, covered picnic areas, and a plethora of parking.
Location, Location, Location 
The neighborhoods' location was no accident. It was developed with you in mind. Not only is it located near walking trails and a golf course, but it was developed near downtown Oak Harbor. This prime location places you close to shopping, restaurants, and of course the waterfront views at Windjammer Park.
If you have questions or are considering making this life change and would like to speak with an agent please feel free to connect with us here. We are just a call away 360.675.5953.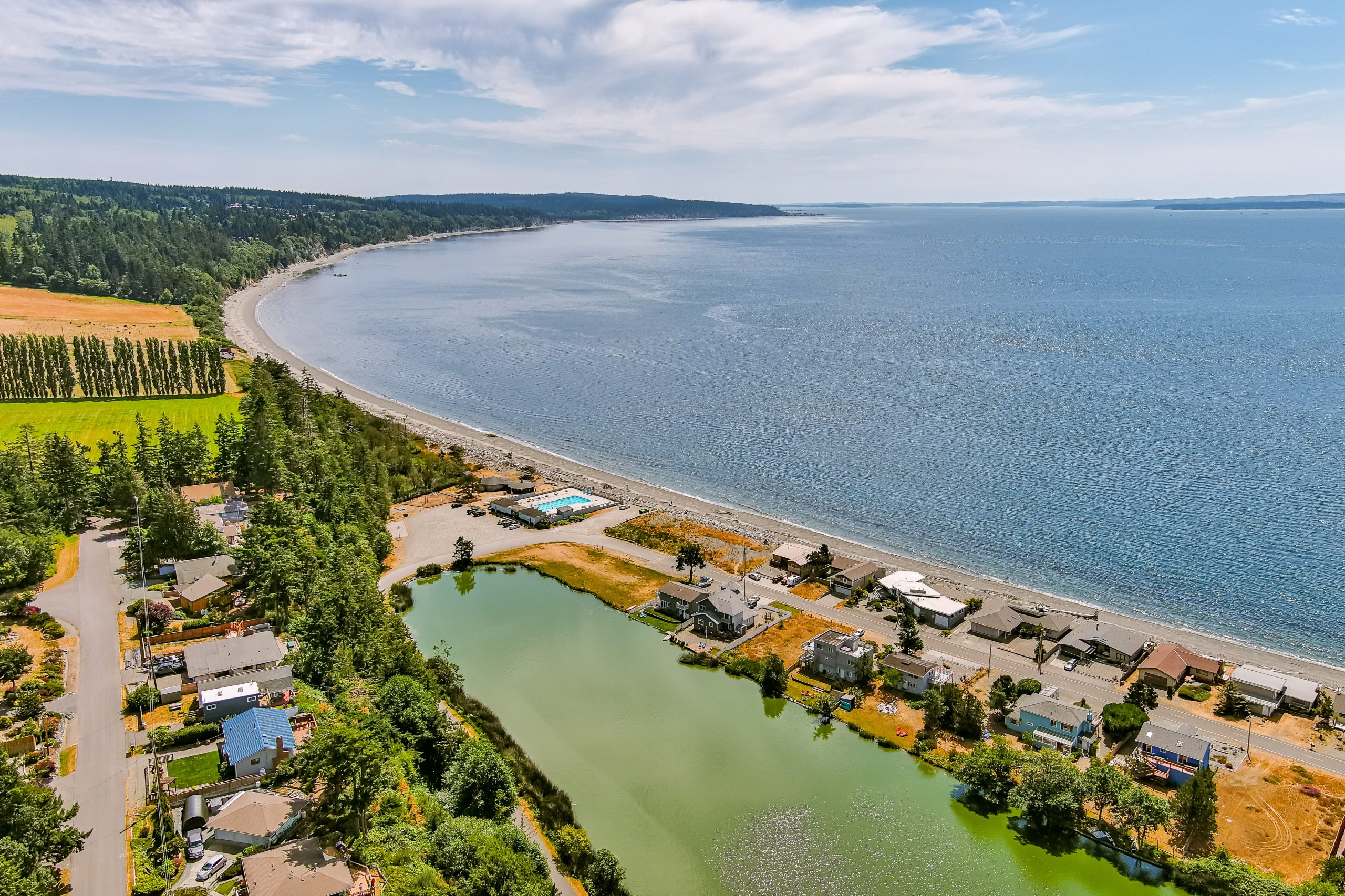 Located on the West side of Whidbey Island just South of the Port Townsend – Coupeville Ferry Landing discover Admirals Cove. It is the largest congruent neighborhood within the Coupeville zip code. Admirals Cove offers some of the most affordable properties in Coupeville, with a wide variety of homes built in various stages from the 1960's to today, along with a plethora of amenities. It might come as a surprise as you enter the neighborhood from highway 20 to discover waterfront properties as you head down the hill. Want to learn more about the neighborhood? Click here.
Equally surprising, Admirals Cove does NOT have an HOA. Interestingly, the neighborhood operates as a club.  In 2011 it was ruled that Admirals Cove could not be an HOA because it allows people to be associate members when they don't own property in the community. Property owners however do not have an option to opt out of being a member of the club. Their dues directly impact projects like their latest one shoring up the bulkhead between the pool and the beach.

Admirals Cove is the Place to be if You are Looking for Amenities
We spoke about west facing properties before in our article, "What View is Best on Whidbey Island" where we explained why West-facing properties are some of the most sought after on Whidbey. The extra sun exposure in West-facing neighborhoods explains why the neighborhood includes amenities like a pool, beach access, shelter, playground and more to soak up the sun when others do not.
The Community Pool
Admirals Cove is recognized as one of the few community pools on Whidbey Island. Intriguingly, the pool is right on the beach and has been here for over 50 years. It has recently been remodeled and is open for use between May 28 – September 5 in 2022. As an added benefit, they offer swim lessons in the summer for members and non-members.
Beach Access
Park next to the pool and enjoy the beach just a few steps away! Check out the latest tide heights here https://www.tide-forecast.com/locations/Admiralty-Head-Washington/tides/latest.
Shelter and Playground
Next to the pool is a spacious shelter/enclosed gazebo that is available to rent for parties if you are a member. Restrooms, Wi-Fi, grills, picnic area, horseshoe pit, firepits, and a nice playground are all included.
In the Surrounding Area
Admirals Cove central location creates an opportunity for all sorts of adventure. Less than five miles north includes places like Fort Casey State Park, Crockett Lake, Price Sculpture Forest, and the Port Townsend Ferry with Greenbank Farm just over 5 miles south.
Does Jet Noise Bother You?
Keep in mind that OLF or the Navy's Outlying Field is nearby. The noise from jets practicing their touch and go's is not for everyone so we encourage people considering Admirals Cove to experience it for yourself. You can see what the upcoming schedule is on this website https://www.cnic.navy.mil/regions/cnrnw/installations/nas_whidbey_island/news/news_releases/field-carrier-landing-practice-at-nas-whidbey-island-complex-for.html
For more information visit the Admirals Cove neighborhood website here https://www.acbc-whidbey.org/index.html.
Find Admirals Cove on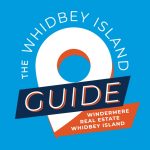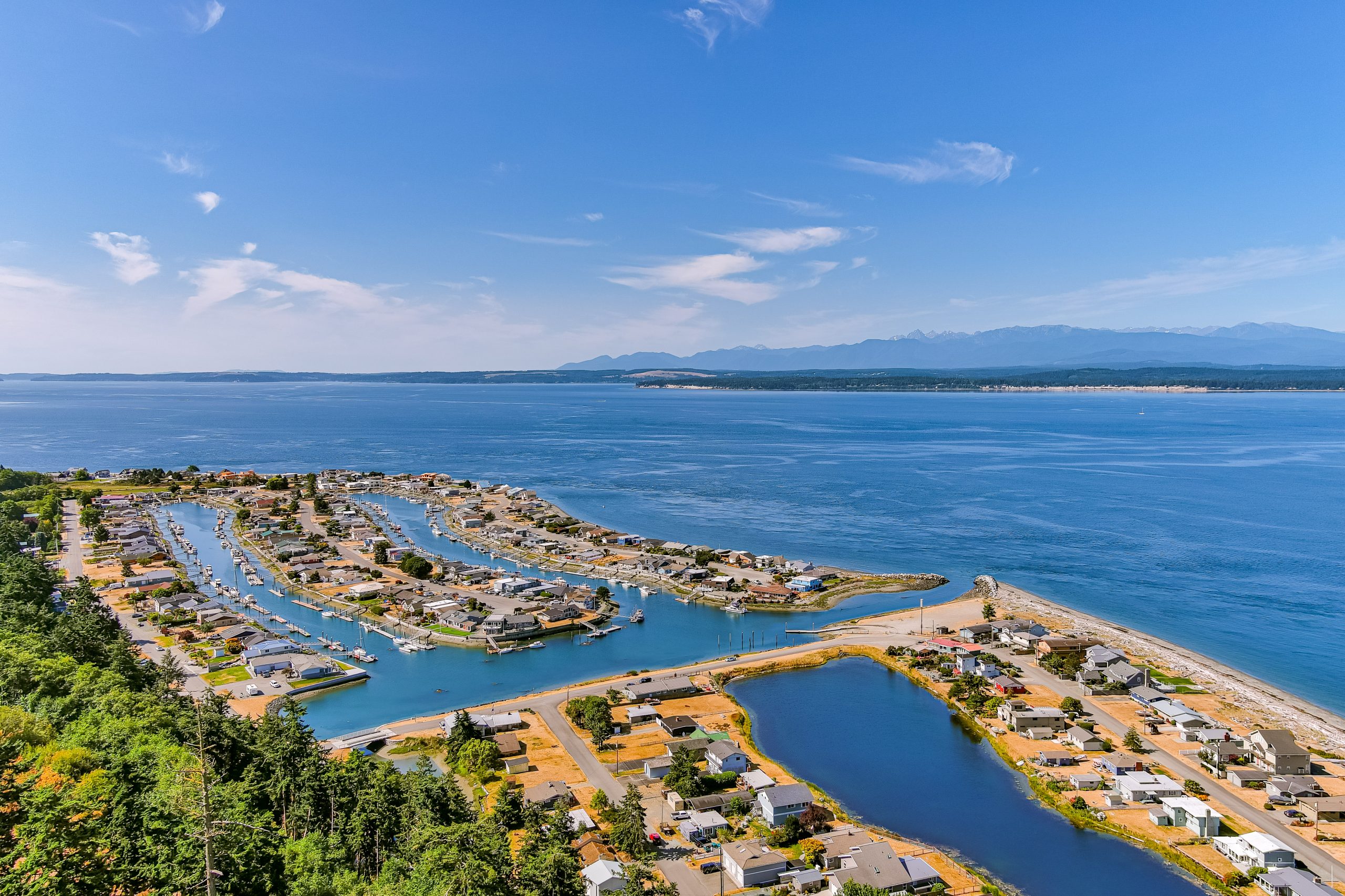 Lagoon Point is one of just three canal communities on Whidbey Island where you can dock your boat right in front of your home. This rare style of a planned community used to be a large salt marsh before developers pushed earth around, dredged, and carved out a canal from Puget Sound down to finger canals lined with floating docks and gangways connecting them to backyards. You can find this centrally located neighborhood on the coveted west side of Whidbey Island on the southern edge of Greenbank.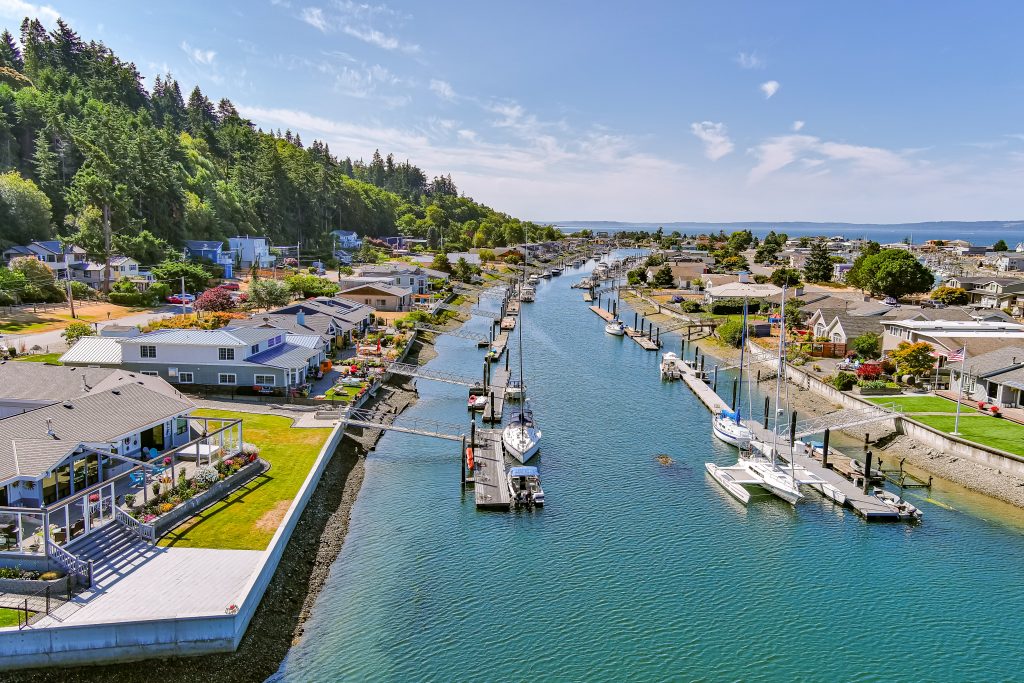 Boating Community:
Although only a small percentage of Lagoon Point community homes have docks in their backyards, most all partake in the gorgeous water views. Many of the homes are perched up the hill where they can enjoy heightened and expansive views while others surround the large lagoon (Lagoon Lake) on the north side. No one can argue that this is a very boating centric community. In fact, one of the very best boat launches can be found here and is only available to homeowners. An added benefit is that there is ample space to store your truck and trailer while you are out enjoying the sound.
Keep in Mind:
The only tricky bit with this canal community is that mother nature keeps trying to close off the mouth of the canal that leads to the Puget Sound. With that said, it is of the utmost importance to have an intimate understanding of how the spit is currently formed and at what depth tide you can safely navigate your vessel through it. Luckily, it is a very active neighborhood. One member has even provided drone footage of the opening on his You Tube channel so you can familiarize yourself! https://www.youtube.com/channel/UCXwDdeNtdeZWUnSFtfQ2Gaw
Only Bridge on Whidbey:
Lagoon Point likes to boast that it has the only bridge on Whidbey Island. Confused huh? Let us explain. There is a very serious bridge that connects the two sections of the lower part of the community that has both ends firmly planted on Whidbey where the Deception Pass Bridge obviously has one side on an entirely different island. Ha! If you can debunk this we would love to hear. Send us an email here: whidbeycommunications@windermere.com.
Check it Out:
For those just wanting to check out the community you can easily take a drive around. There is a narrow section of beach that is a public beach at the end of Salmon Street. Keep in mind it is privately owned tidelands on either side. One of the best depictions of this can be found in the gallery section of the communities very informative website https://lagoonpoint.com/gallery/.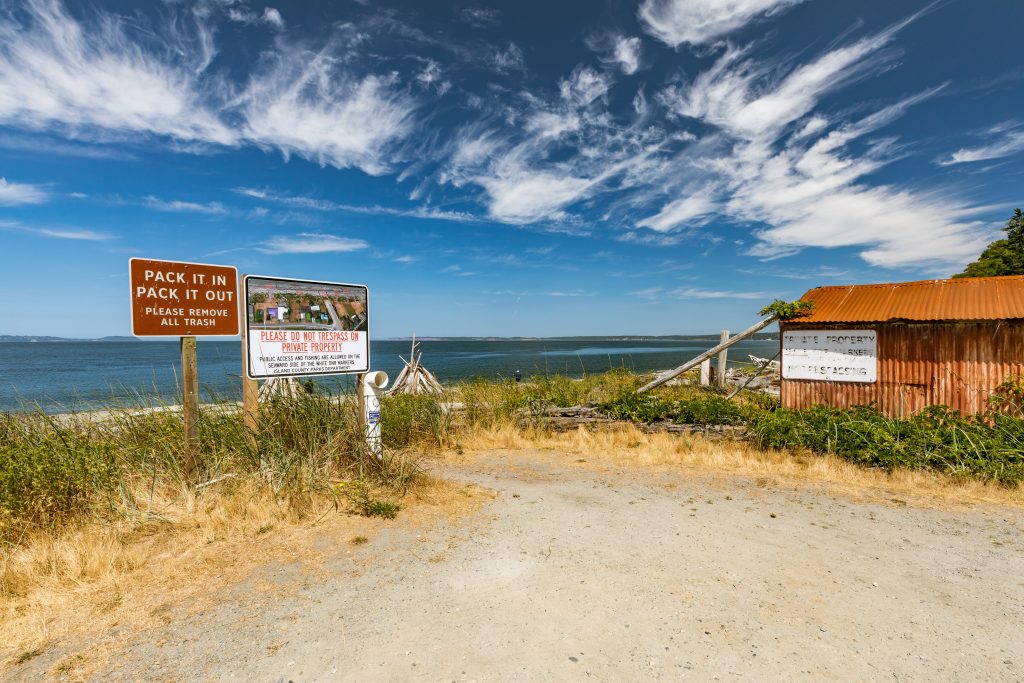 Close to Everything:
Being central on the island, positions the community only a couple of miles from South Whidbey State Park, less than 4 miles from Greenbank Farms, and less than 10 miles from downtown Freeland. Living in Lagoon Point offers you a plethora of opportunities to take a gorgeous hike or do your grocery shopping!
Considerations:
One consideration when investing in a canal community is that maintaining such infrastructure as a jetty, bulk heads, canals, 2 boat launches, and even a bridge can be expensive and hard work. A homeowner in this community needs to be prepared to invest in their upkeep and appreciate the work the volunteers on the board and committees take on. For instance, the new bridge installed in 2017 took 4 years and 100's of thousands of dollars. The last time they dredged it took almost a decade and just under 1 million dollars.
View this post on Instagram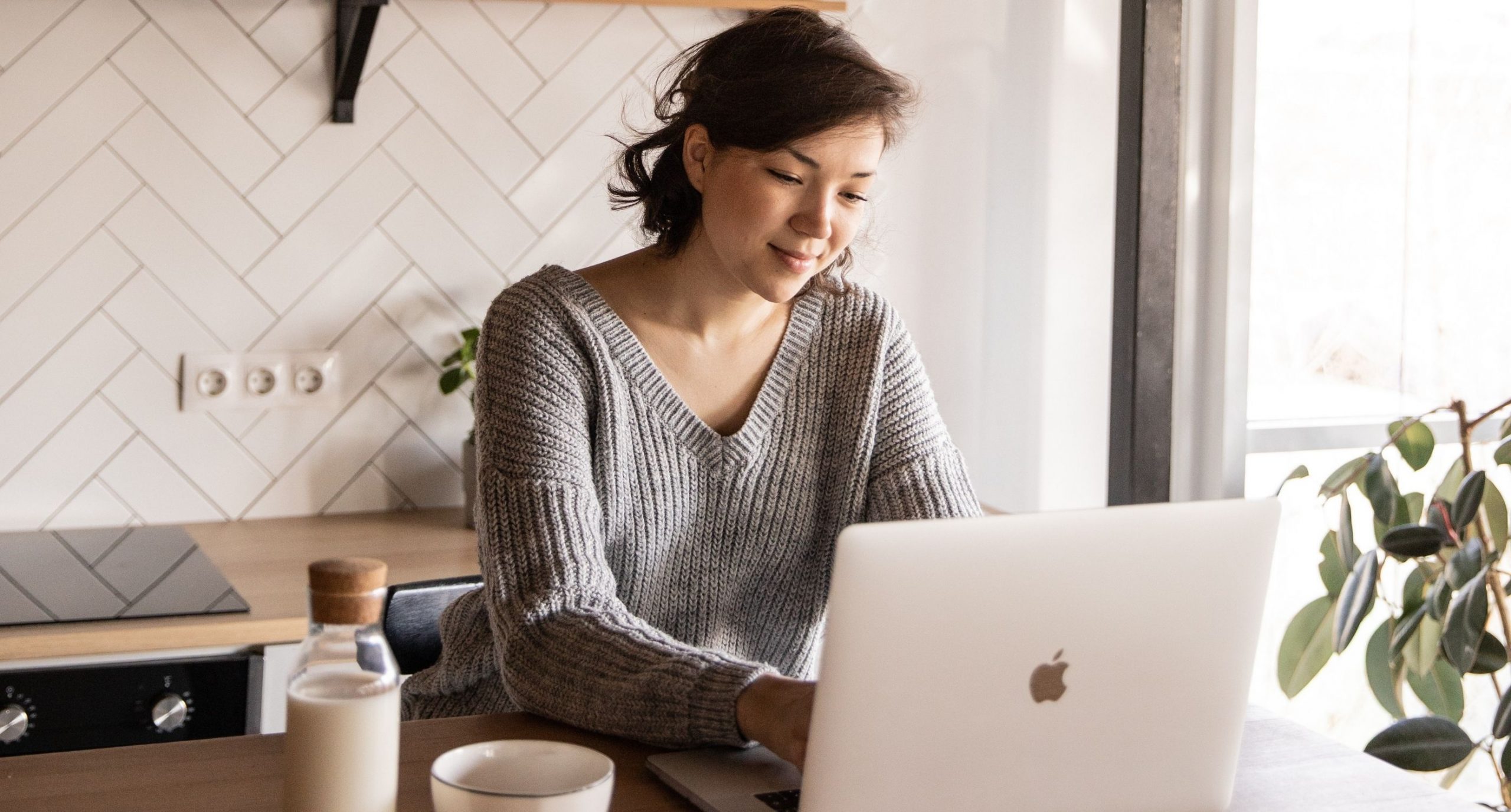 When you are preparing to move to a new location or to buy a home for the first time, you are likely eager to learn literally EVERYTHING from the home buying process to everything about the area and what it has to offer when you arrive.

Whether from pure excitement or overwhelming nerves you are likely to find yourself up well past your typical bedtime researching things like:
What cool things are nearby?
Which neighborhoods you can afford.
What those neighborhoods are like.
If you can imagine yourself living there.
Where the best spots are for a cup of coffee.
and probably… where the most iconic location for a picture that might make you Instagram famous might be.
Luckily for you, some real estate brokers are obsessed with this same level of need-to-know. There are a handful of brokers who have created incredibly in-depth online guides to their area. Many go as far as to include information on individual little neighborhoods that will make your search and transition that much easier.
Where it all started:

We were inspired by Marguerite Martin to go all out on neighborhoods and provide rich local content just as she has with her page Move to Tacoma.
It brings us great pleasure to announce that here at Windermere Whidbey Island, we recently unveiled our very own Neighborhood Guide. We couldn't be more excited to share it with you! Our first release takes a deep dive into 26 neighborhoods from Oak Harbor to Greenbank. We will continue expanding over time. Each page includes written descriptions, images of the homes and neighborhood features, quotes from neighbors, a map with key attractions nearby, median sales price, links to active, pending, and sold homes, commute times to schools and nearby hospitals, and blog posts on a whole suite of topics related to that neighborhood.

Looking for more?
If you are looking for more lifestyle information, check out our umbrella page The Whidbey Island Guide. The guide offers local events, links to government and public sites/resources, collections of articles on things like hiking, restaurants, and so much more.
Remember, these pages represent just the tip of the iceberg on what our brokers know about living on Whidbey Island. If all this information just leads to more questions give us a call! If you have suggestions on information, you wish we would add please tell us, we are all ears.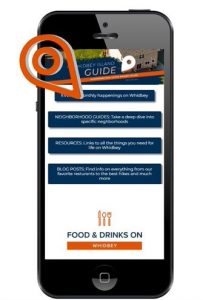 Connect with us:
Connect with us and expand your search by following us on Instagram at @Windermere_Whidbey_Island where you can find reels on the various neighborhoods of Whidbey.
View this post on Instagram
If Facebook is more your thing you can find us here!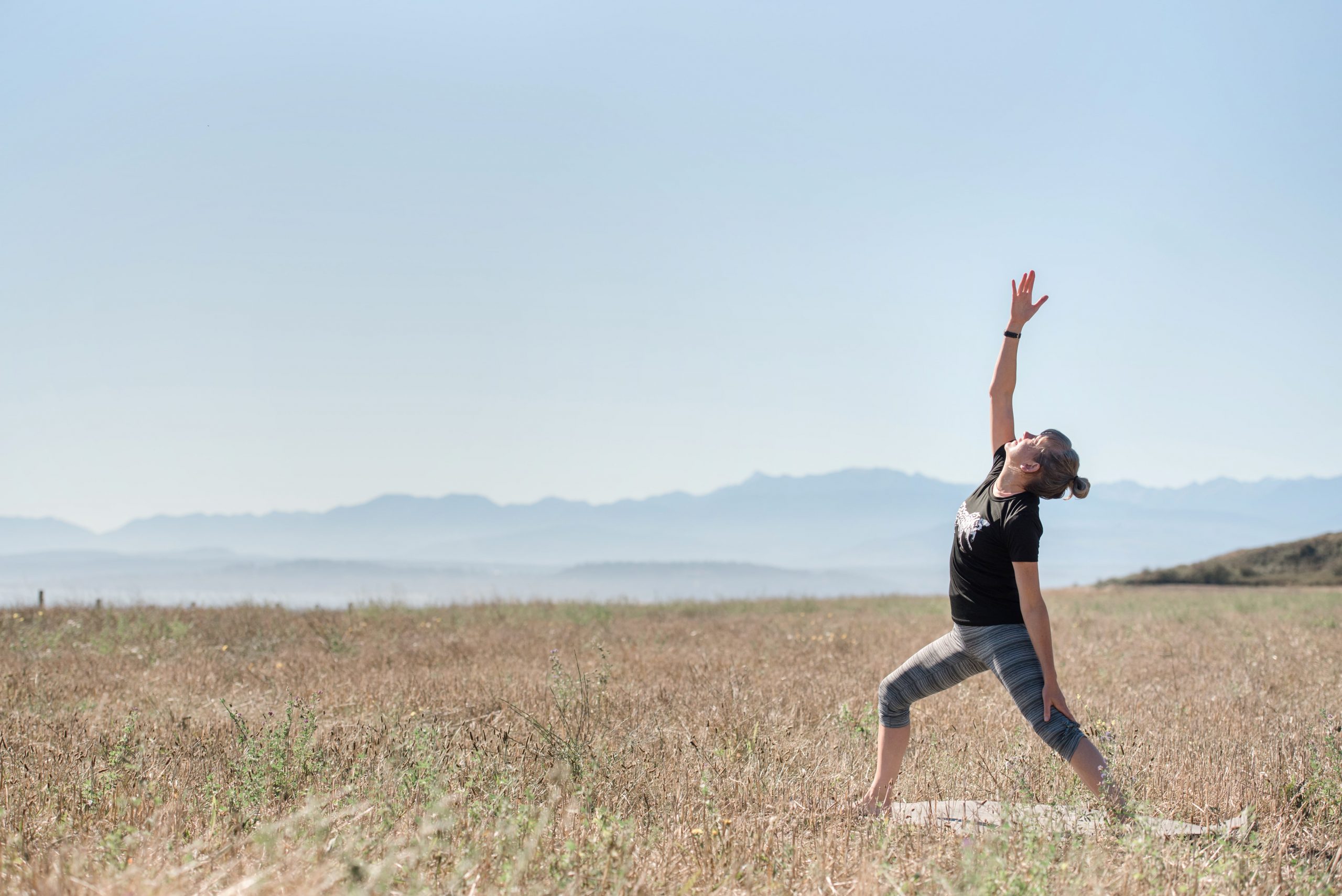 For some, it might be a nice glass of wine from Vails Wine Shop in Coupeville in the evening. Perhaps calming music, a soak in a deep tub with bubbles, or a good book. But for many, it is turning to nature. While there are various ways to find peace, internal healing, and reduce the stress our bodies are managing these days, nature seems to have a way of calming our nerves and clearing our minds.  This makes Whidbey Island the perfect retreat for the Zen you have been yearning for and if you are lucky to live here, it's right out your door!

Many people find comfort along the water's edge where they rest atop beached driftwood. Some sit on a hillside looking as far as their eyes can take them to let the bustle of their busy mind get lost in the view. Others like to stroll along West Beach while listening to the sound of the waves crashing in then receding across the pebbles. It is important to take into consideration the tide heights for these beach walks. Low tide offers the best option, but you don't want to get caught by an incoming high tide. Check out this site to know before you go.

Many people run the trails at Ebey's Landing. They get their hearts pumping as they persist along the cliffside hugging the edge with each step until they finally have come far enough to see the geological and ocean anomaly: Perego's Lagoon. It is at that moment their bodies release all tension. They find themselves in awe of a view they did not think could get any better. The realization sets in that the view is a moment in time made only for them as a congratulatory nod from mother nature for making it to the top. Suddenly they have the stamina to continue and can make the journey down the hillside. You can get a pdf of the entire trail system at Ebey's Landing here to keep you from getting lost in the maze.

Perhaps for you, a yoga mat in a grassy patch at Fort Casey is more up your alley? Your muscles relaxed, perfectly rhythmic breathing and suddenly the pose you've been practicing for weeks is in reach. You look out across Admiralty Inlet, you strike the perfect pose, sun rays grace your skin and suddenly you are glowing. If you feel the need for some instruction, join the South Whidbey Community for their Yoga in the Park events.

A quiet paddle in kayaks across calm waters during sunset never ceases to wash away pent-up tension in the shoulders. The open waters allow the serenity needed while the movement of your body releases endorphins to help your body relax. If you don't have your own sea kayak you can rent one from Whidbey Island Boats and Boards.

Perhaps we can suggest something more.  Find yourself becoming one with nature by enjoying a hot stone massage along Bayshore Drive in Oak Harbor. You can schedule an appointment at Bayshore Chiropractic Or, escape the worries of today where you can recall a simpler time by spending your evening at the historical Captain Whidbey Inn off of Madrona Way in Coupeville.
Regardless of how you destress, Whidbey Island has a plethora of natural options.
If you enjoyed this you might also enjoy reading: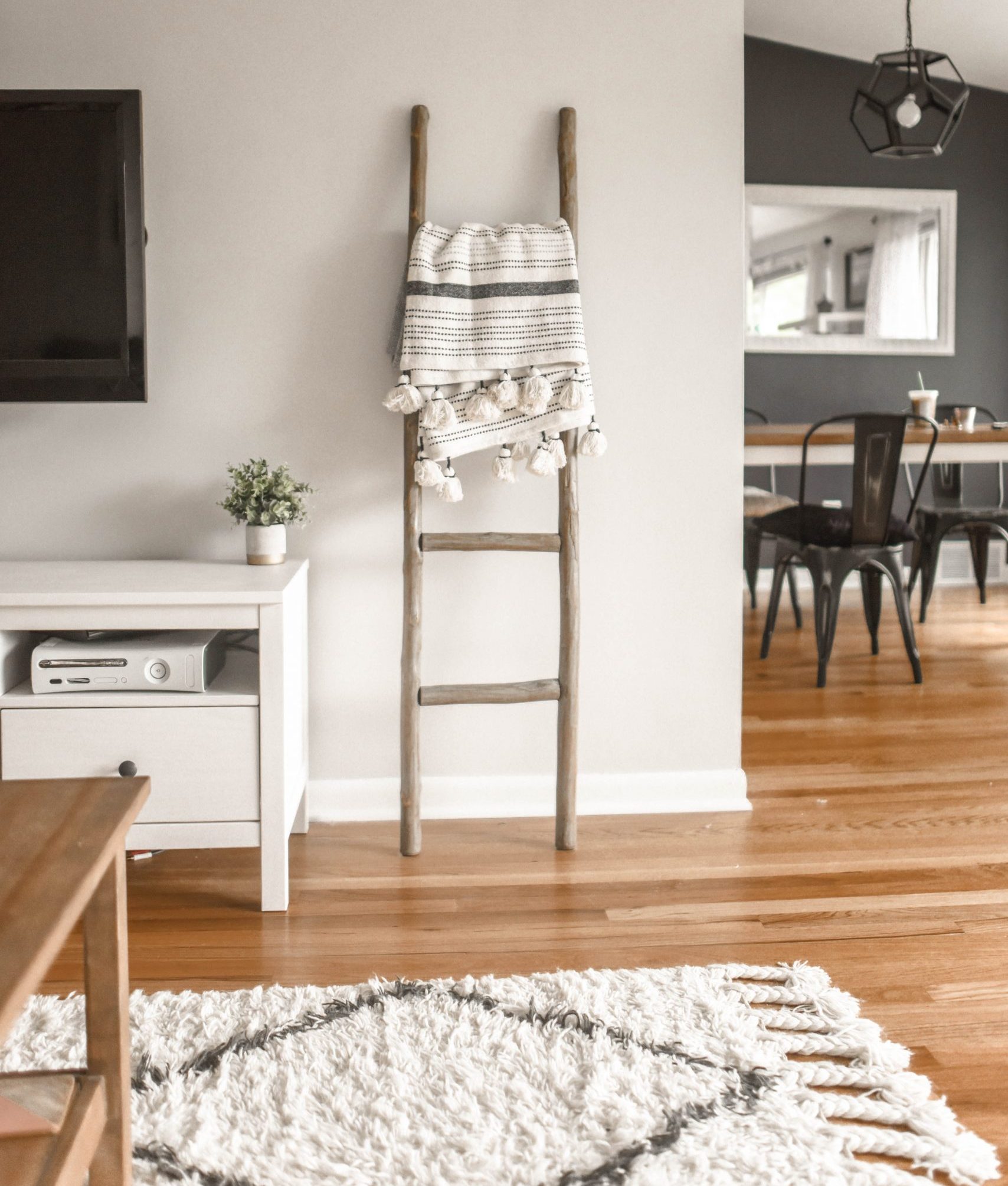 Watching today's housing market is like reliving a supply and demand lesson straight out of your High School Macroeconomics class. Home prices continue to rise due to the sheer lack of homes for sale on Whidbey Island. Especially in the lower price points $400,000 and below.
Here are 5 of the most affordable neighborhoods within 10 miles of downtown Oak Harbor and NAS Whidbey.
#1 City of Oak Harbor:
Median Price Point as of this post = $318,000 (15.6% increase from last year). Because Oak Harbor has been developed over the decades by various builders at different rates there are a lot of little neighborhoods. The most affordable area can be found in the middle of the City, on the East side between Highway 20 and SE Regatta Dr. Most homes in this area are from the 1950s in developments like Patton's Pasture & Shady Oaks.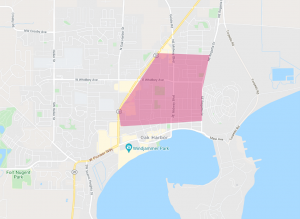 Design by Windermere Whidbey Island
#2 Rolling Hills:
Median Price Point as of this post = $338,500 (16.9% increase from last year). Located between Oak Harbor and Coupeville Rolling Hills was incorporated in 1961 but you will find a broad range of homes built across the decades. There are many manufactured homes, a few mobile homes and lots of stick built. One of the unique features of this community for Whidbey Island is their Community facilities which includes a pool, clubhouse, basketball court, baseball field, picnic shelter, and even some waterfront with a private pier. Water is managed by the community. All the homes are on septic systems, some with a community drain field.
Want to learn more about Rolling Hills? Click here.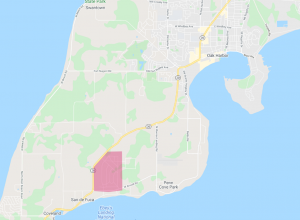 Median Sales Price for Rolling Hills by Windermere Whidbey Island
#3 Penn Cove Park:
Median Price Point as of this post = $348,500 (12.2% increase from last year). Although Penn Cove Park now connects to Cove View Circle, has several water view homes, and has a new construction project going on nearby we are going to focus on the original homes built for this neighborhood that don't have water views, because this is the more affordable area. Homes were built mostly between 1950-1980, all are 1-story. All are connected to a very rare, combined sewage treatment plant (not on septic) managed by Penn Cove Water & Sewer. This best part of this neighborhood is the location. One of the most enjoyable beaches with a low slope and sandy areas and public boat launches is right at the end of Monroe Landing. You can look across Penn Cove and enjoy views of the seaside Town of Coupeville and its iconic wharf.  Conveniently located between Oak Harbor and Coupeville you have access to two very different types of commerce and can petition to be in either school district.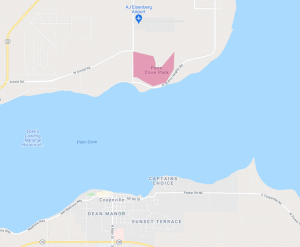 Median Sales Price for Penn Cove by Windermere Whidbey Island
#4 Northgate Terrace:
Median Price Point as of this post = $295,000 (15.8% increase from last year). Most of this community was first developed in the late 70's. It is a mix of manufactured and smaller stick-built homes. There is a homeowner's association, water is managed as a community by King water and there is a community clubhouse you can rent for gatherings. It is conveniently located right off of Highway 20 between the City of Oak Harbor and Deception Pass Bridge. More information can be found on their community web site here.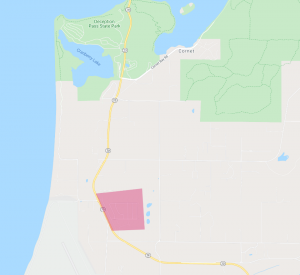 Median Sales Price for Northgate Terrace by Windermere Whidbey Island
#5 Deception Park View:
It may be a tiny little neighborhood but it's a delight and as you can see from their website they really care about their little community. It has a very active Homeowners Association. You can learn all about their recent efforts to create a Community Recreation Area in the neighborhood on their website here.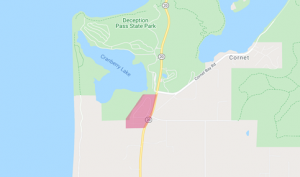 Median Sales Price for Deception Park by Windermere Whidbey Island