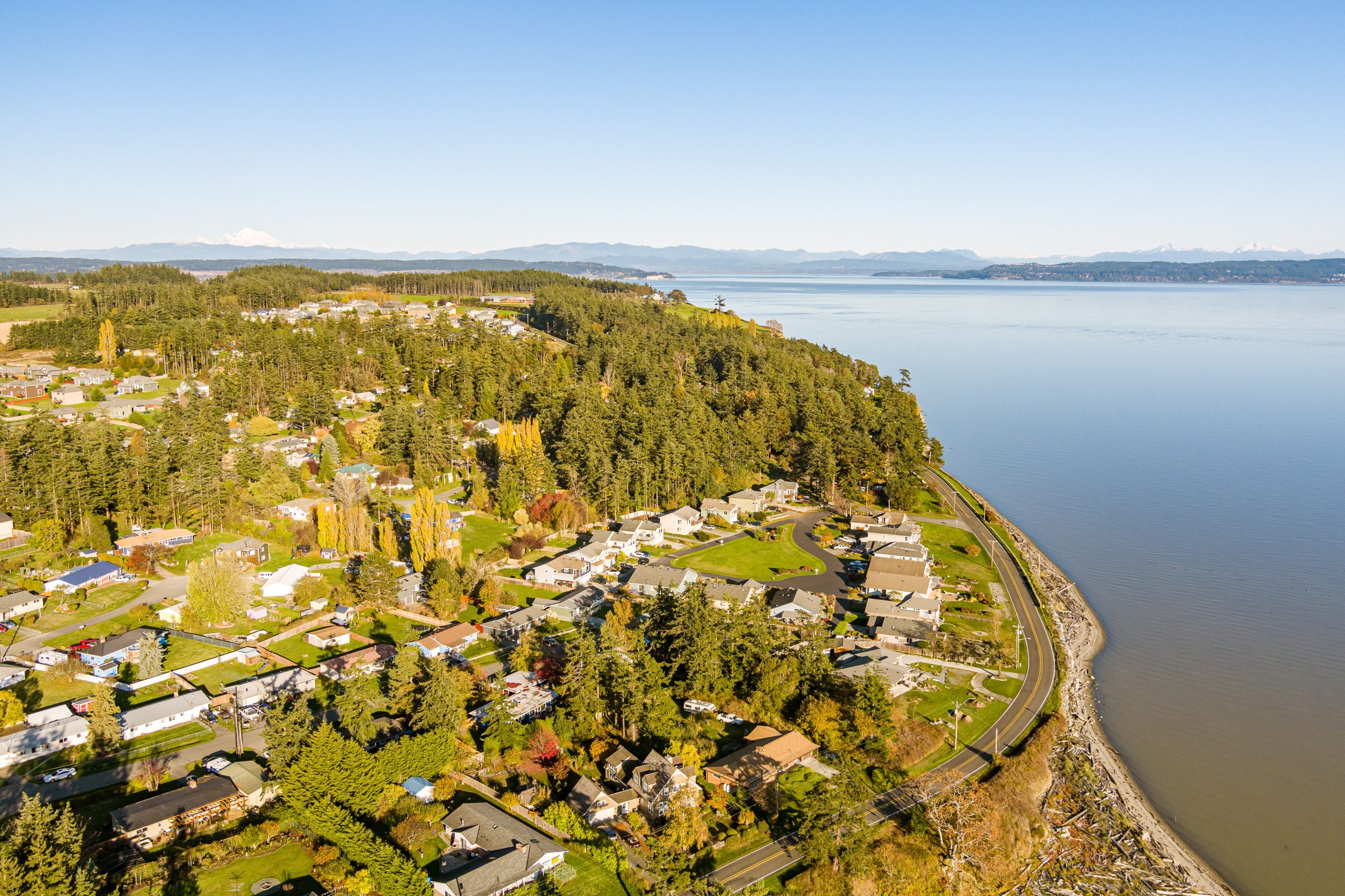 Welcome to Penn Cove Park. There is no doubt you will find a home you like here. There is an array of newer and older homes amongst this quiet community on the northern shoreline of Penn Cove off Monroe Landing. The central location between Oak Harbor and Coupeville provides not only more options for educational opportunities but also quick access to all the amenities both cities have to offer.
What sets this neighborhood apart from some of the others you might find on Whidbey Island is that residents not only have access to a private beach, but they also have a boat ramp. During the summer the water is warm enough to swim in because the cove is protected from the strong offshore winds that other water access areas are exposed to, making it likely the warmest beach on Whidbey Island. Not to mention, the incredible views of Penn Cove, gorgeous views of Saratoga Passage and the lovely historic Town of Coupeville. On sunny days you can spot snow covered mountains in the distance and a pod of Orca whales may be playing in the Cove.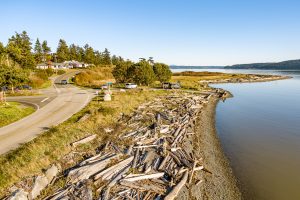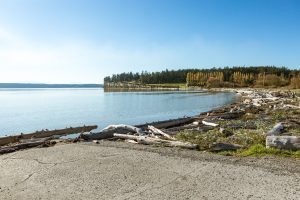 One of the major benefits of living here is the short distance to the only Hospital on the island, Whidbey General Hospital. Downtown Coupeville offers quaint restaurants, galleries, shops, and a museum that overlook the cove offering luxurious views making for special trips all year round. Oak Harbor, just north of the neighborhood is home to Naval Air Station Whidbey Island where you will find an array of fast-food restaurants, car washes, and big-name shopping centers. In between the two discover the heart of Whidbey, with family farms like Three Sisters Market, small churches, and one of the very few left in the USA the Blue Fox Drive-in Movies with attractions like arcades, go-carts, and food!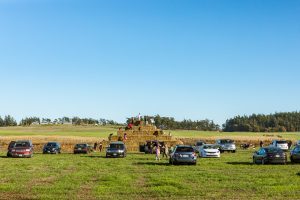 Are you ready to get to know this Whidbey Island neighborhood better? Check it out here.
Have questions? We are happy to help. Connect with us here.
View this post on Instagram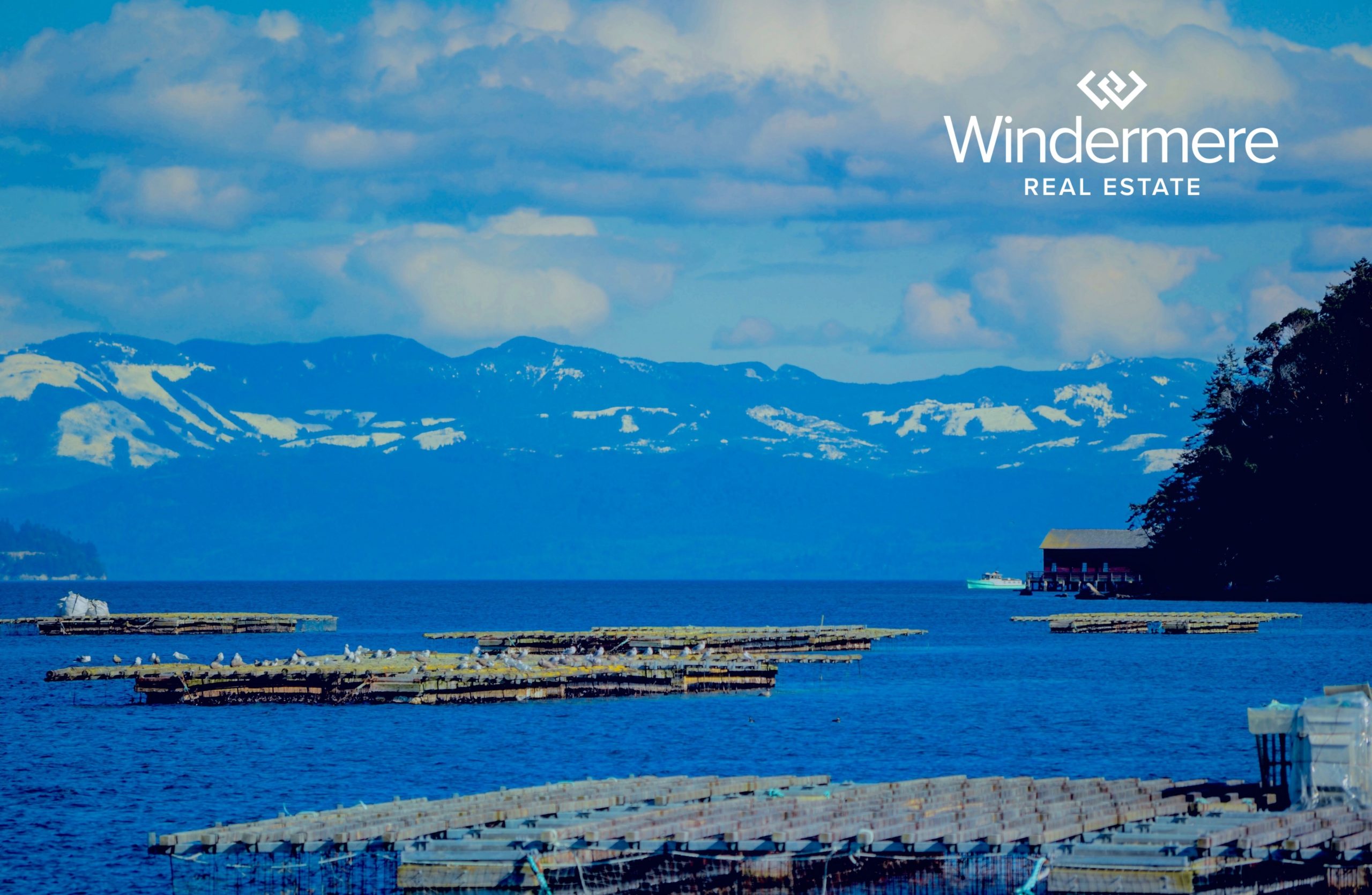 Gracing the waters of Penn Cove floats a particularly unique & quite famous feature of our island. Wood & rope intertwine to create seemingly countless rafts bobbing on the waves above and creating magic below… You may not know this, but Island county is home to the oldest & largest mussel farm in the United States.  Penn Cove Mussels, Inc. began culturing mussels in 1975 with the desire to harness the cove's naturally nutrient-rich water to harvest bigger and better mussels than the ones currently available on the market. The results were incredible! Penn Cove mussels grow at a remarkable rate, enabling the mussels to reach harvest size within one year. This rapid growth rate causes Penn Cove mussels to have a firmer texture, sweeter flavor, and a thinner shell with more meat. These crowd-pleasing mussels are a favorite of chefs all over the country and with only two hours separating Penn Cove from the Sea-Tac Airport; mussels harvested in the morning are easily on dinner plates in Houston by the evening. To read more about this local aquaculture visit our blog here.
Follow the photographer on Instagram @abhithapa.art
Check out the rest of Whidbey's beautiful destinations from this series here.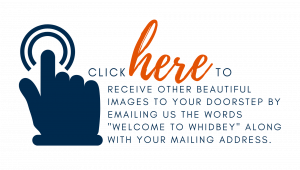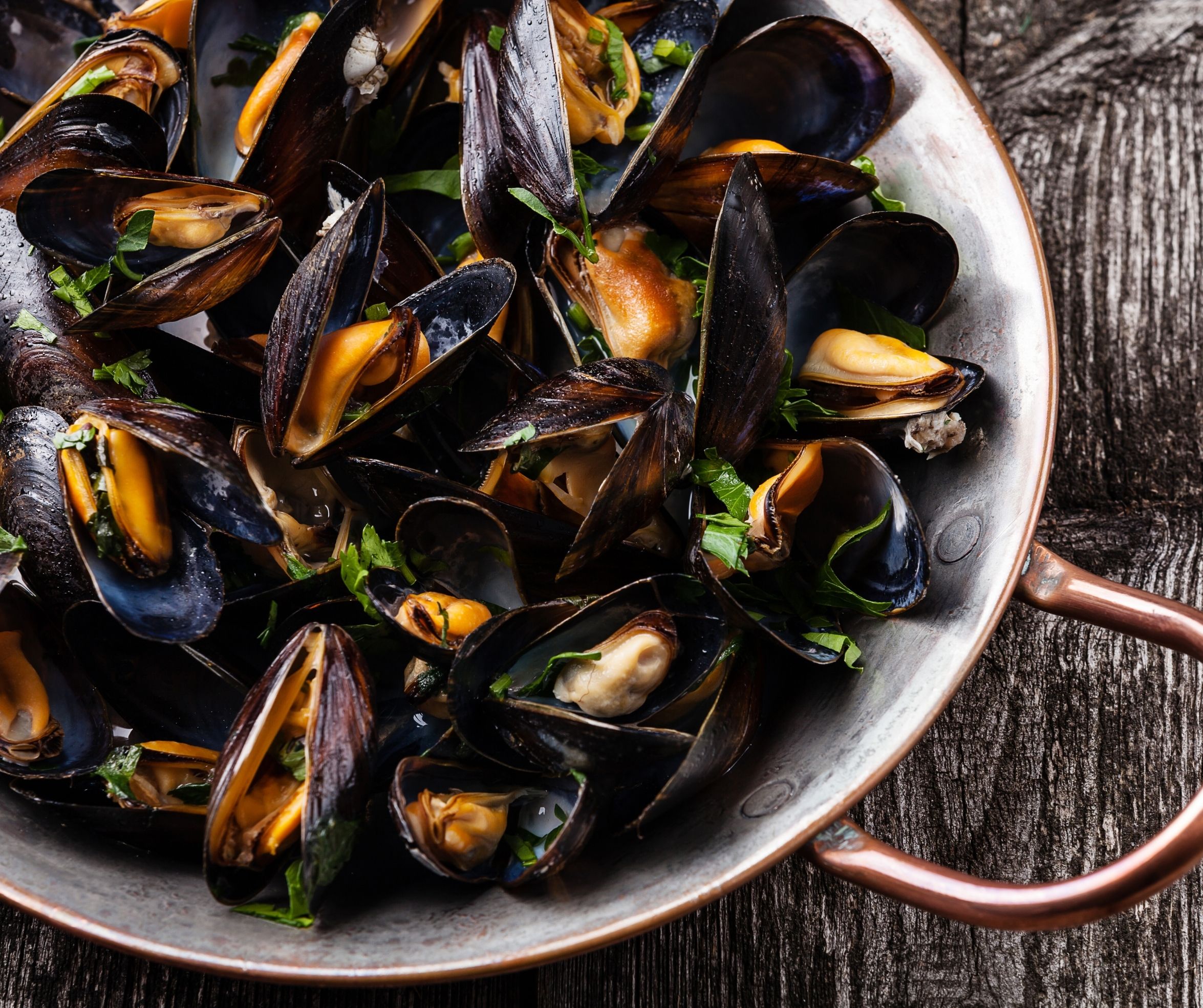 Every city or county has that one thing they are famous for. Their claim to fame that puts them on the world map. For some it is a world-famous sports team, others it is a historical location, still some gain fame from the presence of rare exotic animals.
For Island County, it is our mussels.

No, not the Emerald Cup kind of muscles we didn't make a typo, we mean our Penn Cove mussels.

The History of Penn Cove Mussels
You may not know this, but Island county is home to the oldest and largest mussel farm in the United States (and maybe the world).  Penn Cove Mussels, Inc. began culturing mussels in 1975 with the desire to harness the cove's naturally nutrient-rich water to harvest bigger and better mussels than the ones currently available. The results were incredible! Penn Cove mussels grow at a remarkable rate, enabling the mussels to reach harvest size within one year. This rapid growth rate causes Penn Cove mussels to have a firmer texture, sweeter flavor, and a thinner shell with more meat. As you can imagine, it makes them quite a crowd-pleaser.
Whidbey Island's proximity to Seattle and the Sea-Tac Airport mean these wonderful shellfish don't have to be a local secret. Instead, these mussels are quickly air-shipped all over the world for others to experience and enjoy. Mussels harvested in the morning are on the lunch plates of Seattle seafood lovers by that afternoon and dinner entrees in Houston by the evening.
Celebrated with a Festival
35 years our Penn Cove Mussels have been celebrated with a festival. The original celebrations consisted of a community chowder contest that has morphed over the years into 3 days' worth of activities and fun. The most recent events have attracted more than 6,000 mussels enthusiasts from far and wide. This event alone significantly helps the local merchants recover from the slow winter months.
Musselfest festivities typically kick off on a Friday with the "Mussel Mingle." This is a time where people gather at the Coupeville Recreational Hall to enjoy food, drink, and music. The next two days are packed full of mussel cooking demonstrations from incredible Seattle chefs, the massive mussel chowder competition involving 16 different local restaurants, the mussel eating competition, tours of Penn Cove Shellfish, Inc., a mountain bike event ("Mussels in the Kettles") and more!
Musselfest is a massive community affair that requires all hands on deck to pull off. Dozens of volunteers from all over Coupeville donate their time, finances, and resources to make this festival work. For the past few years, Windermere Whidbey agents have volunteered their time at the Waterfront Beer Garden where they serve up some great local ale while listening to amazing local musicians.

Unfortunately, like most events, the Penn Cove Musselfest was canceled due to Covid this past year, but the long-standing love for the festival carried on with the traditional T-Shirt and posters for all of the collectors. Past posters can be purchased here while supplies last. 
The 2022 Musselfest is anticipated to take place March 4th, 5th, and 6th pending the state of Covid and guidance from the state and county. Click here to check the status.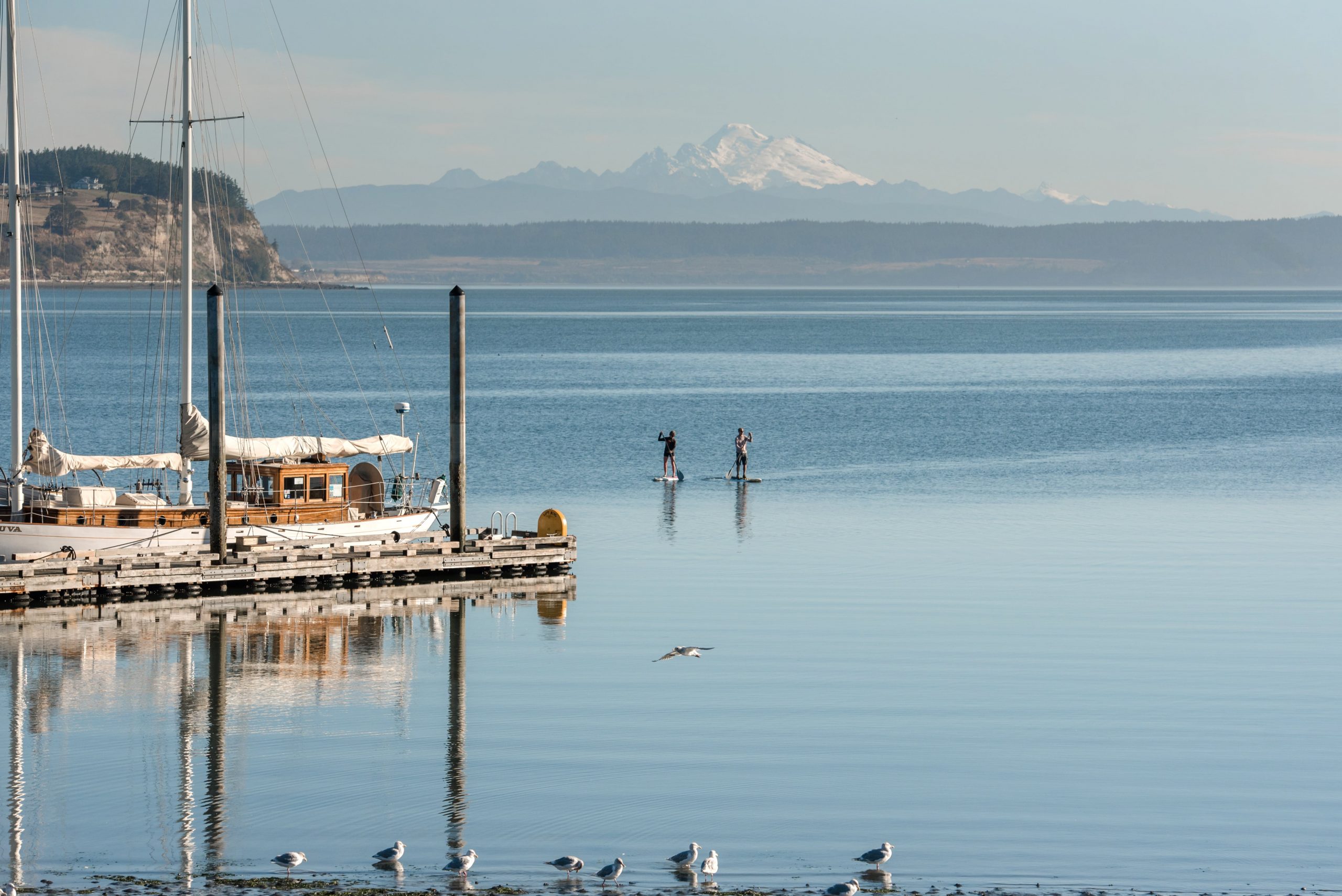 Whidbey Island straddles the 47 to 48th parallel. This means the summer brings gluttony of sun, so much that black-out shades are a staple in Pacific Northwest homes. Although, this abundance of light is sometimes hard to remember during the darkest days of winter when the sun only passes by at a shallow 45 degrees above the horizon in the South and keeps us in darkness 15.5 hours out of 24 on our darkest winter day. These extremes are affected even more depending on where we live, what direction our property is "facing", and how much tree coverage we have. We consider the direction property is facing as the direction of the major view or placement the outdoor area is oriented towards. So if you enter a home on its east side but the outdoor area is on the west side with a deck/patio and view we would call this a west-facing home.
In the following sections, we will discuss the pros and cons of the four major directions that homes face or are oriented towards on Whidbey. Our focus will be on water view properties but the info will work for some territorial or non-view homes as well. We hope you find this helpful and that you will take this into consideration when buying or selling your home on Whidbey Island.
North Facing

This is likely the least sought-after direction for the sole reason that during the winter months there are often large sections of the North facing beaches that never see a ray of sun because of hill or tree coverage. There are only a few sections of shoreline that are facing the true North on Whidbey. Some of these are the charming Town of Coupeville and the City of Langley that no one can resist! There are some sections of shoreline east and west of Coupeville along Madrona Way and near Long Point that are mostly shaded in the winter but absolutely delightful in the summer. 
There are numerous sand points on Whidbey with a north-facing side that get a lot of sun because they jut out in the water like Long Point, Snakelum Point, Harrington Lagoon, Whidbey Shores, and Sandy Point. Dugualla Heights is another kind of anomaly in that it gets more sun because it is not heavily treed, has an open bay, and flight line that gives it more exposure. These nuances are one of the many reasons it is helpful to have a hyper-local full-time Windermere broker to be your guide!
East Facing
If you are a morning person and just relish a warm cup with a view of the sun rising over the mountains, water, or horizon then an East facing orientation is for you! You are in luck because Whidbey Island has a majority of East-facing shoreline and the hilly nature of the island offers a plethora of view opportunities for the Eastside. Many of such views include the Cascade Range and Mt. Baker to admire. They can really put on a show when it is clear. The only downside is that you lose the sun in the mid to late afternoon on Eastern shorelines. 
The major benefit of living on the Eastside is that it is the more protected side of the island so there is not as much wind and wave action. Occasionally, an unusual day will occur when there is a wind howling out of the South where the fetch created across the long body of water in Saratoga Passage can really kick up some waves! But this can also make for some amazing photo opportunities. 
Some of our favorite East facing areas/neighborhoods are Davis Landing, Scenic Heights, and Shangri-La Shores. Check them out here!
South Facing 
South-facing properties are a pretty rare find on Whidbey Island because of Whidbey Islands' long north/south orientation. If you are a person that lives for the sun you will want to seek out one of these South-facing properties. Unlike the North facing properties who often get no sun during the Winter, these South facing properties get every bit of light possible all year long even during the winter pouring into their South facing windows. In fact, because of the low angle of the sun in the winter, it can be more piercing than in the summer when it is placed directly overhead. 
South-facing beaches tend to be the most sought after for wading, swimming, or just lounging on the shore because they are typically a lot warmer.
Penn Cove Road and Polnell shores not only enjoy South facing beaches but are also on the more protected East side of the Island. One of the warmest sandy public beaches can be found right at the end of Monroe Landing on the Northside of Penn Cove. If you are looking for the best sandy public beach that is South facing on the bottom half of the Island Double Bluff beach just cannot be beat AND you can bring your four-legged friend for an off-leash romp! Read more about it here.
Sunlight Beach and Shore Avenue in Freeland have some of the highest-priced homes on Whidbey because of these unique attributes. Except for the rocky beach and jet noise Keystone has exactly the same view aspect but for half the price. 
West Facing 

If stunning sunsets and enjoying the warmest part of the day on your property is what you are after then you should be looking for a West-facing view. Sipping an evening cocktail or cup of chamomile tea while watching the last rays of light dip over the horizon is just bliss for a lot of people which is why the West side of Whidbey has some of the highest-priced homes and sought after neighborhoods. Yes, the wind can be a little more fierce as it hits the West side of Whidbey dead on when it howls through the Strait of Juan De Fuca in the winter but this can also be a highlight as you watch a winter storm take shape from the comfort of your couch. If you are on the edge of one of our high sandy bluffs on the West side of the Island you should also expect to deal with blown sand, saltwater, and the corrosion that comes with it. Some West-facing homes operate more like a ship at sea than a stick-built home. The sunsets though… Definitely worth it if that's your jam!
Some of our favorite West facing neighborhoods are Sierra and Ledgewood communities because the sloping topography allows a lot of homes to have stunning views without having to own waterfront property. The canal community of Lagoon Point is a unique West-facing community and of course, anything along West Beach Road is likely to have this coveted orientation.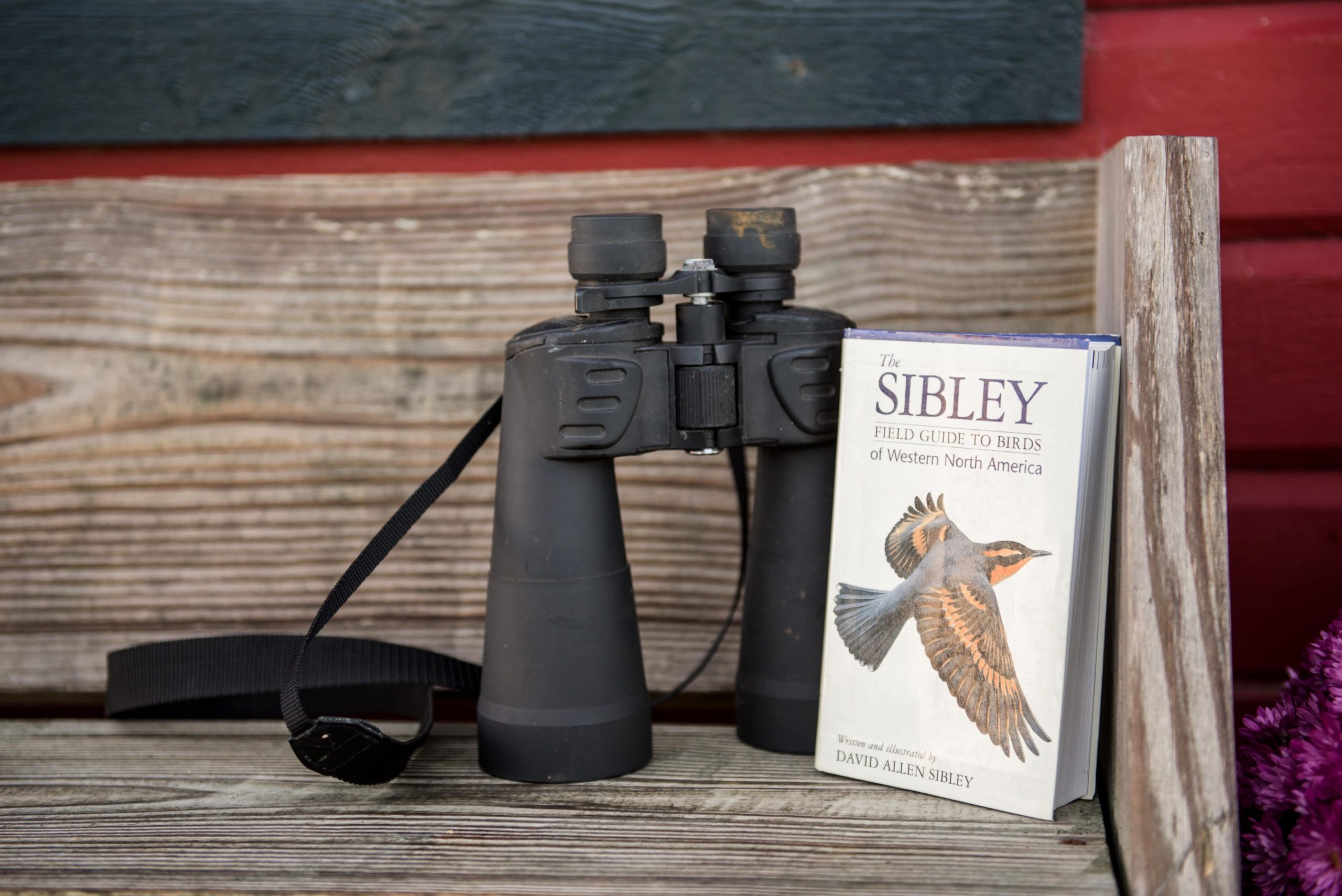 50 miles South of the U.S./Canada border and 25 miles North of Seattle lies Whidbey Island, an incomparable destination for nature lovers and bird enthusiasts. On Whidbey, you can get lost for hours and find yourself mesmerized not only by incredible views but by a breathtaking variety of birds.
Whidbey Boasts 148 miles of winding shoreline, 6 state parks, 4 lakes, hundreds of miles of trail, and a ridiculous variety of habitats from bogs to estuaries to the prairie. It is not surprising then that Whidbey accommodates roughly 250 resident and migrant bird species.

Birdwatchers will declare some of the best times to watch for birds on Whidbey are:
Spring:
Late April through May you can expect to be woken early by the Songbirds singing a pleasant tune.

Fall:
Late July through September It is hard not to miss fat red-breasted Robins filling the apple trees and spot migrant visitors from the north like wigeons, ducks, coots, waterfowl, and red-tailed hawks.

Winter:
November through mid-March is a great time of year to watch for Northern Shrike, Bald Eagles, and other raptor-type birds.

Best places for birdwatching:
If you are just trying to take advantage of easily accessible shoreline almost any time of year works. Some of the best places to watch for shorebirds birds on Whidbey Island are Penn Cove, Keystone Landing, Fort Casey State Park, and Dugualla Bay.
If you don't live on Whidbey and are coming just for birdwatching be sure to schedule more than one day for viewing. Plan time so you can experience multiple locations, each with its unique features. To better understand all the places you can access the shoreline you really need to buy Getting to the Waters Edge! We sell it at our Windermere offices both in Oak Harbor and Coupeville.
Frequently asked questions:
Some people wonder if there is a time of day that birds are most animated. Typically speaking most birds are bustling around sunrise and sunset but that rule does not apply to all birds. For example, the morning is typically the best time for spotting diurnal species, while nocturnal species are generally spotted in the evening, but it really depends on the bird and the time of year.
Whidbey Island is native to species like Eagles, Northern Harriers, wading birds, loons, grebes, sea ducks, including Harlequin Ducks, dabbling ducks, Black Oystercatchers, Common Yellowthroats, Marsh Wrens, and more. It is also is a temporary home for migrant birds who frequent the island seasonally for the island's ideal breeding habitats.  But do not be fooled. Some birds like robins, hawks, cardinals, finches, sparrows, and more stay here all year but they seem to "return" because they become active again during the spring through fall seasons after they have bundled down in their nests and shelters during the winter.
Additional resources:
To learn more about the birds that can be spotted on Whidbey and a guide for when you will likely catch a glimpse check out this detailed Whidbey Island Bird List created by the Whidbey Audubon Society.
Here are some of our favorite spots on Whidbey to watch for birds let us know your favorite spots in the comments below.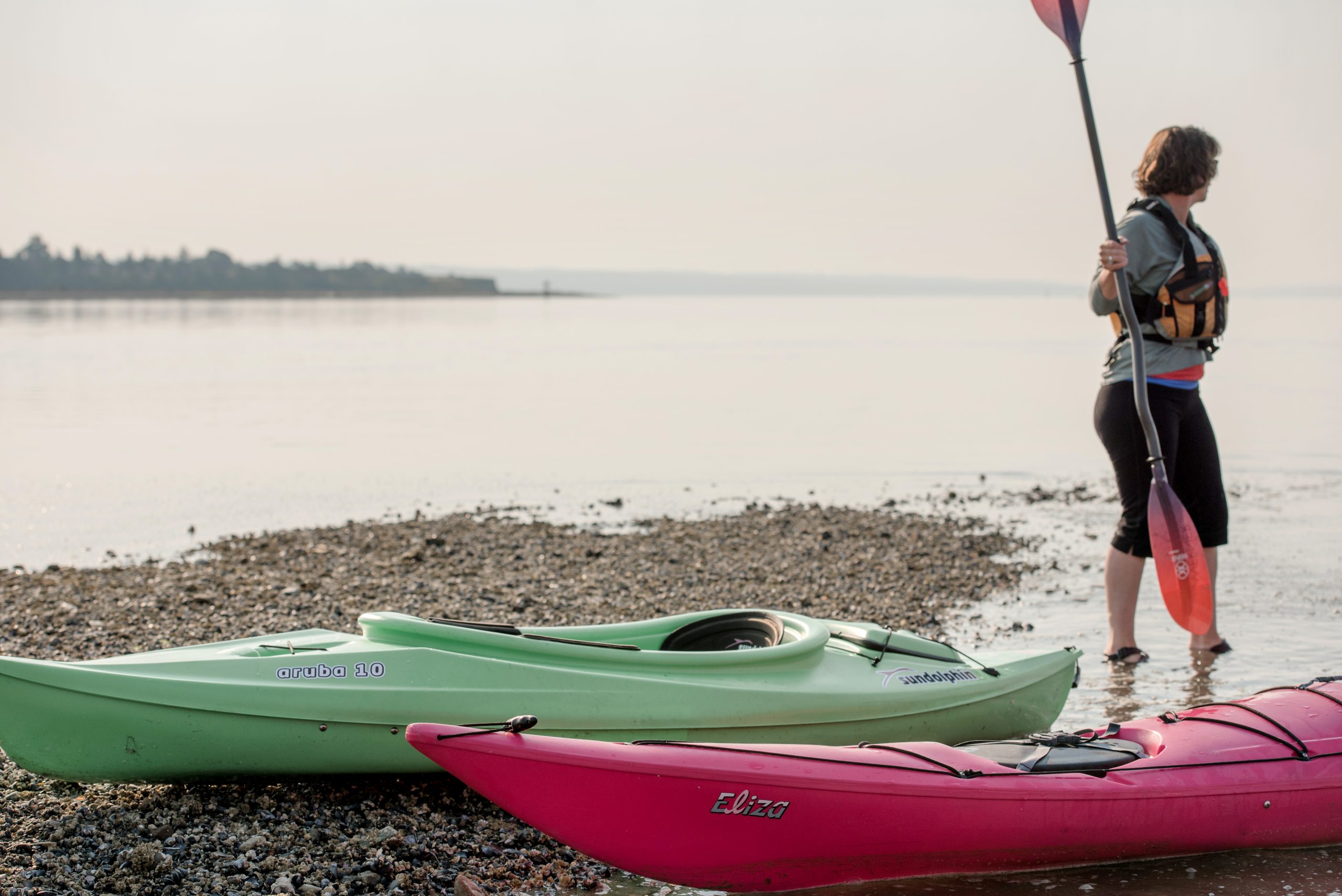 Staying Cool This Summer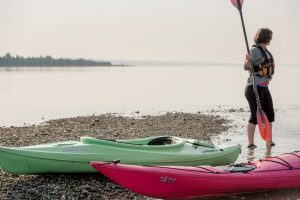 Water activities are something particularly special to Whidbey Island. After all, we are completely surrounded by water. With the sun making more and more guest appearances in the sky you can place a good bet on the expectation of increased activity on the waves. Between kayaking, paddleboarding, sailing, and more; Whidbey shores offer quite a bit of enjoyment for those willing to get wet.
Below are just a few water activities frequently seen here on Whidbey.
Kayaking
Kayaking is easily an island favorite when it comes to water sports. The flexibility of kayaking regardless of weather and the ability to do it alone is a HUGE plus for many. Don't have your own Kayak? Rent one from Whidbey Island Boats and Boards where you pick the location and they deliver the kayaks and paddleboards anywhere on the island.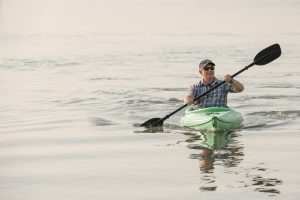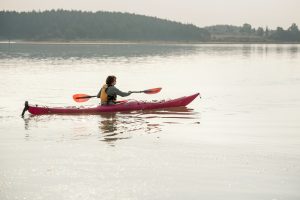 Tubing
Another island favorite, especially in the summer, is tubing! The wonderful thing about tubing is the community feel to it. It's a great activity that brings people together and almost always results in a few humorous stories.
Water Skiing
Want to kick tubing up a notch? Water skiing is for you! This sport requires a bit more resilience and core strength, but once you get it down you are sure to leave the water with some epic pictures of yourself.
Paddleboarding
Paddleboarding is a slightly newer interest on the island, but well deserving of the hype. This sport is made for those who simply want to enjoy the water. Sit, stand, lay down, it doesn't matter! Paddleboarding allows you to enjoy the sea the way you want to.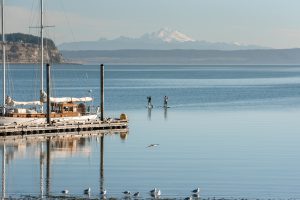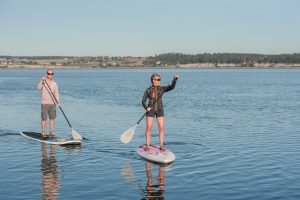 Sailing
Sailing is a Whidbey Island classic. There is a long history of sailing on Whidbey that has been passed down from generation to generation.
Boating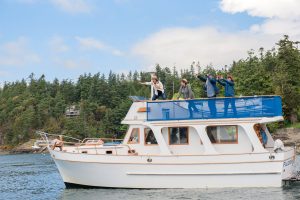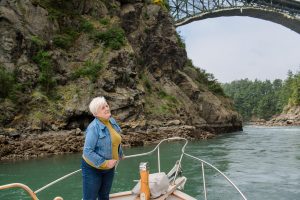 Another beloved activity on Whidbey is boating. Avid boaters will get out on the water any chance they get to relax atop the calm waters surrounding Whidbey. Take in the scenery, sunbathe, read a book, or play a game. All are welcomed while relaxing at sea.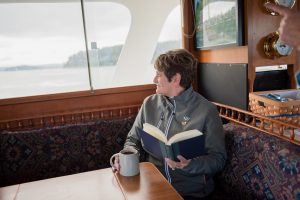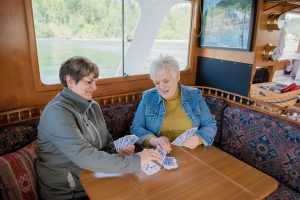 Fishing
Perhaps fishing is more up your alley for a fun relaxing time. The great thing about fishing is that you can do it by boat or by land and Whidbey offers a plethora of opportunities.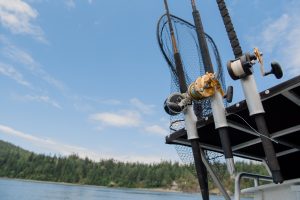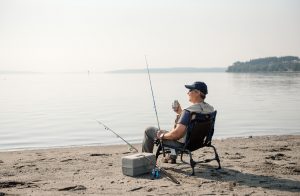 Splash Pad and Lagoon at City Beach
Maybe you have littles that can't quite participate in some of the other activities yet. Oak Harbor Windjammer park offers a family-friendly splash pad and lagoon to keep the whole family cool on these hot summer days.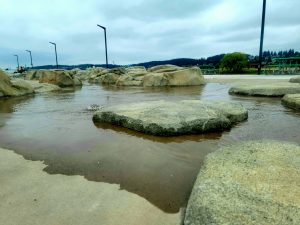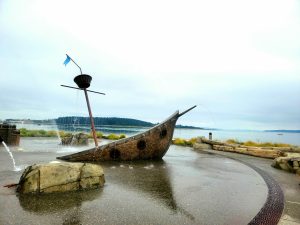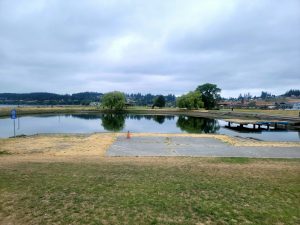 If you enjoyed this blog, you might also enjoy: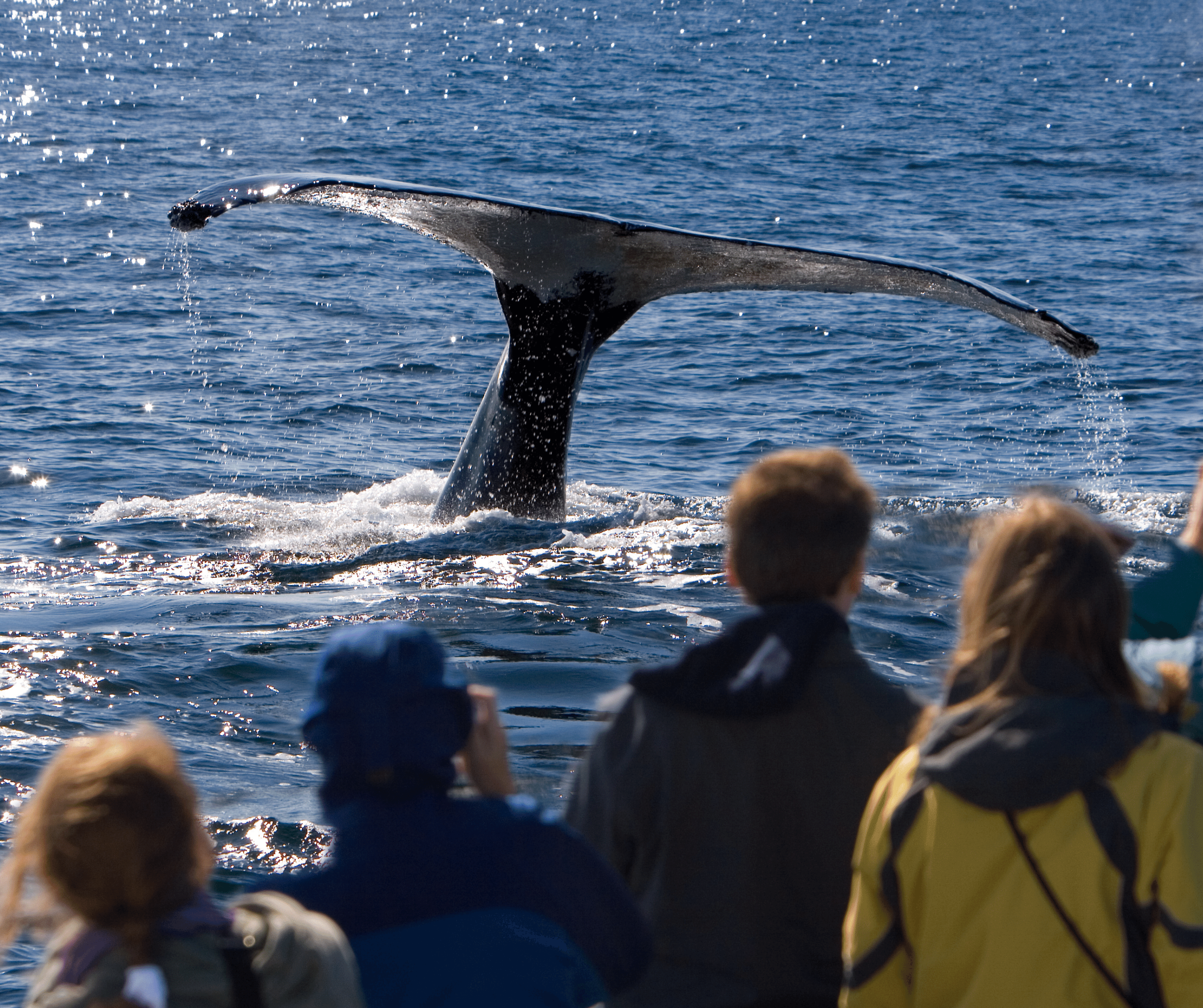 Discover the Best Places to Whale Watch
When it comes to natural wonders, Whidbey Island is unbelievably blessed. With expansive undeveloped areas, nine state parks, and views that take your breath away, it's hard to imagine it could get any better.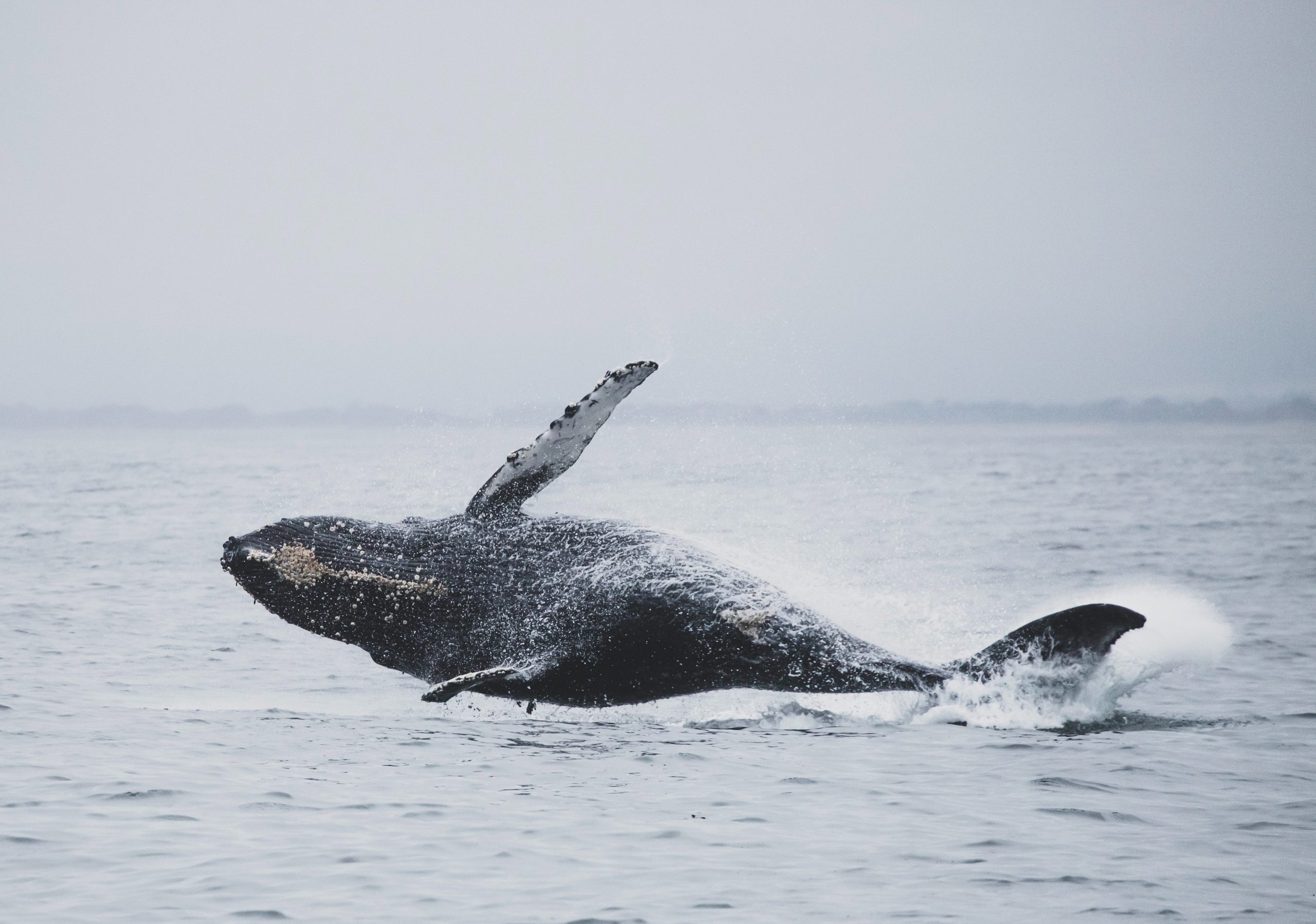 But it does!
In addition to our incredible outdoor opportunities for explorers, we are one of the few places in the world where land-dwellers have an opportunity to get a glimpse of some spectacular mammals of the sea. Puget Sound's cold and nutrient-rich water makes it the perfect place for whales to roam. Although you could spend the money to board a whale-watching boat and find the mammals out on the water, boats aren't always required when you're on Whidbey. 
Below are the top 5 places to see whales from land on Whidbey!
West Beach
At the west-most point of Oak Harbor lies a stretch of beach beloved by wanderers and sea life alike. With wide-open views and miles of ocean just off the shore, it's not hard to see why West Beach is one of the best places to see whales near Whidbey.  
Penn Cove
The nutrient-rich water of Penn Cove cultivates a thriving ecosystem for small and large sea life. It's this sea life in the form of ghost shrimp and fat seals that attracts the attention of gray whales and transient Orca alike. It's not uncommon for the residents of Penn Cove to see a gray whale's tail break the surface of the water as they dig in the mudflats for shrimp or a full-on chase between a stealthy Orca and a seal.
Hidden Beach
What this public beach lacks in amenities it makes up for with view and privacy. On a sunny day, beach-goers have the opportunity to see Camano Island sitting peacefully across the Saratoga Passage and – if they come at just the right time – maybe even a whale!
Lagoon Point
Just north of this charming seaside community is a county park boasting nothing more than public access to the Lagoon Point community beach. Luckily access to the beach is really all you need to catch a glimpse of traveling orcas or scavenging grey whales. 
Seawall Park
Hidden below the streets of downtown Langley is a quaint little park with beautiful art, well-maintained landscaping, and a spectacular view of the Saratoga Passage. Onlookers often have the wonderful treat of seeing a whale pass or even watch them feed in the massive ghost shrimp beds. If you do, don't forget to ring the Whale Bell!
Bonus: Your own back porch?
Can you say "waterfront property"? Yes, please! Our beautiful island has many waterfront homes and properties with beautiful views of Puget Sound. How amazing would it be to sip coffee on your own patio while enjoying pods of orca passing by or gray whales feeding on the beach right in front of you? If this sounds like your dream, give us a call today!
Now, remember, if you do see a whale you should report it to the Orca Network! Reporting sightings to the Orca Network helps with scientific efforts and helps other whale watchers like yourself!
If you liked this, you might also like: