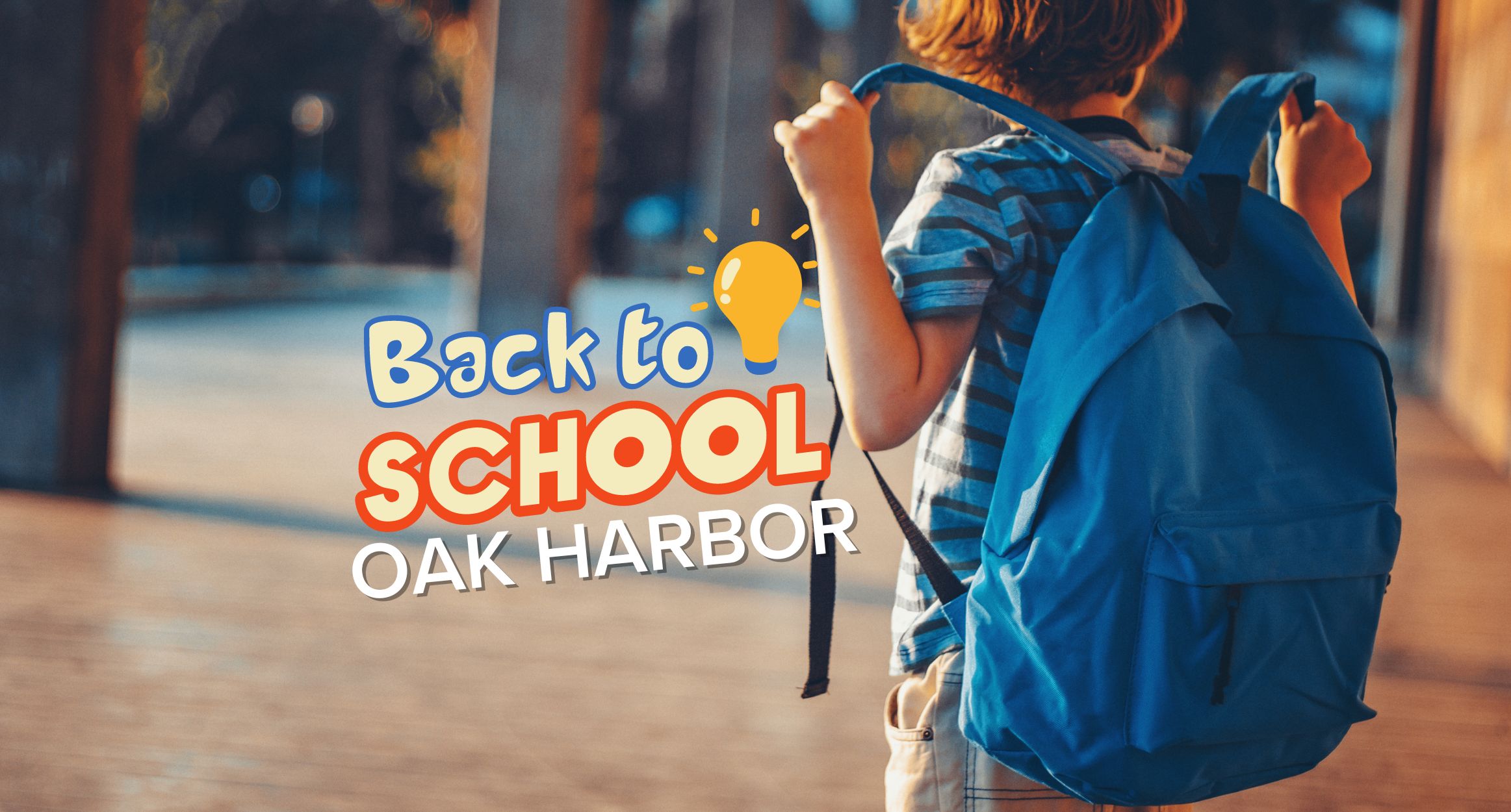 It is time for your kids to go back to school! Whether you are ready for summer to be over and eager for your children to return to school or dreading that school is starting in a week and holding on to every last moment of summer, orchestrating the logistics of staying in the know, scheduling appointments, collecting schedules, pick-ups and drop-off times of both schools and buses, meeting teachers, and getting school supplies can be overwhelming especially when several things have changed this year! We are here to help take away some of those stressors and make going back to school a breeze for you!
If your children are attending the Oak Harbor School District this year this is the right place for you!

One of the biggest changes this year is most of the

SCHOOL SUPPLIES

will be provided for you!
The Oak Harbor School district received funds through local levies that contributed to the school being able to provide most, if not all school supplies for students this year.  Each school has provided comments for what your child will still need. We have put them all in one place for you to include links to each individual school if you need further information.
Crescent Harbor Elementary School – parents will only need to provide backpacks and headphones!
Hillcrest Elementary – a backpack and headphones (no earbuds, please)!
Broadview Elementary –  a backpack and headphones (no earbuds, please)!
Oak Harbor Intermediate School – Suggestions for supplies that are not provided are a regular backpack, 2″ 3-ring binder (for organization), headphones, and a water bottle.
North Whidbey Middle School  – Don't forget a backpack and clothes for PE!
Oak Harbor High School – Recommended Supplies for each class will be provided the first day of school
FIRST DAY OF SCHOOL:
Kindergarten – 7 September 2022
1 – 12 Grade – 6 September 2022
Home Connection – 12 September 2022
Hand-in-Hand – 14 September 2022
START AND RELEASE TIMES:
| | | | |
| --- | --- | --- | --- |
| School | Start Time     . | Regular Release      . | Wednesday Early Release |
| OHHS | 8:00 am | 2:30 pm | 1:30 pm |
| NWMS | 7:45 am | 2:15 pm | 1:15pm |
| OHI | 8:55 am | 3:25 pm | 2:25 pm |
| ELEMENTARY     . | 9:00 am | 3:20 pm | 2:20 pm |
CHANGES TO THE FREE AND REDUCED LUNCH PROGRAM:
During the COVID-19 pandemic, federal programs provided funding for schools to provide free school meals for all students. Beginning in the 2022-2023 school year, the funding that allowed for the free meals for all will expire. All families are encouraged to complete a 2022-23 Household Application for Free and Reduced-Price Meals if your household income is within the guidelines. Learn more about how to apply!
TRANSPORTATION:
Transportation services will begin on Tuesday, September 6, the first day of school. All families needing transportation to or from school are required to fill out a transportation request form. Fill out a transportation form online!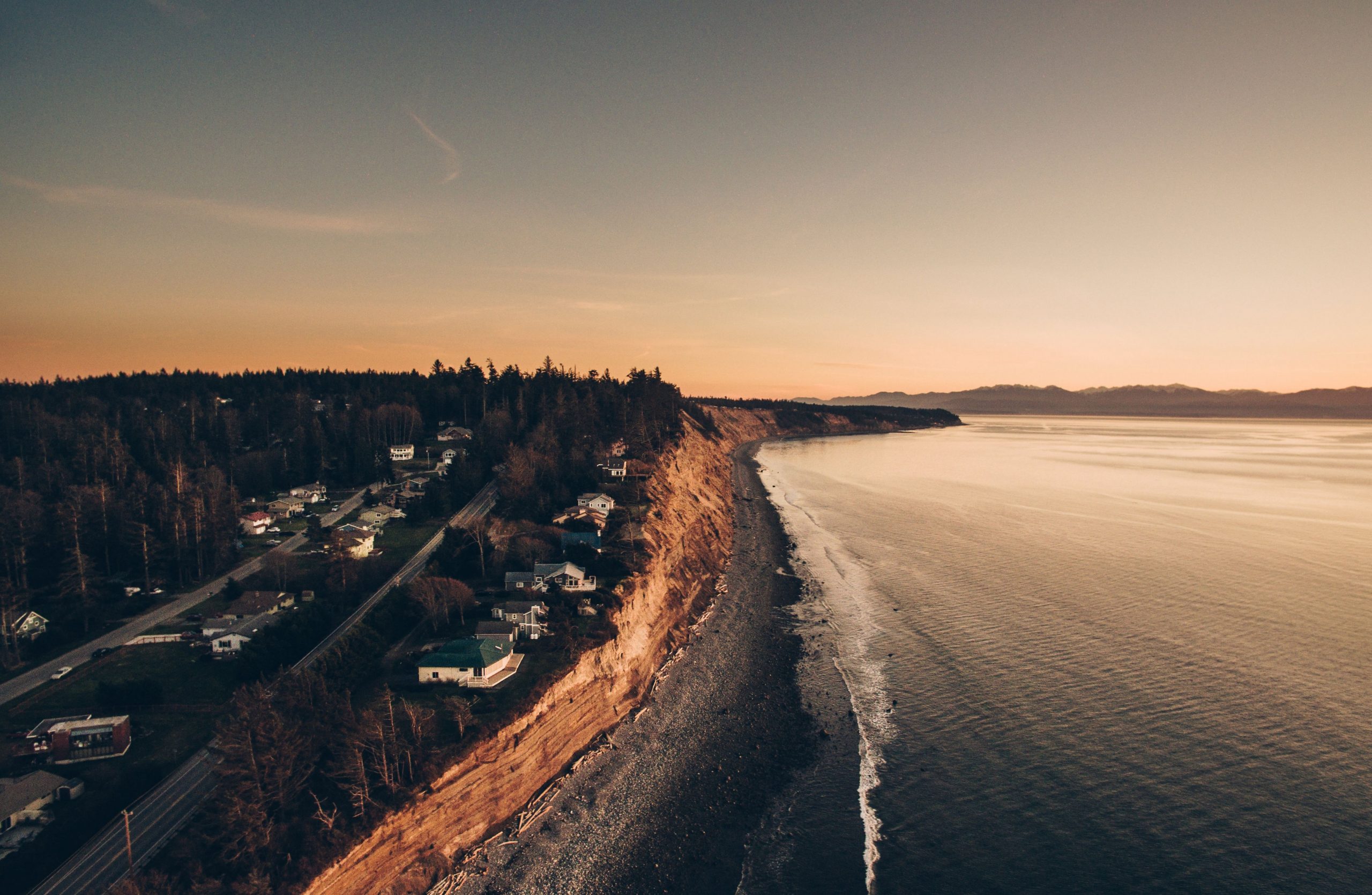 Whidbey Island has an interesting geological history. During the last glacial age (around 15,000 years ago) Whidbey was so weighed down with ice that it was submerged far underwater. High bluff areas like the ones on West Beach, pictured on the front, are well above the waterline now but the wind, waves and slowly eroding bluffs keep geology enthusiasts coming back for interesting finds. These have included mammoth bones (no kidding!), huge erratic boulders dumped by glaciers, bands of black peat, and even shell middens left by the Coast Salish. Insane right? Tell us what you have found walking along the high-bank waterfronts of Whidbey. 
This stunning photo is brought to you by: Willie Shaw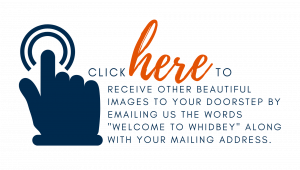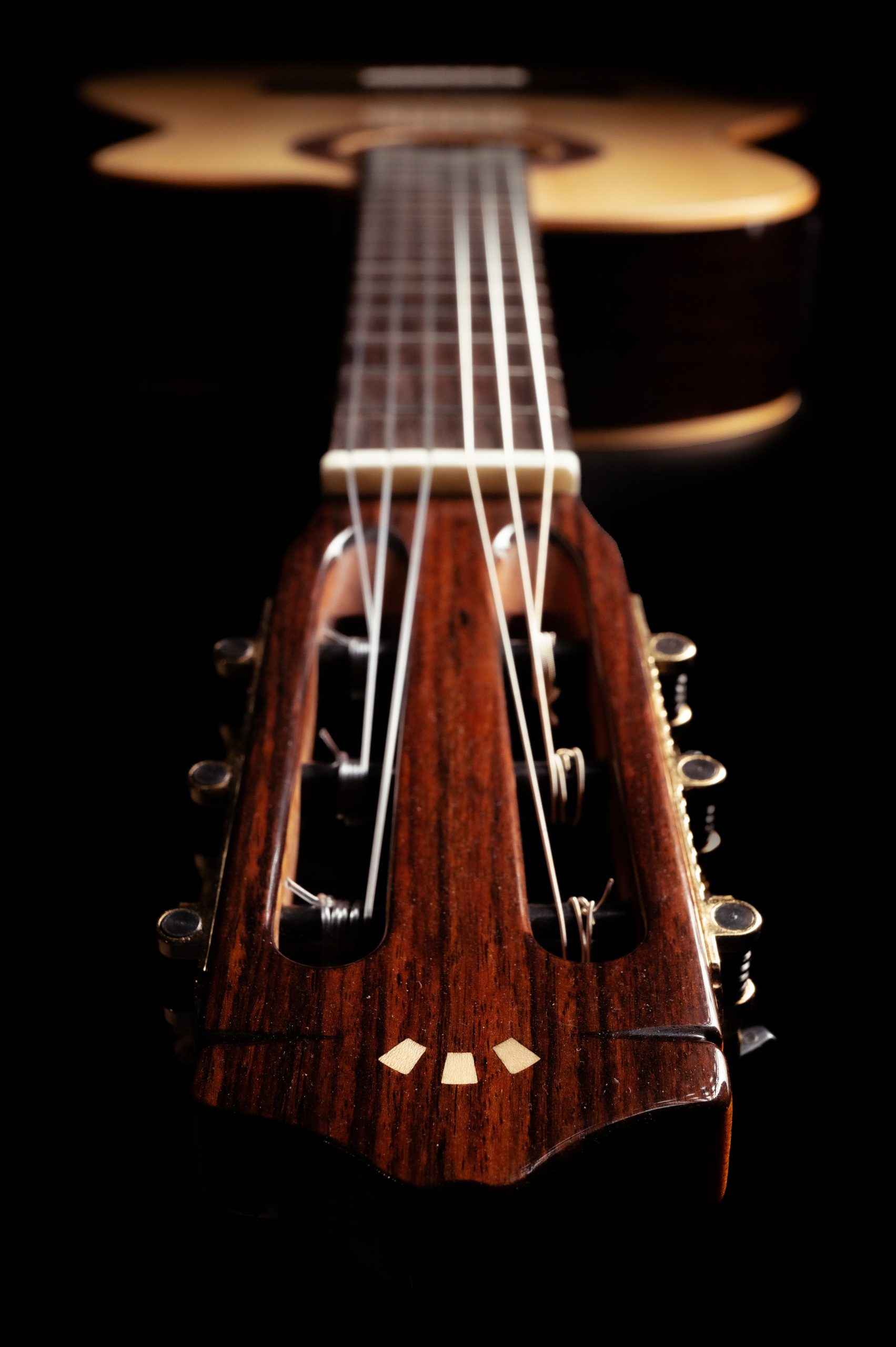 This Whidbey Island local band spent the pandemic perfecting their most recent album. They say they dipped their toes into "rootsy blues and gritty true stories" meant to rock your soul and make you want to dance. Head on over to Windjammer Park in Oak Harbor to celebrate the closing night of the Sounds of Summer Concert series with this soulful group.
You may have previously seen them at places like Ott and Murphy Winery, the port of South Whidbey Harbor at Langley, Oak Harbor Music Festival, Bayview Corner, Port Townsend Brewing Company, Fraser's Gourmet Hideaway, Blooms Winery Tasting Room, and more.
The band features a lead vocalist, percussion, and accordion by Jaine Cribbs, acoustic and electric guitars and slide by Joe Reggiatore, drums, percussion and backing voice by Kevin Holden, and bass, upright bass, hand drums, and banjo by Dave Willis. Learn more about them here. 
Ready to Rock Your Soul:
Mark your calendars to join us during the month of August at Windjammer Park in Oak Harbor for our summer concert series featuring a new act every Wednesday evening for the first four Wednesdays. In addition to Janie Cribbs and the T.rust Band on August 24 you can catch Whidbey's Saratoga Orchestra with featured guests The Gothard Sisters (Aug 3), Zan Fiskum (Aug 10), and The Chris Eger Band( Aug 17). Presented by the Oak Harbor Music Festival in partnership with Windermere Real Estate Whidbey Island. For more information about dates and times click here.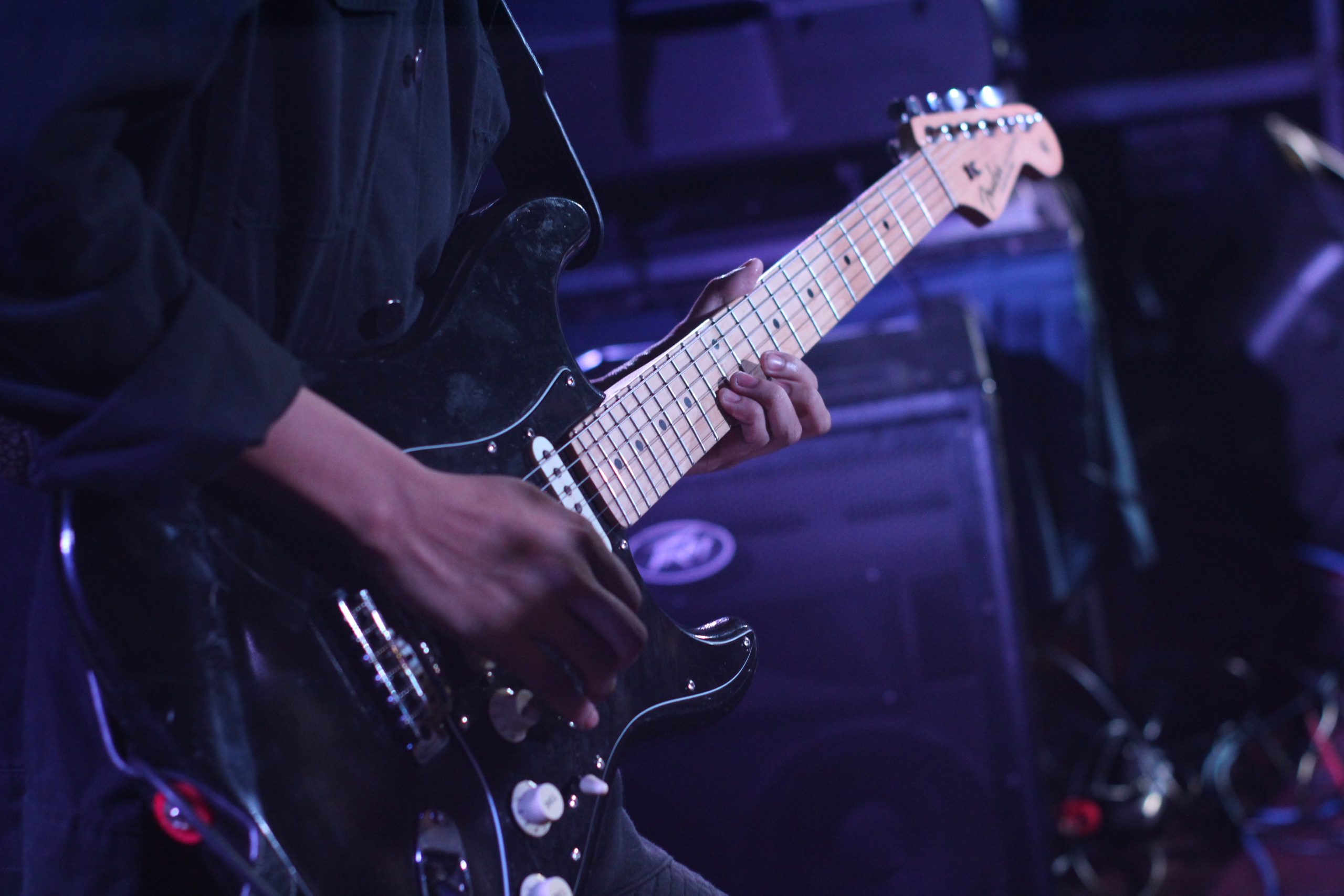 This year, Windermere Whidbey Island partnered with the Oak Harbor Music Festival to bring you four weeks of fantastic music to lead into the eagerly awaited music festival weekend.
On Wednesday, August 17th The Chris Eger Band will be taking the stage at Windjammer Park in Oak Harbor. You can learn more about the event here.
It is likely that you have seen this high-energy band perform at places before like The Beach at Birch Bay, La Conner's Gilkey Square, Mount Vernon River Walk, Birdsview Diner, Tulalip Casino, and more.
If you aren't familiar, this crowd-pleasing band always puts on a show you won't want to miss. They say the band has a "fresh take on vintage, guitar music for the 21st century".
What some may not know:
When longtime guitar- hero, and Nashville recording artist, Eric Heatherly reached out to Eger he accepted. Together they, "…crafted an album that demands attention" and we bet you don't want to miss out!
To learn more about The Chris Eger Band click here.
Mark your calendars to join us during the month of August at Windjammer Park in Oak Harbor for our summer concert series featuring a new act every Wednesday evening for the first four Wednesdays. In addition to Chris Eger Band (Aug 17) you can catch Whidbey's Saratoga Orchestra with featured guests The Gothard Sisters (Aug 3), Zan Fiskum (Aug 10), and Janie Cribbs and the T.rust Band (Aug 24). Presented by the Oak Harbor Music Festival in partnership with Windermere Real Estate Whidbey Island. For more information about dates and times click here.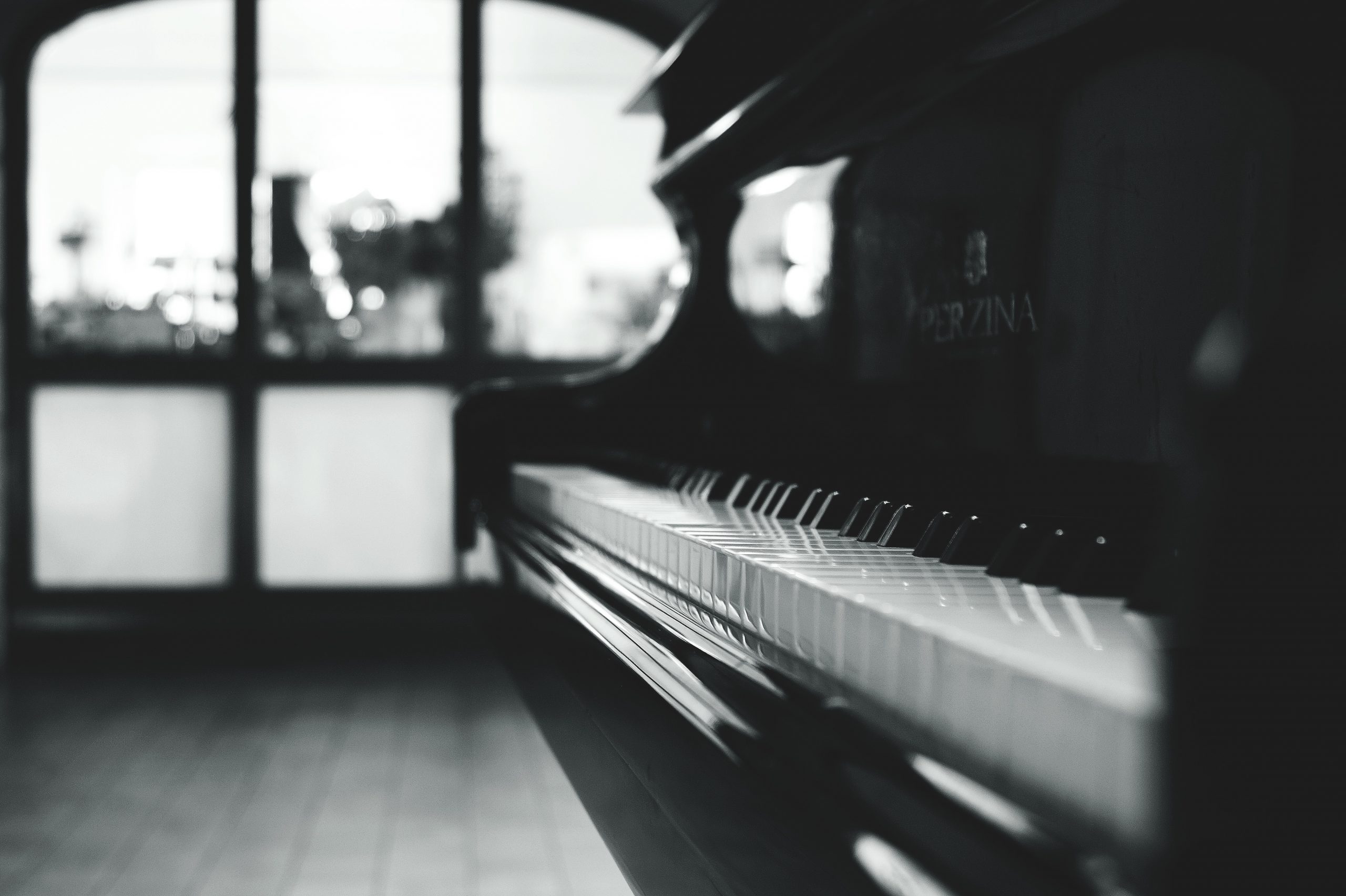 "Maple Valley raised singer/songwriter Zan Fiskum uses her haunting and beautifully controlled singing to craft ethereal and brooding folk/pop songs."
If that quote alone doesn't make you want to get up and listen, I don't know what will.
Like many of us, Zan grew up in the PNW. Her family volunteered at a diner theater called Auburn Avenue. Like most children, she remembers playing make-believe, except she was playing among the red velvet seats of the auditorium while her family prepared for their performances. When Zan followed suit and took to the stage she was a natural.
"At the age of 12 Zan broke away from the molds of her classical music training and experimented with enmeshing forthright lyrics, cinematic melodies and explosive synth sounds into her songwriting. She went on to release her first 6 singles and achieved over 2 million streams on Spotify alone."
She found herself and began sharing her unique gift with the world.
"Just 2 years later, Zan made her national debut on NBC's The Voice as a top 9 finalist and received recognition for her dynamic performing and voice from Billboard magazine, Maggie Rogers, Camila Cabello and the Indigo Girls."
You might recognize her by her debut album "Sleeping Problems." To learn more about Zan click here.
She recently has been performing in iconic Seattle venues such as The Moore Theater, The Triple Door, Sasquatch, and more. We are lucky enough to be welcoming her here to Whidbey Island Wednesday, August 10 as part of the Sounds of Summer Concert Series put on by the Oak Harbor Music Festival and Windermere Real Estate Whidbey Island. Mark your calendars every Wednesday evening in August for the first four Wednesdays. In addition to Zan Fiskum on August 10 you can catch Whidbey's Saratoga Orchestra with featured guests The Gothard Sisters (Aug 3), The Chris Eger Band( Aug 17), and Janie Cribbs and the T.rust Band on (Aug 24). To learn more about the event and others like it click here.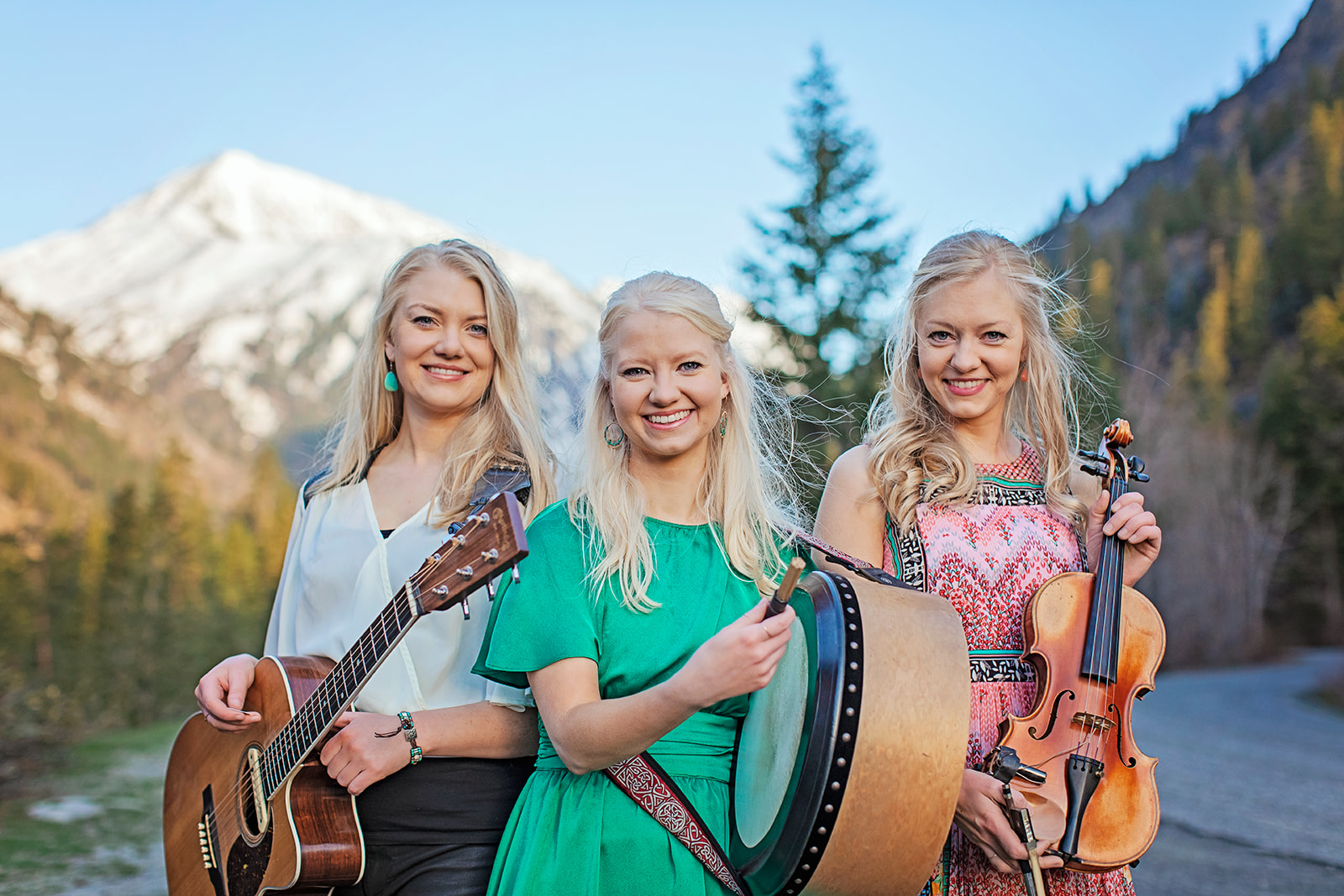 Whidbey's Saratoga Orchestra with featured guests The Gothard Sisters are coming to Oak Harbor, Washington August 3rd.
About Whidbey's Saratoga Orchestra:
In 2007, Legh W. Burns, Music Director Emeritus, created a concert series that performed throughout Whidbey Island regularly. In 2015 Anna Edwards began leading the orchestra as Music Director and has generated national attention for innovative programming, "especially championing women composers". This summer The Whidbey's Saratoga Orchestra has paired with The Gothard Sisters to create an experience you will not want to miss right here on Whidbey!
About The Gothard Sisters:
The Gothard Sisters play contemporary Celtic folk music creating a beautiful musical experience using violin, acoustic guitar, mandolin, bodhran, djembe, whistle, and vocal harmonies. They have performed in venues across the United States such as the Kennedy Center's Millennium Stage in Washington DC, the Disney Cruise line in Europe, and a 20-city concert tour of Japan in 2019.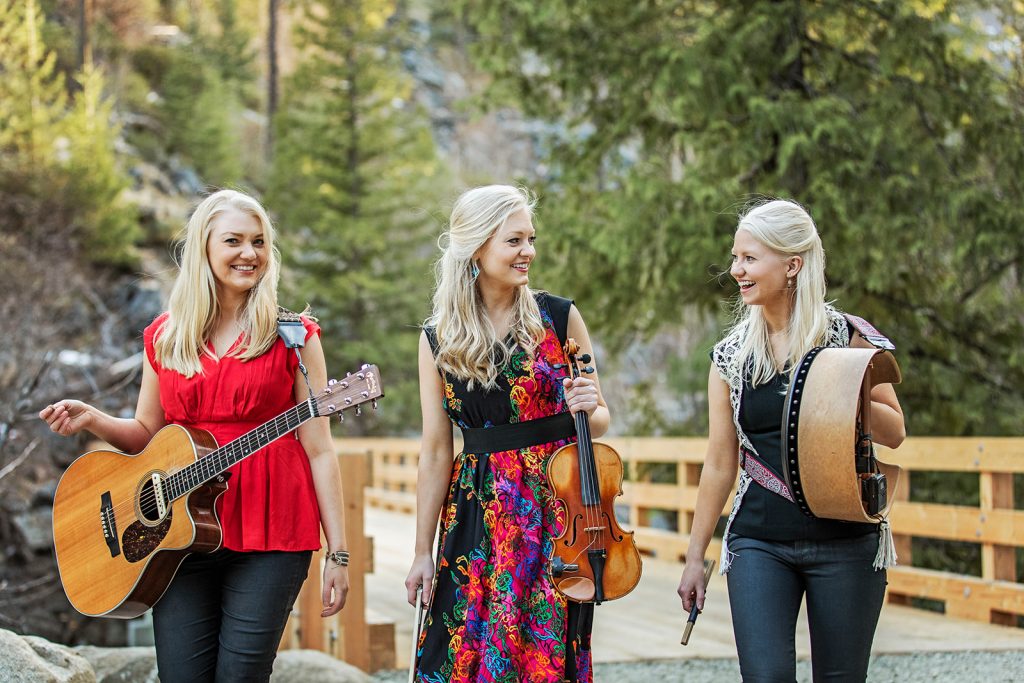 Photography by: Ruth H. Photography
To learn more about Whidbey's Saratoga Orchestra click here.
To learn more about The Gothard Sisters click here.
Mark your calendars to join us during the month of August at Windjammer Park in Oak Harbor for our summer concert series featuring a new act every Wednesday evening for the first four Wednesdays. In addition to Whidbey's Saratoga Orchestra with featured guests The Gothard Sisters (Aug 3) you can catch Zan Fiskum (Aug 10), The Chris Eger Band( Aug 17), and Janie Cribbs and the T.rust Band (Aug 24). Presented by the Oak Harbor Music Festival in partnership with Windermere Real Estate Whidbey Island. For more information about dates and times click here.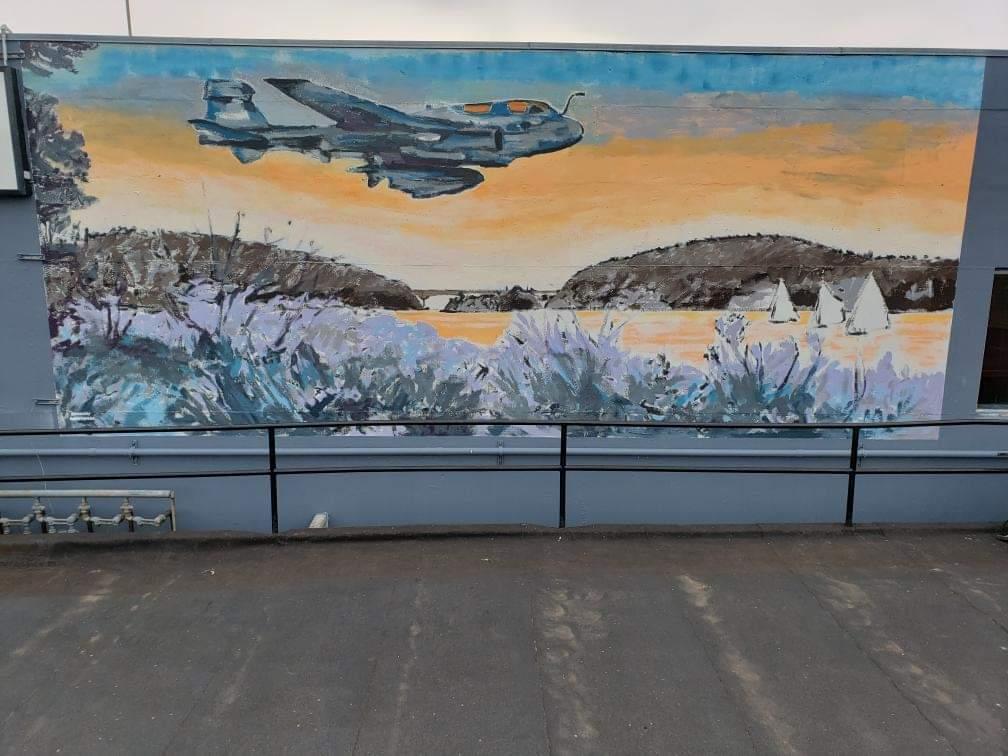 Have you driven down SE Pioneer Street recently? Perhaps the stunning new artwork by Timothy Haslet captured your eye.
Changing Downtown
Over the past five years, programs like the Allgire Project, Oak Harbor Main Street Association commissions, and fire hydrant painting projects have led to an increase in art downtown. For years though, a deteriorating mural from the 70s resided on the exterior wall of Riverside Café in desperate need of revision. Shortly prior to Memorial Day weekend, this beautiful mural of a Prowler passing Deception Pass was revealed in its place. Artist Timothy Haslet says, "This mural relates to my series on Navy Planes."
Welcome Oak Harbor
He wanted to fit a Navy Plane within the context of Deception Pass, with the overall goal of depicting who we are as a community. Timothy wants to send the message "Welcome to Oak Harbor" to the people moving here from all over the country and the world. His goal is to "create something that could be recognizable and identifiable by our diverse community." Historically Haslet's work consisted primarily of landscapes.
Why the change?
A recent article by Kathy Reed in the Whidbey Weekly revealed, that "as he was processing this new direction in his art, conflict over jet noise within the Whidbey community occupied a great deal of his thoughts." A question came to Haslet that he knew he needed to solve, "What would a picture of 'the best of both worlds' look like?" He pondered, "who are we, as a community, and where are we going? Can we create artwork that could be a bridge between the two?" Read the rest of her article here.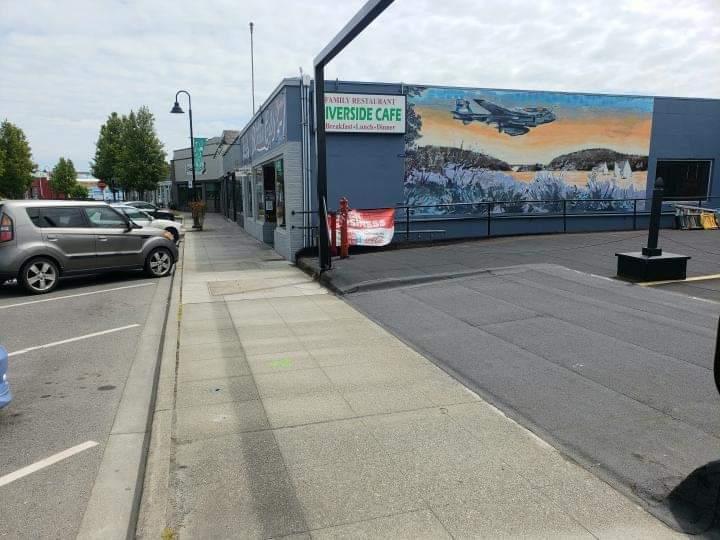 This beautiful masterpiece is his answer to that question for all to enjoy no matter how they arrived on Whidbey Island, whether by road, water, or plane.
What a special tribute to the community.
Timothy says prints of the mural will be available soon. If you would like to see more of Timothy's work, stop by our Oak Harbor Windermere office and peruse his artwork on display. You can also find his work online here.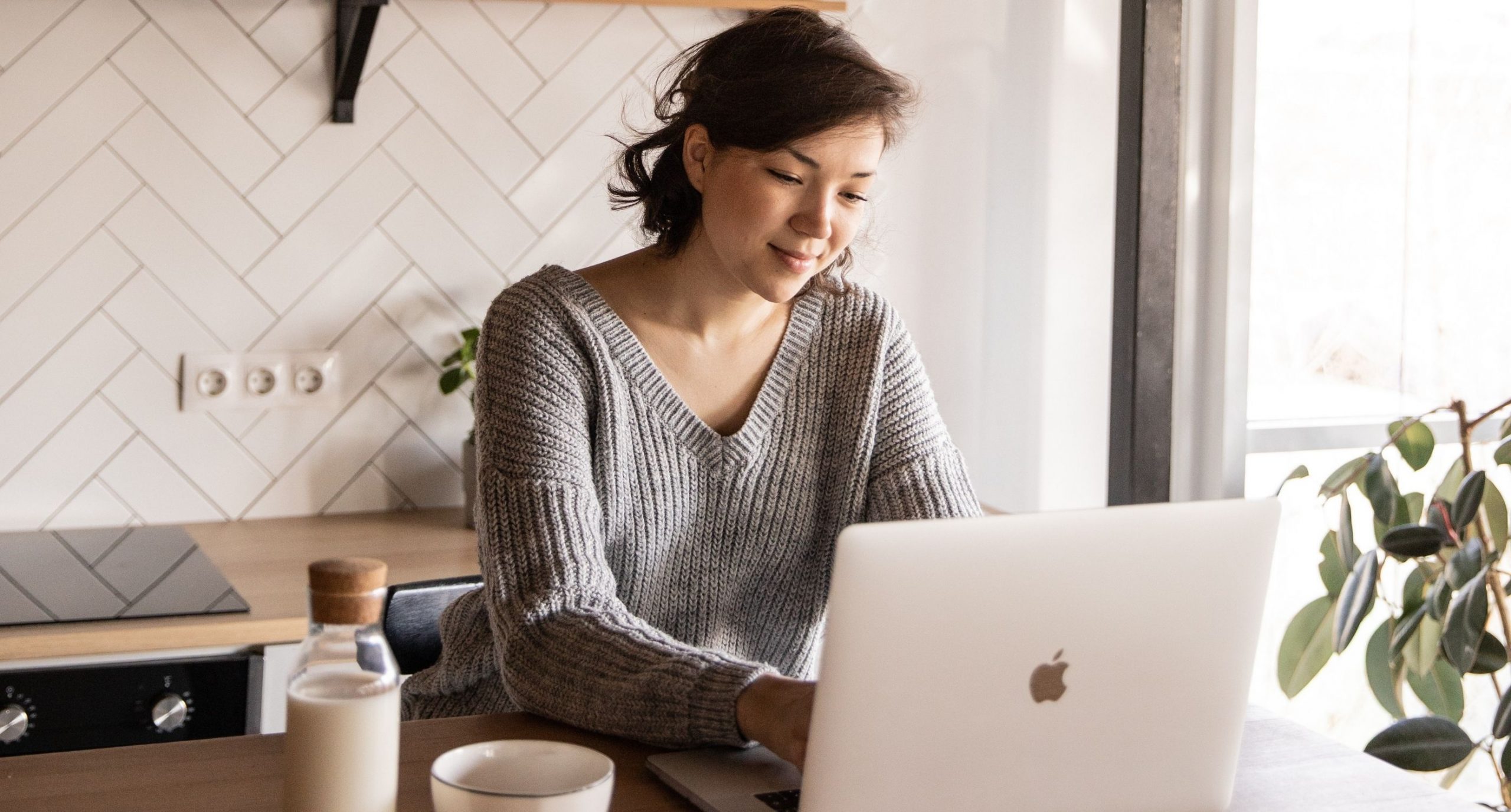 When you are preparing to move to a new location or to buy a home for the first time, you are likely eager to learn literally EVERYTHING from the home buying process to everything about the area and what it has to offer when you arrive.

Whether from pure excitement or overwhelming nerves you are likely to find yourself up well past your typical bedtime researching things like:
What cool things are nearby?
Which neighborhoods you can afford.
What those neighborhoods are like.
If you can imagine yourself living there.
Where the best spots are for a cup of coffee.
and probably… where the most iconic location for a picture that might make you Instagram famous might be.
Luckily for you, some real estate brokers are obsessed with this same level of need-to-know. There are a handful of brokers who have created incredibly in-depth online guides to their area. Many go as far as to include information on individual little neighborhoods that will make your search and transition that much easier.
Where it all started:

We were inspired by Marguerite Martin to go all out on neighborhoods and provide rich local content just as she has with her page Move to Tacoma.
It brings us great pleasure to announce that here at Windermere Whidbey Island, we recently unveiled our very own Neighborhood Guide. We couldn't be more excited to share it with you! Our first release takes a deep dive into 26 neighborhoods from Oak Harbor to Greenbank. We will continue expanding over time. Each page includes written descriptions, images of the homes and neighborhood features, quotes from neighbors, a map with key attractions nearby, median sales price, links to active, pending, and sold homes, commute times to schools and nearby hospitals, and blog posts on a whole suite of topics related to that neighborhood.

Looking for more?
If you are looking for more lifestyle information, check out our umbrella page The Whidbey Island Guide. The guide offers local events, links to government and public sites/resources, collections of articles on things like hiking, restaurants, and so much more.
Remember, these pages represent just the tip of the iceberg on what our brokers know about living on Whidbey Island. If all this information just leads to more questions give us a call! If you have suggestions on information, you wish we would add please tell us, we are all ears.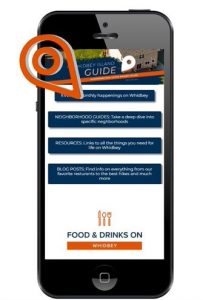 Connect with us:
Connect with us and expand your search by following us on Instagram at @Windermere_Whidbey_Island where you can find reels on the various neighborhoods of Whidbey.
View this post on Instagram
If Facebook is more your thing you can find us here!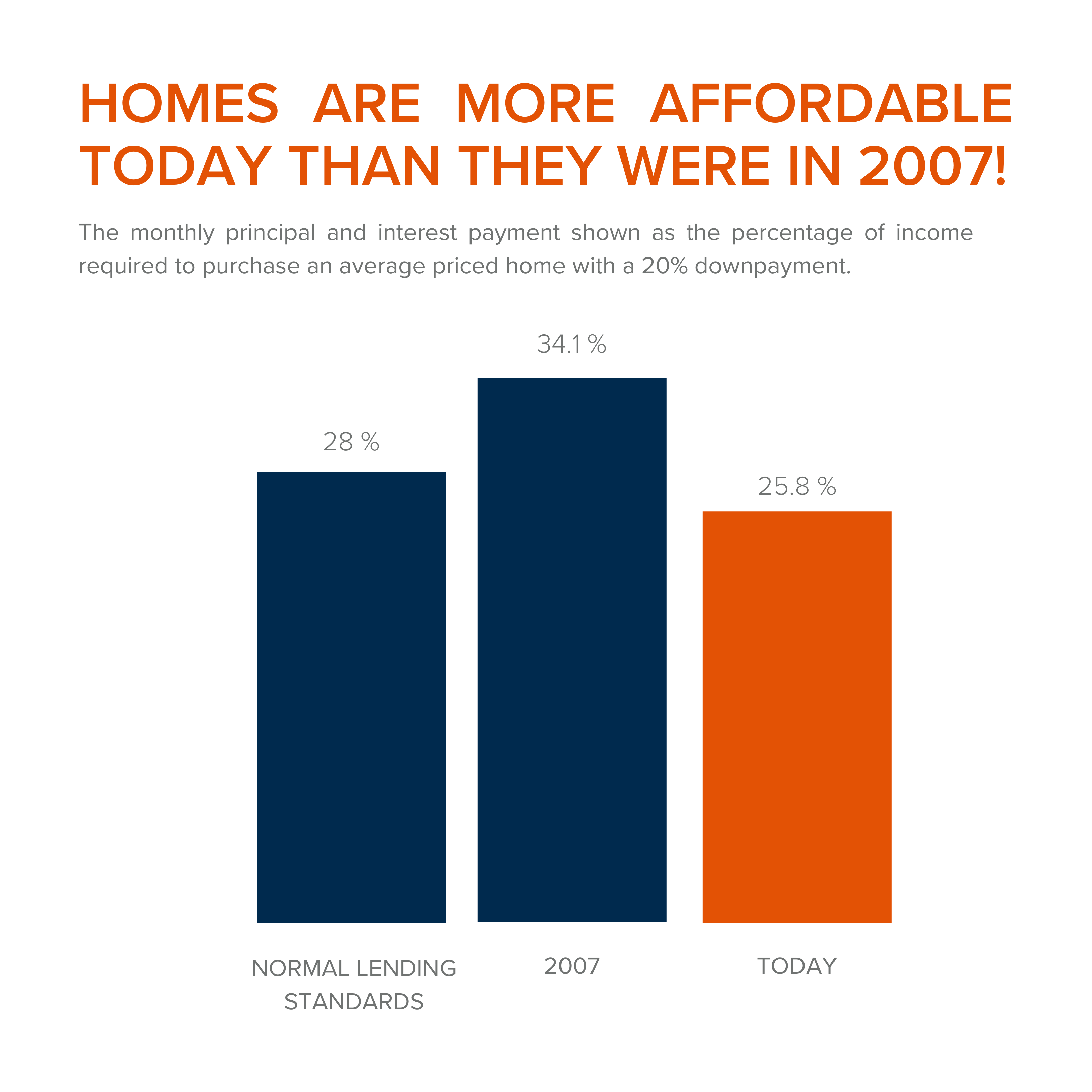 Home buyers are beginning to believe we are heading into a housing bubble. It is easy to acknowledge this premonition, as year-after-year home price appreciation has continued to remain in the double digits.
However, we are here to put your mind at ease as this market is very different than it was during the housing crash 15 years ago. Follow along as we explain four fundamental reasons why today's market is nothing like the market was back then.
1. Houses Are Affordable Unlike During the Housing Boom
To understand this, one must understand the affordability formula. The affordability formula consists of three parts: the price of the home, wages earned by the purchaser, and the mortgage rate available at the time of purchase. Conventional lending standards suggest a purchaser should spend no more than 28% of their gross income on their mortgage payment.
Fifteen years ago, prices were high, wages were low, and mortgage rates were over 6%.  While today's  home prices are high, wages have increased significantly, and despite the latest spike, mortgage rates are still well below 6%. This means that todays average buyer spends less of their monthly income toward their mortgage payment than buyers did back then.
In the latest Affordability Report by ATTOM Data, Chief Product Officer Todd Teta speaks to this stating, "The average wage earner can still afford the typical home across the U.S., but the financial comfort zone continues shrinking as home prices keep soaring and mortgage rates tick upward."
Undeniably,  affordability is not as strong as it was last year, but it is significantly better than it was during the boom. The graph below demonstrates that difference: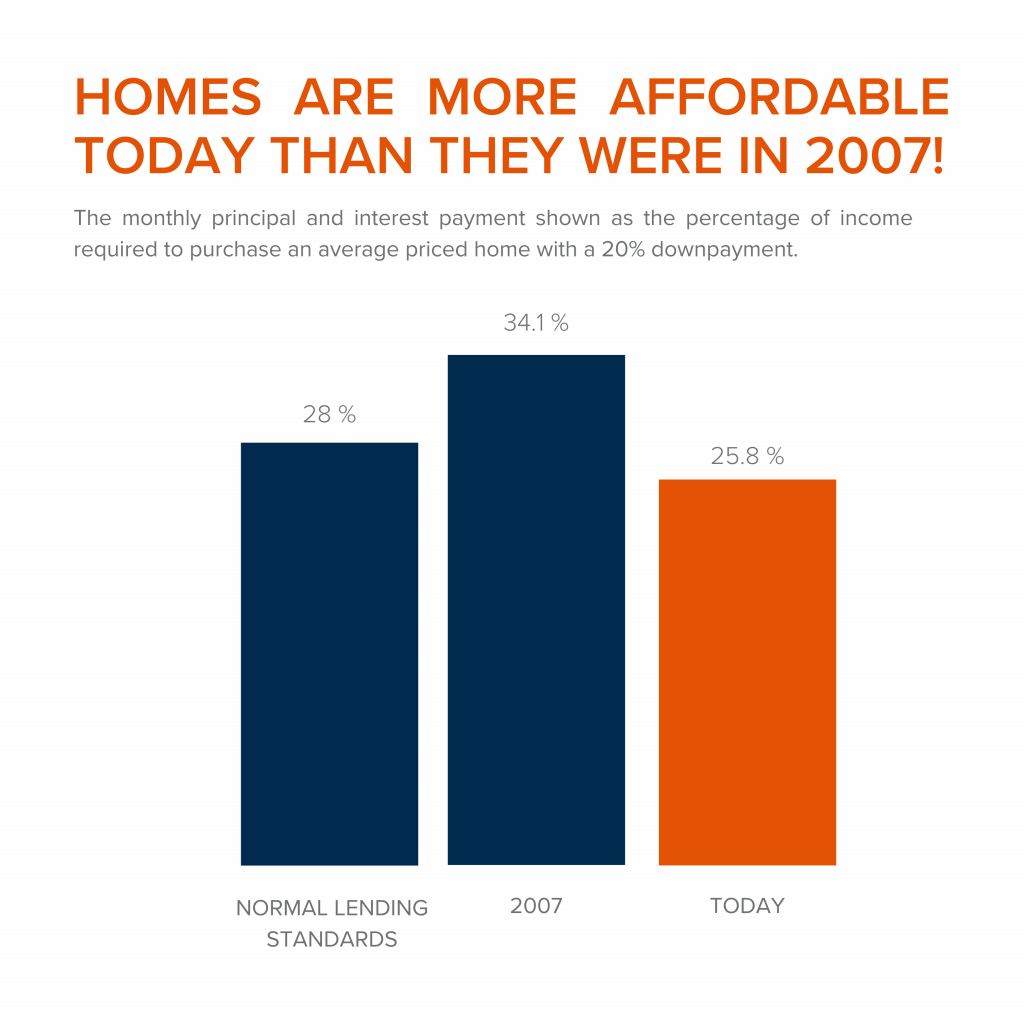 How did so many homes sell during the housing boom with such prohibitive costs?
2. Mortgage Standards Were Much More Relaxed During the Boom
Getting approved for a mortgage loan was significantly more attainable during the housing bubble than it is today.  According to credit.org, a credit score between 550-619 is considered poor. They define  those with a score below 620, by stating that, "Credit agencies consider consumers with credit delinquencies, account rejections, and little credit history as subprime borrowers due to their high credit risk."
While buyers can still qualify for a mortgage with a credit score within that range they are considered riskier borrowers. If you are in that range, read our How Long Does it Take to Save for a Down Payment article here. Below is a graph illustrating the mortgage volume issued to buyers with a credit score less than 620 during the housing boom, in compression to the following 14 years.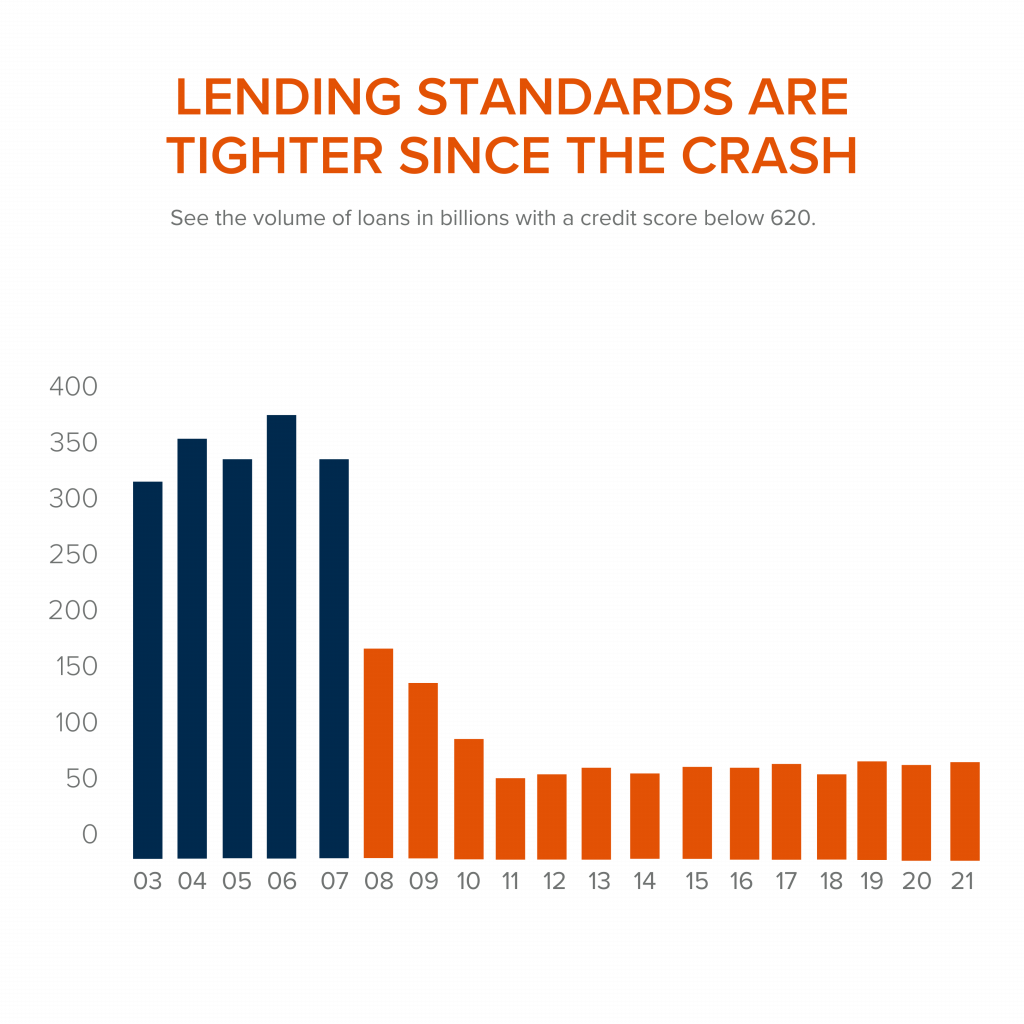 Mortgage standards are significantly different than they were last time. Buyers that obtained mortgages during the past decade are better qualified for the loans. Lets look at what that means moving forward.
3. Foreclosure Are Completely Different  Than They Were During The Crash
The most obvious difference is the number of homeowners that were facing foreclosure after the housing bubble burst. The Federal Reserve issues a report showing the number of consumers with a new foreclosure notice. Here are the numbers during the crash compared to today: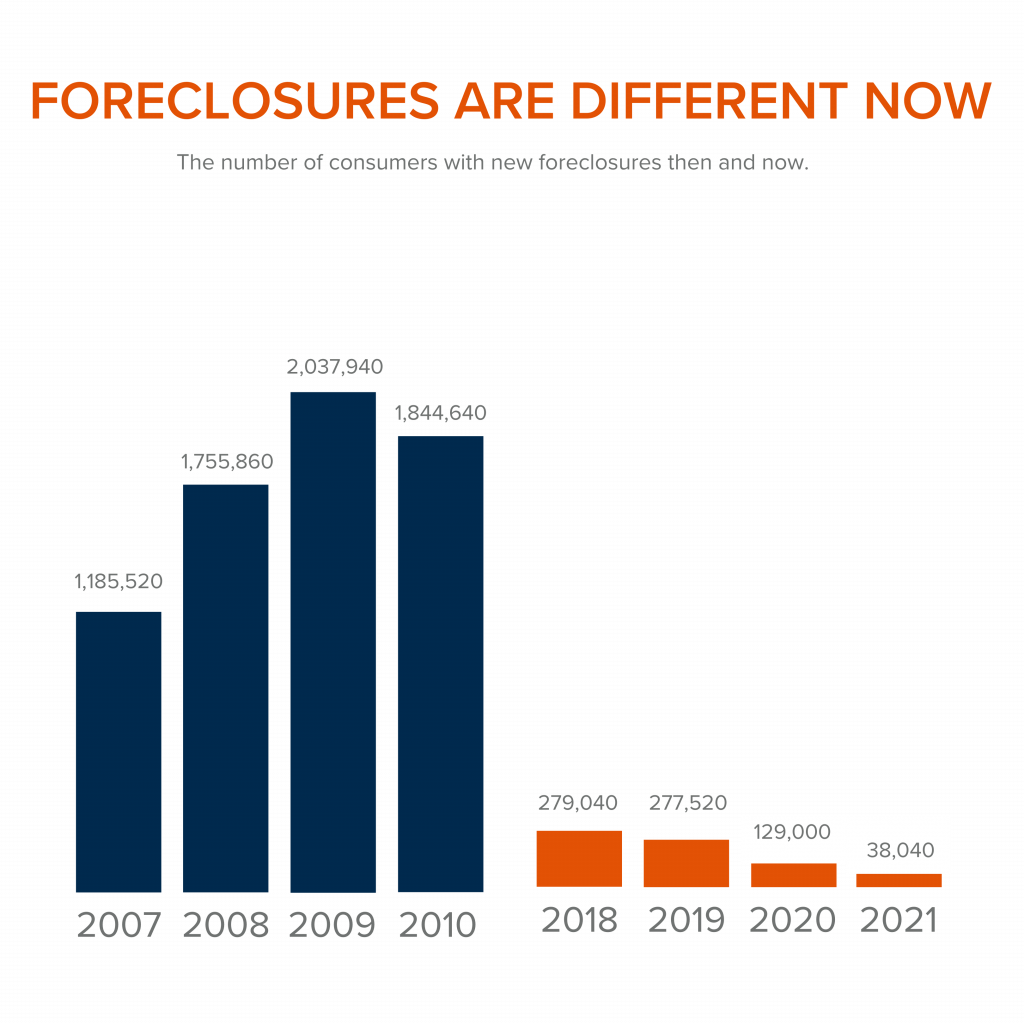 Undoubtedly the 2020 and 2021 numbers are impacted by the forbearance program, which was created to help homeowners facing uncertainty during the pandemic. Keep in mind, there are less than 800,000 homeowners remaining in the program today, and the majority of those will be able to work out a repayment plan with their banks.
Rick Sharga, Executive Vice President of RealtyTrac, explains, "The fact that foreclosure starts declined despite hundreds of thousands of borrowers exiting the CARES Act mortgage forbearance program over the last few months is very encouraging. It suggests that the 'forbearance equals foreclosure' narrative was incorrect."
Why are there significantly less foreclosures seen today? Well, homeowners today are equity rich. They are not tapped out.
During the build-up to the housing bubble, some homeowners were using their homes as personal ATM machines. We saw a plethora of people withdrawing their equity the moment it was built up. When home values began to fall, many homeowners found themselves in a negative equity situation where the amount they owed on their mortgage had surpassed the value of their home. Many were faced with the decision of walking away from their homes. When that happened it led to a rash of distressed property listings (foreclosures and short sales), which sold at huge discounts, thus lowering the value of comparable homes in the area.
Homeowners, have since learned their lessons. Prices have risen nicely over the last few years, leading to over 40% of homes in the country having more than 50% equity. But owners have not been tapping into it like they had previously, as indicated by the fact that national tappable equity has increased to a record $9.9 trillion. With the average home equity now standing at $300,000. What happened last time will not happen today.
As the latest Homeowner Equity Insights report from CoreLogic explains, "Not only have equity gains helped homeowners more seamlessly transition out of forbearance and avoid a distressed sale, but they've also enabled many to continue building their wealth."
There will be nowhere near the same number of foreclosures as we seen during the crash. What does that mean for the housing market today?
4. There is Not a Surplus of Homes on the Market – We Have a Shortage
The supply of inventory needed to sustain a normal real estate market is approximately six months. Anything more than that is an overabundance and will causes prices to depreciate. Anything less than that is a shortage and will lead to continued price appreciation. The following graph demonstrates, the surplus of homes for sale between 2007 to 2010 (many of which were short sales and foreclosures). That caused prices to tumble. Today, there is a shortage of inventory, which is creating the increasing home values we are witnessing today.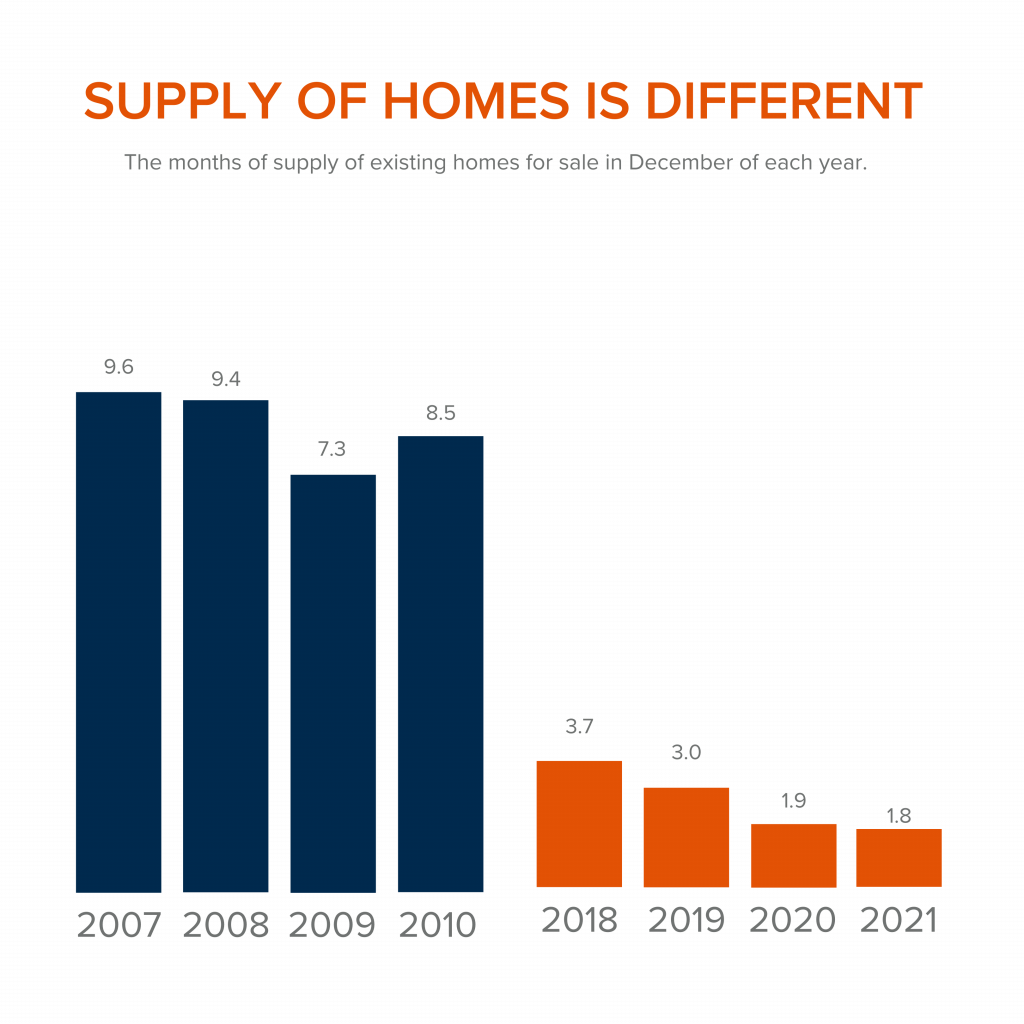 Inventory is drastically different in comparison to last time. Prices are rising because there is a healthy demand for homeownership while at the same time there is a shortage of homes for sale.
At the end of the day,
if you are worried that we are making the same mistakes that led to the housing crash, the graphs above show data and insights to help alleviate your concerns. If you are considering buying or selling and would like to dive deeper into this subject we would be happy to schedule a consult with you. Call us today at 360.675.5953.