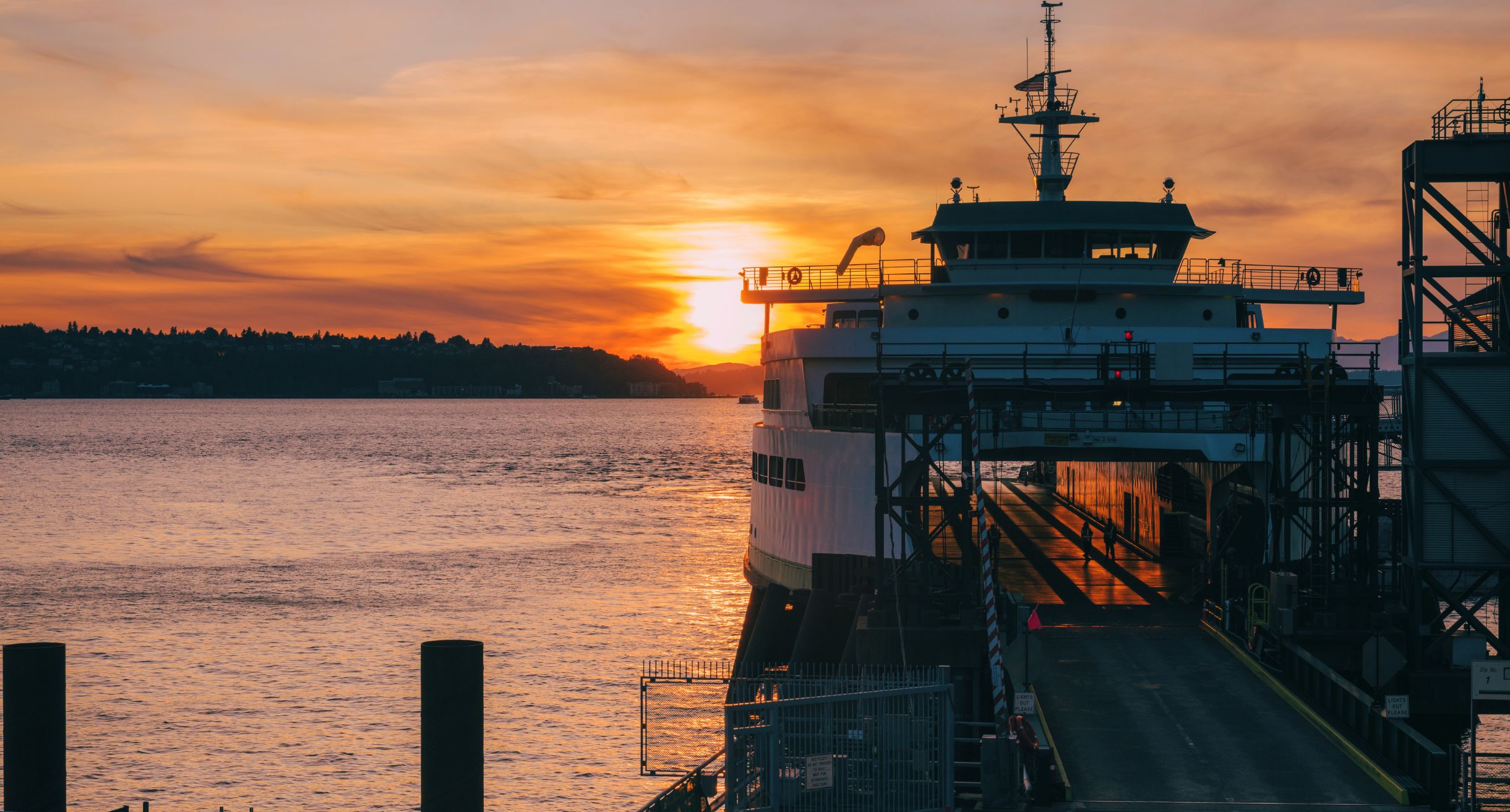 Who says you can't navigate paradise from the comfort of a ferry ride? Our experience when taking a ferry to or from Whidbey Island is that it offers a unique and picturesque experience that is packed with charm and several noteworthy advantages. Follow along to find out the top 10 reasons we suggest you take a ferry the next time you need to cross the water.
Scenic Beauty:
The Washington State Ferries treat passengers to breathtaking views of the Puget Sound, surrounding islands, and the majestic Olympic and Cascade mountain ranges. It's a visual feast for nature enthusiasts and photographers.
Relaxation:
Our ferries offer a peaceful and leisurely mode of transportation. Not only do you not have to navigate the hustle and bustle or sit in stop-and-go traffic to get to your destination, but ferry passengers can unwind on deck, enjoy the fresh sea breeze, or simply gaze at the tranquil waters, creating a serene  and enjoyable journey to your destination.
Convenience:
The ferry system is an integral part of the Pacific Northwest's transportation network. It offers a convenient way to connect Whidbey Island to the mainland, making it accessible for both commuters and tourists.
Time to Unplug:
Depending on who you are, you will either love or hate, the absence of Wi-Fi on most ferries. However, this absence of connectivity encourages travelers to unplug from the digital world, promoting relaxation and providing an opportunity to disconnect, unwind, and take in the spectacular atmosphere surrounding you.
Wildlife Watching:
Keep an eye out for marine life during the journey. It's common to spot seals, sea lions, dolphins, and various seabirds while crossing the Sound. If you get to snap a picture, don't forget to tag us at @windermere_whidbey_island on Instagram.
Community Experience:
Passengers often strike up conversations and share stories while riding the ferries which fosters a sense of community. It's a chance to connect with fellow travelers or engage with locals who cherish their island home. Such an opportunity for learning about the island if you are new here. If you are hoping to learn more about the island or looking for a place to live and aren't currently working with a realtor, connect with us here so we can be your guide.
Adventure Starting Point:
For tourists, the ferry ride to Whidbey Island marks the beginning of an exciting adventure. It is the gateway to exploring the island's charming towns, outdoor activities, and natural wonders.
Child-Friendly:
Ferries are child-friendly, so you don't have to feel like you can't go because you have kids. You can stay in your own vehicle if you choose to do so, however,  many ferries offer play areas and tables for kids. In fact, the experiences of riding a ferry can offer opportunities to teach children about marine life and navigation.
Cafes and Dining:
Many ferries feature cafes or dining options where passengers can enjoy a meal or snack while taking in the views.
Sunsets and Sunrises:
This might just be one of our favorites. The early morning and evening ferry rides provide an opportunity to witness stunning sunrises and sunsets over the water, creating magical moments for travelers. We highly suggest you experience a sunset or sunrise ferry ride at least once in your life time.
In essence, taking a ferry to or from Whidbey Island is not just a means of transportation; it's an experience that adds to the overall allure of the island, combining convenience with a touch of adventure and a generous serving of natural beauty. Click here to check out the Washington State Ferries schedules and to book your next ride.  If you have fallen in love with Whidbey and are considering staying connect with us here.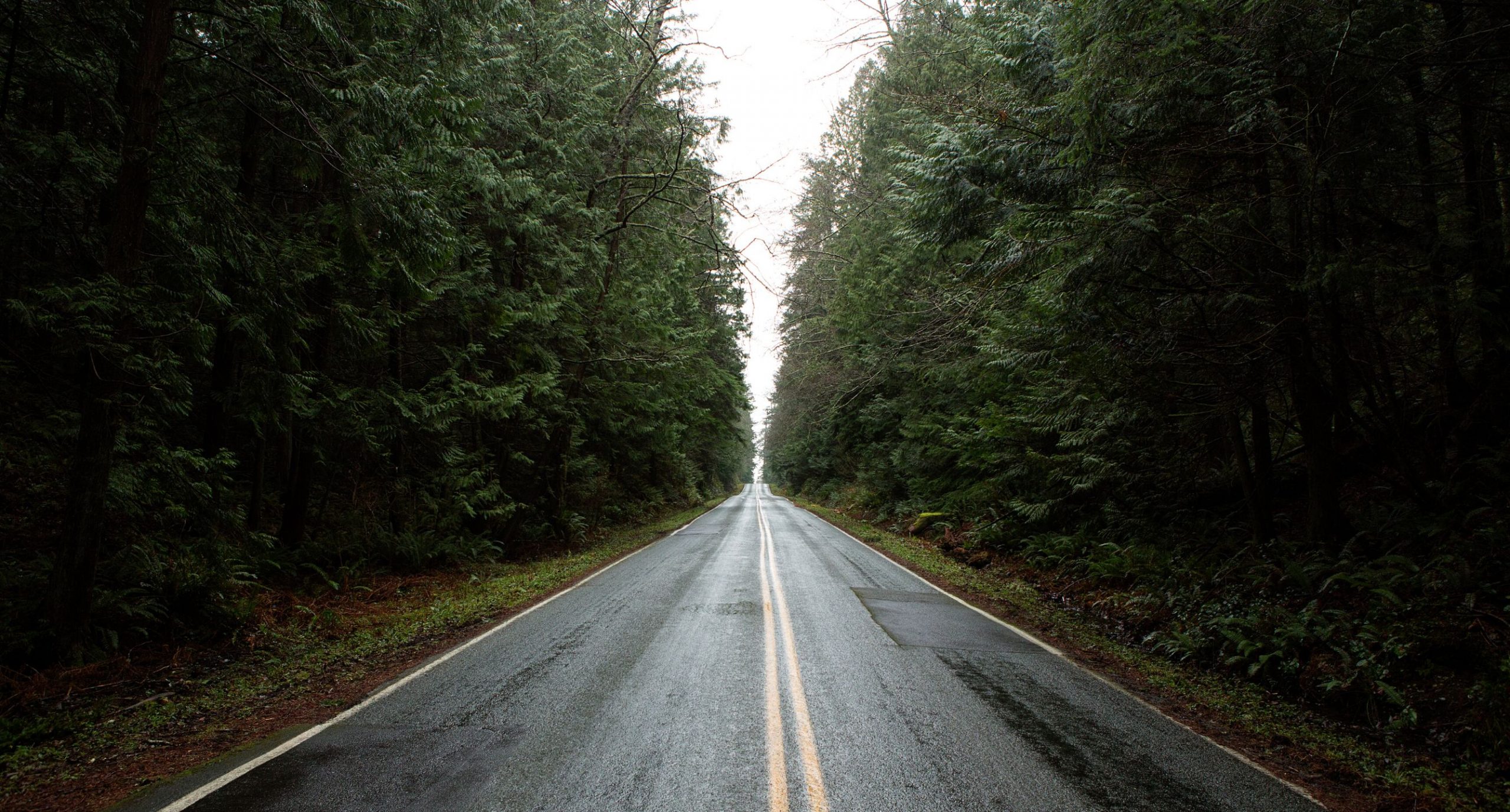 The Pacific Northwest, or PNW, is a region known for its varied and often unpredictable weather. Located in the northwest corner of the United States, the PNW is home to a diverse array of climates and landscapes, ranging from the rainy, temperate rainforests of the coast to the dry, high-desert regions of the interior.
One of the most distinctive features of the PNW weather is the rain. The region is home to some of the wettest parts of the country. Some areas receive over 100 inches of rain per year. While the rain can be a nuisance at times, it is also a vital part of the region's ecosystem. The rain provides the water needed to sustain the lush forests and vegetation that thrive in the region.
In addition to the rain, the PNW is also prone to fog and mist, especially along the coast. These foggy conditions can last for days at a time, creating a unique and sometimes eerie atmosphere.
Weather on Whidbey Island
Whidbey Island, located in the northwest corner of Washington state, is no stranger to the PNW's unpredictable weather. Located in the Puget Sound, the island is influenced by both the maritime climate of the coast and the inland climate of the region. As a result, the weather on Whidbey Island can vary significantly from one day to the next. Sometimes a sunshining clear skies day gives way to rain and fog in a matter of hours.
One unique aspect of the weather on Whidbey Island is its location in the rain shadow of the Olympic Mountains. The rain shadow effect occurs when moist air is forced up and over a mountain range. When this happens it causes it to cool and release its moisture in the form of rain or snow. As the air descends on the other side of the mountain range, it warms and becomes drier, creating a "rain shadow" region that receives less rainfall.
Due to its location on the leeward side of the Olympic Mountains, the areas of North and Central Whidbey Island experience this rain shadow effect, resulting in significantly less rainfall compared to other parts of the PNW. While the island still gets its fair share of rain and fog, it is generally drier and sunnier than the surrounding region. Less rainfalls makes it a popular destination for those seeking a respite from the rain.
Despite the often-variable weather, the PNW and Whidbey Island are beautiful and unique places to visit or call home. The diverse landscape and varied climate create opportunities for a wide range of recreational activities. Many people enjoy  hiking and camping in the summer to skiing and snowboarding in the winter. So, whether you're a seasoned resident or a first-time visitor, be prepared for a little bit of everything when it comes to the weather in the PNW and on Whidbey Island.
When you fall in love with the island and want to stay let us help you find your dream home. Connect with us here.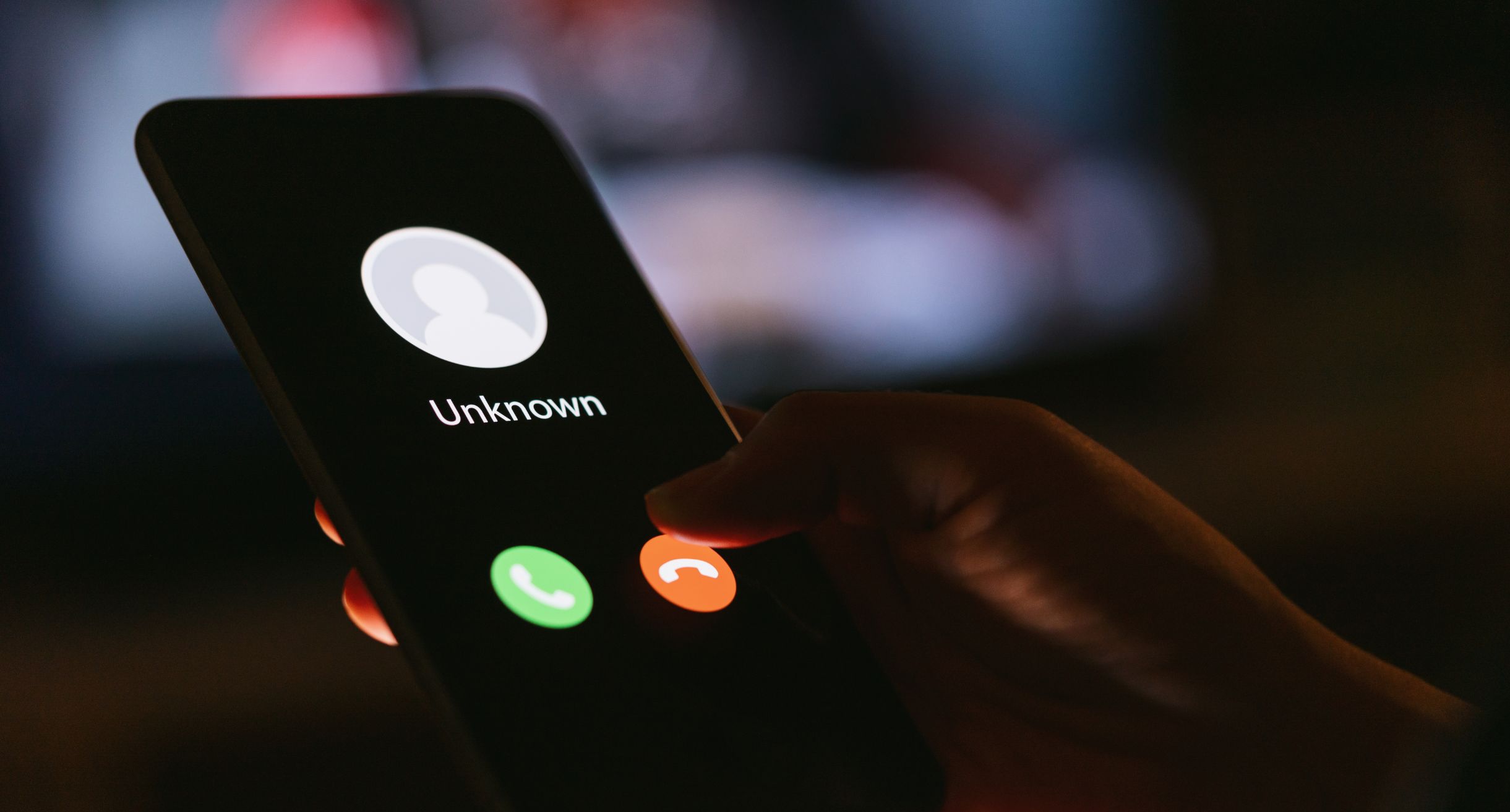 Who are you going to call? That's up to you. How are you going to call? That's up to you, too; but, that's a shorter list. It is also easier to talk about. Welcome to Whidbey, or your new home, or your curiosity. Phone service on the island is unique for several reasons; and can even get into international issues. Here are some of your choices.
Landlines:
Landlines exist, and can frequently outperform more modern options. A direct connection between two phones can be clearer, simpler, and make sense in older homes. Landlines can also avoid issues about spots in a house where signals are blocked by things like masonry. They can also be handy during a power outage, if the provider keeps the lines charged. Even better is a provider that buries the lines so they're less likely to be impacted, literally, by falling branches. 
But, landlines have limits. Putting a landline in your pocket can be done, but is somewhat useless when out of range of the home's base station. (e.g. Whidbey Telecom, Ziply)
Mobile Phones: 
Welcome to the modern era when phones in pockets are taken for granted, as is roaming. One phone, one country, that's pretty good. Cell phones, mobile phones, isn't that what everyone uses? The major providers are here, which is definitely appreciated. As a solution, mobile phones are the dominant choice.
Mobile phones are the dominant choice, but not every provider can provide unlimited coverage. Can you hear me now? You can still hear people say that on a call as you drive through gaps in coverage. Ridges, buildings, and antenna blind spots can have you checking whether you have five bars, or as little as one bar, or even no bars. Electronic signals can't be guaranteed to reach the base stations of the corporate carrier. Coverage is pretty good, but a temporary interruption while driving around isn't as important as a poor signal at home. Check coverage for where you want to live.
Coverage Maps:
Find a home in the areas with your ideal coverage here.
When in doubt, drive there and check. If you are buying a home the home inspection time is a great chance to check cell reception too, make as many calls in as many spaces on the property as possible. If you get the opportunity, check in with the neighbors, possibly on social media, and learn what they use. (e.g. AT&T, T-Mobile, Verizon, US Cellular). Talk with your agent about their experience with coverage. Don't have an agent? Connect with one here.  
VIOP:
Keep in mind, some people want to live in those quiet pockets. There's someone for everywhere.
Got a good internet connection but no cell signal? VOIP can be an option. Voice Over Internet Protocol routes your calls through the internet, not a phone landline or a cell tower. Some cell phones are already set up to choose the better path between a tower and the internet. That can be the best of both worlds. (e.g. Frontier, Vonage, Wave)
Did That Message Just Say Welcome to Canada? 
Hello, Canada. Saying hello to Canada is easy enough. You can see it from the island. Wave at it. Your phone might be doing that too. The farther north and west you get on the island the greater the likelihood that your phone may connect with a tower in Canada. You can get charged for international roaming without leaving the US. Fortunately, your phone should tell you when it does that, but it is worth checking, occasionally. (e.g. Telus)
The Final Message:
The choices aren't infinite, but there may be more than you want to research for your corner of the island. The denser the population, the more likely you'll have plenty of choices, many of which run those big national ad campaigns. Our island's more remote locations, however, can be so unique, so idiosyncratic, that it might make sense to visit and try calling friends and family. 
As technology continues to invent new options, the choice continues to change. Now that satellite phones have progressed from specialized Globalstar handheld units to Starlink's internet access a homeowner can create their own connection, assuming those pesky hills and bills don't get in the way. If you've got power and the right view, you've got internet and phone; regardless of whatever might be interrupting everyone else's day or night.
Who are you going to call? That's up to you. How are you going to call? That's up to you, too; but, now you may understand why one answer doesn't apply to everyone. Thanks, Ma Bell and your old bakelite landline phones wired to a wall; but, we've become much more mobile, and hopefully more stylish. Make a call from Whidbey? You've got options. Try to call us now: 360.675.5953.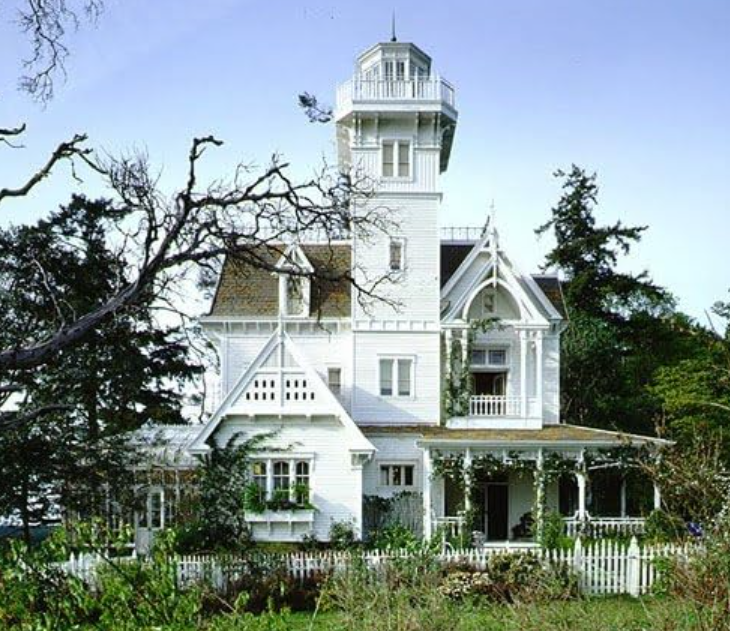 "The small town scenes were filmed in downtown Coupeville, Washington, a Victorian-era seaside port town located on the south side of Penn's Cove on Whidbey Island." – IMDB
But you knew that, right?
For being so big and loud, Hollywood's visits to Whidbey are usually quiet and out of the way. Practical Magic went all out. Twenty-five years ago the film crews and the stars swept in, painted Coupeville white, and played pretend that it was a quaint seaside town – in New England. That's Hollywood. It's about time for another visit.
Let's get the name-dropping out of the way:
Sandra Bullock, Nichole Kidman, Stockard Channing, Dianne Wiest, and some guys. Stars for sure, but pardon locals who also want to spot familiar stores and streets, parks and views. 
Local Destinations:
Front Street dominates. The Wharf is in the background. Stores were temporarily redecorated. Much of it was different, but not out of place. Seafood, a farmers' market, herbs and potions – though they played a different role. Very familiar.
As much as we may feel that they could've filmed the entire movie here, they also used places like the San Juans. The stellar house would be a natural tourist site, but it was a prop, torn down after they were done. Has anyone tried to rebuild it?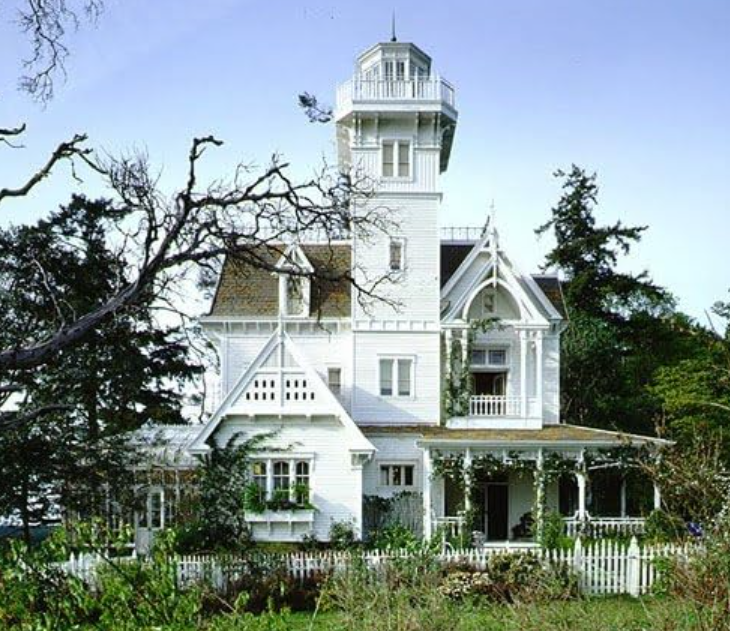 It is a comedy and a romance. It is also a fantasy, or at least has fantastic magic. It is also a thriller, just in time for Halloween. 
You might have to watch it more than once:
Once for the story, once for the setting, and then maybe again. Some people make this a part of their Fall ritual movie night. By the way, the food and drink choices that pair with it are brownies and chocolate cake for breakfast and margaritas at midnight. (Jimmy Buffett fans may also appreciate the latter.)
Filmed on Whidbey:
Practical Magic is part of a long list of movies filmed here.
Some familiar names:
Free Willy 2

Snow Falling on Cedars

The Ring

Double Jeopardy

The War of the Roses

Oh yeah, and Top Gun: Maverick.
Smaller creations are made here, too:
Deception Pass Bridge and the hairpin turn at Ebey's Landing frequently show up in ads. The ferries are iconic enough to be a proxy for all of Puget Sound. 
The perfect location for filming:
While some visitors and locals can complain about overcast skies and dull weather, someone filming a scene can appreciate a lack of shadows. It is easier to stitch retakes into the rest of the film when something filmed in sunshine then has to match something filmed in the shade. Dull weather means less worry about wind and rain – at least compared to a lot of other regions. Not too hot or too cold, usually. We've also got talented people living here, great backdrops, and pleasant places for the stars and the crew to stay in.
It may be a twenty-five year old movie, but it skips technology (hey, they got magic!) and Coupeville is charming. Don't be surprised that October may have a few more tourists visiting. There are some great costume opportunities. Let's just hope the weather treats us all well.
"But there are some things I know for certain: always throw spilt salt over your left shoulder, keep rosemary by your garden gate, plant lavender for luck, and fall in love whenever you can." – Sally Ownes, source:IMDB
And, 
"There's a little witch in all of us." – Aunt Jet Ownens, source: IMDB
Links: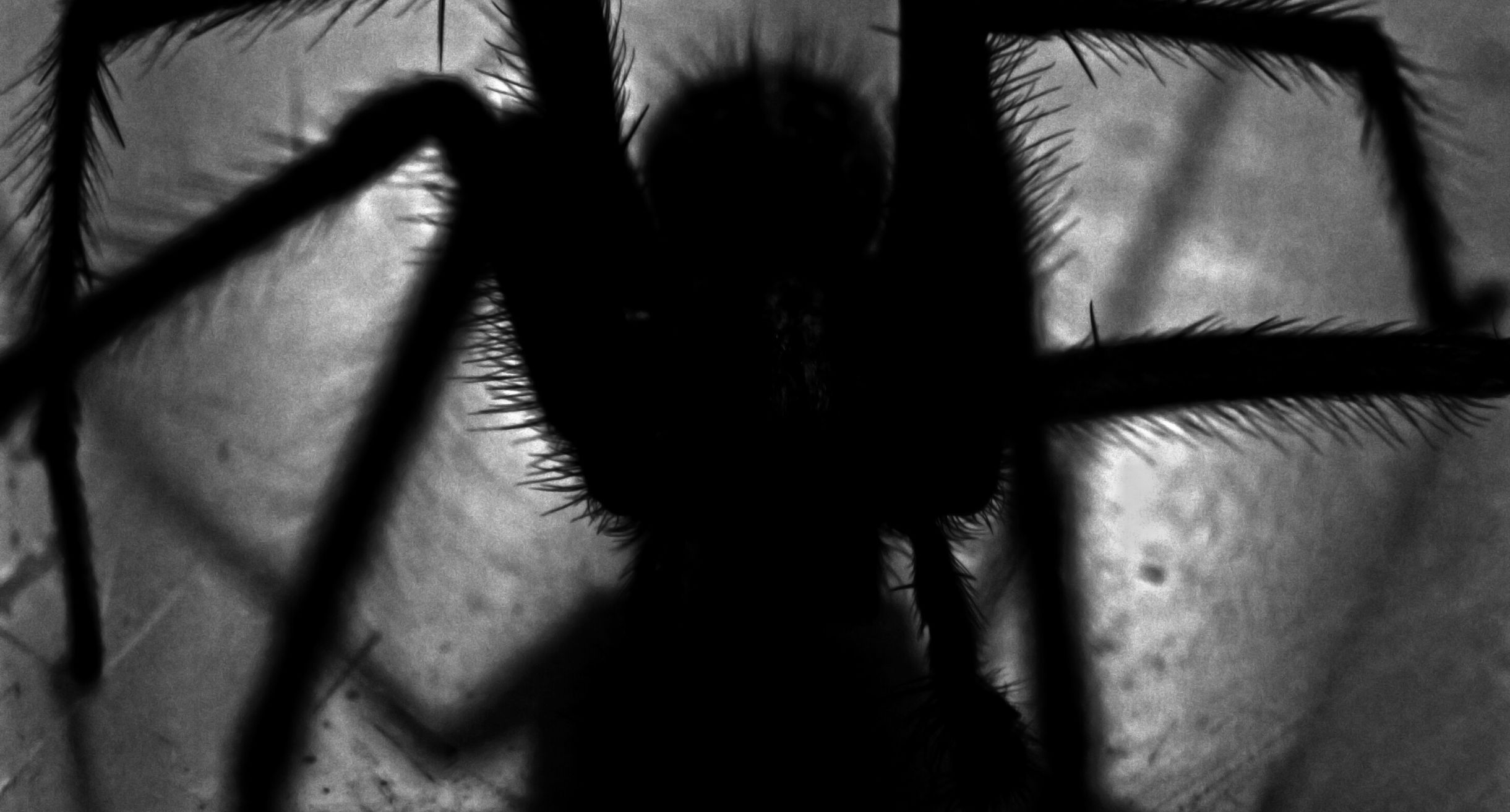 As the crisp autumn air settles in, Halloween is creeping closer and it's time to conjure up some devilishly delightful pumpkin carvings.
SPOOKTACULAR CARVING IDEAS:
Whether you're a seasoned pro or a beginner, these spooktacular pumpkin carving ideas are sure to impress.
Start off with a classic Jack-o'-Lantern, featuring a toothy grin and triangle-shaped eyes that never go out of style. Or try a simple yet spooky ghost design with black paint or markers to create a hauntingly eerie look. If you prefer something more whimsical, carve a cute cat with pointy ears and whiskers to add a playful touch to your décor.
But… if you are feeling daring, go all out with a fierce dragon carving. Of course, it will require expert level skill and patience, but it is sure to leave everyone spellbound. For a more elaborate design, try carving a haunted house complete with spooky windows, a creaky door, and ghostly apparitions floating around – perfect for adding an extra eerie ambiance to your Halloween décor.
WHIDBEY ISLAND FARMS:
Once you have your design picked out, head over to one of Whidbey Island's pumpkin patches to find the perfect pumpkin.
At the Greenbank Farm enjoy a fun day of picking your own pumpkins.
Case Farm offers over 50 years of experience in growing a variety of pumpkins.
While the Bayview Farmers Market has a pumpkin patch, it also offers a variety of vendors selling fresh produce, baked goods, and handmade crafts.
But don't stop there – Whidbey Farm & Market and The Farm Stand K & R Farms also offer great pumpkin picking options. At the Whidbey Farm & Market, you can support local farmers and artisans while picking out your perfect pumpkin for carving and at The Farm Stand K& R Farms, enjoy a variety of fresh produce and family-friendly activities like a corn maze and ice cream.
HALLOWEEN FUN ON WHIDBEY:
To top off the fun, if you are looking for a spooktacular adventure, head over to the Haunted Barn In Oak Harbor. The haunted barn features creepy decorations, special effects, and live actors sure to send shivers down your spine.
No matter where you choose to pick your pumpkins or celebrate Halloween, make sure to enjoy the crisp fall weather and embrace all the spooky sights and sounds of the season. Happy haunting!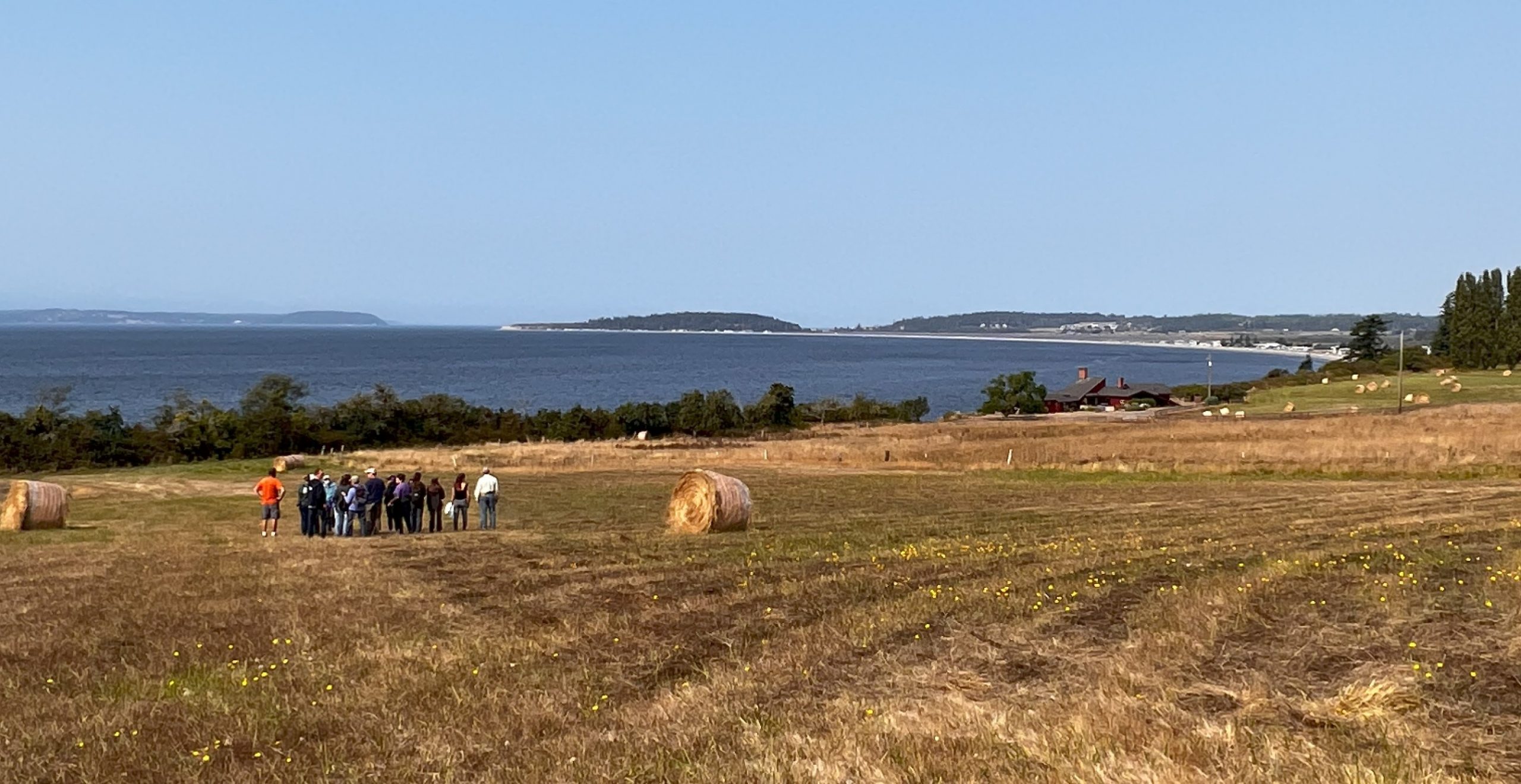 "One of the reasons most people find Whidbey Island so special is the beaches, forests, and farms. This is why having one of the most spectacular properties on the island that incorporates all three being protected forever is such an amazing thing!" 
You've probably seen them, yet another of Whidbey's gravel driveways that reach off from the highway, winding through a forest, to – well, someplace only a few know about. They are mysteries, but someone saw some reason to build a road. Sometimes that's for an estate, or a farm, or simply a view. The Land Trust just acquired one of those properties that has all three.
Saving Whidbey
"What can I do to help protect the island?" That's the question one realtor asked during a tour of Keystone Farm and Forest Preserve. They asked a good question to the right people because Whidbey Camano Land Trust helps people do that. A group of Windermere realtors were fortunate enough to get an early tour of Keystone Preserve, one of the Land Trust's most recent acquisitions – and most impressive properties to protect. 
History of the Land 
For over a century, the land has been farmed with conventional methods (longer than that by Salish Sea Tribes). For decades, one family owned the property. They asked that same question; what could they do to save a farm with an expansive view because of 2/3 of a mile of waterfront. And it has dozens of acres of prairie farmland. And it has dozens of acres of forest upland from the shore. They add up to over 200 acres of a unique estate. Thanks numerous state and federal grants (including help from the Navy), some fortunate situations, and a bit of good luck, Keystone Farm and Forest Preserve will continue to be farmed and preserved. 
Most of the folks on the tour were stopped in their tracks by the view as the long driveway rounded the bend from forest to farm, from trees to pastures, and expansive water views. Look left down Admiralty Inlet. To the right is Admiralty Cove. Straight across is the Olympic Range, Port Townsend, and out to the Strait of Juan de Fuca.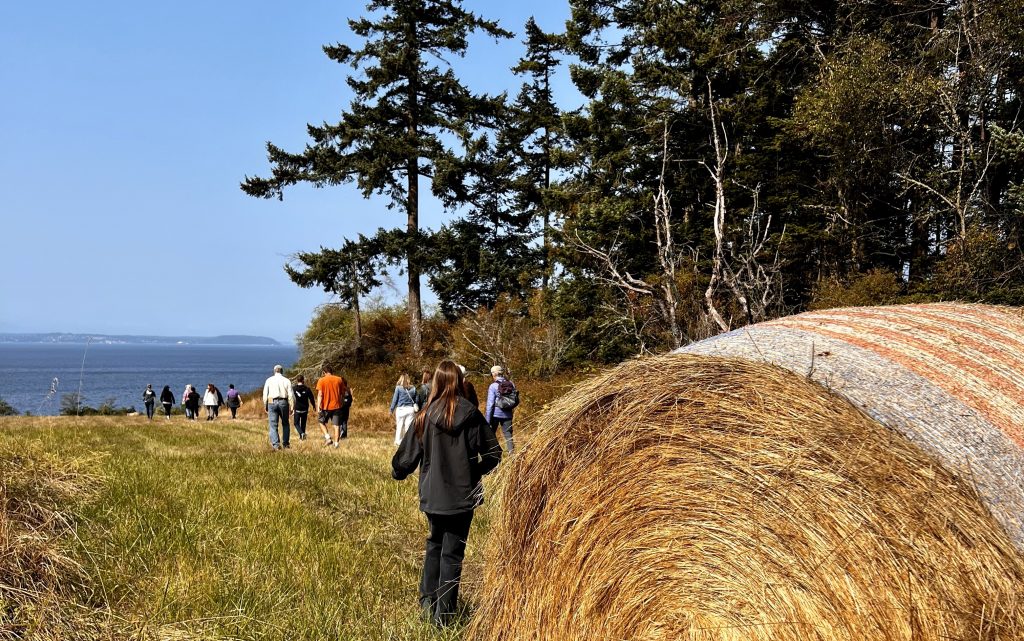 In April 2022, the Lea family sold the property. They had owned the property since 1947, but families shift, and they realized that they'd rather let someone else own and use it than leave it effectively vacant, locked away without anyone being able to enjoy it. The Land Trust stepped in, with help, of course. In a couple of years, Keystone  Preserve will be opened to the public. Patience is necessary because a driveway that suffices for a family and a farm isn't enough for two-way traffic, especially if emergency vehicles need access. The plan is to have parking for school buses and a shelter for learning.
There's history here. The water, the prairie, and the forest are fertile. The Skagit people knew its value. They even maintained the prairie through controlled burns. The open land that reaches down to the water was so distinctive that early explorers noted it. One ship's Captain, Robertson, returned and helped homestead it circa 1850.
A Budding Future 
The future is also being established because the Organic Farm School has already been invited to plant trial fields. And, of course, it will be a place for people to enjoy. It is the nature of the Land Trust that the future can be preserved. That era has already begun.
That's the plan. Plans require action, so sign up with the Land Trust to volunteer. The quicker the work gets done, the sooner people can visit for the sake of visiting. In the meantime, volunteers get early access to the views. Old farms are fertile, so there will be some weeds to tend. As the site gets prepared for the public, there will be opportunities to help. Maybe linger a bit after the work party is done.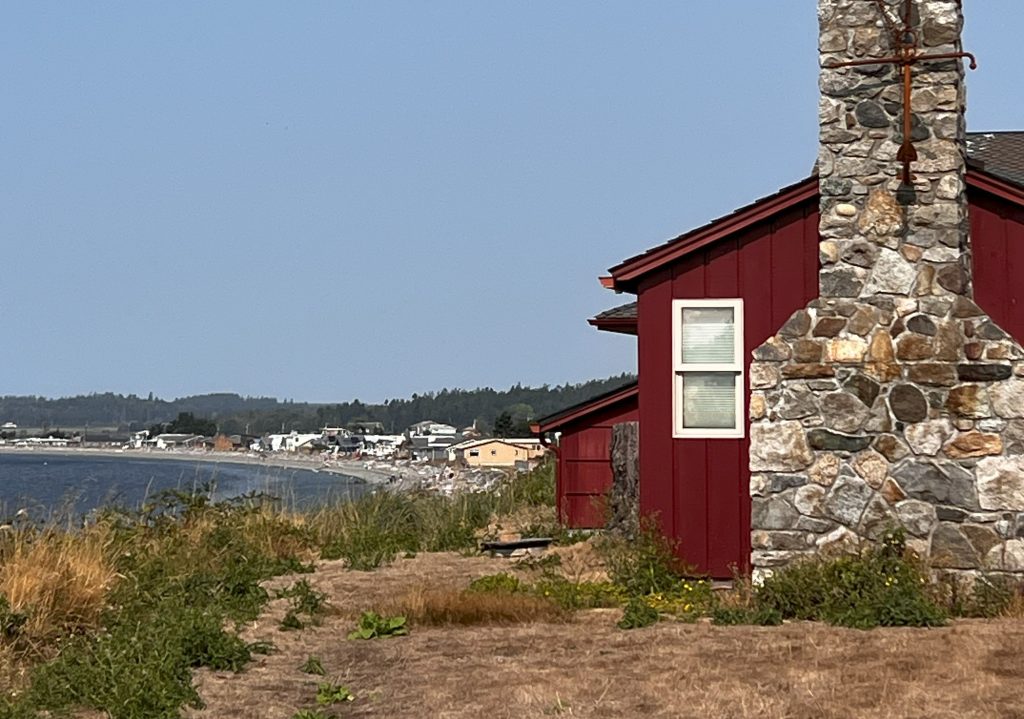 Find a comfy spot and watch for raptors overhead, whales and seals and salmon, and almost every big ship that's using Puget Sound to get to our deep, sheltered harbors. Or get up and wander along the forest trails. 
The property is also a place to learn about what it takes to live on the land on an island. Sites that look ideal can require a bit of research, thought, and consulting with experts. How close can a house be to the water, considering waves that can redistribute a bluff? Upland forests grow because they have access to water, which might mean ravines or wetlands. Owning such a property is also a lesson in how forests collect and filter rainwater, as well as stabilize bluffs and replenish our aquifers. Sometimes, trees may be weak or in a dangerous spot; but, it was pointed out that trimming the difficult parts while leaving the bottom thirty feet provides some of the benefits of habitat and soil stability. Learning about such issues by visiting a property is simpler than doing so in the middle of a transaction.
The land will restore something closer to its original nature, and it can be valuable to see natural forests, natural bluffs, and natural shorelines. The Land Trust doesn't buy land to simply buy land. Keystone Farm and Forest Preserve will help the health of the habitat for lots of wildlife, particularly salmon and other fish that rely on eelgrass and bull kelp. It will provide a place for learning and demonstration. Protecting land also means protecting our drinking water by ensuring we have pockets of aquifer recharge.
The day of the visit ended with a show of seals and salmon along the shore.
People on Whidbey are proud of its rural character; so, preserving a farm, a forest, and a shoreline makes sense. "What can I do to help protect the island?" Be like the Lea family and think of the future.
"It will be a great place for people to learn about organic farming practices, how to manage private forests for health, natural shoreline protection techniques, and an additional beautiful and scenic place for walking. You can learn more about this property and all the Land Trust properties on their website. Loads of their properties are open to the public with great trail systems." There's probably one near you that you didn't even know existed!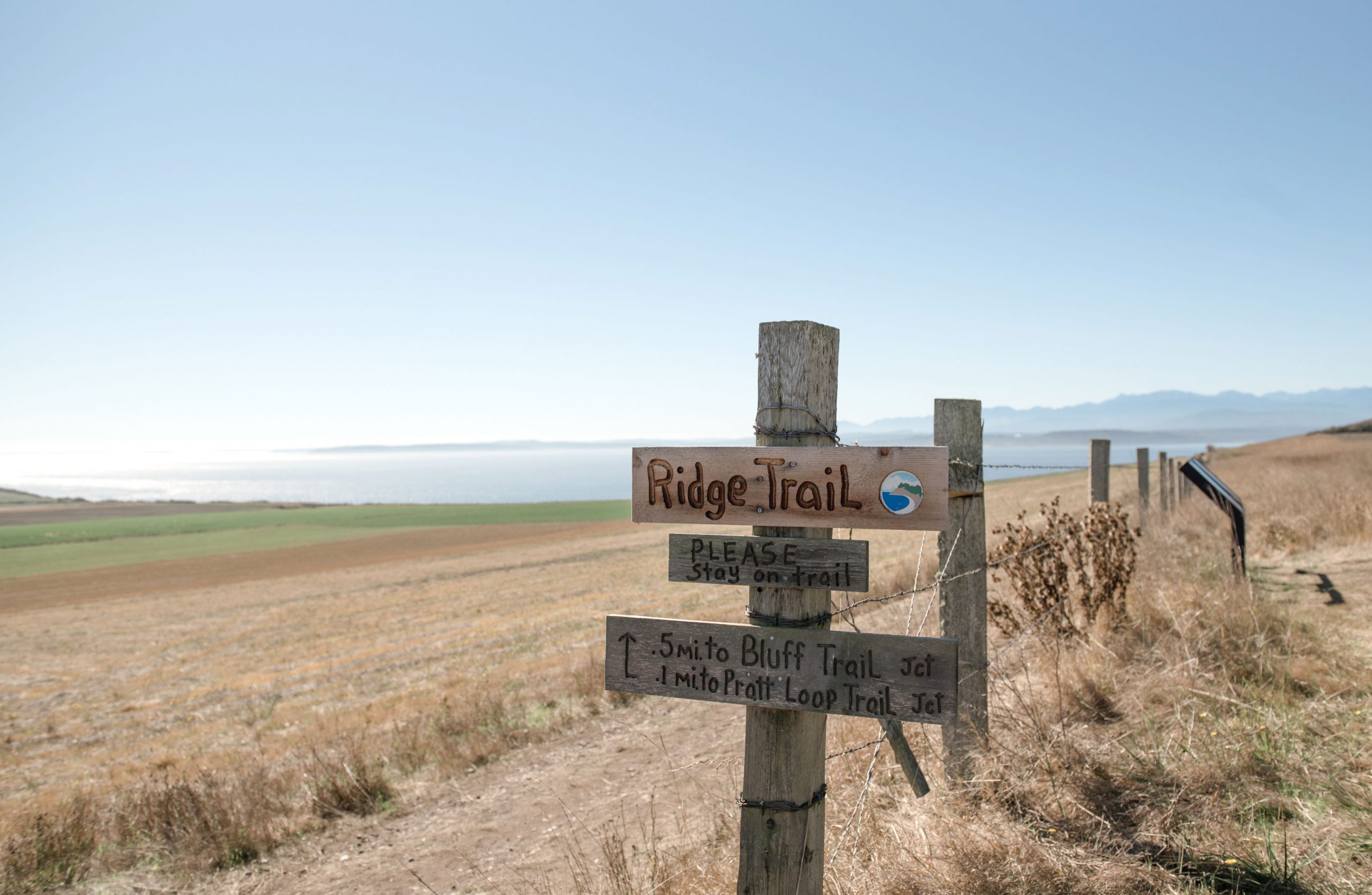 It's great to start the Ridge Trail in Ebey's Landing at Sunnyside Cemetery. See if you can find the two monuments that originally stood in the first Ebey Graveyard located on Ebey's Prairie near Isaac and Rebecca Ebey's home. You will discover a plethora of history about Whidbey Island here but don't forget to stop and enjoy the view! The trail takes you past Jacob Ebey's house and blockhouse on your journey towards the edge of the bluff. At the 'T' you can follow the trail left to the Ebey's Landing Parking lot at the beach or head right for some impressive views along the bluff. It's your choice to continue down the switchbacks to the lagoon below and you can follow the beach back OR turn around for an out and back.
Check out the rest of Whidbey's beautiful destinations from this series here.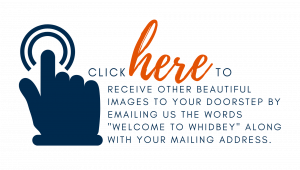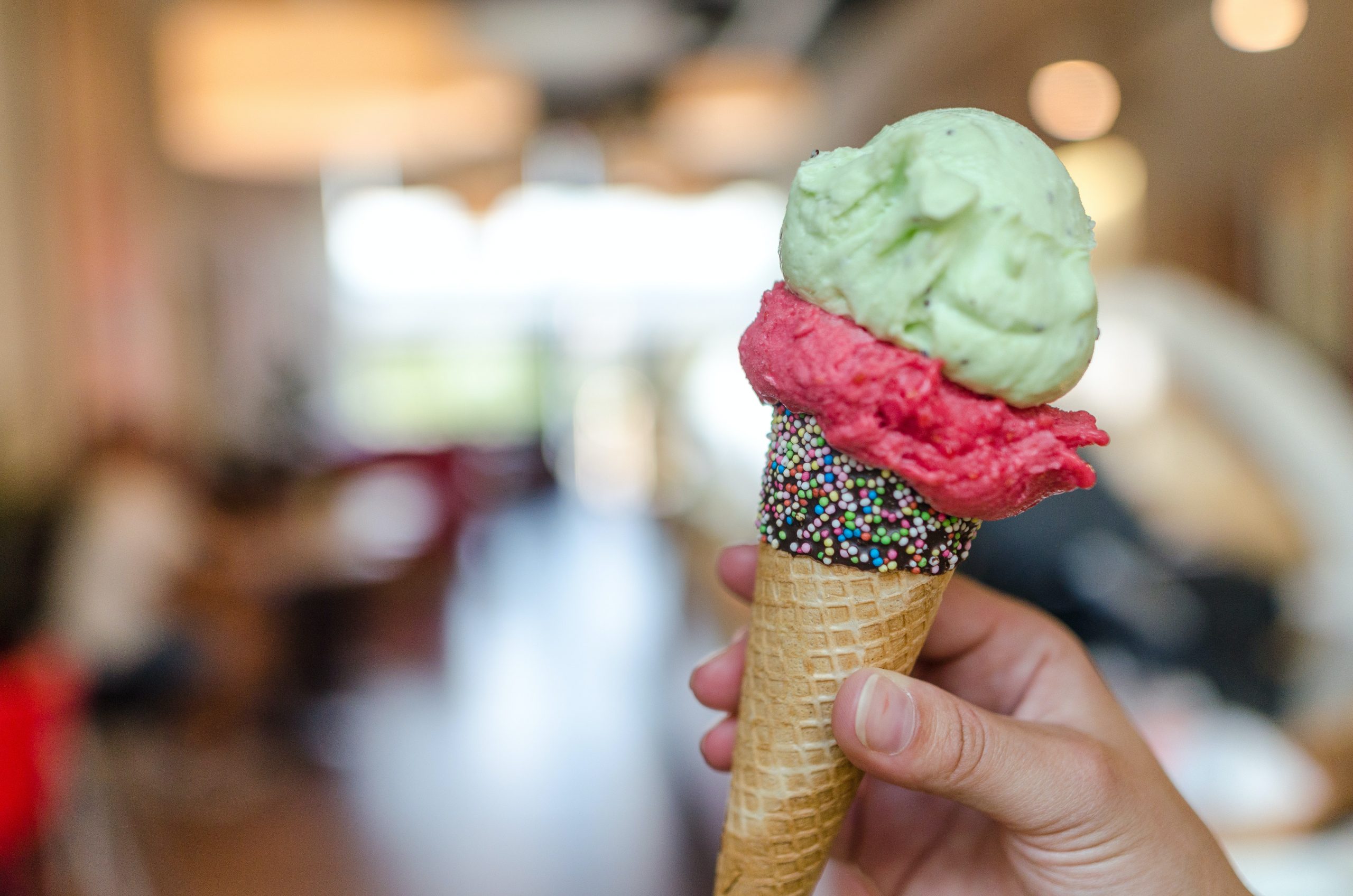 Whidbey Island, is home to some of the best ice cream spots in the region. Whether you are a resident or just visiting for a weekend getaway, add these ice cream shops to your must-try list.
The Whidbey Island Ice Cream Company is located in Freeland and has been open since 2008. Their one goal? "To bring joy to our community through the deliciousness of ice cream." All their ice cream is locally made. Check out their website here before you go.
Find Kapaws in the heart of Coupeville. This ice cream spot is only open during the sunny times of the year. Tour the town of Coupeville and stop by this ice cream shop for anything from single-scoops, waffle cones, and cake cones! Bring the eager kids who love combining all the different flavors – a must-stop spring/summer ice cream location. Check out their Facebook here before you go!
The Farm Stand ice cream on Whidbey Island is a locally made treat using the freshest ingredients from the surrounding area. With a variety of flavors to choose from, each scoop is a unique and delicious experience. Enjoyed at the Farm Stand or taken to go, this ice cream accurately represents Whidbey Island's bountiful offerings. Learn more about the Farm Stand here before you head out.
Whidbey Farm & Market ice cream is made with the freshest, locally sourced ingredients to provide the best possible flavor and quality. With a wide range of flavors, they are dedicated to creating a memorable experience with every scoop. Whether enjoyed at the farm or taken to go, Whidbey Farm & Market ice cream is a treat like no other. Check out their website here.
Grab a cone from this unique dedicated candy store on pioneer street in Oak Harbor  while you walk the strip and browse the other local shops downtown. Check out their website here.
No matter which ice cream spot you choose, you're sure to find a delicious treat on Whidbey Island. These ice cream shops are the perfect way to cool off on a hot summer day and experience a fun outing with friends and family. Share your adventures with us at @windermere_whidbey_Island on Instagram.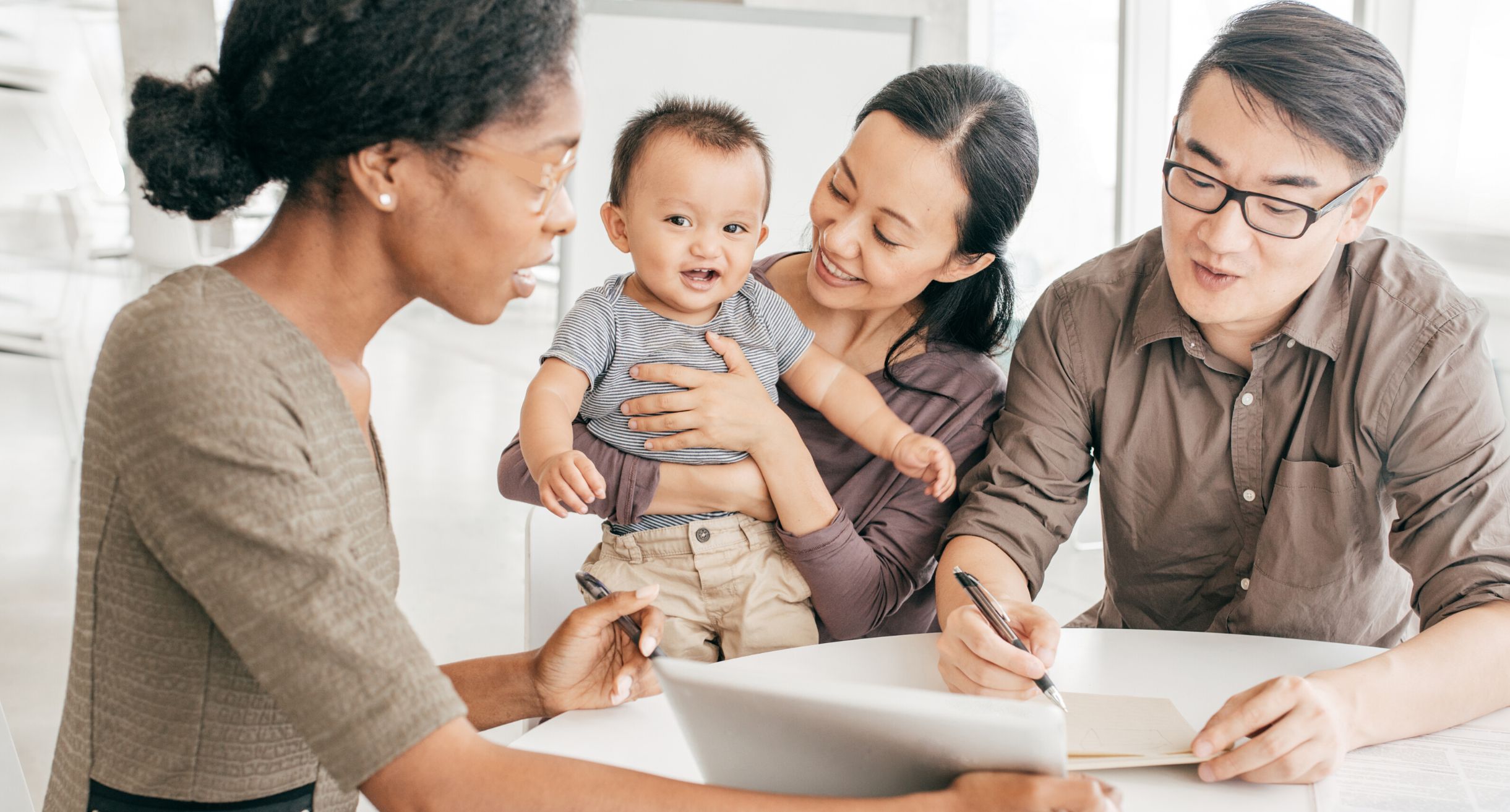 When it comes to buying a home, choosing the right lender is an important decision that can have a significant impact on your home buying experience. While it's possible to work with a lender from anywhere, working with a reputable local lender in the area you are purchasing provides many benefits that make the process smoother and more enjoyable. In this article, we will share five reasons why you should consider using a reputable local lender for your next home purchase.
5 Reasons to Use a Reputable Local Lender:
1. Personal Connection:
A local lender provides the opportunity to have a face to face conversation and build a personal relationship, which can be especially helpful when dealing with complex issues. How much better is it to have the ability to sit down face to face with someone and discuss, ask questions, smile and laugh with or even cry if necessary? It is so much better than trying to solely do things over the phone or email with someone hundreds of miles away. When the going gets tough, you (or your trusted real estate broker) can go directly to the office and discuss the issues in person to figure it out rather than be put on hold.
2. Knowledge of the Market:
A local lender is more likely to have a deep understanding of the local real estate market, including contractors, permit requirements, and more. It is not unheard of to have a local lender provide contact details for a roofer that can get the fix done in time for closing or the local Labor and Industries permit guy who can solve the problem faster than driving an hour to the nearest office. Reputable local lenders understand when there is delay due to septic repairs or how to get the water quality test results ASAP.
3. Reputation:
Local lenders have a reputation to uphold in their community, which can provide added accountability and ensure a higher level of service. When you run into your clients in the grocery store or watch their kids play on the same soccer team you naturally put a little more into making sure your service is impeccable. Anonymity creates distance and reduces accountability.
4. Strong Relationships with Escrow Teams:
Good relationships with local escrow teams can lead to smoother and more efficient transactions. Often the most stressful point of the transaction is right at the very end as the final underwriter is reviewing the file and potentially finding issues that need more documentation. This can lead to delays in critical milestones that need to be met to close on time. Getting the necessary documents from the lender to escrow on time can be the difference in closing as expected or experiencing costly delays and even the possibility of losing the home. You can use a lender from almost anywhere, but the escrow team is nearly always local to the property being purchased. When lenders are well known and respected by the local escrow offices you can expect excellent communication and problem solving between them. This will make overcoming obstacles to closing on time more likely.
5. Competitive Terms:
Local lenders often offer competitive terms and rates, making them a cost-effective option. When comparing lenders, be sure to compare all the terms and costs of the loan, not simply the advertised interest rate. When you do, you'll often find the local lender has lower overall costs than national corporate lenders.
In conclusion, using a reputable local lender provides a range of benefits that make the home buying process more enjoyable and efficient. From the personal connection to the knowledge of the local market and their reputation to uphold, there are many reasons to consider using a local lender for your next home purchase. So why not choose a lender who is well-known and highly regarded in your local real estate community? Contact us today to be put in touch with a great lender on Whidbey Island!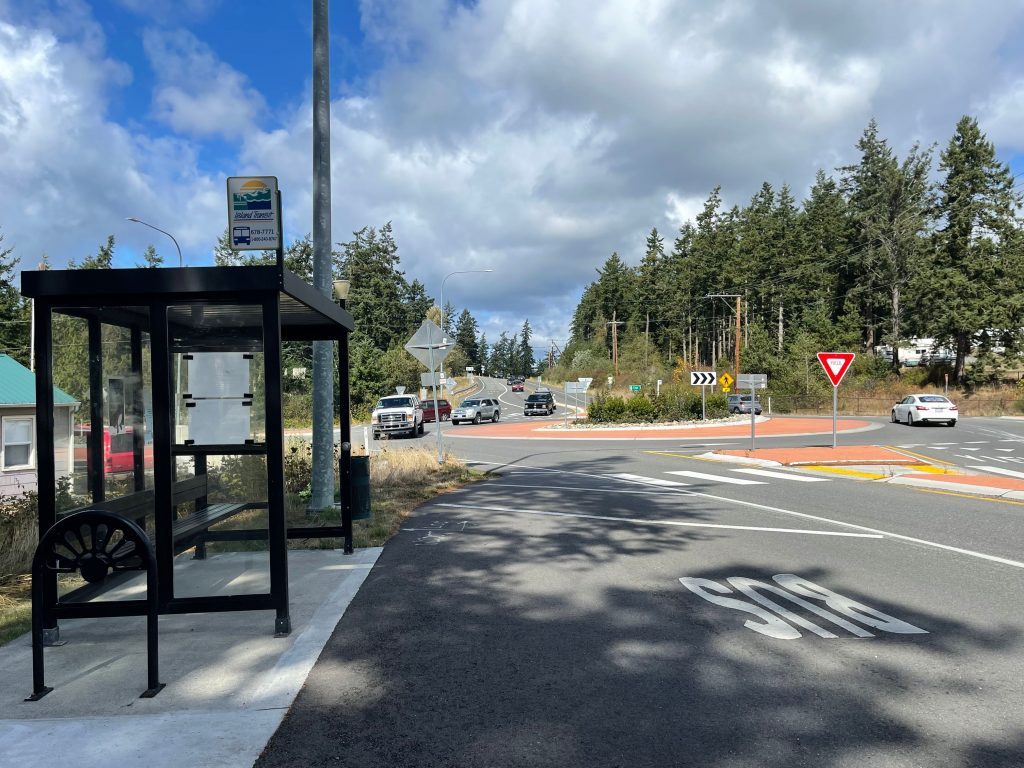 Island Transit is the public transportation system serving Whidbey Island, located in the Puget Sound region of Washington state. The system consists of fixed-route buses and paratransit vans, as well as additional programs such as vanpools and bike locker rentals.
Island Transit began on December 1, 1987 as a response to the increasing traffic congestion and lack of transportation options on Whidbey Island. Today, the system serves a population of approximately 73,000 people, covering a service area of approximately 400 square miles. The buses pick up passengers from bus stops like the Northgate Terrace bus stop pictured above throughout all of Whidbey Island.
In addition to its fixed-route buses, Island Transit also operates a paratransit service for individuals with disabilities who are unable to use the fixed-route buses. The paratransit vans offer door-to-door service and can be reserved by calling Island Transit in advance.
Island Transit's vanpool program is a convenient and cost-effective alternative for commuters who travel long distances or have irregular work schedules. Participants in the program share the cost of gas and vehicle maintenance and can save money on the cost of driving alone.
The bike locker rental program allows riders to securely store their bike at a convenient location and use it to complete the first or last leg of their commute. The lockers are located at select bus stops and can be rented on a monthly basis (check out prices and apply here) in addition to public use lockers that are on a first come first served basis.
In recent years, Island Transit has made efforts to increase sustainability and reduce its environmental impact.  Learn more about their initiatives here. As a result, hybrid buses have been added to its fleet all while keeping Island Transit buses fare-free.
Overall, Island Transit plays a vital role in the transportation needs of the residents and visitors of Whidbey Island. The convenient and reliable services, as well as its vanpool and bike locker rental programs, make it a valuable asset to the community.
If you have further questions or are interested in learning more about living on Whidbey Island please do not hesitate to connect with us. Contact us here.
View this post on Instagram